Travel Specialties
Interests
Destination Weddings
Independent Tours
Selling Travel Since
1972
My Background
A travel advisor for over 40 years offering detailed service, helping clients to experience flawless and memorable trips.
Extensive travel experience with both children and adults to a wide variety of destinations, including off the beaten path areas of Europe not well known to many Americans.
Specializing in - History, Culture, Adventure, Family Travel, Cruises, and Unique journeys.. . . . .
Places I Have Traveled
Reviews and Recommendations for Bette Prochaska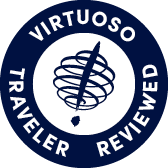 Virtuoso Verified Traveler
All reviews are from confirmed guests sharing exclusive insights
Sort reviews by
Recommended
Highly Recommend
By: Pat O
Reviewed on: 03 Oct 2013
I've worked with Bette for over 5 years now and she always does a first class job. She remembers all the little details that I would normally forget. Bette has planned probably 25 trips for us, most international, and all aspects have been handled in a very complete and professional manner. I'm proud to recommend her services.
Recommended
By: dg4...
Reviewed on: 13 Oct 2013
Bette arranged a wonderful trip for my wife and I to visit Kauai. The trip was fabulous. We will certainly use Bette for our next trip!
Recommended
Highly Recommended
By: TMR
Reviewed on: 29 Oct 2013
Our trip to Italy was well planned and executed. Private tour guides were extremely knowledgeable and educated. The private drivers allowed us to see Tuscany and experience the great wines. Along with great travel documents and vouchers, Virtuoso also contacted us directly, several times, in Italy to ensure we 'knew the plan' and were on track which was very reassuring.
Recommended
Highly recommended!
By: traveler
Reviewed on: 23 Oct 2013
Bette has helped me on many trips. She always does a wonderful job and is very helpful. This last trip on Globus called Classic Fall Foliage was a wonderful trip.
Recommended
By: Not provided
Reviewed on: 29 Nov 2013
Bette has been very helpful. Her experience with Italy has helped us plan a very exciting trip.
Recommended
Highly Recommended
By: PJOSugarLand
Reviewed on: 01 Dec 2013
Our recent trip planned by Ms. Prochaska went off without a hitch. Everything was exactly as presented and the hotel she selected was fabulous. I'll certainly be using Ms. Prochaska on all future travel.
Recommended
By: Cool Hand
Reviewed on: 23 Dec 2013
Mrs. Prochaska has helped me plan several vactions and has done a wonderful job. I have given her name to several friends and co-workers and can not praise her enough.
Recommended
Awesome Resort! - But Butler Service Not Worth It!
By: LindaInHouston288
Reviewed on: 04 Jan 2014
First, we want to thank Bette Prochaska before going "above and beyond" in setting up this trip!! Awesome travel agent who we would recommend highly!! Everything was wonderful about the resort except for our personal butler service, which was very disappointing!! Probably won't book another all-butler model resort again. Just not worth it!!
Recommended
Highly reccomended
By: Not provided
Reviewed on: 10 Feb 2014
Recommended
very satisfied
By: anitak
Reviewed on: 05 Mar 2014
Bette has become familiar with our travel likes and dislikes and designs a trip that suits us personally.
Recommended
A job well do
By: Nita
Reviewed on: 14 Mar 2014
Bette did a wonderful job.  She kept me on track, with a gentle reminder of what I needed to do at every turn.  We had a fun relaxing time~~Thanks, Bette
Recommended
By: hstelz
Reviewed on: 16 Mar 2014
Haven't traveled yet
Recommended
Highly Recommend
By: Jeanine
Reviewed on: 24 Mar 2014
Recommended
Highly recommended.
By: ronpete1
Reviewed on: 02 May 2014
Pam and I were more than delighted with every aspect of the facility from lodging to dining.  The staff bent over backwards to satisfy all our wants and supplied us with ample opportunities to enjoy any or all of the amenities the facility had to offer.  We played golf one day and took the boat excursion to the Pitons, both of which were well hosted.  All the restaurants were 5 star and staffed accordingly.  Interesting to find out that there is no tipping allowed for staff at the location.  We will go back.The only negative to the trip was not knowing about the hour and a half trip from the airport to the hotel, which if were had know would have been at least more accepting.  Other than that and the struggle through customs etc,, which travel always seem to be plagued with, all went well.Anxious to try some of the other recommendations Bette has.
Recommended
Did a competent job
By: Not provided
Reviewed on: 10 May 2014
I had occasion to benefit from her services on an international trip (outside the US), and for such travel, I believe Bette did a fine job.  I would recommend using her help.
Recommended
Highly Recommend
By: Fergie72
Reviewed on: 09 Jun 2014
My mother and I wanted to travel to Spain in 2013, but neither one of us had been before.  Our travel agent proved to be an experienced agent as well as traveler.  She was very pleasant and easy to work with.  There were a couple of tour companies that she recommended, one was a high-end company, the other more moderately priced.  We decided to go with Insight Tour Company because you can expand your time (and cost) according to what you individually want to see and do.  The hotels were beautiful and fairly westernized.  We would consider using Insight Tours again for a future trip and will certainly utilize the excellent services provided by Bette Prochaska at Woodlake Travel! 
Recommended
Highly Recommend
By: Pat O'C
Reviewed on: 23 Jun 2014
My wife and I have used Bette for our extensive travel needs for 5-6 years.  Bette has always provided top notch service with a friendly and personable attitude.  Her knowledge of World travel has been a big benefit to us when making our travel decisions.  We recommend her highly!
Recommended
Highly Recommended!!
By: aggietaylor89
Reviewed on: 24 Jul 2014
Bette advised us every step of the way including selecting our final destination and suggesting the resorts we stayed at. She operated within our budget for all planning purposes and was available frequently to help us with questions as we planned our honeymoon. The level of detail provided in our travel itinerary and of course experiencing a perfect trip showed us that it pays to have a quality travel agent take care of all the plans. Her customer service was friendly, personal, and abundantly patient. We will definitely be using Bette again for next year's vacation!
Recommended
She is the best
By: Gabriele
Reviewed on: 14 Oct 2014
All the arrangement she made worked out extremely well. I am very pleased. This is not the first she has helped me. She has a perfect record as far as I am concerned.
Recommended
London transportation
By: Mel
Reviewed on: 27 Oct 2014
Bette Prochaska is an excellent travel agent and has the knowledge and experience to make a trip successful.
Recommended
Bette Prochaska
By: MOJO
Reviewed on: 05 Nov 2014
Bette did a wonderful job of helping us plan our trip to South America with Globus. I have been on many Globus trips and have enjoyed them all. The trip was very well organized and everything went smoothly. We had a wonderful tour director. All of the local guides were knowledgeable and helpful. The hotels were very nice and centrally located. We saw many beautiful sights. We had a group of 37 and everyone was very nice and it was fun to make new friends. I have worked with Bette many times and she is always very helpful and does a great job of understanding what we want to do and see on our tours. Bette makes planning a trip easy. I will definitely work with Bette again in the future and I will also travel again with Globus.
Recommended
Patagonia
By: JnB
Reviewed on: 03 Dec 2014
Bette, did an outstanding job of pulling together our trip to Patagonia. Everything went like clock work. The flow of the trip was great, just the right amount of time in each place. The places we stayed were very comfortable with outstanding staff. The transitions from place to place were ripe for possible snafus but there were none! We loved every minute. Bette's thoroughness and follow-up ensured we had a successful trip.
Recommended
Expert vacation planner!
By: JHP
Reviewed on: 07 Dec 2014
As always, Bette suggested a magnificent resort for us to try while in Phoenix - our experience at the Scottsdale Fairmont Princess was exceptional. The food was spectacular, the service was word-class and they had a wide array of activities for us to participate. Bette is the best!
Recommended
Professional, Helpful & Responsive Service
By: kweldon
Reviewed on: 04 Dec 2014
I really enjoyed working with Bette to plan my honeymoon. She was always willing to go the extra mile to answer my questions and requests. I thought I had researched all the resorts around my target destination, but Bette was able to recommend a resort that I had not heard of and we ended up choosing, so she's very knowledgeable and able to find those diamonds in the rough. I would highly recommend working with Bette to plan that perfect getaway and plan to use her again in the future.
Recommended
Sea Island, Georgia
By: JHP
Reviewed on: 03 Apr 2015
We had an amazing time at the beautiful Cloister recommended by Bette. The accommodations and service were spectacular - we will be back!! Relaxing, many activities and amenities. We always know we are in for a special time with Bette's recommendations. We won't plan a trip without her!
Recommended
Awesome Services for Honeymoon Trip Planning!
By: dhrandle
Reviewed on: 06 Jul 2015
Bette was a huge help when planning our recent honeymoon trip to the Sandals resort in St. Lucia. Although most of Sandals resort planning can be done online with ease, we trusted Bette to help get us all the extra "honeymoon" ammenities, dinner reservations, etc. booked with the resort prior to our trip. She frequently communicated with the Sandals resort on our behalf. During the beginning stages, she gave my wife and I a list of activities that another couple did during their trip there. In addition, there were issues with the US Airways / American Airlines merger that is currently taking place and Bette made sure our seating issues we were having were dealt with and corrected with the airlines. Overall, my wife (Kori) and I would recommend Bette for any travel needs and will definitely use her and Woodlake Travel Services for our future adventures. Thank you! -Darren & Kori
Not Recommended
A Few Problems
By: Redd1954
Reviewed on: 23 Jul 2015
A trip to Spain was organized thru this agent with little attention or interest. I wanted to go over the itinerary before the trip, and was told to wait until the final paperwork was sent. One week before the trip, I called and forced a meeting. At that meeting, she was unorganized, finally found our final paperwork in here spam file , and quickly went over what I could have read myself. At the end, my wife pointed out that our transportation to the airport on the last day did not match our flight - glad she saw that because our agent did not. Very average service for the price
Recommended
Best Travel Agent Around
By: TJ
Reviewed on: 29 Jul 2015
Bette Prochaska knew what she was talking about when she recommended AMA Waterways! AMA Waterways provided a fabulous river cruise down the Danube River. Excellent service was given by all of the staff on board. The food/meals were outstanding. So much variety and presented with class! The tour kept us busy and we were able to see and hear so much history in each little town or city we visited. We especially loved the little town of Vilshofen, Germany. Very quaint. I would like to sail again down the Rhine. I am so glad I had the opportunity to take this trip. Thank you Woodlake Travel and Bette Prochaska for all your work in making this trip possible. I had a friend today ask me who plans my fabulous trips and I referred her to Bette Prochaska! I will continue to refer your services to others. You're the BEST!!! TJ
Recommended
Excellent Job!
By: TCLC
Reviewed on: 01 Aug 2015
Bette did a spectacular job of planning a great trip for me and my Bride on our honeymoon. We stayed at two hotels and didn't have any issues with the transportation to and from each one. Bette had good knowledge of the resorts in the area (Cancun) and was able to guide us through our options and help us pick places that fit what we were looking for. After returning from the trip, I can honestly say she did one heck of a job. They were exactly what we were looking for and exceeded our expectations.
Recommended
Luxurious Long Weekend - Cape Cod
By: RW77345
Reviewed on: 10 Aug 2015
Bette put us up at the Chatham Bars Inn. It was a good fit for what we told Bette we wanted - quaint, main street shopping, ocean-view and luxury-filled. The Inn was very well maintained, the food excellent and the staff service-oriented. Bette did a great job at filling our requirements.
Recommended
Hyatt Lost Pines
By: JHP
Reviewed on: 17 Aug 2015
Exceptional customer service, as always!
Recommended
Wonderful Travel Agent!
By: LuvingLife
Reviewed on: 02 Jan 2016
Bette is a wonderful, very professional and very knowledgeable travel agent. She has booked many trips for us over the past few years. I would highly recommend using her as a travel agent!
Recommended
Excellent Service and Choices!
By: ChrisAnn
Reviewed on: 11 Feb 2016
Both hotels were very good especially the Ritz-Carleton. Bette did a great job working with us to figure out a rather complicated itinerary that worked out just perfect in the end.
Recommended
GREAT TIME IN HONG KONG
By: CGC
Reviewed on: 24 Feb 2016
Bette worked hard, and last-minute for us, to put together sightseeing trips with a driver and guide in Hong Kong. It was exactly what we wanted. She had excellent judgement and counseled us appropriately given what we wanted to do and how much time we had. The guide in Hong Kong was great. He was professional and flexible. I would go again!!
Recommended
Fantastic Service!
By: Ron and Donna
Reviewed on: 06 Mar 2016
We wanted to spend 2 weeks in Argentina and Chile, including Patagonia, but didn't really know where to start. Bette made excellent suggestions, responded promptly to all questions, and made sure that every detail was covered. She was very pleasant to work with (in our case over the phone and via email) and very patient with us. We enjoyed every aspect of our trip without worrying that there was something we missed that would cause a problem. We would highly recommend Bette to anyone desiring expert help in planning a trip.
Recommended
Extremely Professional
By: Sheila and Tom
Reviewed on: 12 Jun 2016
The trip exceeded expectations. We are giving it a top rating. Bette is very professional.
Recommended
First Class all the way
By: Stan & Dava
Reviewed on: 01 Sep 2016
Every part of our trip that you set up and advised us on could not have been any better. You exceeded our expectations with your knowledge and local connections in Italy and Greece. Every contractor, be it hotel, driver or guide, was was professional, knowledgeable and friendly. Thank you for your hard work. I have already recommended you to my daughter. She is taken a similar trip next year.
Recommended
Wonderful trip to Greece
By: KSul
Reviewed on: 26 Sep 2016
Bette planned an unforgettable 10-day trip to Greece for us. From A+ accommodations to amazing activities to first class transportation, Bette covered it all and made it so easy to enjoy our vacation. We will absolutely use Bette and Woodlake Travel for our next trip.
Recommended
Great service
By: loucat418
Reviewed on: 01 Oct 2016
Bette helped us plan back to back guided tour vacations, first to Scotland and then Ireland/England plus an ending visit to Paris. Everything went like clockwork. All travel connections and transfers were executed without a hitch. The tours were just as she described and led by professional, informative hosts. We had used Bette before for a vacation to Italy and Sicily with the same satisfying results. The attention to detail and expert experience in her field puts our minds at ease to HIGHLY recommend her to our friends and family. We are looking forward to the next time we are able to take advantage of her services. A big "hats off" to Bette Prochaska!
Recommended
Great expert advise and service
By: Gabriele
Reviewed on: 06 Oct 2016
All arrangements made were perfect; no complaints
Recommended
Efficient, friendly and PATIENT!
By: janie
Reviewed on: 24 Oct 2016
Betty set us up with a great trip to Hawaii, pulling together a family in 3 different parts of the country. She listened patiently and responded with wonderful ideas. Thank you, Betty, we loved our vacation!!
Recommended
Great job by Bette Prochaska
By: John
Reviewed on: 02 Nov 2016
We had a good time on the Princess Pacific Coastal Cruise on the Star Princess,. Bette did a great job on making our arrangements and following up as necessary to provide us needed documents between the time the cruise was purchased and the actual cruise start date.
Recommended
Great Customer Service
By: Texas Girl
Reviewed on: 03 Jan 2017
Thank you Betty for a wonder hotel in Carlsbad California.
Recommended
Great advice and support
By: Doug
Reviewed on: 15 Jan 2017
Once again, Bette has helped us tremendously on a cruise. There are lot of factors in personally enjoying a vacation to a new place. She is a trusted advisor and we really appreciate her.
Recommended
One and Only Palmilla
By: BREAUXS
Reviewed on: 20 Jan 2017
Great! She provided clear communication channels and was very knowledgeable when helping choose our destination. Thanks again Bette for planning our amazing honeymoon. -Blaire & Ryan Breaux
Recommended
Austria/Germany
By: JHP
Reviewed on: 24 Mar 2017
Bette is the consummate professional - very focused on exceptional customer service and providing a flawless experience with many special touches to ensure a best in class travel memory.
Recommended
Perfectly planned for Maui
By: sms
Reviewed on: 18 Apr 2017
As this was our first trip to Maui, I relied heavily on the advice of Bette. We were not disappointed at all with her recommendations for house rental, activities, sightseeing and scheduling. In fact, our trip to Maui was a dream come true for our party of three adults and two teenagers. Bette was responsive, prompt and knowledgable. We have relied on her before as our travel specialist and will continue to do so in the future. Vacations are too priceless to not have the best helping you plan them, and Bette Prochaska is the best.
Recommended
Israel
By: Happy traveler
Reviewed on: 08 May 2017
Bette was very helpful in getting us our insurance. She gave great advice and was a joy to deal with.
Recommended
Scotland in May
By: Zeta girl
Reviewed on: 14 May 2017
Bette is amazing. Anything you ask she can do. If you have a problem while traveling, she will do everything she can to help.
Recommended
Excellent advice
By: Cappy
Reviewed on: 02 Jul 2017
Bette did a great job guiding us on our first cruise, our first trip to Canada and Alaska. She had great suggestions for excursions, hotels, and tours. Thank you, Bette!
Recommended
Traveling Sisters
By: Kindra
Reviewed on: 25 Jun 2017
I have been working with Bette since 2014. We travel every year, but I started using her because our previous travel agent moved to California. Ms. Bette has always been professional and we simply tell her what we want and she always delivers. I love working with her and I have recommended her to friends in the past.
Recommended
Croatia Island Hopping
By: MVM
Reviewed on: 19 Jul 2017
Working with Bette was outstanding. She found a tour that best suited our needs. Our trip to Croatia was wonderful, and the local Avanti crew was outstanding in getting us from place to place on time and efficiently. All of the hotels were acceptable, but three out of the five were very good indeed.
Recommended
Costa Rica
By: KikiG
Reviewed on: 13 Jul 2017
She was on top of everything and did everything she could to ensure every detail was perfect. We missed our check in because of traffic and she worked on the spot to contact our hotel and transportation to make necessary, last minute changes. She made everything easy.
Recommended
Awesome Travel Agent!
By: L. H.
Reviewed on: 19 Aug 2017
Bette is wonderful to work with. She is very knowledgeable with arranging travels based on needs. Once we give her an idea on where we would like to travel, she gets right on it and finds us wonderful options to consider. Always feel comfortable that she has done a very thorough job in setting up our arrangements wherever we go. Highly recommend Bette as a travel agent!
Recommended
Tauck New York city Event
By: gabriele
Reviewed on: 16 Oct 2017
She is very competent and super easy to work with.
Recommended
Viking Rhine River Trip
By: Pat O'C
Reviewed on: 20 Nov 2017
Working with Bette P was great. She handled all the details of our trip and made things very easy for my wife and I. Bette has great knowledge of most areas we've traveled too and always has good recommendations for hotels and things to see.
Recommended
Christmas in New York
By: Luigi
Reviewed on: 03 Jan 2018
Bette is nothing short of fantastic. She seems to know exactly what we are looking for and is always right. We will use her whenever we travel again which I hope is soon. We highly recommend Bette.
Recommended
Another perfect trip!
By: Sharon
Reviewed on: 11 May 2018
Bette, once again, planned a perfect vacation. Our spring break trip to Turks and Caicos was exactly what we wanted. Going there for the first time, we relied on Bette's expertise to find accommodations, restaurants, and activities. Bette is always responsive, professional and knowledgeable. Planning a vacation with her is easy, and the results are exceptional!
Recommended
Safari
By: Chad
Reviewed on: 22 Apr 2018
We have worked with Bette before - several times. She knows us and what we like and dislike on a trip. We have had a few missteps but all in all we are very happy with Bette. We will continue to use her, in fact we are working with her now on another trip to Peru
Recommended
Great Time
By: McGruff
Reviewed on: 14 Jun 2018
Working with Bette was a pleasure. She helped make out trip very enjoyable
Recommended
Betty Is The Best!
By: Linda
Reviewed on: 11 Jun 2018
Excellent! Betty knows the travel industry thoroughly and is wonderful to work with for any trips we make! She is very professional and knowledgeable. I trust her with all our travel arrangements.
Recommended
Asia private tour
By: Lu
Reviewed on: 15 Jun 2018
Bette has planned many itineraries for us and we always look forward to working with her. She listens to what we are looking for and goes out of her way to offer several ideas and companies to work with. She knows our family now after many trips and is never surprised when we ask for something different than the standard itinerary. We have worked with Bette on trips to South America, Russia, South Africa, Botswana, Zimbabwe, VietNam, Cambodia and Thailand. The company she recommended for our recent trip was one of the best we have ever worked with. There was such great attention to detail especially since 2 different Visas were required upon arrival. We were met at every flight and escorted throughout our stay. The company kept in touch with Bette during our trip. Bette worked diligently on our flights to get us the best deal along with giving us the maximum amount of time to spend on our vacation. Bette has changed our perspective on travel with her personal service. She is the best!
Recommended
Ireland and Great Briatain
By: Cassie
Reviewed on: 04 Aug 2018
Bette was very easy to work with especially since we were first time travelers with Tauck and she explained in detail your service and attention to detail. She also explained other travelers experiences with Tauck and handled the details of setting up our trip very professionally plus handling our roundtrip airline flights and extra days of hotel accommodations. The trip was a 50th Anniversary trip that we for years had anticipated and were very blown away by the experience of seeing Ireland, Great Britain, learning their history, politics and meeting many lovely people. The guides were outstanding and very informative. Thank You Bette & Tauck for helping us enjoy a dream!
Recommended
Banff area
By: Piglet
Reviewed on: 11 Aug 2018
Great choices for hotels.
Recommended
Trip to Memphis
By: Jeanine
Reviewed on: 10 Sep 2018
Bette is professional, available and very client centered in assisting with all of our travel needs. Her advice is spot on and exceptionally valuable in terms of where to stay, what to see and where to eat. We won't travel without checking with Bette first!
Recommended
Thorough and Knowledgeable
By: Dunlace
Reviewed on: 26 Sep 2018
Provided thorough information and recommendations, and was well-organized.
Recommended
Bette Prochaska - Woodlake Travel
By: Rongela
Reviewed on: 01 Oct 2018
Bette was wonderful to work with - very informative, friendly, patient, and got the job done. If we had a question or request, she found the answer and satisfied our needs. Our trip was a 16 day tour of multiple European countries, so it was no easy task to plan, but working with Bette made it fun and practically stress free. She is the very definition of a truly professional travel agent. We look forward to working with Bette in planning future trips.
Recommended
Canada
By: Ann Luppens
Reviewed on: 30 Oct 2018
Easy to work with her. She listens to what you are interested in doing on the trip.
Recommended
Greece!!!!
By: Mouton
Reviewed on: 31 Oct 2018
The trip was wonderful all that we had hoped for. We are all still talking about the service and adventures. The trip was by far the BEST vacation I have ever been on. Traveling out of the country, confirms we needed a travel agent. Especially for transfers ect.. Thank you Bette for planning our trip ever step of the way, from the hotel referrals down to the car service. We definitely will work with you for many trips to come. Next stop Dubai!!!
Recommended
College Tours
By: Jeanine
Reviewed on: 26 Nov 2018
Bette is fabulous - very accommodating and detail oriented. Always love working with her.
Recommended
The Best!!
By: LS
Reviewed on: 17 Jan 2019
My husband and I love working with Bette and have used her for years. The trips we've planned with her are always exactly what we wanted. Bette is very thorough and a consummate professional. Would HIGHLY recommend using Bette as your travel agent!
Recommended
A life changing trip!
By: rajaajay
Reviewed on: 13 Feb 2019
We're so glad we found Bette at Woodlake Travel to arrange our trip to India. It was a life long dream of mine and Bette helped it come true!
Recommended
Honeymoon to St. Lucia
By: drose
Reviewed on: 29 Apr 2019
Fantastic! Bette made the entire process so easy, and she was super helpful. She planned the perfect honeymoon for my wife and I that was within our set budget.
Recommended
Review of trip
By: MAJ
Reviewed on: 28 Apr 2019
It was wonderful working with Bette Prochaska. I have worked with her many times.
Recommended
You Will Be Happy With Betty
By: Lin E
Reviewed on: 01 May 2019
She is a get on top of it person. She is helpful as are the people in her office when she is out and gets back to you with answers to questions that you are concerned about. I've worked with her planning many trips and she is tops!
Recommended
Trip to Eastern Europe with My Son
By: Marcia
Reviewed on: 02 May 2019
Bette is a super excellent travel agent...always available to answer my questions....make any changes. I have worked with her for 15 years and she has always made each trip an incredible experience!!! She is very detail oriented so that no stone is left unturned prior to a vacation. Her heart is in every trip and I would never travel without her expertise to guide me!!!!!!
Recommended
Italy trip
By: Peg
Reviewed on: 02 Jun 2019
Planning a trip on your own in a foreign country can be daunting, but working with Bette made it all fall together nicely. We were comfortable with her hotel recommendations and she worked above and beyond on train schedule coordination. She knows what needs to be done and helps every step of the way.
Recommended
Maui & Inter-Island Flights
By: LH
Reviewed on: 30 May 2019
Bette was WONDERFUL, as always, to work with!! She booked us in an AMAZING resort in Maui--the Hyatt Regency Maui Resort and Spa. Could not have asked for a better hotel!! She also booked our Inter-Island Hawaiian Flights to hop to different islands. All flights were efficient and on-time. Perfect!! Would highly recommend Bette for any travel planning!!
Recommended
Oceania Cruise-Barcleona-Lisbon
By: Pat O'C
Reviewed on: 06 Jun 2019
Bette Prochaska has provide top-notch travel services and advise to my wife and I for well over a decade. We have the utmost confidence in her abilities and her recommendations. We have confidently referred a number of our close friends to Bette for assistance with their travel plans.
Recommended
Bette Prochaska
By: John Terrell
Reviewed on: 16 Jun 2019
Bette Prochaska was great to work with. She understood my expectations and did a great job handling my travel needs. Her rating was 10 of 10.
Recommended
HIGHLY RECOMMEND BETTE!!
By: PeeWee Gma
Reviewed on: 29 Aug 2019
We have been using Bette as our travel advisor for years. She is always professional and has a lot of experience with traveling all over the world. We would HIGHLY RECOMMEND her as your "go to" person too when planning trips.
Recommended
Baltic Cruise
By: Plano
Reviewed on: 25 Aug 2019
Bette was amazing in the personalized help she put in to get my tickets purchased through the cruise line corrected. She was on hold with them for 8 hours trying to correct " their" mistake in my airfare. She followed up after the cruise to see how it all worked out. It did. I would definitely recommend Bette as a travel agent. She rocks!
Recommended
Poland
By: Lindy
Reviewed on: 24 Nov 2019
Bette was on top of it once more. When Lufthansa was canceling trips for the weekend we were to leave Bette called two before our departure to give us a heads up. All end well, Thanks Bette
Recommended
Easy
By: Ali
Reviewed on: 13 Feb 2020
Bette was great to work with! She planned our stay cation in Houston with ease. Booking with her also earned us some perks at the hotel! Highly recommend
Recommended
We can always count on Bette!
By: MJpowalski
Reviewed on: 23 Apr 2020
We've worked with Bette on several trips - all of which are among our most memorable! She has helped us get the most bang for our buck; we've done several luxury vacations and still stuck to our budget. Cant wait to travel again.
Recommended
Great trip!
By: Beauty
Reviewed on: 10 Mar 2020
It was great! She did a fabulous job for my husband and I and friends! From booking hotel rooms to activities to car rentals! All was perfect! I would definitely use her again!
Working with Bette Prochaska, you will have access to:
- An experienced travel guide whom you can rely on before, during, and after the trip
- Exclusive luxury resorts and properties
- Once in a lifetime experiences
Explore with the Best
Virtuoso Advisors are constantly pushing the boundaries in unique travel experiences.
Alliance programs are unique tailored experiences exclusive to travelers working with Virtuoso Travel Advisors.
learn more