Joanne Socha
Manchester By The Sea, MA United States
Travel Specialties
Interests
Culture, History & Arts
Honeymoons
Family Travel
Independent Tours
Adventure
Destinations
Maldives
Japan
Iceland
New Zealand
Australia
Selling Travel Since
2009
My Background
I've always loved travelling and during my previous career as an attorney, was constantly besieged with requests for "trip tips". Voilà! I decided to follow my passion - inspiring others to discover destinations and local culture. Recent travels have taken me from Shangri La, China to the Maldives. The best cave hotels in Cappadocia? Onsen experience in Japan (I am Certified Japan Specialist)....please contact me at jsocha@sbtravel or joanne@joannesocha.com
My goal: to get you the best value for your investment. Thanks to my affiliation with Virtuoso, I have partners all over the world with whom I collaborate to custom-design your holiday. I can also get you perks and privileges. Please consider me your Travel Architect. I'll give your travel adventures the same enthusiasm and attention to detail as I do my own.
And I believe in the healing power of travel! Please read more about it in my recently released book The Red Bandanna Travel Book: The Medicine of Traveling. You can find it at joannesocha.com or on amazon.
Joanne, Your Wanderess Host™
travelfarandwell.com
Places I Have Traveled
Reviews and Recommendations for Joanne Socha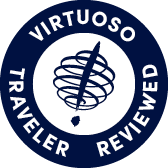 Virtuoso Verified Traveler
All reviews are from confirmed guests sharing exclusive insights
Sort reviews by
Recommended
Birthday at the Park Hyatt Tokyo
By: Brandon M
Reviewed on: 22 Jun 2015
I spent awhile reading the advisor profiles on Virtuoso and Joanne seemed genuine and not just looking for high paying clients, so I decided to give her a try. We exchanged e-mails about our goals and expectations and once I was sure I wanted to go with her I set up a phone conversation to get our hotel booked. Joanne was always very quick to reply to my e-mails and friendly. Our stay was absolutely wonderful. We were able to get a room upgrade and my girlfriend was impressed by my VIP status. Joanne also arranged a small flower bouquet to be given as the welcome gift for the occasion which earned me more brownie points with my girlfriend. I had wanted a room with a Mt Fuji view, but Joanne recommended this time of year usually has low visibility and a Yoyogi Park view would be better. I was very pleased with her recommendation. The park was really pretty from above and out our other windows we had views of Tokyo Tower and Skytree which were really pretty. Other perks were nice too!
Recommended
Alert, attentive, and knowledgeable
By: JS
Reviewed on: 10 Dec 2015
Joanne Scully helped us with a recent trip to Japan. She listened carefully to our wants and desires and the resulting trip was fantastic! She also went above and beyond the call of duty resolving some last-second planning issues. Two thumbs way up!
Recommended
Attentive Helpful Agent Joanne
By: Claudaisia
Reviewed on: 06 Jan 2016
Joanne did a great job of planning a weeklong vacation for me and my two young adult sons. With short notice, she worked through various ideas I had and suggested a destination which was accessible and our speed activity-wise and cost-wise. She replied to every question and request promptly and thoroughly. I felt well-supported in my goal of creating a fun trip for my family, and all inside of a month!
Recommended
Amazing Vacation
By: Lindylee
Reviewed on: 14 Sep 2016
Joanne planned an amazing trip for me and my family (four adults). Although my husband and I had been to both Florence and Bellagio, neither my son nor his wife had. From the flights, to the transfers and hotels, cooking school and tours, and restaurant reservations - the trip was perfect and it couldn't have been better. Joanne and I had several conversations during the planning stage of the trip - she listened to what we wanted. Joanne is a perfectionist. That pretty much says it all! We would recommend her without hesitation.
Recommended
Ajffine
By: Sam
Reviewed on: 19 Mar 2017
No problems. Thank you Joanne
Recommended
Trip to the Schmuck show in Munich
By: Edie
Reviewed on: 23 Mar 2017
She was wonderful to work with And made the planning of the trip Very easy .
Recommended
Amazing planner!
By: Elin
Reviewed on: 08 Jul 2017
We had an amazing trip, and Joanne was an integral part of it. She was response, helpful without being pushy, and even answered a couple texts while we were overseas. I highly recommend her to anyone who wants a first class hassle-free trip!
Recommended
A knowledgeable professional
By: Terry
Reviewed on: 06 Aug 2017
Joanne jumped to action in finding me the absolute best deal with tremendous amenities. She went above and beyond and even rechecked everything prior to our arrival. Quite simply a true professional!
Recommended
Joanne is the best!
By: MAC
Reviewed on: 19 Aug 2017
Joanne is my go to travel planner. She is simply wonderful. She takes incredible care of me and makes sure all my travel needs are met. She is my voice if something doesn't go as planned. I used to have to spend a portion of my vacation working out the details and now Joanne does that for me.She is knowledgeable and always seems to be available when I need her! She is a very special person and travel planner. I recommend her to all my friends!
Recommended
Virtuoso Style is best
By: IsabelG199
Reviewed on: 21 Aug 2017
Thanks to Joanne I had the best welcome, a lovely luxury room and great help to make this stay happen. Many thanks to Joanne.
Recommended
Southwest Trip
By: Elin K
Reviewed on: 22 Oct 2017
Joanne helped us plan a fantastic trip to Utah and Arizona. This is our second trip with her this year. She was willing to spend a lot of time with us and was very flexible when we requested adjustments. It was a wonderful trip and we will definitely use her again. She is genuinely interested in meeting our needs and making us happy.
Recommended
A++
By: DLK
Reviewed on: 16 Oct 2017
Joanne is a wonderful travel agent and trip planner. If she doesn't know the answer to your question she will find it ! You can trust her implicently to keep you safe and always in the manner which you are accustomed to. She has people "on the ground" in every city you will travel too in case of any sticky situation. In a world where we have lots of choices, I wouldn't hesitate to choose Joanne for all my travel needs. She is remarkable and thorough. The more you use her the more you will learn to trust her.
Recommended
Joanne Socha
By: Edie
Reviewed on: 29 Oct 2017
This is the second time Joanne Helped me plan a trip . She booked my flights as well as my hotel and I especially enjoyed having my room ready at 6:00 am after I arrived in Paris. I also appreciated that she sent me my boarding pass for my trip from JFK To Paris. I felt cared for and that made a big difference for me.
Recommended
Joanne
By: Ackgal
Reviewed on: 26 Oct 2017
Joanne was knowledgeable, responsive and very helpful. It was easy and pleasant to work with her.
Recommended
The best!!!!
By: Nathan
Reviewed on: 10 Dec 2017
Superlative service!!!! Only the best with Joanne! Whether you're planning a weekend getaway or a months-long sojourn, go with Jo!
Recommended
Joanne is a Delight
By: MaryC
Reviewed on: 08 Jan 2018
Working with Joanne is fabulous. She is knowledgable, helpful, and really cares about her clients. Her intention is to make sure everything is perfect for her clients, and if it isn't she wants to know. She is so nice and so pleasant, she makes planning a trip a pleasure. I would not hesitate to recommend her and I have!
Recommended
San Fransisco
By: Edie
Reviewed on: 22 Jan 2018
Joanne is responsive and did a fine job of booking my travel and hotel And even sent me my boarding Cards in advance of the flights , I received an upgraded room as well as a generous breakfast allowance And credit for a meal in addition to that. I was very satisfied with my experience with Joanne .
Not Recommended
review
By: traveler
Reviewed on: 22 Jan 2018
iffy.never received hotel confirmation and she had my checkout date wrong
Recommended
Attentive
By: Cathy
Reviewed on: 21 Mar 2018
She was very accessible and highly interested in my having a good cruise. I probably should have given her more to do, but she was so efficient I couldn't think of anything.
Recommended
Joanne is the best. Makes traveling easy
By: Rahsaan
Reviewed on: 08 May 2018
Does a wonderful job of asking the right question to align the trip to meet your vision. She is thoughtful and hard working to make sure every thing is what you want. Her international partnerhips ensure you are provided with great service no matter where you are and her knowledge provides you with honest feedback. We plan at least one trip per year with her and couldn't imagine traveling without her expertise.
Recommended
Perfect Trip to Scandanavia
By: Ross B
Reviewed on: 26 May 2018
We only knew that we wanted to do something special for our 35th wedding anniversary. When we contacted Joanne, our request was for "something special" and we got exactly what we asked for. AT the outset, we decided upon Scandanavia and asked her to make suggestions. I believe we only made one change to the suggested itinerary. Two weeks - Stockholm, Copenhagen, Oslo, Aurland, Bergen - Planes, Trains Boats and cars. Everything went perfectly. Nothing was missed. Wonderful memories. Thank you.
Recommended
India
By: JS
Reviewed on: 25 May 2018
We just returned from an incredible trip to India. The destination can at times be challenging and somewhat intimidating, but Joanne's knowledge and attention to detail helped make this the trip of a lifetime! She had us well prepared, so we traveled confidently and had an absolute blast! Thank you, Joanne!
Recommended
Most extraordinary trip to Japan !
By: Susan S
Reviewed on: 23 Jun 2018
I was referred to Joanne Socha by my best friend who is in the travel industry. I was looking for someone who specialized in Japan. I immediately knew she was the expert I needed, and she loved talking with me about all aspects of Japan. Her enthusiasm remained constant in our planning of this intricately designed trip. She got back to me immediately with any questions I had, and her partner on the ground in Japan was a wealth of information as well, so I felt like I had the best of all worlds working with Joanne! From start to finish, I felt taken care of and guided to make the best choices regarding hotels, transportation, guides and places. I would highly recommend Joanne to anyone wanting an extraordinary travel experience!!
Recommended
A dream trip in Italy
By: Italy 2018
Reviewed on: 29 Jun 2018
Joanne is a gem. She really cares about her clients. She did a great job planning this very special trip for us. Our happiness is of the utmost importance to Joanne.Her contacts at the hotel made sure our needs and desires were accommodated and Joanne was on top of everything. I recommend Joanne to all my friends and the, like me, have been thrilled with her!
Recommended
Fabulous Tuscany and Umbria
By: Lindylee
Reviewed on: 11 Jul 2018
Joanne is an excellent travel advisor. She is extremely thorough, detail oriented and very easy to work with. She has planned two 12 day vacations to Italy for me and both have been fabulous! Every restaurant, hotel and excursion she recommended has been excellent. Her Italian partners know the country and each and everyone I've encountered has been fluent in English which is extremely important to me. I plan to use Joanne on future trips and highly recommend her.
Recommended
Trip to Arkansas
By: Edie
Reviewed on: 29 Jul 2018
Working with Joanne Socha was Terrific as always .
Recommended
Attentive
By: Cathy
Reviewed on: 17 Sep 2018
Joanne always checks on you to make sure you are ready for the trip beforehand. She is quick to check in again when you are back home to make sure everything was good.
Recommended
Wonderful Experience
By: AM
Reviewed on: 29 Sep 2018
First off, Joanne Socha is extremely professional. She asks questions trying to make sure the experience/vacation is tailored to our desires. Then she sent us options based on our answers. Next the final proposal based on our answers. This worked perfectly for us, since on this trip we were looking for fun experiences to make out Italy trip extra special. The excursions she organized for us were fun, interesting and well organized. Trips can be stressful, it was comforting knowing Joanne had everything ready and waiting for us. The individuals she worked with us were all top notch.
Recommended
Copenhagen ,Oslo
By: Edie
Reviewed on: 24 Oct 2018
Joanne is easy to work with and always remembers when I will be Flying and sends me my Boarding Cards .
Recommended
Perfecto!
By: Alle
Reviewed on: 21 Oct 2018
Working with Joanne was the ideal experience. She really listened to what we were looking for and delivered. Thank you Joanne! Can't wait to travel again "with" you!
Recommended
Miami trip
By: HD
Reviewed on: 04 Jan 2019
Joanne is the best! She listens to what you want out of your trip & executes with precision. Joanne is a real professional who goes above & beyond to make your trip hassle free.
Recommended
Wonderful experiences
By: Ant
Reviewed on: 14 Mar 2019
Working with Joanne is a relaxing experience. Arranging travel plans can be very stressful. Joanne listens to what I am looking for, asks a couple questions then off she goes to work her magic. She comes back with a proposal and options. She never minds if you need to make changes to the proposal. It is truly a stress free way to arrange a trip that is tailored to our needs. The experiences we have had are once in a lifetime and will provide us with lasting memories.
Recommended
Great Coustmer Service
By: CS
Reviewed on: 28 Mar 2019
Joanne was amazing to work with, she listened to our needs and provided us exactly what we were looking for. She checked in with the hotels before our arrival and helped make a very smooth transition when we had to make last minute changes to our trip. We will be definitely using her services again.
Recommended
Above and Beyond
By: MAC
Reviewed on: 02 Apr 2019
Joanne is the best. She took care of everything for us. We had some special requests, which she made sure were accommodated. She always goes to bat for her clients and makes sure she does everything she can for them. We are lucky to have such a wonderful travel advisor working with us.
Recommended
Amazing trip to Paris
By: MSS
Reviewed on: 12 Jun 2019
This was our first trip using Joanne as our travel agent. She was highly recommended to us and she did not disappoint. She planned an unbelievable trip to Paris for my husband and I. The hotel she selected (Hotel de Crillion) was so wonderful and she had champagne and cake waiting for our arrival. She also set up a private tour for us and gave us great recommendations for dinners, shopping etc. We will be using Joanne for all our travel now. A pleasure to work with!
Recommended
Joanne is a True professional
By: MAC
Reviewed on: 13 Sep 2019
Joanne did a wonderful job planning and handling our trip. She took wonderful care of us and made sure the hotel knew we were VIP clients and that all our needs were met. Joanne is a true professional who really cares about each of her clients!
Recommended
Excellent Company
By: Bonnie
Reviewed on: 02 Oct 2019
Working with a Joanne was terrific. She took care of everything for me. My trip could not have been better as a result.
Recommended
Trip to Japan
By: Loretta L
Reviewed on: 02 Dec 2019
Joanne helped my husband and me plan a fantastic trip to Japan. She used an initial phone conversation to assess our interests, asked the right questions, then proposed an itinerary within our budget. We later decided to visit to Hiroshima, which required a significant adjustment. Joanne responded quickly with adjustments that allowed us to visit peace sights at Hiroshima and took us for a day trip to the picturesque nearby island of Miyajima. We visited Tokyo, Hiroshima, and Kyoto. We also spent several days hiking the Kumano Kodo trail, with traditional Japanese lodging along the way including onsen and magical accommodations. Throughout the planning period, Joanne was proactive in her communications with us and responded almost instantaneously as our questions arose. The itinerary booklet struck the right balance of detail, and the arrangements anticipated many travel needs better than we could. We highly recommend Joanne and intend to turn to her again for our future travels.
Recommended
3 city European tour
By: HD
Reviewed on: 07 Nov 2019
As always, Joanne is on top of our travel needs! Asking us all the right questions to find out what we want out of our trip & working on all the fine details.
Recommended
Ireland was Wonderful
By: Jojo
Reviewed on: 24 Nov 2019
Joanne was very helpful with putting together our last minute vacation to Ireland. We were going to celebrate my 60 birthday. We wanted to stay in nice places and see a lot and we didn't have time to do all the planning. Joanne had great recommendations. Each hotel we stayed at did something special for booking with Virtuoso. Also Little touches to help me celebrate my birthday with treats and gifts. It was a wonderful touch. The highlight of our trip was staying 2 nights at Asford Castle. It was a amazing castle. We had booked our own airline tickets and Joanne did everything else to make this a low stress vacation. We would definitely recommend her to our friends. We will use Joanne again. Thank you for everything. Jojo & Norm
Recommended
A great experience
By: JEH
Reviewed on: 15 Nov 2019
Joanne helped guide us in every aspect of our trip. Having someone with her knowledge and experience was a great help in making many of the decisions that contributed to a wonderful vacation.
Recommended
Happy client
By: Ctmom
Reviewed on: 09 Oct 2020
Joanne's great- responsive and easy to work with.
Working with Joanne Socha, you will have access to:
- An experienced travel guide whom you can rely on before, during, and after the trip
- Exclusive luxury resorts and properties
- Once in a lifetime experiences
Explore with the Best
Virtuoso Advisors are constantly pushing the boundaries in unique travel experiences.
Alliance programs are unique tailored experiences exclusive to travelers working with Virtuoso Travel Advisors.
learn more
Maldives
Japan
Iceland
New Zealand
Australia
Bermuda
France
United Kingdom
Ireland
United Arab Emirates
Italy
United States - All
Turks And Caicos Islands
Saint Barthélemy
China