Travel Specialties
Interests
Safari
Air Travel
Independent Tours
LGBTQ Travel
Ocean Cruising
Destinations
Australia
New Zealand
South Africa
Selling Travel Since
1978
My Background
It would be my pleasure to pass on to you my knowledge & expertise gained through many years working in the travel industry. And also from being a world traveller!
Most of my time has been spent as a personal travel advisor in offices in New Zealand, Australia, and Canada. I have also worked as a flight attendant with the international division of Virgin Australia Airlines and as an airfare specialist helping travel agents.
I place a high regard on top customer service and believe that my clients should feel that they have my total attention, regardless of the travel arrangements they need to make.
I also believe good and clear communication is important and to that end stay in touch with my clients with updates and information through-out the booking and travelling process.
If you would allow me the privilege of handling your travel arrangements, you can be assured of a high level of professionalism and care.
Places I Have Traveled
Reviews and Recommendations for Stephen Puddle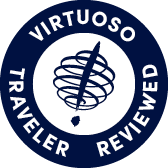 Virtuoso Verified Traveler
All reviews are from confirmed guests sharing exclusive insights
Sort reviews by
Recommended
Expert friendly service
By: Joy
Reviewed on: 02 Dec 2015
Thanks for overseeing travel arrangements for recent trip. Appreciated extra tips & willingness to go extra mile. Would recommend daylight saving awareness included please & no breakfast included in hotel cost on day of early departure.
Recommended
Service - Above and Beyond
By: Dave
Reviewed on: 10 Dec 2015
My wife and I contacted Stephen on the recommendation of a friend when normally I do all of my own bookings. However this trip was gong to be a little more than a short trip to somewhere in Canada or the States and in fact would take us to multiple countries and around the world. As it turned out we had to change the trip substantially and ended up booking just one return flight to India through Stephen. But this was after he spent considerable time researching different options for us and didn't appear to "blink an eye" when I told him our trip was being modified - he just did what he could to help us. So if anybody is looking for someone to assist them with travel issues there is no doubt that Stephen has the best interests of his clients at heart and has a genuine desire to make sure they are satisfied.
Recommended
Good and timely service
By: granola
Reviewed on: 03 Jan 2016
Good trip, especially coming home. The customs and security in Toronto heading to US was horrendous, backed up by an hour, with not enough manpower, but that was not the fault of the agency. Coming back was a breeze. Thank you very much
Recommended
Excellent service
By: Going places
Reviewed on: 08 Mar 2016
We received excellent service from Stephen and would recommend him. He charges a fee, but it's worth it.
Recommended
Awesome Service
By: Lelly
Reviewed on: 25 Aug 2016
On a recent trip I was travelling with a large group and there were a number of problems -- a missed flight, problems with immigration, and a cancelled flight. If it weren't for this super awesome and patient agent I wouldn't have been able to enjoy the trip or indeed get to my destination. This guy is a gem.
Recommended
Got me out of a tight spot
By: Boffo
Reviewed on: 28 Mar 2016
I was supposed to fly through Brussels the day after the bombings. Stephen rerouted all my flights, arranged my hotel, and sent it all along ever email. I would never have been able to sort this out myself!
Recommended
Competent and friendly
By: Helene
Reviewed on: 02 May 2016
My trip to Florida went very well. Upon return, there was a change at the Toronto airport. My written instructions conflicted with the new method of handling passengers who were connecting with other flights. The process had been just recently changed, and my written instructions were not up to date. However, it was easily corrected by the people at the airport. Service from Stephen has always been excellent: friendly and efficient.
Recommended
Perfect vacation, everything covered
By: jpuddy
Reviewed on: 31 May 2016
Stephen knew we were looking to get away, and he messaged me about a great deal with Air Canada Vacations. He gave me some brief details and I just said "Book it!" We wanted somewhere quiet, just for my wife and I, all inclusive. Stephen booked everything for us, sent us all our details, and arranged for full payment to be made later. His instructions for travel were perfect, we met our vacation agent easily at the airport, and everything worked out great. We had a wonderful vacation, and will book our next travel again with Stephen.
Recommended
Well beyond the call
By: Westcock folks
Reviewed on: 13 Nov 2016
Stephen really worked hard to line up our accommodations for this trip and he did a superb job. Many thanks!
Recommended
Perfect service
By: Liz
Reviewed on: 13 Nov 2016
I was amazed to be in the front seat of the plane both coming and going to Toronto./Montreal. Changed planes in Montreal coming back and was in the front of the second section. One downside - NO food from M'real to Moncton.
Recommended
Worry Free Travel
By: Dan
Reviewed on: 21 Nov 2016
Stephen continues to provide friendly and straight forward travel planning for our trips. He makes sure all the details are taken care of for our travels. I highly recommend his prompt service.
Recommended
patient, cheerful and helpful
By: RedEmma
Reviewed on: 12 Nov 2016
I was not an easy customer. I was slow in making decisions regarding my travel plans, and made various changes, due to competing factors. Stephen did an excellent job, and my trip went very smoothly and I had nothing to worry about. Thanks, Stepen!
Recommended
Flawless Trip
By: Jan
Reviewed on: 15 Nov 2016
The headline says it all! There was nothing left undone prior to our vacation and so it was truly flawless. We had fun planning our trip with Steven because he is so personable and he adjusted the planning to our pace. I consider these to be fine attributes for a travel advisor.
Recommended
Wonderfully Planned
By: Happy Traveller
Reviewed on: 12 Nov 2016
Our trip was planned perfectly to suit us and we thoroughly enjoyed it! The choice of tour company and our cottage were excellent. We were very satisfied!
Recommended
non trip
By: pikachu
Reviewed on: 21 Jan 2017
Stephen is wonderful to work with, friendly and efficient
Recommended
Group trip to New Orleans
By: Mike
Reviewed on: 02 Mar 2017
Stephen is a pleasure to work with. He responds to any issue quickly and efficiently - even in the evening and on week-ends! I find the advice that he provides to be very helpful and an important addition to the overall success of the trip, especially with a large group of 14 people. He made many suggestions that have saved us a great deal of time and money. Thanks Stephen!
Recommended
Maiden Voyage!
By: Patty Kake
Reviewed on: 10 Apr 2017
This was my first trip arranged by Stephen Puddle and I would so very highly recommend anyone to him----which I have done by the way!! He was in contact with my as soon as he had to make an adjustment with my arrival back home which I appreciated very much. Because there were several airports that I could have landed at, I was given the chose but also informed of the different cost for choosing that one. I really loved how he made sure I was clear on all the details and would help in any other way he could--even offered to drive me to the very early morning flight out!! Thank you so much Stephen for the wonderful and curtious service you give to all your customers! OX
Recommended
Flights/ train connections
By: Beegirl5
Reviewed on: 22 Apr 2017
Stephen wasgreat. Hewas nice person to work within lanning the flights for our recent trip to Italyand the Netherlands. He also figured our how wecould travel through the Swiss Alps on a train and then go to Amsterdam. I would most definitely use Stephen's services again and continue to refer others to Stephen , as a travel agent. Yours truly, Carol Dennett
Recommended
Holland trip
By: Gloria
Reviewed on: 11 May 2017
Stephen is great to work with - he has made travel arrangements for me in the past and will continue to use his services in future.
Recommended
Spring Travel
By: Lily
Reviewed on: 23 May 2017
Stephen is a good listener and takes in quickly the details of what you're looking for in your travel. His attention to detail allows one to be comfortable with his arrangements and bookings. He sets you off with an itemized list of everything you need to know for each day. On this last trip everything worked out beautifully. We were very pleased with our trip.
Recommended
Knowledgeable and friendly
By: JP
Reviewed on: 29 May 2017
Stephen understands what travelers need and want, and always builds my trips with my tastes in mind. Whether I'm constrained by cost, timeline, or other complications, he's always able to get me to my destination and back in a way I'm happy with. Highly recommended.
Recommended
Efficient, friendly and effective
By: Alice's Boyfriend
Reviewed on: 26 Jun 2017
Stephen. Was able to quickly and effectively find reasonably price flights for last minute trip to New Orleans I would recommend him anytime
Recommended
Strong Client Service Focus Makes for a Fabulous Trip
By: Peekaboo
Reviewed on: 18 Jul 2017
Stephen's knowledge of New Zealand plus his strong client service focus resulted in an itinerary which was manageable, accommodations which were satisfactory and a trip which allowed us to achieve our travel goal to see as much of New Zealand as possible in the time we had available. He ensured that all the details were looked after and that we had all the documentation we required. Thank you, Stephen. It was a pleasure to work with you!
Recommended
Flight from Alaska to Vancouver
By: Susan
Reviewed on: 16 Sep 2017
I found Stephen very easy to deal with when we planned our flight from Fairbanks, Alaska to Vancouver, BC. He went out of his way to ensure all 6 travelling people together were on the same flight and let us know of any changes in the flight times. Alaska Air was a good choice to travel with. I would certainly recommend Stephen to others and plan on asking him to help with future travel plans. Thank you Stephen, our trip was fantastic.
Recommended
Special Travel Agent
By: Binchy
Reviewed on: 10 Nov 2017
Excellent! Many things can go wrong when booking a business/vacation trip. Having worked in the fifties in the travel business, I am well aware of this. Stephen is dependable, helpful, and very reliable. We are indeed fortunate to have him and Vision as our travel agent.
Recommended
Review your advisor
By: Rosie
Reviewed on: 15 Jan 2018
Excellent. Stephen listens to what I want and is prompt is handling my travel plans.
Recommended
SA
By: Patty Kake
Reviewed on: 02 Mar 2018
I found Stephen to be very professional in every sense. At times going out of his way to source things out for the trip. I would recommend Mr. Puddle to anyone who wants a very thrall and up to date travel agent.
Recommended
Trip to BC
By: D and L
Reviewed on: 29 Apr 2018
Stephen is always very prompt and professional with all our travel plans with him. He finds finds the best flights for the best value that meets our travel needs. We would recommend Stephen as a travel advisor.
Recommended
Trip to UK
By: Cisco
Reviewed on: 14 Jun 2018
Stephen always performs any of my requests to perfection. Working with him is always a pleasure! I am kept informed, and I feel confident dealing with him. He is a professional! What more can I say?
Recommended
Stephen Puddle
By: lizajane
Reviewed on: 29 Jun 2018
Wonderful! It was a pleasure working with him.
Recommended
Fast, dependable, kind.
By: Vallie
Reviewed on: 03 Aug 2018
It was easy and enjoyable. Stephen is a great person, easy to get along with. He solved a lot of problems that came up for me, changes of plans, etc., to make my travel smooth and hassle-free. Thank you.
Recommended
Excellent Service
By: one who wanders
Reviewed on: 15 Aug 2018
Stephen returns calls promptly, is diligent is searching out good prices and practical flight plans. Everything is always in order and, although I have never has a glitch, I suspect he would give it his immediate attention. I highly recommend him as a travel advisor.
Recommended
Europe trip
By: Disey
Reviewed on: 21 Oct 2018
Very knowledgeable, he made my trip a complete success. He went above and beyond to find out information I needed for our journey
Recommended
Stephen Puddle
By: Raakel
Reviewed on: 17 Jan 2019
I enjoyed having Stephen as my travel Advisor. He was very kind, helpful and informative.
Recommended
Australian Adventure
By: PHILLIP HEBB
Reviewed on: 02 May 2019
Very polite and couteous to help plan our trip of a lifetime. We could not have done this without his help. Very thorough.
Recommended
Very pleased
By: ZennedOut
Reviewed on: 07 Jun 2019
Stephen is very accommodating and helpful. No stress. I can just sit back and let Stephen handle it.
Recommended
Very good experience
By: Eugene
Reviewed on: 06 Jun 2019
Terrific. He worked wonders for me.
Recommended
Reflecting on travel arrangements made by S. Puddle
By: Traveller
Reviewed on: 15 Jul 2019
On my behalf, Stephen arranged travel arrangements for a recent trip that I made. The trip was organized on short notice. He generously communicated with me over a weekend and kindly gave me several options to help me decide if the venture was doable at reasonable cost. When a plan took shape, he efficiently organized for the actual flights - each of which was nicely timed to allow for my hosts to get me to the airport at reasonable times. When away, he quickly responded to an emailed question that I sent. I sincerely appreciate the kind and professional assistance that was given to me respecting the organization of the travel for this recent trip.
Recommended
Easy trip and helpful advise
By: Elliot
Reviewed on: 24 Aug 2019
Stephen was very helpful when we need help on our trip. Everything worked out fine in the end and his advice more just reassured us more than anything else.
Recommended
Trip to Ireland, UK and Home
By: The 2 B's
Reviewed on: 11 Sep 2019
It was an absolute pleasure dealing with Stephen, he assisted us wherever he could and provided us with all the information we could have wished for to make our first trip abroad as easy and as trouble free as possible. Stephen went out of his way to find the best possible flights for us with the least amount of time spent at the connecting airport, as we had requested. He provided us with pictures and information of the planes that we would be flying on as well as pictures and information of Dubai International Airport to assist us as we changed from one flight to the next. Our whole experience with Stephen was amazing and we would highly recommend him to Friends and Family travelling abroad.
Recommended
Personable and dependable
By: Sally
Reviewed on: 21 Sep 2019
Stephen expert'y Accommodated all my different needs cheerfully and my trip went smoothly without a hitch.
Recommended
Advisor review
By: Bee68
Reviewed on: 07 Nov 2019
Very good. I found him very helpful and open to suggestions as to travel within the country we were visiting.
Recommended
London Trip
By: HappyChemist
Reviewed on: 25 Nov 2019
Very smooth trip to London, UK. A flight was changed a week before leaving, and Stephen adjusted our travel plans to reduce a long lay-over into something reasonable. Much appreciated. Very happy to deal with Stephen.
Recommended
Excellent support, all details covered
By: Jonathan P
Reviewed on: 01 Dec 2019
Stephen takes the time to learn your travel preferences and build an itinerary that meets your needs (balancing cost, convenience, comfort, etc.) and is safe and enjoyable. He's easy to contact and quick to respond. Highly recommended.
Recommended
Travel
By: J
Reviewed on: 12 Feb 2020
He was very through, helpful. Always available to answer any questions. I have already recommended Stephen to my friends and I shall be working with him again for my next trip.
Working with Stephen Puddle, you will have access to:
- An experienced travel guide whom you can rely on before, during, and after the trip
- Exclusive luxury resorts and properties
- Once in a lifetime experiences
Explore with the Best
Virtuoso Advisors are constantly pushing the boundaries in unique travel experiences.
Alliance programs are unique tailored experiences exclusive to travelers working with Virtuoso Travel Advisors.
learn more
Australia
New Zealand
South Africa