Travel Specialties
Interests
Adventure
Beach & Sun
Honeymoons
Ocean Cruising
River Cruising
Selling Travel Since
1993
My Background
As a child, I was introduced to travel while visiting the beautiful town on Lake Balaton called Tihany, in Hungary, where my parents immigrated from in 1956. While earning my college degree in International Business, I quickly realized my passion for travel, and immediately after graduation I started Blue Skies Travel in 1993 with my sister and business partner, Suzanne. We are proud to have been recognized as a top agency in the area by Capital Region Living Magazine the last three years.
Our agency has grown over 23 years, by focusing on each client and helping create incredible travel memories. I look forward every day to working with my clients, creating unusual experiences, and listening to you in order to ensure your trip is perfect. I recently told a group of friends "I love my job! & can't imagine doing anything else!".
I have the resources to make sure each trip is uniquely tailored to your taste, and I look forward to working with you to ensure your next trip is perfect!
Places I Have Traveled
Reviews and Recommendations for George Balogh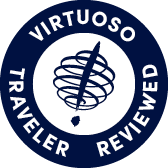 Virtuoso Verified Traveler
All reviews are from confirmed guests sharing exclusive insights
Sort reviews by
Recommended
Great service
By: Annie
Reviewed on: 19 Feb 2015
George was a big help in planning our recent trip to Playa Mujeres. He responds to all phone messages and emails immediately and will take care of making all the arrangements so you don't have to do a thing. He has helped us out on other trips also, and is very organized and well informed. I didn't even have to print anything myself as he had our whole itinerary laid out in a small booklet for us to take. He also made inquiries directly to the hotel, which may have been difficult for us to do ourselves. I can strongly recommend that anyone planning a trip would do well to contact George and let him do the work for you.
Recommended
Expert Service for sure!
By: Love 2 travel
Reviewed on: 26 Feb 2015
George was awesome again. I will not travel without using him. This trip, George saved us significant money on our vehicle. We used EZ rental. I was skeptical but it was smooth as silk with a brand new car and a big savings. Our hotel was awesome as it was on the beach and recently updated. I could go on and on about how valuable George's service is compared to the Internet. I have gotten many extras on trips but what really sets him apart is his experience and his ability to communicate it. We can't wait to use George's expertise on next years trip to Disney! Thank you for the opportunity to share my experience. I hope this helps other travelers thinking of using his service.
Recommended
Las Vegas
By: GT
Reviewed on: 11 Mar 2015
Our trip was wonderful from start to finish. George did an amazing job with recommendations and arrangements. This was our first trip to Las Vegas and we wanted to stay in a "nice" hotel. We were very pleased with The Bellagio and would stay there again.
Recommended
Another Superbly Planned Trip!
By: ACJC1125
Reviewed on: 01 Apr 2015
George at Blue Skies Travel does an excellent job at organizing our travel destinations - from the flights to the resorts themselves and all the other little details before, during and after the travel event. We have had a few issues (non-Agent related) over the years (cancelled flights, special needs/requests at the resorts, etc.) and George has been there for us every step of the way smoothly resolving any concerns that pop up. We continue to highly recommend George and his travel agency for any travel needs.
Recommended
A great guy to work with!
By: Jack
Reviewed on: 17 Apr 2015
This was the first cruise my wife and I have been on since we took the kids on a Disney cruise in the early 90s. The Celebrity cruise was fantastic! The accommodations and staff aboard the ship, the Eclipse, were top-notch. The food was wonderful and we are both glad we opted for the beverage packages! We thought being at sea for two days would be boring, but that was not the case. We found plenty to do and see aboard the ship. The shows were similar to what we would expect in Las Vegas. We took only one Celebrity excursion, "The Zipline", in St. Kitts. It was quite an experience. We're glad we didn't miss out on it. We also took excursions booked through Shore Trips. They were equally as great. George did a wonderful job walking us through every aspect of the 14 day trip. He answered every question we could think of, and offered advise and suggestions that made this trip a huge success. Thanks again, George!
Recommended
Dreams delivered
By: Steve
Reviewed on: 08 Apr 2015
Great family venue...food was very good .. Drinks were top shelf and the views great. Hotel in transition but future looks bright ... Thanks to the staff at the explorers club they were great!
Recommended
Celebrity is the BEST and so is GEORGE!
By: Barbara#6
Reviewed on: 19 Jun 2015
We had the most wonderful 10 night cruise to Alaska on Celebrity Millennium in May 2015. George helped us get the best excursions, best stateroom, best on board dining and much more. And he did it all while saving us money and time. He's helping us plan another May/June 2016 Alaska trip which will include 2 cruises and a 2 week stay in the Seward area in between. He is the BEST for getting great deals for cruises (we have FREE gratuities and Free beverage package as well as $500 OBC for EACH of the cruises), excursions, hotel stays, car rentals, airfare, the works. We won't use anyone else - he truly understands and honors our interests and wishes and his suggestions/recommendations for us are right on the mark.
Recommended
Mediterannean Cruise
By: Diane312
Reviewed on: 01 Jul 2015
George did a great job in coordinating all the details of our trip, particularly in planning our stops before the cruise and in Barcelona and after in Rome. His knowledge of the sites we visited helped us make good decisions on what to see. His special arrangement for pickup after the cruise providing private transportation to our hotel in Rome was very helpful. George is great to work with and very willing to help us with the details we need to have a great trip.
Recommended
northwest trip
By: Diane TT
Reviewed on: 05 Jul 2015
George made hotel, insurance and plane reservations for this trip. He gave me good recommendations on which cities to fly from and to. As usual, he is the best.
Recommended
Great Trip
By: Average Joe
Reviewed on: 16 Jul 2015
The travel arrangements and hotel suggested by my travel agent worked out very well for our family vacation to Aruba. He was helpful in all aspects of planning our trip.
Recommended
Patient and accomodating
By: Ginny
Reviewed on: 19 Aug 2015
This trip was a very quick weekend getaway in Montreal. The location and quality of the hotel was very good. The added benefits that came with our stay were also very nice,( breakfast and resort credit). Once again George did a great job for us.
Recommended
great service
By: kaz222
Reviewed on: 17 Sep 2015
by far.....the best local travel agent to deal with !!!!!!!!!!!!
Recommended
Most Amazing Family Trip to Grand Canyon
By: DCB
Reviewed on: 13 Oct 2015
I went into the planning of this trip with low expectations - it wasn't my ideal form of travel but my spouse really really wanted to go. Thankfully - we worked with George as a partner - yes we did a whole bunch research and coordinating - but having a travel advisor to walk thru all of the steps - the before the after the transfers the details - so I highly recommend that. Anyone can use an online travel agency - and probably don't even realize they are using a travel agency in expedia or hotels.com or southwest vacations - these are agencies getting a commission for your sale - I have loved working with a live advisor to improve our value added services whether it is a room credit or free parking - and to help in an emergency when a plane is delayed or weather happens. I work with my advisor on small trips and large trips to keep my relationship flourishing. Thank you Blue Skies Travel & George Balogh
Recommended
Travel Agent Extroadinaire
By: halseymp
Reviewed on: 11 Jan 2016
George has always been an excellent travel resource for my family. Whether its Disney, cruise, All-inclusive, specialty hotel for a romantic weekend, or just a quick stay at a Marriot or Holiday inn, George is the guy to go to. We have booked many trips though him and the friendly staff at Blue Skies Travel dozens of times. I would not hesitate to recommend George to anyone looking for travel assistance from a weekend away to a specialty cruise or exotic destination. I joke with George that he should hold the title of "Worlds Greatest Travel Agent" - but I guess I am not the one to bestow such an honor - although he would have my vote (along with Suzanne). Thanks George for another great trip! We will be looking forward to next one. You will be hearing from me soon!
Recommended
Always a Pleasure
By: Kurt
Reviewed on: 06 Jul 2016
Always a pleasure to work with George. He is very helpful in assisting us in planning what we want. And along the way he makes suggestions on how we might enhance our travel experience. George takes care of all the details. It is a stress free process. We have recommended George to our friends for their travels too.
Recommended
Canadia Rockies
By: Dan
Reviewed on: 31 Aug 2016
Great trip. A few glitches. Delta 4 hrs late getting in on the 11th. Train from Vancouver 4 hrs late to Lake Louise. Panorama car on train over heated. Saw some amazing sites. Did not touch baggage except to unpack. Got some free drinks because the rooms were not ready when we arrive. Great hotels. All Fairmonts. Great guides and bus drivers.
Recommended
Love working with him!
By: Barbara
Reviewed on: 12 Oct 2016
This is the 3rd Alaska trip George has planned with us and, as usual, he had great ideas and saved us a bunch of money too. We enjoyed an 8 night Celebrity cruise from Vancouver to Seward, got off the ship and for 2 weeks rented a car and explored to our heart's content, then got back on Celebrity for a 7 night return cruise to Vancouver. George is very knowledgable and really listens to his clients. He pays attention to our interests and wishes so he can find the best deals and offer us intriguing suggestions to make our trips memorable and enjoyable. Blue Skies Travel is the only travel agency we will use. George and Suzanne and their staff are incredible!
Recommended
Professional
By: Average Joe
Reviewed on: 10 Oct 2016
George was able to make my travel plans for a business trip seamless. From the suggestion of particular flights, to the use of Uber ( that he suggested), the work trip was easy and simple.
Recommended
A Great Job
By: Curt & Mary Elizabeth
Reviewed on: 15 Nov 2016
It is always a pleasure to work with George on our trips. He makes suggestions to ensure that we have a pleasant vacation. He makes certain that we get the best deals we can on flights, hotels, etc. and keeps us informed along the way. We enjoy working with him and will continue to do so in the future.
Recommended
Everything was handled great
By: Tony C
Reviewed on: 21 Nov 2016
All went better than expected.
Recommended
The Man
By: LCJ
Reviewed on: 20 Dec 2016
As always, George was with us from start to finish, even advising us during some tricky airline issues on the return trip. Would never plan a trip without him. The best!
Recommended
Amazing low country retreat
By: HoganSaba
Reviewed on: 04 Jan 2017
George booked the most amazing Christmas getaway for us!!! We stayed at the Inn at Palmetto Bluff in the gorgeous low country between Savannah and Hilton Head. The resort is a first class destination. George was able to get us a free upgrade and complementary breakfast each morning which was a great added bo us. I would not hesitate to recommend this destination or George Balogh to any traveler looking for a most memorable get a way!
Recommended
.......life is good
By: Toes in the water.......
Reviewed on: 22 Feb 2017
George hit a winner for us when he suggested that we consider an all-inclusive in Cancun this year rather than going to Florida. He has been and continues to be a very important player in planning our vacations, with this one being no exception. George is knowledgeable, thoughtful in the planning process and great at resolving issues. He will give you options and will find the best match for your budget. The staff at Blue Skies are great at what they do!
Recommended
Las Vegas
By: Ginny
Reviewed on: 25 Feb 2017
Wonderful. George is friendly and engaging.
Recommended
Caribbean vacation
By: Traveling man
Reviewed on: 07 May 2017
He set up all flights , transfers and the hotel. Everything worked out very well. The weather was great but I can't give him credit for that.
Recommended
Denver Reunion
By: smallmountains
Reviewed on: 28 May 2017
Very pleasant and satisfying
Recommended
Let George Do It.
By: Newsboy
Reviewed on: 13 Aug 2017
George is knowledgeable, responsive, and diligent. He listens to our plans and questions, then provides on target info on options, and costs. He has provided very helpful coaching on services and highlights that have enhanced our travel experiences in the U.S,. Europe, and on Cruises.
Recommended
nice trip
By: avg traveller
Reviewed on: 19 Jul 2017
He was easy to work with and gave good advice on hotels and travel arrangements.
Recommended
Alaska and Rockies trip
By: Client
Reviewed on: 01 Sep 2017
George is the best! He pays personal attention to planning the trip. He is a pleasure to work with.
Recommended
Nice Get-A-Way!
By: Happy Traveler
Reviewed on: 07 Sep 2017
All of our arrangements were done with good detail. Upon arriving, we were greeted well and provided excellent accommodations. We enjoyed the perfect view and received a welcome package including items to use for our stay and a departing gift. Very nice experience from beginning to end.
Recommended
Well Done, George!
By: Nana D
Reviewed on: 20 Oct 2017
George is on the ball! He knows his stuff! His recommendations were spot on. He was very knowledgeable, helpful and patient any time we had questions or concerns. His expertise was evident, and he gave excellent advice. I would definitely return to George and I would tell my friends about his professionalism and his ability to please clients!
Recommended
Best Travel Agent Ever
By: Dale
Reviewed on: 25 Oct 2017
George Balogh is an amazing travel agent- his attention to detail, his knowledge of the industry and destinations, and his genuine passion in creating interesting and fun travel experiences make him our first stop when we plan to travel. He foresees potential conflicts in scheduling and helps ease the bumps that often occur when traveling. I continue to give George the highest possible rating and recommend him often. Utilizing his and his staff at Blue Skies Travel gives you access to their vast expertise and that personalized service you would never get from an on-line travel site.
Recommended
Excellent Travel Advisor
By: steved
Reviewed on: 20 Nov 2017
From start to finish, George takes care of all the details. Our trip to Aruba went flawless. Smooth round trip flying, transfers to/from Hotel & Airport. I highly recommend George for all travel requests.
Recommended
HI 3/18
By: smallmountains
Reviewed on: 26 Mar 2018
Exceptionally easy
Recommended
Easy....peasy!
By: Cuba
Reviewed on: 25 Mar 2018
George was extremely helpful. We did this over the phone, and he made it really easy. This trip was perfect. I always feel safe and secure because I know George is a professional and he and his team will be there if I need them.
Recommended
South Pacific cruise
By: THE MAN
Reviewed on: 21 Apr 2018
George is a very great listener when you want to explain what you are looking for in your trip. George will suggest what you may enjoy & what ship best fits your needs. George always follows up when you return from your trip.Always ask what was bad as well as what you enjoyed.
Recommended
Atlantis Bahamas
By: Brian
Reviewed on: 15 Apr 2018
George was easy to work with and understanding of the needs of our family. He was able to make suggestions and advise us on the best vacation. Everything was planned out and there were no surprises. Would recommend George, and will be booking our next trip with him.
Working with George Balogh, you will have access to:
- An experienced travel guide whom you can rely on before, during, and after the trip
- Exclusive luxury resorts and properties
- Once in a lifetime experiences
Explore with the Best
Virtuoso Advisors are constantly pushing the boundaries in unique travel experiences.
Alliance programs are unique tailored experiences exclusive to travelers working with Virtuoso Travel Advisors.
learn more