Travel Specialties
Interests
Adventure
Beach & Sun
Family Travel
Food & Wine
Honeymoons
Destinations
United States - All
Ireland
United Kingdom
Antigua And Barbuda
France
Selling Travel Since
2014
My Background
After graduating with a BS from the University of Georgia, I began my career at Children's Healthcare of Atlanta before pursuing my deepest passion, my desire to travel. From a young age, I traveled extensively with my parents and came to appreciate the knowledge and wisdom gained from the unfamiliar. Now I am eager to help others realize their personal travel dreams and the value of stepping outside of our comfort zone while exploring the wonders of the world. My goal is to create custom itineraries for each type of traveler and memories that will last a lifetime. With unlimited access to Virtuoso and its network of seasoned advisors, exclusive benefits, and elite global travel partners, we can collaborate to enrich your travel experience. I am here to make your travels seamless by providing consistent dedication to clients, outstanding customer service as well as attention to detail.
Specialities: Honeymoons, Family Travel, Caribbean, Europe, SE Asia, tropical destinations, cruises, and various U.S. destinations.
Places I Have Traveled
Reviews and Recommendations for Katie Rollins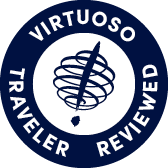 Virtuoso Verified Traveler
All reviews are from confirmed guests sharing exclusive insights
Sort reviews by
Recommended
Houston at it's BEST
By: ARol
Reviewed on: 27 Dec 2014
On a recent trip to Houston, Katie helped my wife and I with reservations at The St. Regis, Houston Hotel. We were very pleasantly surprised with the upgraded corner suite, bottle of wine, upgraded meal plan and so many other little extras! Cathy and I look forward to a return visit and we will certainly use Katie in future travel plans-her attention to detail makes for a lot less stress while travelling. Thanks!
Recommended
Katie is the best! So easy to work with and so efficient!
By: jgrollins9
Reviewed on: 19 Mar 2015
Katie guided us to the perfect vacation spot for a Mother Daughter Spring break! We loved the Regent Palms, restaurants, and excursions she recommended in the Turks and Caicos. It was so helpful since she had also experienced this island and knew the hotel travel coordinator. She was also very prompt when we needed to change transportaion to the hotel. Thank-you Katie for a great trip!
Recommended
Perfect Honeymoon Destination!
By: Holly
Reviewed on: 06 Aug 2015
Sugar Beach Resort in St. Lucia is located in the most beautiful setting imaginable, truly paradise. The staff was always helpful and friendly and the food exceeded our expectations. I highly recommend getting a treatment at the Rainforest Spa as it was such a relaxing, unique spa atmosphere. The resort had several excursions that we enjoyed, including hiking Grand Piton, Sunset cruises, hikes to waterfalls and much more. The villa we stayed in was stunning and had an amazing view of the ocean. Katie was such a huge help in finding us the perfect destination for our honeymoon. I highly recommend Sugar Beach for it's excellent location between the Pitons, gorgeous beach, amazing staff and delicious food. Thank you to Katie and CBS travel for helping us to plan this awesome trip of a lifetime!
Recommended
Katie made our dream trip a reality!
By: Will3251
Reviewed on: 20 Jun 2015
Katie Boydston Rollins put together a Danube River cruise for our family, and we were delighted with the results. Katie's itinerary was thoughtful and well-organized. Our flights before and after the cruise came together without a hitch, and our accommodations in the Hilton Prague Old Town were superb. As for the cruise itself, AmaWaterways proved to be an ideal line for us. Our ship, the AmaSerena, was brand-new, and her able crew pampered us and took care of our every need. Nick Hartog, our cruise manager, was always available to ensure that our day trips went smoothly, and his familiarity with the towns we visited helped to guide our decisions. Comfortable travel, a five-star cruise experience, beautiful stops in the Czech Republic, Germany, Austria, Slovakia and Hungary, and a once-in-a-lifetime experience with our loved ones — what more could we ask for? Thank you, Katie, for being so caring and detail-oriented! We'll return to you when we're ready for our next travel adventure.
Recommended
Perfect Planning, Perfect Honeymoon
By: Betsy87
Reviewed on: 23 Jun 2015
Katie did an amazing job as our travel agent. When we first started planning our honeymoon, she made excellent recommendations tailored to what we wanted (and could afford). After we decided on Montpelier in Nevis, Katie helped us get the package we wanted, made sure we understood the pricing options, and completed all of the bookings. She even anticipated what we wanted based on earlier conversations and made restaurant reservations for us. She provided us with invaluable first-hand information about and recommendations for Nevis from one of her CSB colleagues. Additionally, per our last-minute request, Katie made water taxi transfer arrangements when we realized how difficult getting our suitcases to the public ferry would be. It was such a pleasure to arrive in Nevis and at Montpelier and have everything arranged so beautifully. I can't recommend Katie and CSB more highly. I'm definitely planning on contacting her when we decide it's time for our next big trip.
Recommended
5 Star Experience
By: Green15
Reviewed on: 21 Jul 2015
Katie helped me plan the most wonderful, surprise honeymoon for me and my wife. From our first discussion to the week before my trip, Katie was making sure that my experience was going to to be unforgettable... and it was!! Katie and I began planning my honeymoon about 7 months in advance and we were able to research together the best possible vacation spot for my future wife and me. Katie took my wants and desires for a honeymoon and turned them into reality. Week by week Katie would send me a few suggestions on countries/ accommodations and in turn, I found the most unbeatable honeymoon property. Once I had settled on the destination Katie took care of the rest from booking the reservation, to helping me determine the best flights, to calling the hotel with questions about the resort. She went above and beyond making sure we had the most luxurious and comfortable stay. I would highly recommend Katie and CSB Travel when planning your next five star vacation! Thanks Katie!
Recommended
She is Great!
By: WesleyL
Reviewed on: 08 Jul 2015
Katie was an absolute joy to work with. I was somewhat picky about where I wanted to go on my Honeymoon and she was able to provide several options that fit my criteria. She was quick to respond and very easy to communicate with. The place I ended up selecting was perfect for my wife and I, it was exactly what I was looking for. Katie was very knowledgeable of the resort and had even been there several times, so she knew the quality and the details of the place she was sending us. I could not have asked for a better person to book our trip and would recommend her to anyone. Wesley
Recommended
Quality Service
By: CLK2015
Reviewed on: 10 Jul 2015
Katie helped us plan a trip to Istanbul, Turkey and she was very helpful without being pushy. She was very responsive and attentive to what we were most interested. Her recommendations were all superb. She found us a great hotel for a great deal as well as the perfect place to experience a Turkish Hamman. Katie was my first experience getting help planning a trip and I will absolutely use her again and utilize her for even more of the planning process.
Recommended
Superior Travel Advisor
By: Terry10
Reviewed on: 23 Nov 2015
Katie has been an excellent travel agent for us and we are using her services again for a trip with friends on AMA Waterways next year. Her suggestions and travel tips were invaluable on our recent Rome, Italy trip. She always communicated immediately to any question we had and guided us expertly through the travel booking process because it had been thirty years since we had traveled to Europe. The private excursions which she booked for us were wonderful and the guides (Walks Inside Rome) were very expert, informative and friendly. We loved the hotel and all its amenities. We are recommending Katie and her travel agency to all of our friends and family for their future travel needs.
Recommended
Very Insightful, Helpful, and Friendly!
By: Rich
Reviewed on: 23 Nov 2015
Katie made a great recommendation for our honeymoon destination after talking with us about our travel preferences and hopes for the trip. She facilitated all of the travel and activity bookings and really made our trip as seamless and easy as possible. Katie was great to work with and I would highly recommend her to anyone!
Recommended
Wine Country
By: John G
Reviewed on: 18 Feb 2019
Another terrific experience recommended by Katie. Enjoy the tastings, dinners and FarmHouse Inn.
Recommended
Review of Katie Rollins!
By: Alice
Reviewed on: 08 Apr 2019
Katie was fabulous! Having done a few trips for me now I would highly recommend her for anyone looking for and someone well organized and wonderful to work with. :)
Recommended
She's the Best
By: ATL2183
Reviewed on: 04 Aug 2016
Katie has now planned our Honeymoon and our Honeymoon 2.0. I was being a little more picky with my wants/needs this go around and she met all expectations, even when she was traveling halfway across the world (perks of a travel agent life), she was quick and through with any and all replies to my requests for planning our vacation. We will continue to use Mrs. Rollins and her CSB Travel agency as we have had nothing but great experience thus far. I have recommended to many and continue to get nothing buy praise back from my peers after their own experiences. Keep up the great work Katie. We look forward to our next adventure!
Recommended
So Professional, yet so Personable and Sincere
By: Spain2016
Reviewed on: 03 Aug 2016
Katie was amazing…we had four families (a group of 22 people) traveling to Spain with as you can imagine, lots of varied ideas on where to go and then what to do when we got there. She was so patient as we discussed options and costs and was always receptive to our phone calls and emails. With four families traveling, she basically was dealing with four clients at once, instead of the customary one or two. But Katie handled everything beautifully and we were all so pleased with our trip and especially Katie's service. The transportation, guides and details that we could not have done on our own were secure upon our arrival and we always had a number to call if we had any questions, changes or concerns. I highly recommend Katie…she is sensitive to a client's wishes, is knowledgeable about fabulous places and can absolutely cater your trip so that it will be exactly what you want it to be.
Recommended
Absolutely perfect honeymoon!
By: KDeWitt
Reviewed on: 08 Aug 2016
From start to finish Katie was a fabulous help in planning our honeymoon. She was so quick to respond and gave genuine insight to the various resorts we were interested in. She knew the nitty gritty details of each place and helped us to select a hotel that fit all our requirements! Beyond that, she helped us find the best flights and hotel rates for the trip. The whole day of travel was made easy by her itinerary and pre-scheduled shuttles and boat rides. While on the trip, we were constantly surprised to come to our hotel and find all kinds of treats - snacks, champagne, etc. Such a bonus! We absolutely loved working with Katie and have recommended her to everyone we know planning a honeymoon!
Recommended
Working with Katie Rollins was the best decision we made all trip
By: Wesley
Reviewed on: 03 Aug 2016
Working with Katie Rollins was a dream. We told her a long list of criteria around what we were looking for in our ideal trip, and after some calls, lots of listening to us ramble, and much thoughtful consideration, she returned to us a well thought out proposal of 3 destination options (how they best matched our criteria, pricing for each, pro's and con's, etc.). She gave us everything we needed to make an informed decision on where to go - in our case St. Lucia - and feel confident and excited that it would be the perfect place for our trip. After that, she took over! She helped us plan a fantastic trip down to the last details, and did most if not all of the leg work. In addition to her organizational assistance, she was able to get us special treatments, an extended stay at one resort for free, and a variety of discounts and negotiated prices on activities. She works within your budget and really helps you maximize your trip. I wouldn't plan another big vacation without her!
Recommended
Always available always helpful - GREAT advice
By: SJSchoen
Reviewed on: 03 Aug 2016
Katie Boydston Rollins provided us with the ULTIMATE Spain experience and peace of mind as we traveled with friends and family - 22 of us! The trip was perfect. That doesn't mean it had no glitches - those were some of our favorites memories. Solving the tiny mixups which were mostly our fault became our funny times. If we ever needed Katie, she responded right away even being in New Zealand herself. The home where we stayed was absolutely perfect and beyond what we hoped. Our day trips were well planned and we felt comfortable with all drivers and guides. I want to go back! And I want Katie Rollins to plan my next trip!
Recommended
Excellent Service
By: Megan112
Reviewed on: 03 Aug 2016
My husband and I had our honeymoon to Australia planned by Katie Rollins and it was the trip of a lifetime. Katie did a fantastic job planning every detail of the trip and even helped book us back up travel/hotel accommodations when it looked like we were going to miss our international flight. She went above and beyond on every aspect and I would highly recommend Katie to anyone that asks and we will certainly use her again in the future.
Recommended
Great service, very knowledgeable
By: sh123
Reviewed on: 03 Aug 2016
Katie did a great job for our Honeymoon. We went to Antigua and she was incredibly knowledgeable about different resort options and how to get the most out of our trip. She was responsive and all of her suggestions were spot on. Our flight ended up getting cancelled on the way to the island and she worked quickly to extend our trip and day and get new flights so we could still enjoy the entire week. I would highly recommend her to anyone looking for a travel agent.
Recommended
Amazing trip from a great planner
By: Canada2016
Reviewed on: 03 Aug 2016
Katie could not have planned a more prefect trip for our family. She listened to everyone's thoughts, needs, and desires, and was able to plan such a great destination, outings, and details that made all 10 of us happy. Katie provided a good combination of planned activities and restaurant selections as well as recommendations on various things we could go in free time as well. This was nice, as we were able to fill some of our free time with things to do day of and make changes as needed. All of the facilities, restaurants, and activities set up for the trip were great and I would recommend them to others. Everything was taken care of and we felt Katie took great care of us and making sure our trip was flawless. Juggling the opinions of 10 different adults I'm sure was not easy, but Katie did it effortlessly and exceeded expectations. We are very happy with our trip and would use Katie again in the future.
Recommended
Great first experience with a travel agency!
By: MTLitwack
Reviewed on: 26 Sep 2016
This was our first time using a travel agency and we both agreed that it was a great experience! Just the convenience of having one point of contact from start to finish is well worth it. Katie was informative, knowledgeable, professional, and made great recommendations. She was able to reserve the last available room of our choice at the resort which we would not have had the wherewithal to do on our own. We hope to go on more trips and use Katie again in the future!!! Sincerely, The Litwacks
Recommended
Incredible, in every way!
By: artrol
Reviewed on: 06 Oct 2016
My wife and I had decided on Italy to celebrate our 30th wedding anniversary and after discussing a few ideas with Katie at CSB Travel, she went to work putting together the perfect trip. Katie enlisted the help of IC Bellagio to work out many of the fine details and both did an excellent job! The transfers, without exception, went flawlessly. To say the hotels and upgrades were all five star would be a huge understatement. Stays at Hotel De Russie in Rome, Hotel Gritti Palace in Venice, Hotel Villa d"Este in Lake Como, Hotel Borgo Egnazia in Puglia and then our final night back in Rome at Hotel Posta Vecchia were superior in every way. We enjoyed extraordinary meals at all of our hotels in addition to many other incredible meals throughout the tour. All of the scheduled tours were at the exact right pace and with very knowledgeable and friendly guides. This along with many sites to see added to an informative while relaxing trip. I wouldn't change a thing!! Bellissimo!
Recommended
Incredible Vacation
By: Charlie05
Reviewed on: 03 Oct 2016
Katie organized and delivered an amazing vacation! Thanks to her, our honeymoon was stress free and full of relaxation. She was incredibly thorough leading up to the trip and found us the perfect destination to meet all our wants and requests. We look forward to booking with Katie in the future.
Recommended
The Best!
By: Brighton & Phillip
Reviewed on: 06 Oct 2016
Katie planned the trip of a lifetime for us- we had the best adventure across 3 different locations in Italy and every place we stayed was absolutely perfect! Katie had us in great locations where we could walk to everything and easily navigate the city- exceptional hotel staff and service as well. She also arranged transfer services for us and our drivers could not have been more hospitable and friendly and full of information. We will use Katie the next time we plan a big trip- thank you Katie for everything!!!!
Recommended
Awesome!
By: Sean & Egen
Reviewed on: 09 Dec 2016
Katie helped us plan our trip from concept all the way through. We had a rough idea of what we wanted to do, but no idea how to make it happen. Katie was able to take our broad view and turn it into a once-and-a-lifetime trip itinerary. The hotels, restaurants, and attractions she recommended were all outstanding. She was always available for friendly advice, the service was incredible! Thanks Katie for the unbelievable trip!
Recommended
We love our agent!!!
By: gpsmith04
Reviewed on: 17 Oct 2016
Katie was a joy to work with! She laid everything out perfectly and gave great recommendations. We loved the resort we stayed at- which was a perfect fit for our purpose of travel. Katie was in touch while we were there as well!
Recommended
Amazing Trip!
By: Holly
Reviewed on: 07 Nov 2016
Our Silversea cruise in the Mediterranean Sea was the trip of a lifetime! The ship was amazing, the food delicious, the locations visited were gorgeous and the service was top notch. I would highly recommend this cruise line. This is the second trip Katie has planned for me and she did an amazing job as usual!
Recommended
Best Travel Advisor!
By: Bk510
Reviewed on: 20 Dec 2016
Katie made finding a great honeymoon destination so easy. All of her recommendations were spot on and was always willing to help with any questions I had. I will definitely be using Katie again for any of my future travel needs!
Recommended
Katie is excellent to work with!
By: Tommy
Reviewed on: 10 May 2017
In helping to plan a mini-moon to Bermuda in April, Katie was extremely helpful. She handled everything travel related, which took a lot of pressure of the bride & groom and allowed us to focus on wedding. She maintained a positive and helpful demeanor throughout. We are extremely grateful that she is our travel guide!
Recommended
First Trip to Paris
By: John
Reviewed on: 15 May 2017
In March we took out first trip to Paris. Katie assisted in our planning with many ideas and choices. After selecting our plan she provided excellent choices and recommendations. Our trip was exactly what we desired. We would recommend Katie and use her again.
Recommended
Very helpful
By: Will
Reviewed on: 11 Oct 2017
I would highly recommend Katie. She was extremely helpful and made all the difference on my trip. Thank you again.
Recommended
Honeymoon
By: BA120
Reviewed on: 20 Oct 2017
Katie planned our honeymoon to the Maldives and Dubai. We initially chatted about what we were looking for and Katie listened to our desires. She sent us 3 fabulous proposals and we spent some time looking through them and then chatted with Katie on the phone about the different options. She helped steer us in the right direction, but never seemed forceful and was extremely knowledgeable about the 3 different options. She recommended that we stay at Al Maha outside of Dubai. We really had no idea where we wanted to stay in Dubai and we are so glad we had Katie because we would have never found al Maha on our own. Al Maha was such an incredible place and so unique. We highly recommend both places we stayed in the Maldives and in Dubai! Katie is excellent at what she does! Our whole honeymoon was seamless from the airport transfers to staying at the most amazing properties. Thank you so much, Katie! We will definitely have you help us plan another trip soon!
Recommended
Incredible Experience Start to Finish
By: Dirty B
Reviewed on: 16 Oct 2017
Everything about working with Katie was easy. From the initial stages of discussing potential locations and the different options at each, to planning once we made our decision, to payment (clean and easy), up to the actual trip - which was amazing. I will be working with Katie for any and all future vacations.
Recommended
Perfect from beginning to end
By: Susan Roche
Reviewed on: 19 Oct 2017
I spoke with Katie last fall about our trip to Scotland and she assured me that she could handle everything. Well, she did! After discussing our options, she contacted Adams and Butler, gave them our desired travel dates along with all of the places we'd like to see. In just a few weeks we had an itinerary! It was perfect. Katie was there every step of the way with reminders and advice. She made the entire process a breeze. I will definitely contact her again for help with future travel plans.
Recommended
Tahiti
By: David Vernon
Reviewed on: 27 Oct 2017
Working with Katie was a pleasure. She listened to all of our requests and provided good information.
Recommended
Amazing honeymoon!
By: Will
Reviewed on: 29 Jan 2018
Katie did the most amazing job planning our honeymoon. Everything was completely seamless from airport transfers to dinner reservations. We can't thank Katie and CSB Travel enough!
Recommended
Trip to Japan
By: Patti
Reviewed on: 12 Mar 2018
Katie was fantastic at setting up our recent ten day trip to Tokyo, Mt. Fuji, Hakone, Kyoto & Hiroshima. We enjoyed the most experienced local guides and drivers following an impeccable itinerary while we stayed at luxury hotels. Throughout the trip we were treated like dignitaries and shown the best of what each place had to offer. Our guides were very impressed with the itinerary that Katie set up for us. Katie offered helpful suggestions during the trip scheduling process and was always available before and during the trip, if needed. Katie is a joy to work with and she will research and find the answer to any question, no matter now minor. I highly recommend Katie Rollins as your trip advisor. With her expertise you will be assured of enjoying a wonderful trip with lifelong memories.
Recommended
One & Only Palmilla
By: CB
Reviewed on: 12 Apr 2018
It was great working with Katie on planning my honeymoon. It was a wonderful trip and Katie was outstanding to work with. Thanks so much!
Recommended
Amazing Honeymoon!
By: Jake Bradford
Reviewed on: 15 Apr 2018
Working with Katie was an absolute pleasure! She provided us with plenty of great options to choose from and helped us narrow it down to one amazing destination. She was very attentive and answered all of our questions that we had. Every detail of the trip was very well thought out. Booking through Virtuoso we were given several upgrades and amenities during our trip. Working with Katie was a 10 out of 10 and we would highly recommend her to anyone looking for a travel agent!
Recommended
Hidden Gem
By: Ashton
Reviewed on: 08 May 2018
We came to Katie with a very broad idea of what we wanted to do, but with no exact destination in mind. She first helped us explore 5 different hotels in the Maldives and worked very well with my indecisive personality. When we just couldn't make up our minds on the Maldives, she then presented us with the idea of Benguerra Island, a small island off Mozambique, only accessible by helicopter, that we would have NEVER found ourselves. Needless to say, it was the trip of a lifetime and a destination you could only ever imagine in a movie. We absolutely loved it and will definitely be back. Thanks Katie!
Recommended
Honeymoon Trip
By: Bob
Reviewed on: 29 May 2018
Katie was referred to us by some close friends and we could not have been happier with her help and advice in planning our trip. Katie was very knowledgeable about great honeymoon destinations and provided us with a great list of places that fit our budget and destination requirements. Katie was very personable and enthusiastic about finding us the perfect spot for our honeymoon. She even helped me keep it a surprise from my fiancé. In addition, Katie went above and beyond by treating us to a few local Piton beers once we arrived down in St. Lucia. I would highly recommend Katie to anyone looking to plan a vacation and I know I will be reaching out to her again soon. Thanks Katie!
Recommended
Trip to Greece
By: Janet
Reviewed on: 30 May 2018
We loved working with Katie to plan our trip and had the most amazing vacation! She helped us decide which islands to visit in Greece, based on what we like to do. We loved all of the hotels she recommended - the service at each one was fabulous. She arranged all of our transportation, and all of our travel was seamless. She recommended activities and restaurants on each island, and booked the excursions we wanted to do. We had the best trip, and will highly recommend Katie to any of our friends booking trips!
Recommended
What a terrific trip!
By: DavidW
Reviewed on: 11 Jun 2018
Katie Rollins was the consummate professional throughout the planning of our recent visit to Paris, Nice and Monaco. Every detail was accounted for, and our flights, accommodations, day trips and Formula 1 race day all meshed seamlessly to create an exciting European adventure that my brother and I will never forget. When I plan my next domestic or international vacation, you can bet that I'll rely on Katie's skill, enthusiasm and attention to detail to deliver another fun, fantastic travel experience. Thank you, Katie!
Recommended
Fantastic Customer Service and Knowledge
By: Jenny
Reviewed on: 11 Jun 2018
We tremendously enjoyed working with Katie. She was super helpful, and had creative suggestions for our trip. In addition, she was able to work with all of our needs very well. Our experience was customized and thoughtful, including a send off note and checking on us throughout our trip. I highly suggest Katie as an expert with travel.
Recommended
Portugal
By: Anne and Bill
Reviewed on: 10 Jul 2018
We recently spent 12 days in the welcoming and beautiful country of Portugal. Our travel advisor, Katie Rollins, created an itinerary with a nice balance of city/historic tours combined with periods of relaxation whether at beautiful beaches or wine-country river valleys. All the hotels Katie selected for our travel provided superb service and luxurious accommodation. Our private guides and drivers were courteous and informative. We absolutely loved our trip and can't wait for our next one! Thanks Katie.
Recommended
Recommendation for Katie Rollins
By: James W.
Reviewed on: 10 Jul 2018
I would highly recommend Katie to anybody looking to book a trip for not only their honeymoon, but for any vacation. This was the 2nd time we have used her to help plan a vacation for us. This time around was our honeymoon, and she sent us a ton of different options and always responded in a timely manner to answer any questions we had for her. She is 2 for 2 in pointing us in the right direction for our last two vacations. Thanks Katie! We wouldn't have these memories without your assistance!
Recommended
Katie Rollins for President
By: Chris
Reviewed on: 17 Sep 2018
We used Katie Boydston as our travel agent for our honeymoon this past August, and we couldn't have had a better experience. Katie helped provide a wide array of high-end resorts which were in our strike zone. Katie's execution was on point - she booked the hotel, made sure our ride to and from airport was set, set up the flights, got us travel insurance, etc. We were relieved having Katie take care of it all for us. Further, we had a minor issue come up while on our trip (I want to be clear that it had nothing to do with Katie's recommendation), and we called Katie for help. Within 20 minutes, Katie resolved our issue, and our honeymoon only got better. We've never had a travel advisor go well beyond his or her duty like this. Katie's planning, execution and audible were impeccable, and she has made a client for life.
Recommended
Incredible Honeymoon in the Canadian Rockies
By: James
Reviewed on: 23 Nov 2018
Our first call the minute we decided that the Canadian Rockies is where we wanted to spend our honeymoon was to Katie. For people who had historically been DIY vacation planners, it was a new experience giving up some of that control, but after our first conversation, we knew that Katie would make the trip exactly what we wanted it to be. She provided the perfect amount of options so that we didn't feel too overwhelmed, but also gave us the flexibility to see everything that was out there. Once we had landed on an itinerary, Katie took care of the rest and I can honestly say it was the least stressful trip I have ever planned. Katie made sure we were taken care of at every location and we felt like VIP's our entire trip. After the buildup to the wedding, our honeymoon was the perfect first 8 days spent as a married couple and so thankful for all Katie did to help us make those memories.
Recommended
Katie Rollins is wonderful
By: Mary
Reviewed on: 17 Oct 2018
Working with Katie planning our trip was so easy and fun. She gave us great options and really listened to what our priorities and ideas were. We had a family emergency during our trip and Katie did everything she could to help us get home and to also get any refunds we were eligible for. Katie is so knowledgeable and it is such a pleasure to work with her!
Recommended
Honeymoon
By: Patrick
Reviewed on: 31 Oct 2018
Easy and stress free. She was very responsive and helpful.
Recommended
Quick Holiday Trip
By: John G
Reviewed on: 21 Jan 2019
Our trip planning was last minute and Katie gave us several choices before selecting the Rosewood Baha Mar. Katie provided coordination of several parts of our experience including activities and dining. All the selections were excellent and enjoyed by our family. I would recommend Katie to all travelers as our experience was great.
Recommended
We Love Working With Katie
By: AvidTraveller
Reviewed on: 21 Apr 2019
Katie was fantastic to work with. She was extremely responsive and went out of her way to make our trip extra special. We will definitely continue working with her in the future.
Recommended
Couldn't have done it without Katie!
By: Kierstin
Reviewed on: 10 Jun 2019
Throughout our entire experience, from the first phone call to the end of our trip, Katie was extremely helpful, always responsive, and very kind. If something didn't quite fit our interests, she was quick to recommend something else and made sure everything we did was worth it and added value to our trip. The experiences and hotels she booked for us were unique and doubt we would have been able to put together such a seamless, amazing trip.
Recommended
Bermuda
By: KK
Reviewed on: 23 Jun 2019
Katie was fantastic. She had really good suggestions and took care of all the details and arrangements. We will definitely use Katie to plan our next trip!
Recommended
Attention to Detail - Sweet & Easy Service
By: Elizabeth
Reviewed on: 30 Oct 2019
Oh my gosh! Katie was so so so wonderful to work with planning my honeymoon. Even though Katie had a little baby boy during the process, she was still emailing me and reminding me to complete tasks and confirming changes I'd made! We had the exact trip we wanted & I only had to pay and show up. For our honeymoon, John & I wanted a bit more adventure than leisure so we went to Nepal and then Bali. The local guides were phenomenal. It was so great to be greeted at the airport & driven to each place we visited while getting to know our guide & the culture. Katie made us feel so special with surprises & treats in each hotel - candlelit dinners, bottles of wine or rose petal baths… It was so wonderful to not have to pay at every hotel & count the conversions and figure out transportation at each stop. We were able to be fully immersed in the experience & it was wonderful. Thank you again Katie for all your amazing help & hard work. You made our honeymoon so special & unforgettable!
Recommended
Honeymoon - Hermitage Bay
By: William
Reviewed on: 05 Feb 2020
I recently worked with Katie to plan my honeymoon to Antigua and could not be happier that I did. I reached out to her about six months before the wedding with only a general idea of what type of trip / destination I had in mind and she provided a thoughtful list of places that all looked wonderful. I chose Hermitage Bay based on her personal recommendation and it was truly the perfect place for us. Katie was tremendously helpful and very patient with me as I was juggling a busy work schedule and wedding planning. She handled every detail with care and went out of her way to make sure we had a wonderful trip. From coordinating with the resort to helping us with travel to setting up some very special experiences for us, Katie did such a good job with everything. We had an amazing honeymoon and could not have done it without her. Thanks so much and we cant wait to work with her again on the next trip!
Recommended
Katie Rollins - A++
By: Wes
Reviewed on: 28 Feb 2020
Excellent. Katie is thorough and timely. She was thoughtful in planning our trip to both our wants and our budget, and delivered an itinerary we loved. She knows these resorts so well, and is so helpful getting us in the best situations possible: tough to get reservations, activities she's sure we will like, and always a room upgrade :) Thanks Katie for another great trip!
Working with Katie Rollins, you will have access to:
- An experienced travel guide whom you can rely on before, during, and after the trip
- Exclusive luxury resorts and properties
- Once in a lifetime experiences
Explore with the Best
Virtuoso Advisors are constantly pushing the boundaries in unique travel experiences.
Alliance programs are unique tailored experiences exclusive to travelers working with Virtuoso Travel Advisors.
learn more
United States - All
Ireland
United Kingdom
Antigua And Barbuda
France
Jamaica
Netherlands
Spain
Turks And Caicos Islands
Mexico
Saint Kitts And Nevis