Peg Aikman
DS
Bridgeville, DE United States
Travel Specialties
Interests
Adventure
Family Travel
Safari
Independent Tours
River Cruising
Destinations
Australia
Ireland
New Zealand
United Kingdom
Botswana
Selling Travel Since
1987
My Background
I became involved with travel in 1987, working 8 years for United Airlines traveling extensively throughout the Pacific and Europe. I've been certified by the boards of tourism in Australia, New Zealand, Hawaii, Italy, Spain and South Africa. I have additional certifications in Spa and Golf travel as well as small ship cruising. As you can see my interests are varied! My personal commitment to ongoing global travel coupled with my board of tourism certifications gives me the ability to provide unique knowledge in trip planning. My passion is to create life enhancing, life enriching travel experiences for couples, families and multigenerational groups utilizing the best Virtuoso suppliers.
Exciting new membership with Virtuoso Family and Adventure Travel communities will only enhance my experience and knowledge in planning international family and multigenerational travel.
If you are interested in international travel I would love to collaborate with you!
Places I Have Traveled
Reviews and Recommendations for Peg Aikman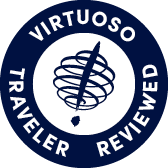 Virtuoso Verified Traveler
All reviews are from confirmed guests sharing exclusive insights
Sort reviews by
Recommended
Outstanding
By: Dan
Reviewed on: 05 Jun 2014
Peg is an outstanding travel professional in every way. She always goes that extra mile to get the job done. During year end, I celebrated a significant birthday. We celebrated by inviting five daughters...and their ten children, to a week's celebration at Caneel Bay, St. John, ISVI Peg made all the resort bookings including a snorkeling expedition boat...birthday Party on the beach, etc. Also, all travel arrangements...with one family living in Seattle, Wa... One from Portland Ore. And the others from Portland, Me. All arrived within hours of each other. It was truly an extraordinary effort..with great results. All past Travel experiences with Peg have been similar...great ideas, recommendations and results.
Recommended
Great Trip!
By: Kathy
Reviewed on: 29 Apr 2014
Great vacation!  Loved that we just had to show up at our designated times and everything was taken care of!  Transfers, flights, hotels…all went smoothly! Our only requirement was to have fun and enjoy the surroundings!!   
Recommended
Stickler for the details!!!!!
By: Frequent traveler with Peg
Reviewed on: 12 May 2014
She is GREAT!  
Recommended
Peg is the best, most discerning, travel agent
By: Princeton
Reviewed on: 30 May 2014
Over the past ten years or so we have booked trips with Peg to New Zealand, Chile (twice), Israel (twice), Greece, California, and countless smaller trips in major American cities:  NYC, Philadelphia....  I have lost count.Peg tells you like she sees it, she is bluntly honest, and we have been very happy with her professionalism and diligence.  Twice she's been our triage heroine when our flights on major trips during the holidays were canceled or delayed.  That's when you know you have a true hardworking agent who will give it her best to make your trip special even when weather or mechanical malfunctions send huge curve balls.  She makes it happen.  She also truly understands our preferences (lodgings, recreation, meals) and works from there to provide us with vacations we have absolutely loved.  If she is not sure about a location or lodgings (which is rare), she investigates.  I am so glad to have her as our travel agent.  
Recommended
Sooo above and beyond the call!
By: C & P
Reviewed on: 07 Jul 2014
I have already told Peg a couple of times that I could see 'her fingerprints' all over our trip. This is the second trip that Peg has put together for us and both have had so many exemplary features. In this latest trip, small and large details were in place that made our time away so great - the right Fairmont in Vancouver, the accommodations on VIA rail (particularly heading west - smooth ride, few people, good service throughout), the right car rental, the right route through the Rockies and on and on.Peg has made a point of getting to know us well and has designed these trips using all her information.While we don't travel every year you can bet we'll have Peg do our trips in the future.
Recommended
Another Fabulous Trip by Peg
By: Annie
Reviewed on: 15 Aug 2014
Peg...we don't leave home without her!! She knows exactly what we want and plans every detail perfectly.
Recommended
Perfect, as always
By: margaret0905
Reviewed on: 07 Sep 2014
My husband and I celebrated our 27 year wedding anniversary last night with a beautiful night at the Peninsula Hotel in Chicago. Our travel advisor, Peg Aikman, made sure every need was met, including all the wonderful Virtuoso amenities and a relaxing late check out. I don't plan a trip without her!
Recommended
awesome in every way!!
By: mike and emily
Reviewed on: 26 Sep 2014
Exceptionally helpful in planning the perfect honeymoon!!! She was prompt, well informed, and overall great to work with. She helped us plan the most perfect trip to places that we had never been, and we would have been lost without her!
Recommended
perfect planning
By: Dan
Reviewed on: 01 Nov 2014
Every detail fromHOTELS to guides to air transport to expedited airport checkin and security -to- gate delivery was supurb. It could not have been better....
Recommended
High End All Inclusive
By: Margaret1200
Reviewed on: 08 Jan 2015
Our family of 7 had another wonderful stay at Grand Velas in Playa del Carmen, Mexico. This was our third stay at this resort and it never disappoints us. The service is excellent, the accommodations are very large and well-appointed and the food is outstanding. I would highly recommend this hotel to anyone, but it especially does a great job catering to families with young children.
Recommended
All we had hoped for and more
By: Eric L from Barrington
Reviewed on: 26 Feb 2015
I recently had the opportunity to fulfill a life-long dream--a trip to Africa that included a photo safari. This was our second trip via Peg, so we looked forward to the trip with great anticipation. Highlights included: Staying at the Cape Grace Hotel in CapeTown---5 stars all the way. Big,comfy rooms and outstanding service High quality eating and wine tasting in Stellenbosch, including the restaurant at Majeka House, a fine place to stay Ngala&Beyond Lodge for safari. You feel like you are really out in the bush staying in very luxurious tents, fantastic animal sightings. Londolozi Founders Camp. Luxury lodge with fantastic animal sightings. Highgrove House near HazyView feels like an English country house and provides easy access to the Panorama Rd Particularly noteworthy was how well-oiled a machine we experienced on the ground...the drivers, transfers, navigating the airports, etc. All in all, a trip that exceeded expectations that were already set at a high bar. Thank you, Peg
Recommended
An ABSOLUTE dream
By: SLG
Reviewed on: 17 Feb 2015
Our trip to Mexico to the Riviera Maya and the Belmond Maroma Resort was a dream. Peg got us a suite on the second floor which had to be the best one in the place - she knew because she had been there - it was on the end of the row, we felt like we were alone on the beach each day. The service at Maroma is exceptional, and we've travelled a lot! Food was great too, especially the guacamole and margueritas! Peg put the trip together (during high season) only about 6 days before we left - it was a last minute getaway and she pulled it off! Absolutely perfect.
Recommended
We don't go anywhere without Peg's expert guidance
By: Annie52
Reviewed on: 24 Mar 2015
Peg is our very, very valuable travel expert. She always plans the perfect itinerary, perfect accommodations and perfect transportation. Honestly, we don't leave home without her. If we run into flight cancelations, she is a text away and takes care of it. Our hotels are always excellent and well located. She organizes tours and guides that enrich our trip. We really appreciate all she does to make our trips top-notch.
Recommended
Marvelous Travel Expert!
By: Coop
Reviewed on: 01 Apr 2015
Peggy is the consummate travel expert, knowledgeable, thorough and she truly cares that her clients have a good experience. The only time we have issues is when we do not take her advice. She's a gem!
Recommended
Peg delivers every time!
By: We three p
Reviewed on: 24 Apr 2015
We have been on several trips all over the world that peg has planned for us! She plans the best experiences - ones that you would never do on your own! Can't thank her enough!!!!!
Recommended
Always a true professional
By: Travelbug09587
Reviewed on: 22 Jun 2015
Peg Aikman has been my Travel Consultant since 2003 and has never let me down. Her extensive knowledge and passion for her work shine through in every trip she plans. She is always bettering herself by attending trade functions and travels extensively in order to be current and accurate. I highly recommend her as a Travel Consultant for all your travel needs.
Recommended
Gets it right
By: Marc72
Reviewed on: 22 Jun 2015
Peg is a good listener, adds great ideas, and never lets down. Bravo!!!
Recommended
Superb!
By: Jen87
Reviewed on: 30 Jun 2015
Peg did a wonderful job preparing our trip. She hired the perfect driver guide and booked us in top notch hotels and resorts. She was readily available when we had delays with our flights and helped us get all of our plans rearranged-- we didn't miss a beat. We will use her again for sure and refer her to anyone who needs help with their next trip!!
Recommended
Peg is always the best!
By: SueandRoger
Reviewed on: 07 Jul 2015
Peg Aikman has planned probably two dozen trips for us over the years. We would use no one else! She always gets the best prices on the best hotel rooms - never a dud. And she's available throughout the trip to take care of anything that we need. No matter what we ask, she can do it! She works very closely with the local guides and/or the travel company we are using. She is great.
Recommended
Ireland
By: princeton
Reviewed on: 09 Jul 2015
We had a fine time in Ireland. Everything went smoothly. Despite some rainy weather (what a surprise!). A beautiful land with very friendly people and we were happy with our itinerary. Another memorable trip from Peg.
Recommended
Wonderful listner
By: JC1960
Reviewed on: 14 Jul 2015
Peg understands us and always finds wonderful resorts & places to visit. She listens to our wants & desires and always delivers. She is direct and always gives her opinion. She also remembers what we like and don't like from our previous adventures. She can also make things Happen in a hurray when we do things last second Lastly, she values great golf courses!!! Go Peg
Recommended
Lewis and Clark cruise
By: Skip
Reviewed on: 11 Aug 2015
An excellent cruise. American Empress is a comfortable ship with superior service. Riverlorian "Lawrence" was very knowledgeable and his lectures on the Lewis and Clark Voyage of Discovery were well done.
Recommended
Excellent service
By: Beach and Tennis
Reviewed on: 06 Aug 2015
Peg got airfare and planned a trip to Caneel Bay on St. John. We travel a lot and I have some health issues and all of our requirements were met. It was a wonderful trip and all of us had a splendid time. Probably kept too busy because we are exhausted, but that is not Peg's doing, there are too many fun activities at Caneel Bay. Beach and water are crystal clear, tennis facility is great and ZOZOS the main restaurant is outstanding. Make your reservations before you leave.
Recommended
An expertly planned trip
By: Anne68
Reviewed on: 28 Aug 2015
Peg did an amazing job of planning our family trip to Peru with National Geographic. Everything was organized with clear instructions for every step of our journey. Can't say enough of her professionalism and personal attention. Thanks for a wonderful time.
Recommended
Wonderful 40th birthday weekend!
By: JenandJohn
Reviewed on: 15 Dec 2015
Our weekend in Boston at the Four Seasons was a dream come true. The hotel was beautiful and luxurious. Peg arranged a lovely suite for us. Our dinners out on the town were delicious and the car service was very helpful and prompt. Our breakfasts were "on the house" because of the Virtuoso benefits. It was a beautiful weekend from start to finish-- thank you for Peg for the planning!
Recommended
Perfection in Hawaii
By: Princeton
Reviewed on: 17 Dec 2015
Another great trip planned by travel agent par excellence Peg Aikman! We loved our trip and already are mulling a return in 2016.
Recommended
Best Accomodations EVER!
By: Susan
Reviewed on: 31 Dec 2015
I would never book a hotel room without using Peg. She always gets the best rooms, the most amenities, and the best price!
Recommended
Adventure in Cuba
By: Emily Anne & Jeff
Reviewed on: 02 Feb 2017
Peg was amazing! We were very nervous about traveling to Cuba in December 2015 before major airlines were flying there. She handled every detail, created exactly the experience we were looking for, and then checked in with our local guides throughout the trip to confirm everything was going as planned. Given the shifting political and embargo situation at the time of our trip, we thought it would be very tricky to coordinate. It may have been tricky for Peg, but we never saw that. Everything was seemless and we felt safe and prepared before we left. The trip went off perfectly as planned with a wonderful local guide and a driver with us from the airport and throughout the entire trip. In developing the itinerary, Peg made sure to take our personal interests into account. The trip was an unforgettable adventure and we are so thankful to have visited Cuba when we did. We never could have made this trip happen without her!
Recommended
Beautiful Japan
By: Susan from DC
Reviewed on: 08 Apr 2016
Peg arranged a 9-day trip to Japan; Tokyo and Kyoto. As always, we get first rate treatment, the best hotel rooms and reservations at hard-to-get restaurants! The general manager of the Kyoto Ritz Carlton greeted us in person upon arrival. We always have the most wonderful tour guides, and most important, they are flexible as we are a family who tends to want to do things last-minute. GREAT times!
Recommended
No one else gets better hotel rooms!
By: Sue
Reviewed on: 16 May 2016
Peg was able to secure many rooms for us during graduation weekend, all with Virtuoso amenities which made our guests very comfortable and happy, and she rolls with the changes like a champ! Thanks
Recommended
Spiritual journey
By: Slgendron
Reviewed on: 28 Jul 2016
We traveled to Bali to renew our wedding vows. The hotel Amankila went so far above our expectations to celebrate with us. Our guide I Wayan Suatra was wonderful. We have new friends in Bali. Peg is the hotel guru!!
Recommended
Peg is an excellent travel expert!
By: ALC
Reviewed on: 29 Sep 2016
From start to finish, Peg always arranges perfect trips for us. Air travel, hotels, guides, transportation - everything she organizes is amazing. We don't like to leave home without help from Peg.
Recommended
Thorough, experienced and helpful.
By: Kathy555
Reviewed on: 01 Oct 2016
Peg provided exactly the expertise we needed and wanted. We had a trip to Spain partially planned and she guided us to appropriate hotels in both Barcelona and Madrid that met our needs and then booked them for us. As a result we received additional Virtuoso benefits that we would not have otherwise gotten. She further helped us with tickets to a futbol game and high speed train tickets from Barcelona to Madrid that were all delivered to our room upon arrival. This trip was planned by us at the last minute and Peg was kind enough to offer this last minute assistance. In the future we will be sure to provide a little more advance notice so we can use Peg's expertise for additional planning.
Recommended
Super Lady.....
By: Hedy
Reviewed on: 07 Nov 2016
Had to cancel. Health Issue.
Recommended
The Nines Hotel
By: The Nines Hotel
Reviewed on: 06 Jul 2018
I'd never book a hotel room without going through Peg Aikman. Her connections with virtuoso get you best room with the most perks always!
Recommended
So worth it! Helpful, friendly, and easy
By: kerful1
Reviewed on: 26 Nov 2016
Peg planned my recent trip to Australia and New Zealand (2 weeks in Australia, 1 week in New Zealand). We talked about the things I wanted to do and see on the trip, and then she took it from there. Based on her experiences and what I was interested in, she assembled an itinerary for me, including flights, airport transfers, hotels, and activities. I asked questions about some things, and she refined the itinerary a few times based on my comments or questions. She also took care of the necessary visa for Australia and travel insurance. All in all, it was a fantastic trip, and every detail had been taken care of. All I had to worry about was being ready at the right time to be picked up for a tour/activity or to go to the airport. It was so relaxing to know that everything was set. In a couple of the hotels, I had virtuoso upgrades to the concierge level, which was amazing. I will definitely be contacting Peg again to help me plan my next adventure!
Recommended
Perfect Time
By: Andy
Reviewed on: 16 Dec 2016
Highly recommend Peg. The trip was planned exactly to our liking. Our guide Martin made the trip even better.
Recommended
Only the Best!
By: Lori5
Reviewed on: 17 Jan 2017
Peg plans all of our awesome trips and the trip to Africa was what she always commands - seamless and high quality! She attends to every detail before the trip so that we never have to think about anything! She anticipates our wants and needs and always exceeds our expectations! We love Peg because she is the best!
Recommended
Caribbean Cruise aboard Sea Dream `
By: Skip
Reviewed on: 04 Mar 2017
Easy, as always. She helps with trip planning and plans ahead with advisories.
Recommended
Venice and Croatia
By: Chantin
Reviewed on: 18 Jul 2017
Easy and efficient. Attentive top our needs and desires.
Recommended
Amazing Trip
By: Greece by Boat
Reviewed on: 01 Aug 2017
We've been working with Peg Aikman for over 20 years. She is a meticulous and well connected travel agent! We wouldn't ever plan a trip without her!
Recommended
Great Trip!
By: Annie
Reviewed on: 25 Sep 2017
She's amazing. Very knowledgeable, connected, helpful, resourceful and accessible. She makes the effort to get to know us and what we want and need; then, puts together the perfect trip. We don't ever leave home without her!!
Recommended
She's a Travel Virtuoso!
By: cpkaru
Reviewed on: 14 Oct 2017
I have worked with Peg Aikman for many years. She is knowledgeable, easy to communicate with, and responds quickly to any questions or issues. I would recommend her without reservation to anyone!
Recommended
If you want perfection...
By: travelbug
Reviewed on: 25 Nov 2017
Use Peg Aikman to book any and all trips you take, from a quick weekend get-away in NYC to the trip of a lifetime to Africa. She pays attention to all the details and leaves nothing to chance. Peg has traveled extensively herself and plans trips with first hand knowledge of the location, hotels, guides and restaurants. I don't plan a trip without her!
Recommended
Well planned and successful trip
By: Travel7060
Reviewed on: 25 Feb 2018
I planned a surprise birthday trip overseas for my husband, I gave Peg a budget and a overall idea of what I was looking for, and she delivered perfectly. We went through 2-3 drafts, and Peg efficiently and thoughtfully made requested changes until we got the itenerary perfected. Her recommendations were spot on, and helped make the trip even better than expected. She was a good listener and reacted to my travel preferences appropriately, not insisting on controlling the itenerary. We had a perfect time, and the trip exceeded our expectations, without a flaw. I would recommend Peg and will engage her again.
Recommended
India for Three Weeks
By: Roger
Reviewed on: 14 Mar 2018
She is the best. Peg knows all of the finest players in the business and I always get great accomodations and treatment and fantastic guides and activities.
Working with Peg Aikman, you will have access to:
- An experienced travel guide whom you can rely on before, during, and after the trip
- Exclusive luxury resorts and properties
- Once in a lifetime experiences
Explore with the Best
Virtuoso Advisors are constantly pushing the boundaries in unique travel experiences.
Alliance programs are unique tailored experiences exclusive to travelers working with Virtuoso Travel Advisors.
learn more
Australia
Ireland
New Zealand
United Kingdom
Botswana
China
Croatia
France
Italy
Morocco
South Africa
Spain
Tanzania
U.S. Virgin Islands
Cuba