Travel Specialties
Interests
Adventure
Beach & Sun
Family Travel
Sports & Outdoors
Independent Tours
Destinations
New Zealand
Australia
Canada
Sweden
Spain
Selling Travel Since
2014
My Background
I believe the key to a better world lies in travel. Bias, misunderstandings, differences - they are better understood when first hand experiences are gained. The more you travel, the more your soul is healed.
This belief is the reason I switched careers from being a professional mechanical engineer to a travel advisor.
As a mom of two toddlers, I have experienced many types of travel and understand the complexity they both present. Whether an adults only retreat or a family vacation, each trip is unique and I will build an itinerary to fit your needs, wishes, and desires.
I can book trips all over the world, but there are a few places I have a little more knowledge and context around including Sweden, Germany, Canada, and two of my favorites, Australia and New Zealand.
When working with clients, I like to provide the best experience possible - remembering value and price are not always the same thing - and think of myself as meticulous, earnest and excited about every possibility.
Places I Have Traveled
Reviews and Recommendations for Katie Schmit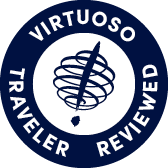 Virtuoso Verified Traveler
All reviews are from confirmed guests sharing exclusive insights
Sort reviews by
Recommended
Satisfied customer!
By: dkuhlman
Reviewed on: 10 Mar 2015
Katie did a fantastic job of arranging our vacation, and I would use her again for our next. Our trip was a ski trip planned to Keystone, CO. Our family has taken this trip in the past, but I wanted to try and avoid the hassle of arranging it myself. She set up everything for our family after getting our information. The different services showed up on time and as expected. The condo we stayed at met every expectation. The ski trip was a blast and my family was very complementary. The only downside we really experienced was that the foothills got a foot of snow the night we were supposed to get out there and we ended up staying the first night in Golden. Katie was available by phone and made sure everything turned out ok. The costs were as expected and not any more than I would have expected had I arranged it myself. It took a lot of stress out of my life to have her set everything up.
Recommended
My new vacation expert
By: bkl99
Reviewed on: 08 Jul 2015
Katie was very helpful and responsive from the moment I asked her about booking a family cruise. She took the time to talk with me about our previous cruise experiences and what we wanted from this cruise. We figured out the dates and booked the perfect package. Katie always followed up on my questions and gave me ample time to process the cruise payments. I am so glad I have Katie to help me through the vacation planning process.
Recommended
Island Paradise
By: bkl99
Reviewed on: 17 Sep 2015
Really enjoyed our getaway to the One&Only on Hayman Island during our trip to Australia. It was a short flight from Sydney and the attentive service started as soon as we arrived at the One&Only airport desk. The resort has been open just over 1 year but everything runs very smooth. The only delays we encountered where at breakfast and dinner when we would have to ask multiple times for drinks and wait up to 30 minutes in-between courses. We took it in stride since we were relaxing on vacation and understood that the staff was overwhelmed. All rooms face the ocean and have views of either pool. The hotel is very large but we never saw large crowds during the day. Katie with Virtuoso flawlessly setup our accommodations and helped arrange two excursions. We took a seaplane to the Great Barrier reef and landed in a huge circular reef to snorkel with only 2 other guests. All equipment was provided and they had champagne waiting for us after we finished.
Recommended
Detailed Friendly Agent!
By: Laura
Reviewed on: 02 Mar 2016
I love using Katie as our travel agent. Not only is she friendly, but she is super detailed, resourceful and proactive. Our hotels have been on amazing properties and our travels have ran smoothly. She is very knowledgeable about many locations all around the world, and I'm looking forward to where she will send us next!
Recommended
Excellent, personalized service
By: Mick & Gaylene
Reviewed on: 15 Mar 2016
Katie did an excellent job of coordinating our amazing "bucket list" trip to New Zealand. It was just the way we wanted it, many thanks to her. Everything went according to plan. All of the tours, transports, cars, and rooms were high quality, and met our expectations. The vouchers were handy and always accepted without question. We also really appreciated the extra personal touches she added. It was reassuring to have her check in with us during our trip, and a very nice feeling to know Katie and our Southern World local contact were there for us. We have already recommended her to friends and will definitely use her services in future travels.
Recommended
The best experience ever
By: Les and Joan
Reviewed on: 31 May 2016
We gave Katie a challenge to put together a five week trip to New Zealand and one week trip to Australia and gave her ten days to do it. We have never used a travel agent before while traveling. Katie made a believer out of us. Katie set up an itinerary which was easy to follow, exciting to experience and met every expectation we had and even more. The trip was an unique experience of a lifetime because of Katie. During our trip, Katie was always in touch with us to be sure everything was going to plan. Katie went out of her way to find out what we liked and wanted to see and experience on our vacation and then delivered!! When we decided literally at the last minute to go to Australia before going back to the USA, Katie was able to get us a wonderful hotel in Melburne, set us up with two fantastic tours and even arranged for us visas at the last moment which we needed for travel. Every place Katie arranged for us to stay was spectacular. We highly recommend Katie!! She is the best!!
Recommended
Katie is the ultimate dream maker!
By: Giants101
Reviewed on: 01 Jul 2016
Katie did an outstanding job in recently planning a birthday surprise trip for me and my son at the Four Seasons Hong Kong. There was a surprise cake for us and a card signed by the staff. In addition to these surprises, she made sure that we took advantage of all the virtuoso amenities such as arranging a complimentary daily breakfast and confirming a late checkout. In short, she is my go to travel advisor who goes to great lengths to make things happen.
Recommended
Great advice before and during
By: Alex
Reviewed on: 29 Aug 2016
Katie was awesome to work with from the time of our first introductions all the way through the planning process and the trip itself. She was able to incorporate all of our "must-do" places and activities within a great itinerary, and her expertise/knowledge of New Zealand really came through in her recommendations. The reputation and partnership she had with some of the local vendors came through as well during our trip. What really stood out was that her service and care continued on throughout our entire trip. From little things like personal notes at our destination to timely emails with extra restaurant recommendations along the way, we came home feeling like Katie hadn't just helped plan our trip, but she was absolutely attentive to making sure all of our experiences were as great as they could be along the way, as well!
Recommended
Expert Personalize Service, Goes the Extra Mile!
By: Traveling Family
Reviewed on: 12 Oct 2016
We are a very well traveled family, just having completed our second around the world trip. We have high standards for travel planning and Katie exceeded our expectations in every way. She is knowledgeable and thoughtful, understanding not just what class of accommodation or experience we were looking for, but getting to know us well enough to pick the right option among similar offerings. We look forward to our next Katie-curated family adventure.
Recommended
China
By: Ron
Reviewed on: 04 Nov 2016
I just received my credit card invoice that included 3 separate charges. 9/30/16 Wild China for $640.00 10/10/16 Wild China for $2,350.00 10/18/16 Agent fee for $150.00 Total $3,140.00 I feel this is pretty steep for 2 tour days and 4 airport transfers. The hotels were great!
Recommended
Another Perfect Trip
By: Family Traveler
Reviewed on: 07 Nov 2016
Another wonderful trip thanks to Katie's expertise and attention to detail.
Recommended
Always Amazing!
By: Nick
Reviewed on: 30 Nov 2016
Katie does a great job for us! She's prompt and professional, and does her best to make sure everything is perfect!
Recommended
Friendly travel expert!
By: AshleyMichele
Reviewed on: 05 Dec 2016
Katie has arranged travel for us numerous times and each time I'm still amazed at her thoroughness, attention to every detail, and friendly happy deminor. She knows her stuff and her suggestions and resort knowledge are second to none. She goes above and beyond to make sure our trips are wonderful. She takes the time to patiently answer all of my questions. We appreciate Katie and always look forward to booking trips through her. She gets 5 stars from me!
Recommended
Excellent, comprehensive assistance
By: bgriff
Reviewed on: 14 Dec 2016
Katie helped me book several hotels for my honeymoon and went above and beyond to make sure the stays were perfect -- she worked with the properties to ensure that we received excellent treatment on site and that everything was fully in order (and that all Virtuoso benefits were honored). Everything came through perfectly at the hotels and the trip was really great. I will definitely work with Katie again in the future.
Recommended
Maui done right
By: Seattle Traveler
Reviewed on: 14 Dec 2016
Katie helped plan our accommodations in Maui @ The Fairmont. Beautiful property but when we got there the hotel placed us in a non optimal room (right over the cafe and pool) with a blocked view. Katie got right on the case and made sure that the hotel took care of her clients. They moved us the very next day to a much better room with a killer room. I really appreciate how Katie jumped into action (even on her birthday!) and simply handled things for us. This isn't the first time we've booked with Katie and she has always done a great job. We will definitely utilize her skills again.
Recommended
Katie plans the most amazing vacations!
By: Giants101
Reviewed on: 03 Jan 2017
Katie is one of the most amazing trip planners, bar none! About one year ago, I inquired with Katie about securing a hotel in Sydney with a prime view of the New Year's Eve Fireworks over Sydney Harbor. She spent countless hours researching, checking with her contacts and doing her due diligence. Ultimately, she came up with the Shangri-La Hotel, Sydney. When we arrived at the hotel. we were absolutely blown away by the room she obtained for us. We had local family in Sydney who saw the fireworks with us in the room and they too were blown away. Katie has a knack in making details of a trip perfect. Additionally, Katie also planned the rest of our Australia trip with a stopover in Melbourne. All of our Australian tours went well without any hitches. Plus, she is absolutely a joy to work with. All in all, this is one trip we will never forget, thanks in large part to Katie.
Recommended
great travel advsior
By: shihfan
Reviewed on: 27 Jan 2017
Great. Very efficient and responsive. Also able to answer all the small detailed questions for me.
Recommended
Katie is awesome!
By: Gene
Reviewed on: 30 Jan 2017
Working with Katie is always pleasant and efficient. She knows exactly what I need, and gets it right on the first try. She always follows up and makes sure I am well taken care of during my travels.
Recommended
Excellent Travel Advisor - Highly Recommended
By: Shah
Reviewed on: 13 Feb 2017
I was recommended to Katie by another of her client. I am very glad that he recommended her to me because she is very knowledgeable and was able to guide me to the best hotels. She has been very patient and answered all my questions without hesitation. I highly recommend Katie if you have any kind of travel coming up and want to find the best location and recommendations by an expert.
Recommended
Great advisor
By: Ben
Reviewed on: 16 Feb 2017
From the first time I spoke to Katie, I knew that she was very knowledgeable and detail oriented. She sent me a great explanation of the property's amenities and follow up with all my requests over the next few days.
Recommended
Patagonia trip
By: Ganda
Reviewed on: 22 Feb 2017
She put together an excellent itinerary for Argentina and Chile in a very short amount of time and was very easy to work with. I will recommend her to friends.
Recommended
Great Service
By: Jason
Reviewed on: 14 Mar 2017
Katie was very well organized and extremely responsive to our needs. I would highly recommend her.
Recommended
Fabulous; exceeded expectations
By: Jiaotze
Reviewed on: 18 Mar 2017
Katie went over and above in the process of ironing out reservations and pricing, and following up a couple of days before arrival at our various properties. Throughout the entire reservation process, Katie was extremely responsive and courteous. She certainly has my business going forward.
Recommended
Happy repeat customer
By: Shah
Reviewed on: 28 Mar 2017
Always love working with Katie. She is highly knowledgeable and a pleasure to work with. Highly recommended.
Recommended
🙏🏼🙏🏼🙏🏼
By: T
Reviewed on: 06 May 2017
We have worked with Katie before and had a great experience! However, due to unforeseen circumstances we had to cancel our recent trip to London. Katie kept suggesting we should still go, but we ultimately decided to postpone for a later time to be determined. She was professional in assisting with helping us make the necessary cancellations.
Recommended
Fantastic Stay at RC Singapore
By: JC
Reviewed on: 25 Apr 2017
Katie provided personalized service to our family of 4 traveling to Singapore. Her attention to details enabled us to have a wonderful stay at the Ritz Carlton. Her service is highly recommended!
Recommended
great travel advsior
By: shihfan
Reviewed on: 10 May 2017
Katie is knowledgeable, thoughtful, and quick to respond. It was a pleasure working with her
Recommended
Short Babymoon Getaway
By: ManiJuhi
Reviewed on: 22 May 2017
It was really a pleasure to work with Katie. She took care of last minute request very efficiently. I have another trip planned through her (bigger one this time) and I cannot wait to experience that. Recommend 100%!! Thank you Katie!!
Recommended
A+
By: Annie
Reviewed on: 22 May 2017
Katie had detailed knowledge and first hand experience of the hotels I was interested in staying at. She was able to make great recommendations and reach the hotels on my behalf to ensure that we received the best possible care and service. She was also very responsive to questions I had and I would recommend Katie to any traveler looking to have a flawless and wonderful trip.
Recommended
Katie is fantastic to work with!
By: Julie
Reviewed on: 17 Jun 2017
Katie aided me with my international travel plans and was extremely helpful. She gave me options and continueously followed up with me regarding various aspects of my travels. I love her Facebook and Instagram pages, as they are both inspirational and informative. Thank you, Katie!! Can't wait to work with you again!
Recommended
Katie takes the time to learn about you
By: Les
Reviewed on: 07 Jul 2017
Katie takes ttime to learn about you as an individual and then takes that knowledge to put together a vacation that is just perfect. Working with Katie is pleasurable and exciting. She always comes up with fantastic places to stay and great things to do. I love working with her.
Recommended
Excellent Service
By: Sockie Winkie
Reviewed on: 27 Jul 2017
I loved working with Katie. She did everything to make the trip wonderful, from the time we arrived the hotel through our departure. Upgrade was AMAZING!
Recommended
Katie delivers
By: mhallren
Reviewed on: 23 Aug 2017
Katies was a delight to work with,She does what she says.And I'm sure she could provide any type vacation you wanted.
Recommended
August Dublin Trip
By: PattiC
Reviewed on: 18 Aug 2017
Katie was very easy to work with. She shared her expert advice, was very efficient meeting all requests, and responsive to all questions in short order. I had done some research on my own and she followed through advising me with pros and cons. I made our vacation decisions in planning all activities with her advice in mind. We flew on Aer Lingus and stayed at The Merrion Hotel. Katie made all the arrangements, made sure we had our vouchers, and double-checked with us before we left. She also checked with us during our trip and made sure all our needs were met. We were a party of five adults and we had a great time. I highly recommend Katie and Virtuoso.
Recommended
Exploring Asia
By: bkl99
Reviewed on: 18 Sep 2017
Enjoyed another relaxing trip to Asia this month thanks to Katie's help planning our hotel stay. She is very responsive and always willing to help customize our stay. We are very lucky to have Katie on our side!
Recommended
Best Vacation Ever
By: Kyle
Reviewed on: 07 Oct 2017
Katie was fantastic with planning my trip to London, Paris and northern France. The hotels, experiences and more were exactly what my wife and I were looking for. The highlight was the guided tours to Mont St Michel and the Normandy landing beaches. The guides were excellent. Katie also helped us schedule trains. She left us enough time to easily make our way around the station. I couldn't be happier with my experience.
Recommended
highly recommend
By: MyNeighborTotoro
Reviewed on: 27 Oct 2017
I've worked with Katie twice now and each time she's listened, asked thoughtful questions, and delivered. We needed to do safari on a more limited budget than people usually do, and she found an amazing place for us. I highly recommend working with Katie!
Recommended
Beach vacay in Laguna
By: Jimmi
Reviewed on: 02 Nov 2017
Katie was great to work with and the communication was top notch. We'll definitely book with her in the future.
Recommended
Very helpful and well organized travel advisor
By: Ratna
Reviewed on: 24 Nov 2017
Katie was very helpful and got us a good deal at the hotel. She paid great attention to detail—we enjoyed the benefits of the virtuoso property very much and got upgraded to a wonderful suite.
Recommended
Great
By: Sue
Reviewed on: 26 Nov 2017
Katie is always very responsive. I look forward to the day when I use Katie's services more fully than I currently do.
Recommended
Above and Beyond
By: Alex
Reviewed on: 10 Dec 2017
Katie was excellent, and went above and beyond to make our honeymoon special. Between coordinating with the hotels, working to get us the best deals and experiences, to working with her contacts to figure out logistics with respect to transfers, Katie did it all. She was always responsive, and quick to help out when needed. Katie was amazing and I would recommend her to everyone I know!
Recommended
Ecuadorian Cooking Tour
By: Jackie Ramdin Johnson
Reviewed on: 11 Dec 2017
Katie is amazing and catered to all of my wishes. I was not planning on traveling to Ecuador, but she suggested it and made sure that everything was attended to. From the moment Ecuador, every aspect was taken care of. I couldn't have asked for a better experience in an AMAZING country and people. I can't say enough about Katie and look forward to the next adventure. Bring it on Katie!
Recommended
trusted travel agent
By: shihfan
Reviewed on: 16 Dec 2017
Katie is always timely, thoughtful, and detail oriented in her planning and bookings. She is a pleasure to work with
Recommended
Another wonderful booking
By: Jason
Reviewed on: 17 Dec 2017
It was a quick stay and Katie ensured everything went flawlessly as always.
Recommended
What can I say!! She's the best!
By: ManiJuhi
Reviewed on: 03 Jan 2018
Already booked couple of vacations with her help now. And I am so glad I found her. Very patient. Very Flexible. Very Prompt. Very Caring. Our last holiday was our's first with 5 months old baby, and she made sure we do not come across any issues. Absolutely fantastic.
Recommended
Nicaragua Winter Trip
By: Eileen & Parker
Reviewed on: 04 Jan 2018
Katie was fantastic to work with - thorough, thoughtful, and insightful! Because we were too late to book our original trip to New Zealand, Katie recommended Nicaragua and it was the most relaxing vacation my husband and I have been on in years. She recommended the best eco lodge that had amazing amenities, service, and food! We can't wait to work with Katie again for our next trip. We highly recommend working with Katie with any and all folks if you want an amazing vacation!
Recommended
Trip to Victoria, BC
By: Joni
Reviewed on: 03 Jan 2018
Working with Katie was great! She answered all my questions right away and made the whole vacation easy!
Recommended
Cost Rica 2017
By: Miller-Costa Rica
Reviewed on: 11 Jan 2018
Planning our trip with Katie was awesome!! She was so great to work with and made everything so easy! Very organized and well planned! Katie checked in with me throughout the trip and was so accommodating to all our needs. I can't wait to plan another trip with her!
Recommended
Fantastic Experience
By: Jacy
Reviewed on: 25 Jan 2018
Katie is a wonderful advisor and detail-oriented planner. Throughout the whole process, I felt as though she was very invested in personalizing my trip to myself and my girlfriend's preferences and desires. I never felt forgotten or neglected, and our trip turned out perfectly. Highly recommended!
Recommended
Belize
By: chip
Reviewed on: 07 Feb 2018
Katie is an excellent travel agent very knowledgeable. She listened to our needs, wants and delivered a great vacation.
Recommended
peninsula booking
By: pam
Reviewed on: 28 Feb 2018
fabulous! she got us tripe upgrades and superior check in service. Just a wonderful experience from the booking thru the stay
Recommended
great travel advisor
By: shihfan
Reviewed on: 06 Mar 2018
Katie is thoughtful and knowledgeable. She is also detail oriented and will make sure you feel special and taken care of on your vacation =)
Recommended
My Firsit Virtuoso Booking - Superb!
By: rapidtravelchai
Reviewed on: 09 Mar 2018
A long-time client of Katie recommended her for my trip - the grand opening of the Fours Reasons Resort Seychelles at Desroches Island. I have not previously worked with any Virtuoso agent. Katie liaised with the property for all the details including the charter flights required to reach the island. The package she made was not only the best price anywhere, it featured a village upgrade, a lavish dinner, breakfast, and spa experience at a price other channels charged for just a standard bungalow. I felt like a celebrity at the opening and much credit is due to Katie for her efforts to put this together.
Recommended
Absolutely Amazing!
By: kiki2020
Reviewed on: 04 Apr 2018
Katie was amazing! She took care of everything from start to finish and checked in routinely during the trip to make sure everything was going smoothly. Can't imagine booking another trip without her!
Recommended
Appreciative
By: Patti c
Reviewed on: 01 Apr 2018
Katie offers advice that makes a vacation trip memorable. I tend to do a fair amount of research on my own. Katie has recommended details that served us very well in our two recent trips to Dublin and Paris. Her suggestions have increased the opportunity to make our vacations special.
Recommended
French Polynesia
By: Holly
Reviewed on: 13 Apr 2018
Katie set up a great initerary from the warm welcome at the airport to the friendly and knowledgeable tour guides and excursions. It made a magical vacation run effortlessly
Recommended
Katie Schmit knows travel
By: CK
Reviewed on: 21 Apr 2018
Both hotels we stayed at in Edinburgh were very nice and off the tourist path, but still in the heart of the city and great neighborhoods to be able to walk for diner and drinks.
Recommended
Very Knowledgeable & experienced travel advisor
By: World Traverler
Reviewed on: 29 Apr 2018
Katie was very knowledgeable and experienced travel advisor. In addition, she responded promptly and very patient. Because of her help, my trip to Desroches Island went very well. I enjoyed the Four Seasons Resort in the Island. I would recommend others to book their trip with Katie. You won't disappointed.
Recommended
Another Great Trip!
By: Alex
Reviewed on: 19 May 2018
This was our second trip booked through Katie, and again it was fantastic. A bit simpler of an itinerary than our first, but her advice, insight, and service were still on par. Looking forward to working with Katie on many more trips to come!
Recommended
The bee's knees
By: Jiaotze
Reviewed on: 22 May 2018
Katie is an absolutely wonderful travel advisor. She is extremely personable and so responsive. I feel fortunate to have found her, and she will definitely be my go-to travel advisor when I need someone to assist with bookings.
Recommended
Europe trip
By: devin
Reviewed on: 20 Jun 2018
Katie was amazing. She helped us plan a wonderful trip from Prague to Berlin to Amsterdam. We loved the hotels and tours she planned. Can't wait to use her services again!
Recommended
Great to work with Katie
By: Theresa
Reviewed on: 23 Jun 2018
It's great to work with Katie. She is very professional and always organizes our hotel reservations perfectly.
Recommended
Room upgrade
By: Pilot1234567
Reviewed on: 04 Jul 2018
Very professional. Quick in responses to any questions and requests we had. She was able to work with the sales team to secure a room upgrade even before we checked in. She always follows up prior and after our arrival.
Recommended
recent trip to Germany and Poland
By: Rosie
Reviewed on: 09 Jul 2018
Katie was very thorough and clear. She planned our trip well and kept me informed. I will go thru her for future travels.
Recommended
Australia
By: Eric
Reviewed on: 18 Jul 2018
Kaite was personable, timely, and responsive. She was very accommodating with customizing our trip for our special needs child. Everything went smooth and it was a once-in- a life time itinerary!
Recommended
Fun in the Sun
By: Julie B
Reviewed on: 28 Aug 2018
Katie was an excellent resource when planning my few days away in the sun. She advised me of a current promotional rate which allowed me to "Stay 4 nights, pay for 3", which was a great money save for me! Katie also kindly arranged for a welcome cheese platter to be waiting for me on arrival at the hotel, as well as scoring an upgrade to a much nicer room. I'll be using her again the next time I need a hotel stay! She was very responsive to my requests, checked in with me to make sure everything was OK at the hotel after I arrived, and made herself available whenever I needed something.
Recommended
travel agent
By: nina
Reviewed on: 11 Sep 2018
fantastic! Katie is very available, efficient and knowledgeable. I couldn't think of a better agent for all my travel needs. Wish I had found her earlier.
Recommended
Dubrovnik.
By: Devi
Reviewed on: 22 Sep 2018
Katie was so helpful Booking the best hotel in Dubrovnik :)
Recommended
very helpful and resourceful
By: mamanubs
Reviewed on: 04 Oct 2018
Katie was very helpful to me. Always quick to respond with answers and information. she seems knowledgeable and actually cared about me as a client.
Recommended
slovenia & croatia
By: terri
Reviewed on: 29 Oct 2018
Katie is amazing. firstly, I came to her with a very specific itinerary, a list of things that I wanted, and a list of activities that I wanted. within about 2 wks, she had my exact itinerary in the exact order that I requested. so fast and so thorough. secondly, the actual trip went off so smoothly. people met us at the airport, we had a private driver then whole way through, and everyone (guides for tours, guides for hiking, drivers, hotel staff) knew our schedule and itinerary and was able to help us appropriately. thirdly, and perhaps most importantly, Katie is a pleasure to work with. she is kind, personable, easy to talk to, responsible, and I will definitely be asking for her help with trips in the future. Thank you, Katie!
Recommended
Katie Schmidt
By: royboy
Reviewed on: 02 Dec 2018
She is conscientious, dependable and sincerely interested in matching your wants and needs to the right vacation.
Recommended
Chile
By: Fly fisherman
Reviewed on: 08 Dec 2018
Katie was great to work with for a trip to Chile. She worked with her contacts and prepared an amazing itinerary. She checked in often before the trip and ensured our questions were covered. She also touched base at points on the trip.
Recommended
Katie is the Best
By: Kyle C
Reviewed on: 23 Dec 2018
Katie helped me plan a beautiful Christmas vacation for my wife and I. She was very knowledgeable and helped me work through the details of the trip. Her hotel recommendation not only accommodated our needs but it also wowed us with its excellent location and superb guest service. She also set us up with a wonderful walking tour of the city. Katie has now helped me plan trips to London, Paris and Canada. Her advice has helped open up a whole new world of travel for my wife and I. I can't wait to plan my next trip with such an outstanding travel advisor!
Recommended
Wonderful
By: Dave
Reviewed on: 02 Jan 2019
Katie planned a WONDERFUL honeymoon for us to Hawaii. Our hotels were excellent, and the perks we received through her booking we wonderful. She also booked some excellent activities for us, including a helicopter tour of volcanic activity, which was the highlight of our trip. I cannot wait to work with Katie on our next trip!
Recommended
Caring and responsive
By: CCSteele
Reviewed on: 30 Dec 2018
Katie gave us lots of great options for our family vacation. The property we chose was a great fit and we had a wonderful week.
Recommended
Very helpful and knowledgeable
By: Ann D
Reviewed on: 12 Jan 2019
She did a great job planning a river cruise for the Christmas Markets in Europe. I'm looking forward to working with her on other trips. She's very personable and easy to talk to, listens, and provides very helpful information.
Recommended
Excellent Travel Advisor
By: Deb
Reviewed on: 16 Jan 2019
I like to be in charge of my trips when I travel however sometimes I need guidance.I thought I would contact Virtuoso to see if they could be of assistance. My luck I was connected to Katie. We worked very well together and she got my nuances and desires to help make for an outstanding vacation.
Working with Katie Schmit, you will have access to:
- An experienced travel guide whom you can rely on before, during, and after the trip
- Exclusive luxury resorts and properties
- Once in a lifetime experiences
Explore with the Best
Virtuoso Advisors are constantly pushing the boundaries in unique travel experiences.
Alliance programs are unique tailored experiences exclusive to travelers working with Virtuoso Travel Advisors.
learn more
New Zealand
Australia
Canada
Sweden
Spain
Germany
United Kingdom
Ireland
Chile
Costa Rica
Democratic Republic of the Congo
Jordan
Romania
Slovenia