Travel Specialties
Interests
Adventure
Beach & Sun
Family Travel
Food & Wine
Shopping
Selling Travel Since
2014
My Background
My love and enthusiasm for travel inspire me to transform any vacation into a "Trip of a Lifetime". I truly believe that travel enriches your life, and once you travel, you can never be the same.
As a Virtuoso Travel Advisor, I, along with my global network of luxury travel insiders, am able to offer my clients unparalleled concierge level service, experiences, destinations, amenities and most importantly value.
Building a personal relationship with each and every client is the foundation of successfully creating a single customized itinerary or a complete travel portfolio. I am committed to excellence in managing one of your greatest assets, Your Leisure Time.
Bon Voyage! Buon Viaggio! Boa Viagen! Buen Viaje! Trevlig Resa! Goede REIS! Scastlivovo Puti! Gute Reise! Go Dte Tu Slan! Veilige Reis! Ube Nohambo Oluhle! Stretan Put! Selamat Jalan! KaHuaka i Maikai i! Tieow Hai Sa-Nuk! Len Duong Binh An! Safe Travels!
Places I Have Traveled
Reviews and Recommendations for Lauren Parry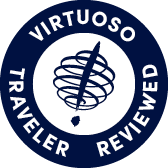 Virtuoso Verified Traveler
All reviews are from confirmed guests sharing exclusive insights
Sort reviews by
Recommended
The best travel services, ever!
By: LA
Reviewed on: 25 Dec 2014
Without the expert services of our Virtuoso travel agent, we would have missed several wonderful services and amenities. She made our trip flawless. She understands our wants and needs for future travel plans. We will definitely be a repeat customer.
Recommended
Professional, attended every detail.
By: KBobS
Reviewed on: 09 Apr 2015
Our trip was planned beautifully from wheels up to wheels down. The resort was wonderful and offered a variety of dinning to suit any palate. The planning of our agent, Lauren made the trip "turn key". We will definitely use the agency again for future trips.
Recommended
Travel made easy!
By: Happy Mom
Reviewed on: 18 Mar 2015
When my husband and I agreed to take our 2 daughters ( ages 5 and 12) to Disney World I knew I would need help from start to finish! I called Lauren and she immediately began to make our vacation take shape. I answered a few questions from her regarding best flight times, types of accommodations we like, styles of eating and even activities we enjoy. Within a day she called back with flight choices and her best recommendations for Disney onsite properties, dining plans and specialty activities for the girls. She was right on target with everything! Our flights, the luggage service, and the magical transportation bus made our travel so smooth. Bay Lake Towers was a fabulous condo type hotel with an excellent pool and access to all the Contemporary offers plus the monorail. Dining and activities were perfect for our differing age groups...she even coached me on registering our Magic Bands and Fast Passes! The whole process was easy and I couldn't have done it without her!
Recommended
Great Disney Cruise
By: bgreener
Reviewed on: 07 Apr 2015
Many thanks to Lauren for helping us with our Disney Cruise. She stepped in for Brandy, another agent who left the company. Lauren worked all the details out to our great satisfaction and was extremely helpful and accommodating. I look forward to planning another trip with her in the future.
Recommended
First Class Service
By: la
Reviewed on: 01 Apr 2015
The trip to Palm Springs was absolutely fabulous. Lauren Parry planned the perfect trip and made the trip very memorable. I would use her for all of my trips as she knows my likes and dislikes. She was able to assist in planning and helped with reservations that exceeded my expectations. I highly recommend Lauren Parry as a wonderful travel consultant!
Recommended
Expert service! Amazing honeymoon
By: dac106
Reviewed on: 10 Apr 2015
It was an amazing honeymoon at the Royal Bahamian Resort in Nassau, Bahamas. Kristin and I had an outstanding time at the resort and the butler service was amazing. The plans that Lauren and I worked out were completed as we planned and we did not have any issues on the honeymoon. We were able to do the dolphin swim on our own time, which worked out great, and the butler service was amazing, as they planned meals each night we were there. We got to also have a time on a private Sandals Island, we had an amazing massage at the Red Lane Spa, and also got to have a private elegant dinner on the beach together. I can't thank Lauren enough for such an amazing time and all the help as we could not have done all the honeymoon planning, with our wedding planning ongoing, without her help! She was an amazing travel agent and I recommend her to anyone! Expert service, very caring and planned it how we wanted and went above and beyond to meet our needs. Thank you so much again!
Recommended
No stone left unturned - IMPECCABLE!!
By: AdaJ
Reviewed on: 07 Apr 2015
If everyone provided insight and services like Lauren Parry, the world would be a better place. Never in my life have I experienced such impeccable attention to detail. We will continue to use Lauren for all of our travel needs. You are fortunate to have her.
Recommended
Great job!
By: Mots233
Reviewed on: 10 Apr 2015
She did an amazing job. Everything was seamless and perfectly organized. All of the material for the trip was sent in a lovely packet. She followed up with emails and texts. She sent an array of reading materials about the areas where we were traveling. She was always available and offered tons of pre trip advice that made all of us really feel excited and at ease. She was amazing, knowledgeable, friendly and caring. I will use her again!!!
Recommended
Best Service Ever!
By: LA
Reviewed on: 04 Aug 2015
The European trip that Lauren planned was amazing! She made certain that our every need was addressed. Being a member of Virtuoso, made all the difference, in the world. The upgrades were magnificent and the treatment received, as a Virtuoso client, was unsurpassed. All of the Virtuoso amenities helped make the trip, a trip of a lifetime. I highly recommend Lauren, as a supreme travel agent. I am planning my next trip, already.
Recommended
Was awesome and great planning
By: Maddiecakes
Reviewed on: 03 Aug 2015
We had a well planned and organized trip. Everything was smooth and we are looking forward to our Christmas trip that Lauren has planned.
Recommended
Outstanding Service
By: Rebel246
Reviewed on: 14 Aug 2015
Lauren was most helpful in booking my stay at the Peninsula in Chicago. She explained the benefits of booking with Virtuoso very well and offered to assist with any of my other trip needs. I plan to use Lauren again.
Recommended
Only way to go!
By: AshleyH
Reviewed on: 21 Sep 2015
I will never book a trip without Lauren Parry! She was so lovely and professional. I can tell he loves and lives her job! I will recommend her to all my friends! She went above anything I expected and I am so thankful to have planned this amazing trip with her!
Recommended
Amazing attention to detail!
By: Holly
Reviewed on: 28 Jan 2016
Lauren booked our family trip to New York City during the holidays. She made wonderful recommendations for dining and sightseeing, advising us of the best times and days for each event. When weather looked like it would effect our outdoor plans, she quickly rescheduled our reservations for a better day. Even with flight delays, she was totally responsive and helpful in trying to re-book cancelled or delayed flights. Lauren did such a fantastic job that we asked her to book our Mexico vacation while we were still in New York! We will never travel without her involvement. She is truly thoughtful of our travel wants and needs. Every detail was considered. She is the best.
Recommended
Expert friendly service
By: Sophia
Reviewed on: 26 Jan 2016
Lauren did a great job taking care of the details of our trip. She was easy to reach and super friendly throughout. We will definitely be calling her again!
Recommended
The Best!!
By: EW
Reviewed on: 23 Mar 2016
Our trip was hassle free and easy as pie. I can't imagine not using anyone other than Lauren to book our next trip!!!
Recommended
Prompt Professional and Friendly service
By: Donna2016
Reviewed on: 06 Jun 2016
We have used travel agents on several occasions but we have never had our requests and questions handled more promptly and courteously than Mrs. Parry. She planned our trip and advised us on several issues. She answered all our questions. She kept in touch during our initial travel to make sure we weren't having any problems and checked with us once we were home to see how the trip went. Her hotel recommendation was incredible! One of our very best vacations ever. We will be using her for all travel plans in the future. Thank you Lauren! WE LOVED WORKING WITH YOU!!
Recommended
Spring Break
By: Annie
Reviewed on: 25 Mar 2017
She is amazing. Very detail oriented and really cares about her clients.
Recommended
Perfectly planned honeymoon
By: LLSBeneke
Reviewed on: 01 Jul 2016
We had Lauren plan our two week trip to Italy for our honeymoon. We had more fun than I could describe and much of that was due to our trip being perfectly planned and coordinated. After meeting with us about the type of trip we wanted and the type of places we saw ourselves staying, Lauren booked every hotel, tour, plane and train ticket, transfer and even some dinner reservations for us. We had never been to Italy, so we put a lot of trust in her and I am happy to report we do not have a single complaint and absolutely loved everything she chose. Most importantly, the movement between our three locations (that could've been complicated with someone inexperienced in charge) was super simple with her planning. We will definitely be using her to plan our next trip!
Recommended
Perfect House
By: LF
Reviewed on: 08 Jul 2016
Lauren was exactly correct in the perfect house for our group of 11. She took care of us during the entire planning process by sending updates of restaurants, activities and beaches of the Turks and Caicos. She was always available to answer questions, and smart regarding what our group would enjoy. THANKS Lauren for a trip of a lifetime.
Recommended
Amazing Thailand Honeymoon
By: Andrew
Reviewed on: 18 Jul 2016
Lauren booked us the most amazing honeymoon trip to Thailand. Not only were the preparation and planning of the trip smooth, but every stop along the way we were taken care of. Our accommodations were excellent, the adventures were awesome and the level of professionalism and service she provided were top notch!
Recommended
Trip of a Lifetime!
By: Kristie0430
Reviewed on: 16 Aug 2016
Wonderful trip of a lifetime! Lauren did a fantastic job of finding out exactly what my family would enjoy and tailored our trip around our interests. I would use her again and again for planning big trips. Thank you, Lauren! I was awesome!
Recommended
Awesome Vacation
By: YolandaP
Reviewed on: 04 Aug 2016
Thank you Lauren for putting together such an awesome vacation! The girls and I loved every minute of our trip! Such awesome, rich history and culture. The hands on experience was very interesting. The food, hospitality and service were perfect! Our total experience made up for the long flight! I can't wait to visit Africa again! Thanks again for all your expertise and help with my amazing birthday/vacation! I have already referred you to several of my friends. We'll be calling you very soon to plan our next vacation.
Recommended
Virtuoso Satisfaction
By: AT
Reviewed on: 07 Oct 2016
Traveling with Virtuoso is a wonderful experience. We were upgraded to a suite upon arrival and had a wonderful weekend in New Orleans at the Windsor Court Hotel. I enjoy working with Lauren and will be using her services for all of my future travel needs.
Recommended
Montreal Getaway
By: AT
Reviewed on: 14 Dec 2016
Working with Lauren and Virtuoso is always a pleasure. There is no detail of the trip that is overlooked, and the accommodations and service at Le St. James were outstanding.
Recommended
Lauren
By: Kat
Reviewed on: 08 Feb 2017
Lauren was great. She found us a great place to stay and took care of everything we needed. I would definitely use her again for future trips.
Recommended
Amanyara Trip
By: Kristie
Reviewed on: 06 Mar 2017
Lauren was excellent in advising us for our 20th anniversary trip. Everything was perfect. We will use her for all our future trips.
Recommended
Travel agent
By: BB
Reviewed on: 01 Mar 2017
Lauren was great to work with. She listened to our needs and booked the perfect trip for us. We had her book hotel, airline and golf cart. We were very pleased. Everything was just as presented and we will use her again .
Recommended
PC 2017
By: Brad S
Reviewed on: 10 Mar 2017
Lauren answered every question I had promptly. She steered us towards the right destination for us based off of our likes/dislikes.
Recommended
Canyons and Cubs
By: Holly
Reviewed on: 29 Mar 2017
Lauren is always the consummate professional. At the last minute, we asked her to schedule a trip to the Grand Canyon during spring break, their peak season. Lauren found us great hotel rooms, a private guide and scheduled a helicopter tour, then sent us on to Phoenix with great hotel reservations and the best dinner recommendations. We wouldn't travel without her expert and guidance. She's already planning a three more dream trips for next year!
Recommended
Perfectly planned trip!
By: Lou
Reviewed on: 11 Apr 2017
This was my first experience with a professional travel agent. I usually try to plan everything myself. This time I enlisted Lauren's expertise. She did an outstanding job! I took a trip with my two brothers to Iceland. The transfers, accommodations, and excursions were all phenomenal. I will not travel without Lauren's assistance again. Very satisfied client! LHW
Recommended
Wonderful trip
By: Lydia
Reviewed on: 17 Apr 2017
Working with Lauren as usual was so organized and easy! The trip was so planned out that we had no worries ever. The tours and drivers and hotels were amazing. The best compliment I can give is that we will definitely be planning another trip to Italy soon!
Recommended
Another great trip to Cabo
By: Cabo
Reviewed on: 06 May 2017
Lauren is always the best! This is our 5th trip to Cabo. Each year, while we stay at the same place, Lauren always suggests new and fun things to do in the area, just in case we want to leave our luxurious surroundings. She also provides all the documents and updates from airlines, so we are always pretty relaxed travelers!
Recommended
Dominican Republic
By: Nicole
Reviewed on: 05 May 2017
It was great working with Lauren! I was indecisive about where I wanted to go on vacation. All I knew was I wanted to go some where warm with a beach. She asked me a couple of questions about what I would like to do on vacation. She recommended Dominican Republic and we started the booking process. The resort (Excellence El Carmen) in the Dominican Republic was AMAZING!!! I was completely blown away with how gorgeous the resort was, how friendly the staff was, the amenities, the beach, the food and the SPA!!! Lauren is very knowledgeable, thorough, detailed and professional. I'm looking forward to booking my next vacation with Lauren!!
Recommended
Great travel agent
By: Ryan
Reviewed on: 10 Jul 2017
Great service and great help. Would highly recommend Lauren to friends
Recommended
Awesome
By: Mary
Reviewed on: 15 Jul 2017
Lauren is a great agent! She seems to always submit different options that she knows my family would love.
Recommended
Lauren Parry Rocks
By: Maggie
Reviewed on: 12 Aug 2017
Lauren is the best - she goes beyond expectations
Recommended
Lauren
By: Anne
Reviewed on: 07 Sep 2017
She is an amazing travel agent. Takes care of every detail. So professional!
Recommended
Life throws you curve balls
By: Elizabeth Mitchell MD
Reviewed on: 24 Sep 2017
Lauren is such a talented and knowledgeable advisor, our trip to Napa was planned perfectly. We'd wanted to go for years. And then the unexpected happens, 2 deaths in our family leaving 2 children without parents. An all hands on deck cry from above. As I explained to Lauren why we no longer could take our dream trip she simply said let me take over. And she did. Cancelling plans and rooms and even flights from which she arranged full refunds with the death certificates. And all with a gentle, supportive spirit that let us know we had one less thing to worry about. I won't forget her kindness. And I wouldn't travel without her.
Recommended
Napa
By: Margaret Anne
Reviewed on: 25 Sep 2017
Wonderful experience!
Recommended
Uniworld Danube River Cruise
By: Leslie Hancock
Reviewed on: 29 Sep 2017
Lauren was very easy and comfortable to work with. She understood our needs and was available when we had questions or concerns. She made a follow up call when we returned and provided me with some excellent information concerning her role in planning future trips , whether individual or group. I will definitely seek her help on any future trips!
Recommended
Danube Trip
By: World travel
Reviewed on: 09 Oct 2017
Lauren listened and planned a trip based on what we wanted to do! Everything was delightful and we had a fabulous time.
Recommended
Quick getaway
By: Dr mom
Reviewed on: 02 Oct 2017
Delightful and easy. Made traveling thoughtless. Trip was right on point for what we desired.
Recommended
Great trip
By: Donna
Reviewed on: 02 Oct 2017
Lauren helped us every step of the way with planning, travel tips and payment information.
Recommended
Sweet, kind, & on top of things
By: Buldog
Reviewed on: 27 Oct 2017
It was wonderful working with Lauren! So easy!
Recommended
Perfect Honeymoon
By: Will
Reviewed on: 27 Nov 2017
Fantastic! She was very helpful, informative, and kind! Our trip could not have been more perfect. I described the type of trip we were looking for, and her recommendations were outstanding and spot-on! Highly recommend!
Recommended
Quick business meeting turned into a weekend getaway!
By: Conrad
Reviewed on: 17 Dec 2017
Totally amazing get away. I had a business meeting in NOLA and thought to bring my wife since the meeting was late Friday evening. I called Lauren and she took care of us for the weekend getaway, even with me giving her such short notice! Amazing travel agent who knows how people should travel!
Recommended
NYC
By: Margaret Anne
Reviewed on: 28 Dec 2017
Lauren made taking a last minute trip during the busiest time of year SO fun and easy. Thanks Lauren!
Recommended
Rosewood Mayakoba
By: Margaret Anne
Reviewed on: 22 Feb 2018
Great as always!
Recommended
Palm Springs
By: Cindy
Reviewed on: 29 Mar 2018
Lauren is a pro with a magic wand!! Everything she has planned for us has been fabulous!
Recommended
Amazing!
By: Mary Mac Ogden
Reviewed on: 24 Mar 2018
Lauren was exceptional! She organized every detail from flights to transfers and excursions. She was so excited to help me plan the trip and listened to all of the things I wanted to do. She made everything happen and the trip was perfect!!!!
Recommended
Epitome of luxury!
By: Jochiz
Reviewed on: 04 Apr 2018
Working with Lauren was the epitome of luxury travel!!! She thought of everything. She chose the most wonderful places to stay, informative guides, fabulous restaurants! She thought of everything and made our trip effortless!!
Recommended
Great
By: LF
Reviewed on: 28 Mar 2018
Always so easy and personal to our taste. She has planned several trips for us and all were great and different according to our needs.
Recommended
Lauren is terrific!
By: Madison Travelers
Reviewed on: 12 Apr 2018
Lauren was terrific! She found us the quietest, most luxurious hotels that were well within our price range. The tours she set up for us were first class, educational, fun, and totally what we expected. She listens to us and makes a sincere effort to find things that she thinks we will like.
Recommended
New York
By: Margaret Anne
Reviewed on: 06 May 2018
Great as always!
Recommended
LHP
By: Annie B
Reviewed on: 17 May 2018
So easy. She is always very professional, thorough and courteous!
Working with Lauren Parry, you will have access to:
- An experienced travel guide whom you can rely on before, during, and after the trip
- Exclusive luxury resorts and properties
- Once in a lifetime experiences
Explore with the Best
Virtuoso Advisors are constantly pushing the boundaries in unique travel experiences.
Alliance programs are unique tailored experiences exclusive to travelers working with Virtuoso Travel Advisors.
learn more