Travel Specialties
Interests
Family Travel
Culture, History & Arts
Safari
Independent Tours
Destinations
United Kingdom
China
India
Japan
Peru
Selling Travel Since
2014
My Background
My natural planning and organizational skills (honed by many years as a lawyer) and life long passion for travel, combined with the incredible resources available through my association with Century Travel (now Travel Edge), bring extraordinary value to my clients.
I have dual citizenship and lived in London for many years. The UK and Europe are like a second home for me with many personal experiences, close friends, and associates scattered across the EU—all of which I am able to utilize in creating travel experiences for my clients. I have also lived in Tokyo, and explored that side of the earth as well.
Fancy visiting an artist studio in Kyoto, West London or Hanoi? What about a trek on the Inca Trail? The world and its opportunities await only our collaboration and inspiration. Wherever you are in the world, I am excited to blend my resources and experience with my own personal approach to create unforgettable, life-enhancing experiences, tailor made for you!
Places I Have Traveled
Reviews and Recommendations for Georgia Schley Ritchie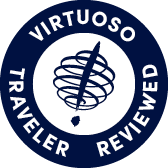 Virtuoso Verified Traveler
All reviews are from confirmed guests sharing exclusive insights
Sort reviews by
Recommended
Fantastic Experience!!
By: Mtwyant
Reviewed on: 18 Mar 2015
We had a wonderful time at Half Moon Bay in Montego Bay, Jamaica! Georgia set us up in a beautiful room that overlooked the ocean. The food and drinks were outstanding and the service was exceptional. We will go back again for sure! Thank you Georgia!
Recommended
The Boulders
By: C&D
Reviewed on: 20 Mar 2015
Our trip started a little rocky because we were put on a wait list for the day of arrival. Fortunately we were cleared. Upon arrival we were upgraded to a 3 bedroom villa (3 x our nightly rate if we had to pay - we checked that option out when we were put on the wait list). It was gorgeous. Georgia did a wonderful job finding the right property for us. We were originally booked to stay at The Sanctuary. I had a problem with spending that much on a hotel room! Georgia found The Boulders which was much more reasonably priced but still fabulous! The travel agent that booked The Sanctuary for us was also a Virtuoso travel agent, whom we have used quite a bit over the last 7 years. We will be asking for assistance from Georgia in the future as she helps us find the best VALUE. We want quality, luxury, and service at a price that allows us to be extravagant in other ways on our vacations.
Recommended
Smoothly planned and executed
By: Moley
Reviewed on: 04 Apr 2015
Transportation was flawless--air, pickups at airports and back, van rental for day trips. Excellent guides in Germany. Georgia is a pleasure to work with.
Recommended
Outstanding guide
By: LMB
Reviewed on: 06 Apr 2015
The trip to Berlin was a memorable trip with a group of very nice and entertaining people. The guide was excellent with his knowledge and delightful stories. I do think that that more time could have been spent seeing the art and decorative arts in Berlin and the surrounding areas.
Recommended
Very professional and most entertaining, informative, and fun!
By: Ruthie
Reviewed on: 03 Apr 2015
The trip Georgia planned for Berlin was spectacular and I am still talking about it with my friends.
Recommended
Beyond Expectations
By: C
Reviewed on: 03 Apr 2015
Excellent service, beautiful location, great weather. We loved the resort.
Recommended
Expert Friendly Service
By: Boomer
Reviewed on: 12 Jul 2015
The initial plan, the reservations, the changes, the final itinerary ALL WERE HANDLED PROFESSIONALLY WITH FRIENDLY SERVICE
Recommended
Fantastic Trip, Fabulous Memories!
By: Susan
Reviewed on: 03 Aug 2015
We are thrilled to recommend Georgia as a wonderful travel advisor to anyone seeking an experience that is adventurous and well-planned. Georgia is particularly resourceful and helps you make the most of your trip by guiding you to take advantage of all the local culture has to offer while also accommodating personal preferences. We just returned from a wonderful 2-week trip with our family and can honestly say it far exceeded our expectations. Highly recommend Georgia!!
Recommended
AndBeyond Botswana
By: FAR
Reviewed on: 07 Aug 2015
Great trip!! From the hotel in Johanasburg; Tintswalo Waterfall, the the anndBeyond Botswana Explorer safari through 4 reserves andnational parks, to Victoria Falls and the Elephant Camp. Wonderful trip. Amazing safari and fabulous ranger, Katembo. Thanks for the planning and organizing!
Recommended
Every detail covered!
By: David
Reviewed on: 08 Aug 2015
Georgia planned a wonderful safari in Botswana and Zimbabwe. The accommodations were perfect and every deal of the trip was covered. Thanks!
Recommended
Expert in the travel business!!
By: Rence
Reviewed on: 22 Aug 2015
Excellent! Georgia is the BEST travel advisor! I wouldn't have anyone else arrange my travel!
Recommended
Wonderful, perfectly organized trip
By: Susan
Reviewed on: 04 Oct 2015
Georgia Schley Ritchie organized the most wonderful trip for our History Book Club, to study Georgia history and literature. Every detail was perfect. All 8 of us had a grand time, the most charming accommodations at the historic Antebellum Inn, delicious meals and tours that enlightened all of us. Thank you, Georgia, for making the History Book Club so special. We all want to do another trip next year. Susan Tucker
Recommended
Knowledgable ,smart , very helpful
By: NAK
Reviewed on: 04 Nov 2015
Our trip was wonderful. Georgia thought of every detail to help the days go smoothly. Our guides in each city where exseptional. The drivers that pick us up and transferred us from hotels to stations where Curtious and kind. Each hotel was comfortable and clean. The trip was perfect.
Recommended
Great customized tour plan
By: LO
Reviewed on: 17 Nov 2015
Working with Georgia was a delight. The hotel was fabulous. The tour arrangements were customized and well suited to my needs.
Recommended
Cuba
By: Lee
Reviewed on: 07 Jan 2016
Another great trip by Georgia!
Recommended
Great trip
By: kikipeaches
Reviewed on: 30 Jan 2016
Loved our trip to Punta Mita! The experience surpassed my expectations!
Recommended
cruise on silver seas
By: mose
Reviewed on: 13 Feb 2016
Georgia, we had a great time; thanks for your and Florence/s help; el convent was just fine (a little less grand than when I was there years ago but the location made it all worthwhile); really enjoyed the cruise; great rooms and great butler service; found the food good but not exceptional; most of the staff was satisfactory but not as friendly as other cruises we have been on and several had a real tough time understanding or speaking English; they really need to give clients a telephone custom service rep to talk with and not rely on their computer system for client communication; but all in all would recommend silver seas aND THIS CRUISE
Recommended
Perfect in every way !
By: Jenny
Reviewed on: 14 Feb 2016
Georgia Schley Ritchie is the best trip planner ever, with attention to every detail and ultra personalized service from start to finish. Banyan Tours -- on the ground in India -- was beyond excellent. Every adventure was choreographed flawlessly with impeccable service and no wasted time. Individual needs that arose unexpectedly were handled expertly and seamlessly. India was magical, welcoming, and exciting. We will definitely return to India, and we will involve Georgia in all future trips wherever the world may lure us !
Recommended
Relax and enjoy
By: Alan
Reviewed on: 14 Feb 2016
Georgia and her staff organized a wonderful trip to Turks and Caicos for the four of us. All details were taken care of, thus allowing us to relax and enjoy .
Recommended
Incredible planning and service oriented!
By: lulu137
Reviewed on: 01 Mar 2016
Amazing trip with all details attended to. We never had one worry and everything Georgia planned was top drawer and so well organized. We would definitely plan our next big trip with her and Century!
Recommended
Great adventures!
By: Austin58
Reviewed on: 03 Mar 2016
Georgia has planned two incredible adventures for my friends and me. The first to Botswana and Zimbabwe and the second to Cuba. Both were wonderful trips and having Georgia along on both was such an added bonus. Her knowledge, experience and joie de vivre made both trips even more enjoyable. She assembled groups that will become lifelong friends and travel companions for years to come.
Recommended
rich itinerary & the grace to adjust
By: Mitchell Atlanta
Reviewed on: 02 Mar 2016
Georgia created an itinerary rich in cultural & artistic experiences I couldn't have found on my own, coordinating with a local guide well plugged-in and sincerely invested in our travel experience. And she's an graceful travel companion -- interested & inquiring, direct yet adaptable. Can't wait for the next trip....
Recommended
Every detail attended to!
By: Florence
Reviewed on: 06 Apr 2016
Excellent!!! :)
Recommended
Australia Trip
By: Meg
Reviewed on: 12 Apr 2016
Georgia did a great job with setting up tours and hotels in a 2 week time frame for our trip to Australia/Tasmania. Our only recommendation would be for the hotel in Hobart, Tasmania to be in the CBD, it was a 1.5 miles outside of town. Bruney Island Tour you do need transportation to it and it is offered by the tour company at an additional charge. Loved our stay in Melbourne, Pt. Douglas and Sydney. Thank you Georgia for knowing all the hi lights of what to see in the huge country of Australia in less than 2 weeks time.
Recommended
Great Services - Great Hotel find.
By: Sarah
Reviewed on: 01 Jul 2016
Georgia was extremely helpful in finding us a amazing resort in a quite location - just what we asked for. We will definitely be using her again.
Recommended
Quiet Luxury
By: Dani
Reviewed on: 05 Jul 2016
Georgia's recommendation was fantastic. I told her how i wanted to feel, what I needed and what I was able to spend and she delivered absolute perfection!
Recommended
Expert Friendly Service
By: kb81
Reviewed on: 28 Oct 2016
Helpful in overseeing trip, handles issues with a smile and never seems flustered.
Recommended
Fabulous !!
By: Cyndae
Reviewed on: 29 Oct 2016
Delightful, well organized, fabulously planned trip. Lovely group of travelers......hand picked by Georgia.....with similar interests. Several new friendships formed.....a lovely blend of personalities......we all had a wonderful adventure with precious Georgia Schley Ritchie as our darling tour leader/Queen Bee. And our Silver Seas experience left little room for improvement. There was an activity to meet every interest.....as we viewed the majic of the Galápagos Islands by land and water, kayak and zodiac, snorkel and beach combing.....with documentaries and lectures to add facts to the fun and adventure. And the Silver Seas staff did everything in their power to meet our every need. They could not have been nicer. The trip met all expectations..... 😎❗️Enjoyed every minute to the fullest......
Recommended
Perfect holiday!
By: Susan J
Reviewed on: 09 Jan 2017
Georgia arranged our London vacation and found us a perfect townhouse rental through One Fine Stay. She always gives us excellent service and finds ways to make our vacations extraordinary. We couldn't ask for a better travel advisor!
Recommended
Cuba 2017
By: Liz
Reviewed on: 16 Feb 2017
Georgia and her team are always knowledgeable and professional. They truly try to bring the best trips and opportunities together.
Recommended
Cuba trip
By: Susan
Reviewed on: 11 Apr 2017
She is excellent. The best!
Recommended
Sea Island
By: Matt
Reviewed on: 13 Apr 2017
Excellent experience. Georgia ensures we are provided with excellent amenities and extras which are always a treat.
Recommended
Strong recomendation
By: BL
Reviewed on: 05 Jun 2017
Great; very knowledgeable and helpful.
Recommended
Spain/ Portugal trip
By: Susan Dimmick
Reviewed on: 12 Jun 2017
Amazing! She connects with top notch international travel advisers to arrange special hotels and local tour guides. The result is an unforgettable vacation.
Recommended
Colombia
By: Matt
Reviewed on: 23 Jun 2017
Very responsive. Makes effort to obtain complimentary upgrades. Very knowledgeable
Recommended
Pacific NW
By: Susan
Reviewed on: 29 Jun 2017
Georgia was helpful and thorough with her travel planning. She and her team booked our trip, and provided excellent details and extra ideas to enhance our travels. Well done - thank you!!
Recommended
Hotel in Provence
By: Courtnay
Reviewed on: 29 Jun 2017
Great. Our hotel in Provence was outstanding. Best ever...
Recommended
Georgia's team has the skills...
By: Lon
Reviewed on: 21 Jul 2017
A very seamless travel advisor with competent back-up people. Georgia gets the best-available air and hotel reservations; and follows through with ongoing service. Lon
Recommended
Australian trip
By: Bruce
Reviewed on: 20 Jul 2017
Very thorough and very professional
Recommended
Trip
By: B&B
Reviewed on: 02 Sep 2017
Very nice , knowledgeable , and helpful. Willing to do what was necessary to get us what we wanted.
Recommended
Always gets it right...
By: Lon
Reviewed on: 10 Sep 2017
Very efficient especially due to her back-up person, Florence. Both have gotten our patterns and preferences down pat.
Recommended
Got It Right
By: Steve
Reviewed on: 17 Sep 2017
Georgia is easy to work with. She and her Team are responsive and we needed up getting what we wanted in a private tour.
Recommended
Great Travel Advisor
By: Satisfied Traveler
Reviewed on: 15 Oct 2017
Georgia always strives to provide a great travel experience. She accomplished a great experience on my recent trip to the Amazon.
Recommended
South America trip review
By: KJ
Reviewed on: 10 Oct 2017
Georgia show immense attention to every detail of our trip. We truely appreciated her experience & are very grateful for her efforts in making our trip very enjoyable & memorable.
Recommended
Switzerland in the fall
By: Kim
Reviewed on: 19 Oct 2017
Georgia was very thorough and patient with the many requests and changes that we had concerning our fall trip to Switzerland. Everything was planned meticulously and without a hitch. I can't wait to use Georgia again for our next family trip.
Recommended
trip to Bordeaux
By: bunny
Reviewed on: 25 Nov 2017
very easy to work with. Great idears.
Recommended
Nice trip
By: Sugar pie
Reviewed on: 18 Nov 2017
She was easy to work with.
Recommended
Attentive
By: Older traveler
Reviewed on: 19 Nov 2017
Georgia met our every need.
Recommended
Fantastic trip to Spain
By: David
Reviewed on: 29 Nov 2017
A pleasure in planning and traveling!
Recommended
Dubai to Yangon
By: Kim Johnson
Reviewed on: 06 Jan 2018
Georgia is an amazing travel agent. She has a great sense of detail, is easy to get in touch with and is responsive to your travel needs.
Recommended
Trip to Banff
By: Tiffany
Reviewed on: 10 Jan 2018
Working with Georgia was delightful. She was able to provide quick and easy suggestions and book our vacation with ease. We would highly recommend Georgia for any and all travel needs!
Recommended
Paris tours
By: David
Reviewed on: 19 Jan 2018
Wonderful! Georgia arranged two excellent private tours: The Louvre and Pere Lachaise. Both guides were knowledgeable and personable.
Recommended
Terrific Service
By: Cuba
Reviewed on: 24 Jan 2018
Georgia is so service oriented and so concerned that her clients are happy that it makes working with her a joy! I always gave specific requests and she makes it happen. Each trip she has put together has been great and I look forward to the next one.
Recommended
Our best vacation
By: Bill
Reviewed on: 19 Mar 2018
This was the best vacation we have ever taken. All of the details were well planned, hotels were top notch, and the activities were organized based upon our wishes and interests.
Recommended
Awesome Trip
By: Suzilee
Reviewed on: 07 Apr 2018
Fantastic Adventure!
Recommended
Girls Get Away to Portugal
By: Whitacre
Reviewed on: 30 Mar 2018
I really enjoyed working with Georgia. She is a fantastic trip advisor and paid attention to our needs, wants, and questions. Georgia helped make this trip easy for us to enjoy and we were able to truly relax from the beginning stages of planning and thru the actually trip.
Working with Georgia Schley Ritchie, you will have access to:
- An experienced travel guide whom you can rely on before, during, and after the trip
- Exclusive luxury resorts and properties
- Once in a lifetime experiences
Explore with the Best
Virtuoso Advisors are constantly pushing the boundaries in unique travel experiences.
Alliance programs are unique tailored experiences exclusive to travelers working with Virtuoso Travel Advisors.
learn more
United Kingdom
China
India
Japan
Peru