Travel Specialties
Interests
Adventure
Beach & Sun
Family Travel
Food & Wine
Culture, History & Arts
Destinations
United States - All
Australia
New Zealand
United Kingdom
Cambodia
Selling Travel Since
2001
My Background
Bonjour! Hola! Nin Hao! Since I can remember, I have had a love of languages which fuels my passion for travel, food and different cultures. Planning trips for my clients over the last fifteen years, I have planned it all from visiting grandma for the first time to going on their dream vacation. I love giving my clients an experience that they will never forget like having Dim Sum in Paris, going backstage at the Russian ballet or being a panda bear nurse for the day in China. I have traveled to some wonderful places in the world; London, Paris, Russia, New York, St. Lucia, Exuma and many more. My dream trip was to China, which was at the top of my bucket list. Now, I need to start create a new list, would you like to share what is on yours? I would love to help you check those places off your bucket list and add to it too, shall we get started?
Places I Have Traveled
Reviews and Recommendations for Karina Fong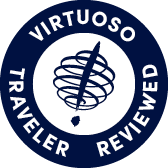 Virtuoso Verified Traveler
All reviews are from confirmed guests sharing exclusive insights
Sort reviews by
Recommended
Very highly recommended
By: Grapes
Reviewed on: 13 Jun 2013
Our recent holiday went off without a hitch thanks to Karina. She had everything organized for us from the cruise to all of the transfers and hotels. Even the planes were on time! We will certainly use her again and recommend her to all of our friends. Thank you Karina.
Recommended
Highly recommend Karina
By: golfer47
Reviewed on: 03 Jul 2013
I have worked with Karina for almost 10 years I believe. She is very resourceful and efficient. She really cares about you and is always in contact to make sure all of the finer points of your trip are covered off. If she doesnt know something she says so and is back to you quickly after finding the answer. I trust her implicitly and enjoy the experience working with her. If you require anything further please contact me again.
Recommended
The best of the Best
By: marcallan
Reviewed on: 19 Sep 2013
Karina and het associate Bobbi, have been looking after our family and our company for several years. They are always there for us, even when we make mistakes and juggle things at the last minute that creates more work for them None better
Recommended
Very capable
By: Grant
Reviewed on: 11 Nov 2013
Karina is quite familiar with our needs, likes and dislikes. As a result, our trips are pleasant, with few hassles. She is patient with us, spending a lot of time searching for that perfect trip that we mumbled about for years. [ie: the Upper Amazon] She is a very capable salesperson -for example, she booked us on an Oceania cruise in May just a week after we returned from this Crystal cruise.That's scary!
Recommended
By: Not provided
Reviewed on: 21 Nov 2013
Karina - did a very good job of booking exactly what we were looking for and within our budget, the bonus was she informed me of the visa requirement and looked after it for us as well. would highly recommend her for your travel needs.
Recommended
Great agent to have
By: ewrcalgary
Reviewed on: 21 Nov 2013
I trust Karina, and she knows to find good deals on excellent holidays.
Recommended
Amazing customer service
By: Lucie C.
Reviewed on: 21 Nov 2013
Karina has organized a few trips for us and they were always a great success. We can tell how much she likes her role; she's thorough and very dedicated. She always listens to our needs and welcomes the feedback upon our return. I have come to think of her as a friend and I recommend her every chance I get. Truly the best travel agent I've ever dealt with!
Not Recommended
Not Recommended
By: Jackson_Cane
Reviewed on: 02 Dec 2013
I found her extremely hard to get a hold of. Returning calls was not a priority. Options I wanted were charged for then taken away as she could not book us in. By the time she got around to booking us the seats we wanted were gone and room also. Definetly needs work on customer service
Recommended
highly recommended
By: bob
Reviewed on: 19 Mar 2014
Karina found us an excellent package for our family of 4 near Cancun for spring break - great location,  reasonable price, excellent direct flights.
Recommended
Highly Recommended
By: ShaneG-358
Reviewed on: 05 Mar 2014
Recently decided on, and took a last minute trip during reading week in February to Mexico. Definely wasnt the caliber of Resort used too. There were a couple of families that were meeting up and cost optimization was important.Karina did an excellent job taking care of all the arrangements and doing all the necessary pre-trip work activities. Good communication skills and even worked on off hours trying to take care of our trip needs. Thank you Karina. Will gladly work with Karina for my next family vacation.
Recommended
Very Satisfied
By: Grant@3629
Reviewed on: 22 Mar 2014
Trip was in 2 parts- one arranged by me. Karina tied the two together , arranged the transportation and tidied up the details , resulting in a seamless, very pleasant  "first" trip to Palm springs
Recommended
Highly Recommended
By: Blues58
Reviewed on: 31 Mar 2014
Karina was very helpful in guiding us to the kind of all-inclusive resort we wanted and ensuring that our travel requirements were met and our bookings were completed. Our entire trip went off without a hitch. The information, tips and advice Karina provided also simplified our travel logistics greatly. We will definitely work with Karina again in the future to assist with our vacation travel.
Recommended
Very professional and effective
By: travelclient
Reviewed on: 30 Mar 2014
I needed Karina to change a current reservation because my travel plans changed two times and she was highly efficient and able to do what I have asked her to do and do it in the time that I needed it done.  I recommend Karina as a professional and effective travel advisor who listens to clients needs and is able to execute efficiently.  Thank you Karina.Erika
Recommended
All 3 were just fine [or 4 if you count the next one]
By: Grant@3629
Reviewed on: 28 Apr 2014
Which trip????  Sorry about having to make you work a bit , but if you want ME to give you a meaningful review,  then you are going to have to identify the Trip.
Recommended
Highly Recommend
By: Lynda Lou
Reviewed on: 02 May 2014
Recommended
Highly Recommended
By: Smitty
Reviewed on: 08 May 2014
I have worked with Karina for 9 or 10 years now and trust her implicitly. I never go anywhere without first chatting with her. She books everything for me, air, land and accommodation. She is very dependable and trustworthy and I highly recommend her.
Recommended
Plans the best remembered trips ever!
By: Not provided
Reviewed on: 02 Jun 2014
Katrina considers all your requests and plans the best vacations including all the details to answering all your insane questions that you ask two or three times.
Recommended
Highly recommend
By: arwen2
Reviewed on: 10 Jul 2014
Recommended
Good follow up
By: Emee
Reviewed on: 27 Jul 2014
We had a cabin mixup on our cruise and Karina is following up to ensure this problem doesn't happen again.
Recommended
Outstanding care, initiative and service
By: Jim
Reviewed on: 15 Sep 2014
The trip went wonderfully smoothly, but what I really appreciated was Karina's car and initiative in suggesting (to me and to some of the suppliers) ideas and potential improvements. Also I really appreciated her attention to detail to make sure everything went well.
Recommended
Expert friendly service
By: gasis
Reviewed on: 22 Oct 2014
Karina does a first rate job for all aspects of our trips. She is a good listener, very creative and follows up regularly. We have been working with her for quite a while now and trust her implicitly. We highly recommend her.
Recommended
Exceptional service
By: Aaron
Reviewed on: 13 Dec 2014
Karina has now booked 3 seperate trips for me and has been nothing but helpfull, puntual and professional with every one of them. In the case of the most recent flight, Luftansa cancelled my flight and I was not able to get any information in regards to how to move forward but when I asked Karina she was on it immediately and made a point to follow up as soon as I was back in town. Consider her service recommended.
Recommended
Great trip of a lifetime!
By: sly1
Reviewed on: 30 Dec 2014
Trip was wonderful. All details were taken care of and any questions we had were answered (or an answer found) in a timely manner. Buenos Aires portion was set up through A&K and went very well as well. Guide was very good. Overall we had a great and memorable time.
Recommended
Expert, friendly, and fast service.
By: Okay
Reviewed on: 26 Dec 2014
The trip was booked quickly and exactly the way we requested. This was our first cruise and Karina explained everything very well to us. The trip itself was great and all went well. Everything was well organized. The hotel was good and cabin on the ship great..
Recommended
Karina Fong
By: ddh
Reviewed on: 15 Jun 2017
Karina is great! she organized a terrific trip and was available to help when we ran into a couple local snags. I highly recommend her.
Recommended
Helpful, knowledgeable and patient
By: CT13
Reviewed on: 21 Feb 2015
Karina did a great job of asking what I wanted, sourcing great options, answering questions, revisitingoptions and offering new choices and then patiently waited while we tried to sort things out on the home front and get our act together. In the end she helped us book a fabulous trip to a great resort, one we would gladly go back to again and again!
Recommended
This is the way to book travel!
By: JanetStG
Reviewed on: 07 Apr 2015
I've been using Expedia or Booking.com for the past few years and a friend told me about Karina, as we were having a heck of a time booking something in Mexico last minute. After some initial research into where we thought we'd want to go, we left it with Karina who checked out three places and gave us great sound advice. We booked with her and then asked whether she could contact the all-inclusive resort to book some dinners at their restaurants, since this can often be a pain once you arrive. She got us a great variety of reservations and good times as well! From start to finish, this is my new way to book travel. Forget on line services, at the same price, this is the way to go. Friendly, quick to respond, and very helpful and knowledgeable, Karina did a great job. Thanks very much, Karina!
Recommended
Great service
By: Beeswellsite
Reviewed on: 27 Apr 2015
Karina was able to meet our timing expectations and delivered the best pricing available. Thanks.
Recommended
Excellent
By: Law Man
Reviewed on: 29 Jun 2015
Went without a hitch. Thank you!
Recommended
California Adventure
By: bfo
Reviewed on: 07 Aug 2015
Although we ran into a couple of hiccups this team worked hard both on and off the clock to make sure we had the best experience possible. From finding great room rates and a great hotel to making sure we had car seats for the kids in the car rental. It was nice not to have to commit the time to do all the research and bookings and leave it to those who know that side of things. I would recommend Karina and her team to anyone looking to travel anywhere at anytime.
Recommended
Excellent service
By: Johnny3
Reviewed on: 07 Sep 2015
Excellent service from start to finish. Highly recommend
Recommended
Karina, you did it again
By: GG & JJ
Reviewed on: 14 Sep 2015
Our Baltic cruise was a great experience. The highlight of highlights was, of course, St. Petersburg. Our driver (Boris of course - after all it is Russia) and Julia, our guide - both from A&K - were marvelous. Everything went according to plan. We had great access to the sites we visited along with marvelous commentary. Travel for the 2 of us for both days was easy and comfortable and uneventful. We got to see great historical icons, and 3 fantastic metro stations. Other that St. Petersburg, Oceania was well, Oceania. Outstanding accommodation, great ports, an outstanding Cruise Director (Ray), and some great new friends. That said, the North Sea is not to be trifled with and has a mind of its own during stormy weather. I guess we all need t-shirts that state that "I survived the rouge wave". Thanks Karina and the Visions Travel team of professionals
Recommended
Friendly, helpful, efficient
By: Skidknee
Reviewed on: 05 Oct 2015
Was always ready to answer any questions, research any side trips and willing to look into things for us. Provided all of the information we needed along with all of the vouchers and tickets we purchased and explained everything in an easy to understand way. Would book through her again.
Recommended
Another good trip
By: Bert04
Reviewed on: 25 Oct 2015
Everything went very well. Great flights on Air New Zealand. Schedule change was handled well with plenty of notice. Will be back
Recommended
Expert Friendly Service
By: Arwen2
Reviewed on: 26 Oct 2015
Karina is very friendly and knowledgeable. She is always very helpful. She always follow ups on the trip.
Recommended
A continuance of the quality jobs done in the past
By: Gunderbird
Reviewed on: 29 Nov 2015
Karina has always done a great job for me and for my family. The only part of the Vision Experience that I do not like is filling out these damned surveys. Leave me alone, please
Recommended
Expert, friendly, fast service.
By: OK25
Reviewed on: 11 Dec 2015
Karina is always friendly and fast responding to my requests. The trip planning is fast including requested changes. She remembers to follow up after each trip to make sure the trip was pleasant and well organized.
Recommended
Sandals
By: mj
Reviewed on: 02 Feb 2016
Our annual trip to St. Lucia in the Caribbean was also planned and put together by Karina. Although we stay at Sandals Grande, Karina made sure we had a request put into Sandals regarding our 'favorite' room (which we got). We do not go for a week or 10 days. Our escape over Christmas and New Years are upward to five weeks. Again Karina delivered our travel package which contained pre and post stays. Karina is a real asset to Visions and highly recommend her to our friends when they are seeking out someone to assist in planning their getaway.
Recommended
Exceptional service as always.
By: Canadianpackerfan
Reviewed on: 03 Feb 2016
Karina has been a delight to work with for years, routinely going above and beyond our expectations.
Recommended
Great service!
By: happy family
Reviewed on: 03 Feb 2016
Karina helped us plan our 50th birthday trip and was so helpful in terms of offering suggestions. Once we finally chose the destination she helped make all the arrangements and answered all our questions in a very timely manner. We came back relaxed and refreshed! I will definitely use her services again!
Recommended
Excellent Service
By: scott
Reviewed on: 23 Feb 2016
Karina was fantastic as usual. Quick, courteous, great advice. She did an exceptional job planning a trip that my girlfriend and I would enjoy as well as my Parents who joined us!!! She made our trip to Vegas easy and short walking distances for my Dad's bad knee. Booked a great show that everyone loved. And even recommended a super fun restaurant off the strip. Thanks again.
Recommended
Makes going on vacation easy!
By: BusyMomof3
Reviewed on: 22 Feb 2016
Karina booked a recent vacation for our family of five and relatives with a family of four. She managed to find a hotel that worked well for all kids (2, 4, 6, 11 and 13) and parents too! All dealings with Karina have been professional, quick and she never hesitates to answer any questions and is a wealth of knowledge on everything travel-related. We have used Karina numerous times for vacations and she is always our recommended travel agent for friends and family. Thanks for being so awesome at what you do Karina!
Recommended
Great family vacation thanks to Karina's expertise!
By: CT13
Reviewed on: 29 Feb 2016
Enjoyed a wonderful, stress free, worry free vacation with everything running smoothly thanks to Karina. Always appreciate her expert advice, great recommendations and how timely she responds to all questions and requests! The real proof is in the referrals I've made and how happy others are with her service as well. Karina will not disappoint!!!
Recommended
Easy travelling
By: beachbaby
Reviewed on: 11 May 2017
Karina is great - she provides options in a variety of price ranges. She is very responsive to questions and very efficient - had things booked and travel documents to us in no time. This is the third time we have worked with her and once again, we were very pleased with the flights, accomodations, and assistance provided. Highly recommend her!
Recommended
Many trips
By: bobi
Reviewed on: 06 Jun 2017
Karina is always helpful and resourceful. She always gives advise and options to choose from. She asks for feedback after every trip. Our last trip that she organized for us was awesome.
Recommended
Wonderful South American Adventure
By: MP
Reviewed on: 03 Mar 2016
Karina arranged an excellent two-week South American adventure for my wife and me, which included a magical visit to Machu Picchu and a great four-day boat trip in the Galapagos Islands. Tours of Lima, Cusco, and Quito were also included. All transfers were well organized and were handled by friendly and courteous guides and drivers. Our tour guides in Lima, Cusco, Machu Picchu, Quito, and the Galapagos islands were friendly, spoke perfect English, were very knowledgeable, and all of the tours were informative. Hotel rooms in Lima, Quito, and the Casa Andina Hotel in the Sacred Valley of the Incas were excellent, and rooms in Cusco and Aguas Calientes were good. The boat in the Galapagos was not quite what we hoped for, but the food was good, the other guests were fun, and the crew was excellent. We had a great vacation and we highly recommend Karina and Visions for other travelers. The trip that Karina organized for us definitely exceeded our expectations. Thank you Karina!
Recommended
Club Med Florida
By: DDH
Reviewed on: 05 Apr 2016
Great vacation. Very relaxing but yet very active. Excellent value.
Recommended
Fantastic travel advisor
By: Jodi T
Reviewed on: 07 Jul 2016
Karina had been to St. Lucia, (and loved it like we did!), so she was able to give me a lot of information about the island and the variety of hotels there. She was a great resource in planning this trip, so that we could pick accommodations & activities that suited us. She was able to give us some tips about where to go when we reached the airport so that we found our transfer contact right away. I highly recommend Karina for her knowledge and helpful nature.
Recommended
Pampered and Pleased!
By: Delighted21
Reviewed on: 26 Sep 2016
Karina went the extra mile to ensure that my friend and I had a wonderful trip. Her recommendations regarding cabin bookings (location for quiet cabin) and excursions were perfect. She coordinated our flight bookings with two different frequent flyer programs and called my program every day for 2 weeks prior to departure to try to upgrade my seat. She followed up with us after our return and continues to send us suggestions for future trips. Thanks Karina for making our trip spectacular!
Recommended
another great trip
By: JJDeS
Reviewed on: 26 Sep 2016
Karina did it again. She has great humour and class while she deals with all the vagaries that we, as a couple, bring to travelling. All bookings were exactly as requested, the properties were very good, and the river cruise through France's wine country was lovely. The minor shortcomings of the tours in Barcelona were handled quickly, efficiently, and effectively. Thank you Karina for that. Now we are looking forward to the next trip (November) that Karina is handling for us.
Recommended
Peace of mindl
By: Luise
Reviewed on: 16 Oct 2016
As always, Karina paid close attention to our needs, asked the right questions and then magically just "made it happen". The peace of mind in knowing it's all taken care of, is invaluable to me.
Recommended
She is the best
By: Sporty68
Reviewed on: 13 Nov 2016
Karina is the best. My whole family uses her and I have been a situation or two where she has saved us. She is professional and has excellent customer service. Her knowledge of fun and different places to travel is endless. I would't go far with out her!
Recommended
Exactly what asked for
By: Shane&Kat
Reviewed on: 19 Dec 2016
Needed to get away, cost effectively, while still having the necessary level of service etc. With Karina expertise we decided up Luxury Bahia Principle. Amazing place, clean, very friendly and because we chose that resort we had access to the other 3 resorts. HUGE beach catering to quiet or active. Lots pools/things to do/lots restaurants, as well as majorly large buffets. Under a restricted diet, and had zero issues with food. Room was clean. Large resort, so lot of walking was the only thing. Which we had a place closer to the beach, but again not that big of issue all things considering. Don't waste money on the onsite on the dinner & Mexican Fiesta. Only go to the Mexican Fiesta after the dinner. Cheaper, and same view. The only challenge had was the flights. Pretty crammed if you are a larger shouldered individual (No option plus), and delayed in Mexico for an hour waiting, for the condensation accumulated on the wings (ice) to melt and stop dripping/verified.
Recommended
another one off the bucket list
By: JJ&GG
Reviewed on: 24 Dec 2016
We had the wonderful experience of transiting the Panama Canal along with 290 other passengers on board the Silversea Whisper. Great trip, great staff, and great friends. 16 days of relaxation, great service, great trivia, great reading. Thanks to Karina for setting it all up for us.
Recommended
Expert friendly service
By: FischerEssar
Reviewed on: 03 Jan 2017
Karina was friendly and knowledgeable.
Recommended
Smooth and organized
By: Andy
Reviewed on: 03 Jan 2017
Everything went really including upgrades both ways Thank you!
Recommended
great advisor
By: kelly
Reviewed on: 24 Jan 2017
excellent. she was knowledgeable and responded to our questions very quickly. she coordinated all of our travel arrangements and requests, and everything went very smoothly. all of our expectations were met or exceeded.
Recommended
good trip to South America
By: Bird39
Reviewed on: 24 Feb 2017
highly professional, as always
Recommended
Great Service as Usual
By: me
Reviewed on: 08 Mar 2017
Karina handled all the details which made for another easy, relaxing family vacation in the sun.
Recommended
I Love Toronto
By: Rattle
Reviewed on: 15 Mar 2017
Karina is patient, polite and professional. With excellent consultants and ambassadors for Visions the company is in good hands. Karina Fong is a real fine woman. David Johnston
Recommended
Consultation
By: Sam and Suzanne Iaquinta
Reviewed on: 06 Apr 2017
Karina, is awesome. She is the best travel consultant we have ever dealt with. She knows what we want without hours of explaining she has great intuition of our travel needs. We have used Karina and always will.
Recommended
Thumbs up
By: DDH
Reviewed on: 05 Apr 2017
Karina always does a great job. Very organized, has good insights and is able to find the right information when we need it.
Recommended
Disneyland
By: Disneylander
Reviewed on: 06 Apr 2017
Karina was helpful all around good to work with and was even able to help me out while I was in California as I had forgotten to bring travel vouchers to Disneyland.
Recommended
Excellent as always
By: Christa
Reviewed on: 18 Apr 2017
Karina is always so easy. She responds to every request and every booking with same sense of urgency. She is such a pleasure to do business with.
Recommended
Great trip
By: Andy
Reviewed on: 06 May 2017
It was absolutely stress free
Recommended
Karina did an excellent job
By: KJ
Reviewed on: 18 Jun 2017
Karina was a pleasure to work with on our recent trip to Europe. She contacted us frequently to i'm sure that she was anticipating our needs and to ensure that we had prebooked tours on the river cruise segment of our trip.
Recommended
Karina Fong at Vision Travel
By: Terri C
Reviewed on: 26 Jul 2017
Karina helped us put a trip together including Rocky Mountaineer and a Holland America Alaskan Cruise. She was easy to work with, responded to a multitude of questions and provided us with all the documentation at just the right time. The trip came off without a hitch, and we will definitely go back to Karina for future trips.
Recommended
Norway and France July 2017
By: Europe
Reviewed on: 28 Jul 2017
Karina planned our trip right down to the last detail. She arranged transport, all tours etc. We asked for suggestions and she provided awesome ideas, of which we took them all! We cannot wait to plan the next trip with Karina. Thank you Karina!
Recommended
Chicago
By: Christa
Reviewed on: 02 Aug 2017
Fantastic as always...
Recommended
Amazing!
By: Cat
Reviewed on: 07 Sep 2017
Karina was so helpful. My boyfriend and I were trying to plan a 28 day trip around Europe while studying for the bar exam. Needless to say, Karina put up with our crazy schedule and overwhelming number of questions. Couldn't have done it without her! Thank you so much, we had so much fun on our trip :)
Recommended
Good Advisor for Custom Japan Tour
By: TEK Calgary
Reviewed on: 19 Aug 2017
Karina worked effectively with us and the Japan tour specialist to coordinate a 13 day Hokkaido tour, 12 day custom pre tour, 4 day custom post tour, JR pass, hotel bookings and Aeroplan flights. Karina reviewed all the itinerary and hotels files over the 18 months of planning for consistency and pricing. Karina communicated well and with appropriate timing with us and with the tour specialist. This was our third unusual trip with Karina and we plan to coordinate our next 2019 trip with her again.
Recommended
Karina Fong
By: sj
Reviewed on: 22 Aug 2017
great, i'll go back to her with my future travel needs
Recommended
Karina goes the extra mile
By: DianeV
Reviewed on: 31 Aug 2017
Karina Fong is a wonderful travel advisor - patient, calm and professional. She comes up with ideas, alternatives, and solutions. If she doesn't know the answer to a question, she contacts the provider directly to get the details. Karina recently pulled together some last-minute changes, including adding an additional person to a pre-existing itinerary, in record time and then personally delivered the travel documents to a client who wasn't able to make it to Karina's office prior to travelling. Karina also jumped into action to deal with an (airline) cancelled flight before business hours had even begun. Karina went the extra mile again and again. I wouldn't hesitate to recommend her.
Recommended
Karina
By: The oldies
Reviewed on: 01 Sep 2017
Dry easy. Karina took care of everything.
Recommended
Amazing!
By: Cat
Reviewed on: 16 Sep 2017
Karina was fantastic! My boyfriend and I enlisted her to help us plan a one month trip around Europe. We were studying for the bar exam at the time, so we literally couldn't have done it without Karina. She was great at answering our overwhelming number of questions and adjusting the trip to match what we wanted. We had a fantastic time on our trip, and would love to work with Karina again!
Recommended
Short break to Mexico
By: Mariki
Reviewed on: 12 Sep 2017
she was very helpful and knowledgable. I didn't give her much time to come up with options and thought she did well, given she didn't really know me and my travel preferences. I would use her again in future and maybe be a even better outcome.
Recommended
Trip to Western Europe
By: Lex
Reviewed on: 11 Oct 2017
Karina was great! I gave her the information for my trip and she came back with options for me to consider. Even while she was on vacation she still responded to my emails. My trip went great and I would definitely use her in the future.
Recommended
Croatia Tour
By: K
Reviewed on: 20 Oct 2017
Karina was very good to work with. She worked hard to find us a trip that had an itinerary we liked and reasonable prices. Many of the tours were sold out, but she persevered and found us a couple with dates that would work for us. She was also able to provide us with a customized trip to choose between. After we booked our trip, she managed to get us an additional discount that we appreciated. All of this was done on a short timeline.
Recommended
Karina is great!
By: africana
Reviewed on: 31 Oct 2017
This was a complicated trip with 2 weeks of Africa and one week Europe. Karina took good care of us, expertly organizing everything, research, flights, safari, Europe. She prepared all info we needed for visa and the trip. Just before we left, she had to go to hospital but asked her co-worker Brenda to take care of us, making sure we had everything we needed. It was an amazing trip without any problems. The very first day back, we even received welcome back email from Karina. She is great!
Recommended
Viking Grand European River Cruise
By: GT500
Reviewed on: 05 Nov 2017
She was good with staying in touch. The one thing was our travel documents were supposed to be delivered 60 days in advance and we didn't receive them until less than 30 days.
Recommended
Africa trip 2017
By: Jim H
Reviewed on: 14 Nov 2017
I have worked with Karina Fong for several years now and she has organized many trips for me. This last trip was a special one visiting nine countries in Africa over 8 weeks, with a lot of custom arrangements. Everything went flawlessly. Karina worked closely with the tour operator to create a tour that responded to my particular interests while suggesting other items that made it even more interesting. The accommodations and facilities were outstanding. Beyond this trip, I have consistently enjoyed working with Karina. She knows my travel interests and is always on the lookout for new possibilities that might interest me.
Recommended
Australia2017
By: Mack
Reviewed on: 21 Nov 2017
Karina was great at dealing with the resort, arranging activities and restaurant reservations. Everything was seamless and accurate upon arrival. She also dealt with the Australian visa even though we used points to purchase the flights. I wouldn't hesitate to recommend Karina!
Recommended
Best travel agent
By: Mom of three
Reviewed on: 28 Nov 2017
We have been using Karina for years. As our family has grown and changed she's always been cognizant of what our family needs and works tirelessly to ensure we have the best trip possible. She is meticulous in her organization and covers every possible scenario to ensure the time away isn't spent worrying about what's happening next - she's planned everything out. I refer anyone who is looking for a travel agent to Karina - she is simply the best!
Recommended
x
By: Lesley
Reviewed on: 27 Dec 2017
As always - Karina promptly responded to my request and gathered up all of the information to provide pricing and information for my last trip. I never hesitate to contact Karina for information and recommend her to anyone I know that is thinking about using a travel agent.
Recommended
Oceania Cruise
By: 7
Reviewed on: 06 Jan 2018
Karina was great to work with and had answers for everything! She was also very proactive and worked to resolve our re-booking request post hurricane that forced us to re-work our vacation.
Recommended
Another good trip, despite some third-party glitches
By: DG
Reviewed on: 19 Jan 2018
A family trip over Christmas to Kauai was planned about 10 months ago. Karina participated well in the Cat-Herding excercise and also helped significantly in dealing with one of the airlines involved. She kept her cool significantly more than I did, over the whole period.
Recommended
Trip to germany
By: Andy
Reviewed on: 12 Jan 2018
As always super responsiv, easy and fun to deal with.
Recommended
Flights only
By: Tom
Reviewed on: 21 Jan 2018
She's a helpful and friendly. The only negative aspect was that "confirmed seats" on Lufthansa was not confirmed at all and ended up with worse seats typically on a plane ... in the middle of the middle. Internet flight searches revealled lower price options as well. Would love to use her expertise next time for booking more than flights.
Recommended
Another awesome trip
By: HappyTraveller
Reviewed on: 06 Feb 2018
Another awesome trip booked for us by Karina. She knew our two families like to do a winter warm getaway and found us an amazing deal at a fabulous property. I was nervous, having done the same resort 3 years in a row, but trusted her when she said this was even better. And it was!!! Thanks Karina-such a wonderful vacation for us all.
Recommended
Trip home
By: Andy
Reviewed on: 13 Feb 2018
As awesome as always. Karina goes above and beyond
Recommended
Excellent Services
By: Al
Reviewed on: 17 Mar 2018
Karina was on point and exceeded all my expectations. I had a last minute request and she was able to advise and get me the surprise vacation that met my time, budget and experience. I will recommend her services to anyone
Recommended
Experience makes the difference
By: Last spring break
Reviewed on: 14 Apr 2018
Karina was very knowledgeable and excellent to follow up as needed to any question. When we were offered a much lower price on a Canadian at par deal she was quick to adjust the cruise. Her interface with the cruise line was very appreciated. Wouldn't hesitate to book with her agsin
Recommended
Great experience
By: Clinton
Reviewed on: 15 Apr 2018
Karina was able to recommend a great place for our holiday with all the bookings done efficiently. She provided great customer service. We will continue to book our holiday with Karina.
Recommended
Flights and changes
By: Andy
Reviewed on: 16 Apr 2018
Awesome as always
Recommended
A necessary part of every trip
By: Satisfied client
Reviewed on: 01 May 2018
Karina as always was proficient at getting all the details ironed out for our family trip quickly. We don't go anywhere without using her!
Recommended
Fantastic trip
By: JC
Reviewed on: 28 May 2018
Karina was an absolute pleasure to work with in booking our trip. We will in the future be booking all our cruises with her. Thanks for the help.
Recommended
Long weekend
By: Andy
Reviewed on: 29 May 2018
As always Karina does a fantastic job. I never worry
Recommended
Summer vacation
By: Andy
Reviewed on: 07 Jul 2018
Everything worked out .... better than expected. Thank you Karina
Recommended
Uniworld Venice Trip
By: Venice
Reviewed on: 29 Jul 2018
Karina, always has the best recommendations to plan my trips and experiences I am looking for.
Recommended
Trip home
By: Andy
Reviewed on: 13 Aug 2018
As always it's great to work with Karina
Recommended
Aug - Cancun
By: Sg.
Reviewed on: 30 Aug 2018
Overall – very happy. Tend to be a pretty picky traveler. We all work very hard for the dollars we make, so for me ensuring that its money well spent is critical. Karina was very helpful finding the place we wanted, when we wanted that met our expectations. Thanks Karina. Sg.
Recommended
Karina
By: Jim H
Reviewed on: 24 Aug 2018
Working with Karina is a treat. She knows my tastes and interests and is always coming up with new and interesting travel ideas. She has arranged all my trips for me for several years now - some simple, some very long and complicated- and everything always seems to go smoothly.
Recommended
review title
By: kf
Reviewed on: 22 Aug 2018
great, i will use her again next time
Recommended
Lux Parisian Vacation
By: Alex G
Reviewed on: 24 Aug 2018
Karina was fantastic and helped me secure a confirmed upgrade (in advance, no less) as well as coordinate activities on the ground in Paris. I have used her for a number of trips and she is responsive, insightful, and easy to work with. Highly recommend!
Recommended
Frankfurt
By: Andy
Reviewed on: 01 Oct 2018
No problems as always
Recommended
Orient Express Paris to Istanbul
By: Jim
Reviewed on: 09 Oct 2018
I have worked with Karina Fong for several years now. She handles all my travel arrangements and the service she provides has been consistently outstanding. She knows my tastes and interests and is always bringing up new suggestions consistent with them.
Working with Karina Fong, you will have access to:
- An experienced travel guide whom you can rely on before, during, and after the trip
- Exclusive luxury resorts and properties
- Once in a lifetime experiences
Explore with the Best
Virtuoso Advisors are constantly pushing the boundaries in unique travel experiences.
Alliance programs are unique tailored experiences exclusive to travelers working with Virtuoso Travel Advisors.
learn more
United States - All
Australia
New Zealand
United Kingdom
Cambodia
China
Cook Islands
Fiji
France
French Polynesia
Germany
Italy
Russia
Thailand
Vietnam