Travel Specialties
Interests
Adventure
Safari
Air Travel
Escorted Tours
Ocean Cruising
Destinations
United Kingdom
Botswana
Ecuador
Japan
Kenya
Selling Travel Since
1972
My Background
I started as a travel agent in my native Scotland over forty years ago prior to moving to Canada in 1980. Originally I specialised in corporate travel but have diversified to include holidays. I love the variety of the job as one minute I am arranging a business trip then later organising a cruise or exotic vacation to anywhere in the world. Most years I travel with a group of agents and check out a different destination or to a familiar one to update myself on what is offered. I would say that my "best experience" to date, was bonding with wildlife in the Galapagos.

Places I Have Traveled
Reviews and Recommendations for Jenny Wilkinson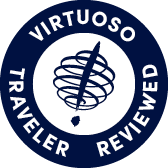 Virtuoso Verified Traveler
All reviews are from confirmed guests sharing exclusive insights
Sort reviews by
Recommended
Highly recommended
By: johnm9
Reviewed on: 04 Oct 2013
We have used Jenny Wilkinson to plan and book all of our travels for over 25 years. She is the best !!!
Recommended
Highly recommended
By: Not provided
Reviewed on: 20 Oct 2013
Well organized; knowledgable; everything worked and met our needs
Recommended
Highly recommend
By: Not provided
Reviewed on: 01 Nov 2013
I have dealt with Jenny Wilkinson for many years. As a result I knew that I could rely on her advice and the arrangements which she made for my trip to Italy and Malta. I was not disappointed. The trip went off without any hitch attributable to her. In fact it went off without a hitch. I enjoyed it and am grateful for her advice and competence.
Recommended
By: liza31
Reviewed on: 19 Oct 2013
Jenny's assistance contributed to an excellent, trouble free vacation. She responded promptly and efficiently to our every request.
Recommended
Highly Recommended
By: MC
Reviewed on: 29 Oct 2013
Nothing is an issue when booking travel through Jenny. Most professional and efficient. If there is ever an issue Jenny will get it sorted.
Recommended
Highly recommended
By: SAC
Reviewed on: 29 Nov 2013
Jenny has always responded to our requests promptly, cheerfully and efficiently. Caught in London during the ash cloud closure, Jenny got us on the first AC flight when skies opened! An injury just hours before a flight to Europe, necessitated crutches so Jenny determined the flight was not full, arranged seats so I could have my leg elevated all night and then wheel chairs through Calgary, Heathrow, deGaulle and our final destination. Jenny is wonderful!
Recommended
International Flight Arrangements
By: Terry
Reviewed on: 21 Nov 2013
Jenny has faultlessly arranged many international trips for me during approximately 20 years. Her outgoing personality makes every transaction a pleasure. She always presents choices, allowing me to balance cost and convenience, then implements the choices I select. Overall, her knowledge of alternatives has allowed me to more than offset her service costs with savings in fares that I might otherwise have paid.
Recommended
Trouble free well planned trip
By: Jenis
Reviewed on: 28 Nov 2013
Our holiday to Africa was excellent due to the wonderful organisation and advise given to us by Jenny. Flights, hotel accommodation all were terrific - no question that Jenny is the person to book a trip through and we will be back in touch with her when planning our next trip!! Thanks a lot Jenny you are wonderful!!!! J&D
Recommended
Continually recommending
By: Cheryl
Reviewed on: 23 Nov 2013
All international trips have been booked using Jenny for many years. We have also recommended her to friends as she is a great agent. The trips are booked as requested and the organization is constantly great Thanks Jenny!
Recommended
Highly Recommended
By: JennyC
Reviewed on: 23 Nov 2013
Jenny Wilkinson has arranged a number of trips for me in the past and she is excellent! Every detail of the trip, from seating on the airlines, to top rated hotels, meal plans, and transportation to and from the airport were facilitated with ease, and at the best possible prices. I do not hesitate to give her my highest recommendation!
Recommended
Very Good
By: Liza
Reviewed on: 24 Nov 2013
Recommended
Highly Recommended
By: Not provided
Reviewed on: 07 Dec 2013
Jenny provides an excellent and friendly service and nothing is ever an issue when she is arranging flights.
Recommended
Highly Recommended
By: JennyC
Reviewed on: 20 Dec 2013
Jenny Wilkinson booked us a trip to the Half Moon Club in Jamaica! Fabulous adventure, perfect weather, flawless accommodations, and the flights were a pleasure. Thanks so much for making our Christmas Holiday dreams a reality
Recommended
Highly Recommended
By: JennyC
Reviewed on: 25 Feb 2014
Jenny Wilkinson planned another fabulous trip for us in Disneyland California.  Flawless flights, the perfect rental car, and a wonderful room at the Grand Californian hotel made this the perfect family day escape from the frigid temperatures of Alberta!  Five stars, at a three star price.THANK YOU Jenny!
Recommended
Most highly recommended
By: sunshine
Reviewed on: 03 Jun 2014
Jenny has planned and or helped us plan numerous holidays and she has always met and exceeded our expectations. She provides ideas that enhance our trip and has helped us in times of difficulty or challenge along our routes.We have the utmost confidence in her professional integrity.
Recommended
helpful and efficient
By: Al
Reviewed on: 26 Jun 2014
Jenny is always very prompt to reply to any request and finds the best deals.  She also reminds us about things we might otherwise forget like medical insurance. 
Recommended
Thorough and Competent
By: Terry
Reviewed on: 04 Jul 2014
Jenny has consistently met my needs for airline travel arrangements, while giving me alternatives from which to choose.  She works with my choices until all is in place, sometimes requiring diligence well beyond my commitment date.
Recommended
great time
By: tssdefs23
Reviewed on: 06 Aug 2014
Had a great time, however we missed the Sydney Perth connection, made the next flight. It is a tough connection to make due to need to clear customs, security and travel by bus. May be better to book the later flight to Perth.
Recommended
Great trip thanks for your care in organizing
By: mic dav
Reviewed on: 21 Aug 2014
Thanks for a great trip the hotel in China and Tokyo were great.
Recommended
Expert friendly service
By: alicra
Reviewed on: 10 Sep 2014
Jenny came up with the best possible travel arrangements and reminded me what I needed to do and when. Highly recommended!
Recommended
Expert friendly service
By: Bonnie
Reviewed on: 06 Oct 2014
Everything was great except that I would prefer an aisle seat that has a seat in front so that I can store my little backpack under the seat. On the way back from Paris, my seat was right behind the bulk head for the bathroom. Lots of leg room but a nuisance for the TV and the tray and to store things. The hotel in Paris was excellent, just across the street from the train station and across the street from the bus to the airport. We were able to buy bus tickets in the hotel.
Recommended
Terrific Service as Always
By: Benedikt
Reviewed on: 07 Dec 2014
We have booked our travel with Jenny Wilkinson for a few years now and she has always provided expert and effective service. Most recently, we had a very complex trip to Tanzania involving several family members, some flying on miles and some not. To make matters worse, I had to make a last minute change that added a US destination to my return. Jenny handled everything with impressive efficiency and at a very good price. I have always found her to be extremely knowledgeable, efficient and highly competent. I travel a lot and have worked with several travel agents in the past, some of whom were very good, but Jenny Wilkinson is certainly the best I have worked with to date.
Recommended
Trip to the Big Apple
By: JennyC
Reviewed on: 25 Dec 2014
The best ever! Jenny has done it again! THANK YOU SO MUCH for a magical trip to New York!
Recommended
Expert Friendly Service
By: JennyC
Reviewed on: 04 Feb 2015
Jenny is the absolute best! I give her 5 stars!
Recommended
Her competence is much appreciated
By: Der Kanadier
Reviewed on: 06 Mar 2015
Jenny Wilkinson has served as my principal travel agent for more than 20 years because she is the most competent person who ever provided that service to me. I only reluctantly accept substitutes whenever Jenny isn't available. This trip was consistent with past experience.
Recommended
Very satisfactory
By: GK
Reviewed on: 15 Mar 2015
Service was quick, efficient, and overall a pleasant experience. I'll certainly use Jenny for my future travels.
Recommended
Professional and friendly service
By: Ann & Michael
Reviewed on: 14 Apr 2015
On the E-Ticket receipt issued by Vision under Air-return date, Vision states, "1 FREE CHECKED BAG PERMITTED. 2ND BAG IS 20.00 PER DIRECTION. MAXIMUM WEIGHT PERMITTED IS 23 KG EACH" When we checked in at Auckland we had one 2nd bag which we were charged $200.00 dollars for. The attendant claimed Vision's description was confusing and inaccurate.
Recommended
great!!!!
By: lesley
Reviewed on: 04 Jun 2015
Jenny did so much to help us get ready for our trip and the planning...it was a grand tour and for the price I wold not hesitate recommending it. the tour company was superb and the guide and driver made the trip interesting and provided commentaries which enhanced the trip. Jenny knows how we travel and what we like so we greatly appreciate her professional input and personal consideration that she always gives us....we often tell other people about her because we are so pleased
Recommended
Another amazing holiday
By: Cheryl & John
Reviewed on: 30 Sep 2015
Our recent trip to the UK and Italy was an amazing adventure for us and as always, Jenny made sure our travel details were were planned and without any issues. It is a treat to have someone make sure our holidays are as hassle free as possible. Thanks again Jenny!
Recommended
Simply the Best
By: Jenny C
Reviewed on: 26 Sep 2015
Jenny is simply the best when it comes to arranging the best virtuoso experience. She is a wizard at getting the best deal possible!
Recommended
Well Done as Always
By: Robbie
Reviewed on: 01 Oct 2015
We would like to thank Jenny and Lesleyanne for the excellent job they did in arranging our trip. All aspects of the trip from flights to hotel accomodation were excellent and everything went off without a hitch. We will definitely put our trust in Jenny and Lesleyanne again to handle our future travel plans and look forward to the next trip or vacation handled by the Vision group. Thank You
Recommended
Efficient, friendly and very patient.
By: Newscruiser
Reviewed on: 30 Oct 2015
Jenny was extremely efficient in dealing with our trip. She was prompt in answering questions, and was very helpful with documents required. I enjoy having her as our travel agent as she goes above and beyond to ensure that the best value for money is obtained. I would not hesitate to recommend her as a representative to any of my friends who were considering booking a trip.
Recommended
Very helpful
By: GK
Reviewed on: 07 Nov 2015
Flight connections were nicely timed without long waits. Overall I was very happy with the service and would certainly use Jenny Wilkinson for future travel arrangements.
Recommended
Nice hotel near COP Calgary
By: DD
Reviewed on: 13 Nov 2015
We really enjoyed our stay at the Four Points Sheraton in Calgary. Rooms were spacious and nicely laid out. Lovely soap and lotion! Complimentary water was a nice touch. The grandkids really enjoyed the pool and waterslide! Very close to Market Mall and our family events. Very nice breakfast buffet with good selection and excellent service. You might want to request a room facing away from Highway 1, somewhat noisy on weekdays. Overall a nice getaway!
Recommended
Prompt, friendly, helpful
By: Peng
Reviewed on: 02 Dec 2015
Jenny was very prompt in replying to our queries and needs and very patiently offered several options. We will definitely be asking for her to help our next vacation if the need arises.
Recommended
Fantastic service!!
By: Jan
Reviewed on: 29 Jan 2016
To Whom It May Concern, Recently I have booked two trips with Jenny Wilkinson. Jenny is very knowledgeable about travel and destinations. Jenny booked our travel in a very efficient manner and even spent some out of office time assisting me. Jenny was professional, efficient and proficient. We purchased insurance on her advice and wisdom. We got a room with an ocean view even though we did not pay for that. Gran Bahia Principe Akumal. We were very close to pool and beach, perfect location. The flights with Air Transat were fine. The return flight even left 30 min. early. The resort was everything and more than we could have expected great room, great food, great amenities, beautifully landscaped grounds. Very well maintained property. Thank you very much for a perfect trip and reservation process.
Recommended
Excellent service
By: ML Banff
Reviewed on: 31 Jan 2016
Jenny booked our flights to India. She worked hard to find us the best rates and connections. Her service is all ways professional and friendly. We will certainly work with her to book travel in the future.
Recommended
Great Service and everything ran smoothly.
By: Maggie7
Reviewed on: 27 Feb 2016
Seating was to my satisfaction and all in all a good trip.
Recommended
Excellent service
By: GK
Reviewed on: 28 Mar 2016
Jenny arranged my various flights to fit perfectly with my schedule. I was very pleased with the service.
Recommended
Great Service - Nothing was ever a problem
By: Mel
Reviewed on: 05 Apr 2016
Great advice and great service, very professional.
Recommended
First Class Reservations
By: HappyinBermuda
Reviewed on: 09 Apr 2016
Jenny Wilkinson organized our spring break in Bermuda this year, and it was fantastic. First class service all the way, and a wonderful room at the Fairmont Hamilton Princess. The food and service were exceptional, and all at off season rates! Highly recommended!
Recommended
fabulous trip to Ecuador/Galapagos
By: traveller
Reviewed on: 07 Jul 2016
Jenny did an amazing job organizing our trip which was extensive and yet last minute. Her recommendations of International Expeditions for the Galapagos portion, and Casa Gangotena, and Hacienda Zuleta for the land portion in and around Quito were perfect. We loved every minute of the trip. thank you
Recommended
Customary Competence
By: Terry
Reviewed on: 11 Jul 2016
In her usual cheerful and competent fashion, Jenny presented me with several travel alternatives, then followed through faultlessly with the one I chose.
Recommended
Extraordinary Espana Vacay
By: aikolt
Reviewed on: 05 Sep 2016
Jenny Wilkinson, our travel advisor, for our summer vacation to Spain this past August, delivered on all fronts. Jenny is highly professional, knowledgeable, efficient and accommodating. But most importantly, Jenny is always extremely personable and a pleasure to work with when planning our vacations. Spain was beautiful and my family enjoyed every aspect of the trip. Without Jenny's thorough organization of flights, car transports, hotels, train reservations, and all other details I threw at her during the planning process (up to a few days before departure!), our vacation wouldn't have been this special. Thank you Jenny for all of your efforts on our behalf!
Recommended
Expert Friendly service
By: Mag, Canmore
Reviewed on: 28 Sep 2016
All flights went smoothly and no problems.
Recommended
Trip of a Lifetime to South Africa
By: Jan
Reviewed on: 27 Oct 2016
Jenny was extremely patient with me as I tried to figure out where I could go and what I could afford. The final itinerary was absolutely perfect. We enjoyed some city time, some touring time and two different safari reserves that were quite dufferenr. Jenny's service was once agsin efficient, thorough, prompt. I have dreamt about this trip for over 30 years. It was a dream come true and all the arrangements were fantastic. The hotel in Cape Town was great and a marvellous location. The Kariega reserve, accomodation was perfect...ranger was awesome, food was plentiful and delicious. The Jock Safari Lodge was amazing. Our own resort that only accomodated six people. So luxurious, excellent ranger and fabulous food. Westjet and Qatar British Airways and South Africa were all excellent airlines. The complimentary tour in Doha was great. Absolutely fantastic travel experience. I would highly recommend Jenny for all your travel needs. Thank you from the bottom of our hearts!
Recommended
Great Service
By: Mel
Reviewed on: 06 Nov 2016
Great service, Jenny went to great trouble and lengths to find me the right flights - excellent friendly service.
Recommended
Jenny did a super job of tying all our flights together and keeping in touch with any changes.
By: A & N
Reviewed on: 09 Dec 2016
A wonderful, no-hassle trip
Recommended
Exceptional attention to detail
By: RR
Reviewed on: 07 Dec 2016
Jenny took the time to listen to our requests about what would make a most enjoyable trip for us. She took these details and came back with varying options that we could tailor to our specific needs. Her attention to detail ensured we had numerous options to choose from to ensure we were able to get exactly what we wanted.
Recommended
My advisor provided excellent service
By: M. Lang
Reviewed on: 21 Jan 2017
Jenny Wilkinson was very helpful. She advised me regularly of flight fare changes and of any schedule changes, etc. She ensured that we got the best fare possible. Jenny called whenever we needed to discuss arrangements and was highly professional and helpful. On the way to SFO, the airline lost one of our bags for several days and Jenny is being very helpful in assisting us to get a refund from the airline for expenditures we made before our bag arrived. I highly recommend Jenny Wilkinson as a travel advisor.
Recommended
Provided good support and follow up
By: neamster
Reviewed on: 31 Jan 2017
Jenny arranged the international flight portions of our trip to Oman, and the return from Delhi India. I would have been happy to leave the internal flights to her also, but could not as Vision Travel only deals only with international carriers. Happily, everything worked out as planned. We were very happy with the India based tour company (Panorama Tours) recommended by her for the Golden Triangle portion of our trip. I was surprised that Vision Travel would not support this segment of our trip and that we had to sign a waiver stating that Vision Travel was not responsible for any issues. However, thanks to Jenny, all worked out well. Laura Neame
Recommended
New Zealand flights and tour
By: Cindy Rainsford
Reviewed on: 13 Mar 2017
Jenny is a very knowledgable travel advisor in addition to being pleasant, patient and efficient. She responded to queries on days off and also was proactive in tracking potentially delayed flights. Thanks Jenny!
Recommended
A trip of a life time
By: CM
Reviewed on: 06 May 2017
Jenny is great to work with. Her attention to detail is amazing.
Recommended
Excellent Service
By: MC
Reviewed on: 23 Jun 2017
Working with Jenny was excellent, Jenny provided great service finding the best flights options for us. Jenny took care of all our arrangements and provided that extra feeling of security if we experience any delays, which we did not. Great job.
Recommended
Jenny
By: MJ
Reviewed on: 04 Jul 2017
Always easy Jenny is very knowledgeable and so helpful. Makes trip planning easy
Recommended
don't understand the question
By: lucky
Reviewed on: 09 Aug 2017
A pleasure. She is prompt, efficient, knowledgable and interested. She is also readably accessible. I am happy to recommend her.
Recommended
Title
By: Jill
Reviewed on: 12 Sep 2017
Always pleasant, efficient, knowledgeable
Recommended
Munich Trip
By: Terry
Reviewed on: 01 Oct 2017
Jenny arranged flights with her customary, cheerful competence after providing me several alternatives from which to choose..
Recommended
Trip Advice
By: Vil
Reviewed on: 16 Oct 2017
Excellent! Jenny responds quickly and helpfully to all questions and provides sound advice.
Recommended
My trip
By: Guy
Reviewed on: 06 Nov 2017
Jenny was prompt and efficient. Certainly a pleasure to deal with.
Recommended
The trip
By: Scot
Reviewed on: 10 Jan 2018
Excellent. Swift and efficient.
Recommended
Excellent Job
By: Mel
Reviewed on: 17 Jan 2018
Jenny was excellent, super with suggestions and advise about my trip. Jenny provided several options.
Recommended
Trip just started. Will submit review after we complete at end of March
By: Neamster
Reviewed on: 30 Jan 2018
Great. Will complete review once our journey is over.
Recommended
Trip to Philippines
By: KP
Reviewed on: 09 Mar 2018
Jenny did a great job coordinating flights for me and my friends originating in different cities. The tour companies chosen and accommodations were exactly what we wanted and we had a wonderful trip.
Recommended
Happy with Jenny
By: Mike & Margaret
Reviewed on: 07 Mar 2018
Jenny was very efficient and easy to deal with. Our trip went very smoothly, and we will definitely be using Jenny again.
Recommended
Our big adventure
By: Just homec
Reviewed on: 12 Mar 2018
Excellent ! She was prompt in answering our needed replies and gave us the best service possible
Recommended
Professional and Personable
By: AvidTraveller
Reviewed on: 29 Apr 2018
Jenny is an outstanding travel agent. She is consistently professional, competent and personable. If I have a query or a concern, Jenny addresses the situation and always has an optimal solution which meets my expectations. It's a pleasure to work with someone who is intelligent and capable.
Working with Jenny Wilkinson, you will have access to:
- An experienced travel guide whom you can rely on before, during, and after the trip
- Exclusive luxury resorts and properties
- Once in a lifetime experiences
Explore with the Best
Virtuoso Advisors are constantly pushing the boundaries in unique travel experiences.
Alliance programs are unique tailored experiences exclusive to travelers working with Virtuoso Travel Advisors.
learn more
United Kingdom
Botswana
Ecuador
Japan
Kenya
Namibia
Peru
Portugal
South Africa
Spain
Taiwan
Tanzania