Melissa Reese
Austin, TX United States
Travel Specialties
Interests
Family Travel
Safari
Independent Tours
Spa Vacations
Adventure
Destinations
Tanzania
French Polynesia
Spain
Botswana
Costa Rica
Selling Travel Since
1997
My Background
Melissa began her career in travel back in 1997, and has worked with the finest travel organizations in the industry. She has visited 80+ countries, and her first-hand experience is vast and varied -- from exotic safaris in Africa to the wilderness of Alaska; large cruise ships to riverboat journeys on every major waterway; across America from NYC to Napa Valley to Disney; throughout Asia, Europe and Down Under. She has carried a backpack and 'roughed it' on adventures and has escorted guests on private luxury jets, including circumnavigating the globe twice on the Concorde.
Regardless of where she is, who she is with, or how she is traveling... the goal is always the same -- to be part of the destination and 'present' with each moment. She take this personal goal and packs it into every trip for her clients. She engages clients throughout the planning process and helps them discover what it is they are seeking to create the perfect itinerary and come home with lasting memories.
Places I Have Traveled
Reviews and Recommendations for Melissa Reese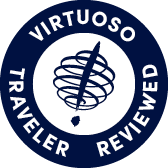 Virtuoso Verified Traveler
All reviews are from confirmed guests sharing exclusive insights
Sort reviews by
Recommended
Travel Advisor Extraordinaire
By: Kim
Reviewed on: 28 May 2014
I recently took a trip to Mexico and asked Melissa to help me with the planning of the trip . I always used a Travel Advisor in the past but everyone I knew has since gone out of the business so for the last couple of years I would book all my travel. I have to say she has exceeded all my expectations. She is very thorough, easy to talk to and did everything she said she was going to do and more! I would highly recommend her for all your travel needs. I know I will be referring her to all my family and friends. It makes all the difference in the world when you have a good Travel Advisor like Melissa!
Recommended
Amazing service from Melissa
By: Juana
Reviewed on: 14 Aug 2014
Melissa Reese recently planned a trip for my wife & me to Seattle followed by a cruise in Alaska. We were so impressed and relieved to have such a consummate professional to work with on our travel plans. She met with us in advance to do a pre-trip interview to better understand our interests, personalities, budget and 'travel bucket list' and goals. She then made some recommendations that aligned with our interests and together we narrowed the focus to just the right trip - as we decided on and finalized our trip specifics, including the providers that best aligned with our standards and preferences. From the planning process to after the trip ended, Melissa was completely involved and responsive . She went above and beyond to arrange special details and little surprises. We simply can't say enough good things. We will definitely be using Melissa for all of our future travel adventures. We highly recommend that you do the same!
Recommended
Smittyken
By: smittyken@aol.com
Reviewed on: 12 Aug 2014
Everything went as planned, Good weather, good ship, good destination and good plan. Everything was takencare of, not bad for less than a weeks notice. Thanks Ken
Recommended
Fantastic Anniversary Trip
By: Smitty
Reviewed on: 04 Nov 2014
Perfectly planned trip. Went off with out a hitch. Great trip when you do not have to worry about anything. Great recomendations for side trips and activities.
Recommended
Awesome!!
By: Joe43
Reviewed on: 14 Nov 2014
Greatest trip of our lives! She will be planning every trip we ever go on again!
Recommended
Great Getaway
By: Fango
Reviewed on: 29 Nov 2014
This was an off-season getaway to the great Canadian cities of Montreal and Quebec City. Melissa did a great job of taking care of everything for me ahead of time. The location of the Queen Elizabeth in Montreal is perfect. Easy walk to Old Town and the metro. Buffet breakfast was great. Rooms and bathrooms are a little on the cozy side, but very comfortable and elegant. Quebec City really was awesome. What a great place to visit. The Le Chateau Frontenac is amazing! The hotel has recently had a major renovation and the rooms are gorgeous. Breakfast buffet was outstanding, as were both of my dinners at the Sam restaurant. Walking through Old Quebec City is like walking through a movie set. There are so many great shops and restaurants within a very short walk, and at this time of year there were very, very few people visiting. I'll definitely head back here - perhaps in a different season when things are greener and days are longer.
Recommended
Thoughtful and thorough customer service!
By: CJM
Reviewed on: 10 Dec 2014
Melissa's knowledge and passion for the area was bar none! She expertly put together a fabulous itinerary for our romantic trip to the rainforest. I am so glad I turned to her for guidance and look forward to using her services again in the future!
Recommended
ATTENTION TO DETAIL
By: First Lady
Reviewed on: 06 Jan 2015
My family and I recently returned from a trip to San Diego staying at The Hotel Del Coronado for 5 nights and we asked Melissa to book the reservation for us. Our stay at the resort was excellent, but not without the 'extra perks' that Melissa managed to secure for us during our stay. I never typically utilize an agent to book our hotel accommodations but rather do so myself online, hence I didn't know how helpful and important an agent's services can be and my husband and I were highly impressed with what Melissa did for us. Her honesty, attention to detail and communication were above our expectations. I know such 'perks' are never a guarantee, but I do believe her affiliation with Virtuoso was a huge plus in our booking. We will definitely continue to have Melissa assist us with other travel endeavors in the future.
Recommended
Absolutely Wonderful!
By: Simone
Reviewed on: 20 Apr 2015
Melissa was absolutely wonderful to work with! Our Disney Cruise trip was so fun and expertly planned, and it was all due to Melissa's expertise and wonderful advice and suggestions. I highly recommend Melissa and we will be calling her for all our future travel needs!
Recommended
Great with our Group!
By: Girl Scout Leader
Reviewed on: 25 Mar 2015
It was such a pleasure working with Melissa. I haven't used a travel agent in many years, but it was great to have someone to rely on for help with all the details. She was great even with all the changes we kept making with our large group. Definitely recommend her!
Recommended
Super trip!
By: Bronwyn
Reviewed on: 08 May 2015
Trip was fantastic! I felt like every detailed had been well-planned and coordinated. I would definitely use Melissa again.
Recommended
Perfect trip planned!
By: Melfic01
Reviewed on: 13 Jul 2015
This trip was perfect and so well planned, down to the littlest details. Our transportation details were perfect. The hotel choices and recommendations suited us perfectly. We knew nothing about our destination and had very little time to research things to do. Melissa provided us with everything we needed to know as well as recommended day trips and itineraries. This made our trip so low stress and easy to find things to do. This trip was to celebrate a very special occasion. We had zero complaints and would use Melissa again in a heartbeat!
Recommended
Melissa is a gem... a true, travel experience professional!
By: Sue
Reviewed on: 31 Jul 2015
We had 25 experienced travelers ranging from 2 to 74 going to Costa Rica for the first time and everyone wanted to do everything with lots of opinions about everything. Melissa was amazing in keeping us coordinated, focused and happy during the planning process and she delivered what was a "trip of a lifetime" to our entire family. Her intimate knowledge of the region empowered us to make really good decisions about where to go, where to stay and what to see. She took into account the different ages, interests and budgets and ensured we were comfortable about our travel decisions, but also suggested a bunch of things we never thought of that really made our trip. Like golf carts for our use while staying in Tamarindo (a highlight for the kids) that took us to the beach and on early morning and late evening "game drives" to see the howler monkeys. She is so insightful! We will be booking with Melissa again..She is a gem... a true, travel experience professional!
Recommended
Very helpful, insightful, and efficient
By: lhorns96
Reviewed on: 17 Jul 2015
Melissa did a great job helping provide insights, efficiently asking and following up on questions, and most important helping plan the perfect vacation! I look forward to working with her again when I have the chance for another vacation!
Recommended
worry-free and easy!
By: jlc20
Reviewed on: 28 Jul 2015
Melissa listened to what was important to us and got us exactly what we wanted! She was so easy to work with and quick to respond. Our vacation went smoothly and really exceeded our expectations. I would highly recommend her for any upcoming travel plans. Thank you for a wonderful getaway!
Recommended
Great attention to every detail
By: jan
Reviewed on: 27 Sep 2015
Fabulous job Melissa! Our tour guide was awesome, as was our hotel in Bourdeaux. Best lunch ever in St. Emillion!!! We also loved our cooking class. A great time was had by all. Thank you again for all the hard work planning our trip of a lifetime.
Recommended
Five-Star Service!
By: Stacey N.
Reviewed on: 15 Oct 2015
Melissa did an amazing job booking our Disney World vacation! Not only did she give us additional tips, guides and suggestions, she ensured we were checked in 24 hours in advance for our flights, gave us personalized itineraries and even gifted our children with Mickey Mouse stuffed animals before we left, all making our trip magical. I would absolutely use Melissa again and will recommend her to others who are also planning a Disney vacation. She is truly the best!
Recommended
Great service!
By: Joe108
Reviewed on: 02 Dec 2015
Melissa planned our honeymoon in Bora Bora and it was the greatest trip ever! She took care of every detail, set up all activities, made all the reservations and was absolutely wonderful to work with. We will be using her again for all the trips we take!
Recommended
Incredible Experience
By: schroedermom
Reviewed on: 07 Dec 2015
This was the best trip a family could book! Melissa was awesome from the start. She shared her knowledge while listening to our million questions. We went into this trip knowing we were in good hands and felt confident with booking our off ship excursions. Melissa is your go to gal for any travel needs. Looking forward to our next adventure. Thank you for the memories, Melissa
Recommended
Amazing attention- start to finish!
By: Pegs
Reviewed on: 07 Jan 2016
Thank you Melissa for helping us with our recent trip to Colorado. Your guidance & suggestions were truly helpful, and the location you were able to get us set up with was AMAZING! (with the nice bonus of the heated underground parking!!) Extremely detailed...every step of the way, and never had us searching for the answers since everything was planned out and right at our fingertips! I don't know how we will ever plan a trip again without using your services!?! (or why we ever WOULD!) Thank you, thank you!
Recommended
Great family trip!
By: Smittyken
Reviewed on: 09 Mar 2016
Melissa had everything planned to the smallest detail. No worries at all. She suggested the use of outside excursions which provided us with a lot smaller group and personal care by the tour guides. Will use her again next week, next month and next year.
Recommended
The Best Travel agent Ever!
By: 1Pop
Reviewed on: 04 Mar 2016
No one on our cruise could believe the trip planned for us by Melissa! The knowledge and details were better than we could imagine. Flawless trip!
Recommended
Great Family Trip
By: Smittyken
Reviewed on: 23 May 2016
Just finished a week in Disney World that Melissa arraigned. Great trip, kids had a great time and everything was as easy as could be, except the walking, may have to try the scooters next time. Hotel was great with easy access to the parks. And the kids got to see a real Prince, Harry was at out Hotel! Once again everything was planned to the last activity. Thanks again for a great trip.
Recommended
More then pleased
By: Esty
Reviewed on: 19 Jun 2016
Flawless execution of our entire trip
Recommended
Outstanding service & very responsive
By: Big family traveler
Reviewed on: 01 Jul 2016
Melissa did an outstanding job arranging our large family cruise trip to the Caribbean with multiple departure cities, some in coach some in First, four different rooms on the cruise and a variety of shore excursions. Would highly recommend her services to friends !!
Recommended
Amazing Customer Service!
By: Courtney27
Reviewed on: 01 Jul 2016
Our trip to Paris was absolutely perfect. Melissa nailed the details of a fabulous mother/daughter weekend. The Esprit St Germain was incredible and the tour Melissa suggested was a highlight. Melissa was friendly, detailed and super easy to work with. She completely understood what we wanted from our trip and nailed it. I am already planning the next one with her!
Recommended
What a lifesaver!
By: Betsyred
Reviewed on: 08 Jul 2016
Melissa did an amazing job at planning our trip to Greece. We even planned it last minute and she went above and beyond to find us the best spot. She knows her stuff and she is so organized and resourceful. We love using her!
Recommended
International Travel Expert
By: Victor
Reviewed on: 04 Aug 2016
Our vacation was magical. The itinerary was planned with the ideal balance for our family of four. We have two teenagers and my husband likes to be on the go all the time, but I like to have time to pause and sit in a cafe and people watch. Melissa was able to create a trip that felt seamless to us, there were no glitches from the details of our car transfers and car rentals, to the hotels, private tours and activities we booked. We especially loved our cooking class in Siena, Italy! Each hotel was excellent location and conditions. The rooms were ideal for us, and also happen to have been in the best locations and the price honored our budget. We had the trip of a lifetime and memories to share together always. Thank you Melissa for creating a trip for our family vacation that had it all, and more than we could have wished for !!!!
Recommended
Wonderful!!
By: Leni13
Reviewed on: 31 Jul 2016
Melissa did it again! We had a wonderful time at Blackberry Farm and booking through Melissa could not have been easier. We look forward to working with her for our future vacations!!
Recommended
All over the details
By: Courtney
Reviewed on: 03 Aug 2016
Melissa recently planned our trip to Barcelona and Mallorca and it was incredible. She was extremely detail oriented and did not leave anything to chance - she even reorganized several activities just before we left because a coveted dinner reservation opened up last minute. The hotels were amazing and the activities were exactly what we were looking for. Melissa is an asset when planning any trip!
Recommended
Grand European Tour
By: Smittyken
Reviewed on: 14 Nov 2016
Another completely fulfilling trip from Melissa, the Brownell Group, and the Virtuoso Community. Over three weeks of one great activity after another. Three days in London at the Egerton House with all the upgrades, Tea, Martini lessons, and room. It was late in the season, ever thing was like a private tour, Hampton Court Palace, Les Miserable, Blenheim Palace and the Royal Albert Hall - Best of Broadway. Then three days in Budapest with everyday a couple of Viatours to keep us moving, Night river cruise, Parliament House, Wine country Tour, "Urban adventure" to the "Ruin Bars" for a Wine Culture Tour ending up with a great tour of the Central Market and another wine tasting after sampling everything at the market. Strolled over to the river from the Market and there was the MS Esprit, the Tauck ship that we were to spend the next two weeks on traveling up the Danube across the Main and down the Rhine to Amsterdam. What a trip, Thanks everyone!
Recommended
Best travel planner
By: Shammy
Reviewed on: 26 Mar 2017
Working with Melissa is always a pleasure. Whether it be planning a family trip to the Amazon, a girls weekend in London, business travel, or helping my elderly parents tackle a cruise, Melissa ALWAYS makes the planning fun and the trip effortless on our part - no small feat for a family of 7!!!! I cannot say enough positive things about working with Melissa. My only hesitation in writing this review is that I don't want to share her!!!!
Recommended
Eastern Caribbean Cruise
By: Smittyken
Reviewed on: 04 Apr 2017
Once again everything went off with out a hitch. The room in San Juan was in a perfect location, and the trip selections were great. Even the fishing trip that was canceled because the Captain retired worked out to be a great day. Melissa is always ahead of the trip with suggestions and planning.
Recommended
The Best!
By: King
Reviewed on: 03 Apr 2017
We were the envy of the ship because of the trip Melissa set up. All tours, activities, hotels and restaurants were excellent.
Recommended
Mike & Sue E
By: Mike & Sue's Rhine River Cruise
Reviewed on: 15 May 2017
Absolutely outstanding. Melissa's advice was perfect in all respects. She handled us in a timely and professional manner, and all the cruise details worked out as planned ... or even better than anticipated. Great job by Melissa. Mike & Sue English
Recommended
Melissa is Amazing!
By: Kc
Reviewed on: 25 May 2017
Could not be happier with her recommendations! She is professional, thorough, and extremely timely. I cannot wait to work with her again! Great trip.
Recommended
Amazing job
By: John Heffington
Reviewed on: 15 Jun 2017
Melissa did any amazing job with out gamut trip to Disney. It was impeccably planned with every detail thought out. We had no stress related to the trip due to her preparation. I highly recommend her.
Recommended
Kenya 2017
By: Courtney
Reviewed on: 10 Jul 2017
Melissa was amazing to work with for our ten day trip to Kenya. Every detail was perfect and she made sure we had the time of our lives. Melissa is very thorough and also understands what clients are looking for, therefore we didn't need to do anything but relax and enjoy our trip with our children. I would recommend Melissa Reese for anyone planning a trip, big or small Melissa can do it all!
Recommended
St. Lucia, Body Holiday
By: obi
Reviewed on: 19 Jul 2017
Melissa was really great. She was available, very pleasant, and knew the right strategies to help us maximize our vacation. Although we made last-minute plans, with Melissa's help, the vacation felt like we'd been planning for months. THANKS!
Recommended
Fabulous Vacation!
By: Deniva
Reviewed on: 27 Jul 2017
Melissa was great to work with during the planning of our recent vacation. She was very knowledgeable and helped us book a fabulous trip with another family and our 18 year old children. The AXUS app was very helpful throughout our travels. Melissa not only booked our resort stay, but she booked our ground transfers as well as our excursions during our stay. She made a lot of suggestions and answered our questions before we left as well as during our stay. She was very accessible and responded quickly to questions and requests. She also followed up with us when we returned. I would highly recommend her freindly, first class level of service!
Recommended
Italy
By: MD
Reviewed on: 10 Aug 2017
Melissa was amazing!
Recommended
Highly Recommend
By: Alexia D.
Reviewed on: 16 Aug 2017
This was my first time working with Melissa to plan our family's summer vacation. Melissa was very knowledgeable about the different countries and hotels we were considering and ended up booking us at a fabulous hotel. This was one of the best hotels we have ever stayed at. When a tropical storm started heading our way towards the end of our vacation, we were so glad that Melissa was able to get us out of the country a day early. She worked with us to find an alternate flight on another airline and stayed in constant contact with us until we got checked in to the fight. It was very reassuring to know that we had a personal assistant helping us navigate that difficult process in a foreign country. I highly recommend Melissa to anyone who is considering traveling abroad as she definitely knows the ins and outs and pluses and minuses of the airlines, airports, and hotels. We will be using her again to plan our next vacation.
Recommended
Always a pleasure
By: McShammy
Reviewed on: 30 Sep 2017
Working with Melissa Reese, whether the trip be big or small, is ALWAYS a pleasure. She is super accommodating, always available and just seems to "get it" regardless of whether the trip us for business or pleasure. We have a large family with a lot of people to please and she always manages to steer us in the right direction. Given the number of moving parts associated with getting 7 people to a destination, I am continually amazed at how she can roll with whatever we throw at her. I can't say enough about working with Melissa.
Recommended
There is no one better
By: Amcshammy
Reviewed on: 02 Jan 2018
My favorite thing about working with Melissa is that just when you think she has topped herself, she goes over and above yet again. Her attention to detail is unparalleled. From short overnights to lengthy, complex adventures, Melissa patiently breathes life into my vague trip ideas-"I want a Christmassy vibe-could be warm, cold, near, far"-and manages to make it happen for my large family that ranges from 13-87. She researches all of my tangents and then helps us focus in on what will work for us. Once the destination has been chosen-no small feat-she then sees to it that we can travel without a care in the world. She has thought ten steps ahead and is prepared for anything and everything. Once we arrive at the destination, she still manages to keep tabs on us and make suggestions-often before we anticipate the need ourselves. I can't say enough about the level of service Melissa provides. My only hesitation in sharing this review is that I want to keep her to myself!!!
Recommended
Fairmont
By: MD
Reviewed on: 15 Jan 2018
She is amazing. So professional and detail Oriented.
Recommended
Awesome
By: Joe
Reviewed on: 28 Jan 2018
Melissa has always been awesome! She makes every trip we plan amazing!
Recommended
Experience
By: Ryan
Reviewed on: 20 Jan 2018
Our experience with Melissa has been over the top! She has delivered on every request my fiancé and I throw at her. Anything we have booked through her has turned out to be higher class service and experience than we could even imagine.
Recommended
Great!!
By: Blair
Reviewed on: 29 Jan 2018
She was awesome!
Recommended
Mediterranean cruise
By: Becky
Reviewed on: 01 Mar 2018
Melissa is a consummate professional who shares her vast experience and knowledge with her clients.
Recommended
Advisor who knows her stuff
By: Harv
Reviewed on: 04 Mar 2018
Melissa crafted a trip to meet our wants and desires. Without her knowledge we would still be in line several places. Kept in touch was us as needed but not over done. She was with us from start to finish is we needed her guidance.
Recommended
Fantastic Agent, Fantastic Trip
By: Denise
Reviewed on: 18 Mar 2018
In a word, outstanding. Melissa is simply the best travel advisor I have ever worked with. After the first trip she planned for us, we knew we'd never travel again without her. She is a delight to work with and incredibly knowledgeable. She thinks of every detail and is always available. Her recommendations (hotels, dates, transportation, cabin locations for cruises, restaurants, activities, etc.) are perfect for our family. She really takes the time to know her clients and what their needs and wants are for each individual trip. I couldn't recommend her more highly.
Recommended
Greece
By: Sue BP
Reviewed on: 06 Jul 2018
I always enjoy working with Melissa. She is very knowable of the places I want to visit. If she does not have the answer. She finds someone that does. She respects my limitations and works to find the best deal out there. I will use Melissa again for my travel needs.
Recommended
Italian guide
By: TexAg
Reviewed on: 23 Jul 2018
Melissa is organized and knowledgeable regarding Italy. She helped narrow down our sightseeing choices and made suggestions based on our individual interests. When she did not know the answers, she contacted tour companies and hotels with our questions.
Recommended
Mike & Sue's 2018 Greek Vacation
By: Mike & Sue's 2018 Greek Vacation
Reviewed on: 29 Sep 2018
Outstanding in all respects !! Great advice / coaching as to trip options as planning progressed. Everything turned out to be 'first class'. Hotels were supurb ... 5 star each or better. Greeks are friendly and welcoming people. Weather was perfect the whole time. European tourist crowds had diminished by mid September so all attractions were easily accessible. Waters were calm and ferries on-time. So, a fantastic trip all around.
Recommended
Fall Colors
By: Smittyken
Reviewed on: 05 Oct 2018
Melissa is very organized, you feel like there is not going to be anything missed when planning the trip and there was not any thing that was not taken care of for the trip.
Recommended
Creacent
By: Melissa D
Reviewed on: 13 Oct 2018
Melissa is amazing! Very detailed And we love working with her. The AP is also a wonderful convenient tool.
Recommended
Quebec
By: Kat
Reviewed on: 10 Oct 2018
Melissa was great. Loved having the app with our itinerary details. The hotels were terrific, especially in Quebec City. She did a wonderful job.
Recommended
Trip to Hawaii
By: Janice
Reviewed on: 26 Oct 2018
Fabulous! Our hotel and accommodations were lovely!
Recommended
Hawaii
By: Janice
Reviewed on: 22 Jan 2019
Great!!! Melissa was wonderful.
Recommended
Melissa Reese review
By: Kathy
Reviewed on: 02 Feb 2019
Great, helpful, prompt, professional.
Recommended
Best Vacation EVER!!
By: Lexie
Reviewed on: 30 Mar 2019
Melissa is wonderful to work with. This is the 2nd time we have used Melissa to plan and book our family vacation. Both vacations were awesome and Melissa was such a pleasure to work with. She thought of everything we needed for our trip and once again it turned out to be perfectly planned and went off without a hitch. Somehow Melissa got us upgraded (w/ no additional funds) to the Penthouse suite! We were so surprised, thrilled, and it really made our trip. Apparently she wrote a letter to the hotel to let them know how much we loved the hotel and how this was our 2nd visit. We really appreciate the extra effort Melissa!!
Recommended
Spring Break 2019
By: Missy
Reviewed on: 27 Apr 2019
Melissa is amazing. She is the best travel planner we've ever worked with personally or professionally. She is prompt, honest and realistic with budgets. We highly recommend Melissa to all family and friends!
Recommended
Incredible Advisor!!!
By: Eleni
Reviewed on: 14 May 2019
Melissa is now my go-to for every vacation! She is always responsive, helpful, and excited about our travels. We are so impressed with her insider tips and first hand insights on each destination we have visited. We hope to work with Melissa for many years to come!!
Recommended
The best
By: Vkr
Reviewed on: 15 May 2019
No one plans with the details Melissa provides. Every trip is flawless
Recommended
Ecuador trip
By: Courtney
Reviewed on: 26 Jun 2019
Melissa is wonderful to work with. She is very thorough and follows through on everything. Every trip we plan with her is perfect and I could not recommend her more!
Recommended
Andaz
By: Karen
Reviewed on: 14 Jul 2019
Melissa is the consummate travel planner. Second time we have asked for her services. We'd never use anyone else. She goes above and beyond all expectations.
Recommended
Maui
By: MD
Reviewed on: 18 Aug 2019
Melissa is amazing!
Recommended
A week in Ireland
By: Marianne
Reviewed on: 23 Sep 2019
From first contact to her "welcome home" email, Melissa worked with us as if we were her only clients! She saw that our connecting flights were spaced appropriately so that whether on time or delayed, we more likely would make our flights. She booked a lovely hotel (the Merrion) securing an upgrade as well as in the hotels included in the Tauck tour. Melissa secured train tickets, a guide in Belfast, a driver to Dromoland Castle, she sent us our itinerary via the axus app and held a conference call just prior to our departure going over trip and answering any questions. Melissa's attention to detail and focus on making our trip "PERFECT"...did just that!
Recommended
Memorable trip and amazing travel agent
By: Alex L.
Reviewed on: 26 Dec 2019
Melissa Reese is proactive. She knows her ins and outs. She adapts to her needs. She knows a lot of information but not overwhelming and gave great advice. She was very patient to a lot of my questions. I originally wanted to spend 8 days in Bora Bora Four Seasons yet she recommended spending some time in Moorea, which really was one of our highlights. I proposed to my fiancee on this trip and when Melissa learned about it, she contacted the Four Seasons and went above and beyond to make sure we had a memorable experience. Melissa was always attentive to our needs and was prepared for our trip before, during, and checked in afterwards. Thank you, Melissa!!!!
Recommended
THE BEST!
By: vkr
Reviewed on: 08 Jan 2020
Melissa is the best travel agent we have ever found. She has been everywhere and knows how to plan the minute details of a trip. We have gone around the world with Melissa; she has found the best guides, hotels and flights for each trip. There is none better than Melissa. VKR
Working with Melissa Reese, you will have access to:
- An experienced travel guide whom you can rely on before, during, and after the trip
- Exclusive luxury resorts and properties
- Once in a lifetime experiences
Explore with the Best
Virtuoso Advisors are constantly pushing the boundaries in unique travel experiences.
Alliance programs are unique tailored experiences exclusive to travelers working with Virtuoso Travel Advisors.
learn more
Tanzania
French Polynesia
Spain
Botswana
Costa Rica
Croatia
France
Italy
Kenya
South Africa
United States - All
Turks And Caicos Islands
Australia
Mexico
New Zealand