Travel Specialties
Interests
Independent Tours
Culture, History & Arts
Air Travel
Escorted Tours
Ocean Cruising
Destinations
Japan
Morocco
Spain
Israel
Ecuador
Selling Travel Since
1969
My Background
My love of travel bloomed when my Grandparents arranged a multi-generational trip Scandinavia & Russia. Each of us were encouraged to learn each country's' history, embrace their culture & enjoy the culinary delights.
That trip started my life and love of travel.
Early in my career I earned my Certified Travel Counselor "CTC" certification, and took advantage of every opportunity to learn and expand travel first hand. , There are constant changes and challenges in finding the best for each traveler. By taking advantage of what the computer can offer coupled with years of planning all aspects of travel, It seems easier than ever to plan a travel but much harder to discern fact from misinformation to find the better value.
I have discovered there needs to be fine balance of global understanding connected for international travel, including customized itineraries. cruising, tours or family travel.
As Travel Professional, you would considered me a generalist, This means my skills include airfare dexterity, destination awareness and a personal method to find the best solutions for each desired trip.
My strength is knowing my clients'preferences and working collaboratively. My long time travelers appreciate quick responsiveness and attention to detail.
On a recent trip to Scotland, the novels of "Outlander" were used as a guide to the history and cultural of the highlands.
There are always new places to discover, so, let's work together to design your next adventure.
Places I Have Traveled
Reviews and Recommendations for Victoria Seltzer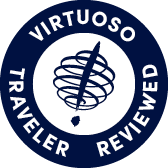 Virtuoso Verified Traveler
All reviews are from confirmed guests sharing exclusive insights
Sort reviews by
Recommended
Best travel agent ever!
By: KatieSAMA
Reviewed on: 16 Jan 2014
Vicki is careful, practical and available all the time. She knows it all and you will never go wrong with her!
Recommended
highly recommended
By: Not provided
Reviewed on: 29 Jan 2014
have depended on vicki's professional services for many years.
Recommended
Highly Recommended
By: afsplays
Reviewed on: 02 Feb 2014
Thorough, professional and a pleasure to work with -- I highly recommend Vicki.
Recommended
Exceptional access and service
By: BJG
Reviewed on: 02 Feb 2014
Vicki has an extraordinary talent for finding exactly the accomodations and travel services on the dates that we need - and then there is usually more with a bonus of some kind or an upgrade from VIrtuoso properties. Her ability to access property availability is amazing and her knowledge of our particular interests makes it so easy for us to book a great vacation.
Recommended
Vicki is the best! She has great suggestions, gets us wonderful flights and fares.
By: Not provided
Reviewed on: 05 Feb 2014
Recommended
Excellent.
By: Matty
Reviewed on: 11 Feb 2014
Vicki has organized many trips for me and my wife.  She is fast, efficient, creative and follows up to make sure all is running well.  She gets rave reviews from me.
Recommended
yes, highly recommended
By: Howard G.
Reviewed on: 20 Feb 2014
Recommended
By: Not provided
Reviewed on: 15 Mar 2014
Recommended
Outstanding as per usual and normal for the past 20+ years
By: Dan and Winnie
Reviewed on: 23 Apr 2014
Outstanding as per usual and normal for the past 20+ years.
Recommended
HIghly recommended
By: ba2
Reviewed on: 02 Jun 2014
All arrangements were excellent.
Recommended
Highly recommended
By: Wheelie
Reviewed on: 04 Jun 2014
Vicki is simply the best.  Her attention to detail, her accuracy, her quick reponse to problems or changes, her general attitude of cheerful, tireless efficiency -- she is nonpareil.  I recommend her without reservation, and count myself lucky to have had her recommended to me.
Recommended
Excellent!
By: WSC16
Reviewed on: 25 Jun 2014
Vickie Seltzer is a fantastic agent. Always looks for the best possible deal without compromising quality of the experience. Available for any emergencies before or during the trip. Have recommended her to others without hesitation.
Recommended
Highly recommended
By: Dan and Winnie
Reviewed on: 08 Jul 2014
Excellent, as it always has been for 20+ years.  Never have met anyone better, and they have been forced onto us by funding sources that occasionally refuse to let us go to Vicky.  Smile.
Recommended
Trip to Italy
By: Kim
Reviewed on: 19 Aug 2014
My recent trip to Cinque Terre was absolutely PERFECT!!! Vicky was so helpful throughout the entire process. My husband needed assistance at the airport(s) and each leg of our trip there was someone there to assist us and make our trip so much more enjoyable and easy. Our flights were "smooth sailing" as well and we truly enjoyed Italy. I have used Vicky before and will DEFINITELY use her again on any of our future trips. THANK YOU!
Recommended
great hotel in Madrid!
By: Lynn
Reviewed on: 15 Sep 2014
My colleague and I loved the InterContinental Madrid Hotel with Club upgrade -- this made our short visit to Madrid very easy and special, as we had great service and extras including free wifi, a great breakfast buffet and afternoon/evening tapas / tea buffet. A great success!
Recommended
Art of Living - Tauck tour
By: Carol
Reviewed on: 30 Oct 2014
Service was first class from start to finish. I thoroughly enjoyed the tour.
Recommended
Superb and surprised
By: David81
Reviewed on: 17 Nov 2014
The entire weekend was planned well. From the room at the Ritz to the credits for food and breakfast, we had a wonderful time. They even surprised us with rose petals, Malmsey, and our anniversary number in the shape of a heart when we returned late afternoon. The food was superb and the head of banquets (who was cooking at the buffet the net morning) was probably the nicest empoyee we've ever met at any hotel. Job well done!
Recommended
Another great trip!
By: C
Reviewed on: 08 Jan 2015
Vicki covered all the details-large and small, made a great recommendation in terms of the hotel and managed a complicated itinerary. Couldn't have been happier!
Recommended
expert friendly service
By: Bugzy
Reviewed on: 07 Feb 2015
As always with Vicki, the tickets were perfect, the extra-added telephone call with instructions for me, everything perfect and indeed made whatever I could control on this trip easy and pleasant. What I couldn't control was that the plane returned 3 times from the tarmac to the gate, leaving Phillie because "the left engine won't start." After 3 hours of these fits and starts, the plane finally began its taxi to take-off and (candidly) I had a moment of fear (will it work this fourth time???). But all in all, a lovely trip and thanks as always to Vicki. she keeps me safe and secure.
Recommended
Never travel without Vicki at your side
By: Barbara22
Reviewed on: 27 Mar 2015
Vicki got me the best possible time and price for my trip to Florida. Unfortunately, she couldn't control the weather. When snow, ice, and an accident at LaGuardia forced my first NY-bound plane to turn back to Ft Lauderdale airport, she helped me get reservations on my next three (then-cancelled) flights. Finally, as chaos descended on the airport and desperate travelers, she got me one of the last seats on a flight out the next morning. I still believe that I would have languished in Ft Lauderdale still longer, without her help. I am grateful to Vicki. And I note that this is not the first time she has been there for me in a difficult situation.
Recommended
Wonderful help
By: Fred
Reviewed on: 24 Mar 2015
I never travel without Vicki's guidance and planning. I have been saved from numerous difficult situations by her readiness to help and her availability when trouble arises. I have learned to follow her advice.
Recommended
Knows the "ins" and "outs"
By: Kitten04
Reviewed on: 14 Apr 2015
Victoria is super at finding the most wonderful hotels that are centrally located but not in the most crowded areas. She can fix any problems that might arise. I feel very secure knowing that she is just an email or phone call away. She is my "go to" person when planning trips near and far. She is the best.
Recommended
The best!
By: BBS
Reviewed on: 21 May 2015
Excellent advice, wonderful suggestions about all aspects of trip planning, and always available when questions came up.
Recommended
Vicki finds me special arrangements!
By: World traveler
Reviewed on: 05 Jul 2015
I usually make my own arrangements for simple air travel, but when I need something special or complicated - an upgrade on a flight to Europe where everything is expensive, a special connection - I know I can count on Vicki. She will check again and again to find me just the right thing at a reasonable price. Thanks, Vicki!
Recommended
The best!
By: Bobby
Reviewed on: 05 Jul 2015
Our trip was perfect in every way. Thanks especially for booking us into the Heathman in Kirkland, WA. We wouldn't leave home without you! The Abrashes
Recommended
Gives Her All!
By: Kathy13
Reviewed on: 06 Jul 2015
Our trip to Paris and Amsterdam ran very smoothly and was just what we asked for thanks to Vicki. She listened to what we were looking for from the trip and gave several great recommendations that saved us time and money. We are so grateful that she went the extra mile to get us hard-to-get tickets and a room upgrade. She is very professional, kind, and creative. We loved the organized package she sent with our itinerary and all of the trip information and tickets we needed. We only encountered one issue that did not detract from our trip, however, Vicki got everything straightened out and kept us informed the whole time. We highly recommend Vicki to help plan a vacation. She is a lovely and dedicated person.
Recommended
friendly efficient
By: sj
Reviewed on: 09 Jul 2015
all went smoothly thank you
Recommended
Everything was great!!
By: Molly
Reviewed on: 14 Aug 2015
Everything was great! The connections between Kennedy, Dubai and Mumbai and back were perfect. Thank you, thank you! (My mom thanks you too!)
Recommended
Professional responsive travel planning made the difference
By: Aspen 24
Reviewed on: 27 Aug 2015
Thanks for the opportunity to comment on the travel planning provided by Vicki Seltzer. My daughter and I sent four days each in Berlin and Amsterdam last week. It was a great trip. Vicki advised us to not include a third city and in retrospect that was a wise decision. Berlin is a very big city to cover and we could have used another day there since we lost time traveling. The context tours and hotels recommended by Vicki were excellent. In particular, the Ambassade in Amsterdam is a real gem. Hecker's in Berlin is in a charming neighborhood and the staff was very helpful. Vicki stepped in to assist when our luggage went missing for the first day of the trip which was also very reassuring. I enjoyed working with Vicki and Arden and we appreciate the personal touch we received!
Recommended
Terrific travel consultant!
By: JHF
Reviewed on: 26 Oct 2015
Vicki Seltzer does a fabulous job arranging the logistics of trips. She has expert advice about flights and is knowledgable about the ins and outs of airline delays etc. Her reservation recommendations are impeccable and her ability to help me out in travel 'scrapes' is amazing. Business travel is often hard, but Vicki makes it as smooth as possible.
Recommended
Terrific help
By: Fred
Reviewed on: 16 Nov 2015
I always find that Vicki helps me find the best tickets and options, and that she is very patient as I work out my objectives with her. Additionally, the human touch is extraordinary. When things go wrong, she is quick to find ways to help me.
Recommended
Amazingly detailed and excellent service
By: Anne
Reviewed on: 15 Dec 2015
Victoria Seltzer is by far the best, most detailed-oriented, careful, full service travel agent I have ever used! She figures out the best rates on plane fare, finds the most convenient, safest, and pleasant hotels. She tracks the plane and your luggage to make sure it all works out to be the most convenient and easy trip possible. She makes excellent recommendations to improve the quality of your trip. Also she was able to handle complicated and tricky transfers. I could not recommend her more highly!!
Recommended
expert friendly service
By: bugzy
Reviewed on: 24 Jan 2016
Vicki is the world's best agent, she anticipates every need, including BIG help with my needs as a handicapped person, and m generally needs as an old and increasingly nervous traveler. Without her, I would have given up traveling long ago. As usual the present trip was completely smooth, with wheelchairs waiting for me at every stop, etc. And the price was the best available too. At least one attendee at the conference I went to asked for Vicki's address (which I sent) when they heard how terrific she is.
Recommended
Saved my travel
By: Fred
Reviewed on: 28 Jan 2016
Once again, Vicki rescued me from the possibility of endless wandering in a trip potentially disrupted by weather. She was available for my desperate pleas for help while I was unable to access information that I needed to plan alternate travel arrangements
Recommended
Excellent, as always.
By: BAMEDIA
Reviewed on: 12 Feb 2016
There is no better travel agent.
Recommended
Excellent service and advice.
By: AD212
Reviewed on: 07 Mar 2016
I wouldn't travel without consulting with Vicki.
Recommended
Excellent service
By: March 9
Reviewed on: 17 Mar 2016
Knowledgeable, efficient, professional
Recommended
Best Travel Advisor on the Planet
By: DaveR88
Reviewed on: 20 Jul 2016
Victoria was referred to me by a family friend who I greatly respect. He told me she is the best around. Therefore, from the beginning the bar of expectations were set fairly high. But she hit the ball out of the park and helped my wife and me orchestrate the best Hawaiian honeymoon we could ask for. We went to 3 different islands and she made the process so easy of booking all of the flights and setting up the rental cars. And one of the greatest highlights of the trip included upgrading us to our amazing suite in the Four Seasons Maui where we were welcomed with chocolate fondue and free breakfast every morning. I would highly recommend booking any trip with Victoria.
Recommended
Vicki is the best
By: Happy travelers
Reviewed on: 14 Aug 2016
Kudos to Vicki for all her help arranging our trip. Arden, too deserves a big thank you. We very much appreciate the thorough job.
Recommended
Expert in her field and always helpful
By: playingfields
Reviewed on: 29 Aug 2016
It is a pleasure to recommend Victoria Seltzer. In the many years she has served as my travel agent, I have never experienced anything other than extremely helpful information and recommendations, expert service, and someone willing to go the the extra mile to ensure that my trips were well planned and everything went smoothly. Her vast knowledge is impressive, and she takes the time to listen to my needs. She handles each trip with care and can handle problems (like the time snow stranded me at Heathrow Airport). She is detailed oriented and so I always feel assured about my travel plans. She is a consummate professional, wonderful to work with, and an expert in the field.
Recommended
Well done again Vicki!
By: Andie82754
Reviewed on: 14 Sep 2016
My sister and I flew from JFK to Paris and then made a connecting flight to Montpelier in the South of France. Going we went through Orly in Paris, and returning we went through Charles DeGaulle. Everything went smoothly. We also made arrangements for a rental car and that went smoothly too. Having used Vicki before, I always feel confident that our flights will be comfortable and she has made our requests her primary concern.
Recommended
Smooth Sailing!
By: Sarah
Reviewed on: 06 Oct 2016
Victoria arranged our flights and everythng went just as planned! Thanks111
Recommended
Bellissimo Viaggio
By: Mary
Reviewed on: 31 Oct 2016
Last summer Vicki provided an extraordinary trip for our family. We arrived in Barcelona, traveled to Florence, Milan, and Lake Como. Every excursion, meal, and hotel was truly memorable. She has a gift for listening and providing ideas that have the opportunity of making the trip wonderful.
Recommended
Great from start to finish.
By: Terry*
Reviewed on: 25 Oct 2016
Could not have asked for better, perfection all the way, thanks Vicky.
Recommended
great trip
By: Dick
Reviewed on: 14 Dec 2016
Vicki did a great job-as usual
Recommended
The best as always
By: Bez
Reviewed on: 02 Feb 2017
She is the best and covers all unforeseen problems and has for 35 years
Recommended
San Antonio
By: Howard
Reviewed on: 27 Feb 2017
Fine, as usual.
Recommended
x
By: x
Reviewed on: 06 Mar 2017
wonderful as usual
Recommended
Punta Cana
By: Sonya
Reviewed on: 14 Mar 2017
Very satisfactory. Vicki was completely available, responsible, experienced, super-friendly and connected to my wishes.
Recommended
Budapest, Vienna and Prague
By: Andie
Reviewed on: 11 Jun 2017
Working with Vicky is always wonderful. She always responds promptly with terrific recommendations, airfares, and accommodation advise.
Recommended
Peru/Ecuador/Galapagos
By: Barb
Reviewed on: 04 Jul 2017
Wonderful! Easy, fun, enthusiastic, knowledgeable, responsive, attentive to detail. The trip was everything we hoped it would be - exciting, adventurous, comfortable, great balance between guided and independent travel. Thanks to Vicki for making great recommendations and arrangements!!
Recommended
Paris Trip
By: Toby
Reviewed on: 16 Jul 2017
As usual it was excellent. Having worked with Vicky for many years she is dialed in on our likes and ideas. She found us an excellent hotel, Relais Hotel du Vieux Paris, on the left bank in the Latin Quarter that I highly recommend to those who like boutique living arrangements. She worries the details, makes good suggestions and then makes them happen.
Recommended
Big Bachelor Party
By: Matt
Reviewed on: 31 Jul 2017
Working with Victoria was great because she was always quick to respond. Having her on your team is great because the connections she has to various other members of the travel/vacation/hotel industry allows for any potential situations to be resolved quickly and behind the scenes, without the need for you yourself to call customer support.
Recommended
Always there for you
By: Ellen
Reviewed on: 13 Aug 2017
Vicki is behind you all the way and gets the best price!
Recommended
trip to England
By: Lila
Reviewed on: 20 Aug 2017
As always, great to work with Vicki. But this time she had to rise to cover unanticipated emergencies, notably the cancellation of our flights. She went through long complex work to adjust to this (strike by BA) and is currently fixing a further problem, the breakdown of our airport limo. Hooray for Vicki, prompt, resourceful, and a friend of our whole family.
Recommended
Couldn't ask for a more helpful travel agent
By: Claire
Reviewed on: 16 Aug 2017
Vicki was fantastic in all ways: answered questions quickly and clearly, arranged everything that we asked her to with total efficiency, gave great advice, and was able to find ways to save us money. Who could ask for more? She seriously knows her stuff. We've worked with her many times and have never been disappointed.
Recommended
Great trip
By: Fred
Reviewed on: 29 Aug 2017
Working with Vicki is great. She is incredibly patient and thorough. We had very difficult requirements, traveling on holiday with our disabled daughter. We had a wonderful hotel suite in Santa Monica and the staff there were alerted to our needs. Vicki worked out every detail of the trip, from plane to airport pickup. Beautiful hotel and all went smoothly. I would recommend Vicki to any traveler and work with her on all my travel.
Recommended
She is the best
By: Traveler
Reviewed on: 07 Sep 2017
Vicky made arrangements to suit our special needs and was there to help with every glitch. She has done this for us for many years, solving untold problems. Can't praise her highly enough.
Recommended
Honeymoon
By: AJ
Reviewed on: 07 Sep 2017
Great, she listened well and was very helpful
Recommended
Transatlantic trip with 1yr old baby
By: Matt Kruk
Reviewed on: 11 Sep 2017
Working with Vicki was great because she really works to make your life easier. We were unsure of how to book a trip ourselves, now that we have an infant. Vicki was able to secure us seats with a baby bassinet, despite our little guy being a little past the size/age requirements. He still fit, and it helped us out tremendously since we were both free to move about when he finally fell asleep.
Recommended
As per usual, she does an excellent job
By: him
Reviewed on: 29 Sep 2017
As per usual, she does an excellent job
Recommended
Rome-Florence
By: rsl
Reviewed on: 01 Nov 2017
It was very unstressful, and the results were great. The hotel was good though I was disappointed by a 3.00 Euro charge for ice delivered to the room. It seemed totally unnecessary.
Recommended
Great as always
By: Jeff Stern
Reviewed on: 06 Dec 2017
Vicki is always attentive to details I forget to consider, and makes trips smooth by thinking through every variable so I don't have to. Thanks!
Recommended
trip
By: Dick
Reviewed on: 22 Dec 2017
As always, Vicky was great
Recommended
Great Trip Impeccably Planned
By: nancy glass
Reviewed on: 28 Feb 2018
Vicki was incredibly attentive to our needs. She planned a complicated trip perfectly. At every stop, there was something special planned. We stayed at amazing hotels. We had incredible guides. Everything was beyond our expectations!
Recommended
Huh!
By: Mickey
Reviewed on: 22 Feb 2018
She's knowledgable, experienced and friendly. Excellent.
Recommended
?
By: dyoah
Reviewed on: 13 Mar 2018
Very professional and we were well taken care of.
Recommended
Fred
By: Fred
Reviewed on: 24 May 2018
Good Working Relationship. Had a lot of knowledge about our destination.
Recommended
Trip to Paris
By: Mickey
Reviewed on: 04 Jun 2018
Efficient, pleasant, knowledgable, attentive, quick to respond.
Recommended
Travel nightmare
By: Zac495
Reviewed on: 14 Jul 2018
Travel was a nightmare
Recommended
The best
By: Fred
Reviewed on: 02 Sep 2018
Working w Vicki is terrific. She anticipates our concerns and always finds great opportunities
Recommended
Crazy Night (and Day)
By: Traveling Lecturer
Reviewed on: 13 Oct 2018
My flights from Berlin-Dublin-Philadelphia were cancelled when I woke up at 5am to get ready to go the airport. Vick was already on it. She had found out the news, figured out two options to get me back home: one involving the same alliance of airlines, another a different airline (Iceland Air). She waiting for me to call her (which was the middle of the night in Philli) and then nursed me through the process! Awesome!
Recommended
SAR NYC CDMX
By: Vicky
Reviewed on: 24 Oct 2018
Always a pleasure!
Recommended
San Jose
By: Tjapanangka
Reviewed on: 23 Nov 2018
Working with Vicki is always great. She anticipates my needs easily
Recommended
Longest Trip
By: Traveling Lecturer
Reviewed on: 27 Nov 2018
Vicki set me up smartly on the longest direct commercial flight (~18.5 hours outbound, ~17.5 hours return). Except for their length, the Singapore Air flights were pleasant and the service was excellent.
Recommended
Stellar travel advisor
By: Neil
Reviewed on: 08 Dec 2018
I have worked with Vicki for many years and cannot find enough superlatives to describe her. She is knowledgeable, informed, and takes the time to understand our needs and preferences. I hope she never retires.
Recommended
Syracuse
By: your guess
Reviewed on: 07 Aug 2019
It was very good...
Recommended
Russia
By: Physicstraveler
Reviewed on: 08 Aug 2019
Excellent. The flight plan was complicated, and we spaced out everything very well. Not too rushed, or stressful.
Recommended
Excellence
By: Fred
Reviewed on: 11 Aug 2019
Always terrific to work with Vicki. She organized everything on the trip with great attention to the special needs we have
Recommended
Smooth flights
By: Bez
Reviewed on: 12 Nov 2019
Incredibly smooth as it has been for 40 years she nailed all theflights and we sailed through
Recommended
Most Recent Trips
By: Jane F.
Reviewed on: 16 Nov 2019
Vicki is an amazing professional. No matter what tight squeeze I find myself in or what glitch in plans erupts, Vicki is able to help--efficiently and with good humor (which I greatly appreciate when I am stressed to the max!) I swear by Vicki--and so does our whole family at this point.
Recommended
Vicki is a travel advisor wonder. Attention like crazy and accurate.
By: Dan Janzen and Winnie Hallwachs
Reviewed on: 01 Jan 2020
Superb. She has rescued us many times in the past 30 years. As well as jollied many airline companies into helping us specially.
Recommended
Review
By: Dan Janzen
Reviewed on: 06 Mar 2020
Superb, superb, superb
Working with Victoria Seltzer , you will have access to:
- An experienced travel guide whom you can rely on before, during, and after the trip
- Exclusive luxury resorts and properties
- Once in a lifetime experiences
Explore with the Best
Virtuoso Advisors are constantly pushing the boundaries in unique travel experiences.
Alliance programs are unique tailored experiences exclusive to travelers working with Virtuoso Travel Advisors.
learn more
Japan
Morocco
Spain
Israel
Ecuador
United Kingdom
New Zealand
Netherlands
Costa Rica
Peru
Portugal
South Africa
French Polynesia
Thailand
Norway