Travel Specialties
Interests
Adventure
Family Travel
Food & Wine
Culture, History & Arts
Honeymoons
Destinations
United States - All
China
France
Italy
Selling Travel Since
1995
My Background
As part of a family with a big travel bug, setting off on adventures is a major component of my life. However, one of my favorite parts of the travel experience is the anticipation and daydreams that we can have before we even leave home while planning a trip. Learning more about a country and culture through developing an itinerary, and subsequently exploring these far-flung places in real life, creates the memories that last a lifetime. I take great pleasure in sharing the stories of my own and my colleagues' travel experiences, and great excitement linking people from all over the world to each other. Each trip knits us together a little bit more as families, friends, spouses, coworkers, visitors, and residents. Jets, planes, trains, boats, ships, cars, bicycles, or even our feet - those are the vehicles for our dreams. It is amazing, that, in a previously unknown destination, we can arrive as strangers and leave as friends – that is the magic of travel.
Places I Have Traveled
Reviews and Recommendations for Nancy Stein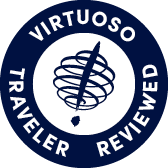 Virtuoso Verified Traveler
All reviews are from confirmed guests sharing exclusive insights
Sort reviews by
Recommended
Wonderful
By: Cinzen
Reviewed on: 24 Nov 2013
Great trip, National Geographic does a bang up job, and very satisfied with the whole experience. Nancy Stein is top rate, extremely thorough and a premier agent.
Recommended
Exceptional Service!
By: BobK
Reviewed on: 24 Nov 2013
Nancy Stein is without a doubt the best travel agent I have ever worked with. From securing a choice seat on a plane, to routing through the right connections, to seamlessly coordinating ground transportation, to finding all the greatest sites and restaurants in any city on Earth, Nancy is on top of everything! When you book with Nancy, all that's left to do is relax and enjoy the trip of a lifetime.
Recommended
Superior
By: Cindy
Reviewed on: 01 Jan 2014
Completely efficient and provides superb service. Extremely knowledgable about almost every destination and always gets the best rate with the most amenities. You can't go wrong !
Recommended
Highly Recommended
By: BABH
Reviewed on: 05 Mar 2014
We have used Nancy as our travel agent for over 10 years.  She works so very hard to listen to your expectations, price range, etc...and she delivers!  Nancy is delightful and easy to get along with!
Recommended
Recent European Trip
By: Old Glass Guy
Reviewed on: 09 Apr 2014
Becky @ Aldine Travel does a great job of booking everything I need from airlines, hotels and ground transportation. The connecting times are always the shortest practical and the hotels recommended are usually much better that I would have found on line by myself. Unless I am flying directly to and from a location in the US or elsewhere, I count on Becky to make the best booking available. I always recommend Aldine to friends and colleagues.
Recommended
Great job!
By: Oser
Reviewed on: 24 Aug 2014
Nancy did a GREAT job, as usual. We'll use her again! .
Recommended
Always the best!
By: BQueen
Reviewed on: 18 Sep 2014
Nancy always finds the greatest places for us, and this trip was no exception. Banff was beautiful, and the Banff Springs Hotel was outstanding in every way.
Recommended
The Best
By: LindaL
Reviewed on: 26 Nov 2014
Nancy Stein is the most attentive efficient and thoughtful travel agent we have ever had. I recommend her all of the time.
Recommended
COVERED ALL BASES
By: HARD TO PLEASE 1
Reviewed on: 07 Feb 2015
EXCELLENT JOB. ALWAYS PROMPT AND AVAILBLE FOR QUESTIONS. EXCELLENT SUGGESTIONS. KEPT UP ON ALL ASPECTS OF OUR TRIP AND FOLLOWED UP CONTINUOUSLY TO MAKE SURE EVERYTHING WENT SMOOTHLY. EVEN CALLED US DURING OUR VACATION TO MAKE SURE WE WERE DOING OK AND WANTED TO MAKE SURE WE DID NOT NEED ANYTHING. VERY PLEASED WITH HER CHOICE OF TOUR OPERATORS WHO ALSO CALLED US DURING THE MIDDLE OF OUR VACATION TO MAKE SURE EVERYTHING WAS GOING AS WE EXPECTED. WOULD DEFINITELY USE NANCY AGAIN FOR FUTHER TRAVELS.
Recommended
Knowledgable, Friendly, & Efficient Service
By: jpaulkjr
Reviewed on: 05 Oct 2015
Nancy has arranged several vacations for us, and we have never been disappointed. From accommodations to car rentals, airline reservations to guided tours and unique experiences, Nancy has handled all the details. She has made several recommendations over the years, exposing us to destinations that were not even on our radar. We have referred friends to Nancy, and they have been as happy with her service as we have been.
Recommended
Well done!
By: Bob
Reviewed on: 04 Jan 2016
The air arrangements were fine.
Recommended
Exceptional follow through
By: Ted
Reviewed on: 06 Oct 2016
I have never met a travel agent more professional or thorough as Nancy Stein. What is amazing, her work never stopped throughout our planning process, till we boarded the airplane, during the trip, until we got home. Nancy had every detailed covered. I never had a moment that I didn't feel Nancy wasn't available to help. I remember an example where my daughter, who was just in college had taken a trip to Europe. She lost her wallet and was in panicked what she should do. I called Nancy, and without a blink of an eye, called a friend of hers in Spain, who drove to where my daughter was staying to give her some cash. Nancy has help me wedding plan in Europe, plan family bike trips in Europe, visit my son in Thailand, and recently help plan a sensational Alaskan Cruise on Silverseas. Nancy and I have worked long enough together where she truly can anticipate everyone of my travel needs, including my wife's desire to have certain pillows in our hotel rooms. She is the best.
Recommended
Italy 2017
By: ItalyTrip
Reviewed on: 08 Oct 2016
Nancy planned the most incredible trip for us. It was the perfect mix of adventure and relaxing!
Recommended
Attentive and Thorough
By: Christina
Reviewed on: 21 Oct 2016
Nancy has always taken time to find the London hotel that best suits my needs. She follows up and is always alert to new offerings. She's wonderful!
Recommended
The Best!
By: EJK
Reviewed on: 14 Nov 2016
Nancy is simply the best. She knows and plans for every detail targeted toward our family needs. She always seems to intuitively be ahead of the process, from the time the idea for a trip manifest itself , through the pre- planning period, during the trip itself, and finally the post trip review, Nancy seems to be always available. There are numerous times she has taken calls on her off- time when the situation warrants it, without making me feel guilty for calling. I can't imagine a better travel agent. I have recommended her to several of my friends. All have been totally satisfied, and better yet, they are still my friends! Thanks Nancy for all you do.
Recommended
Great trip!
By: stk
Reviewed on: 15 Nov 2016
Nancy, as always, did an amazing job putting together our honeymoon! Everything was fantastic!
Recommended
Fabulous trip
By: Lynne
Reviewed on: 05 Jan 2017
Nancy helped us plan a dream vacation. She provided information, coordinated distant travel for our extended extended family and our 10 day adventure was seamless!
Recommended
Excellent!
By: "Zane"
Reviewed on: 03 Jan 2017
Nancy is the best! She's helped us in the past, she's helping us now and we'll call upon her to help us in the future. She's a very smart and a very knowledgable travel assistamt.
Recommended
Australia for Xmas
By: carolina46
Reviewed on: 23 Jan 2017
Nancy and her staff are wonderful and caring. My gripe is with United Airlines. I missed my connection in SF to Sydney. It was very hard to re-book because so many people had missed their flights (heavy fog in SF area so many delays). My daughter (in Australia) was most helpful in getting me re-booked, better than United. When I got my MC bill, I have been charged a $100. change fee and $440. extra for my flight. I didn't call Nancy because it was the middle of the night, I called the 800 number and spoke with someone in Denver. She used the info provided by my daughter (new Qantas confirmation number). By the time it was said and done, I had been awake for 24 hours! Also very difficult to find a hotel that will take you at 5am! I have learned two valuable lessons here: 1. Arrive in city one day ahead for an overseas flight you don't want to miss. 2. ALWAYS fly a codeshare. Again I have no gripe with Nancy Stein, her staff is wonderful.
Recommended
another great vacation
By: Mike
Reviewed on: 11 Feb 2017
Always a pleasure. Makes our vacations a no-brainer. Excellent selection of tour companies and guides.
Recommended
Great Experience!
By: KAnderson
Reviewed on: 16 May 2017
I have always had a very pleasant experience working with Nancy! She is responsive, efficient and always has great suggestions of things to do and places to stay. I first used her to book travel for my Honeymoon and had such a good experience that I have continued to use her ever since!
Recommended
Beyond the call of duty
By: Voltron1
Reviewed on: 28 May 2017
Nancy attends to every detail and more. A great example was when I was running late to catch my plane. There was a knock on my door and there was Nancy with her car running . She knew I would miss my plane if I didn't leave immediately. She took the time to drive me to the airport, I will never forget her for that. Even on family trips, she is always cordial whenever I call and very responsive. She is the best!
Recommended
We Loved Nancy!
By: Bob
Reviewed on: 22 Aug 2017
Our trip was great. Nancy was helpful and pleasant as usual, and really "stepped up to the plate" to assist us when a fmaily problem arose that necessitated a quick last minute change in air travel arrangements from Europe to the US. She was available and helpfu to usl in assisting our filing of our insurance claim. We'd use her again without hesitation.
Recommended
Another fabulous trip by Nancy
By: myshiphassailed
Reviewed on: 19 Aug 2017
Nancy is easily one of the most professional and most service oriented travel agents we have ever encountered. She not only does her homework before making recommendations, but she follows through on every detail. We always know we will have a fabulous experience if Nancy has planned the trip. She has never disappointed!
Recommended
Italy/Greece Trip
By: skoplar
Reviewed on: 11 Sep 2017
Trip was amazing! Nancy was a tremendous help with everything!
Recommended
Italy
By: Carolina46
Reviewed on: 03 Nov 2017
Nancy is great to work with. She is enthusiastic, knowledgeable and willing to make changes to itineraries.
Recommended
The Best
By: Voltron1
Reviewed on: 06 Nov 2017
I could not recommend a travel agent that was more intune to my travel needs and cared so much to our satisfaction. She is the best!
Recommended
Haiti
By: Jean Baptiste
Reviewed on: 04 Nov 2017
Nancy se yon planifikatè eksperyans nan vwayaj nan Ayiti. Mwen pa ta kite nenpòt lòt moun planifye vwayaj mwen an Ayiti. Yon madichon vodou sou nenpòt moun ki di yon fason diferan.
Recommended
Bordeaux
By: Phil
Reviewed on: 11 Nov 2017
She was wonderful. Great.
Recommended
Nancy
By: Zane
Reviewed on: 14 Jan 2018
She's awesome! Use her every time we can.
Recommended
flying home with a fractured pelvis
By: Carol
Reviewed on: 08 Mar 2018
Nancy was great, she was able to secure two first class tickets on short notice for my daughter and I to travel home from Salt Lake City. I was in pain and having a large comfortable seat on a nonstop flight made the trip tolerable.
Recommended
Laguna Beach
By: traveler
Reviewed on: 22 Mar 2018
Nancy always sends us to the best places and gets the best amenities.
Recommended
I have the best Travel Agent!
By: Happy Traveler
Reviewed on: 07 May 2018
Nancy is the consummate travel adviser. She is helpful, thorough and fun. I am always confident when Nancy plans my trips because she thinks of everything and is quick to address unexpected glitches. Nancy ensures we have the best possible accommodations, all the virtuoso perks and a wonderful trip all around. Can't ask for more.
Recommended
Nantucket
By: Sam Koplar
Reviewed on: 27 Jun 2018
Nancy was great - she made sure our travel was as seamless as possible. Made great recommendations!
Recommended
Another fabulous trip by Nancy
By: my ship has sailed
Reviewed on: 27 Aug 2018
There is no better travel agent than Nancy Stein. She sees to every single detail and she is 100% committed to ensuring that your trip is perfect. She always makes sure we have the best room possible and she is quick to investigate tour opportunities and restaurants for us. We can't imagine planning a trip without Nancy's input.
Recommended
A-1 advisor
By: ted
Reviewed on: 28 Aug 2018
Nancy is by far the best trip advisor we could have asked for. Her attention to detail, tailored to our specific needs, are always attended to by Nancy. What is remarkable, is our intuition in guessing problems before they occur. For example, the day she called me to let me know that I was running late for my plane. I told her I was waiting for my ride to pick me up. Five minutes later, there is a car beeping in front of my home. You guessed it! It was Nancy, who was kind enough to drive me to the airport so I wouldn't miss my plane. She has helped me numerous times when I have been away, recommending dinner spots or helping me secure the best hotel rooms. I could not recommend anyone higher than Nancy.
Recommended
The Best
By: Cindy
Reviewed on: 26 Sep 2018
Always professional and attentive. Couldn't ask for a better travel agent.
Recommended
Africa 2018
By: Nancy
Reviewed on: 04 Oct 2018
Thank you Nancy and team at Aldine Travel for another memorable trip. Planned to perfection and we appreciate every kindness and response to all of our questions. Nancy, like her Mom Gerry, is a consummate professional. She learned from the best and we plan to use Aldine travel again and again. I have for close to 40 years used Aldine Travel and am so delighted with the professionalism, knowledge, attention to detail, etc. etc.
Recommended
Canada
By: Evelyn
Reviewed on: 15 Oct 2018
Nancy always finds the best places to stay and makes perfect travel arrangements.
Recommended
Four Seasons
By: B
Reviewed on: 05 Jan 2019
Went well with Nancy and her assistant
Recommended
Nobody better.
By: Voltron 1
Reviewed on: 11 Feb 2019
Nancy is the best! She might be faking it, but she seems to really care about our family from the start of a trip until the end. She covers every detail and more.( including changes in travel). I could not ask for anyone better. She is the best.
Recommended
End of the world
By: Robert
Reviewed on: 24 Feb 2019
Easy. Things were well planned. No problems. Great itinerary and places to see. Would recommend this trip to anybody who has an adventurous spirit
Recommended
DC Delight
By: Happy Camper
Reviewed on: 22 May 2019
She is the best. Easy, efficient and full of helpful information. Nancy's hotel recommendations are always excellent.
Recommended
Pittsburgh
By: Norm Farber
Reviewed on: 08 Aug 2019
Everything was perfect
Recommended
Recent Travels
By: Travelin' Sam
Reviewed on: 14 Aug 2019
Excellent; she advised great places and activities. Travel arrangements for intercity travel were great.
Recommended
Best Ever Travel Agent
By: Cinzen
Reviewed on: 24 Aug 2019
Nancy Stein is the best most thorough agent I have ever used!!! Attentive to both our wishes but also all the details of the trip. She was a master at organizing where to go when and all our plans ran smoothly. She made it abundantly clear she would be available at anytime during our trip if we ran into difficulties. She knows which seats to book on which airlines to provide the most comfort on any given flight, and always has sources to make arrangements for almost any type of excursion or experience you wish to have while away. You cannot go wrong using Nancy!
Recommended
very professional
By: Ann
Reviewed on: 07 Aug 2019
Nancy was very easy to work with and very flexible as the three of us kept changing our plans. I will look forward to working with her again
Recommended
Nancy is the best!
By: happy camper
Reviewed on: 30 Aug 2019
Nancy is thorough, conscientious, smart and a lot of fun to work with. We have booked many trips with Nancy and she has NEVER let us down.
Recommended
Portugal
By: Evie
Reviewed on: 16 Sep 2019
Outstanding. We had many problems with our airplane travel and she was on it all of the way!
Recommended
WALLY
By: WALLY
Reviewed on: 21 Dec 2019
NANCY -- VERY HELPFUL, ATTENTIVE TO DETAILS, PUNCTUAL, AND CONCERNED.
Recommended
San Francisco Family Get Away
By: PDP
Reviewed on: 09 Jan 2020
At short notice, Nancy was able to pull together several ideal hotel options in the Bay Area during the Christmas/New Years vacation when availability was naturally limited. Her diligence and understanding of our needs found us several quality housing options that were perfect for our family. Her advice and assistance with flights, rental and recreational options was also appreciated. I would definitely use Nancy again for future travel.
Recommended
Nancy Stein review
By: Tina
Reviewed on: 22 Jan 2020
Nancy is the best travel agent. She knows the industry inside and out. we've been working together around 20 years and every trip is flawless. She has gotten us out of a few tight spots before as well.
Recommended
The Perfect Travel Agent
By: Voltron 1
Reviewed on: 08 Mar 2020
Nancy is the best. She has taken the time to learn about our family travel desires. This has enabled her to know our needs when addressing Airlines, Hotels, and other factors we might be interested during our trips. What is really amazing is her calm demeanor when we have last minute changes that require rerouting. She is always there for us.
Working with Nancy Stein, you will have access to:
- An experienced travel guide whom you can rely on before, during, and after the trip
- Exclusive luxury resorts and properties
- Once in a lifetime experiences
Explore with the Best
Virtuoso Advisors are constantly pushing the boundaries in unique travel experiences.
Alliance programs are unique tailored experiences exclusive to travelers working with Virtuoso Travel Advisors.
learn more
United States - All
China
France
Italy