Travel Specialties
Interests
Independent Tours
Family Travel
Food & Wine
Culture, History & Arts
Safari
Destinations
South Africa
Botswana
Antarctica
Australia
New Zealand
Selling Travel Since
1983
My Background
I've always loved traveling and sharing my experiences with friends. How fortunate I am to have a career that dovetails with my passion! Creating customized itineraries for people who truly want to explore the world and understand its people and cultures is extremely rewarding for me.
I make it a point to really listen to my clients, to understand the "why" for their trip. Since I've traveled extensively (to date: 50 countries and 47 states), I can leverage my destination knowledge and strong industry relationships to design detailed itineraries full of rich experiences. Anything's possible – from a Bar Mitzvah in an Alaskan Tlingit Indian Spirit House to special access to the Vasari Corridor in Florence. I've arranged it all. While I'm well-versed in all areas of the globe, I have particular expertise in travel to Africa and Italy. I'm also adept at planning multi-generational trips and those revolving around art history and the culinary arts, two special interests of mine.
It's extremely important to me that I deliver a high level of customer service.To do so, I've assembled a team of talented travel advisors – all with great experience and contacts – to assist me. Thus my clients, and the many friends that they refer to me, can expect personalized and responsive service.
I'm very involved in the travel industry. I participate in several advisory boards and am honored to have been twice nominated as one of five Most Admired Travel Advisors at Virtuoso Travel Week.
Whether you're looking to expand your horizons with a visit to a new-to-you continent or you're a seasoned traveler wanting to push the envelope and explore off-the-beaten-path destinations, I enthusiastically look forward to working with you.
Places I Have Traveled
Reviews and Recommendations for Deborah Bush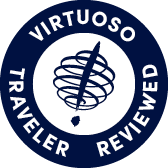 Virtuoso Verified Traveler
All reviews are from confirmed guests sharing exclusive insights
Sort reviews by
Recommended
Highly recommended
By: Gene
Reviewed on: 16 Jul 2013
We just completed a complicated trip for 10 family members to Paris and Burgundy. Debbie arranged everything, and every detail worked out perfectly. Debbie listens well, and is very responsive. In addition with her years of experience she had developed an amazing list of contacts and suppliers that allow her to craft a travel experience you just cannot achieve by planning the trip on your own.
Recommended
Highly recommend
By: Cohmimi
Reviewed on: 22 Jul 2013
Though I worked with Jamo on this trip, all the trips that Debbie has planned for us have been superlative. She planned several complicated trips for us. Her recommendations were excellent; she took care of all details; manages changes well. I had the same experience this time with Jamo. I highly recommend her.
Recommended
Highly recommended
By: Travelfamily
Reviewed on: 22 Apr 2013
Debbie and her team are top notch. They are responsive and timely. I have now used her services for 4 different trips for my family of 5, and have every expectation of continuing to do so.
Recommended
Southeast Asia o
By: Charlie
Reviewed on: 12 Apr 2013
We have talked with Debbie and sent a letter to Tauck both were good replies
Recommended
Galapagos Trip
By: swm1262
Reviewed on: 29 Jan 2013
Debbie is the greatest. Every step of the trip went smoothly and eacch guide we had was professional and fun to spend time with. Debbie communicates so well and always finds a travel experience that is perfect for our family. We will book our next trip with Debbie.
Recommended
outstanding
By: Squash1
Reviewed on: 30 Jan 2013
no detail too small and I am very detail oriented!...always gets back to me in a timely fashion...enormous personal experience helped me choose the best options...always let me know the best way to reach her even when out of town in remote areas...great redundancy for problem sloving
Recommended
By: Art
Reviewed on: 27 Aug 2013
Excellent trip. Well planned by Deborah. Right hotel. Right guide. Right tours. Right restaurants. Thank you. Art
Recommended
covered all angles
By: Meekoman
Reviewed on: 26 Aug 2013
This is our third family trip with Tauck, all through Debbie. She dots all i's and crosses all t's. Not a single complaint.
Recommended
great trip
By: Andy
Reviewed on: 06 Sep 2013
Deborah arranged our trip in a most profesional way which made it extremely enjoyable with perfect execution from begining to end.
Recommended
Highly recommend
By: Bobby6758
Reviewed on: 15 Sep 2013
Debbie put together a trip to Morocco that while accommodating our scheduling constraints afforded us an excellent visit that covered the significant regions and cities of Morocco except the sand desert. (Which we knew before the trip) She made travel, hotel and guide arrangements that matched our desires for history, cultural, and geographic learning. She was both knowledgeable and easy to work with. Debbie had an effective way of learning what we wanted to gain from the trip.
Recommended
Highly recommended
By: Gene
Reviewed on: 07 Oct 2013
Debbie and her team recently planned a ten day trip to Ireland for us. This is one of about a dozen trips she has planned for us - and as usual, it was a wonderful trip. In addition to very special hotels, and the much appreciated Virtuoso amenities, Debbie gave us some great suggestions on sites to see along the way, and the best locations to visit. Since beginning to work with Debbie we have recommended her to a number of friends, and all have been very pleased with her service.
Recommended
Accurate, careful and caring
By: Vincenbon
Reviewed on: 08 Oct 2013
Debbie did a fabulous job in arranging our trip with Tauck to S.A.
Recommended
Highly Recommend!
By: Sue
Reviewed on: 29 Oct 2013
Loved all your advice and especially our hotel in Paris!!!! Thank you! Sue
Recommended
Debbie Bush and Jamie Ladd were great.
By: Not provided
Reviewed on: 23 Oct 2013
We loved the hotel -- service, food, rooms -- and the neighborhood for dining and shopping. Will definitely return.
Recommended
Excellent!!!
By: Linda
Reviewed on: 29 Oct 2013
Debbie Bush is by far the most knowledgeable Travel Consultant I have ever dealt with. I will always use her for our big trips to South Africa and others where I need her expertise and knowledge of the area and the hotels.
Recommended
Highly Recommended!! Excellent
By: Linda
Reviewed on: 20 Nov 2013
Deb Bush is by far the best travel consultant I have ever used. I worked in travel for years and her expertise on almost everything is amazing. I don't think there is ever a question that Deb can't find the answer for but I have to say 99% of the time she doesn't have to research the answer - she knows the answer on the spot.
Recommended
Highly recommended, very knowledgeable
By: CTMomofthree
Reviewed on: 20 Nov 2013
Always has the best insider info on where to vacation, what hotel best suits your needs and where to eat restaurant wise.
Recommended
highly recommended
By: Jeanne B
Reviewed on: 21 Nov 2013
Very competent and helpful - appreciate her knowledge of tourist destinations
Recommended
Highly recommended
By: GK
Reviewed on: 31 Dec 2013
Deb is very helpful and knowledgeable which assures the best possible vacation.
Recommended
Outstanding advice and service
By: Reb
Reviewed on: 05 Jan 2014
Very knowledgeable and responsive. Has always given us great advice.
Recommended
Highly Recommended
By: AlanM
Reviewed on: 06 Jan 2014
We have worked with Debbie Bush for over 5 years planning one or two trips per year and have always been extremely satisfied with her guidance, insight and attention to detail. We could always count on Debbie to help with accommodations,logistics and guides. We have recommended her to many friends who have also been very pleased with Debbie's service.
Recommended
Highly recommended
By: Jeanne B
Reviewed on: 11 Jan 2014
Debbie and her staff provide excellent support/planning and give wonderful help in organizing vacations. I've booked two trips with her agency each of which were not only wonderful, but executed flawlessly.
Recommended
Outstanding service, highly recommended
By: Reb
Reviewed on: 07 Feb 2014
Recommended
highly recommended
By: Infrequent England Enthusiast
Reviewed on: 06 Mar 2014
Debbie is very knowledgeable about assisting with ideas and travel plans for England. She knows London very well and had excellent suggestions for the rest of our trip north to the Dales, then south through the Cotswalds  while creating opportunities to capture or avoid tourist highlights according to our preferences. Additionally, she follows through promptly.
Recommended
St Thomas hotel
By: Linda
Reviewed on: 17 Mar 2014
Don't let a client talk you into booking them into Bluebeard's in Charlotte Amalie.  It's now totally condominiumized ,  in so-so condition and absolutely no services except a pool side snack place.    The rooms are dingy and very interior-feeling.Not your fault - we were suckered by what we remembered to be a viewsome location.
Recommended
Highly recommend
By: Becky
Reviewed on: 04 Apr 2014
Debbie was great.  She and her assistant helped arranged a last minute trip to Jamaica.  It was the perfect recommendation!  
Recommended
Have recommended highly
By: Jack
Reviewed on: 25 Apr 2014
Service and ideas are always excellent
Recommended
Highly Recommend
By: travel bug
Reviewed on: 20 Apr 2014
Our recent trip to Peru was one of our favorite trips.  Everything was planned perfectly down to the minute.  We were received promptly and courteously by local guides at each of our destinations.  Each of our accommodations were fabulous and beyond our expectations.  We felt like we saw ALL of the Peru we set out to see in our allotted time ( and then some).  Great vacation!  I would highly recommend this itinerary and professional travel guidance from Debbie Bush!
Recommended
Simply - The BEST...
By: Flinger
Reviewed on: 30 Jun 2014
Well, Italy was our 3rd trip with Debbie after trips to France and Hawaii.  All 3 have been exceptional.  What separates her from the rest?  First, she listens.  Second, she develops a plan tailored to our taste.  Third, she takes care of every detail.  The accommodations?  Always first class. - we have always been centrally located in American friendly, English speaking hotels that are just exquisite, charming and friendly.  The tours?  Guides for private tours that give access and brilliant insights to sights, monuments, museums, etc. that simply are not available to everyone. The transportation?  Always minimizing downtime and logistical headaches by making it simple, accurate and perfectly suited.  Whether flights, lay-overs, limo transportation or car rentals - always spot on to relive what could otherwise be 'tense' moments. To underscore our complete confidence, we like to say, "In Debbie, we trust"...
Recommended
Tanzania - fabulous experience
By: Nana
Reviewed on: 30 Jun 2014
We spent 11 wonderful days with an 11 year old granddaughter and 23 other really nice folks.  Our guide was wonderful and very tuned in to the 9 young people on the trip.  The five safari driver/guides were terrific in pointing out things of interest to kids, having kids themselves.  Our lodgings were excellent and varied;  the balloon ride was a  highlight  even though we had to arise at 4 AM TWICE after the first ride was cancelled due to strong winds.We are still amazed at how special and trouble free this group travel was.  Thanks to all who made it so.
Recommended
Highly recommended!
By: Juju
Reviewed on: 09 Jul 2014
We have not yet gone on the trip but have every confidence that Debbie has planned it very well as she  always has done an excellent job for us.
Recommended
very helpful guidance
By: Norman the First, Would be King of England
Reviewed on: 10 Aug 2014
Debbie and her team provided excellent recommendations after listening to our family goals. All accommodations were superb and guides were excellent. Our one disappointment is that she failed to advise us that there would be no need for rain gear during our entire trip but possibly she could not control the weather.
Recommended
Attentive and Resourceful, Listens well
By: Nick-New Orleans
Reviewed on: 25 Aug 2014
Debbie handled our honeymoon trip to Pairs and did a great job. We were slated to stay at the George V for a few nights then change to another, less expensive hotel. My wife didn't like the second hotel as much and we called Debbie that day. She immediately called the other hotel and arrange an even better deal for us for the remainder of the trip (5 days). This felt good-to have someone taking care of us on our special vacation. Debbie is seasoned, straight forward and matter of fact. She spent enough time with me over the phone getting to know our goals of the trip and our taste. I would use her services again for another international trip. Bon Voyage!
Recommended
Only Travel Advisor I Will Ever Use
By: A2T Fan
Reviewed on: 21 Aug 2014
Debbie did another outstanding job on my week-long getaway. The details she works on are amazing - how to navigate when you have too much luggage; airport transfers and arrival timing; getting help when your companion needs mobility assistance. Everything was taken care of. My vacation was perfectly planned. Debbie arranged many activites - from fun and exercise to meals. She built in time for the few meetings I needed to have, and topped it all off with a gala dinner celebration my last night. Debbie and her Avenue Two Travel team are the best! Can't wait for my nex trip.
Recommended
Spain
By: Susan
Reviewed on: 02 Oct 2017
Wonderful experience
Recommended
Advisor
By: Ferg
Reviewed on: 04 Oct 2017
Her suggestions are great
Recommended
iceland/northern scotland/ireland
By: andi007
Reviewed on: 10 Sep 2014
nice boat, excellent food, nice staff always knew who you were, suite cabin very nice, slightly more mature clientele, minimal night life, decent singing entertainment. less than 300 people on boat often did not see anyone except at meals, entertainment, lectures and relaxing under blankets at the pool! we had really good weather and a fun time. places were interesting, cool, very little shopping time on excursions. volcanoes/lava rock, geysers, blue lagoon, giants causeway, guinness storehouse, titanic museum, segway tour, puffins, Harris tweed, Waterford factory and 3 sets of scones with jam and clotted cream! not enough time in each port saw a lot of sheep! enjoyed the trip.
Recommended
Rate our "trip"
By: Linda
Reviewed on: 13 Sep 2014
What trip are you asking about? We were in Tanzania in June. Is that what your looking for?
Recommended
Excellent Trip Through Scotland, Wales and England by Tauck
By: Jap
Reviewed on: 05 Oct 2014
As usual Tauck did a marvelous job. The history went from ancient to present beginning in Scotland. It was done well as history can be dry as toast. Our tour director was excellent, our accomodations were fantastically located and quite fine and for the most part the food was very good. Traveling throughout Scotland, the Lake District, Wales and England was wonderful. Enjoyable trip.
Recommended
Another great experience
By: A2T Fan
Reviewed on: 07 Oct 2014
Debbie planned another great experience for me - this time Morocco. It was my first trip there and everything was covered - Casablanca to the medina in Fez to a night under the stars in the desert. Loved every minute.
Recommended
TAUCK NORMANDY
By: JOHN
Reviewed on: 25 Oct 2014
HIGHS TAUCK TOUR GUIDE MARIANNE RADWAN ORGANIZED INFORMATIVE CONGENIAL LOCAL TOUR GUIEDS EXCELLENT ITINERARY COMPREHENSIVE EXPLORED MANY INTERESTING VENUES TOWNS CHATEAUS CATHEDRALS WW2 BATTLEGROUNDS AND CEMETERY MEALS SUPERB LOWS TWO HOTELS ROOMS EXTREMELY SMALL AND CLAUSTROPHOBIC SOFITEL PARIS GRAND THERMES ST.MALO
Recommended
Simply the Best!
By: JBS1227
Reviewed on: 02 Jan 2015
Our family has used Debbie Bush for more than ten years for planning individual, small family and multi-generational trips. In addition, she has expertly managed trips that include multiple multi-generational families. Every trip was managed professionally with expert care. Debbie somehow manages to always add an additional "wow" factor to each trip - something unexpected about an area that is memorable to our entire family. Each time we return from a trip we always say that it was the best trip we have taken...until the next trip! Debbie has a unique talent for finding those special excursions that will be sure to make the trip special. She is extremely detail oriented and has saved us many times over with air changes, etc. she is the best travel professional I have ever encountered and I am so grateful that we have had the opportunity to use her many times over for travel all over the world. I look forward to our next adventure.
Recommended
Seamless family vacation
By: World Traveler
Reviewed on: 05 Dec 2014
Once again, Debbie put together a seamless family vacation. We had family coming together from 5 different states for this trip over the Thanksgiving holidays. Everyone made it in time to catch the boat and enjoy the trip. We initially considered a shorter Galapagos islands trip with some time spent on the mainland. We are glad we took Debbie's suggestion and spent the week touring the islands. The trip was fabulous!!!!!
Recommended
Great Trip!!
By: Colby & Allyssa
Reviewed on: 04 Dec 2014
Another great trip by Debbie Bush! We have a fantastic time exploring the Galapagos with Lindblad. The service, accommodations, and experience were incredible! Thanks to Debbie & team for the great recommendation!
Recommended
PERU is awesome!
By: andi 007
Reviewed on: 08 Jan 2015
2 wk trip to heartland/canyonlands/machu picchu/lake Titicaca of Peru was great! people/food/accommodations/transportation and guides (3 total). lots to see and do, high altitudes, but we were prepared, went to marketplaces, saw paso horses, did a cooking experience which was great, a restaurant crawl/sights of Lima was great for our last day. saw/bought great textiles and some ceramics a little silver. very casual/outdoor attire take layers the weather changes frequently. went with 6 people (including 4 young adult children) loved the trip!! would love it a little better if the airlines would fly in a better schedule!!
Recommended
Always a treat
By: besiram
Reviewed on: 24 Jan 2015
I had to cancel a trip that was designed by Debbie to Australia. Debbie guided me throughout the mumbo jumble of trip insurance with a smile. Lo and behold didn't she find me a shorter trip with a shorter plane ride to the sun, in January. I have worked with Debbie for years and the adventures never seem to amaze. Can not wait for the next trip planning session. /she knows me so well.
Recommended
Another exceptional trip
By: A2T Fan
Reviewed on: 09 Mar 2015
My London trip was fabulous. Loved the Goring Hotel and all the "inaccessible" experiences made possible by Debbie. I felt like Royallty!
Recommended
Amazing East Africa
By: Chas
Reviewed on: 11 Mar 2015
The Tauck trip to East Africa " Classic Safari" exceeded our expectations and the travel arrangements accomplished by Debbie Bush at Avenue Two Travel were first class. Well done.
Recommended
A Platinum Class Advisor
By: Joe302
Reviewed on: 11 Mar 2015
We had an excellent trip with Tauck, made even more special by Debbie Bush's knowledge of the operator, as well as the area to which we were traveling. Debbie spared no effort in assisting with air and other travel arrangements, in order to assure that we had the best experience, and she succeeded masterfully. We will not hesitate to call on Debbie again!
Recommended
great trip--all went according to plan
By: vsn
Reviewed on: 01 Apr 2015
hotels great, Grand Canyon tour wonderful--Touch of the Southwest guide, Marcia, was very good and the helicopter tour terrific.
Recommended
Beyond expectations!
By: Enriched!
Reviewed on: 18 Jun 2015
Debbie Bush's leadership of the Avenue Two Travel Team in planning our trip met all of our requirements, was flawless in execution, and exceeded our expectations. Our principal aim was to learn more of family history in Slovenia, and the pre-trip preparation both in the U.S. and Slovenia assured success. The on-the-ground search proved most fruitful, and "tied up" several loose ends of family history. Following this success, we enjoyed a restful, fun, and wonderful cruise. Great work and execution by a thoughtful, creative, and engaging Avenue Two Travel Team!
Recommended
extraordinary responsiveness and attention to detail
By: marie
Reviewed on: 24 Jun 2015
Debbie is our keystone in travel. She has provided incredible insight on journeys for our family for 25 years! My husband and I have 5 almost grown children and Debbie can still suggest the perfect travel itinerary. As the kids have grown up, we know that she is able to consider the entire group and find trips that accommodate and delight EACH of us! She is prompt and detailed and articulate. I have been able to refer friends who share that they are equally delighted. The Virtuoso upgrades always make us extra special. thank YOU
Recommended
Always Top Notch
By: Old traveler
Reviewed on: 24 Sep 2015
Deborah has planned many trips for us over the years. Her expertise is invaluable, and we have never been steered in the wrong direction by her advise. She and her team pay attention to every detail. Expect a wonderful experience when you deal with Avenue Two Travel!
Recommended
Once in every lifetime...
By: LInda
Reviewed on: 12 Sep 2015
OUr trip was with Lindblad/ National Geographic on the Sea Cloud from Athens to Dubrovnik. It was spectacular! the trip of a lifetime. It's mostly about the boat but the crew was always pleasant and attentive and the Lindblad/NG staff were knowledgeable and flexible and fun to be with. I would encourage any sailing-minded soul to take this trip to any itinerary - you cannot go wrong!
Recommended
exactly what we wanted/needed
By: Steve
Reviewed on: 04 Oct 2015
Guides/Drivers were the best we have ever had. Itinerary was perfect with just the right amount of time to for us to explore. Hotel recommendations perfectly located. Easy to make cultural reservations in advance (concerts/opera). Debbie was really helpful in directing me to the best choices for us as a family and almost instantly responsive to my many requests for clarification
Recommended
Outstanding trip
By: Howard
Reviewed on: 05 Oct 2015
Debbie and her team were terrific. The hotels and activities and the pace of the trip were excellent.
Recommended
Italy I never knew
By: A2TFan
Reviewed on: 16 Nov 2015
This 2-week+ trip took me to 6 different hotels in Rome, Tuscany, Umbria and Puglia. The latter two regions were a first time for me - and WOW - loved the undiscovered, small towns that make Italy such a wonderful destination. From the World Prosciutto Festival in Norcia to olive harvesting/EVOO pressing near Savelletri, every day was a new experience. Debbie put together the itinerary that perfectly balanced activities with downtime, and all at hotels where I felt I was their only guest. The food was exceptional; the people the friendliest. Can't wait to go back!
Recommended
Super advise, super service - as always with Debbie
By: Por74sche
Reviewed on: 18 Nov 2015
A great trip to New Zealand. Debbie is a great source of information and insight. She typically has been to the places we are interested in. She also made all the transportion arrangements, again based on her experience. We'll be using her for our next two adventures.
Recommended
Another Great Expedition
By: David L.
Reviewed on: 07 Feb 2016
Once again, Debbie and her colleagues arranged a wonderful Lindblad/National Geographic expedition for us, this time to Costa Rica, Panama and the Panama Canal. The travel arrangements were perfect. Especially valuable was Debbie's advice that my wife have a wheel chair to help us navigate arrival and passage through U.S. customs and immigration in Miami to our next flight leg on our return trip. It's always nice to work with professionals who know what they are doing.
Recommended
Exceptional Spring Break
By: Vince
Reviewed on: 01 Apr 2016
Debbie, The Fairmont Kea Lani in Wailea. Hawaii was exceptional. The place, although full was not crowded, so plenty of space at the pools and beach. The rooms were suites and quite large and accommodating, with balconies and ocean views. The restaurants had good, but expensive food, but the service was impeccable and friendly. Lots of little kids during spring break (13 and younger) with lots of planned activities, including Scuba for 8ts and above. We loved the free golf clubs from the Hotel, and the free breakfasts. We didn't like the messed up Hertz service at the airport, and the messed up American Air flights to and from. The latter were NOT arranged by Virtuoso.
Recommended
Incredible service
By: Lou
Reviewed on: 23 Jun 2016
Professional in every way. Planning the airline tickets to dealing with Tauck. Had a travel agent before who was just plan lazy. Would not think about using anyone else.
Recommended
Ahoy Mate
By: esot
Reviewed on: 24 Aug 2016
My purpose for this transatlantic adventure was to be able to cross the ocean, eat well, rest, sleep many hrs and stare at the ocean with hopefully seeing some creatures along the way. Everything I needed and wanted I got. And I'm even hearing from friends that I seem so much more relaxed. London was wonderful. The Langham Hotel was indeed a 5 star and the location perfect. This is not to say that there weren't a few minor issues along the way, but they pale in comparison to what was so right
Recommended
great service on all details.
By: Peter
Reviewed on: 29 Aug 2016
One of the best trips of our lives! Very well planned out by Deborah.
Recommended
What a GEM!
By: Betty Lou
Reviewed on: 25 Sep 2016
We went to Debbie after being very frustrated with another agency. She has never failed us and this trip is no exception. After dealing with the other agency, wasting 3 months with no progress, Debbie was able to put together what looks to be the trip of a lifetime in less than 3 weeks. We are excited to get on our way. I have known her for 10 years and my husband even longer. She has sent us on many wonderful trips. Her expertise, knowledge, and ability to know exactly what her clients want has always amazed me. She is the "Queen Gem" of the travel industry.
Recommended
Very efficient, knowledgeable, collegial
By: Quinn4
Reviewed on: 28 Sep 2016
Excellent service and travel guidance. Repeat traveler with Debbie and plan to do so again in the future.
Recommended
Great
By: Mark and Marianne
Reviewed on: 04 Oct 2016
Wonderful planning and flawless execution. Highly recommended
Recommended
Very helpful
By: jlbb
Reviewed on: 07 Oct 2016
Debbie is very helpful and thorough. This is our third trip with her and we find her services to be outstanding.
Recommended
Debbie is the best, hands down
By: gilby743
Reviewed on: 10 Oct 2016
We used Debbie to book our honeymoon. it was the second best decision I ever made, besides marrying my wife. we had the most luxurious trip and everywhere we went the staff of the hotels knew who we were and who had booked our trip. because of this we were able to get upgrades and special treatment. Every detail of our trip was planned perfectly and did not feel overly planned. It really had this amazing feel like we were just wandering around Italy and all of these amazing adventures "just happened". except they didn't just happen, Debbie planned each and everyone one of them perfectly! I cannot say enough about how great she and our trip was. thanks!!
Recommended
Consistently the Best
By: Jijo
Reviewed on: 26 Oct 2016
Deborah Bush has guided us through 30 years of fantastic trips. She has a vast working knowledge of everything from a weekend in the city to an extended adventure. She follows up with caring attention to the logistics and changing situations inherent in travel. Her association with Virtuoso has only enhanced her terrific services.
Recommended
Always Fabulous
By: Me
Reviewed on: 03 Nov 2016
Debbie has taken the time over the years to really know me and my travel idiosyncrasies. Very thorough in explaining and giving options. Not always easy as I travel alone. And she always has my best interest in mind.
Recommended
Christmas in Austria
By: Ji jo
Reviewed on: 06 Jan 2017
Nine family members ranging in age from 7 to 70-- We spent the Christmas holiday in picture perfect Austria. Debbie, our Virtuoso travel agent, made all the complicated arrangements. We had three families coming from different cities, flying into Munich at different times, leaving Munich on different days, rides for six people, rides for nine people, walking tours in Salzburg and Munich for varying numbers of people... a logistical puzzle that Debbie turned into a smoothly operating plan. The drivers were all prompt, reliable and gracious. The tour guides were knowledgeable, accommodating and good with the children. We saw and did so much more than we ever could have on our own and there was no stress. Terrific organizing, wonderful contacts.-- thanks for another memorable vacation.
Recommended
Trip to Jamaica
By: Ferguson
Reviewed on: 22 Jan 2017
She came up with some great trip ideas & resorts
Recommended
Australia tour
By: Betty & Allen
Reviewed on: 07 Feb 2017
So easy and so pleasant. As we have learned over the years, if you want it done right, get Debbie to arrange it for you. She will always be our "Go To Gal!!!!
Recommended
australian trip
By: Geri
Reviewed on: 10 Feb 2017
Debbie was extremely professional in every way. Phone calls and e mails were answered promptly and all concerns addressed!!!
Recommended
Debbie Bush is cool
By: Charlie
Reviewed on: 11 Feb 2017
Debbie Bush is the best. She spent lots of time with us learning about out needs and wants and put together a great trip to Easter Island. However the Explora Easter Island generator blew up 5 hours before we were to depart Santiago. Debbie and the Explora Rep. arranged a trip to Explora Atacama which is the driest desert in the wowrld. we had a good time
Recommended
12 days in Japan
By: Charlie
Reviewed on: 17 Apr 2017
Working with Debbie was a good dream.
Recommended
Japan Adventure
By: Joe
Reviewed on: 18 Apr 2017
Debbie did a wonderful job for us, developing an itinerary with a tour operator and working with them to make it fit our needs. As it developed, there was need for an unusual amount of her involvement, given some lack of adequate clarity from Swain on some of our arrangements. But Debbie dug in and made it all right in the end. We were very grateful to have had her there, and it turned out to be a terrific 12-day trip!
Recommended
China trip
By: jalousie
Reviewed on: 03 Jun 2017
She was so informative and helpful -- a great problem-solver
Recommended
Advisor review
By: John
Reviewed on: 10 Jun 2017
Deborah does an incredible job of planning, advising and followup.
Recommended
Viking River Cruise=Paris to Alps
By: K&B Bennett
Reviewed on: 23 Jun 2017
Deborah and her staff were very good to work with and responsive to our queries. As an aside Viking has some downside. Because we had Deborah and her staff and we took an active role in our air travel, we had a good experience. Others on our trip had some horror stories with respect their air packages.
Recommended
London/France trip
By: Chris
Reviewed on: 24 Jun 2017
Great Knowledge / explains well/ dependable/ helpful/ understands goals and plans acccordingly. Great job!
Recommended
Ireland
By: JIm Johnson
Reviewed on: 12 Aug 2017
Great. Knowledgeable and professional.
Recommended
Thank you Debbie
By: Mary Lou
Reviewed on: 29 Aug 2017
We have never been disappointed with Debbie's expert advice and attention to detail in making our travel arrangements
Recommended
Great galapagos!
By: andi
Reviewed on: 27 Aug 2017
thorough, detail oriented always friendly and helpful
Recommended
Mexico
By: Jim
Reviewed on: 27 Sep 2017
She made it easy as always. I like to travel but hate the hassle of setting it up.
Recommended
Best trip ever
By: chuck scholer
Reviewed on: 17 Oct 2017
Debbie is a joy . She gets to know you personally and structures the perfect trip to meet our needs. While on the trip she follows up and always puts that little extra into the agenda that makes a great trip into a once in a life time experience.
Recommended
The Best of the Best
By: Marise
Reviewed on: 29 Dec 2017
Debbie has been planning my adventures for years. She has an eye for detail (your passport date) and always makes sure you understand everything. May I add kind with a large dose of patience
Recommended
Great advisor
By: Swim
Reviewed on: 05 Jan 2018
Debbie's attention to detail and knowledge about what appeals to our family sets her apart.
Recommended
Tracy Federico
By: Susan
Reviewed on: 08 Jan 2018
Tracy is always so responsive, helpful, and eager to please. She finds great, relevant tours for our family.
Recommended
January in Iceland
By: J&J
Reviewed on: 15 Jan 2018
Working with Debbie is always a joy. She is upbeat, knowledgeable, caring and professional
Recommended
Maui
By: Marie
Reviewed on: 23 Jan 2018
Debbie ( and Tracy) are consummate advisors on all things travel. We have done many trips with them over the past decade. Knowing that they have reviewed all details takes the burden of planning away from me. Instead, I get to dream about the trips and then enjoy the adventure!
Recommended
Deborah Bush, the best of the best
By: Walk Fam
Reviewed on: 19 Jan 2018
We have been working with Deborah Bush for many years now. The expeditions and trips that she has organized have all been epic in their own ways. Some relaxing and luxurious, some encompassing high adventure. Each extremely well planned out and executed. We as a family wholeheartedly have and will continue to recommend Deborah to anyone with a deep passion for travel. The Walker Family
Recommended
Vietnam, Thailand, Cambodia
By: Lou
Reviewed on: 31 Jan 2018
Perfect 10!!!!!!!
Recommended
Trip coordination and planning.
By: Fred
Reviewed on: 11 Feb 2018
Knowledgeable, accessible, efficient, helpful.
Working with Deborah Bush, you will have access to:
- An experienced travel guide whom you can rely on before, during, and after the trip
- Exclusive luxury resorts and properties
- Once in a lifetime experiences
Explore with the Best
Virtuoso Advisors are constantly pushing the boundaries in unique travel experiences.
Alliance programs are unique tailored experiences exclusive to travelers working with Virtuoso Travel Advisors.
learn more
South Africa
Botswana
Antarctica
Australia
New Zealand
China
Egypt
France
Italy
Kenya
Morocco
Namibia
United Kingdom
Tanzania
Zimbabwe