Travel Specialties
Interests
Family Travel
Independent Tours
Meeting & Incentive Travel
Destinations
Aruba
Bermuda
France
Germany
Greece
Selling Travel Since
1978
My Background
Having grown up in the travel industry, then in the business since college, I've had the opportunity to experience all parts of this exciting travel career. From escorting travel incentive groups abroad, to corporate travel management, to custom planning individual vacations - they are all a part of my travel life!
Though I went to college to become a teacher and then decided to continue in the family business of travel, I've never regretted a moment. Traveling is an education in itself and when I sit with a client and discuss any destination, I still get excited. Whether its an all-inclusive resort in the Caribbean, a corporate meeting in Chicago, an Anniversary celebration in Italy, or a 2 week Safari with family, they all are important to me....as they are to my clients.
I have a passion for what I do....so taking that extra time, making that extra call, confirming sometimes the "impossible", and hearing about their incredible journey makes it all worth while!
Places I Have Traveled
Reviews and Recommendations for Lilo Matinas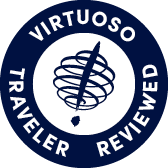 Virtuoso Verified Traveler
All reviews are from confirmed guests sharing exclusive insights
Sort reviews by
Recommended
Lilo Created the Perfect European Vacation!
By: Ray
Reviewed on: 09 Sep 2015
Bonjour and Hola! When we decided to make this year's vacation destination Paris AND Barcelona, we were excited -- and anxious at the same time. Fortunately, Lilo Matinas of Journeys Unlimited provided expert guidance literally every step of the way...the entire 11-days was mapped-out from start to finish. And what a great experience -- on so many levels -- it turned out to be! The "vibe" of both cities were night and day, so it really felt like we were on two vacations at the same time. All the daily activities, and the two hotel locations, could not be more perfect. And Lilo even made Business Class airfare fit into our budget! If you've always wanted to explore a foreign destination, but were inclined not to move forward because your trepidation exceeded your desire, you owe it to yourself to contact Lilo Matinas at Journeys Unlimited. Thank you Lilo!
Recommended
Review for Journeys/LIlo
By: mary
Reviewed on: 21 Sep 2015
Excellent recommendations from Lilo - Seville Trip - wonderful hotel and smooth connections - hotel was right in the center - great planning
Recommended
Outstanding customer service
By: LPET
Reviewed on: 12 Oct 2015
Very thorough and gracious. Our vacations have been delightful and seamless with Lilo's help.
Recommended
Spain trip of 16 nights went very well
By: Ed & Marge
Reviewed on: 02 Nov 2015
Villa Real hotel in Madrid was fine choice - walk to 3 art museums and best snack hopping on Calle Jesus. Good advice to drop off car before going to Cordoba or Granada. Good advice to take train to Toledo. Good advice to include Jerez and Ronda day trips. Good tour of sites in Barcelona. Good advice to fly out of Malaga. Many thanks.
Recommended
Excellent Friendly service as usual
By: Travel Pioneers
Reviewed on: 12 Nov 2015
Lilo as usual provided us another amazing vacation. We have travelled all over the world and we just returned from Patagonia,Chile. We stayed at Tierra Patagonia. Lilo made all of the arrangements, flight reservations, accommodation reservations as well as limousine service to the airport. She made sure that our stay was at an amazing hotel that provided us many difficult hiking excursions,horse back riding. She makes sure we are constantly running around with no down time doing everything possible. She is always available for us to help us during any travel issues as well. It is always a pleasure planning our trips with Lilo,especially because of our active lifestyle.
Recommended
Fantastic service and results
By: Robert 9
Reviewed on: 24 Nov 2015
The quality of service is excellent. Upon making arrangements, I found Lilo to be friendly, helpful, knowledgeable, and detailed. Her promptness and follow up was beyond reproach.
Recommended
Jackson Hole Wyoming Trip
By: Domsky#1
Reviewed on: 03 Jan 2016
As usual you did a great job getting us back and forth to Jackson Hole,Wyoming. The holidays were great. We look forward to our next trip. Karly and I are leaving to ski and snowboard in Niseko, Japan on the 11th for ten days with four other friends. Will let you know how it is. I don't think many of your clients want to ski or snowboard in Japan. We are staying at the Freshwater in Niseko, Japan. Happy New Years!! Richard Domsky
Recommended
Amazing trip!
By: Matt&lindsay
Reviewed on: 17 Feb 2016
The planning of the trip was well thought out. We didn't have any problems with transportation or need to adjust anything on the trip because Lilo thought of everything. The hotels were amazing! All the activities went smoothly with out any problems. We would recommend Lilo to anyone!
Recommended
Great recommendation
By: Mary
Reviewed on: 25 Mar 2016
great spot - perfect hotel & location
Recommended
Alaskan cruise
By: Denise
Reviewed on: 19 Aug 2017
She did a great job at arranging our cruise for 6 couples-would highly recommend
Recommended
Great trip!
By: dteix
Reviewed on: 29 Apr 2016
We used Lilo to plan our family trip to Bermuda. She handled all of the details and was also able to get us breakfast included which saved us about $75 a day. We would not hesitate to book a trip with Lilo again. We were very happy with the service she provided.
Recommended
Lilo is the best!
By: A & A
Reviewed on: 28 Jun 2016
We recently returned from a 12 day Hawaii trip and it was AMAZING! Hawaii was beyond our expectations but so was the planning of the entire trip by our travel Agent Lilo Matinas. I started to plan this surprise birthday get-away for my husband over a year in advance and Lilo worked on it with me every step of the way...late night covert e-mails and morning meetings so my husband wouldn't catch on! It was really so much fun to plan with her! Her suggestions and arrangements were perfect and she is so knowledgeable about everything I asked her. I truly felt like her "only client" for all the attention she gave me! W have a few trips coming up and Lilo is our go-to from now on! Thank you!!!! A & A
Recommended
Exceptional Service! :)
By: hamm
Reviewed on: 28 Jun 2016
We had a wonderful experience for our honeymoon. Lilo was much help and gave us suggestions on where to go. Our resort was beautiful and the service was exceptional!
Recommended
Perfect vacation - enchantment resort
By: m
Reviewed on: 09 Oct 2016
Lilo suggested and organized a fantastic vacation in Sedona AZ @ enchantment resorts as well as activities in the Grand Canyon - perfect vacation
Recommended
Great as usual
By: FGJG
Reviewed on: 20 Nov 2016
Lilo planned another fabulous trip with unique experiences and excellent service. Provided great choices and made sure we were well taken care of at all stops
Recommended
Australia and New Zealand
By: Kathleen
Reviewed on: 02 Mar 2017
Lilo was very helpful to guide us with our trip. We appreciated her insights and guidance.
Recommended
Easy to work with
By: Elle
Reviewed on: 13 Mar 2017
Lilo was pleasant and followed up with all our requests. She was very thorough and made very good suggestions based on her experience.
Recommended
The best
By: Tony
Reviewed on: 25 Mar 2017
Always effortless for our part. We just tell her our wants and she makes it happen. Always available and responsive. She is professional, thorough, the best.
Recommended
Iceland Trip
By: Ronit
Reviewed on: 28 Mar 2017
Great! Lilo was very helpful in setting up a wonderful trip with all the features we requested.
Recommended
santa barbara
By: mary
Reviewed on: 07 Apr 2017
perfect! Great hotel and ideas!
Recommended
Trip review
By: Joe
Reviewed on: 10 Apr 2017
A complete pleasure
Recommended
40th in Hawaii
By: Lori & Ben
Reviewed on: 14 May 2017
When it comes to planning a trip, Journeys Unlimited is our only choice. On our recent trip to Hawaii, Lilo took the time and effort to put together the perfect trip. Her knowledge and experience is second to none. Every detail for our trip was seamless. Absolutely perfect. She helped make our 40th anniversary unforgettable. Lilo is the best!
Recommended
Recent Trips
By: Becky kaplan
Reviewed on: 21 May 2017
Lilo is always quick to reply, always reviews and gives me options, always pleasant! She gets whatever we need done very efficiently. She is amazing!
Recommended
Excellent
By: Tired
Reviewed on: 28 Jun 2017
It was a pleasure working with Lilo
Recommended
Punta Cana Trip
By: Tito
Reviewed on: 11 Jul 2017
it was easy to work with Lilo. I could call her at any hour of the day and she was familiar with my destination and gave me good recommendations.
Recommended
She's the Best
By: dogluvindds
Reviewed on: 02 Aug 2017
As always, working with Lilo was a pleasure. She knows our style and always finds us new and interesting places to stay. Whether we need her to find us a hotel for a 1-2 day stay like this trip or help us plan a longer vacation, Lilo comes through every time. We highly recommend her!
Recommended
Excelent service and profesional
By: traveler
Reviewed on: 23 Aug 2017
Was great to work with her. She has a tremendos expertise, very profesional, and provides excellent service. In one short sentence, she is outstanding.
Recommended
Cuba
By: JAY F
Reviewed on: 02 Sep 2017
Lilo was very helpful in arranging flight for my family and I to Cuba
Recommended
Alaskan Cruise on Holland America
By: Dee Dee
Reviewed on: 18 Sep 2017
Our trip was excellent. All the arrangements made by Lilo went smoothly and we thoroughly enjoyed our trip to Alaska onboard Holland American Cruise Lines.
Recommended
We love Lilo!
By: Zym
Reviewed on: 09 Sep 2017
We've worked w/ Lilo for ~40 years for both business & vacation! She's the best! Wouldn't consider anyone else & wouldn't travel overseas without her backing us up. She always has excellent recommendations but listens to your ideas & requests. She planned a wonderful honeymoon in Spain for our son & daughter-in-law and scrambled to ensure it started smoothly when storms moved in & their initial flights were cancelled. We love Lilo!!
Recommended
Stress free and flexible
By: Nic P
Reviewed on: 01 Oct 2017
Lilo makes vacation planning stress free and effortless. She put together multiple itineraries in short notice and quickly made adjustments based off of our feedback.
Recommended
Best Travel Agent Ever
By: R
Reviewed on: 09 Oct 2017
It is so refreshing to work with a company that provides such excellent service in a time where customer service no longer has any meaning; Lilo goes above and beyond and I can't imagine traveling without her assistance
Recommended
Thailand, Bangkok and Chiang Mai
By: Ronit
Reviewed on: 17 Feb 2018
Lilo was a great travel advisor! She found an excellent company to give us a private tour of Thailand, and helped develop a wonderful itinerary for us. She is a delight to work with, never pushy, always informative and helpful. She even helped us get travel insurance for a very reasonable price two days before we left.
Recommended
She knows her Stuff
By: John
Reviewed on: 05 Mar 2018
Lilo knows what she is doing. She knows what to take on personally and what she can delegate to other members of the office. The team work very well together. Glad we found them.
Recommended
Booking with Lilo
By: Greg
Reviewed on: 26 Mar 2018
Thank you for all your help! you make the process easy and are extremely knowledgeable about the business of travel. Hotels, airlines, transports etc. we never have to worry when we book with Lilo and her team!!
Recommended
title
By: Bob
Reviewed on: 26 Mar 2018
Absolutely the best!
Recommended
Good job
By: Nomoreski
Reviewed on: 27 Mar 2018
Using virtuoso connection got us a better deal then obtainable from any other place.
Recommended
Africa
By: Frank
Reviewed on: 05 Apr 2018
Lilo did a great job in planning our trip to Zimbabwe and Botswana! Great communication and documents for the trip! We had a great time, very nice accommodations and safari trips.
Recommended
Wonderful Stay in London
By: David26
Reviewed on: 04 Apr 2018
Lilo was a pleasure to work with. From the start she presented us with many options and was very patient as our preferences changed multiple times. In the end she found us an execellent boutique hotel in an execellent location making travel via public transportation to all the major areas a breeze. Can't wait until the next opportunity I have to plan a vacation with Lilo!
Recommended
Simply the Best
By: Gary
Reviewed on: 06 Apr 2018
As always, working with Lilo was a pleasure. Although my travel plans were not extensive this time, Lilo still took the time to reasearch accommodations and find us the perfect place for a relaxing week. She's the best and I always have full confidence in her recommendations.
Recommended
Vermont/Toronto
By: Vermont/Toronto
Reviewed on: 11 Apr 2018
Fantastic as usual. All of our accommodations were excellent. We owe her another bottle of wine!!!!
Recommended
A pleasure to work with
By: Lou
Reviewed on: 26 Apr 2018
Lilo and Karen are a pleasure your work with. The hotels chosen for the first leg of our trip through Germany were perfect. The recommendation to go with Amawaterways was the best choice. Documents were all in order. They made it easy to plan the trip. I am looking forward to using Lilo on our next trip.
Recommended
Always accessible & helpful!
By: Zym
Reviewed on: 02 May 2018
We've used Lilo for ~30 years; never a problem, never a slip-up! The most recent was a a quick trip to England for a dear friend's funeral, but most have been very happy, carefree vacations here & abroad, on land or cruising. She also did a fabulous job on our son's honeymoon to Spain, rerouting them at the beginning to avoid thunderstorm delays & reduce everyone's stress levels. We always feel safer & more relaxed knowing Lilo & her team are backing us up!
Not Recommended
It Pains Me To Write This...
By: afein
Reviewed on: 26 May 2018
We had a major issue with one of the hotels. The hotel was alarmingly run down. Black mold visible in the rooms and on outdoor cushions throughout the resort. Our 3 person suite was so small that our luggage wouldn't fit in the room. The "upgraded" room we were switched to was barely better. Lilo was aware that I have health issues and that mold exposure is urgently contraindicated. The hotel would not allow us to switch hotels without charging us for the full 5 day reservation.When we asked Lilo for help we were told that she was leaving for Florida for a convention (she later said she was with a very important client and could not even look at emails) and we would need to work with her Italian counterpart who only reiterated the hotel's stance. Emails and picture sent to Lilo were met with absolutely ZERO response for 4 full days. I am still sick from the resulting mold exposure and my family was upset by the appalling condition of this "5 star" resort. I wish I could upload photos
Recommended
Personal review
By: Joe
Reviewed on: 03 Jun 2018
She is extraordinary in every way. She goes above and beyond to make sure travel is an unforgettable experience
Recommended
Trip to Alaska
By: lucky
Reviewed on: 10 Jun 2018
Very good. Was prompt to answer all questions & concerns.
Recommended
Very happy
By: Kelly
Reviewed on: 13 Jun 2018
Great! She was very helpful and knowledgeable.
Recommended
Always has your back!
By: Zym
Reviewed on: 07 Aug 2018
Lilo has helped us for >30 years - honeymoon, family vacations, business travel & solo trips, cruises, air & land! Never a problem! She's flexible, offers options & sound recommendations...respects your budget & your input. We wouldn't travel abroad without her backup!
Recommended
RC Cruise - Harmony of the Seas
By: Becky Rose
Reviewed on: 05 Sep 2018
Start to finish, all was GREAT!
Recommended
Amazing African Adventure
By: FG
Reviewed on: 08 Sep 2018
Easy and accessible. Listened to our needs and worked within our budget
Recommended
Awesome
By: Fuzz
Reviewed on: 25 Sep 2018
Lilo is as good as they get she cares and takes care of the details
Recommended
Absolutely
By: Mac
Reviewed on: 20 Oct 2018
We feel so fortunate to have connected with Lilo. Her willingness to explore so many options was greatly appreciated. In the end, she developed a travel package that was perfect. Look forward to the next trip planning with Lilo.
Recommended
London trip
By: Linda
Reviewed on: 20 Oct 2018
Easy. Knowledgeable Hotel was excellent
Recommended
Trip of a Lifetime
By: Lois
Reviewed on: 15 Nov 2018
Lilo was knowledgeable, helpful, responsive, and joined us in our enthusiasm for the plans that awaited. It was a pleasure working with her!
Recommended
Morocco
By: Jamal
Reviewed on: 25 Nov 2018
We have been working with Lilo for years. She is always tireless in planning our very active trips
Recommended
Recent travel for daughter
By: Scott
Reviewed on: 02 Dec 2018
Excellent. The best travel advisor ever for my family.
Recommended
Punta Cana, Dominican Republic
By: Jason
Reviewed on: 09 Dec 2018
This agency was phenomenal to work with. All of our arrangements were taken care of well in advance including our shuttle to and from the airport. It was great to have the trip itinerary sent to us. We'll definitely be utilizing Virtuoso's services again in the future.
Recommended
Great to Work With
By: RK
Reviewed on: 02 Dec 2018
Thank you Lilo for helping us arrange flights for our daughter from Chiangmai Thailand to Newark New Jersey. It was not too easy to navigate the fastest, least expensive and most comfortable flight options but with your assistance our Dani got home safely. We will look forward to working with you again on our own trips. Happy holidays.
Recommended
Vacation
By: Billy
Reviewed on: 26 Dec 2018
Excellent!!!. She is the best and she has planned many trips for me and my family over the years. I would highly recommend Lilo.
Recommended
South Beach Surprise
By: Miami
Reviewed on: 20 Jan 2019
Had to go to Miami, Lilo recommended the perfect hotel. Was able to get us extra perks! Well done
Recommended
Exceptional service
By: Kendall
Reviewed on: 18 Apr 2019
Lilo did a great job and made my travel experience easier. Highly recommend using her.
Recommended
Washington
By: Becky
Reviewed on: 09 Mar 2019
Lilo is always available, always has an answer, always finds us the best deal. Her recommendations are always spot on. She is very personable, consistent, and the consummate professional. I love working with her. I have recommended Lilo to friends.
Recommended
Working with Lilo
By: Rob
Reviewed on: 28 Mar 2019
Lilo makes the process a pleasure. She is extremely knowledgeable, helpful and goes out of her way to fulfill your every need or wish. I wouldn't work with anyone else.
Recommended
Review
By: Joe
Reviewed on: 14 May 2019
She is a joy to work with
Recommended
Hawai'i
By: Ben
Reviewed on: 24 May 2019
Incredibly knowledgeable, assisting my wife and I on planing an awesome trip. Lilo along with her staff are the best.
Recommended
Florida
By: Binky
Reviewed on: 25 May 2019
Very nice experience. LILO was very informative, got us best deal on plane tickets to Florida.
Recommended
European tour
By: Galloping
Reviewed on: 23 Jul 2019
LIlo and Samuel were able to take our wish list and turn it into a reality. We had private tours of a Roman bath and old walled cities. They found us uniquely situated hotels, perfect for exploring the city we were in, some for only one night. We had our train tickets, hop on hop off bus tickets in hand before we left. Rental car pick up in one city and return in another as especially helpful. Journeys has been our choice since 1997 and will continue to be our go-to for our family trips.
Recommended
South africa
By: Tami
Reviewed on: 28 Jul 2019
Lilo was the most helpful and knowledgeable agent. Everything she planned went smoothly and better than expected. She got back to me with answers yo every question. Her entire office staff were helpful and friendly.
Recommended
Paris
By: David
Reviewed on: 10 Aug 2019
Awesome. Spectacular
Recommended
?
By: don
Reviewed on: 04 Aug 2019
Very good. Responsive and knowledgeable
Recommended
Danube River Cruise
By: Marie
Reviewed on: 24 Aug 2019
Lilo and her team are top notch. They take care of every detail, no matter how minute. We started our trip in Berlin before joining Avalon Waterways for a cruise on the Danube. We needed transfers, private tour guides, and hotel reservations and all were done with great satisfaction Journey's Travel has made this and many previous vacations a memorable and enjoyable experience. I would highly recommend them to anyone looking to travel.
Recommended
Trips to Italy and Australia
By: The Mischler Crew
Reviewed on: 23 Aug 2019
Lilo does a fabulous job planning trips for families with teens or young adults. She finds the right balance of touring, relaxing and activity. Our favorite family memories include some of the outings she's planned like scuba diving, paragliding and sightseeing. I recommend her highly.
Recommended
The Best of Iceland
By: Niecy
Reviewed on: 05 Sep 2019
Lilo set us up with an amazing local guide who showed us the real beauty of Iceland away from the crowds of tourists. Each day was full of adventure. Lilo scheduled just the right amount of activities and reserved top notch hotels for us to stay in. We are already planning to use her services for our vacation next summer!
Recommended
Lilo Matinas
By: Ronnie
Reviewed on: 01 Sep 2019
Lilo was so easy to work with, I just contacted her and she set up the trip exactly as we wanted. She is efficient and thorough and a pleasure to deal with.
Recommended
Trip on the Rhine
By: RW
Reviewed on: 17 Sep 2019
Fantastic!!! Lilo is knowledgeable and accommodating to the fullest. While she listened, she also made many suggestions which enhance the experience. Even the slightest detail was covered. From recommending and setting up hotels, drivers, tours and the cruise line, I couldn't ask for more. There is no one better.
Recommended
Paris Trip
By: Ronnie
Reviewed on: 23 Sep 2019
The trip was everything we had hoped it would be and more. Every detail was given careful attention to make the trip perfect. We had a fabulous time! Thanks Lilo! 😊
Recommended
Colorado Sanctuary
By: Linda Brulenski
Reviewed on: 17 Sep 2019
Lilo is a pleasure to work with. She is so knowledgeable, professional and helpful every step of the way. I gave her a vision of what type of trip we were hoping for and the trip she planned exceeded our expectations! Even when the airline bumped us and we missed our connecting flight, she was able to direct us and her guidance is what made the difference in our having accommodations taken care of by the airline. I will always use Lilo for my future trip/vacation planning!! Truthfully it makes traveling so much easier!
Recommended
Trip to Branson
By: Carol
Reviewed on: 28 Sep 2019
Wonderful and helpful! We had a fun trip to Branson, Missouri.
Recommended
Lilo helped us avert disaster
By: Steve
Reviewed on: 07 Oct 2019
We had a great trip thanks to Lilo. It is important to note that it might not have been. After putting down payments in, Reveal America went bankrupt and closed their doors. Lilo worked hard so we did not lose money, reservations, and the trip went off as planned. Thanks to Lilo for making sure we were kept whole.
Recommended
A rewarding experience
By: Buckley
Reviewed on: 05 Oct 2019
Lilo was extremely professional and effective in every way. She returned emails from home at night to let me know she would address my questions asap, and she always delivered on her promises.
Recommended
Lilo
By: Mike
Reviewed on: 13 Oct 2019
Excellent in all respects
Recommended
India,Nepal,Bhutan
By: Jamal
Reviewed on: 19 Nov 2019
Fantastic as usual. Another incredible trip
Recommended
Trip of a lifetime
By: India
Reviewed on: 12 Nov 2019
Just back from another amazing trip planned by Lilo.
Recommended
LOVE Lilo at Journeys Unlimited
By: kg
Reviewed on: 10 Dec 2019
Working with Lilo was such a great experience. I have worked with her multiple times and she exceeds my expectations every time. Lilo is so kind and accommodating for all of your traveling needs!
Recommended
Lilo
By: Bec
Reviewed on: 15 Dec 2019
As always, Lilo is the consummate professional. She goes above and beyond in getting it done.
Recommended
Quick Trip to LA
By: Jamal
Reviewed on: 23 Dec 2019
Great as usual Our flights were very smooth and The SLS Hotel was great.
Recommended
Lilo Matinas review
By: Ronnie
Reviewed on: 24 Feb 2020
Lilo was so easy to work with, she put together a great trip, and was very responsive to all of our requests. We have used her in the past and are always so happy with the trips she organized for us.
Recommended
great experience
By: Jessica Scully
Reviewed on: 02 Mar 2020
Lilo is always wonderful to work with!
Recommended
London & Paris
By: Pop Pop
Reviewed on: 03 Apr 2020
Lilo was great. After several months of planning a fabulous family trip to Italy for my 80th birthday, due to the COVID 19 problem, it was decided not to go to Italy. In the space of 24 hours, Lilo was able to redirect instead to London and Paris. We returned safely from a wonderful trip to remember. and had
Working with Lilo Matinas, you will have access to:
- An experienced travel guide whom you can rely on before, during, and after the trip
- Exclusive luxury resorts and properties
- Once in a lifetime experiences
Explore with the Best
Virtuoso Advisors are constantly pushing the boundaries in unique travel experiences.
Alliance programs are unique tailored experiences exclusive to travelers working with Virtuoso Travel Advisors.
learn more
Aruba
Bermuda
France
Germany
Greece
Israel
Italy