Travel Specialties
Interests
Adventure
Beach & Sun
Food & Wine
Sports & Outdoors
Safari
Selling Travel Since
2012
My Background
Having been an avid traveler all my life, I have always loved seeing new things and exploring new areas. I have traveled extensively through the Caribbean, Mexico, and Bali. In addition, I lived in St. Thomas and in the Bahamas, where I owned and ran an all-inclusive villa for three years.
Throughout my career in the travel industry, I have always truly loved taking care of all the little details that make a big difference in a client's trip. I have arranged for my travelers to swim with the pigs in Exuma in the Bahamas, go dog sledding in Alaska, and so much more. Helping my clients find the perfect fit for their vacations and making their travel dreams a reality is extremely rewarding, and I will go to any length to make their trips special and perfect.
My love of travel brought me into this business, but the joy of helping others orchestrate their dreams and trips will keep me in it. I look forward to connecting you with a new experience soon!
Places I Have Traveled
Reviews and Recommendations for Kimberly Georgi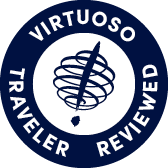 Virtuoso Verified Traveler
All reviews are from confirmed guests sharing exclusive insights
Sort reviews by
Recommended
Kimberly gave us outstanding service
By: DWM.
Reviewed on: 25 Jun 2014
Our travel agent bent over backwards to make our stay perfect. She suggested the hotel, which was lovely and a perfect location. She arranged for us to have an early check in since we had a 7 am flight. I will definitely use Kimberly for all my travel needs in the future. She is very knowledgable and so pleasant to work with. 
Recommended
Highly recommend
By: hal@fiseragency.com
Reviewed on: 15 Jul 2014
Recommended
Highly recommend, Kimberly.
By: SuAnn
Reviewed on: 22 Jul 2014
Recommended
Would highly recommended
By: Auntie m
Reviewed on: 30 Jul 2014
Every single detail of the entire trip was perfectly planned. 
Recommended
Perfect Trip to Great Exuma
By: Jessicafc
Reviewed on: 30 Dec 2014
I asked Kimberly to help us with a trip to Great Exuma Island in the Bahamas, and we were so pleased. She covered everything we wanted and needed, as well as things we didn't realize we needed! She always returned calls, texts or emails quickly with answers to any of our questions, and when I had a change or something new I wanted her to look into, she took care of it right away. The trip was wonderful and there wasn't a single thing I would change about it. Since then, she's helped me book hotels and plan other trips and it's always been fantastic! So much easier for me to travel now!!
Recommended
Insightful suggestions
By: DWM
Reviewed on: 05 Aug 2014
Once again Kimberly did a great job for us. We especially needed her help this trip because none of the six of us who were traveling together had been to Ireland, and we really did not know what to do. She found us a great driver, a fabulous house, and mapped out daily suggestions for short day trips from where we were staying. She is so pleasant to work with and has great ideas that enhance our trip. She is very thorough in her research and finds us just what we are looking for in a vacation. I will definitely use her again.
Recommended
Highly Recommended
By: Kristen777
Reviewed on: 26 Jul 2014
Kimberly helped me & my family with 2 vacations this summer. One being international  and the other being domestic. She was a pleasure to work with  and we will not take another vacation  without her! 
Recommended
Organized and helpful
By: Kelly424
Reviewed on: 30 Nov 2014
Kimberly makes trip selection and planning an exciting and fun process due to her knowledge, organization and prompt responses... all with a helpful disposition.
Recommended
Winner again
By: DWM
Reviewed on: 02 Jan 2015
Kimberly arranged a trip to the Peach Bowl in Atlanta for us. We had an excellent room and service at a Virtuoso hotel that she recommended along with additional perks like a free breakfast and $100 food and beverage credit-things we would not have had if we had booked the room ourselves. We actually got a better rate than those who tried booking directly at the last. Kimberly made several suggestions for restaurants and other attractions in the city. She is always so efficient and pleasant to work with that I use her for all my travel plans now whether short or long trips.
Recommended
Great Customer Service
By: John
Reviewed on: 05 Mar 2015
Kimberly made sure our trip was fantastic to BVI. She paid close attention to detail and checked in with us to make sure everything was to our satisfaction. I am definitely going to use Kimberly again.
Recommended
Helpful and knowledgable
By: Kellyhc
Reviewed on: 22 Mar 2015
Our trip was fabulous and well planned thanks to Kimberley !! The activities she suggested turned out to be the highlights Of our trip!!
Recommended
Excellent planner!!
By: AmyG
Reviewed on: 16 Jun 2015
Kimberly did an excellent job helping us plan our trip to the Atlantis and arranged an excursion and our swim with the dolphins! We had transportation to and from the airport and everything ran so smoothly!
Recommended
Another great trip
By: DWM
Reviewed on: 02 Jul 2015
I had never been to Budapest, but it was always on my bucket list, and I was not disappointed thanks to Kimberly. She put us in a great hotel that was the perfect location and we got all sorts of amenities since we booked through Virtuoso. Kimberly is always so pleasant to work with and not pushy at all. I would recommend her to anyone planning a trip-big or small.
Recommended
Belize - Ambergris Caye
By: Valenzuela Family
Reviewed on: 11 Sep 2015
There are details that can be planned for yet relationships are what make the memories. Thanks to Kimberly & Virtuoso for starting the relationship in planning the details of our family trip. We took our twin, 20 month old grandchildren on their first international family trip and we all had a great time. The welcoming from the ferry company was extraordinary, all of the resort staff was very accommodating. The facility was comfortable, clean and well managed. It is rough traveling with small children so believe me when we say "Thank you" for all the accommodations.
Recommended
Timely Professional Service
By: lsc61
Reviewed on: 13 Oct 2015
Kimberly responded in a timely and professional manner. She got the booking I needed at Blackberry Farm. I definitely recommend Kimberly and will use her services again.
Recommended
delightful attentive service
By: j
Reviewed on: 16 Oct 2015
Kimberly gave us professional advice and saw to all of our requests. She knows the area we visited and had wonderful recommendations. Looking forward to next time!
Recommended
Every detail considered
By: Vegas hunter
Reviewed on: 25 Oct 2015
This was a last minute trip primarily for business purposes with an indefinite number of colleagues involved. My advisory handled all arrangements for travel and lodging and even with changing participants and agenda was able to pull it off without a hitch.She was even able to slip an Elton John concert into a two hour break in our schedule. The only thing she wasn't ably to provide was a good roll at the crap table. I would highly recommend Kimberly for business travel or family vacations.
Recommended
Nonstop Service!
By: Phyl
Reviewed on: 31 Jul 2016
Kimberly provides flawless service even if the airlines don't! She stayed with me before and during the trip.... to completion! She even had recommendations for me after the trip. She was highly recommended to me by a friend and now I understand why. She's the best!
Recommended
best every
By: danny boy
Reviewed on: 19 Nov 2015
Kimberly made this trip perfect. Every detail was handled to a tee. She was percise in all matters. Couldn't have been better. Thanks to Kimberly our 50th aniversity was one that will allways be remembered. Thanks Kimberly and Virtuoso.
Recommended
Very Helpful
By: Du5
Reviewed on: 02 Dec 2015
Kimberly listen to what I wanted in a trip for our family. She gave be 4 differnt option of what i was interested in and ideas she thought we would like and gave me her opinons on place stay which I liked. She was very prompt getting back with me by phone email and Text which is good when I am very busy at work. I will and have recomend her to frends
Recommended
She was great!!!!!
By: Ldr
Reviewed on: 19 Feb 2016
Trip was amazing and Kimberly was so awesome to work with.
Recommended
Fabulous!!
By: Judy
Reviewed on: 17 Mar 2016
Kimberly was the best travel agent I have ever used! Very prompt with multiple options based on the information I gave her, as well as reminders before, during and follow up after!!
Recommended
Great ! All of the above
By: Bob
Reviewed on: 21 May 2016
Mrs Georgi was attentive,helpful and a real joy to work with.Our trip was successful and top of the chart !
Recommended
Trip to Dominican
By: Bourdeau
Reviewed on: 04 Jan 2018
Kim was very helpful! She gave us great options and great advice. We will definitely use her again for our next trip.
Recommended
Incredibly knowledgeable and thorough
By: neil1015
Reviewed on: 08 Jun 2016
This was the best scheduled trip that I have ever taken, even from the timing of our flights. Everything ran so smoothly, and Kimberly checked with us along the way to make sure that she didn't need to help us with anything. She had suggested a couple of upgrades to us that ended up being worth every penny. She also told us the things that were not worth spending extra on, and she was right on point. Having her as a travel agent was extremely helpful and made the trip a totally different experience than it would have been had we not had her input and expertise. We had nothing to worry about or tend to the entire time and were really able to relax and enjoy our vacation. I will personally never take another trip without having Kimberly plan and book it!
Recommended
It was awesome!
By: Kate
Reviewed on: 05 Jul 2016
It was a wonderful Trip! Thank you so much! We also were on the Today Show, Al came up to us on live TV & asked about our Fighting Okra delta Sate banner. Made great memories in NYC!
Recommended
Once in a lifetime experience
By: DM
Reviewed on: 10 Oct 2016
Wow is my first reaction to this hotel that Kimberly found for us. It was in Portofino, Italy, one of our favorite places we have ever visited. I cannot say enough about the setting, the hotel itself, and the staff. Kimberly must be on a first name basis with management because from the moment we walked in we were treated like royalty. That is why I use a travel agent and Kimberly in particular. Not only does she find these extraordinary places, but she must have a relationship with the vendors because we always get the best service. This was a special trip for my husband and me, and I would not have considered doing it without Kimberly's expert help.
Recommended
Nice find in a hotel
By: DM
Reviewed on: 14 Oct 2016
We have been going to New Orleans for years but have never stayed at the Roosevelt so we gave it a try at Kimberly's suggestion. Because of Virtuoso we were upgraded to a suite complete with a lovely sitting room and an additional bathroom. We loved the hotel and staff and location-an easy walk to the French Quarter. We also got a $50 credit for food and beverage. Why would anyone not use a Virtuoso travel agent and Kimberly Georgi in particular.
Recommended
Great suggestions for our NYC trip
By: DM
Reviewed on: 15 Nov 2016
Kimberly was most helpful in getting us excellent seats for four plays we wanted to see while in the city. She also made suggestions and reservations for dining places, all of which we enjoyed. She is most helpful and so pleasant to work with, whether planning a major trip or just tending to details in a weekend getaway.
Recommended
Great travel planning and follow through
By: Holmes
Reviewed on: 09 Jan 2017
She does a fabulous job
Recommended
Belize Winter 2017
By: David and Sandy DeZwaan
Reviewed on: 13 Feb 2017
Kimberly was wonderful. She was recommended to us by friends who had arranged vacations through her before. We didn't give her a lot of notice to work with (about 3 weeks) and she gave us several options to choose from, ultimately putting together a great trip. We had a weather delay on the first day of our trip and she was able to renegotiate all the details with the airlines and the resorts to push our trip back a day so that we didn't miss any time in Belize. She also recommended a travel insurance policy that we purchased which allowed us to recoup the cost of changing our flights and hotels! We have already recommended Kimberly to more of our friends and I'm certain one couple will be contacting her soon to arrange a Belize vacation as well.
Recommended
California
By: Donna
Reviewed on: 25 Mar 2017
Working with Kimberly was great ! She is quick to respond and goes above and beyond with information for any request
Recommended
client
By: melanie
Reviewed on: 04 Jun 2017
Kimberly was great to work with. She listens to your interests and budget. She also puts extra time and research into making your trip unforgettable. We highly recommend her!
Recommended
Italy Trip
By: EBC
Reviewed on: 12 Jun 2017
It's easy to work with Kimberly. She is delightful and always open to any suggestions I might have. She has wonderful suggestions for accommodations, tours and restaurants . Both our guides were excellent. We loved our time in Italy that Kimberly arranged so perfectly. There was not a single glitch.
Recommended
AWESOME TRIP
By: DM
Reviewed on: 18 Jun 2017
This was a trip to Dubai, Capetown, three bush camps, and Victory Falls. With all the connections, transports, guides, and baggage handling, there was not a glitch. Our accommodations were fabulous and our guides outstanding. I would not have changed a thing. Kimberly does all my travel planning, and this is the third group trip I have been on with her and all were equally well planned and managed. She goes the extra mile to make one's trip wonderful. I would highly recommend Kimberly to anyone for perfect travel planning.
Recommended
South Africa
By: Flowers
Reviewed on: 16 Jun 2017
She was wonderful!!! Fantastic, well planned trip catering to our every wish! I highly recommend Kimberly and know I don't want to plan a trip without her! She has planned numerous trips for us and we have always been so pleased !
Recommended
Incredibly fast and easy to work with
By: Michael
Reviewed on: 13 Jul 2017
Kimberly was amazing to work with. I literally told her what, when, and where and she took care of everything else. I requested a specific visit to a location and she handled my request directly with the facility and all we had to do was show up. I will definitely be using her for all future travel plans.
Recommended
DC/NYC trip
By: Ann
Reviewed on: 29 Jun 2017
Kimberly has helped us plan 2 trips now. She's so easy to work with. She's very knowledgable and has excellent recommendations for things to do/see. Our trips have always been more fun than we could have imagined. Everything has gone smoothly with travel, attractions, hotels, etc. I know that we will use her again for our next big trip!
Recommended
Disneyworld trip
By: Dan R
Reviewed on: 06 Jul 2017
Kimberly was highly recommended by my sister. She is as advertised. Very responsive, great attention to detail and she took the lead on making recommendations and plans; all of which were spot on. I plan to work with her from now on for business and personal travel and recommend her to others within our law firm.
Recommended
Fantastic
By: BigJtown
Reviewed on: 11 Jul 2017
Kimberly is a pleasure to work with. She is an excellent planner and knows her stuff.
Recommended
Weekend in the Big Apple
By: DM
Reviewed on: 19 Aug 2017
As always working with Kimberly is a joy. She had great suggestions for things to do in New York and got us great theater tickets. I would recommend Kimberly for a weekend excursion like this was or a three week trip to Africa that she did earlier in the summer for us.
Recommended
Highly recommend Kimberly
By: Melanie
Reviewed on: 06 Sep 2017
Kimberly is great to work with. She is detailed oriented, very knowledgeable and goes above and beyond. We would highly recommend her!
Recommended
San Francisco Four Seasons
By: Lassie
Reviewed on: 25 Sep 2017
Always a pleasure , very efficient !
Recommended
Great time in the Big Apple
By: DM
Reviewed on: 06 Nov 2017
Working with Kimberly is always a pleasure. She had great ideas for new things for us to do since we are regular visitors there. We loved the restaurants and plays she suggested and our seats were great .
Recommended
Trip advisor review - Kimberly Georgi
By: Lsw
Reviewed on: 21 Dec 2017
Working with Kimberly was wonderful. She removed all the stress from our trip planning! Kimberly took care of every detail of our trip resulting in a perfect getaway. Will definitely continue to use Kimberly as our travel advisor.
Recommended
She is amazing!
By: Rural Traveler
Reviewed on: 12 Jan 2018
Easy for the traveler to enjoy, depend on, go anywhere, and problem solve. The only person that wants us to enjoy Kimberly's good work as much as we want to, is Kimberly.
Recommended
Review of Hutton Hotel trip
By: Frances
Reviewed on: 15 Jan 2018
Always a pleasure. Kimberly is very accommodating and efficient. Goes out of her way to secure our request.
Recommended
Beloved at Playa Mujares
By: Mickey
Reviewed on: 31 Jan 2018
Kimberly is so kind and accommodating. She sent us personalized links to plan our vacation and we chose Beloved, one off her favorites. She made all our excursion and transfer reservations making everything easy for us. We highly recommend Kimberly Georgi.
Recommended
multiple trips handled by Kimberly
By: Dan Robinson
Reviewed on: 29 Mar 2018
Kimberly has helped me with 5 or 6 trips over the past 9 months. She is responsive and competent, knows her subject matter well. I have already referred her to others who have also had positive results. I plan to continue working with her and will be making further referrals.
Recommended
Advisor
By: Peach
Reviewed on: 11 Apr 2018
Wonderful! Excellent experience
Recommended
Awesome trip
By: DM
Reviewed on: 14 Apr 2018
I have used Kimberly exclusively for four years and have been very pleased each time, She is so pleasant to work with and listens to my preferences while also having wonderful suggestions. This trip was no exception. When traveling in Italy and wanting to change our departure city for an internal flight, we called Kimberly and she was able to make it happen, even on Easter Sunday! I would highly recommend Kimberly.
Working with Kimberly Georgi, you will have access to:
- An experienced travel guide whom you can rely on before, during, and after the trip
- Exclusive luxury resorts and properties
- Once in a lifetime experiences
Explore with the Best
Virtuoso Advisors are constantly pushing the boundaries in unique travel experiences.
Alliance programs are unique tailored experiences exclusive to travelers working with Virtuoso Travel Advisors.
learn more