Travel Specialties
Interests
Beach & Sun
Family Travel
Sports & Outdoors
Escorted Tours
Ocean Cruising
Selling Travel Since
1989
My Background
I'm originally from Central Wisconsin, where I grew up on the family farm and then attended college in Madison/Milwaukee. All through college, I had this burning desire to travel. My first flight was to Europe in 1986. I spent a year aboard - 11 months longer than what I had planned! I was hooked! When I returned, I took a part time job at a travel agency while I was still going to school and waitressing. The travel agency job won out! That was 25 years ago. Lake Forest Travel has been my work home for the past 17 years and I find it so exciting to help my long time clients figure out what destination they should explore next!
My travel passions are skiing and warm beaches- very different! Since my husband is a ski fanatic, he has pushed my daughter and me to ski every year so I am extremely familiar with almost all the top ski destinations in the US. My most recent ski adventures have been in Breckenridge, Deer Valley, Jackson Hole, Vail and Beaver Creek in the U.S also Lake Louise in Canada… - all amazing and very different for every level of skier.
I am sure my love for warm beach vacations comes from the fact that is the opposite of where I grew up…- far cry from the farm land in central Wisconsin. I recently explored Nevis, next to St Kitts in the Caribbean for five days, Turks and Caicos before that. Also enjoyed time in Jamaica as well as the Club Med Sandpiper resort in Florida.
My most recent travels have taken me on fascinating trips to Thailand- the beautiful Island of Koh Samui, Cambodia to visit the Angkor Wat Temples at sunrise and Laos to give alms to the Buddist monks in Luang Prabang. I have also been to Peru and made it to the top of Machu Picchu by way of the amazing Hiram Bingham train, rode ATV's in the Sacred Valley and watched the amazing sunsets in Lima, over the Pacific, with a Pisco Sour in hand!!
Europe is also a favorite of mine, since that is where it all began...that desire to see and experience all that life has out there for us!!
Places I Have Traveled
Reviews and Recommendations for Marylou Calnin-Sek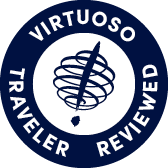 Virtuoso Verified Traveler
All reviews are from confirmed guests sharing exclusive insights
Sort reviews by
Recommended
The best travel advisor ever!
By: Tracy Turner
Reviewed on: 27 Aug 2014
You are the best Mary Lou, I just wish you could control the customer service problems of American Airlines.
Recommended
So helpful and always has a big smile.
By: Ei
Reviewed on: 15 Jan 2015
Working with Lake Forest Travel has always been a good experience for me. Marylou was so helpful to me and, believe me, you need patience and lots of explanations to deal with an older woman that does not like computers. Also, Dyane helped me on the first part when somehow I was heading to Ft. Lauderdale rather than Ft. Meyers. You have a great travel service with special agents. Thank you.
Recommended
Miraval was like Disney World for me!
By: Laurie
Reviewed on: 09 Mar 2015
This was my second trip to Miraval and it was just as outstanding as the first! The services, sessions, treatments, workshops, exercise, yoga and meditation classes make for a Disney World like experience for an adult! The food is so healthy and delicious. I cannot eat dairy products and they were extremely accommodating. I Cannot wait to go back again next year!
Recommended
Thank you for your help
By: Leanie
Reviewed on: 18 Mar 2015
Thank you Marylou for your help in making arrangements for my trip. After giving the wrong destination to you , you helped me go where I wanted to go. And you did it with a smile and patience.
Recommended
Amazing service!!
By: Benhof
Reviewed on: 28 Mar 2015
Mary provided us with an amazing trip! Everything went superbly! She arranged everything with such ease and made it so special as she always does, to travel with Virtuoso. Would definitely use her again. Best ever!
Recommended
Marylou is priceless!
By: MarkJC28
Reviewed on: 15 Apr 2015
MaryLou planned our trip from beginning to end. Her helpful advice and guidance was crucial to creating a wonderful travel experience. She has extensive knowledge and familiarity with the trip that she recommended and she was able to provide us with professional, courteous and skilled advice throughout. She was readily accessible and happy to answer any questions or address any concerns. Being able to rely upon her during her trip put my mind at ease and helped me relax and enjoy my vacation. I would give MaryLou the highest recommendation possible for planning your trip and helping prepare you for any contingency. I would recommend her to friends and family members without reservation. She was also able to direct me to competent and affordable tour guides to enhance my experience. MaryLou is excellent! A++++
Recommended
Marylou is the best - worked real hard for us.
By: 65Mustang
Reviewed on: 12 Apr 2015
Our flight was cancelled the day we were traveling and we had a cruise to catch. Marylou spent most of her morning rearranging our flights so we could get out. Thanks Mary.
Recommended
excellent!
By: Jen
Reviewed on: 24 Jun 2015
Mary Lou has always been great for us and goes the extra mile to get us the best amenities, upgrades, etc! Love this travel agency and highly recommend to others. Have referred several friends to her and will continue to call on Mary Lou to help with travel planning!
Recommended
Great service and coordination
By: AKB
Reviewed on: 23 Jul 2015
Mary Lou was adept at coordinating flights and travel within Spain and routing different family members to their destinations outside of Spain. We spent the night in a different city every few days so her bookings and advice enhanced our travel experience We stayed for the second time in the same hotel in Madrid that Mary Lou originally booked for my daughter and me 5 years ago. We love it and will always stay there when we go to Madrid. I always contact Mary Lou for travel in and outside of the U.S.
Recommended
Hawaii trip 2015
By: Jeannie
Reviewed on: 26 Jul 2015
Our trip to Oahu, Kona & Kauai was for the majority of the experience good. Classic Vacations seems to be part of a problem with the hotel reservations not "matching" the listed "level" of rooms on our itinerary according to the check-in staff. At all three hotels there was at least an hour delay in getting into our room due to discrepancies with what was listed as the type of ocean front suite versus what was actually booked by Classic vacations, so we received a partial ocean view in Kona, (correct) and a partial ocean view room in Kauai at the St. Regis which was a pretty standard mid level room not luxury and on Oahu, a Lagoon view roomo in the Rainbow Tower (after I refused to accept the Tapa Tower where active construction was underway and was not listed as what what was supposed to be reserved). The auto rentals through Alamo were not good especially on Kauai. The car was dirty, damaged and smelled of old cigarettes. We really will not book through Classic Vacations again.
Recommended
Four Seasons Service at its best
By: Sue
Reviewed on: 02 Aug 2015
I have stayed at number of Four Seasons properties for conferences and vacations over the years and this one had the most sincere hospitality. We were there for a field hockey tournament and needed to be near ESPN zone, but only wanted a taste of Disney. This was the right choice. The Italian restaurant was amazing, the pool has a great lazy river and the adult pool was beautiful. The hotel is only one year old and in great condition. The rooms were not large, but that was ok - we were at the pool, the parks or the tournament. No need to rent a car - they have drivers waiting to take you to your destinations for a small fee which ends up costing not much more than a rental car. Request Daniel and he will get you to wherever you need to go and you just pay him at the end (instead of through the hotel where they may tack on a service charge). Great stay!!!!
Recommended
Perfect Hotel
By: TL
Reviewed on: 09 Sep 2015
The Four Seasons Gresham Palace in Budapest was an excellent choice and I am glad Marylou recommended it. The service was outstanding and the rooms were beautiful. I was very impressed that Marylou contacted the hotel prior to our arrival to make sure all was in order and that we be given the best service possible. Great job Marylou!
Recommended
Perfect
By: BOB
Reviewed on: 10 Sep 2015
Marylou : Everything was PERFECT!!!!!!!!!!!!!!!!!!!!!!!!!!!!!!!!!!!!!!!!!!! Including your smile!! BOB
Recommended
thoroughly detailed agenda
By: Kim23
Reviewed on: 04 Oct 2015
Marylou was so kind and courteous throughout the planning process and she was incredibly thorough and meticulous with all the trip details. Further more, she checked in during the trip to make sure all was ok with our hotels. I really enjoyed working with her and appreciate her amazing professionalism. Thanks!!
Recommended
Expert Service
By: 6Wynns
Reviewed on: 10 Jan 2016
We have used Lake Forest Travel and Marylou for several international trips for our family of 6. Without exception, the travel planning and execution is superb. Marylou understands our preferences and designs travel plans consistent with those preferences. She provides extraordinary customer service, helping with all aspects of our travel. For this trip, she helped us decide on an area based on a few we had narrowed down, and then set everything up to match the award travel we were arranging for the international flights. She carefully worked with us and A&K (patiently, through 5 drafts of the itinerary) to make sure everything was just right. We highly value her insights and recommendations. She is extremely prompt at getting back to clients. We also really appreciated her helping check mis-information we received from United when our return flight was significantly delayed and likely to be cancelled. It helped us make the decision to take a different flight. Marylou is the best!
Recommended
Trip planned by Sue Glomski
By: Deb
Reviewed on: 23 May 2016
Sue did a fantastic job of planning our trip. The hotels were superior and transportation from airport to Hotel Danieli was very fun and impressive. We've never arrived at a hotel's door step via boat before. The Windstar cruise was marvelous and our whole family had a great time!! Sue had everything we needed very well organized and that is one of the reasons we continue to use LF Travel.
Recommended
Exceptional Service by MaryLou
By: Windy City Gang
Reviewed on: 24 Jun 2016
Mary Lou was very helpful in arranging a cruise, shore excursions, ground transportation, tours, and special meals for our large family group. She is a winner!
Recommended
Fantastic service
By: Mark H
Reviewed on: 07 Jul 2016
Everything on our trip went smoothly, all details such as transfers and pickups were covered perfectly by Marylou, the rooms were fantastic, and as a result our entire family had an amazing vacation. Can't wait to book our next trip through Marylou.
Recommended
Excellent Hotel Choice
By: Tim
Reviewed on: 23 Dec 2016
Marylou suggested the Raffles hotel and it was an excellent choice. It's a beautiful older hotel with outstanding service. It was within walking distance to major sites, an incredible shopping street and the exotic night market. Marylou also included a tour package and I am so happy she suggested it. There was no way we would have been able to enjoy all there was to do in Beijing without a guide and a car. Marylou has helped me many times in the past and I have always been happy with her choices.
Recommended
Fantastic Travel Agent!!
By: KB
Reviewed on: 06 Mar 2017
My husband and I love working with Mary Lou. She is professional, always accommodating and all around just the best travel agent we have ever had. She triple checks that our trip is always going well and will provide alternatives for us as we change our plans. She is spot on! Mary Lou has helped us figure out how to solve many a travel problem and if an emergency comes up she is the first to figure out how best to make it work for us and give us valued suggestions. She knows her way around the travel community. Since we have been using Mary Lou for our travel needs, our trips have been more organized and less stressful. That is why we would never travel a trip without her. She really is the best and my husband and I travel a lot.
Recommended
Best ski trip ever!
By: Darreld
Reviewed on: 06 Mar 2017
Best ski trip ever! Marylou didn't outstanding job in planning this wonderful trip that we were on. Her years of experience definitely paid off in many aspects of this trip. She is great to work with and I recommend her highly to anybody as she is worth her weight in gold!
Recommended
Marylou
By: Becky hamlin
Reviewed on: 03 Apr 2017
She was very knowledgable, professional, and courteous. She did not push us past our budget but suggested options just beyond that turned out to be very pleasant. All of our reservations were perfect
Recommended
Our Best Advisor ever!
By: The Red Head
Reviewed on: 28 Mar 2017
It is such a pleasure working with Mary Lou. She takes care of all the worrisome details, gets us the "best" deals and patiently answers all our questions [sometimes the same question more than once]. At our advanced age [88] it's comforting to know that she understands our situation and takes it into consideration in her planning. How great to be sure she is always there for us if we run into a problem!
Recommended
The best travel agent in the US...Marylou Sek
By: Karen Turnet
Reviewed on: 04 Apr 2017
She is the very Best period!!!!! So love this woman!
Recommended
Great travel planner!!
By: Sue
Reviewed on: 04 Apr 2017
Mary is great to work with. She helped us plan a fantastic vacation. She knows her stuff which made it turnkey for us. Everything went flawlessly. We are so fortunate to have her!
Recommended
Calistoga
By: Linda
Reviewed on: 29 Jun 2017
I have worked with Marylou for years and would highly recommend her. She is very responsive and creative and very easy to work with. Many times she has even secured an upgrade for us without our even requesting it. She understands what I look for in a property or cruise and makes sure to find it for me.
Recommended
Didn't use Marylou
By: Deb
Reviewed on: 21 Jul 2017
Used Sue. And she was good.
Recommended
All positive
By: Fan of Marylou
Reviewed on: 04 Aug 2017
It is a pleasure to work with Marylou Calnin-Sek. She is professional, knowledgeable, prompt and responsive. She has been an asset in our travel planning. Thanks
Recommended
Greece
By: LAK1105
Reviewed on: 31 Aug 2017
GREAT! PROFESSIONAL!! RESPONSIVE
Recommended
THE BEST TRAVEL AGENT!
By: KB
Reviewed on: 12 Sep 2017
We always love working with Mary Lou. She is efficient, organized and will help us at the drop of a hat if something goes wrong. Never before seen such an experienced and dedicated travel agent.
Recommended
Honeymoon
By: Blair G
Reviewed on: 18 Sep 2017
Marylou was absolutely amazing to work with. She was responsive to my questions and had many recommendations that made planning my honeymoon much easier. Not to mention, as a preferred partner the benefits we received as a result of booking with her were a welcome surprise. Would absolutely recommend to a friend.
Recommended
Travel
By: kari
Reviewed on: 09 Oct 2017
Superior as always
Recommended
Peru
By: diana
Reviewed on: 29 Nov 2017
Fabulous as always. She took care of all our airline travel to Peru and shared information about the country and Machu Picchu. I always use Mary Lou for any and all travel I do.
Recommended
planning trip to cuba
By: bernie
Reviewed on: 27 Nov 2017
more fun than the trip
Recommended
Iceland
By: Lisa K
Reviewed on: 01 Jan 2018
Awesome, incredible, professional, available
Recommended
Spa Getaway
By: M
Reviewed on: 02 Feb 2018
Marylou is very knowledgeable and a pleasure to work with! We trust her to plan the best trips for our family. Recommend working with her highly.
Recommended
responsive before, during & after
By: Lincoln Park spinster
Reviewed on: 09 Feb 2018
Mary Lou is level-headed, which means she can advise on the main event (usually a cruise) and the pre- and post-, and keep me on a reasonable path. She has excellent contacts with the cruise lines, and is familiar with many ships. Her agency colleagues can advise on the destinations Mary Lou hasn't seen. Her sense of humor is invaluable! We've never met in the 10+ years, but I'm glad she is in my corner.
Working with Marylou Calnin-Sek, you will have access to:
- An experienced travel guide whom you can rely on before, during, and after the trip
- Exclusive luxury resorts and properties
- Once in a lifetime experiences
Explore with the Best
Virtuoso Advisors are constantly pushing the boundaries in unique travel experiences.
Alliance programs are unique tailored experiences exclusive to travelers working with Virtuoso Travel Advisors.
learn more