Travel Specialties
Interests
Family Travel
Culture, History & Arts
Independent Tours
Ocean Cruising
Selling Travel Since
1966
My Background
Travel, culinary arts and personal relationships all rely on the same principles: curiosity, willingness to work out solutions, loyalty and perseverance to a plan and purpose that delivers reward and fulfillment. The ingredients for a successful trip or vacation necessarily include a good measure of knowledge of place and culture, strong organizational skills, careful listening and sensitivity to client needs, plus healthy amounts of pleasure in adding spice and sweetness! To aid the collaborative process I bring the results of trips planned and many personally travelled to every corner of the world for celebration, adventure, relaxation, discovery and romance. Let me "cook up" a satisfying experience using tools and relationships nurtured over many years that are ready to be combined in a unique and delicious fashion for you.
*** There's a fascinating world awaiting your visit ! ***
Places I Have Traveled
Reviews and Recommendations for Marlene Singer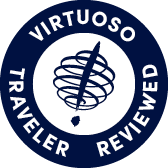 Virtuoso Verified Traveler
All reviews are from confirmed guests sharing exclusive insights
Sort reviews by
Recommended
I would use Marlene again!
By: Jan
Reviewed on: 12 Oct 2013
Marlene scheduled private guides as well as a hotel stay while we visited Spain. We had a marvelous time and would not have learned or saw as much without her aid. The guides were fabulous and took care of all entrance tickets, cabs, etc. for us. Although we had a condo we were staying in, she recommended a hotel one night for the three cities that she had set up for us to see. As a result, we didn't have to keep driving back and forth.
Recommended
Great help
By: KarenEarl
Reviewed on: 11 Jan 2014
Marlene has helped us both in the past and now presently. She is very experienced and also very knowledgeable. She comes up with excellent suggestions and has always the greatest ideas. One of her best traits is very patient and kind plus a good sense of humor. How well she handles my excessive questions and requests is a tribute to her professional status. She is always very responsive to our calls and needs in a very timely manner. Lake Shore is very lucky to have her and so are we.
Recommended
Highly recommended
By: Webly W Webly
Reviewed on: 05 Mar 2014
Could not have been better planned, or executed .She is the greatest.  We have reccomended her many times, those peoplealso love her arrangements.Webly W Webly
Recommended
Highly recommended.
By: Felicia
Reviewed on: 08 Mar 2014
Marlene does a great job!  Thoughtful, persistent and creative!
Recommended
Florida trip
By: KarenEarl
Reviewed on: 13 Mar 2014
Due to illness our trip had to be canceled and rebooked for a future date.   However all the pre-trip ground works that Marlene did were top notch.  The hotel, air travel and car that were set up were all perfect.  When we re-schedule I know that every aspect will be just as good.  So here again a big thanks.  
Not Recommended
No value, had to do most of the work ourselves
By: Well travelled
Reviewed on: 19 May 2014
For the $1000 commission that was collected by Marlene and her agency we got very little. So little in fact that we had to follow up with the booking, speak with Island Destinations themselves, deal with errors in the booking mid trip, etc.  Very poor.  This is the second trip of late where we have experienced this.  A travel agent should be making sure that the booking process is simple and stress free, should be proactive and should be making sure that they are working for their client.  We shouldn't have to act as the agent and do this.  Very poor that when issues arose we were just told to contact Island Destinations.  We won't be using Marlene or Northshore Travel again.  And based upon our experiences we aren't sure we would ever us a travel agent again. 
Recommended
Friendly service
By: Jan
Reviewed on: 19 Sep 2014
My husband and I celebrated his special birthday on a barge trip to Burgundy, France. The trip was recommended to us by a friend who is also a client of Marlene's. I knew the barge was ultra deluxe and it was! Marlene made all the arrangements for us!
Recommended
Excellent service and advice
By: Jeri
Reviewed on: 03 Oct 2014
Marlene is very knowledgeable about travel - where to go, what to see and do - and how to get it planned. She also has the contacts and connections to make your trip just as you want it or need it to be. She always has good suggestions and valuable tips relating to where you are going. And she definitely "has your back" while you are away. (She helped me get back home when I couldn't make flight connections due to a recent airline pilot strike in Europe.) I've used her excellent services over the past ten years for major trips and will continue to do so.
Recommended
Essential Expertise
By: MollyAndy
Reviewed on: 13 Oct 2014
Marlene Singer, is without a doubt, an essential component for successful travel! Her years of acquired knowledge benefits all clients and I personally would not go half-way around the world without her assistance. Both my husband and I really appreciated her help in our trip to Asia: Beijing, Shanghai, Japan, Hong Kong, Bangkok and Singapore. We are looking forward to an African safari in 2015 which Marlene has helped us plan. Using Marlene and Lake Shore Travel has been a wonderful experience --don't leave home without her!
Recommended
Air tickets
By: Web
Reviewed on: 18 Oct 2014
Good job, clear directions
Recommended
THE PERFECT travel agent
By: Thee Earl
Reviewed on: 12 Nov 2014
Marlene covers all aspect of a travel from start to finish(plus a call before & after). Our last trip was to Palm Beach, FL and the fourth time to the 4 Seasons. Marlene took care of everything--first class air, full size car rental, hotel up-grade plus helping us get our previous room again. I was upset because your website was down when i took our previous trip and i could not report her great work. Marlene did a marvelous job in a multi-phase trip. To & from different airports. 2) Limos to & from. 3) SUV car rental. 4) Hotel to meet special needs- for example connecting rooms, walk in showers, etc. 5) Theater tickets. 6) Private SUV all day New Your City tour. 7) Suggested list of restaurants. Every aspect turned out perfect. She gave us personal service with phone calls & emails just like a professional & experienced agent she is. Marlene has taken care of us before & certainly will in the future.
Recommended
Getting rights
By: Webly W Webly
Reviewed on: 09 Mar 2015
Excellent service, everything promised and more. She is a travel agent who gets it right. Webly w. Webly
Recommended
Perfect location!
By: Jannubee
Reviewed on: 20 Apr 2015
Wonderful suggestion for a beautiful historic hotel. Excellent location near all of "must see" DC. Charming French bistro on premises for alfresco dining.
Recommended
Over the Top
By: The Earl
Reviewed on: 20 Jun 2015
Another great service for our trip to Florida. We like to stay at 4 Seasons, Palm Beach---however this time they were totally sold out. We have certain features for sure so again Marlene came through with perfect ideas. Marlene suggested St. Regis, in Bal Harbour, Florida and again she came up with a perfect match for us. Every aspect of our trip was covered by her and all that was left was just enjoy the trip. When you consider every aspect of a vacation--here is where Marlene shows her professional and expert travel agent knowledge. It is a pleasure to know each time we will have such "over the top" care given to us.
Recommended
Exceptional Travel Service and Advice
By: Clg
Reviewed on: 23 Jun 2015
Marlene Singer made certain our trip throughout Europe was flawless. She went out of her way to make sure that the many connections were tied together perfectly. Marlene's knowledge of the business is priceless. Her hotel and restaurant recommendations could not have been better. We had a fabulous time thanks to Marlene!
Recommended
Nothing left to chance
By: Billd47
Reviewed on: 19 Jun 2015
As is her history, Marlene provided a seamless experience. Her recommendations, away from the cruise, were spot on.
Recommended
New perspective on Argentina
By: South America
Reviewed on: 28 Jan 2018
As always, Marlene was very helpful in arranging our trip. We particularly enjoyed our time at the estancia, La Bamba.
Recommended
Another perfect vacation
By: Thee Earl
Reviewed on: 09 Jul 2015
Every aspect of our trip was thought of and covered for us. We wanted to give our adult special needs daughter a vacation and Marlene came up with the perfect idea. Our first class air (3) was covered, our transportation to and from the airport and hotel was covered, our two rooms connected at the hotel was covered, etc & etc. Marlene went the extra mile and even called the Four Seasons Hotel to be sure all our special needs were in place and understood by the management. Here is another example of a professional knowing how to cover and kindly thinking of all our needs and planning all aspects of our vacation. As a result the only thing left was for us to enjoy and yes we did.
Recommended
Trip to Hawaii
By: Claudia
Reviewed on: 14 Jul 2015
The vacation was perfect in everyway, again thank you for another beautiful/ memorable trip. Your'e the best! Claudia
Recommended
Patient and helpful service
By: Karen
Reviewed on: 10 Sep 2015
Marlene did a wonderful job helping us plan a family vacation to Israel.
Recommended
The best, most knowledgable, sophisticated and worldly travel advisor available.
By: dg
Reviewed on: 16 Sep 2015
Everything Marlene puts together is 100% first class and every detail is carefully considered and provided. If you want to travel and enjoy distant places at the highest level, there is no one to see other than Marlene.
Recommended
A wonderfully organized trip
By: SJF53
Reviewed on: 24 Sep 2015
Marlene did her usual superlative job. All of the choices we made together were expertly planned. There were no surprises on the trip. It all came off beautifully.
Recommended
Wonderful trip, expert advice!
By: Betsy14
Reviewed on: 05 Oct 2015
It was a pleasure working with Marlene who helped my husband and I plan a fantastic trip to the Italian Lake District in Italy. Marlene was knowledgeable, chose wonderful hotels for our consideration and made well-informed suggestions about our itinerary. She was flexible with her suggestions as our ideas evolved. We were the beneficiaries of outstanding service, which we felt followed directly from Marlene's long-standing professional relationships with the hoteliers we encountered. We will definitely plan future vacations with Marlene!
Recommended
5 Star Tour
By: MollyC
Reviewed on: 12 Oct 2015
Tauck Elegant Adventure, September 25-October 7, 2015 Long flight, glad we had a day room at London Heathrow airport. Could get a nap and shower before the long flight to Cape Town. Great accommodations in all cities: Cape Town, Kruger National Park, Sabi Sabi, Johannesburg and Zimbabwe. Food was plentiful and very well prepared. Especially liked the wine pairing dinner at vineyard in South Africa. City guides were really excellent in all locations. The guides and trackers for our 8 safari game drives were outstanding. Learned so much from them and they made certain we were very up close and personal with the hugh amount of wild animals we saw. So exciting! Downside: very structured trip; needed much more free time. Our first group guided tour experience. Made some very good friends, since there were only 22 of us. Loved this trip--unlike any other we have ever experienced!
Recommended
Viking Cruise - France
By: Larry
Reviewed on: 20 Oct 2015
We had a great time. The stops were fun and interesting. The boat and service was excellent! Thanks Marlene for setting it up.
Recommended
Rhone River Cruise
By: Karen
Reviewed on: 19 Oct 2015
We enjoyed a lovely Viking Cruise on the Rhone River. Marlene was very helpful and provided professional personal service.
Recommended
Another Great Trip
By: Thee Earl
Reviewed on: 05 Nov 2015
Marlene has the great ability of covering all aspects of a vacation to the very last detail. We again returned to our favorite Four Seasons Hotel in Palm Beach, FL. An example of all details---Marlene saw to it that we again were placed in our favorite room. The promptness of always returning my calls and even initiating calls to me is again going the extra mile for service. Again Marlene will be given a top notch grade of 100. Here is a great big--THANKS.
Recommended
Quality Service
By: JudyL
Reviewed on: 01 Sep 2016
Marlene succeeded in every way. She suggested great hotels and tours for us. She did not steer us wrong. We felt that they gave us extra good service because of our connection to Marlene. During the planning process she was very attentive to my questions and answered them right away. She made it easy for us to go and enjoy our vacation. We both would highly recommend using Marlene. Judy and Joel
Recommended
Vienna and Budapest
By: Traveler
Reviewed on: 05 Oct 2016
Park Hyatt in Vienna is very well located and a lovely hotel. Breakfast and service outstanding. Concierge very helpful with restaurant recommendations. Superior - MBZ Travel tours - Informative and knowledgable english speakers. Ritz-Carleton Budapest - well located and lovely upgrade to a suite. Service on concierge floor excellent. Hotel restaurant, Deak St. Kitchen, very disappointing. Lancaster Hotel in Paris very lovely. Had dinner in the two star restaurant - Service excellent but way too precious and overpriced. Lunch in the bar was perfect.
Recommended
Too Soon
By: THE Earl
Reviewed on: 07 Oct 2016
Hi Marlene it is always good to hear from you. Of course I am always glad to enter a review but, I have a large problem that prevent me giving a review. My trip does not start till October 19th so too soon to review. The joke is on both of us----so here is to a good laugh for both of us. Thank you again for your great help you always give me. Earl (10-6-16)
Recommended
The Best!
By: BDD
Reviewed on: 06 Oct 2016
Everything went perfectly and without a hitch.
Recommended
South Beach
By: Howard
Reviewed on: 24 Jan 2017
Marlene is a pro and a pleasure to work with.
Recommended
Review
By: Gotlieb
Reviewed on: 04 Mar 2017
Marlene is the best and only travel person I would use. She is exceptional. Goes above and beyond. No detail is missed.
Recommended
Mexico, Punta Mita
By: Mexico
Reviewed on: 15 Mar 2017
Fantastic! She was wonderful and our trip was amazing.
Recommended
Southern California Winter Break
By: Pelican Hills
Reviewed on: 29 Mar 2017
Marlene is always a pleasure to work with. We enjoyed our stay at pelican Hill. the accommodations and service were excellent.
Recommended
Greece
By: mike
Reviewed on: 02 Aug 2017
she was very helpful. Her recommendations turned out to be excellent. She worked with us patiently and guided us professionally.
Recommended
Mediterranean trip
By: Hinky
Reviewed on: 24 Sep 2017
She is pleasant and assisted me with a trip I already had in mind.
Recommended
Last vacation
By: THE Earl
Reviewed on: 13 Nov 2017
Marlene always does a wonderful job of helping us. However, this vacation had to be canceled as my wife became ill and had to go to the hospital. Everything turned out okay, but we now have restrictions. Marlene will help us again as soon as we can travel.
Recommended
Fall trip to Europe
By: Fall European Trip
Reviewed on: 16 Nov 2017
Marlene hit the ball out of the park with our latest trip to Europe. The logistics and hotels were great. She also arranged for my wife and I to take our daughter wedding dress shopping in Milan. The personal shopper was amazing. The experience was the highlight of our trip.
Recommended
Key West hotel
By: JJ
Reviewed on: 27 Nov 2017
Great. We were wavering between the the "other" hotel property and she confirmed we should book here. The upgrades compliments of doing business with Virtuoso made the stay even better. Thanks again!
Recommended
Pelican Hill
By: Pelican Hill
Reviewed on: 26 Mar 2018
Marlene has been our travel advisor for many years and has done an excellent job on our behalf. We often recommend her services to our friends and business associates. Our stay this year at Pelican Hill was very nice. The house itself and the serves related to it were top notch. The resort, on the other hand, could use some refreshing and the service at the villa clubhouse and resort restaurant was mediocre, at best. We certainly don't hold Marlene accountable for our disappointment with the resort services.
Recommended
My trip to Israel
By: Bonnie
Reviewed on: 03 Apr 2018
Marlene was great to work with, she is very knowledgeable and very experienced. Our trip was perfect in every way. Every detail was addressed and all we had to do is enjoy.
Recommended
Israel Trip
By: lynndylu
Reviewed on: 04 Apr 2018
Marlene was very thorough in hearing our requests and matching our expectations with reality. The hotels she chose were outstanding, the events scheduled were terrific and the guide she arranged for us was EXCELLENT.
Working with Marlene Singer, you will have access to:
- An experienced travel guide whom you can rely on before, during, and after the trip
- Exclusive luxury resorts and properties
- Once in a lifetime experiences
Explore with the Best
Virtuoso Advisors are constantly pushing the boundaries in unique travel experiences.
Alliance programs are unique tailored experiences exclusive to travelers working with Virtuoso Travel Advisors.
learn more