Travel Specialties
Interests
Safari
Ocean Cruising
River Cruising
Destinations
United Kingdom
France
Germany
Italy
South Africa
Selling Travel Since
1978
My Background
I opened the first cruise oriented agency in the Southwest in 1979. I am a specialist in luxury ocean and river cruises. I know the ships well and I can help you pick the perfect ship for your needs. I have sailed on over 225 cruises.
I am a graduate of Baylor University with a Bachelor degree in Education and a Master's degree from TCU.
I have been honored by Travel + Leisure for the past 17 years as one of the Top 125 agents and top 10 cruise specialists.
I am a member of several Advisory Boards including the Crystal Platinum Alliance, Regent Council, Seabourn's Pinnacle Club and A & K's 100 Top 100 Club. I have served on the Virtuoso Cruise Committee for 7 years and I currently serve on the Virtuoso Member Advisory Board. I have been on the Voyager Cruise Events Committee this year.
Because of our long time association with various cruise lines and our membership in Virtuoso, I can offer special benefits on most luxury cruise sailings. I also know these Luxury ships well and can match the client to the best category and cabin or suite.
Places I Have Traveled
Reviews and Recommendations for Ruth Turpin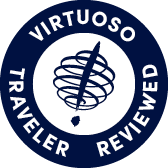 Virtuoso Verified Traveler
All reviews are from confirmed guests sharing exclusive insights
Sort reviews by
Recommended
always seamless
By: brownie
Reviewed on: 24 Sep 2013
as always, our recent trip, planned by ruth, went off without a hitch. the alaskan cruise on silversea and our stays in anchorage and san francisco were among our most enjoyable ever.
Recommended
Highly Recommended!!
By: LindaC
Reviewed on: 08 Nov 2013
We have used Ruth and Cruises Etc. for several cruises and now have booked two land tours with her. She is excellent, very thorough and extremely knowledgeable. We do not have to worry about a thing after we are booked. She is always friendly and ready to answer our questions. Ruth and her staff take care of everything for us. I recommend her highly.
Recommended
By: Not provided
Reviewed on: 24 Nov 2013
Ruth Turpin is a wonderful travel advisor and has helped us with many trips abroad. She is a great resource and her associates are always helpful. We are lucky to be Ruth's clients.
Recommended
RUTH WAS OUTSTANDING
By: GW
Reviewed on: 08 Nov 2013
THE BEST EVER VACTION WE EVER WENT ON. RUTH WAS RIGHT AND WE WENT FOR IT JUST OUTSTANDING
Recommended
Excellent service. Great follow through!
By: Koz
Reviewed on: 07 Nov 2013
We had an excellent experience booking an Oceania cruise with Ruth. When we were due a refund from the airlines due to their flight change her staff took care of it completely. We appreciated the great service.
Recommended
Highly recommended
By: Mimi
Reviewed on: 07 Nov 2013
We try to use Ruth, exclusively, at Cruises Etc. She has always been most helpful and knowledgeable about any type of trip we wanted to take. We first used her for a cruise, but now use her for most all our travel, especially Tauck trips.
Recommended
Highly recommended
By: Charlotte
Reviewed on: 08 Nov 2013
Ruth always makes it so easy for us. One time when our flight was delayed she got us rebooked enfore we even landed in Newark. She advocated for us with Crystal cruises and got the flight paid for by Crystal. She is always there when we have needed her and responds immediately. Her office is very efficient in sending us the necessary documents and invoices. We won't book with anyone else!
Recommended
By: samron
Reviewed on: 07 Nov 2013
we have taken our family on many cruises with ruth's help and really appreciate all she does.
Recommended
OK
By: Jean
Reviewed on: 22 Nov 2013
The tour in Charleston was mainly walking on narrow, uneven sidewalks. Difficult to hear the guide,the group, we were toward the end,she began speaking as she reached the location she wanted to point out. The dinner was adequate, but there was no "private tour of the mansion" afterward. Trolley/bus tour of Savannah was much nicer, the bus drove slowly,hear the commentary very clearly,look out the large windows and enjoy the beauty of the old homes. (Also, air-conditioned!)
Recommended
A great travel agent
By: bestnana
Reviewed on: 21 Nov 2013
A two category upgrade and sitting at the captain's table made my cruise on the Crystal even more special. Thank you Ruth for arranging both.
Recommended
yes, still highly recommended
By: tired
Reviewed on: 21 Nov 2013
we haven't had a recent trip planned by ruth. we did send a high recommndation for our trip to alaska planned by ruth in august.
Recommended
By: Not provided
Reviewed on: 21 Nov 2013
Ruth Turpin has arranged successful trips for us for many years. We have the utmost confidence in whatever Ruth recommends. Her attentiveness to detail and her responsiveness to any of our concerns keep us coming back to Cruises Etc. Travel. You cannot beat her combination of high professional standards, with a warm and friendly personality. Although we live across the country from Ruth Turpin, we consider it a stroke of good luck when we connected with her.
Recommended
Highly Recommended
By: ULB
Reviewed on: 04 Mar 2014
Ruth is always very helpful.  This Tauck trip was amazing!! We did, however, have some transportation issues and Ruth stayed on top of it and helped everything go smoothly.
Recommended
Best travel agent
By: bella
Reviewed on: 30 May 2014
Ruth is the best travel agent ever. She is meticulous and does an incredible amount of follow up on every detail of every trip.
Recommended
Oasis of the Seas, handled the large crowd of people very well
By: Jaybo
Reviewed on: 07 Mar 2015
Handled the large crowd of people very well. Food could have been better. Very family-friendly. Loved the Central Park deck. Glad that we travelled with another couple on this cruise. Making our reservations for the shows online prior to cruising was difficult because they continued to change the times. Also, they were unable to send a reply back to my email address so we had to use another email address. The shore excursion on St. Maarten, which was recommended by Cruises Etc., was excellent. Glad that we experienced this ship, don't know that we would return, though.
Recommended
Great trip
By: gt
Reviewed on: 22 Jun 2015
Great trip with no surprises. Everything was taken care of!
Recommended
Absolutely the best!!
By: Steve
Reviewed on: 30 Jul 2015
Ruth is the best agent we have ever had. She is always on top of things and does her best to insure our travel experience is smooth and stress free. Always ready to help. I have recommended her to several other friends who feel the same.
Recommended
All arrangements were perfect including Cruise, insurance, airlines schedules
By: Bobbie
Reviewed on: 25 Aug 2015
Ruth's information regarding tours, insurance and airlines schedules was the best.
Recommended
Norwegian Fiords spectacular
By: Don and Sue
Reviewed on: 03 Sep 2015
Some of the most spectacular natural beauty that we have ever seen. Holland service and food were exceptional. On top of that, the weather was great.
Recommended
Excellent service as always.
By: Stu
Reviewed on: 05 Sep 2015
The cruise with Holland America along the Norwegian coast was a memorable experience. Our travels went just as planned, thanks to Melissa at Cruises Etc.
Recommended
4 Day Cruise on Princess Line
By: Nell
Reviewed on: 16 Nov 2015
We had a great time and Melanie with Cruises, Etc. was very helpful as there were five of us in different places. We were impressed by the friendliness and courtesy and "wanting to go the extra mile" of the crew on the ship. They were fabulous.
Recommended
The BEST.
By: BK
Reviewed on: 23 Jan 2016
My husband and I can and do recommend Ruth Turpin and her staff to all our friends. All questions from us are answered in quick time. If Ruth is out of the office she is sure to have another point person ready to handle things. Her knowledge of the ships and vacation spots are well appreciated. Her helpful hints are always welcome. She has influenced us in many of our tour decisions. Thank you, Ruth Turpin and Cruises Etc.
Recommended
Thorough planning!
By: VPJack
Reviewed on: 16 Jan 2016
Ruth did everything possible to make our trip wonderful!
Recommended
Great Cruise to Caribbean!
By: collier7
Reviewed on: 04 Feb 2016
We recently took a Regent Seven Seas Cruise to the Eastern Caribbean. This was our first time on Regent, although we have had friends who had sailed previously with them. This cruise lived up to its reputation. Everything was included! It was great not being charged for something every time we turned around. So we enjoyed that aspect of the cruise. I can take or leave the Caribbean Islands, they all seem to be the same, but we took this cruise to escape the winter and that worked beautifully. Weather was beautiful and warm. We took several of the offered excursions and they were also fine. At least we got to see the islands. We also had a tour of Tortola and lunch at a beautiful hotel courtesy of Virtuoso. This was a highlight and thanks to Virtuoso for that. We will definitely take Regent again!
Recommended
Outstanding service!
By: Lonny66
Reviewed on: 23 Feb 2016
Excellent service in all aspects of booking our cruise on Crystal Cruises. She also helped book a river cruise at Christmas which I surprised my wife with on the Crystal cruise. Her efforts on my behalf helped me keep this a secret for nine months and totally surprised my wife her birthday. Excellent job!
Recommended
service
By: My main man
Reviewed on: 06 Oct 2016
Very professional and knows her business. Able to offer helpful suggestions and hunt for the best packages and prices. Takes a personal interest. One of the best.
Recommended
Still The Best
By: RaleighRay
Reviewed on: 15 Oct 2016
Like all our other trips planned by Cruises Etc, this one was perfect. Ruth and her folks do an outstanding job of taking care of my wife and me. This is especially important to us as I travel with difficulty due to medical limitations. Once again, Thanks to Ruth and all her folks.
Recommended
professional service
By: lsutiger
Reviewed on: 06 Oct 2016
Very professional and experienced. Gave great advice, and she is there to help you all the way. Well known on Crystal, our only cruise line of choice because of Ruth. Treats you with personal interest and gives very timely service.
Recommended
Fantastic cruise expertly planned by Cruises, Etc.
By: Bobbie
Reviewed on: 13 Oct 2016
Thank you for helping us plan such a great trip.
Recommended
Excellent service
By: Kat and Bud
Reviewed on: 08 Nov 2016
We had a great time. Service was excellent and food was delicious!! We met some interesting people from Ft Worth and surrounding area. The shipboard credit afforded us by Ruth Turpin was greatly appreciated. What more could you expect from a cruise!! We are happy that we have already booked another cruise for August, 2017. Thanks for all the extras you planned for us.
Recommended
Fabulous trip Advisor
By: pteri
Reviewed on: 22 Feb 2017
This was our first time working with Ruth and I can't say enough about all she did to make planning our trip go smoothly and efficiently. She is on top of every detail and her recommendations are excellent. She truly cares about her clients and works hard to ensure everything is done on time. She takes all the stress out of planning a special vacation!
Recommended
trip advisor revue
By: sally
Reviewed on: 03 Mar 2017
ruth is top quality: she is knowlgeable, efficient, helpful, and decicive. we've dealt with ruth for years and will continue to do so.
Recommended
Simply the Best!
By: Pteri
Reviewed on: 14 Apr 2017
Ruth is on top of everything. She takes care of every detail of your trip and works diligently on your behalf, from beginning to end. She responds quickly to any questions or concerns you may have.
Recommended
Panama Canal
By: Tillie
Reviewed on: 28 May 2017
Fantastic! Great working with Alisa.
Recommended
My Travel Agency
By: Raleigh
Reviewed on: 16 Aug 2017
Working with Ruth was, as always, a pleasure. We met her and her husband on a trip - 12 cruises ago. Since that time she and her folks have done all our travel arrangements, and done them in outstanding fashion. Everything just works as it should. And when something like a flight delay happens, even in the middle of the night, there is always someone on the phone when we need them to fix things. Ruth, and the folks in her agency, are a class act, and we highly recommend them for any travel.
Recommended
British Isles crystal cruises
By: Kat
Reviewed on: 01 Sep 2017
Great!! Melissa was our contact person and she could not have been more helpful!! I look forward to working with her again. Everything happened as she told us. Excellent trip!! Kat
Recommended
Our angel
By: Bonnie
Reviewed on: 12 Oct 2017
Ruth is thorough and does an excellent job. Everything went smoothly and we appreciated all her suggestions.
Recommended
tauck rhine river cruise
By: zebra
Reviewed on: 24 Oct 2017
Excellent as always.
Recommended
review of trip
By: pancho
Reviewed on: 30 Oct 2017
ruth is always pleasant and positive and plans are always without problems
Recommended
Best
By: tigerman
Reviewed on: 29 Nov 2017
Outstanding! Best agent we have ever had! An asset to your organization. Very professional and personable. Quick response to our needs, and knows her profession well.
Recommended
none
By: blondey
Reviewed on: 30 Nov 2017
I actually never dealt with Ruth , rather Michelle Harvel , who was quite nice , prompt & efficient.
Recommended
Pride of America
By: Roy
Reviewed on: 14 Jan 2018
We have worked with Ruth and her staff for years. Melissa Turpin-Marcos was our advisor for this trip and did a perfect job. She arranged for a private tour for our group of 14 in Honolulu and it was excellent. We always recommend Cruises Etc. travel to our friends and family. They are the best.
Recommended
Archetype Travel Agent
By: Sybarite
Reviewed on: 30 Jan 2018
Great! Prompt, professional, knowledgeable.
Recommended
Ruth
By: TC
Reviewed on: 14 May 2018
Ruth did a great job and set us up for a wonderful trip. The hotels were fantastic. The flights on Air Emirates were as nice as advertised.
Recommended
ACL Cruise
By: Kingair
Reviewed on: 19 May 2018
Excellent. Extra service of driver to and from the airport was unexpected and greatly appreciated. We will always use Ruth for our vacations.
Recommended
Always there for us!
By: Charlotte
Reviewed on: 09 Sep 2018
We have worked with Ruth since 2003 and she has always made us so special. She knows how we like to travel and suggests various things. She has worked overtime to get us substituted travel routes when our flight connections were messed up by the airline so we wouldn't miss our ship. She makes us feel like friends and her only clients!!!
Recommended
She's the Best!
By: Pteri
Reviewed on: 14 Sep 2018
From just thinking about a trip to the actual completion of a trip, Ruth works so hard on our behalf. She takes care of every little detail in a timely manner. Questions are responded to quickly. We can't say enough about Ruth.
Recommended
Cruises Etc
By: Wayne
Reviewed on: 25 Sep 2018
Great, she was very experienced and helped pick the right tour, she also helped our friend join us. a Professional.
Recommended
Crystal Review
By: TJ
Reviewed on: 29 Oct 2018
Ruth was well organized, personable, knowledgeable and in tune with our needs. She has long experience in the cruise industry and knows the details and tips about booking cruises. She was very responsive to our questions and in fact proactive in determining our desires and preferences. She helped make the cruise a great experience.
Recommended
Ruth
By: billy
Reviewed on: 22 Oct 2018
Always a pleasure and she never forgets any details!
Recommended
VACTION
By: GUY WILLINGHAM
Reviewed on: 24 Oct 2018
OUTSTANDING EVER TIME
Recommended
Cruise
By: Gl
Reviewed on: 28 Oct 2018
Great. So wonderful to work with.
Recommended
Azamara-Cuba Cruise
By: Stu
Reviewed on: 22 Jan 2019
We worked with Melissa and were very satisfied.
Recommended
They don't get any better than Ruth!
By: Pterie
Reviewed on: 22 Apr 2019
Ruth is always one step ahead of us looking out for our best interests in the smallest and largest details. She makes traveling flow seamlessly. All we need to do is pack our suitcase. She is responsive in a timely manner and knows everything that needs to be done!
Recommended
Ruth Turpin
By: Wayne
Reviewed on: 01 May 2019
Very Good, knows her clients well.
Recommended
CRUISE REVIEW
By: Hank
Reviewed on: 28 Apr 2019
HER EMPLOYES ARE VERY, VERY KNOWLEDGEABLE AND WERE ABLE TO FIND ME A SINGLE CABIN ONLY 9 DAYS BEFORE SAILING.
Recommended
Creme' de las creme'
By: gator
Reviewed on: 09 May 2019
Outstanding and very professional. She is the best agent we have ever used. Ruth is an asset and knows the client's needs and works hard to insure your travel experience is flawless.
Recommended
Best I ever saw!
By: Viva Las Vegas!
Reviewed on: 13 May 2019
Effortless... questions anticipated and handled before they ever showed up!
Recommended
Transatlantic Cruise
By: GQL
Reviewed on: 26 May 2019
I've worked with Alisa for a number of years now and as usual she had everything to us for our trip. It's so nice to know we are taken care of when we're traveling far away from home.
Recommended
The best
By: Ted C.
Reviewed on: 18 Jun 2019
Ruth was so helpful with all aspects of this cruise. She found ya the best rooms, assisted with the excursions, arranged on board activities, made restaurant reservations, and gave us advice with all aspects of cruising. She couldn't have directed us more accurately when she recommended. Crystal.
Recommended
Hawaiian Cruise on Norwegian Spirit of America
By: Linda
Reviewed on: 01 Jul 2019
Wonderful. Cruises Etc. is great. Everything is taken care of and we have no worries that we will have any problems. Highly recommend them.
Recommended
19 day Mediterranean Cruise
By: Andrea
Reviewed on: 29 Jun 2019
Ruth is an amazing travel consultant. She listens to your wants and needs and makes suggestions that perfectly fit. Her follow-up and follow-through is impressive and always timely.
Recommended
Terrific
By: Robert
Reviewed on: 30 Jun 2019
Wonderful! She is so helpful and resourceful. The best and does what she says.
Recommended
Viking River Cruise
By: Tasha
Reviewed on: 08 Jul 2019
She is very detailed and knows all the answers to your questions. Great problem solver.
Recommended
Trip to Alaska
By: Cynthia Perry
Reviewed on: 07 Jul 2019
Ruth Turpin is an amazing travel advisor and knows exactly what I like. She is so prompt with all inquires which shows she truly cares about her clients. I would never go anywhere without her advice. Her staff is also up to her standards. Hi Ruth if you get this Sic Em Bears.
Recommended
Fantastic Experience
By: AJ
Reviewed on: 13 Aug 2019
Excellent. Ruth knows the business inside out and is very familiar with Crystal Cruises with whom I sailed. She is very responsive to questions and offers suggestions and alternative comparisons when deciding on booking a cruise.
Recommended
Ruth Turpin review
By: Sky
Reviewed on: 13 Aug 2019
Always great, prompt service!
Recommended
Great On top of our trip. Kept us informef
By: Old Blue
Reviewed on: 05 Sep 2019
Great. On top of everything and kept us up to date throughout the planning process
Recommended
Russia
By: Wayne
Reviewed on: 13 Sep 2019
Great Excellent Service
Recommended
Extremely knowledgeable
By: Charlotte
Reviewed on: 06 Nov 2019
It is always so easy to work with Ruth. She is always available by email to answer any question and comes up with suggestions that only an experienced traveler would know.
Recommended
Great service!
By: Jerry
Reviewed on: 13 Nov 2019
Ruth Turpin is a master planner of cruises and has great attention to detail! Highly recommend.
Recommended
Show
By: Bon bon
Reviewed on: 07 Nov 2019
She is amazing! So knowledgeable and helpful!
Recommended
Trip on Crystal Symphony
By: emory sigler 4713 green oaks colleyville
Reviewed on: 22 Nov 2019
Ruth was very good to work with.
Recommended
Best in the business
By: Rhine19
Reviewed on: 16 Nov 2019
Seamless; a breeze; highest quality effort and results
Working with Ruth Turpin, you will have access to:
- An experienced travel guide whom you can rely on before, during, and after the trip
- Exclusive luxury resorts and properties
- Once in a lifetime experiences
Explore with the Best
Virtuoso Advisors are constantly pushing the boundaries in unique travel experiences.
Alliance programs are unique tailored experiences exclusive to travelers working with Virtuoso Travel Advisors.
learn more
United Kingdom
France
Germany
Italy
South Africa