Travel Specialties
Interests
Family Travel
Honeymoons
Escorted Tours
Ocean Cruising
River Cruising
Destinations
Bermuda
France
Italy
Jamaica
Spain
Selling Travel Since
1973
My Background
I've been booking travel for 42 years. I'm a Master Cruise Consultant with CLIA, and have been on over 70 cruises myself. Primarily I work with cruisers to the Caribbean, Alaska, and Europe – although I can coordinate itineraries anywhere.
What I want to achieve for travelers is pretty simple: I hope to deliver dreams, help clients cross items off their proverbial bucket list, and at core, I want you to come back happy.
If you'd be interested in working together, definitely reach out. I love customizing your history and travel preferences into the perfect experience for your family.
Places I Have Traveled
Contact Info
Phone
Primary
+1 (905) 660-7000 ext. 466
Addresses
Primary
7851 Dufferin St., Suite 100
Thornhill, Ontario L4J 3M4
Canada
Reviews and Recommendations for Elaine Pepper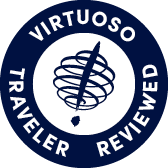 Virtuoso Verified Traveler
All reviews are from confirmed guests sharing exclusive insights
Sort reviews by
Recommended
Great Job as Always
By: M&M
Reviewed on: 17 Dec 2015
As always Elaine did a great job. She is very efficient and helpful. We only use her now to book our vacations.
Recommended
Celebrity Cruise
By: Amos Tin
Reviewed on: 30 Dec 2015
Elaine not only recommended one of the best cruises for us, my wife and I, but she also helped us prepare for the trip and provided us numerous recommendations on both things to do and suggested actives during the trip. She understands well our expectation and what we want from our vacation. Her excellent follow-up and guidance made our cruise very easy and enjoyable. She is probably the best agent that I worked with in cruise and other overseas travel planning. I would certainly recommend Elaine to all my friends help them to plan their vacations and cruises.
Recommended
Amazing trip!
By: Becca
Reviewed on: 30 Dec 2015
Loved half moon! What a beautiful resort. Elaine planned the most amazing trip for us. Thank you so much!
Recommended
Superior experience!
By: 2 Ants in Woodland Hills
Reviewed on: 01 Jan 2016
Elaine Pepper took personal interest, and really understood our requirements, Got us a great price, and made the whole process super easy, Just referred Elaine to my sister in law, and you guessed it, another satisfied customer. Thanks Elaine!
Recommended
Very well knowledgeable and prompt response
By: rtameer
Reviewed on: 06 Jan 2016
We had a great holiday, Elaine helped us to put two families package together, she made it easy for us. We gave her our budget and she was able to recommend few places, We will use her again Thanks Elaine
Recommended
Prompt and Professional
By: phillychick
Reviewed on: 10 Feb 2016
Elaine provided prompt and professional service. She answered all of our questions and sought out any information she did not have immediately at hand. Elaine was very responsive to our requests and understood what we wanted from our vacation. She also followed up with us to welcome us home.
Recommended
Excellent travel prof
By: Cab
Reviewed on: 04 Mar 2016
Elaine is wonderful, works to assist you with the best upgrades. She is wonderful!
Recommended
Very friendly staff
By: Anne
Reviewed on: 12 Mar 2016
We both enjoyed our ports of call, but there were somethings we we disappointed in such as the food in the main dining room. A lot of the meats were dry and some were quite tough. We were expecting more food to be from the area we were travelling in, but it wasn't anything different than what we would get in the Caribbean. The orchestra for the performances were so loud, you couldn't really hear the performers, so after one musical, we didn't go back if it was a musical production. The staff was very friendly and our cabin steward and assistant were amazing. The food in the specialty restaurants was incredible. And the staff there exceptional as well.
Recommended
Great Trip to Ixtapa
By: Marjorie
Reviewed on: 12 Mar 2016
As always Elaine answered all our questions about the trip VERY quickly. We had a wonderful vacation.
Recommended
Excellent Service
By: sammie
Reviewed on: 05 May 2016
We have booked several cruises with Elaine. She is on top of everything and keeps us totally up to date. She responds to any questions or concerns very quickly. Other TA's we have used in the past we have some times had to wait days before they answered us which, in my opinion, makes me feel we are not a valued client. With Elaine we feel valued and is one of the many reasons we continue booking with her. I would highly recommend Elaine. Wish we had found her earlier!
Recommended
Extremely professional!
By: 2 Ant in Woodland Hills
Reviewed on: 18 May 2016
My wife and I have booked several trips with Elaine Pepper, and she never lets us down, She is our #1 travel expert!
Recommended
Simply a pleasure to work with!
By: Eliza16
Reviewed on: 19 May 2016
Several years ago, I had a bad experience with travel agent. So, for a long time, I handled everything myself. What a pain it is to look up hotels and flights trying to find the best deals only to lose it because you did not book fast enough. A friend referred me to Elaine Pepper and I'm so happy I found her. What a pleasure to have someone take care of the details for you. I did not have to think about my trip at all and everything went smoothly. She is experienced and well-traveled so she has probably been where you want to go. I trust her suggestions and advice. She is a "highly recommend!"
Recommended
Organized, reliable friendly service
By: MD123
Reviewed on: 26 May 2016
We had a wonderful trip-no glitches. Elaine provided flawless arrangements so at everything went smoothly. She reminded us our visas need time to complete and she was so so right
Recommended
Great professional service
By: Mare
Reviewed on: 23 Sep 2016
We loved the property, food, service & people of Punta Cans. Especially clean, well taken care of property
Recommended
Always a pleasure!
By: Sammie
Reviewed on: 03 Nov 2016
We have booked with Elaine several times now. She is "on the ball" and on top of things. We appreciate how she is available anytime we email or phone her. Having a travel agent that works 7 days a week is unusual and very much appreciated. Makes us feel very special.
Recommended
Perfect Service!
By: G B
Reviewed on: 13 Dec 2016
Elaine went over and above with little time to do so. Helpful, professional and was able to provide everything we requested. My go to for the next vacation :)
Recommended
Wonderful vacation for R & R
By: SheJoe
Reviewed on: 18 Dec 2016
The hotel was beautiful with warm weather and sun for most of the vacation. The only problems were with construction of new rooms going up and the maids not cleaning the room before 2 every day even when reception is advised that the customer wants the room cleaned before noon. The staff was friendly but the cleaning staff spoke no English and as we were told we should learn Spanish. The grounds were nicely kept and during our stay they put up the Christmas decorations giving it a more festive feel. The room was comfortable with a queen size bed and a large shower stall. The food was varied and one day they had Peking Duck and the next day lobster. We always ate at the buffet so we got to pick a large variety of food. They always had something Caribbean on the buffet for the more adventurous types. We never went hungry. There was also a small snack bar opened for most of the day for sandwiches, desserts or snacks. All in all it was a great vacation
Recommended
Expert Friendly Service
By: Suzzie
Reviewed on: 28 Dec 2016
Elaine was most helpful as we were a party of 8, with 4 children. She did a wonderful job sitting us all together and answering any questions we had. I had a few questions for her before we left and within an hour or so she had given me the answers. I would totally recommend Elaine's services to all people I know.
Recommended
An Agent that goes far and beyond
By: Clint
Reviewed on: 28 Dec 2016
Elaine made miracles happen! My family of 8 booked a couple months ahead and I wasn't sure I could get the time off from work. End result was I was approved for time off and booked 5 days before leaving. The flight was full and never being on a flight before I really wanted to be with my family. Elaine made this happen and it turned out to be the most fantastic vacation for all of us. To be together on the plane and close rooms on the resort. She is such an professional while dealing with her and I will certainly use her services again. Thank You Elaine for arranging the most wonderful family trip and we will all have so many memories from it.
Recommended
repositioning cruise
By: cuddles
Reviewed on: 12 Nov 2018
for the most part good - because of my husbands disabilities our cabin was too far from the elevator. transfers were good
Recommended
Excellent!!
By: Deejane
Reviewed on: 24 Feb 2017
Elaine is an absolute pleasure to work with. She responds to questions and concerns pronto. Elaine is always there when you need her!! I will use Elaine whenever we plan future trips :)
Recommended
Ixtapa!
By: Marjorie
Reviewed on: 12 Mar 2017
As always Elaine did a great job and consequently our vacation was wonderful!!
Recommended
Elaine
By: M & M
Reviewed on: 13 Mar 2017
As always, perfect
Recommended
Cruise Planning
By: Amos
Reviewed on: 01 Apr 2017
It is an excellent experience to work with Elaine. Her tremendous knowledge, thoughtful recommendation, kind understanding of our needs are important to provide us the best options.
Recommended
Kona + Alaska = Iceland
By: 2 Ants In Woodland Hills
Reviewed on: 15 May 2017
Elaine found us the vacation we wanted, at the price we could afford, Elaine put together a great package for us , she was extremely knowledgeable, and really understood our needs, and wants, thank you Elaine Pepper for all that you do, and making our vacation Truly rememberable.
Recommended
Cruising the Right Way
By: ELS
Reviewed on: 22 Oct 2017
Elaine was knowledgeable about the cruise line the ports we would visits and she provided many helpful tips. She was always available to answer questions and at appropriate times, reached out to ensure we had completed required tasks and to see if we needed any support. We will definitely call Elaine when we plan our next vacation.
Recommended
Great travel agent
By: Chris
Reviewed on: 23 Nov 2017
I booked with Elaine for the first time a couple of months ago and could not be more pleased with how helpful and professional she was. She booked a cruise, flights and hotel rooms very quickly and saved me money by finding such good deals.
Recommended
Cruise
By: Walksalot
Reviewed on: 24 Nov 2017
Elaine was easy to talk to and she was very helpful in making all our arrangements pre and post cruise. She worked hard as there were three of us traveling, each from a different city and one from a different province. She was able to answer our many questions.
Recommended
The best advisor
By: Amos
Reviewed on: 26 Nov 2017
A present experience
Recommended
Excellent experience!
By: Bebbie
Reviewed on: 25 Nov 2017
Elaine handled every aspect of our trip like the professional she is. With her wealth of knowledge she provided us with very good advice since we've had no recent cruising experience. It's very important to us that our travel advisor respond to our questions in a timely manner. Elaine exceeded our expectations in that regard, and was unfailingly pleasant and cheerful. She's a joy to work with and we recommend her highly.
Recommended
Great cruise great price
By: Elaine
Reviewed on: 03 Dec 2017
Elaine was great to work with and made sure that every detail was dealt with properly.
Recommended
Iberostar Rose Hall Suites
By: Suz
Reviewed on: 15 Dec 2017
She's wonderful. Very good at getting what we want for when we want it. Resorts have always been a great deal of fun. Elaine is always there if you have any questions or concerns and replies promptly. Lovely person to work with. I would recommend her to my friends and family!
Recommended
She is amazing!
By: Dee
Reviewed on: 14 Dec 2017
Elaine is a fantastic travel advisor. She is knowledgeable, practical, and helped us think through some of the details that we hadn't considered. Our trip was flawless end to end including additional insurance we needed. I highly recommend working with Elaine!
Recommended
Excellent!
By: Sammie
Reviewed on: 28 Dec 2017
She is the best travel agent we have ever had. Is always on top of things and returns calls immediately. A pleasure to deal with.
Recommended
Great Trip
By: Double B
Reviewed on: 08 Jan 2018
Great, Very well organized. Good follow up. No disappointments !
Recommended
Jamaica
By: Traveller
Reviewed on: 23 Jan 2018
Elaine was amazing to work with . She was very customer focused. I would not hesitate to recommend her. She always tried to go above and beyond what was expected
Recommended
Excellent Cruise Consultant
By: Amos Tin
Reviewed on: 31 Jan 2018
Elaine has been very knowledgeable and helpful in organizing the last trip for me and my wife. Her advice were useful and important to us to decide on these two fun and enjoyable trips.
Recommended
My cruise
By: Vicwolf
Reviewed on: 24 Feb 2018
Elaine was great getting all the info on our cruise, and booking everything would recommend her to everyone
Recommended
Effortless Travel Arranging
By: KLS
Reviewed on: 14 Mar 2018
Have worked with Elaine several times over the last 5 years or so. She is always immensely helpful, fast, friendly, easy to deal with, and precise!
Recommended
Cruise on Royal Caribbean
By: Dee
Reviewed on: 12 Mar 2018
Great! She gets back to you right away and updates your information regularly.
Recommended
Great Job as Always
By: Marjorie Smith
Reviewed on: 16 Mar 2018
Elaine is very reactive, she gets info to us as soon as we request it and/or as soon as she receives it. It's always a pleasure to have Elaine book our vacations!
Recommended
Crusing
By: Chelsea
Reviewed on: 18 Mar 2018
Elaine is amazing to work with. She's easy to talk to and very knowledgeable. She's easy to get a hold of or very quick to get back to you. You can feel quite confident she's looking after your best interests.
Recommended
She's amazing!
By: Kdub
Reviewed on: 25 Mar 2018
Elaine is always quick to respond to messages and offers helpful advice on any part of our travel needs!
Recommended
Elaiine brings enjoiment to our life.
By: Ida Elster
Reviewed on: 13 Apr 2018
Elaine is very helpful , I am very bad with planing and Elaine does it all for us ,tours, cruises , flights, hotels . We did a bit of touring and cruising with Elaine and it always was very good
Recommended
Spring Break in the Bahama
By: Melissa
Reviewed on: 06 Apr 2018
She was quick to respond and provided many options for us. She was informative and kept us up-to-date with anything that changed. Above and beyond.
Recommended
great vacation
By: sportsguy
Reviewed on: 13 Apr 2018
Elaine was very helpful. Had some issues with the booking and Elaine worked hard to promptly deal with the issues with the resort and airline. She did everything she could to make the trip work out. Great effort!
Recommended
Riu Santa Fe
By: Bebbie
Reviewed on: 22 Apr 2018
Elaine is wonderful to work with! She's knowledgeable, helpful, and not only answered my questions promptly but researched responses where they were not readily available. Before our departure date Elaine sent me a reminder email and made sure we had the documentation we needed before we left on our trip.
Recommended
Barbados Getaway
By: Baddie
Reviewed on: 29 May 2018
Elaine was great in smoothing out our passport/possible flight interruption issues. She was in contact all through the pre and post holiday period to make sure we were happy with the whole adventure. Very competent and reliable, would use her expertise again.
Recommended
Elaine Pepper
By: Chic
Reviewed on: 07 Jul 2018
Elaine was excellent to work with. She ensured that we were up to date on current information required, sought out the best prices. She gave us many suggestions that helped in planning our trip. Will definitely use her services again and refer her to friends and family.
Recommended
First cruise
By: Warlou
Reviewed on: 14 Jul 2018
It was wonderful. She went above and beyond to make sure it was a great experience for us.
Recommended
Saviour@Sea
By: Gilligan
Reviewed on: 18 Sep 2018
Thanks to the diligent efforts of Elaine the super-agent we were able to return home from a less-than-successful experience with a minimal amount of wear & tear. Always in our corner 24/7, can't say the same for the cruise line.
Recommended
Italy Trip
By: Mario
Reviewed on: 20 Oct 2018
Elaine was very professional in arranging our flights from Toronto to Rome. We had some trouble with car rental they gave us smaller van than we had booked. The villa was fine no concerns everything was great.
Recommended
South America
By: H/R/S
Reviewed on: 09 Jan 2019
Very thorough, efficient, knowledgeable--always there to smooth the bumps in the road!
Recommended
Circle the Caribbean
By: Jframe
Reviewed on: 09 Jan 2019
I have been dealing with Elaine for over 30 years and I can honestly say that her service is second to none. Nothing is too much for Elaine.
Recommended
Wonderful Agent!
By: Etele
Reviewed on: 16 Jan 2019
Super easy. She anticipated my needs and followed through.
Working with Elaine Pepper, you will have access to:
- An experienced travel guide whom you can rely on before, during, and after the trip
- Exclusive luxury resorts and properties
- Once in a lifetime experiences
Explore with the Best
Virtuoso Advisors are constantly pushing the boundaries in unique travel experiences.
Alliance programs are unique tailored experiences exclusive to travelers working with Virtuoso Travel Advisors.
learn more
Bermuda
France
Italy
Jamaica
Spain