Travel Specialties
Interests
Sports & Outdoors
Spa Vacations
Hotels
River Cruising
Selling Travel Since
1979
My Background
I have been in the travel industry since 1979. Specialty programs would be Italy, France, River CRUISING, golf, sking. Owned my own agency Medallion Travel for 25 years before I joined Vision Travel Solutions.. Travelling to over 60 countries has helped me be of assistance to many clients.
Places I Have Traveled
Reviews and Recommendations for Doreen Rich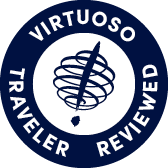 Virtuoso Verified Traveler
All reviews are from confirmed guests sharing exclusive insights
Sort reviews by
Recommended
Highest recomendation. Always dependable
By: Zeke
Reviewed on: 27 Jan 2014
We have used Doreen for at least 35 years. What more of a recommendation DOES ONE NEED! She goes way beyond for her clients.
Recommended
A lovely paradise,
By: Shelley
Reviewed on: 15 Feb 2014
We had a lovely four nights, five days at the Four Seasons, Lanai. Although half the hotel was closed for renovations, it didnt affect us at all. The staff were extremely attentive and friendly, the beach was quiet and the beach attendents were quick to set us up and make us comfortable. We enjoyed the buffet breakfasts and both the dinners at Manale Bay and the Lodge. Great place to go if you want to get away from it all!
Recommended
Great Trip
By: K
Reviewed on: 19 Feb 2014
Costa Rica was amazing! Beautiful country, great resort and amazing excursions! I would definitely recommend it and Doreen.
Recommended
Very efficient & thorough
By: L.H.L.
Reviewed on: 07 Mar 2014
  Goes out of her way to find what ever you need.  Knows her business.
Recommended
highly recommended
By: Mindy
Reviewed on: 13 Mar 2014
We have used Doreen numerous times for booking cruises and airfare and she is a delight to deal with.  She takes the time to understand the clients needs and is able to plan accordingly.
Recommended
a family experience
By: G and Z
Reviewed on: 21 Mar 2014
Our Family of 13; parents, children and grandchildren decided to celebrate an 80th birthday and a 50th anniversary in Costa Rica. Doreen has been our travel agent for many years and this time she not only picked a terrific place but the trip went off without a hitch. Our only criticism was the lack of room on Sun Wings plane. Several of the group were over 6 feet tall and this presented a problem on a long flight, however this was beyond Doreen's control.Her choice of resort suited our family perfectly and the entire trip was a great success. YES we have and will continue to recommend Doreen to as many of our friends as possible!
Recommended
Highly recommended
By: Elly
Reviewed on: 21 Apr 2014
She takes great care in planning a trip;she'll try to get a bargain in air fare & in accommodation.The flight to Florida was trouble free & the hotel was perfect..
Recommended
Highly recommend. Great service.
By: jolau711
Reviewed on: 27 May 2014
Doreen is a pleasure to work with. She is diligent in finding the right hotels and things to do once you get to your destination. Doreen makes sure you are well received at your destination and you are paying a fair price for everything. I would highly recommend Doreen to any of my friends.
Recommended
Amazing advice and prices
By: Hoffco
Reviewed on: 05 Jun 2014
I was booking a trip to Vegas for my 10th anniversary. Doreen promptly took the information and shortly thereafter got back to me with an amazing deal. The price for our hotel and flight was less then we could find anywhere on an online service. Even better, the hotel was at a "FIVE STAR" on the strip resort. We received the tickets, itinerary. As well Doreen suggested we book transport to and from the airport and upon arriving in vegas so how smart this was. All in all we were extremely pleased with the service and our trip. I have already referred her services to other work colleagues.
Recommended
Highly Recommend
By: Sueh
Reviewed on: 06 Jul 2014
Love working with Doreen. She goes all out to get you the best deal. She has travelled a lot so you get excellent guidance on all aspects of travel planning.
Recommended
Highly recomend
By: Natshirl
Reviewed on: 21 Jul 2014
Had a wonderful trip and all went as promised. did everything that was recommended and found I was not misled by an agent that has much experience and many years of working with airlines and cruise ships.over many years have been advised and have flights and cruises recommended and have never been misled
Recommended
Used Insight Vacations and they were excellent for Israel and Jordon
By: DSR
Reviewed on: 24 Nov 2014
Do not hesitate to use Insight Vacations for Israel and Jordan. Guides were absolutely amazing.
Recommended
Great Service
By: KB
Reviewed on: 18 Nov 2014
Doreen's expert knowledge, commitment to helping her clients, patience and care were instrumental in booking my most recent vacation. I would highly recommend her.
Recommended
Preferred all the way
By: Eddy
Reviewed on: 03 Dec 2014
The resort was very nice & very clean. Our room was fantastic, we went to Preferred Club Master Suite Ocean Front, that was very impressive, king size bed with lots of closet & storage space. The people are very polite & friendly, always asking us if we needed anything else. The kids club was excellent. Food was amazing. We really recommend that resort to anyone.
Recommended
Expert friendly service
By: Syl42
Reviewed on: 27 Dec 2014
Doreen helped us out when we needed help planning our vacation.Our trip was unusual because of the length we wanted to stay and the parties were leaving from different places. Iit was also close to the date we wanted to leave. Doreen worked very hard and found a solution and accommodation in our price range. Also answered questions and emails very promptly. I highly recommend her!
Recommended
Excellent professional and friendly service and years of experience.
By: juniorbock
Reviewed on: 10 Feb 2015
Doreen has been organising my family travels for years. This particular trip she was able to get some great flights including times and price that helped me out a great deal with the tight time schedule I was on. I will continue to use Doreen in the future.
Recommended
Cayo Santa Maria,Cuba (Iberostar Ensenachos)
By: Raymundo
Reviewed on: 24 Mar 2015
Flights on schedule. Buses ready at airport to take us to Hotel, 1 &1/2 hour drive to hotel. Early afternoon so check in a bit slow but understandable since it was a busload of people.Hotel property massive. Not always enough Golf carts to take you around resort, especially at night to go back to rooms, more outdoor lighting needed. Kids & adult pool great! Beach is a 5 star and absolute gorgeous!!! Lots of chairs available on beach and pool area. Rooms big, loved the walk in closet and the washrooms, have shower and bathtub. Balcony huge! Only negative, beds you can feel the springs. Entire party of 15 complained of back pain. Lots of specialty restaurants, Were not able to get reservations together with the group though. Seafood and Japanese the better ones. Buffet, lots to choose from. Entertainment pretty good, Michael Jackson Show the best. Hotel lobby area had something every night, like the strings duo and the Cuban band. Overall, Cuba has the best beaches!
Recommended
service
By: linton28
Reviewed on: 21 May 2015
Hello, Just want to let you know we had a great time on our trip. Doreen did an excellent job on all the details of the trip. We had a wonderful tour manager. She worked very hard to make sure everything is on schedule and everyone was looked after. Everything worked out great. Having an older crowd we found two days were very long. The only issue we had is the language. The front line workers must be more fluent in English. Thanks. Linton Bacchus
Recommended
AS ALWAYS DOREEN DOES A WONDERFUL JOB. NO PROBLEMS WHEN SHE ARRANGES TRIPS.
By: NAT.
Reviewed on: 06 Aug 2015
ONCE DOREEN KNOWS WHAT ONE LIKES SHE GOES OUT OF HER WAY TO SEE THAT ALL GOES AS PLANNED AND FOLLOWS UP TO SEE THAT ALL IS GOING RIGHT.
Recommended
Extremely well done
By: Gerry
Reviewed on: 06 Aug 2015
Everything was great - Our travel agent did an amazing job and everything went smoothly. What ever was recommended was correct and Doreen was very knowledgeable as to what to do and recommend. From the booking and arranging travel insurance / medical insurance cabins etc - Dealing with Doreen was an absolute pleasure and would highly recommend her . If you have any other questions as to the above, please do not hesitate to contact myself
Recommended
great trip
By: mel711
Reviewed on: 14 Aug 2015
The trip was most enjoyable. The bus driver was an excellent driver who was able to negotiate in the smallest spaces. The tour director was very aware of the different sites and we were taken to many places that we would not have gone if going by car. The buffet breakfasts were good; the set breakfast was not as good; some dinners that were included were better than others, but that is to be expected. There was no complaint about the rooms. Overall I would have no trouble in recommending this tour.
Recommended
Service was great
By: Jerry
Reviewed on: 10 Nov 2015
My hotel was fine - Doreen found the hotel in the area I requested ( I tried on line and everthing was full ) and in my price range. I was very happy with everything
Recommended
Southern Exposure
By: Morettin1
Reviewed on: 07 Dec 2015
Doreen is an excellent travel agent/advisor, who always tries her best to accommodate and recommend and will always try for the best for you.
Recommended
Traveller
By: Cousin i
Reviewed on: 14 Feb 2016
Great resort Bahia in Dominican .......excellent food ...lots of variety ....gorgeous three mile beach ....lots of extras eg sushi. Sodas ...smoothies Buses to the beach ... Lots of pools .. Great staff.. Only negative too large a resort Recommend to everyone Cousin I
Recommended
Excellent Service Expert Advice
By: Ronnie
Reviewed on: 21 Feb 2016
Thank you Doreen for arranging our group to Thailand. Everything worked out perfectly! KLM was fantastic, as was China Air (including cleanliness and good food). I appreciate your willingness to answer questions and to offer guidance for travelling such a long distance with connecting flights. You did an awesome job!
Recommended
Fabulous advisor
By: Francy
Reviewed on: 22 Apr 2016
Doreen is a pleasure to deal with from start to finish. She is creative, practical and able to work well within my budget. The trips she organizes are amazing and she ensures that everything goes smoothly. She is truly the best.
Recommended
Good
By: Bill
Reviewed on: 02 Jun 2016
All Good , Food not good Outbound no entree, as change according to flight attendant, especially since midnight
Not Recommended
Poor customer service
By: Leila2929
Reviewed on: 16 Jun 2016
Unsatisfied with unknowledgeable agent, poor customer service, not recommendable to anyone
Recommended
What a breeze!
By: MVM17
Reviewed on: 25 Jun 2016
So thankful to have seamless trip planning and recommendations along the way! Such a breeze while travelling as well, no issues at all, felt like a Queen, thank you so much Doreen!
Recommended
Great trip as always from Doreen!
By: hoffco
Reviewed on: 29 Aug 2016
From the start Doreen did an amazing job finding a family vacation for me at a great price. Everything was organized and as discussed and the resort was top notch.
Recommended
Great Service
By: Frank I.
Reviewed on: 06 Sep 2016
Always a pleasure. Many Thanks Doreen
Recommended
Lots of fun
By: DB01
Reviewed on: 07 Dec 2016
From start to finish I had a great vacation. I did not do a lot. Since I have not had a vacation in many years my plan was to go to a warm destination to enjoy the sea, sun and sand. That is exactly what I was able to do. The beach was beautiful as well as the resort. Service was good, the hotel was lovely as well as the grounds. I did not want for anything.
Recommended
Trip to Israel
By: Susan
Reviewed on: 21 Feb 2017
Excellent, knowledgeable and thorough as always.
Recommended
going to Greece
By: nestor
Reviewed on: 20 Mar 2017
best connections and best prices, Doreen is simply the best!
Recommended
Italy honeymoon
By: R & A
Reviewed on: 30 Jul 2017
Doreen was awesome from start to finish. She worked tirelessly to help plan the perfect itinerary for our honeymoon to Italy. The hotels were fantastic and she coordinated our car rentals, trains, day trips, and more to make the trip run seamlessly and affordably. She offered great tips on travel within Europe, where to go and was totally accessible even during our trip when we needed help. I would highly recommend Doreen for her professionalism, knowledge and hard work!
Recommended
report
By: Natie
Reviewed on: 06 Aug 2017
very helpful and knows all about all sorts of travel
Recommended
Doreen Rich Is The Best !
By: John Matthew Duffy
Reviewed on: 17 Aug 2017
Doreen Rich Is The most knowledgeable and dedicated Travel Advisor that I have ever had the pleasure of doing business with. Doreen is always available, possesses updated and comprehensive information on all travel destinations, always finds the best price for the best accommodations and is an excellent communicator. In twenty six years of international travel, I confidently say that Doreen Rich Is peerless as a Travel Advisor.
Recommended
Awesome!
By: Sueh
Reviewed on: 18 Sep 2017
The best! Doreen manages all the details. She searches for the best deal, she gives you ideas on sites and booking tickets for them. She is knowledgeable and takes every trip you do, treats you as an individual and gives you everything she can to make your trip great!
Recommended
the best travel agent ever!
By: keepmovin
Reviewed on: 21 Sep 2017
Doreen will take time to sure you get the best experience for the best price. She has been my travel agent for over 15 years and has helped to plan the most fabulous experiences ever!
Recommended
Great
By: Grateful
Reviewed on: 06 Oct 2017
Doreen is wonderful to work with. She will always listen to what you want and expect and will try to get you the best bargain possible. She also can advise you on different places as she has the experience to go there. Thanks Doreen!!
Recommended
castle
By: michael
Reviewed on: 13 Oct 2017
Easy and excellent
Recommended
She was awesome
By: R F
Reviewed on: 09 Nov 2017
Doreen was great as usual. On the last day of our trip we decided that we wanted to stay an additional two days. A quick phone call to Doreen from Puerto Morelos Mexico and we had all of our arrangements changed. Great service!!!
Recommended
Deal finder!
By: Nancy
Reviewed on: 17 Nov 2017
Doreen finds the best travel deals for her clients.
Recommended
Off to Rome and Greece!
By: Sherry Ruttan
Reviewed on: 14 Nov 2017
Doreen has a wealth of information. She really worked hard to make our trip a vacation to remember. I would highly recommend Doreen.
Recommended
Jamaica
By: Anne S.
Reviewed on: 13 Nov 2017
Very professional
Recommended
Punta Cana trip
By: cat
Reviewed on: 14 Feb 2018
She is fantastic. Very efficient!
Recommended
great
By: Sandy
Reviewed on: 22 Feb 2018
Doreen is very knowledgeable and gives good advice would gladly recommend her
Recommended
Awesome trip
By: Bucky
Reviewed on: 01 Mar 2018
So accomodating so easy to work with. A true pleasure.
Recommended
Doreen Rich
By: Zeke
Reviewed on: 15 Mar 2018
She is always a pleasure to deal with
Recommended
holland america cruise
By: favourite cousin
Reviewed on: 12 Mar 2018
as usual I have nothing but good things to say
Recommended
Ronna
By: Ronna
Reviewed on: 19 Mar 2018
Excellent as always.
Recommended
Trip to Mexico
By: Lucy
Reviewed on: 25 Mar 2018
It was an absolute pleasure working with Doreen. She took care of all our arrangements professionally and quickly. We did not have to worry about any details. Our hotel was perfect. Doreen even advised them of a birthday celebration and hotel sent wine, cake and balloons. Perfect vacation.
Recommended
Worry Free Travel
By: Judalla
Reviewed on: 31 Mar 2018
Doreen was thorough and knew exactly what she was doing and as a result I flew through many cities without a problem. It was wonderful to feel like a worry free traveller. Everything was exactly as she said it would be and I am very grateful to have used such a professional.
Recommended
5 star
By: Arlene
Reviewed on: 04 Apr 2018
Doreen responds promptly and always goes the extra mile for a client. She has never disappointed.
Recommended
RIDING IN TUSCANY
By: Gail
Reviewed on: 20 May 2018
Excellent. Her assistance, guidance and recommendations proved more than useful.
Recommended
Canyon Ranch
By: Francy
Reviewed on: 28 May 2018
She is very knowledgeable and an excellent source of information and help.
Recommended
Service you do not find anymore
By: SandyP
Reviewed on: 26 Aug 2018
Doreen was excellent. She gives you 100 percent of your time and attention when you are on the phone with her. Her attention to detail is incredible and I believe it comes from her extensive experience. Our trip was perfectly planned. I even called her on a Friday at 5:10 to ask her a question and she looked into things immediately and worked with me until after 6 pm. Anytime you send her an e mail she is immediate with her response. Service like this is hard to find in 2018.
Recommended
recommendation
By: Nate
Reviewed on: 22 Aug 2018
as it has been for many years and many vacations very satisfactory. the planning and execution has always worked out well.
Recommended
Fantastic trip
By: Cat
Reviewed on: 01 Oct 2018
Doreen is very helpful and has been to many of the places we went to see. she is very knowledgeable.
Recommended
The Best Travel Advisor
By: Arlene
Reviewed on: 14 Nov 2018
Always satisfying, she is the best!
Recommended
Excellent
By: I
Reviewed on: 22 Dec 2018
Excellent !.,.m
Recommended
Exactly what we were looking for!
By: Jo
Reviewed on: 09 Feb 2019
We told Doreen what type of vacation we wanted and she found us exactly what we asked for. She is very easy to work with!
Recommended
rEVIEWING MY ADVISOR
By: ZEKE
Reviewed on: 12 Feb 2019
GREAT. VERY REWARDING.A PLEASURE, LEADING TO A GREAT TRIP
Working with Doreen Rich, you will have access to:
- An experienced travel guide whom you can rely on before, during, and after the trip
- Exclusive luxury resorts and properties
- Once in a lifetime experiences
Explore with the Best
Virtuoso Advisors are constantly pushing the boundaries in unique travel experiences.
Alliance programs are unique tailored experiences exclusive to travelers working with Virtuoso Travel Advisors.
learn more