Travel Specialties
Interests
Adventure
Safari
Culture, History & Arts
Independent Tours
River Cruising
Destinations
Italy
Costa Rica
Canada
Kenya
South Africa
Selling Travel Since
1983
My Background
I have been a Travel Planner for 30 years, sharing many experiences. I have visited 981 museums , 347 Towers including the Burj Khalifa in Dubai , ridden 381 gondolas from the Sulphur Skyline to the Nordkette Cable car in Innsbruck, traveled to 1900 cities in 102 different countries & Islands and have done walking city tours in pretty much every city I have visited such as Evora, Seville, and Amsterdam to name a few. Walked on all 7 continents and have flown 137 different airlines. I like to think that I am a creator of life changing experiences. I'm very interested in history, Unesco sites and have an interest in lodging in Eco Friendly Hotels. Rio Perdido-Costa Rica,Aslshof -Netherlands are a few examples.
Ask me to make tour suggestions. I've cycled in many different parts of the world including Vietnam,Italy, Croatia and Netherlands, as well as hiked in many destinations.
You can reach me at jane.hart@visiontravel.ca
Places I Have Traveled
Reviews and Recommendations for Jane Hart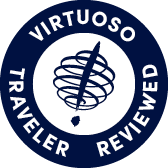 Virtuoso Verified Traveler
All reviews are from confirmed guests sharing exclusive insights
Sort reviews by
Recommended
delighted with the service
By: Not provided
Reviewed on: 14 Feb 2014
Jane was a big help in arranging our flight and went out of her way to help when I had difficulty with seat selection and boarding pass! Thanks so much.
Recommended
Highly Recommend!!!
By: Not provided
Reviewed on: 12 Mar 2014
We were introduced to Jane by friends who swore she was the best travel agent we could ever deal with.  They were absolutely right!  We used Jane for a very complicated 7 week journey last year and we could not have had a better experience and it was all thanks to her efforts, thoughtfulness and attending to our every whim.  
Recommended
Jane Hart, consummate professional.
By: Chris M.
Reviewed on: 16 Feb 2014
Jane Hart makes all arrangements for my extensive business travel and my personal travel as well. You can count on any thing she says with the utmost confidence. Her efforts help save my business money. I respect her as a person and a professional. 
Recommended
Highly Recommend
By: Fetchmydog
Reviewed on: 15 Mar 2014
Jane was amazing. I just told her what I wanted and she took care of everything. I wouldn't book travel without her!
Recommended
great agent, no complaints
By: cozumeltrip01
Reviewed on: 19 Mar 2014
I am a medical student that went to Cozumel for march break with my classmates. Jane was a wonderful agent, very accommodating and articulate. It was my first time traveling without my parents to another country and I was very confident in her expertise. 
Recommended
By: Not provided
Reviewed on: 19 Mar 2014
Very friendly and very prompt response
Recommended
A blast and a half
By: Jackie27
Reviewed on: 19 Mar 2014
I went to the Iberostar Cozumel in Cozumel, Mexico over March Break. This was a great trip! Direct flights, airport pickup, lots of possible excursions. The resort was great. Good for families, good for couples - lots of entertainment at nights. Very friendly staff and no problems with food/water illnesses. I'm quite happy!
Recommended
Yes, highly recommended
By: Tantzi
Reviewed on: 21 Mar 2014
Very professional, dedicated,  considerate , attention to detail and to the particulars of each client.
Recommended
Bahia Principe - El Portillo, Samana
By: Not provided
Reviewed on: 30 Mar 2014
Jane really took the time to find us what we wanted. She worked with all of our requests and constantly keep us up to date on the resort amenities and layout. We left booking late and Jane was still able to find us something. She was making quite a few extra phone calls to get us into a good resort which made for a great family trip.Thanks again for your input, advice and helping us book this resort - our first "March Break" family trip.Debbie
Recommended
Highly recommend
By: Mar
Reviewed on: 13 Apr 2014
Recommended
great trip
By: geordiegirl
Reviewed on: 17 Apr 2014
The Christmas Markets Cruise in December was well organised, especially the few days in Prague, the hotel was excellent and the preplanned meals were in interesting local restaurants. I visited places I never would have thought have going too and really enjoyed every moment of it, looking forward to the next one
Recommended
Highly recomended
By: Brian
Reviewed on: 21 May 2014
Jane is a real professional and is very thorough at her job. She has been in the travel business for many years and takes care of her clients.   
Recommended
We would highly recommend Jane to all our friends.
By: Carol#9
Reviewed on: 07 Jun 2014
Jane made sure every detail was covered from booking our hotel, car rentals; explaining the transfer process from shore to ship and then back again.  Jane's knowledge about where to stay and visit, expectations on board ship, ports of call, was extremely helpful for us first time cruisers. Can't wait to plan our next trip!
Recommended
good travel agent
By: Al
Reviewed on: 24 Jun 2014
Jane was very helpful in planning my trip. Nice, responded quickly. A positive experience.
Recommended
Excellent Travel Agent
By: Ani24
Reviewed on: 08 Jul 2014
We have been working with Jane for a long time and accordingly, we had a long track record of her way of treating and resolving our travel requests, which, taken into account our job in consulting, naturally involved a lot of travelling.We should underline her professional manner of acting every time, her promptitude to address every issue and any of ours eventual concerns about a particular trip. In some cases, her advices and her suggestions were very valuable, especially in respect to choosing a vacation spot better tailored to our personal tastes and inclinations.We would definitely recommend Jane as a remarkable travel agent to anyone.
Recommended
Highly recommended
By: JSO320
Reviewed on: 23 Jul 2014
Jane has assisted me with my travel needs for many years and I have had a great experience with her each and every time. She is responsive and friendly, and I look forward to speaking with her each time I plan a trip. She always has great ideas and suggestions. I absolutely recommend her.
Recommended
Knows what I like
By: Swimmers3
Reviewed on: 12 Oct 2014
Had a better then fantastic time. We got exactly what she said we would. Locations of all hotels were perfect! getting from place to place was smooth and easy. Thanks!!
Recommended
Great to Work With!
By: JL
Reviewed on: 17 Nov 2014
Great to work with, always provides lots of options and looks for best pricing
Recommended
Jane is the BEST travel agent!
By: daniela
Reviewed on: 20 Nov 2014
Jane Hart has always been pleasant, expert, and patient with me and my entire extended family every time! We have been her clients for years and travel a lot, and she is a pleasure to work with. Highly recommend her to anyone who wants great, efficient and expert travel advice.
Recommended
Friendly and fast
By: Truusje
Reviewed on: 01 Jul 2015
Fast response and friendly
Recommended
This agent knows her clients
By: fmhanc
Reviewed on: 04 Jan 2015
We have utilized Jane's services in the past for some complex travel arrangements to Africa which all was handled very well. This time, a more simple trip, but Jane found us a one week destination that suited my wife and I to a "T". We had a great vacation and a 5 star Iberostar hotel (quite new) and had everything we wanted in a hotel. Thanks for the help again, Jane! We wil be back!
Recommended
Awesome service
By: Kate
Reviewed on: 19 Jan 2015
Thanks so much for all your help! Everything went so smoothly and I had a fantastic time!
Recommended
Excellent Service
By: Jelly
Reviewed on: 08 Jan 2015
We always use Jane for all members of our family's vacation plans, she is always knowledgeable and offers the most reasonably priced options, and while most of our vacations could be booked directly through the airlines website, it is so much easier and such a pleasure to work with Jane, she is always the first choice. I look forward to booking and planning many more vacations with Jane.
Recommended
Cruise
By: CBP
Reviewed on: 12 Jan 2015
Once again Jane did an awesome job planning our Eastern Caribbean cruise vacation on Holland America. Everything was taken care of, the staff and crew on the ship were great, food was fantastic, lots to do on the ship at sea days. And we had great oppportunties to walk around, snorkle and swim at the different Ports of Call. Would highly recommend Jane to help you find the right cruise to fit your budget, time and requirements.
Recommended
Always Helpful
By: Any
Reviewed on: 26 Jan 2015
Over the many years I have been her client, Jane proved to be not only quick and truly professional in finding the best alternative for my travels, but also very helpful in presenting me ideas for sunny vacations, suited to our background and tastes. I believe she is a valuable asset to the travel office, and her always pleasant personality makes allows her solve easier any eventual problems encountered in some unexpected circumstances, as well as to give us most suitable ideas not only for business travel but also for our vacations. Any
Recommended
Knowledgable Friendly Service
By: Jason
Reviewed on: 11 Mar 2015
As always Jane provided great advice around flight planning for a recent conference and helped me avoid delays that many others experienced. I always look forward to working with Jane as she provides invaluable knowledge and expertise.
Recommended
Happy Holidayer
By: Deb
Reviewed on: 11 Mar 2015
Jane, Thanks so much for helping us to get away at such short notice. The RIU Palace was lovely in every way, the weather exceptional (as expected at 10 degrees off the equator). Staff helpful. Enjoyed an excursion but mostly just enjoyed the beach and on-resort facilities. We would definitely return. Best Regards, Deb
Recommended
Very Satisfied
By: AnnaMaria
Reviewed on: 13 Mar 2015
I have to underline again the professionalism of Jane, and her ability to solve in timely manner all the issues related to my trip. Excellent work! AnnaMaria
Recommended
Every detail taken care of!
By: Chris44
Reviewed on: 12 Jun 2015
Jane is a superb professional. Her vast travel experience makes booking a vacation so much easier. She knows all the ins and outs of each destination. We had a great time recently in New York City and everything went so smoothly. I highly recommend her services to anyone planning any type of travel.
Recommended
Jane is great
By: Edward Z
Reviewed on: 31 May 2015
I've been using Jane's services since 2012 and she has always tried to find me the best deals and solutions to any problems.
Recommended
Great service, as usual!
By: Jason
Reviewed on: 21 Jun 2015
I've been using Jane to book my flights for the past 7 years and she has consistently helped me find great options for my travel, as well as offering helpful suggestions. I would highly recommend her!
Recommended
Excellent service and pricing
By: Rob Ceigh
Reviewed on: 22 Jun 2015
Jane was able to get three separate rental cars for me over a 2 week span in Europe and the price she was able to provide was far less expensive than if I had arranged them myself. For that alone Jane is the best! I highly recommend her services to anyone looking to take the hassle of arranging things like flights, hotels or rental cars away from themselves and leave them to a motivated and experienced professional like Jane. you WON'T be disappointed.
Recommended
Excellent service .
By: Ana
Reviewed on: 21 Jun 2015
Professional, knowledgeable, reliable and friendly ; excellent work.
Recommended
Excellent Trip
By: Theo
Reviewed on: 06 Jul 2015
As usual, Jane's arrangements for my trip were exact and to the point, to my wife's and my satisfaction. Excellent work!
Recommended
Great Service
By: MSTERDAM
Reviewed on: 10 Jul 2015
Excellent prepared trip by Jane as usual!
Recommended
very helpful and always there when I need her!
By: JC
Reviewed on: 25 Aug 2015
My trip was great and Jane was very helpful in negotiating with the travel company.
Recommended
Best Time!
By: Cloud2015
Reviewed on: 02 Sep 2015
I found Jane to be personable and accommodating. I appreciated her attention to detail and the fact that she made recommendations that I wouldn't have otherwise considered. I received my documents in good order...the whole process was easy, efficient and without stress! Virtuoso is an appropriate name for a travel agency that employs people as skilled at their job as Jane is. I wouldn't hesitate to recommend Virtuoso or Jane.
Recommended
Great trip
By: Smokey 11
Reviewed on: 21 Sep 2015
We thoroughly enjoyed our trip and would not hesitate to recommend Royal Irish Tours to others!
Recommended
China wth Viking Tours
By: DeeBee
Reviewed on: 06 Oct 2015
Hi Jane Overall the trip was great! We saw some amazing sights. The hotels were wonderful and food was plentiful. A few issues with the unequal treatment from Viking regarding the change in our trip - extra night in Guilin. Some passengers received additional board credits for the change in plans. The extra excursion to elephant trunk hill and the meal was not worth it. This really was extremely disappointing and not up to Viking standards! Also, the extended stay in Hong Kong through Viking was a waste of time and money. We had a better time arranging our own trip in Hong Kong. Hong Kong is a world class city and with Viking it was not anything like that.
Recommended
The only way to go....
By: 12345
Reviewed on: 07 Oct 2015
We recently returned from a trip to Europe.Jane was very helpful to us and we learned a lot working with her.Jane booked several private tours for us which we really enjoyed.The private service was so nice and the tours were therefore able to adapt the tour to our teenage children.It was great! Further Jane organized comfortable hotels, requested upgrades which we got and remembered our daughters birthday ...which was evidenced by the champagne and cake sent to our daughters hotel room. All was nicely planned.I would highly recommend Jane anytime!
Recommended
A Turkish Treasure
By: FLT
Reviewed on: 23 Oct 2015
The Treasures of Turkey offered by Peregrine was excellent. The accommodations were as advertised and there were some nice surprises such as pools in 3 of the hotels. The tour guide broke up the days on the bus with several stops at interesting sites. Several hikes were also included in the trip. This tour did not include lunches or dinners and we were able to take advantage of dining in local restaurants. Highlights of the trip included the balloon ride, the Turkish bath, the day on the boat in the Mediterranean and Ephesus. It would have been nice to have had an extra day in Antalya. We had 3 days in Istanbul prior to the start of the tour but I egret not booking an additional day at the end of the tour. It was a memorable holiday with thanks to the tour guide who was really passionate, knowledgeable and always ready to share insights into Turkish history and folklore.
Recommended
Expert To The Point Service
By: MSTERDAM
Reviewed on: 07 Dec 2015
Jane needs only a few words to understand what you want> I'm extremely happy what she does for me all the time when booking or changing a trip.
Recommended
River Cruise for our 50th & 75th
By: Scarlett
Reviewed on: 15 Dec 2015
Fantastic experience, would do it over again, no hesitations. We sailed with Viking, however, Jane helped making our own arrangements for the pre-cruise portion, airfare, transports to hotel/airport, etc. Everything worked out exactly as planned.
Recommended
Incredible service professional and friendly advice
By: J123
Reviewed on: 15 Dec 2015
Jane is a fantastic trip planner. Jane offered us guidance while planning our honeymoon and helped us to choose the the perfect setting for our one week get away. Jane has solid knowledge on a vast number of resorts and holiday spots, there was no stone left unturned and no question you could not ask. Jane was patient and kind and helped us even after our booking when more deals became available to make sure we were getting the most throughout our experience. We are so very pleased with our experience and would not hesitate to book our next getaway with Jane! Thank you!
Recommended
Washington DC
By: Barbara
Reviewed on: 15 Dec 2015
Fabulous trip. Hotel amazing. Loved all the upgrades we received being with Virtuoso. Always happy with all Jane's suggestions. She has never let us down. Looking forward to our next adventure in Alaska.
Recommended
Thanks Jane!
By: heather
Reviewed on: 02 Feb 2016
Hi Jane - Our family had a really wonderful time away at Dreams Puerto Aventura. The food was amazing and kept all 4 of our kids happy! We were able to get two rooms, side-by-side and it was really worth it. And the customer service was amazing! We took a little day trip to Tulum and rented bikes (they even had a carrier that they put on my bike for our two-year old!). The only down-side was that there wasn't a whole lot for our 12 and 14 year old boys to do. Even though the website lists a water trampoline and an ocean iceberg to climb, we found on the first day that the water trampoline was out-of-service, and they're never had an iceberg! It was also a bit unfortunate that we weren't able to take the kids to the cute little play park area that was shown on the website (it's only for use by kids who are left in the kids club!). I only mention these things to help you book others in the future. We really did appreciate all your help and had a wonderful time. Thanks so much!
Recommended
Excellent
By: Anna
Reviewed on: 14 Feb 2016
I have to state again my complete satisfaction with the way how Jane is making the travel arrangements and tickets bookings for me. Year after year, she has been proving her professionalism in meeting clients demands and satisfaction.
Recommended
Great Assistance for vacation travel.
By: Henry
Reviewed on: 28 Mar 2016
We received great assistance before and during our travels. Thank you.
Recommended
Excellent, expert help from start to finish
By: DavidT
Reviewed on: 28 Mar 2016
Jane helped our extended family with a holiday to the Caribbean and provided excellent, timely and informed advice and service. This started with helping identify some options that best suited us, then juggling the travel plans from family coming from eats and west coasts, and then arranging transfers and hotel details - so much easier and better than us doing it ourselves! Would absolutely recommend Jane!
Recommended
As excellent as ever
By: Anne
Reviewed on: 28 Mar 2016
We have again to express our fully satisfaction with the service provided by Jane: on short, good choice, precision, promptitude, great advice. It is always good to know you can rely on a true professional when booking your trip.
Recommended
Extremely Helpful, Prompt Service
By: MattG42345
Reviewed on: 06 May 2016
Jane was a great help on my fiance and I's trip to Jamaica. As many of our friends and family had never been there we needed the help of Jane to recommend places for us to travel to. She asked me a few questions about our expectations from the trip and within a few hours we had a list of resorts all within our price and star ranges. She was even good enough to suggest one that she had been to based on our previous trips to Mexico. We enjoyed the resort and it was everything she said that it would be. This was our first experience using an agent and I don't see myself leaving the country again without contacting Jane! Thanks again Jane!
Recommended
Alaska Adventure
By: bd
Reviewed on: 05 Jun 2016
We had a fabulous time. The Uncruise was fabulous and we loved the activities food and the staff were amazing. The rest of the trip was spent on Vancouver Island and once again, Jane sent us to wonderful hotels and arranged great activities. We have used Jane for years and we would highly recommend her.
Recommended
Excellent Review
By: Doddy
Reviewed on: 07 Jul 2016
I can confirm what I noticed from many years, the outstanding way how Jane has been acting all the time. This includes my wife's travels and mine's as well, without taking into account our little dog who is accompanying us, and for which Jane should take some additional arranging steps. If even my dog is waggling his tail, that means exceptional service provided. Smile, Jane!
Recommended
Excellent advisor!
By: Ladyolivia57
Reviewed on: 28 Jul 2016
Jane has helped us plan many vacations and we so appreciate her friendly and efficient service. She understands what we are looking for and is knowledgeable and very efficient yet still takes time to talk. I am sure that we will rely on her service in future travel plans and happily recommend her!
Recommended
Excellent service
By: Kimmy
Reviewed on: 16 Aug 2016
Thank you for making the complicated part of my trip so easy!
Recommended
High quality service
By: Michael in Cape Town
Reviewed on: 21 Aug 2016
Jane Hart is a highly recommendable a travel agent. Reliable service with full commitment and help to our needs. Will use her in the future.
Recommended
Excellent trip recommendations
By: CJS
Reviewed on: 20 Oct 2016
Jane recommended 'Couples Swept Away' in Negril, Jamaica for my husband and my 20th wedding anniversary. She made several recommendations and we decided on Negril. The resort fits our needs perfectly. The ocean was clear and warm, the resort was clean and the staff was friendly. The food was excellent also. It was an perfect recommendation. Thank you Jane!
Recommended
Excellent As Always
By: A Happy Traveller
Reviewed on: 29 Oct 2016
I must express again our family total satisfaction with the way how Jane has been organizing our travels. Promptitude, exactitude, flexibility are the proper words that define her professional style. Besides adding the fact that her advice in cases we plan to go where we haven't been before has always been determinant in choosing the best travel alternative. This is what we always wanted to get from a travel agent, and over the years we realize how important is to know Jane and to rely on her expertise, in all occasions involving either a routing trip or an unexpected one.
Recommended
Vietman
By: Getaway girl
Reviewed on: 12 Nov 2016
Well planned, professional, interesting
Recommended
Great location
By: Lou Lou
Reviewed on: 14 Nov 2016
Easy walk or short cab ride. Food,staff and entertainment all wonderful. Bonus was the front desk always had funds on hand to exchange our large pesos into smaller amounts and the exchange rate was much better than at home.
Recommended
Professional, Friendly Expertise
By: Sue
Reviewed on: 15 Nov 2016
Jane was most helpful in our selection of a resort in Puerto Vallarta and thankfully patient as we figured things out, she went above and beyond by contacting the resort to allay any of our fears that we read about on Trip Advisor. I will definitely be contacting Jane for my next adventure and will be advising my friends and family to do the same.
Recommended
Best advisor
By: Barbandhugh
Reviewed on: 01 Feb 2017
Jane has helped us plan amazing trips. She knows exactly what we like and makes sure every detail is taken care of. She offers excellent advice and her experience benefits everyone who works with her.
Recommended
Mexico trip
By: KimB
Reviewed on: 24 Feb 2017
It is always a pleasure to work with Jane. She is able to quickly assess what we need and offers multiple suggestions for us to choose from. Trips are typically, 'as advertised' and suit our needs be it a quiet beach trip or a hike to Machu Pichu. thanks Jane!
Recommended
WindStar Cruise
By: CBP7
Reviewed on: 24 Feb 2017
Jane in my opinion is the best, knowledgeable, thorough and remembers all the details - I have recommended her to friends.
Recommended
Great trip
By: Christine
Reviewed on: 03 Mar 2017
Jane was awesome. My sister came with us and Jane found a great price for the hotel and got the perfect room for her. We had an amazing trip.
Recommended
Five Star Thumbs Up Review
By: Ivy
Reviewed on: 24 Mar 2017
Not just a travel agent but a fellow traveler. Met Jane Hart on a National Geographic/Lindblad expedition cruise to Antarctica. Asked her to help plan a 2 week trip to Spain for me and my daughter. She made the process easy upfront, during, and followed up with me after I returned home. Professional, detailed, thorough, knowledgeable, and easy to work with. Her specialty is tailoring a trip to your interests, preferences, and budget, planning an enjoyable trip, and using your vacation time wisely. Highly recommend.
Recommended
Excellent in all respects
By: Theo
Reviewed on: 26 Mar 2017
We should underline again the promptitude and professionalism of Jane Hart, who always responded to our travel needs in an impeccable manner. And in addition to that, she continually provides us with valuable information about coming travel packages, which can be of use in planning our future travel trips.
Recommended
cruise
By: jeff
Reviewed on: 26 Mar 2017
good communication and information
Recommended
Reliable
By: lola
Reviewed on: 27 Mar 2017
She is great and finds solutions quickly
Recommended
Riu Santa Fe
By: Traveler
Reviewed on: 28 Apr 2017
Perfect and easy. Done.
Recommended
,,,,
By: ..
Reviewed on: 15 May 2017
Listen to our request to find the best trip
Recommended
New York City Trip
By: Duane
Reviewed on: 27 May 2017
Excellent, she was very helpful.
Recommended
St Lucia Vacation
By: ladyolivia
Reviewed on: 19 Jun 2017
Jane has arranged previous travel for us and we have come to rely on her for expert guidance. She is efficient and courteous at all times!
Recommended
Fabulous
By: Scotland
Reviewed on: 17 Jun 2017
Jane planned every aspect of our trip and as always, everything worked out beautifully. The accommodations were superb and exactly what we asked for. We have some wonderful memories thanks to her. Looking forward to planning our next adventure!
Recommended
Bali Honeymoon
By: Matt G
Reviewed on: 04 Jul 2017
As my now wife and I work awkward hours full time being able to do research together about where to go and what to do on our honeymoon was not easy. Not to mention that we wanted to leave days after our wedding and planning the wedding was hard enough! Jane had booked our last all inclusive trip and we had an amazing time! So with little time before our actual wedding we entrusted Jane for our last minute 2 week Bali honeymoon and she did not disappoint! We stayed at amazing hotels and the honeymoon benefits were already set up, our transfers were seamless and already organized, our flights were perfectly timed with all transfers! Jane took every little bit of effort needed in booking this trip and made it the most memorable trip we have ever been on. I would highly recommend Jane and Vision travel to anyone!
Recommended
Always a Rewarding Experience
By: Theo
Reviewed on: 12 Jul 2017
We have to underline again our satisfaction to have the chance that Jane has been our travel agent for so many years. In a few words only, we could describe her efforts to accommodate our travel needs as follows: promptitude, exactitude, early warning about unexpected changes, if so was the case. She has been always eager to offer friendly and expert advice about what's advisable for us in respect to our future travel plans. Excellent work from all points of view!
Recommended
Great service
By: Gumball
Reviewed on: 18 Aug 2017
I was very pleased with the level of service that she provided. Jane was very helpful and knowledgeable. I would not hesitate to use her services again.
Recommended
Newfoundland - 2017
By: tottene
Reviewed on: 11 Aug 2017
Once again we had a wonderful trip arranged by Jane. We thoroughly enjoyed every aspect of our recent trip to Newfoundland - Maxxim Vacations was organized and recognized. Only one thing we would change - eliminating the side trip to Labrador. Most of the day was spent taveling and waiting on the ferry only to find that there was little to do on the other side. It is delightful to go on vacation and relax knowing the every detail has been taken care of. Thanks again to Vision and Maxxim!!!
Recommended
Awesome
By: J
Reviewed on: 21 Sep 2017
Jane, as usual was awesome in helping me to plan my trip!
Recommended
Unexpected travel plans.
By: Olivia
Reviewed on: 24 Sep 2017
Working with Jane is always a pleasure and on this occasion was no exception. She is always friendly and very efficient!
Recommended
Jane Hart
By: Jaime
Reviewed on: 02 Oct 2017
Jane is very knowledgeable, very professional.. Jane offers her personal knowledge, experience and insights of the places we were to visit, activities to do, thorough planning of events including where to eat, where to visit and all the fun places. My wife and I have worked with Jane for over 25 years, Jane has never let us down! how could she, Jane has visited the world over...
Recommended
Excellent Trip
By: Katie
Reviewed on: 28 Oct 2017
Jane has always been excellent whenever I'm planning a trip. She replies as soon as she is able, and has been available while I've been away when I needed help. I would recommend her to anyone.
Recommended
Morocco
By: Fraser
Reviewed on: 30 Oct 2017
I didn't go on this trip! It seemed to go nicely for my wife however Maybe next time.
Recommended
Classic Morocco
By: April
Reviewed on: 23 Oct 2017
Jane was excellent. She was able to provide timely suggestions within our budget. We are very grateful for assistance.
Recommended
Biking in Spain
By: La
Reviewed on: 25 Oct 2017
Perfect ! Accommodations, tours, transfer and meals were all the best. Wouldn't use anyone else.
Recommended
Forever Grateful - Spain and Portugal 2017
By: Jyl
Reviewed on: 01 Nov 2017
Jane did an super job at selecting the tours and hotels we stayed at. I couldn't have imagined a better trip experience. The hotels were unique and with superior guest quarters. I enjoyed sipping my morning coffee on the many balconies and terraces i stayed at. The selection of tours were just right. The best part of the trip for my was the cycling! Thank you Jane for making this my best trip ever.
Recommended
A Rewarding Experience
By: Theo
Reviewed on: 05 Nov 2017
For many years, we have been relying on Jane to make all the necessary arrangements for our travels, which were in some cases, either on short notice or scheduled in very busy periods of the year. In all cases, she had found the best solutions for our trips, and she always offered us valuable suggestions to try something new. This is what we can call, professionalism and excellency in all respects!
Recommended
Awesome
By: Jason
Reviewed on: 01 Dec 2017
It is always a pleasure working with Jane! Appreciate her attention to detail and thoughtfulness!
Recommended
Fabulous Jane!
By: gillie
Reviewed on: 01 Dec 2017
It was great having someone guide you with vacation planning. Jane was very professional and an expert in giving tips/ideas on how to make the most out of your vacation! I have recommended Jane to a number of people. I always tell them that Jane spends your money like it's her own!
Recommended
Costa rica
By: Dale
Reviewed on: 18 Dec 2017
Jane was great to work with. She is extremely thorough and really knows her stuff. Trust her suggestions 100 percent. She takes the time to understand her client and what they like and dislike. Would never book another trip without her help.
Recommended
Xmas vacation
By: Biker
Reviewed on: 13 Jan 2018
Jane was very attentive to our needs in planning our Xmas vacation. Jane has always been very pleasant and professional. Thanks
Recommended
Trip to mexico
By: Lori ball
Reviewed on: 07 Jan 2018
She is amazing. She picked the perfect location within our budget.
Recommended
Jane's always great!
By: DT
Reviewed on: 19 Jan 2018
Jane's a pleasure to work with - highly responsive, a wealth of travel destination knowledge and guidance, and efficient. She makes everything easy!
Recommended
Jane Hart
By: janet
Reviewed on: 12 Jan 2018
Jane is prompt, courteous and very attuned to the needs of her customers. She has assisted me and my extended family on many occasions to plan the vacations that we have really enjoyed. I would recommend her services without hesitation.
Recommended
Recommendation
By: Corinna
Reviewed on: 24 Jan 2018
Really enjoyed working with Jane.
Recommended
Flight to Europe
By: Linda
Reviewed on: 26 Jan 2018
Great, very helpful
Recommended
Always provides excellent service
By: DebM
Reviewed on: 27 Jan 2018
Knowledgeable, service oriented, approachable
Recommended
DR Punta Cana
By: Carrie
Reviewed on: 22 Feb 2018
This was my first time booking with Jane. She came highly recommended. Jane did not disappoint and always got back to me promptly. Thank you Jane. We had a lovely trip.
Working with Jane Hart, you will have access to:
- An experienced travel guide whom you can rely on before, during, and after the trip
- Exclusive luxury resorts and properties
- Once in a lifetime experiences
Explore with the Best
Virtuoso Advisors are constantly pushing the boundaries in unique travel experiences.
Alliance programs are unique tailored experiences exclusive to travelers working with Virtuoso Travel Advisors.
learn more
Italy
Costa Rica
Canada
Kenya
South Africa
Australia
Antarctica