Travel Specialties
Interests
Adventure
Beach & Sun
Family Travel
Food & Wine
Safari
Selling Travel Since
1988
My Background
I'm the owner of All-World Travel, so presently I focus a little less on new business and a little more on managing the spectacular advisors we work with. You can still contact me, though; I can definitely route you to the right person for your specific travel ideas.
Here's how all of us look at it: travel is a gift. It can change everything about how you process the world around you. When you work with one of our advisors, that gift becomes transformative; it becomes a dream-fulfiller, a value-add, and a series of "wow" moments. You'll only take so many trips in your life, so you need them to be special. We can help.
Whether you're looking for help on your next trip or want to explore how to turn your dreams into a Wanderlist travel plan, I would love an opportunity to learn more about you.
Places I Have Traveled
Reviews and Recommendations for Alfred Volden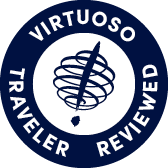 Virtuoso Verified Traveler
All reviews are from confirmed guests sharing exclusive insights
Sort reviews by
Recommended
By: Ma Pa
Reviewed on: 17 Sep 2013
Very helpfull. Helped us with all our concerns and questions. He knew his job and did it very well. We will tell all of our friend to use him in the future because he is the best.
Recommended
Always consummate professional
By: Bumbie
Reviewed on: 17 Sep 2013
Alfred is the most truly professional travel agent we have ever met. Always prompt, honest, and going the extra mile to provide excellent service.
Recommended
Outstanding & Would Highly Recommend
By: Sheila
Reviewed on: 30 Sep 2013
Alfred has helped me plan several family trips that have all been planned so well that I have never experienced any problems while on vacation. He provides sound advice that helps me make choices for my trips. I trust his opinion and advice and will always plan my fun trips with All World Travel.
Recommended
HIGHLY RECOMMEND ALFRED
By: PATSY
Reviewed on: 29 Sep 2013
IT WAS A WONDERFUL TRIP, OUR HOTEL WAS GREAT,WE LOVED IT. ALFRED HAD EVERYTHING JUST AS IT SHOULD BE. HE GETS VERY HIGH RATINGS FROM US.
Recommended
Highly Recommended
By: Tweetie Sandy
Reviewed on: 11 Oct 2013
We had a wonderful trip to Kauia! The Hyatt was beautiful as normal but we enjoyed the breakfast buffet at the hotel or the golf course each day and it was super! We have never had that included when we have gone on our own at this same beautiful hotel. Our room was in a perfect location overlooking the ocean. It was a great trip! Thank you All World Travel!
Recommended
Best ever
By: Peg
Reviewed on: 07 Nov 2013
I always feel like I should send Alfred a "Thank You" note after he has helped with our trip. His suggestions and recommendations add another dimension to our travels.
Recommended
Professional and extremely competent. AA pleasure to work with
By: bloggie
Reviewed on: 07 Nov 2013
Alfred listens and cares for his clients. Excellent in all regards.
Recommended
Perfect Trip
By: Geri
Reviewed on: 08 Nov 2013
Once again Alfred put together the perfect trip for us. They are wonderful to work with. Our hotels were all amazing! Our tours guides were so knowledgable. We loved every detail of our trip to Eastern Europe and thoroughly enjoyed all of our Virtuoso upgrades. Thank You Alfred and Denise
Recommended
Alfred always does an incredible job!
By: jeanne
Reviewed on: 31 Dec 2013
We highly recommend Alfred! He has made traveling a great pleasure for us, as he handles all of the details, and all we have to do is enjoy ourselves! He knows exactly how we like to travel and never lets us down! We consider him outstanding at his job and a dear friend!
Recommended
Fantastic trip
By: Happpy Client
Reviewed on: 19 Nov 2013
Every detail was well thought out. A perfect trip. We would never again plan a trip without Alfred's help.
Recommended
Very helpful.
By: Nat
Reviewed on: 19 Nov 2013
We needed to get back to Albq. from Philadelphia, where my husband fell and broke his leg. After one call Alfred found two flights which brought us back with minimum problems. I would highly recommend Alfred anytime.
Recommended
Highly recommend
By: jim1
Reviewed on: 19 Nov 2013
Alfred has always provided the best of service for us and our company for the last twenty years or more. Thereis no need to continue to solicit comments or evaluations for him in the future.
Recommended
Very knowledgable and professional
By: dis220
Reviewed on: 19 Nov 2013
Great help in planning our trips. A fantastic resource.
Recommended
Simply the Best
By: Bumbie
Reviewed on: 24 Nov 2013
Alfred has been the most amazing travel agent we have ever known, in 46+ years of travel. He is smart, responsive, empathic, and extremely knowledgeable. Besides all of that, he is extraordinarily generous. On our most recent cruise, the corporate office messed up on our pre-cruise hotel arrangements. Alfred felt that he should have noticed the mistake himself, and paid out of pocket the several hundred dollars the cruise company should have been responsible for.
Recommended
By: Linda
Reviewed on: 02 Dec 2013
For the first time my husband & I Used a travel agent,WE were very impressed by Alfred & His Team of Expert's in Travel.All of his staff are extremly Professional and very knowledgable.I will use them again for our next vacation.
Recommended
Extremely pleased
By: Me
Reviewed on: 17 Dec 2013
We are extremely pleased with Alfred's services. He is very patient with me. I really enjoy and appreciate his tact when he lets me know I need to think on a different track or It just won't work that way or mostly when he guides me to a much better plan. No matter what I ask, he always seems to know the answer or is very willing to find the answer immediately. All in all, he makes our travel much easier and more comfortable.
Recommended
Exceptional
By: Razzie
Reviewed on: 30 Dec 2013
The trip Alfred planned for us was wonderful from start to finish; even the couple of glitches that popped up. He knows what we like and his recommendations were right on.
Recommended
Highly Recommended
By: Pamela PPM
Reviewed on: 08 Jan 2014
Alfred helped us plan a complicated trip to Chile which encompassed 2 ends of Chile. The most important thing I can say is that less than 3 weeks before our departure (for a trip during Chile's high season), I changed my mind about a large portion of the trip! Alfred simply said, "well, what would you like to do?" He made the new plan happen! Alfred also made all the internal flight changes happen with no stress to me. A magnificent vacation. Thank you!
Recommended
always a pleasure
By: happy traveler
Reviewed on: 22 Jan 2014
Working with Alfred adds to the pleasure of traveling. His wonderful ideas make planning a great trip uncomplicated and fun.
Recommended
BEAUTIFUL TRIP, GREAT CABIN LOCATION
By: Phil
Reviewed on: 25 Jan 2014
We loved the ship and the itinerary. The crew was really friendly. The food was excellent. Alfred was great! My only negative has to do with the fact that that there are no walk-in showers. As a "semi" handicapped traveler this would be a real advantage.(We could do without the tub.) IT WAS A GREAT CRUISE!
Recommended
Extremely highly recommended!
By: Jeanne
Reviewed on: 20 Mar 2014
Alfred, once again has done an outstanding job arranging everything we needed for an absolutely stress-free and wonderful vacation/cruise abroad!!  We always highly recommend Alfred!
Recommended
Highly recommended
By: Wendy
Reviewed on: 19 Mar 2014
Alfred always takes wonderful care of us!
Recommended
As always, it was perfect
By: Ted
Reviewed on: 05 Apr 2014
Every thing went as planned.  We had all the information we needed.  The hotel was very nice, the people were very friendly and helpful.  I do believe Alfred even ordered the perfect weather.      Thank you.
Recommended
Fantastic as Always
By: Fans in Atlanta
Reviewed on: 28 May 2014
Perfectly orchestrated!
Recommended
Great Job
By: Razzie 2
Reviewed on: 04 Jun 2014
Alfred did everything that we asked. Our trip met or exceed our expectations. Thanks.
Recommended
Best Travel Agent Ever
By: S&H
Reviewed on: 22 Jun 2014
My wife and I just got back from a wonderful trip to Switzerland.  As always, when working with Alfred the result is well beyond your wildest dreams.  We have taken multiple vacations that Alfred has put together and they have always exceeded our expectations.  Simply, if you want to have trip that is better than you can imagine, use Alfred Volden.
Recommended
Worry Free Travel
By: EH NM
Reviewed on: 16 Oct 2014
Alfred Volden knows travel - and you get the benefit! Alfred takes care of all aspects, even ones you didn't know about. The result is a worry free experience which allows you to enjoy every bit of your trip. His expertise is invaluable throughout all phases - from deciding where and how, making it happen, and the pleasure of confident travel!
Recommended
Good trip
By: jim
Reviewed on: 04 Nov 2014
Fine trip all arrangements were as planned
Recommended
Alfred's services were fantastic!
By: Mel
Reviewed on: 09 Mar 2015
We have had the pleasure of being represented by Alfred for many years. His attention to detail, his knowledge of travel services and his willingness to do whatever is necessary to provide an amazing trip, are outstanding. Thanks, Alfred.
Recommended
Excellent as always!
By: tj
Reviewed on: 01 Apr 2015
We recommend him to everyone we know
Recommended
An Outstanding Adventure
By: AGS+DAG
Reviewed on: 23 Jun 2015
We just returned from a Silversea Cruise of the Inland Passage in Alaska. It was a marvelous experience. The ship was terrific, the staff was first-rate and the food was spectacular. The shore excursions also were exceptional: sea kayaking, zip lines, hiking, dog sledding on a glacier -- a truly exceptional week! We also did the optional post-cruise trip to Denali National Park -- something that should not be missed if you are heading in that direction.
Recommended
ALWAYS FRIENDLY
By: PATSY
Reviewed on: 27 Oct 2015
ALFRED IS VERY PROFESSIONAL AND KNOWS HIS BUSINESS EXTREMELY WELL - WILL CONTINUE TO USE HIS SERVICE AS OUR TRAVEL ADGENT. HE IS VERY GOOD AT WHAT HE DOES AND ALWAYS DOES IT WELL.
Recommended
Best service as always
By: Jim
Reviewed on: 11 Nov 2015
Alfred handled last minute changes in airline reservations expertly
Recommended
Great agent
By: Bumbie
Reviewed on: 02 Mar 2016
Alfred is a kind, caring, and conscientious agent. A number of times he has facilitated communication between us and Regent Seven Seas. This is becoming more of a challenge as Regent's service has definitely declined since being bought by NCL. But Alfred has always been our valiant ally. Thank you, Alfred, from Barbara and Michael
Recommended
Exemplary service and knowledge.
By: Lisa
Reviewed on: 13 Apr 2016
Alfred is a stellar advisor. Exemplary service and first hand knowledge. Very keyed into the kind of travel experiences we enjoy. The Virtuoso properties he has booked us into have been lovely and the amenities substantial and enticing. Highest recommendation.
Recommended
Always helpful
By: Bumbie
Reviewed on: 13 Apr 2016
Alfred is a wonderful travel agent, always responds quickly, and has very useful suggestions.
Recommended
Alfred Volden Travel Advisor Extraordinaire
By: Daly92
Reviewed on: 11 Sep 2016
Outstanding! Alfred and his team at All World Travel were top notch professionals. They guided us every step of the way with great advice and solid recommendations. The accommodations were outstanding, transpiration flawless, and tours fun and educational. They even managed travel plans for our college kid to meet us! We were trilled not to have to plan our European vacation on our own. Thank you, thank you, thank you Alfred and team!
Recommended
Canada - Holland America
By: Sheila
Reviewed on: 28 Jan 2017
Alfred Volden and everyone at All World Travel is exceptional to work with. Every detail is thought of and this makes my vacation wonderful.
Recommended
outstanding service
By: T&M
Reviewed on: 21 Nov 2016
The entire process, from planning to returning, was exceptional. Alfred has so much patience with us, he even put together a booklet on day to day happenings. That made our trip easier and relaxing. "EVERYTHING" went as planned, we never felt alone or lost or uncomfortable. We were chaperoned everywhere as planned. The tour guides were wonderful, the hotels, restaurants and safaris were " out of this world" This trip was a special experience of a life time for us. Thanks to Alfred
Recommended
tOP OF THE LINE
By: TM
Reviewed on: 04 Jan 2017
As usual, we couldn't ask for more. The accommodations were excellent , airlines and other transportation were on time,clean and they were all very helpful and pleasant. We appreciate the personal and professionalism " that is Alfred".
Recommended
Trip to Lisbon
By: REL-H
Reviewed on: 03 Apr 2017
Alfred reviewed various airfare options for us because not all of the traveling party was starting from the same location. Alfred was able to find us the most convenient and cost effective airfare. Alfred arranged perfect accommodations in Lisbon for us, as well as all land travel. He worked in conjunction with a local travel acquaintance who provided us with a terrific personal guide. Alfred has assisted us with travel in the past and we are always amazed at his depth of knowledge and ability to make our travel magical!
Recommended
New Orleans
By: ted
Reviewed on: 06 Apr 2017
A pleasure, he makes everything relaxing and easy.
Recommended
Alaska land and cruise
By: tj
Reviewed on: 24 Jul 2017
Very Very accommodating and courteous, a pleasure to work with.
Recommended
Loved Maui and reservations
By: Roadrunner
Reviewed on: 07 Sep 2017
Denise Sullivan was excellent as usual!
Recommended
Ireland
By: Peter
Reviewed on: 20 Sep 2017
Excellent. Had a great trip.
Recommended
trip to North Carolina
By: so and so
Reviewed on: 12 Nov 2017
Always great! Concerned, patient, efficient, knowledgeable!
Recommended
Scottsdale Arizona
By: Ted
Reviewed on: 30 Dec 2017
As always, it is a pleasure to work with Alfred.
Recommended
Las Vegas
By: TJ
Reviewed on: 29 Jan 2018
As usual, it is a pleasure working with Alfred Volden. He is so informative and makes planning a trip easy.
Recommended
Celebrity and Ritz Hotel
By: Sandy
Reviewed on: 08 Feb 2018
Our advisor is Denise Sullivan with Alfred Volden's "All World Travel" agency. She was great to work with! We love the credit and upgade the Ritz Hotel on Ft Lauderdale beach gave us due to Virtuosa! We enjoyed that hotel so much! The Celebrity cruise was also wonderful! It was a more mature audience of people, quieter, and actually less crowded for the shows and dinner than the larger ships for Royal Caribbean. We do like the Royal Caribbean large ships because of their long jogging track and Starbucks and the little winery place and the numerous specialty restaurants. But we are open to new adventures and can't wait to meet with Denise this month!
Recommended
Hawaii 2018
By: LEW
Reviewed on: 14 Mar 2018
As in the past, all was handled great. This time one of his associates did most of the detailed planning. Elisa did a fabulous job----very prompt in returning calls and getting the trip planned the way we wanted it. I would highly recommend both Alfred and Elisa!
Recommended
Bozo Says
By: bozo
Reviewed on: 07 Jun 2018
A pleasure and easy for me. excellent attention to detail
Recommended
A Pefect Experience
By: Gena L.
Reviewed on: 18 Jun 2018
Alfred made certain our trip was planned with the utmost care. Our flights were timed just right, with minimal wait and layovers, and we had one of the best travel experiences to Hawaii we could have imagined. Everything was flawless!
Recommended
dvisor
By: tj
Reviewed on: 16 Aug 2018
absolutely the best time after time working with Alfred is a pleasure
Recommended
The Expert
By: Europe Aug 2018
Reviewed on: 19 Aug 2018
Alfred's expertise, experience and customer service rivals none. He is responsive and provides excellent recommendations. There's always a wonderful surprise in store when we travel with All World, whether a hotel upgrade, great restaurant recommendation or a must-see location. Our travels are made sweeter when Alfred and his team organize them.
Recommended
New York
By: ted
Reviewed on: 04 Dec 2018
As always it is a pleasure with him "anything can be done"!!
Recommended
florida
By: ted
Reviewed on: 04 Jan 2019
As always it is a pleasure. He makes everything so easy and possible.
Recommended
Owner
By: Rox
Reviewed on: 25 Feb 2019
We have been working with Alfred Volden and his sales associates for the last decade. Everyone is very professional and they have always planned wonderful trips for us both in the USA and abroad.
Recommended
Nashville
By: Ted
Reviewed on: 22 Mar 2019
Awesome as usual
Recommended
Always there for you
By: Les
Reviewed on: 21 Apr 2019
I have worked with him quite a few times! He has always been there for me and has always tried to get the most affordable price. He is very pleasant to work with!!
Recommended
Washington D C
By: ted
Reviewed on: 25 Jun 2019
It is always a pleasure So pleasant, efficient and makes everything so easy.
Recommended
France
By: CJG
Reviewed on: 20 Oct 2019
We worked with Kathy Brown who did an excellent job of making all arrangements. Our trip went very smoothly.
Recommended
american river cruise
By: none
Reviewed on: 07 Nov 2019
good but cruise was poor
Recommended
review of Aristo's Tours Paris
By: Bloggie
Reviewed on: 06 Nov 2019
Alfred Volden recommended Aristo's tours to facilitate our very short transfers at Charles De Gaulle Airport. Both personnel, especially on our outward bound leg, were pleasant, knowledgeable and efficient. Expensive, but worth every penny. Alfred, our Virtuoso advisor, is always a pleasure to work with.
Recommended
What does "Title of Review" mean? See below.
By: boogie
Reviewed on: 06 Jan 2020
Very easy. Alfred is a knowledgeable, conscientious and concerned advisor. I would certainly recommend him to others.
Recommended
The Brando
By: Joe
Reviewed on: 05 Feb 2020
Alfred, is always fantastic, professional, and extremely knowledgeable. We have worked on many international trips with Alfred, and he always makes sure that every detail is covered with our travel. Our recent trip to The Brando was no exception. Alfred made sure that all travel details were covered and that our 6-night stay at The Brando was a fabulous experience for us.
Recommended
scottsdale
By: mj
Reviewed on: 02 Mar 2020
as usual, always a pleasure
Working with Alfred Volden, you will have access to:
- An experienced travel guide whom you can rely on before, during, and after the trip
- Exclusive luxury resorts and properties
- Once in a lifetime experiences
Explore with the Best
Virtuoso Advisors are constantly pushing the boundaries in unique travel experiences.
Alliance programs are unique tailored experiences exclusive to travelers working with Virtuoso Travel Advisors.
learn more