Travel Specialties
Interests
Adventure
Beach & Sun
Family Travel
Culture, History & Arts
Ocean Cruising
Destinations
Australia
Canada
Antarctica
Bermuda
Brazil
Selling Travel Since
2000
My Background
My career in the travel industry started with my family traveling through Canada and the Untied States as a little girl, and the travel bug stayed. Being an enthusiast in traveling, thanks to my parents, I got a degree in Tourism at the College April-Fortier, which is the most important institution in Quebec's travel industry. From there I decided to work on Cruise Ships and travel the world. I started my cruise ship life on Premier Cruise Lines, the Big Red Boats in November 1995. I worked on the Big Red Boat (Oceanic), the Oceanbreeze, the Seabreeze, the Rembrandt and the Big Red Boat III. When Premier ended, I was not ready to give up my sea legs so I went to work for Holland America on the Rotterdam. After 5 years of working on ships, traveling the world, the Caribbean, Alaska, Canada/New England and Europe, I decided to continue in the cruise industry and work for Renaissance Cruises in their Fort Lauderdale office. Due to world events, and so many changes and luck, I came to work at Going Places Travel in 2003 and continued enjoying the world of Travel.

Places I Have Traveled
Reviews and Recommendations for Julie Boulanger Taylor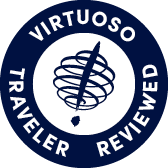 Virtuoso Verified Traveler
All reviews are from confirmed guests sharing exclusive insights
Sort reviews by
Recommended
Highly recommend
By: Hapfam
Reviewed on: 05 Mar 2014
Recommended
Does a great job
By: Linda43
Reviewed on: 06 Mar 2014
We have worked with Julie since 2004 and booked at least eight cruises with her, she responds quickly to our needs, and several times has been able to get us additional benefits for the cruise. We are very satisfied and recommend Julie to our family and friends who consider cruising. Recently her services have expanded to other types of land tours, and Julie is helping us with those trips as well.
Recommended
Highly recommended
By: JoAnn
Reviewed on: 28 Mar 2014
Recommended
Best travel agent I've ever had including A & K
By: Don't have one.....sorry!
Reviewed on: 13 Mar 2014
My Christmas trip to California was made very easy in every way by Julie. I am 88 and need all the help I can get when traveling and she made sure that all was made that way with wheelchairs, etc. When I felt it time to come back to NYC sooner that planned she made all the arrangements to do so effortlessly for me. I cannot say enough good things about this young lady.
Recommended
By: Mike C
Reviewed on: 25 Apr 2014
Very effective , accessible, friendly, and professional.
Recommended
HIGHLY RECOMMENDED
By: Frequent cruiser
Reviewed on: 02 May 2014
Julie is a professional in all regards.  Most helpful in assisting a client in  obtaining the best value for the client's money with regard to any aspect oftraveling.  I would highly recommend her to others which I have frequently done.
Recommended
recommend
By: abby
Reviewed on: 02 May 2014
Recommended
highly recommended
By: jojo antoine
Reviewed on: 19 May 2014
we were very pleased with our cruise and all the arrangements done in advance.  As with every cruise that we booked thru  Julie.....Thank you for the great service....
Recommended
very highly recommended
By: big al
Reviewed on: 17 May 2014
Recommended
Highly reccomend
By: Not provided
Reviewed on: 13 Jun 2014
Great trip.  Everything went according to plan.
Recommended
highly recommended
By: JaneyBoo
Reviewed on: 09 Jun 2014
Thanks Julie for your quick responce to our cancellation of the tour.  We had a great time and needed a rest when we got home.  All went well.
Recommended
HIGHLY RECOMMENDED
By: NONE
Reviewed on: 20 Jun 2014
My wife and I have been using Julie B. Taylor and her travel  agency for a number of years.  We have been highly satisfied with the trips she has planned for us.  I would and have in fact recommended her to numerous relatives, friends and colleagues of mine.  We look forward to a continued relationship with Julie and her travel agency Going Places. 
Recommended
Enthusiastically recommended
By: Doug
Reviewed on: 04 Jul 2014
Ms. Taylor has planned a number of trips for me. She has gone far beyond ordinary services in solving problems that I encountered. For example, on one trip I had a long lay-over in Paris, and she arranged for a private car to take me into Paris and back to the airport so that I could have lunch in Paris. On a recent cruise in Europe, she was able to obtain several upgrades for me in the category of cabin I had.  She ahs been extremely helpful in planning trips and obtaining information I requested.
Recommended
Sometimes answers the phone directly..........
By: Uncle Davey
Reviewed on: 25 Aug 2014
Both Viking river cruises were great. Bordeaux wine cruise was spectacular. Paris to Normandy was very good. Four days is Paris was wonderful. Your getting the tickets for the Paris visits before we left was really a good move. Never waited in the long lines for tickets......ever! Would tell everyone to duplicate this holiday.
Recommended
She's number 1!
By: Rbee1
Reviewed on: 30 Oct 2014
Julie is more than just helpful! She is with you before and after a trip! Ask a question? You get the answer no matter how dumb it might be. She remembers birthdays, special occasions, and "how are you today". I wouldn't go to anyone else!
Recommended
Great food and service
By: Hapfam101
Reviewed on: 22 Nov 2014
Our South American cruise with Oceania Cruises was amazing. I would definetly recommend this cruise. The food is amazing. We love the smaller ship. Only 634 passengers. Casual dress and open seating for meals. I would also recommend a pre and post cruise trip.
Recommended
Western Caribbean
By: Bill
Reviewed on: 28 Nov 2014
Thanks, Julie! Everything went off without a hitch. Of course we were rained on in two of the ports due to the storms from the North, but we made it work - this trip was all about family getting together anyway. We appreciate the excellent service, follow-ups and prompt attention to our questions. We are looking forward to our next adventure and will call you first!
Recommended
expert
By: db
Reviewed on: 05 Dec 2014
Julie provided excellent help when booking our cruise, she was very attentive to all our needs. Will use her again.
Recommended
Western Caribbean Cruise
By: Paul M.
Reviewed on: 08 Jan 2015
Had cruises Carnival before and found it OK, but CARNIVAL DREAM is too big to enjoy. Found the food in the dining room pretty bad. Seemed like warmed-up cafeteria food. Staff was generally OK but Eastern European manor front desk crew cold and unfriendly. Entertainment was good and sailing smooth. Dining room and cabin staff very good. Cayman Island is boring - Jamaica and Cozumel were worth seeing.
Recommended
Anniversary Cruise
By: Rudy
Reviewed on: 05 Feb 2015
Had a wonderful cruise despite problems with American Airlines changing flights at last minute! Had to cancel stay-over in Buenos Aires (cancel hotel) to depart at midnight..... Overall, we did enjoy our adventures both onboard Golden Princess and on our own excursions. Met many lovely people from Canada, Australia, England, Chili, and of course, Chicago! Plan to stay in touch and perhaps visit them (or visa versa.) We celebrated our anniversary with the Captain and crew who sent champagne to our suite. Lovely! Thank you for your $20. gift toward wine. We shared it with new friends. We would like very much to plan a trip to Australia and Asia some day.....
Recommended
Great trip
By: Rod
Reviewed on: 21 Mar 2015
The ship was very comfortable and the staff was the best you could ask for. Every one from the cruise director, the wait staff to the cabin steward made the trip very enjoyable.
Recommended
Great job
By: Larry
Reviewed on: 23 May 2016
Julie did a fine job of making arrangements for my trip on Oceania's Sirena inaugural cruise. Arranged dinners, perks, etc. Could not have done a better job. Most grateful to her.
Recommended
Viking Trip - Danube River Cruise
By: Gerry
Reviewed on: 02 Jun 2016
Great trip. Flawless and pain-free arrangements. Everything like clockwork. Thanks.
Recommended
expert friendly service
By: lori 72
Reviewed on: 26 Jun 2016
The trip was great. Julie and Tina did a fantastic job, as usual, in planning everything about the trip. I only had to enjoy the experience. thank you
Recommended
Good service
By: Cookie
Reviewed on: 25 Jun 2016
Perfect Every question answered. Always friendly and helpful
Recommended
great service
By: lori
Reviewed on: 28 Jul 2016
The trip that was planned by Julie and Tina was great. Everything as it should be These ladies deliver great service and are extrmemly helpful in planning all of my trips.
Recommended
Good trip
By: Cruise queen
Reviewed on: 23 Oct 2016
Wonderful trip...great crew...went around "Matthew"saw Grand Cayman...ship very well run...good shows...nice people....ultimate ship tour was fabulous...great time!!
Recommended
Excellent Service and Advice
By: Jeff
Reviewed on: 22 Nov 2016
The team at Going Places is thorough and experienced. Made it easy to plan a trip with complications and covered all contingencies. They followed up when necessary and provided advice when needed. Thanks
Recommended
Julie Taylor
By: Carole
Reviewed on: 15 Dec 2016
Just great. !All we hoped for.
Recommended
Australia
By: op
Reviewed on: 04 Feb 2017
great in every way
Recommended
African Safari
By: Mr. P
Reviewed on: 14 Feb 2017
Julie, is informative, she always responds to my communications. Working with her is a pleasure.
Recommended
💖Julie is amazing💕
By: Travel95
Reviewed on: 28 Apr 2017
She is very thorough, consistent and persistent. She gets exactly what you want and works tirelessly to get what you need for your travel.
Recommended
Group of 7 on Oceania
By: Roundy
Reviewed on: 26 Apr 2017
I really didn't have any contact with Julie. All communication went through other members of our group.
Recommended
Great T A
By: Deen
Reviewed on: 22 Apr 2017
Lovely lady,works for me,gets me the best!
Recommended
great job
By: rainey
Reviewed on: 22 Apr 2017
she is wonderful. Always helpful and I know it will be done right.
Recommended
Mediterraneo
By: returning
Reviewed on: 28 Aug 2017
The best, she will always try to accomodate your needs and make sure you are happy.
Recommended
In search of Eclipse
By: Stanardsville traveler
Reviewed on: 28 Aug 2017
It is always great The resort on Kiawah Island she found was great. We decided not to go back to the 100% eclipse area because of the hours of driving before and after the Eclipse. Instead we arranged to rent chairs on one of the gorgeous beaches and watched the 99% eclipse. We had a fantastic villa within short walking distance of one beach. Huge living room kitchen. Screened in porch with table. Washer and Drier. The resort has a shuttle bus within 10 minutes to take you to other beaches and facilities including formal and informal restaurants. Height of the summer. In other times of year the wildlife preserves would be more pleasant. This was the first time Bob and I used Julie for domestic travel. We will do it again
Recommended
travel advisor
By: rainey
Reviewed on: 07 Sep 2017
great, She was wonderful and makes travelling easy
Recommended
Advisor
By: Happy trip
Reviewed on: 11 Sep 2017
Julie has always been super to work with. Makes our travels easy.
Recommended
Great and responsive!
By: Marilyn Denver
Reviewed on: 16 Sep 2017
Julie was great to work with. She responded whenever I had a question while all the while supplying the needed information.
Recommended
Julie
By: bennett
Reviewed on: 24 Sep 2017
Outstanding. Lots of follow ups.
Recommended
recommendation
By: lori
Reviewed on: 16 Dec 2017
she is terrific
Recommended
Going places NOW
By: The Explorer
Reviewed on: 02 Jan 2018
She gave information promptly and was expeditious in completing tasks.
Recommended
Travel review
By: Misty
Reviewed on: 05 Jan 2018
Julie was either immediately available or quick to return my calls. She always called me back when she said she would; a trait sadly missing in many customer service areas.
Recommended
AMAZING vacation!!!
By: Pamela
Reviewed on: 08 Jan 2018
Amazing... Julie was so helpful with planning our family vacation. She was always easy to get in touch with and a pleasure to communicate with. Her knowledge on planning our trip was exceptional. I would highly recommend her for future vacations.
Recommended
Amazing vacation!
By: Fancypants
Reviewed on: 13 Jan 2018
She was fantastic. She went above and beyond to help us plan our trip to Disney world. We had never been and had no idea what to do. We had problems finding some pictures taken from one of the photographers and when I asked Julie about them, she had the problem solved within 15 minutes. I cannot stress enough how amazing Julie is! I have already recommended her to anyone planning a trip but especially for first timers.
Recommended
cruise plans
By: bobert
Reviewed on: 02 Feb 2018
We have worked with Julie on several cruises and she has been terrific with our plans and always answers our questions that we have concerning everything from flights, excursions, parking, how to communicate back home, etc. Tina who works with Julie has also been great at taking care of us. Will definitely continue using Julie.
Recommended
advisor
By: lori
Reviewed on: 25 Feb 2018
great, she continues to always make sure I have a great trip
Recommended
Best TA
By: Deeniie
Reviewed on: 25 Mar 2018
Wonderful,,,,all desires were met!
Recommended
Advisor
By: Lorraine
Reviewed on: 29 Jul 2018
Julie has been terrific always gets in everything asked if her Excellent advisor
Recommended
Travel Advisor
By: Alice Woods
Reviewed on: 30 Jul 2018
Julie was great as always. She had everything under control from day one. We have a large group from multiple states and we had no problems at all. Will use her again.
Recommended
Super travel agents
By: Engineer
Reviewed on: 04 Oct 2018
Always a pleasure . Great ideas and good follow up.
Recommended
Trip to Alaska
By: Deenie
Reviewed on: 05 Oct 2018
Always a pleasure.Everything met expectations.A 21 star salute‼️
Recommended
good
By: willie
Reviewed on: 21 Oct 2018
Great and as always very helpful
Recommended
Review of travel agent.
By: The Kidf
Reviewed on: 31 Oct 2018
Excellent as always.
Recommended
Great Advisor
By: Linda
Reviewed on: 30 Oct 2018
Julie works hard to meet all your needs so that you have a perfect trip.
Recommended
Cuba Oceania Cruise
By: David
Reviewed on: 29 Dec 2018
Excellent this is one of many trips we opposed to Julie
Recommended
Vacation Master!
By: Klreeder
Reviewed on: 30 Dec 2018
Julie was amazing! She took care of everything and checked in on a regular basis to see if we needed anything else for our trip. She was professional and super knowledgeable. I have recommended Julie to others and will keep doing so😁 Thank you Julie!!!
Recommended
Cuba
By: Irish
Reviewed on: 19 Jan 2019
Great trip, we can skip the Bahamas.
Recommended
Great T A
By: Tootsy
Reviewed on: 23 Feb 2019
Wonderful,always very helpful!, gets you what you want! Has a smile on her voice
Recommended
advisor
By: lori
Reviewed on: 24 Feb 2019
terrific. She does a great job with arranging the travel, follow up as always there and when I return she always calls to find out how it went.
Recommended
Great Agent
By: Diana
Reviewed on: 10 Apr 2019
Great Agent very informative.
Recommended
The Best!
By: Anita
Reviewed on: 01 May 2019
Have worked with Julie for many years...always a pleasure and top notch!!!
Recommended
Fabulous Trip Planner
By: Lou
Reviewed on: 03 May 2019
Julie does it all. We've been working with Julie for over 10 years. She plans and assists on all aspects of the trip. If there are any changes driven by the cruise line or airline , she immediately let's us know. Definitely recommend using Julie's services.
Recommended
Only the best
By: Colonel Norm
Reviewed on: 16 May 2019
Excellent. Always helpful and ready with meaningful suggestions.
Working with Julie Boulanger Taylor , you will have access to:
- An experienced travel guide whom you can rely on before, during, and after the trip
- Exclusive luxury resorts and properties
- Once in a lifetime experiences
Explore with the Best
Virtuoso Advisors are constantly pushing the boundaries in unique travel experiences.
Alliance programs are unique tailored experiences exclusive to travelers working with Virtuoso Travel Advisors.
learn more
Australia
Canada
Antarctica
Bermuda
Brazil
Cayman Islands
Egypt