Julie Jones
CTA
St. Louis, MO United States
Travel Specialties
Interests
Adventure
Beach & Sun
Family Travel
River Cruising
Ocean Cruising
Destinations
United States - All
Ireland
France
Italy
United Kingdom
Selling Travel Since
2013
My Background
My passion for travel is really an extension of my passion for adventure. After practicing law for many years, I decided to chase my real love of seeing the world and enjoying new experiences.
In 2013, I founded TopFlight Travels. I work closely with my clients to help them discover this beautiful world, and I introduce them to new experiences whether that experience is climbing Machu Picchu, shopping along the Champs-Élysées or sleeping on the beach in the Maldives. The attention to detail required in my legal career carries over to my travel clients feeling 100% at ease that I have taken care of every minute detail in their travel plans. I ensure that the level of attention and detail given to your travel planning reflects your significant investment of time and money. In 2016, I joined the Brownell tribe, which has taken my level of insider knowledge, global connections within the travel community and collegial support to new heights.
Building on the model of the financial advisor and blending the popularity of the bucket list, I am one of Virtuoso's first certified Wanderlist® Specialist. A travel portfolio helps save time, money and prioritizes what matters most -- a clear path to fulfilling your dreams.
Travel plays an important role in shaping our lives, but so often our everyday tasks push travel planning to the backburner. As a certified Wanderlist® Specialist, I helps my clients prioritize travel by curating a long-term travel plan that captures their travel aspirations while maximizing their available time and spend.
Prior to launching TopFlight Travels, I practiced commercial finance law for many years. I am a graduate of Mary Institute, Boston College and St. Louis University School of Law. A few of my favorite destinations include Italy, Peru, Chilé, French Polynesia and South Korea. However, my very favorite destination is St. Louis, Missouri with Billy and Will (19), Henry (17) and Teddy (10).
Places I Have Traveled
Reviews and Recommendations for Julie Jones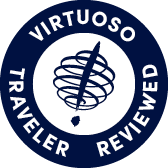 Virtuoso Verified Traveler
All reviews are from confirmed guests sharing exclusive insights
Sort reviews by
Recommended
Excellent service in Prague
By: Wendy
Reviewed on: 18 Sep 2016
Julie booked us in a beautiful room at the Four Seasons Prague. As always, she demonstrated patience, creativity and flexibility with our ever changing travel plans. When we had to change our travel to an earlier date, through persistence she was ultimately able to get us the same room (including by getting us wait listed..). Through no fault of her own the rate for the new dates was higher, but she was still able to negotiate the rate a bit. The hotel is in a perfect location, near the Charles Bridge and with a view of the river and the castle on the other side. Although unfortunately our room did not have that view (hotel was fully booked ), we did have that view over breakfast (which was included in the room rate). The hotel staff all offered the high level of service we expected. They found reservations at great restaurants and organized a terrific tour guide. Another great holiday thanks to Julie.
Recommended
Food quality and presentation were exemplary
By: Mike
Reviewed on: 05 Oct 2016
This is a truly remarkable facility. Great for couples or for children old enough to participate in the programs available for them. It has a casual but elegant feeling. The quality of the service staff is very high - obviously a great deal of training has gone into this effort.
Recommended
yes
By: traveler
Reviewed on: 06 Aug 2017
She was helpful and thorough in her suggestions and service. She planned a wonderful trip for our family.
Recommended
Park Hyatt Chicago trip
By: Alice Hampton
Reviewed on: 07 Jan 2018
Julie was absolutely INCREDIBLE from start to finish... She is without a doubt the best travel agent I have ever worked with we will 100% be using Julie for everything.
Recommended
Honest, thorough and responsive
By: WB
Reviewed on: 02 Feb 2018
Julie leaves no detail untended to, checks in with you throughout your trip, and is honest about the level of accommodation available for your travel budget. She also works to find the best price for chosen itinerary. I will continue to consult with Julie on my vacations.
Recommended
Skiing
By: CSB
Reviewed on: 02 Mar 2018
Julie was great. We wanted a first ski trip out West with our four kids. She helped us pick a resort and a place to stay. The ski resort had an amazing ski school and location of condo was perfect for our family. Highly recommend!
Recommended
Extraordinary escape
By: Boston
Reviewed on: 09 May 2018
Julie was efficient and knowledgeable and quickly made what had been an overwhelming time sensitive internet hunt with complex travel dates and multiple interested family stakeholders into a choice between perfect options. And with each option Julie lent insights about the key features and the availability of specific rooms. Once we made our choice, Julie magic-ed it all to create a seamless experience. Julie lends an intellect and a professionalism that removes all the stress from travel planning. She shares her expansive knowledge and travel experiences assuring we had a delightful trip.
Recommended
Galapagos
By: Bcdbba
Reviewed on: 22 Apr 2018
Julie was great - she helped us narrow done our search to Ecuador. The Galapagos safari camp was perfect for our big family. Lots of adventure but a more stable home base than a boat for young kids to relax at the end of the day. Hacienda Zuleta was very family friendly and accommodating. We loved both places. We had lots of travel between places and everything was executed well. We had an amazing trip!
Recommended
Japan - A trip well-planned
By: Wendy and Chris
Reviewed on: 13 Jun 2018
Once again I loved working with Julie. She is through, detail oriented and caring. She even had a favorite of mine- chocolate covered strawberries - sent to one of our hotels. She was very attentive and helpful during the planning process - making sure all our questions were answered and reviewing all the documents provided to us. She also gave us good ideas and shared her informed opinion about activities and destinations. And I really like the AXUS travel app she uses.
Recommended
Hawaii Done Right
By: Heather Potts
Reviewed on: 14 Jun 2018
Julie did an incredible job of helping us plan the perfect birthday trip to the Big Island for our son's 13th birthday. She helped us figure out which island fit my son's interests, booked our flights, resort and car rental. She thought of everything! Right down to requesting a Jeep to maximize my son's view as we drove around the island. When the volcano eruptions began, she kept in contact with us and gave us updates from other groups who were returning. She even got our room upgraded the week before arrival. She sent us great information on excursions and paved the way for an amazing trip!
Recommended
We had a great time
By: First time in Costa Rica!
Reviewed on: 15 Jun 2018
Everything about our trip to Costa Rica was great! Wonderful place. Great location. Fabulous people. Julie took great care of us - set up everything and followed up several times to make sure we were set to go. She's great to work with. We could not have done this without her.
Recommended
Tremendously Helpful
By: Brent
Reviewed on: 08 Jul 2018
When we decided to take a European vacation, we were clueless how to begin. Then we found Julie. She started by talking to us about our desires, interests, and budget. From that information, she was able to come up with a list of potential destinations, hotels, tour guides, and activities. Julie worked with us every step of the way to plan a vacation that was not only within our budget, but included so many experiences that we would never have been able to discover on our own.
Recommended
Highly recommend Julie's services
By: Anonymous
Reviewed on: 30 Jul 2018
Julie had organized our trip in great detail and was very accommodating in coordinating numerous logistical arrangements for our trip. The added benefits we had as a result of using Julie's services made all the difference with booking through Julie as opposed to booking directly on our own. We look forward to booking through Julie again for our future holidays.
Recommended
Exceptional Experiences
By: Angie
Reviewed on: 03 Aug 2018
Julie was wonderful from start to finish as we planned our family trip to London in July 2018. What Julie provided us was priceless. She offered suggestions and had insights that you simply cannot find on your own; her connections and experience is invaluable. With three teenagers and an 11 year old we wanted their first trip to Europe to be both fun and educational. Julie helped us distill our long list so that we didn't over-schedule. Due to Julie's connection to Noteworthy, we were able to move through lines quickly and get endless stories/history about the places that we visited. Our highlights included- Winston Churchill War Rooms- behind the glass tour with the museum curator, Westminster Abby, London Eye, London Tower, Windsor Castle, and Hampton Court. We stayed at the Milestone Hotel, which was incredible thanks to Julie's recommendation. Julie listened to what we wanted and planned an unforgettable trip for our family.
Recommended
Julie Jones
By: JMS
Reviewed on: 19 Aug 2018
Julie is a delight to work with. She's extremely detail-oriented and answered every question we put to her. It was wonderful to know that she was there to handle any problem.
Recommended
Excellent resource!
By: nrtraveler
Reviewed on: 23 Aug 2018
Julie made our hotel reservations and even confirmed upgraded rooms before we arrived. She kept in touch and followed up before our trip to make sure we were set and also afterwards to see how we enjoyed it. She made sure we knew to contact her at any time if we needed anything even during our trip. The Virtuoso amenities were great and we felt like VIP guests. Looking forward to working with Julie again in the future
Recommended
Phenomenal Trip!
By: MLS
Reviewed on: 13 Oct 2018
Julie was so easy to work with. She responded quickly to all of my questions. She had every aspect of our trip covered. From drivers to hotel accommodations to dinner reservations. I didn't have to think (or worry) about a thing! It was all done. I only had to show up & enjoy!!!
Recommended
Great Advisor!
By: famwithkids
Reviewed on: 11 Jan 2019
Julie was wonderful. Gave solid input on hotel choices for our upcoming trip. Made all the bookings and made sure we had connecting rooms for our kids, and also got us some added amenities. This was set up months before our trip. She remembered to check in with us AND the hotel the week before we left to make sure everything was set. Looking forward to working with Julie again in the future
Recommended
Great agent!
By: Barbara
Reviewed on: 06 Apr 2019
We love working with Julie as our travel agent/advisor. She is experienced and knowledgeable about all aspects of our cruise destinations and she's never led us astray.
Recommended
Dream Vacation
By: Michelle
Reviewed on: 06 May 2019
Julie correctly advised us to stay at Four Seasons when we went to Bora Bora. We were a little unsure but decided to trust her. No regrets! Trip of a lifetime and where we stayed made all the difference. Will definitely call Julie for our next international trip and trust her advice. Thank you Julie for making our bucket list trip better than we possibly could have imagined,
Recommended
Fabulous adventures in France
By: Wendy
Reviewed on: 13 Jul 2019
Julie put together a fairly extensive and fantastic itinerary on short notice stretching across several regions of France. Sometimes she knows what we want even more than we do. Highlights included our hotels in Honfleur and Bretagne and two days of wine tours in Bourdeaux.
Recommended
Amazing Mediterranean Adventure
By: Jennifer
Reviewed on: 15 Jul 2019
Julie Jones was fantastic! She was very organized and detailed in planning our 2 week family adventure. Our travel was seamless thanks to Julie's skilled planning and we were able to travel Italy on our own the first week and then join a cruise the second week. From drivers to tour guides to hotels, Julie's choices were awesome and exactly how we like to travel...without a lot of work. She had everything set up for us perfectly to be whisked around without stressing out about managing the trip. We were able to see a lot of Italy and then have a taste of Monaco, France, and Spain. I usually plan our trips, but this was too unfamiliar for me, so I entrusted Julie and we all had a fabulous time. I highly recommend Julie Jones to plan your next adventure!
Recommended
Italy with teenagers
By: Angie
Reviewed on: 28 Aug 2019
Julie is such a pleasure to work with and she listens to what our family looks for in a vacation. She then finds options for us to choose from, which makes us feel like we are a part of the planning process. On our recent trip to Italy we took our four children ages 12-19 to Italy. We started in Rome with the Vatican/Colosseum and the Hotel Eden was perfect. Our favorite part of our time in Rome was a pasta making class that was such a fun, hands-on morning together. From Rome, we went to Tuscany where we visited a small cheese farm and got to hang with the animals! Tuscany was a beautiful and relaxing time as a family;the property we stayed at made it so special. Next stop was Portovenere on the coast where we rented a boat to go snorkeling and explore the Cinque Terra towns. We ended in Venice, which is a sight for kids to see, they loved it. When you plan a trip with Julie, she will find you incredible properties and unforgettable experiences which create forever memories!
Recommended
Helpful
By: Sudie
Reviewed on: 07 Sep 2019
Julie was so helpful in finding our accommodations in Vail.
Recommended
Julie was great!
By: SBJ
Reviewed on: 11 Sep 2019
Julie was truly a pleasure to work with and lined up an unforgettable honeymoon. She was able to suggest hotels and activities that fit our travel personalities as well as our budget. We toured Argentina and Brazil with world class service and top notch tour guides. We certainly plan to utilize her for upcoming destinations!
Recommended
Wonderful experience with Julie Jones!
By: AmyT
Reviewed on: 16 Sep 2019
Julie was wonderful to work with! She gave us multiple options for each decision and explained the pros and cons to each. Julie is a seasoned traveler so her advice was extremely well informed. Not one detail was missed and all the vendors used were top of the line! Our trip was exceptional!
Recommended
Fantastic travel adviser
By: Tuscany
Reviewed on: 14 Sep 2019
Easy and fun as always. Julie presented us with some excellent choices based on her knowledge of what we like - from years of working with her - and within our budget. She kept us updated every step of the way on all logistics and confirmations. No detail was missed.
Recommended
Julie was fantastic!
By: Bob
Reviewed on: 16 Nov 2019
Loved working with Julie and will again soon!!
Recommended
Always delivers
By: Angie
Reviewed on: 07 Nov 2019
Julie always makes our trips special with every detail perfectly thought out. I love working with her and creating lifelong memories with my family.
Recommended
Julie's tops!
By: BS
Reviewed on: 03 Dec 2019
We are very pleased with Julie Jones. As our travel agent, she works tirelessly to make sure all aspects of our vacations go without a hitch. We don't have to worry,--she's on it.
Recommended
Cozy stay in Copenhagen
By: Cozy stay in Copenhagen
Reviewed on: 04 Jan 2020
Julie recommended and booked us into a beautiful, cozy, well-located inn - Hotel Sanders. It was comfortable with good service and food, and had plenty of spots to curl up with a book and a drink. I'd definitely return. Through Julie, the hotel also made several restaurant recommendations and reserved one for us that turned out well.
Working with Julie Jones, you will have access to:
- An experienced travel guide whom you can rely on before, during, and after the trip
- Exclusive luxury resorts and properties
- Once in a lifetime experiences
Explore with the Best
Virtuoso Advisors are constantly pushing the boundaries in unique travel experiences.
Alliance programs are unique tailored experiences exclusive to travelers working with Virtuoso Travel Advisors.
learn more
United States - All
Ireland
France
Italy
United Kingdom
French Polynesia
Cayman Islands
Belize
Argentina
Peru
Saint Lucia
Turks And Caicos Islands
Chile