Travel Specialties
Interests
Adventure
Safari
Escorted Tours
Ocean Cruising
River Cruising
Destinations
China
Egypt
Kenya
Russia
Spain
Selling Travel Since
1998
My Background
Served The Coca-Cola in various management positions until I elected early retirement following the 1996 Olympics My second career started by accident when my wife and I were given a gift of travel to Russia. We have returned nine times in fifteen years.
We purchased Island Travel. following 9/11 and have developed it into a multi agency company.
We have traveled extensively, very often escorting groups to the far reaches with our most frequented destinations being China, Africa, and as mentioned above, Russia. Antarctica has been visited by us and we are ready to return. Our most recent international destination was Japan visiting various cultural areas and some smaller communities in the northern islands. A worthwhile visit.
We are competent in arranging any form and quality level of travel.
Where else have we been? Please take a look at the map below. No, I did not visit all hose place in 2014 but that is when Virtuoso began this map and I have not gone back to update the years I visited but I have the "T shirts".
Places I Have Traveled
Reviews and Recommendations for Jim Buckley, CTA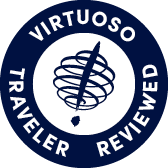 Virtuoso Verified Traveler
All reviews are from confirmed guests sharing exclusive insights
Sort reviews by
Recommended
The Best!
By: Freddie G
Reviewed on: 20 Sep 2013
This fourteen day cruise on Holland's Maasdam was terrific. Favorite ports included Bar Harbor, MN and Quebec City. Other stops were wonderful as well but these two were special. The Holland America staff are always so gracious and this was our fifth cruise with them. This particular ship has an unique meaning for us and it was our second time aboard. All in all, a GREAT experience.
Recommended
highly recommended
By: Not provided
Reviewed on: 11 Nov 2013
All of Jim's plans went very smoothly. There was great attention to every detail of the trip from the start to the finish. Jim took care of all the dinner reservations and made sure every step of the way that our accomodations were satisfactory. He attended to every need! Previously we had traveled on our own and this time it was so much more pleasurable with Jim taking care of the details. We knew if anything went wrong, he would take care of it.
Recommended
Two excellent trips
By: msdillo
Reviewed on: 12 Oct 2013
We have used Jim for two big trips - one to Spain and one Baltic cruise. He was very helpful about the cruise as we had never been on one. He gave us info on all the cruise lines and on cruise etiquette. The trip to Spain was just outstanding. We stayed at some wonderful hotels that he and his Spanish partner picked out. Everything went very smoothly on both trips.
Recommended
Highly reccomend as a Trvel Advisor
By: Jimbo
Reviewed on: 11 Oct 2013
Mr. Buckley did an outstanding job arranging the journey for our small group. Logistics involved air, transfers, ferries, rail, lodging, dinner plans,etc.
Recommended
Makes travel easy and special
By: lisatarheel
Reviewed on: 25 Nov 2013
This was the latest trip I took with Jim's assistance and as always, it was magical. I appreciate the personalized attention and commitment to a great experience. I would and have recommended Jim to everyone I know!
Recommended
excellent service and knowledge
By: ron
Reviewed on: 24 Nov 2013
good service. excellent knowledge. good follow thru on all concerns and questions. their interest is in the clients.
Recommended
The best
By: Jim43
Reviewed on: 27 Nov 2013
Jim and his stall at Island Travel are the best, would recommend anyone in the Hilton Head area using them if they want a professional & personalized experience. They are quick to response to any problems or concerns that may a raise during your vacation. The knowledge level is outstanding, just let them know your desires an they take it from there.
Recommended
A good family cruise
By: mmt63
Reviewed on: 12 Dec 2013
We took our whole family (all 11 of us) on this cruise. There were 5 grandchildren. Everyone had a good time. There was plenty to do on the boat. Everything came off just as Jim had said. Thanks for a memorable experience.
Recommended
Highly recommend and do recommend to my friends
By: Bill & Dar
Reviewed on: 23 Jan 2014
We have used Island Travel for several of our trips and find their assistance is invaluable in making our vacations a success. They are always willing to go above and beyond what is needed. We couldn't ask for more knowledgeable people to help us navigate around the travel business. They made certain that the tour group we went with fit our needs.
Recommended
Highly recommended
By: Not provided
Reviewed on: 17 Mar 2014
Recommended
Highly recommend
By: Not provided
Reviewed on: 08 Apr 2014
I think Jim has the patience of a saint.  He spend hours helping me arrange our cruise to Hong Kong especially finding the perfect flights for us.  He couldn't have been more helpful.  Nothing was too much trouble.  He always made me feed that he had all the time in the world and never rush any decision.  I would certainly recommend him.
Recommended
Highly Recommended
By: Judith
Reviewed on: 02 Apr 2014
Carlo and Jim were terrific - However, our next cruise we will return to Oceania.
Recommended
very professional, highly recommended
By: John
Reviewed on: 04 May 2014
Jim is very knowledgeable and professional. We plan to use him on our next trip which we are planning know. We would not hesitate to recommend him to anyone
Recommended
Rockey Mountaineer
By: Red
Reviewed on: 24 Jul 2014
our trip was well laid and planned, just minor inconveniences:> United equipment trouble and plane change in Chicago added 2+ hour delay> Victoria Clipper had the wrong day for our ferry ride to Victoria, reservation was cancelled but we were able to recover it.> The concierge at the Fairmont Empress had no knowledge of our bus pick up at their hotel, they directed us to the bus terminal, it worked out but could have been a disaster if we hadn't arrived early.
Recommended
Excellent
By: Hookman
Reviewed on: 31 Jul 2014
Top notch planning and  execution for all the 37 members of this tour package.   Exceptional at working the details to insure we have minimum disruptions and distractions on our trip.   Transfers from airports and hotels and trains were smooth and trouble free.   Communication with all 37 members was timely and clear.  Handling of injured traveler emergency was expertly done,  I would certainly recommend Jim to anyone who wants to travel trouble free.
Recommended
An Unforgetable train trip
By: Dar
Reviewed on: 30 Jul 2014
A more caring tour director I have never met.  Jim was there at all stops to make certain we got to our destination on time and without hassle.  The tour covered so much territory and so may facts.  I am telling all my friends about the Rocky Mountaineer Train Ride of Comfort and Style.  A great group of people and wonderful accommodations.  For a person that enjoys travel this was one of the best.  Thank you Jim & Marty for a most enjoyable week.
Recommended
Island Travel and Rocky Mountaineer
By: Jack
Reviewed on: 29 Jul 2014
The trip orgaized by Jim and Rocky Mountaineer was terrific, especially since Jim and Marty accompanied us.  Jim's attention to detail and baby sitting us along the way made ths trip very special.  We also did an extra day in Calgary before and two days after in Victoria after, so everyting was quite memorable!
Recommended
Professional - Fun - Caring!
By: marcie
Reviewed on: 01 Aug 2014
Jim Buckley is a warm and caring tour director who pays attention to detail - making sure his travelers have all the info needed every day! Wonderful !
Recommended
Another good job
By: Ted
Reviewed on: 25 Aug 2014
Jim has planned several trips for us. As always he did an excellent job. We were looking for a cruise to Alaska. Jim provided us with a great deal of information about alternatives, including land options, and provided useful information about Alaska and the areas that we should visit. Jim was always available to talk with us about the trip, both before and after we made the reservation and he handled various questions about the trip, the cruise line, airlines, etc quickly and efficiently. We were very pleased. The trip went well, partially due to Jim's support and assistance.
Not Recommended
Rocky Mountaineer Fiasco
By: Frustrated
Reviewed on: 05 Jul 2015
List: Messed up Airline Reservations: Maybe my fault but according to Island not their fault Messed up Bus reservations to Victoria Island: according to Island Buses fault but not Island's fault Messed up Hotel reservations according to Island Hotel's Fault but not Island's fault Messed up tour reservations according to Island Tour's fault but not Island's fault In the spirit of fairness one of us got sick and we had to cut the trip short so this could bias my thinking but the one thing I am sure of it was not Island's fault . Nothing is.
Recommended
Terrific
By: Hart
Reviewed on: 09 Jul 2015
My wife and I had a great trip to Alaska and British Columbia. Jim Buckley did his usual wonderful job in planning for us. He's the best!
Recommended
August 2014 Regent cruise to Scotland and Ireland
By: HTJ
Reviewed on: 02 Sep 2014
Regarding Jim Buckley: He's an outstanding travel agent with whom I have worked a number of times. I couldn't ask for better service, knowledge, thoroughness, and most everything else you'd want from a travel agent. Regarding Regent: The ship and ship's company were excellent. Good value. All expectations were met. Food was very good. Crew accommodating, responsive. Entertainment very good. Main dining room food was consistently very good. The salad course wasn't as varied night-to-night as I would have liked. The three other dinner restaurants (beef, French, and Italian) were truly outstanding -- food and service. Access to these three was not as accommodating as we would have liked. They apparently had one serving per table; hence a table reserved for 8:30 was not available for a 6:30 seating. I'll know better the next time we take a Regent cruise and at boarding make more reservations than I need and cancel later what I decide not to use. Regarding insurances: None used.
Recommended
Crystal Trip Cross Atlantic Ocean
By: Ed
Reviewed on: 20 Oct 2014
Flew to Lisbon via Crystal package, went early two days to sightsee which Jim arranged separately from Crystal, stayed at the Crystal arranged hotel (4 seasons). Tour, private guide was great. Hotel was over the top. Cruise from Lisbon to Miami was also the best. Good result at a fair price.
Recommended
Wonderful trip!
By: G&S in Atlanta
Reviewed on: 02 Jan 2015
We had a fantastic, stress-free trip. All the details were arranged and coordinated in advance so we had no worries other than showing up on time and deciding which to hit first - the pool or the water slide. We appreciated the "insider tips" that prompted us to lock in event reservations well before boarding - it meant that we didn't have to scramble with the crowds to get the choice activities like character meetings and shows. The kids loved it all. Highly recommend using an expert like Jim - there's so much to consider and evaluate, we'd have been lost (or overwhelmed) on our own. Thanks Island Travel!
Recommended
Panama Canal and More
By: Dar
Reviewed on: 10 Feb 2015
I had a wonderful time. The ship,the crew and the shore excursions were top notch. I will let my 10 pound heavier body tell the story of how great the food was. The limo service was especially appreciated since we had not been to bed in 36 hours. When we arrived in Savannah at 5PM, it was raining and commuter traffic; hardly a combination for two ladies without sleep to drive. Thankfully the limo driver was there to help with the luggage and drive us home. Island Travel really knows how to treat their clients. I would recommend them for anyone planning a trip.
Recommended
Great Cruise Again
By: Linda and John
Reviewed on: 11 Feb 2015
Vern again got us great accommodations, and Disney did the rest as they always do!!!!
Recommended
Very professional, friendly
By: trk63
Reviewed on: 06 Apr 2015
Jim took time to get us the best value. He is thorough, knowledgeable, helpful & friendly.
Recommended
Super travel agent
By: melja
Reviewed on: 19 Jun 2015
Jim planned out our trip very well. We added a few days on with private guides and everything went perfectly. Can't ask more than that of a travel agent. Will definitely use him again!
Recommended
Superb service and guidance
By: Tom
Reviewed on: 27 Jun 2015
I have used many travel services over the years, but we met Jim and the people at Island Travel at a presentation on Alaska last year. As a result, we decided to book our trip through them. The service and advice that Jim provided were wonderful--he helped make our trip a great experience. It was truly a pleasure booking our trip through Island Travel, and we know where we will go in the future for all of our travel needs. Thanks again Jim!!
Recommended
Very Knowledgeable Professional
By: Millie
Reviewed on: 01 Sep 2015
Jim is friendly and personable. He has the Knowledge and ability to assist travelers in a reassuring way. All details were thoroughly covered along with various suggestions. I would highly recommend Jim and Island Travel.
Recommended
Viking Grand European tour was Grand
By: hughemm
Reviewed on: 17 Sep 2015
Great trip with attentive staff and a new ship with innovative stateroom bathroom design and auto main doors to the Lounge and outside. Two alerts. 1. Amsterdam is difficult to get Euro cash from ATM's with US debit cards that don't have a chip. Advise getting to a Bank with your passport and they will do it. 2. Viking used United for the flights and United uses Dulles (DC) as a major port of entry. This airport is a disgrace and not a way to attract foreign guests. Even though I was able to get to the front of the lines because of a knee injury, it still took 1 1/2 hours to get through Immigration, customs and security, to get to our connecting flight. It would have been another hour otherwise.
Recommended
Outstanding service!
By: Perry1
Reviewed on: 01 Jan 2016
Jim and his team recently planned and arranged a family trip to London and Paris for us originating in Atlanta, Georgia. He and the team were extremely thorough in the planning stages, advising us on our options for transit, accommodations, and sightseeing. Once our plan was finalized they made all arrangements, prepaid all transit and hotels required, and provided the necessary vouchers for all trip components. The trip was booked well prior to the December terrorist incident in Paris, but Jim and the team did a complete situation review immediately following that tragic incident and provided us very sound counsel on the situation. We made our trip in mid December and all elements of the experience were outstanding in every way. We could not have been more pleased with the outcomes and the support we received throughout the entire process. Jim and his team are The Best!
Recommended
Alaska rail/cruise/Bouchert Gardens trip
By: Bob and Sue
Reviewed on: 14 Sep 2016
This was a trip consisting of 3 days rail from Fairbanks to Anchorage, then 7 days ship via inner passage, then 2 days in Vancouver with a Knightly tour of Bouchert Gardens. The rail (including paddlewheel steamer and day-trip to Denali) were outstanding, well-arranged and coodinated. Due to an illness (suspected pneumonia, which turned out to be flu), we had to forgo the first 4 days of the cruise, but flew down to Juneau to rejoin the ship for the last 3 days. By the time we got used to the ship's routine and layout, the trip was over. (ps.....their wine selection was minimal, expensive, and tasted so awful that I threw out half a bottle.) The Knightly portion in Vancouver was very good except that the bus driver picking us up at the hotel did not have our names on his list. If it weren't for two old ladies also boarding, we would still have been waiting for a bus that never came. Also, the paper vouchers were not easily accepted by drivers. Recommended with reservations.
Recommended
Top Knotch Travel Group
By: Marcie
Reviewed on: 07 Oct 2016
Jim pays close attention to detail -- making sure that all the "t's" are crossed and"i's" dotted. That makes for a great comfort level In the complicated world of travel. Thank you Island Travel!
Recommended
Jim Buckley makes it right for us!
By: marcie
Reviewed on: 21 May 2017
He knows his stuff, is kind, pays attention to detail and makes sure you have all the information needed for whatever trip you are taking. He will spend as much time with you as it takes to insure that all your travel needs are met.
Recommended
Athen and Santorini Greece, 2017
By: P&T
Reviewed on: 20 Jun 2017
Excellent service and thorough follow-up prior to and during the trip, Jim maintained a hands on approach throughout and helped ensure an excellent experience was achieved in all regards
Recommended
Jim Buckley
By: auntiecoco
Reviewed on: 13 Aug 2017
Jim was an excellent travel advisor for the cruise on the Oasis of the Seas! He knew the details of the ship intimately and made great recommendations for me and my family. I would definitely use Jim for any future travel plans.
Recommended
African Safari
By: Ron B
Reviewed on: 10 Aug 2017
From the time we booked our safari until we left for home, Jim guided us through every aspect of our journey. Navigating the sometimes confusing issues such as visas and vaccinations was much easier with his help. Jim made everything stress free and very enjoyable.
Recommended
Island Travel
By: ctk
Reviewed on: 27 Aug 2017
Very easy to work with. Competent, professional, thorough.
Recommended
Worry free travel
By: Amy Rena
Reviewed on: 16 Sep 2017
Jim was a pleasure to work. Knowledgeable and efficient in taking care of our trip.
Recommended
Mexican Riviera
By: Terry
Reviewed on: 28 Dec 2017
Jim is very professional, helpful, always available and has great people skills.
Recommended
Oceania Cruise
By: Nat
Reviewed on: 24 Mar 2018
Excellent--Jim was super informative and made me feel as though he really cared. He answered all my questions, and offered hints that I didn't even think of.
Recommended
Cruise planner
By: Erlo
Reviewed on: 28 Mar 2018
Wonderful! He understands our requirements and always works to find the best way to meet them.
Recommended
Jim Buckley
By: Ted
Reviewed on: 23 May 2018
Very excellent. All questions were addressed and plans went very smoothly
Recommended
Regent Cruise
By: Sonny
Reviewed on: 02 Jun 2018
Always meets or exceeds expectations.
Recommended
Wonderful vacation to Italy and Spain
By: Joy & Bill
Reviewed on: 09 Jul 2018
We worked with Carlo and she was great in helping us to plan a three week vacation including hotels, ride service, car rental, villa, and cruise.
Recommended
Alaska
By: SuzyQ
Reviewed on: 11 Oct 2018
He's responsive, knowledgable, pleasant and helpful. What more can you ask?
Recommended
Tauck Danube River Cruise
By: Bill M.
Reviewed on: 09 Oct 2018
Jim was very knowledgeable with the details of our trip. This was our first trip to Europe and he was very detailed and answered all our questions.
Recommended
Grand European
By: Terry
Reviewed on: 07 Nov 2018
Very professional, helpful & friendly. A pleasure to work with. Recommend highly.
Recommended
Jim Buckley is terrific
By: Ted
Reviewed on: 02 Dec 2018
Excellent. Jim provides great service
Working with Jim Buckley, CTA, you will have access to:
- An experienced travel guide whom you can rely on before, during, and after the trip
- Exclusive luxury resorts and properties
- Once in a lifetime experiences
Explore with the Best
Virtuoso Advisors are constantly pushing the boundaries in unique travel experiences.
Alliance programs are unique tailored experiences exclusive to travelers working with Virtuoso Travel Advisors.
learn more
China
Egypt
Kenya
Russia
Spain
Turkey