Travel Specialties
Interests
Culture, History & Arts
Adventure
River Cruising
Ocean Cruising
Escorted Tours
Destinations
United Kingdom
Iceland
Ireland
France
Germany
Selling Travel Since
1984
My Background
Travel and exploration, two of my main passions and they go together well.
I really believe that you've never needed an experienced agent to assist you, more than you do today. Travel has become so much more complex than it used to be and there are so many choices! I'm here to act as your personal trusted guide through the entire process.
I bring my passion for travel and add 30 + years of professional experience to the table. You'll find I'm a careful listener, as I've always felt this is an essential quality to ensure things go smoothly. I'm fortunate to work as part of a very experienced team that are generous in sharing their world expertise. Add it together, and you're on track towards building a an amazing experience, one that you can really share with friends and family when you get home.
As technology continues to shrink the globe it also allows seemless delivery to just about anywhere. All of these things allow me to support my clients and friends like never before whether they live in the U.S., Europe, Mexico, Australia or cross Canada.
My goal is to build an experience that will exceed your expectations. It gives me great satisfaction when I call my clients to welcome them back home and hear those words.... "it was amazing".
I look forward to working with you and building your dream vacation.
Places I Have Traveled
Reviews and Recommendations for Rick Johnson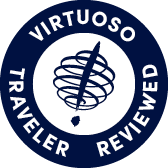 Virtuoso Verified Traveler
All reviews are from confirmed guests sharing exclusive insights
Sort reviews by
Recommended
highly recommended
By: Peter & Diane
Reviewed on: 18 Sep 2013
Rick was very efficient and professional at all times and his experience made our travelling comfortable. I would have no hesitation recommending Rick Johnson.
Recommended
Wonderful service
By: gumper 13
Reviewed on: 20 Sep 2013
Rick has been our travel agent for about 12 years. We take at least one month long trip abroad every year. We are extremely happy that Rick looks after all of the "little" details as well as the main bookings. We can travel "hassle free" and enjoy the trips to the fullest. We will happily continue to use Rick as our agent
Recommended
By: Jojo
Reviewed on: 03 Oct 2013
I am convinced that an agent like Rick is why our experiences have been so great. I highly recommend him and have to two other couples who now use him and our daughters. He goes above and beyond to be sure we get the best experience available. This last trip was the best ever!!
Recommended
Exceptional, Professional Travel Planning
By: Doan - Dallas TX
Reviewed on: 24 Oct 2013
Completed 2 trips planned by Rick - the 3rd trip is in development. He asks insightful questions and is a great "listener" - the end result is a travel plan that exceeds expectations. Because of his extensive knowledge of travel possibilities and his international connections/partners he is able to recommend destinations, activities, etc. that are unique while keeping your budget in mind. Rick is at the top of the scale in the travel industry!
Recommended
Highly recommend
By: Pattyp
Reviewed on: 21 Nov 2013
Rick is extremely helpful and supportive during unexpected times of catastrophe while away on vacation. He is knowledgeable and professional. He is friendly and patient.
Recommended
Outstanding
By: Business/Pleasure traveller
Reviewed on: 21 Nov 2013
Rick exemplifies what a travel agent should be--he is responsive, quick to learn his client's needs, and careful to follow up to check that every detail is just right. Everything has been smooth sailing on both business and fun trips since I started working with him.
Recommended
Excellent Service
By: Mary Ann
Reviewed on: 21 Nov 2013
Rick's attention to detail is outstanding. He also takes time to get to know his clients and makes wonderful recommendations for travel. I have traveled several times and have had occasion for Rick to look after some urgent issues while away. He did it with calm reassurance and helped with the claim on our return.
Recommended
By: Not provided
Reviewed on: 23 Nov 2013
Hi Rick -- The trip down to Santa Cruz went real well. It's definitely now easier to go through Seattle than Vancouver -- Seattle is still providing meet and assist service, and it's very efficient. Thanks! Lisa
Recommended
Highly Recomended
By: honeymooner03
Reviewed on: 21 Nov 2013
Rick was of great help planning my honeymoon, although these days services like expedia offer great prices, Rick exceeded my expectations and besides the support of "Virtuoso" made an even more lovely experience. I would definitely contact him again on my next big travel.
Recommended
Great knowledge and service
By: Ziggy
Reviewed on: 10 Dec 2013
Rick was an all around pleasure to work with, he was able to make our budget work and offered sound advice and knowledge to go with it. I would recommend Rick to my Family and friends which is the highest compliment possible as those are the people in my life that mean something. Belize was amazing thanks to RICK!!!!!!! Till next time, safe travels!!!!
Recommended
Highly Reccomended
By: gumper13
Reviewed on: 15 Dec 2013
We have used Rick as our sole travel agent for about 14 years.He has helped us with everything from a weekend away to several month long trips. He is extremely thorough ....making certain all of the details are correct. Rick is excellent in communicating and making certain we are comfortable during all phases of our travel planning. We will be continuing to work with Rick in all our future travel plans
Recommended
Rick is the best!
By: Not provided
Reviewed on: 09 Jan 2014
Rick is a really knowledgable, experienced professional travel agent. Whatever your heart desires, he makes it happen. Also a heck of a nice guy, very helpful and always tries his very best. Highly recommended.
Recommended
Highly recommend! Great service
By: Brian
Reviewed on: 14 Apr 2014
Recommended
Italy
By: San Marco
Reviewed on: 09 Oct 2014
Rick Our Italy trip was a once in lifetime beautiful experience. Tauck did a wonderful job on the tour. Only setback was that my Ipad was stolen from our room in Milan and the hotel, while courteous did very little to question its employees. Thanks to "find my Iphone" we were able to erase our data. It was turn on 5 days later in Peru and we got notified.
Recommended
Knowledgeable and available
By: Hayes/Hahn
Reviewed on: 05 Oct 2014
Rick did a very commendable job in setting up our recent river cruise. His attention to detail and his willingness to meet to go over all the details is very assuring. On our return he made immediate contact to followup on how the trip went. When we reported we had some serious issues with the Viking Company and how they managed the repairs to the ship we were transferred onto Rick encouraged us to make contact with the company. He offered valuable insight into how that contact could be written and encouraged us to be forceful about our issues. To us the knowledge up front and the positive support and followup at the end indicate a dedicated travel agent. We appreciate him.
Recommended
Efficient and friendly
By: gumper13
Reviewed on: 21 Oct 2014
Rick has been our travel agent for many years. He is always friendly and VERY efficient. All details of the trip are fully discussed before we leave so there are never any nasty surprises on the trip. He is available to help when we are on the trip and unforeseen problems arise. e.g.;we were on a trip when hurricane Sandy diverted our ship to another embarkation port and grounded all flights to New York. We were stuck part way to our destination. Rick arranged airline ticket changes and a wonderful hotel in the new port so our trip was not negatively affected.
Recommended
Excellent Service Again, THANKS RICK!
By: T & G
Reviewed on: 18 Nov 2014
We have used Rick Johnson in the past, and have found him to be very knowledgeable, and professional. We just returned home from our 5 week travels to China, Tibet, and Nepal. He organised all our flights, and everything went very smooth. We would definitely use him again, and would strongly recommend him to our friends.
Recommended
Great travel adivsor!!!
By: M3
Reviewed on: 18 Nov 2014
Rick knows his stuff and has always steered my family and I on the best adventures, we love Rick and his wonderful advice and insight!!
Recommended
Excellent service, best options offered, offered accretive prices
By: honeymoon1986
Reviewed on: 18 Nov 2014
Rick helped us plan most of our honeymoon including all hotels and cruise ship. Being part of Virtuoso is a privilege that will make your stay worth it everywhere. We were received with the best open hands in every one hotel we went. Rick is very professional and friendly and gave us very good travel advice.
Recommended
A holiday made special
By: fergjs
Reviewed on: 18 Nov 2014
Rick provided excellent service and advise in assisting us in our winter vacation in 2014. His up to date knowledge of the area and and places to stay and visit were very helpful. We enjoyed our trip and we pleased with the tips and info that Rick provided.
Recommended
Expert Service
By: Dr. Greg Eisert
Reviewed on: 25 Nov 2014
Rick did a great job planning my trip. My connecting flights were well timed. Hotels were great. Car rental was simple and efficient. Rick did all the work and I had all the fun! Thanks Rick.
Recommended
Rick
By: Ace
Reviewed on: 15 Mar 2018
Extremely professional. Very helpful and knowledgeable about our destination and provided great deal of information that made our holiday great.
Recommended
Accurate friendly advice
By: Stuartlittle
Reviewed on: 16 Dec 2014
Thank you Rick for your great expertise in planning our 25th Wedding Anniversary vacation in Hawaii. Your attention to detail, costing and suggestions where so appreciated. Everything was on time, our hotel in Waikiki was exactly what we wanted right on the beach:) Close to everything - nightlife and great restaurants. Then our trip over to Maui was amazing - the Outrigger at Napili Bay was super - we had one little hiccup and one call to you - it was fixed - and a complimentary night. That was very kind and we assume you do so much business with them that they want each stay to be fabulous. The only way we can say a bigger thank you is to recommend you to our friends - and we have and they all love you - move referrals to you!! Again, thanks for your attention to detail and suggestions.
Recommended
Lovely clean resort
By: Bobby3
Reviewed on: 08 Feb 2015
The resort was lovely. Lots to do & so clean. Had trouble with our accommodation as we had requested & been confirmed that we had a room with 2 beds. However we were put in a room with one bed and it took slot of haggling to get the room with 2 beds, which we did get on the second day. Also had difficulties with dinner reservations. All in all, really enjoyed the resort & all the amenities.
Recommended
Another wonderful holiday
By: H/J
Reviewed on: 03 Mar 2015
This is the second vacation we have booked with Rick Johnson and we were once again very pleased with the way he assisted us in our trip. He provided excellent advise and tips on ways to improve our holiday. His assistance to us in making our lodging choices proved very good as all accommodation was excellent. He provided a wealth of info on our destinations which allowed us to make the most of our trip. Rick was very timely in all his dealings with us and we will certainly used his services again.
Recommended
Timely advice
By: Chris
Reviewed on: 08 Jun 2015
We were on a trip to the UK, using a Britrail pass. Rick had mentioned making reservations ahead of the travel date, this was particularly helpful one rainy day in Oban when the train refused anyone without a reservation.
Recommended
Expert friendly service for sure.
By: Aranaceous
Reviewed on: 28 Jun 2015
All wend smooth as silk.
Recommended
Great Service
By: Don
Reviewed on: 23 Jun 2015
Does an excellent job in assuring that the client receives the best possible deal; all the necessary information and does complete follow-ups on everything.
Recommended
krakow
By: ulrich
Reviewed on: 14 Jul 2015
Had a fantastic trip Everything worked as it was on the Itinerary .Andel,s hotel in Krakow was the best. Centrally located right downtown. Can recommend it to anybody. We took the local bus from the airport and it stops right in front of the hotel. Thanks again for the great service we received from you
Recommended
Expert friendly service
By: herring
Reviewed on: 30 Aug 2015
_______It was Great!
Recommended
Exceptional service
By: Lilasiankitten
Reviewed on: 03 Oct 2015
I generally book everything myself and have never used an agent; Rick was highly recommended to me and he exceeded all expectations! I would not only use him again but would recommend him as well!
Recommended
Expert Travel Professional
By: Babyboomer Traveler
Reviewed on: 16 Oct 2015
Rick Johnson provided us with all the help we needed to go on this wonderful Oceania cruise. The ship was great and the voyage was also. We thoroughly enjoyed ourselves!
Recommended
Rick knows his stuff and is very helpful!
By: Mark
Reviewed on: 18 Nov 2015
Excellent, Always does a great job for us!
Recommended
Expert friendly service
By: SnOW
Reviewed on: 26 Nov 2015
Went smoothly according to plan.
Recommended
Excellent profesinoal service
By: Jeff
Reviewed on: 10 Dec 2015
He is a friendly and a knowledgeable person, he know what he is doing.
Recommended
Rick is a pro!
By: Mark
Reviewed on: 04 Jan 2016
Rick always does an excellent job. We trust Rick with all aspects of our travel- flight, hotel, insurance, entertainment/excursions, always excellent.
Recommended
Expert friendly service
By: Aranaceous
Reviewed on: 10 Jan 2016
All went smoothly and conveniently as planned.
Recommended
Maya Riveria - Palladium
By: Vineyard_Gopher
Reviewed on: 06 Mar 2016
Another great stay at the Palladium. Wonderful Jn Suite in the Kantenha side, close to ocean and pool. We had a large family group from 3 yrs old to Grandparents, there was plenty to do on site to keep everyone busy/happy. Lots of variety of food at the buffet kept even the most particular youngster happy, they even made chocolate milk on request. Only issue we had concerned dining reservations for the a la carte restaurants, as we did not book directly with the hotel (or not members of the "travel club") we were not able to make a reservation for a group over 10 folks. We did manage to luck out and get a couple of dinners as a group. I discussed this with the manager of group services at the Palladium, it's a policy thing. We will definitely go back to the Palladium again, it continues to be a quality property for a vacation.
Recommended
Absolutely amazing!
By: The traveler
Reviewed on: 18 Apr 2016
I cannot speak highly enough with all the help I received from Rick. He made My difficult travel plans a reality. And when I had issues he was very helpful. This is a person who I will use again and again for all my future travel plans.
Recommended
Prompt, careful and customer oriented
By: Frequent business traveller
Reviewed on: 28 Apr 2016
I rely on Rick's prompt and careful service for all my business travel. He remembers my wants and needs without reminders. He offers prompt, efficient, and reliable service, with the addition of helpful reminders & tips ranging from heath insurance to turtles in Mexico or fog in Seattle!
Recommended
Exception service!
By: Anh
Reviewed on: 13 May 2016
Rick as usual another excellent job booking our family vacation. Everything went as planned and exactly as expected! Rick you are nothing short of amazing at what you do and without hesitation we will not only continue to refer you but will have you book our getaways!! Thank you for everything!!
Recommended
Expert friendly service!
By: Aranaceous
Reviewed on: 24 May 2016
Flights went well and close to on schedule. I liked flying KLM, partly because they actually give you food. The connections were a very convenient length and not stressful. I would happily repeat the experience.
Recommended
Helpful friendly service
By: Martin&Janet
Reviewed on: 10 Jul 2016
Rick took over this booking soon after it was made in September 2014 and has kept us well informed along the intervening period. He has always been most helpful and attentive to sort out any issues however significant they might be. Months in advance my wife's complex dietary requirements were fully advised to Azamara, which was a big help on the first evening when we were advised on the ship that they could adapt most dishes to suit her and that she would be shown the following day's evening menu by the deck 5 restaurant to let her choose them in advance. Rick provided us with a very comprehensive review of the countries and cities we would be visiting to help us plan our itinerary, as apart from taking the Azamara 3 day tour in St. Petersburg we were doing the sightseeing on our own. It was a pleasant surprise to learn a short while before we sailed that we would receive $150 on board credit each by virtue of being booked through a Virtuoso member. We would happily use Rick again.
Recommended
Professional courteous service.
By: SB
Reviewed on: 31 Aug 2016
Everything went as planned. Recommended!
Recommended
tell it like it is
By: exodus
Reviewed on: 04 Sep 2016
Vacation was all we anticipated and more. All transfers, hotels and extras were spot on and well coordinated. We were very satisfied with service provided by Rick and would highly recommend him to others.
Recommended
Great service by Rick Johnson and the Petersons
By: paperclip
Reviewed on: 27 Oct 2016
Rick is a very good agent. We will use him as our agent again for sure. The 8 hour tour conducted by a wonderful and knowledgeable lady and the host Petersons was, in a word, fantastic!! Quebec city, and surrounding islands are wonderful - for me, the best part of the trip. We'll be cruising on Seabourn again in the very near future. Cheers, "paperclip"
Recommended
Excellent help
By: Thaiboy
Reviewed on: 08 Nov 2016
Friendly and expert advice
Recommended
Crew and ship were outstanding
By: Bob4949
Reviewed on: 29 Nov 2016
We were impressed with the women cabin attendants. Ours always addressed us as Mr. & Mrs. Johnson whenever she saw us. The "all inclusive" aspect was nice even though we aren't really drinkers. The wine selections were good. The restaurants were fabulous, especially Silk Road and Prego. The buffet was the best we have ever been to. The choices of unique and delicious foods were outstanding. We did not like all the tender ports. Several of them were not worth visiting. Bonaire was the best as there were local products to buy. Many of the excursions were not suitable for the many seniors aboard, too much strenuous walking. A trip to a beach to just go swimming would be appropriate. (No snorkeling, stingrays etc.) It would have been nice to have a gift shop where one could buy reasonably priced souvenirs. All of the shops catered to the very wealthy. Thank you for your help on this wonderful cruise.
Recommended
.
By: NN
Reviewed on: 22 Dec 2016
All went well. Next time I will avoid China Eastern, however. The transfer process in China was laborious.
Recommended
Well done, Rick! Thanks.
By: SB
Reviewed on: 09 Jan 2017
Everything went smoothly. Great travelling.
Recommended
Fun In the Sun!
By: suntraveller
Reviewed on: 11 Feb 2017
Rick has been very helpful in finding a location that suited our price range and times we wanted to travel! He spent extra time co-ordinating the trip with friends who live out of town. We are booking other trips and appreciate his help in planning
Recommended
Satisfied
By: Ceedee
Reviewed on: 13 Feb 2017
Rick was very thorough. Everything was well planned.
Recommended
Paradise found!
By: Napper
Reviewed on: 15 Feb 2017
Rick heard what we were looking for....the beach we see on the Corona Beer commercial. We knew we wanted to go to the Maya Riviera but weren't sure exactly where. It's a huge span. We wanted the awesome beach and a location we could do a little bit of sightseeing from. Rick advised us of the pros and cons of some we were considering, and with his input, we made a decision. We weren't disappointed in anything. The connections were smooth and the resort & beach were all that we expected. Thanks for the great advise & support :)
Recommended
Review
By: billy bob
Reviewed on: 15 Mar 2017
Very helpful and thorough and made sure we had all details in place before we started trip. Looked into all inquiries and for most part able to answer queries. Made effort to meet with us instead of just us making arrangements to meet with him setting up trip details. Will continue to use as travel agent.
Recommended
Great, Friendly Service---Excellent Follow Up!
By: KYK
Reviewed on: 08 Jun 2017
Rick, was pleasant right from the start and extremely helpful. He wanted to make sure that we had a great vacation in Cuba. He understood what our budget, sightseeing wishes, and comfort levels were. A few issues arose in Cuba, which were beyond his control and he followed up immediately, on our behalf. Thank you Rick for your dedication and hard work!!
Recommended
Helpful and efficient and enthusiastic
By: Vance
Reviewed on: 04 May 2017
Always enjoy planning trips with Rick. This trip to Italy was our third trip with Rick. He advised us to have hotels booked upon arriving at Rome, and leaving from Venice as they are full of tourists. He booked 2 great little two-star hotels there, which made it easy for us. We were able to find our own hotels in other cities, as it was the off-season and not as busy as was Rome and Venice. He arranged travel insurance, booked our flights, and printed us a detailed itinerary of all the flights.
Recommended
April Princess trip
By: jeannie
Reviewed on: 30 Apr 2017
We have worked with Rick since the 1980's and always receive excellent planning advice/suggestions.Reservations are made in a timely and efficient manner and ticket pick-up is well in advance of travel. He responds to all our questions and queries and if he doesn't know something he will research and call back. On a recent trip our daughter and grandsons were in London when the terrorist attack took place-he was in contact with her and sent a note of reassurance to us that she was ok. He has always provided excellent service as he did on our recent Princess trip-he did the booking for friends who were accompanying us as well. All was organized and ready for pick-up when he called us in. He has a very pleasant manner , good sense of humour and a delight to work with.
Recommended
California Coastal Cruise
By: Ann & Bob
Reviewed on: 29 Apr 2017
Rick Johnson was great to work with. He answered any questions we had very quickly and gave us good detail on the important information needed for our trip.
Recommended
Rick was excellent!
By: JM
Reviewed on: 28 Jun 2017
Rick was excellent! He provided great customer service and worked hard to get me the best value for the trip I wanted. He had good suggestions and recommendations. I was pleased with my experience.
Recommended
Ireland C. I. E. Tour
By: Irishborn
Reviewed on: 22 Jun 2017
Good working with Rick as he tried to answer any questions we had and give us information we needed to connect with tour, transfers and flights
Recommended
Best advisor
By: Stuart
Reviewed on: 28 Jun 2017
Rick has been our travel advisor for the past decade- very thorough and professional Always there to help - advise- awesome agent!!
Recommended
A+++ Service
By: Annie
Reviewed on: 12 Jul 2017
From start to finish Rick is ontop of everything! He makes sure everything goes according to plan and when something out of his control occurrs he still somehow pulls through to make everything work!! Thank you Rick!
Recommended
Service
By: Barclay
Reviewed on: 21 Jul 2017
Overall an ok experience but found some of the info disjointed & received spuraticaly My first experience with Rick & VisionTravel
Recommended
Working with cruise travel agents
By: Cheryle
Reviewed on: 05 Aug 2017
He is the best!!!!
Recommended
Cruise advisor
By: Muna
Reviewed on: 05 Aug 2017
Pleasant ,attentive ,gives many options to your request ,suggestions derived from personal experience ,takes time to get informations for all you need to know, all making your travel a pleasent ,no surprises event . I will continue to work with Rick ,and I already recomended him to my friends. Thank you Rick ! PS. He is always making time to see you ,and returnes your calls promtly .
Recommended
Working with a great Travel Agent
By: Picklepatty
Reviewed on: 17 Aug 2017
Rick is extremely well versed about all aspects of the cruise industry. His knowledge about all the various ships and destinations is very valuable to his clients. His frequent phone calls and E-mails keep us abreast of exactly what is going on with our planned cruise. We are fortunate that he answered the phone several years ago when we first wanted to book a cruise with Crystal Cruise Lines. We will certainly use his expertise for our future cruises.
Recommended
Germany 2019
By: Dave
Reviewed on: 22 Aug 2017
Wonderful. He works hard to get good conections and layovers. He also has good knowlage of many airports and was able to advise me on what to expect in each one.
Recommended
Excellent service
By: SB
Reviewed on: 30 Aug 2017
Friendly, knowledgeable and thorough.
Recommended
douro river cruise
By: marina
Reviewed on: 27 Sep 2017
Rick was great in lining up the river cruise and organizing our flight details. I would highly recommend him for future travel plans.
Recommended
Danube
By: Why
Reviewed on: 16 Oct 2017
Super good will continue to work with him
Recommended
Eastern Europe river cruise in September 2017
By: Sandy
Reviewed on: 17 Oct 2017
Rick is very thorough with the planning and excellent with his communications with us. He helped us make the right choice with a Scenic River cruise It was excellent!!! We look forward to using his services again and have recommended him to others all ready.
Recommended
Rick Johnson
By: Superdave
Reviewed on: 14 Oct 2017
The best very good and knows his stuff. Kept me informed every step of the way.
Recommended
Travel agent
By: Tibsen
Reviewed on: 04 Jan 2018
Excellent very helpful!
Recommended
Regent Mariner Cruise Dec 12/17 to Dec
By: paperclip
Reviewed on: 09 Jan 2018
Rick Johnson is a first class travel agent. He has booked the last two cruises for my wife and myself. It is obvious that he is an expert in his abilities to find just what the customer is seeking, and working diligently to make the whole holiday adventure a great experience. In the future we will always seek his expertise in again finding us just what we want!! Ian McDougall
Recommended
Great trip
By: Sandy
Reviewed on: 22 Jan 2018
Rick is great. Thorough and very helpful.
Recommended
Accommodations on The Big Island
By: A
Reviewed on: 08 Feb 2018
As usual Rick was on top of of everything! The house was beautiful and once again the entire family was happy! Thanks again Rick!
Recommended
Travel Agent Review
By: Billybob
Reviewed on: 09 Feb 2018
Very professional and competent. Pays attention to details and is proactive so that everything is in place prior to trips. Thorough and thoughtful regarding making sure the customer understands all aspects of a trip prior to departure. Highly recommended.
Recommended
All inclusive
By: Ski generation traveller
Reviewed on: 09 Feb 2018
Rick's suggestions matched what we were looking for as he had been to the area before. He checked with us to hear our opinion of the trip when we returned
Recommended
Rick Johnson
By: Lor
Reviewed on: 15 Feb 2018
I have been a client of Rick Johnson since 1986 and do a couple of trips with each year. Enough said thank you
Recommended
Travel agent
By: Pop
Reviewed on: 06 Mar 2018
Very professional and helpful.
Recommended
Professional, knowledgeable, personable travel planning partner
By: Lois
Reviewed on: 16 Mar 2018
We have worked with Rick for approx 7 yrs. On average we take 2 international (outside USA) trips a year that Rick plans, coordinates for us. His knowledge of travel opportunities and travel partners is invaluable. Some people say "why do I need a travel planner", well you need one to maximize your travel time, budget and overall experience - you also need one if/when things don't go as planned - they are problem solvers and your advocate. Rick represents all of these things to us. Additionally Rick makes the travel planning process fun - when we are not in a active planning mode, we miss him! Simply stated we are not going anywhere without working with Rick!
Recommended
Holland america cruise (Alaska and Mexico )
By: Muna
Reviewed on: 11 Mar 2018
Wonderfull ,he is very considerate to his clients needs ,very knolegeable ,accomodating ,spends all time necessary with you ,great advise and suggestions . I recomend him to anyone who wants to book any travel adventure anywhere .
Recommended
Excellent!
By: Sandy
Reviewed on: 11 Mar 2018
Trip arranged on short notice. Excellent help. Good flights, good connections, good leg room.
Working with Rick Johnson, you will have access to:
- An experienced travel guide whom you can rely on before, during, and after the trip
- Exclusive luxury resorts and properties
- Once in a lifetime experiences
Explore with the Best
Virtuoso Advisors are constantly pushing the boundaries in unique travel experiences.
Alliance programs are unique tailored experiences exclusive to travelers working with Virtuoso Travel Advisors.
learn more
United Kingdom
Iceland
Ireland
France
Germany
Switzerland
Portugal
Spain
Italy
Turkey
Fiji
French Polynesia
Australia
Canada
Thailand