Travel Specialties
Interests
Festivals & Events
Culture, History & Arts
Sports & Outdoors
Destinations
Italy
France
United States - All
Mexico
Ireland
Selling Travel Since
2013
My Background
With degrees in print journalism and Latin, I once thought I'd have to go back 500 years to find the perfect job.
But travel advising allows me to write and share my love of all things European.
My passions are sports and travel, and my favorite trips to plan have been the ones that combined both.I treasure the scarf one family brought me from the 2015 Champions League soccer final in Berlin. Their son watched his beloved Barcelona defeat Juventus for the title on his 14th birthday. A few days later he was on a private tour of Barcelona's home stadium.
Then there was the couple who had their hearts set on a soccer match during their trip to Italy but had to delay the trip until after the Italian domestic season was over. Fortunately, there's always soccer going in somewhere in Europe, and the Ireland-Scotland game in Dublin was the highlight of their trip.
I may have only been able to make it living in Hawaii for a year, but that time instilled in me an appreciation for island living and the hidden corners of the world.
The emails I send in French and Italian may be riddled with grammatical errors, but it always puts a smile on my face when the person on the other end writes back in French or Italian, even if it does take me a little longer to read.
So whether things go exactly as hoped, or we need to make some adjustments along the way, I'm here to make sure every trip of yours produces unforgettable moments.
Places I Have Traveled
Reviews and Recommendations for Damien Martin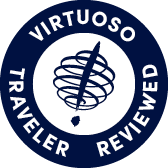 Virtuoso Verified Traveler
All reviews are from confirmed guests sharing exclusive insights
Sort reviews by
Recommended
GREATEST AGENT EVER!!!
By: MARCOS
Reviewed on: 16 Oct 2015
I have used a handful of travel agents in the past, and they have all been fine-nothing bad, nothing great. However, Damien Martin has changed my perspective. I will never book another vacation without consulting him. Due to some unforeseen events we had to change our reservations during a beachfront vacation. After being tired from work we were drained, but Damien was able to change everything quickly on the fly without any hassle. We noticed no interruption in our vacation, and it turned out better than expected. His help saved what could have been an otherwise disastrous trip. In addition to his excellent skills in negotiating a fair price for luxury accommodations, adapting quickly to our needs he has excellent recommendations. In summary it would be a foolish move to not seek the services of Damien for any vacation large or small Strengths: arranging excellent rates, top-notch recommendations for activities, availability, friendliness, adaptability. Weaknesses: None
Recommended
Thoughtful and efficient planning
By: PG
Reviewed on: 02 Apr 2015
Damien planned almost every detail of our trip to France. He was thorough and always available to answer questions and address concerns or issues. Would definitely have him help us for future travel!
Recommended
Attention to detail!
By: Erin36
Reviewed on: 22 Jun 2015
Damien was just fantastic to work with! I wanted to plan a very special romantic honeymoon and am so glad I found Damien to help me! He was so patient with me and my laundry list of must-have's for our trip. He was able to find a destination that offered everything we were looking for and more! Damien is a true professional who knows all the insider tips, and pays great attention to detail. He kept in constant contact with us via text message from the time we booked our vacation to the "welcome home" when we returned. I couldn't have asked for better service! We are so grateful for his hard work in putting together the perfect honeymoon! We are looking forward to working with Damien again when we are ready to plan our next get-away!
Recommended
Great Service
By: JC
Reviewed on: 12 Jul 2015
Awesome trip. Had a great time. Spent way too much in ports.. It was great.
Recommended
Outstanding trip
By: Rick
Reviewed on: 13 Jul 2015
I gave Damien some guidelines i.e. 3-5 day trip to the northwest US, Dakotas, or Michigan areas. These were places my wife or I had not been. He found and recommended a trip to Oregon wine country south of Portland. He handled every detail; travel, lodging, and rental car plus gave us great suggestions for an equestrian wine tour and day trip to the coast. We've used Great Getaways Travel to plan two vacations and highly recommend them and specifically Damien.
Recommended
Picture Perfect in every way
By: T'Sue
Reviewed on: 24 Aug 2015
Damien...what a gem. Looking forward to travel made simple... So prompt and thorough. No detail seemed to small.
Recommended
Fantastic trip planner
By: Andy
Reviewed on: 28 Sep 2015
Damien put together a great trip. Our flights, car pickups, accommodations were all planned very well. The tours/activates he booked were great too. I'd recommend the trip Damien put together for us to anyone.
Recommended
Professional - Knowledgeable - Transparent - Responsive - Excellent
By: VV
Reviewed on: 02 Jan 2016
I would consider ourselves as sophisticated travelers, who enjoy researching all sources available when planning a trip. We had Damien plan our Hawaii trip based on a recommendation and the experience succeeded our expectations. Planning was fun, Damien is extremely knowledgeable, had fantastic recommendations based on our interests, and was very responsive. The travel itinerary information package, online, as well as paper was well thought out, had attention to detail, and made the logistics during the trip very easy. Hotels (room upgrades, little extras we received) and Restaurants (great tables) were fantastic. We already started planning our next trip to France with Damien. Highly recommended - even to those who usually do not use travel agents.
Recommended
Perfect Honeymoon!
By: GregO426
Reviewed on: 16 Apr 2016
Damien helped us plan our honeymoon to St. Lucia, and thanks to his help, we had the perfect trip. From the air travel to the room reservation to our excursion he helped us plan, there wasn't a single hiccup. He was always accessible during the planning process and if he didn't pick up the phone right away, he'd call back within 10 minutes. Since we've been back, he's already checked in to see how the trip went and he's following up on a complementary gift we were supposed to receive from Sandals while on the trip. I can't imagine our next trip comparing to this one, but I plan on using Damien to help us set it up.
Recommended
Great Service Made it a Great Trip
By: paul49
Reviewed on: 26 May 2016
On the recommendation of a friend I contacted Great Getways Travel. I was fortunate to work with Damien. I had given him a rough idea of what I wanted on this trip and he did the rest in fine fashion. Damien provided me with several hotels and excursions to choose from to compliment our cruise activity. Damien kept me up to date on our itinerary and any changes that needed to be made. The flights he selected were at times that eased the stress of a European crossing. During our vacation there were several special little "touches" that Damien arranged. I would not hesitate to engage Damien in the future and would recommend that you include him in your travel plans.
Recommended
Incredible- from planning through coming home
By: Colleen0528
Reviewed on: 08 Jun 2016
Damien did an amazing job of planning our honeymoon! He knew exactly what we were interested in and ran with it! He came up with a wonderful itinerary that fit exactly what we were looking for. He recommended different things to do while we were gone and was spot-on! While I was worried about our travel arrangements for the trip home, he went out of his way and above and beyond to ensure that I didn't worry about it. He called us at the resort to ensure we knew everything was going to be fine and then messaged us throughout the process home to make sure that everything was running smoothly, we caught all of our flights, etc. I will NEVER plan a big trip like this without Damien on my side!
Recommended
A Great Trip
By: Meg
Reviewed on: 24 May 2017
Damien was so wonderful to work with. He was great at following up on scheduling and booking transportation and sights. He offered fabulous suggestions to our itinerary keeping our budget in mind. Have worked with him twice now and will do so again in the future. Highly recommend him.
Recommended
Excellent
By: Mexico Crew
Reviewed on: 22 May 2017
Damien was great to work with! He was very responsive during our booking, and checked in multiple times throughout our travel experience.
Recommended
Really helpful
By: Abby
Reviewed on: 23 Jun 2017
Damien was really helpful planning a few special days in Italy. He was super fast to respond to my emails and always had great suggestions. The tours he planned for us were perfect. He listened to what we wanted and make great choices for us.
Recommended
Excellent Service
By: TMonney3
Reviewed on: 29 Jun 2016
Damien came highly recommended to me by my parents, as he had planned their trip to Germany and Spain last summer. My cousin and I just told Damien the dates we took off work, the cities we wanted to visit, and the activities we wanted to do, and he literally took care of everything else! He monitored flights and trains to get us the best prices, gave us great central hotel options, and booked the bulk of our activities. But what really set Damien apart was his availability throughout the planning process and the trip itself. Whatever questions we had, he would research and respond to in a timely manner. For example, due to transportation strikes in France, our return train to our hotel was cancelled, and Damien was with us every step of the way to make sure we got back to our hotel safely. Ultimately, Damien offered a peace of mind that meant we just got to fully enjoy our amazing adventure unencumbered. He is worth every penny, and I look forward to working with him on my next trip!
Recommended
Expert friendly service!
By: Mickey
Reviewed on: 01 Jul 2016
Grand Oasis Cancun was great! It would not be what Bonnie & I would pick for our selves, but with the family of 14 and age spread of 7 to 71 it was perfect. The week we were there included all of the buffets and restaurants and included 3 reservations at the exclusive restaurants. It included cabanas reserved on the beach for us as well as by the pool. Entertainment was going on all of the time, everyone enjoyed the evening show at the Red Circus n the center of the main building. The staff could not have been more friendly and accommodating . The resort had everything, the kids had a great time, a very good experience. We would highly recommend this place, especially for families. The transportation to and from the airport was perfect, they really know how to handle things! Damien made the reservations for us and took care of all of the details, the experience could not have been any better!
Recommended
Top Notch from Start to finish
By: T'Sue
Reviewed on: 19 Aug 2016
Always very helpful. Great follow up before and after trip. Friendly and pleasant to work with.
Recommended
Great listener and Patient with last minute changes
By: Kim122
Reviewed on: 31 Aug 2016
Damien was terrific. He not only planned our two week trip to Hawaii , he did it twice!!! We had to reschedule due to our work conflicts and he didn't miss a beat. Super understanding and diligent.
Recommended
Easy and communicative
By: Mike
Reviewed on: 30 Aug 2016
Damien made things easy, and was very pro-active.
Recommended
over the top
By: dan c
Reviewed on: 09 Sep 2016
Damien did a great job, was able to straighten out a month old problem in five minutes. will recommend to friends.
Recommended
Avalon river cruise
By: CT54
Reviewed on: 02 Oct 2016
Damien was awesome and gave us all the information that we needed. We will use Damien for future trips! On review of Avalon waterways no one greeted us at airport due to 1 hour delay of our flight. Cab to Pullman hotel was just fine and cost reimbursed from Avalon. The Pullman hotel had no information for us on check in and time of the meeting with Avalon; we were directed to the Avalon desk. There was never an individual at the desk and the white board never listed out boat information until approximately 1 hr before our meeting time. I called the cruise director who reported to keep checking for information. This created anxiety about missing the meeting. There information was not updated until around 845 am on morning of boarding boat. We heard several complaints of other Avalon travels regarding this problem of no communication between the Pullman and Avalon and no personal present. Avalon could have provided a letter at check in for us with information.
Recommended
The Bomb Trip!!!
By: Clarence
Reviewed on: 03 Oct 2016
My trip booked through Damien was an absolute blast!! It was the best trip ever. The accomodations were awesome and the service was impeccable. We booked a swim-up ocean view room at the The Royal Playa. We spend a lot of time in our private pool ordering drinks and room service which was delivered to us on the patio. We caught a show in the lobby each night at 9:45pm then retreated back into our room to enjoy room service and our personal jacuzzi. We took advantage of the "My time" offering by booking a massage with 20% off at check-in as well as a free day bed on the beach all day Saturday. The restaurants were all 5 star! The waiter and chef at Maria Marie personally made a special meal for my girlfriend as it was her 30th birthday. We can't wait to book another trip!! Everything that Damien Martin said about our trip came true. I will definitely book with Damien again! Clarence
Recommended
Great place to weather the storm
By: Deb C
Reviewed on: 14 Oct 2016
Employees went out of their way to make us feel a home in the middle of a hurricane. Everyone was extremely positive and courteous even after being on property for 48 hours. This is the forth hurricane we have weathered @ the Ritz. We arrive bone tired from working nonstop buttoning up our businesses and homes and leave fully recharged to deal with who knows what. Our family thanks the Ritz family for putting us first in such a challenging time.
Recommended
Friendly, helpful
By: Birdie
Reviewed on: 07 Nov 2016
I found Damien online and we chatted about my trip via e-mail. He was up front and helpful, Very easy to deal with and he helped me with special accommodations at our hotel.
Recommended
Kauai Hawaii
By: Megan
Reviewed on: 19 Dec 2016
Excellent trip! Thoughtful recommendations. Will use again
Recommended
Excellent travel advisor
By: Kiran
Reviewed on: 03 Mar 2017
Damien was Excellent. Amazing travel Agent. Best I've ever dealt with
Recommended
Very Helpful
By: Greg
Reviewed on: 05 Apr 2017
We only used Damien to help us book our stay in Sedona. Damien was very responsive and got us booked without any issues. He even provided us with some recommendations for Grand Canyon jeep tours. I also appreciated that Damien followed up with me after the trip to see how everything went. I would use Damien's services again for travel.
Recommended
Honeymoon.
By: Mike
Reviewed on: 26 May 2017
Damien organized the best trip I have ever taken. It just so happened to be my wedding and honeymoon, so his attention to detail and ability to get discounted cottages was much appreciated. Bottom line is, I paid less than if I would have booked the trip on my own, and having him take care of the details made other planning for our special week much easier. I would strongly recommend Damien Martin to others looking for good priced, carefree travel, and we will definitely utilize his amazing services in the future. Thanks Damien!
Recommended
Arabian Gulf, Suez Canal & Venice
By: Mickey
Reviewed on: 27 Apr 2017
Damien was great, on the ball on everything. Saw to our wishes, everything went as planned, with no hitches. He saw to all the details, made our vacation perfect! When other people were worried about how they were going to get from point A to point B when we arrived, we had no concerns, we were told we were going to be met at a certain time and place and it happened just as described. Could not have been better!
Recommended
He is the best!
By: gingerbread
Reviewed on: 07 May 2017
Damien was the best travel agent we have ever encountered. He was so helpful throughout the process of decision making, preparation, and during travel(with a rescheduled flight). He will definitely be our choice for future travel.
Recommended
Working with Damien Martin
By: Penny
Reviewed on: 26 Jun 2017
I so enjoyed working with Damien to plan my astounding adventure in Italy. He helped me put together an amazing, two week itinerary. All of my questions were answered in a timely fashion and he took my sister and me, step by step, through each day that we would experience abroad.
Recommended
Simple
By: Birdie
Reviewed on: 03 Jul 2017
Damien is easy to work with. He understands what I want and always comes through.
Recommended
Want to Plan a Trip
By: SPat
Reviewed on: 29 Aug 2017
Working with Damien Martin was flawless- he was aware of what I needed done and even kept me posted about changes in prices and recommend when I booked by. He was great and efficient with all that he did so that from the time I touched down in Cabo to the time the plane left, there were no hiccups. I would highly recommend him to plan your next vacation!
Recommended
Great
By: Lisa
Reviewed on: 01 Nov 2017
Damien was great to work with. On the day we were leaving we had some flight cancellations and he tried his best to help us any way he could and during the trip he kept up with our airport transfers to make sure all ran smoothly.
Recommended
Well planned Italy trip
By: Shubhankar
Reviewed on: 14 Sep 2017
I recently worked with Damien for a family trip to Italy (where my parents would join us from a different country). From the beginning I found Damien very knowledgeable. He could always suggest options whenever id have some requirements. And when I was considering shortening the Florence leg of the trip, he convinced me to spend a decent amount of tme in Florence. Considering Florence turned out to be my favorite part of the whole trip, I'd say that was good advice :) He also booked us hotels at these very very convenient locations and was helpful in suggesting and booking tours in the cities and also train tickets. Overall a great experience and I would highly recommend Damien.
Recommended
Great Service
By: Robin
Reviewed on: 14 Oct 2017
Damien has helped with several of my trips. He is always courteous and very prompt! He is also aware of my special requests.
Recommended
Last minute river cruise
By: Jack
Reviewed on: 27 Sep 2017
Started slowly. He did not know us and we did not know him. He was referred by a colleague of his, Judy Chaitman, who was unavailable. As time went by, her seemed (on the phone) to warm up and understand our goals, in this case, visiting our grandson.
Recommended
Trip
By: Dancing Coyote
Reviewed on: 07 Oct 2017
15 characters minimum 0 of 1000
Recommended
25th Anniversary Danube Cruise - 2017
By: 25th Anniversary Danube Cruise - 2017
Reviewed on: 06 Nov 2017
Damien was great in every aspect of our planning for the trip, and the actual trip flowed smoothly because of the planning. He gave us the info to compare and decide cruise lines, optional trips, etc. He responded quickly to our questions and requests. He set up our transportation to/from the airports and hotels; and they went off very efficiently. His info on currency and tipping was very helpful, and I kept a crib sheet of his recommendations that I used for buying things or tipping. The trip summary including our air travel was very helpful in planning our days. My wife and I look forward to working with Damien on future travel.
Recommended
Bora bora
By: Kiran
Reviewed on: 27 Nov 2017
Damien is a very knowledgeable, organized and meticulous travel agent. We give him the highest possible recommendation. Thank you for arranging an amazing honeymoon
Recommended
Great vacation!
By: RN
Reviewed on: 28 Dec 2017
We had a great experience working with Damien. We will definitely reach out to him for our future vacation plans.
Recommended
Sun time.
By: Buzzard
Reviewed on: 25 Feb 2018
As usual, Damien's arrangements were spot on. Flights were timed well. Accommodations were what we were looking for. Nice to have someone we can depend on.
Recommended
SanJose del Cabo
By: KC Cool
Reviewed on: 06 Mar 2018
Damien is very professional but also, very approachable! Always getting right back to answer any questions about upcoming travel or making sure from the start that he is providing multiple choices for choosing location or accommodations for planning a destination. You never have to worry when he is planning your trip that everything will be taken care of and at your disposal prior to your departure.
Recommended
cabo
By: cavie
Reviewed on: 13 Mar 2018
He was wonderful. Will always use him in all my travels. Very helpful in everything!!
Recommended
Damien
By: Shannon
Reviewed on: 25 Mar 2018
Damien is great! He is detail oriented and easy to work with. He even got back to me right away about a trivial concern when I know he was out of town.
Recommended
Portugal trip
By: Ram
Reviewed on: 22 Apr 2018
Damien did a great job planning our trip!!
Working with Damien Martin, you will have access to:
- An experienced travel guide whom you can rely on before, during, and after the trip
- Exclusive luxury resorts and properties
- Once in a lifetime experiences
Explore with the Best
Virtuoso Advisors are constantly pushing the boundaries in unique travel experiences.
Alliance programs are unique tailored experiences exclusive to travelers working with Virtuoso Travel Advisors.
learn more
Italy
France
United States - All
Mexico
Ireland
Dominican Republic
Bahamas
Jamaica
Saint Lucia
United Kingdom
Iceland
Greece
Germany