Wayne Muhlstein
Mc Lean, United States
Travel Specialties
Interests
Food & Wine
Culture, History & Arts
Independent Tours
Ocean Cruising
Destinations
China
Australia
Costa Rica
New Zealand
France
Selling Travel Since
1988
My Background
"Let me show you the world I love." I am very excited to share with you a new way to travel and view the world. My clients experience travel and value far beyond the status quo and off most other traveler's radar. With over three decades of experience and over a million miles traveled, I've honed an innate ability to understand my client's travel DNA, fulfill their emotional aspirations and change the way that they experience travel.
I've been recognized by the editors of Travel+Leisure (Rising Star) and Luxury Travel Advisor (Trendsetter 2017) in the travel industry.
Building on the model of the financial advisor and blending the popularity of the bucket list, I employ a unique approach to travel advising with Virtuoso Wanderlist™ Travel Portfolios. Travel Portfolio planning helps save time, money and prioritize what matters most - a clear path to fulfilling your dreams. Why live day-to-day when you can live trip-to-trip?
If you have travel dreams, you need a travel plan. Of all of your life priorities, leisure time is one asset you can't earn back. It pays strong dividends to collaborate with me, a seasoned advisor, to maximize your most precious non-renewable asset – your time. I can change the way that you travel. Let's begin the conversation and let me show you the world I love. Let's talk, 703-307-1463
Places I Have Traveled
Reviews and Recommendations for Wayne Muhlstein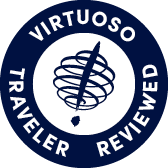 Virtuoso Verified Traveler
All reviews are from confirmed guests sharing exclusive insights
Sort reviews by
Recommended
Top Notch Service!
By: MaryAnne
Reviewed on: 03 Sep 2014
Wayne worked his wizardry to create a vacation where our dreams came true. His experience provided us with a travel plan personally suited to our tastes, and tailored to our time needs and price range. He delivered everything from accommodations to transport reservations with a prompt professionalism that more than met our expectations. We would plan future travels with Wayne and recommend him highly.
Recommended
Excellently planned
By: M&M
Reviewed on: 12 Sep 2014
From the airline tickets to the hotels and to arranged tours, everything was planned to our tastes and interests. It gave us a perfect introduction to Europe and we would recommend Wayne to our friends and family to assist them in making travel plans.
Recommended
Wayne is Dream to work with!
By: olsontrip
Reviewed on: 17 Oct 2014
Wayne is a great travel agent! This is the second trip he has helped us out on and we are planning on using him for 2 more coming up! He is very knowledgeable and detailed and helps every step of the way! We love working with him!
Recommended
Great Service!
By: Sharon
Reviewed on: 09 Jan 2015
Wayne provided excellent advice and service. I'm going to recommend him to all of my friends.
Recommended
Solicitous expert!
By: Becky
Reviewed on: 10 Feb 2015
Wayne provided me with several options for my 40th wedding anniversary weekend. We chose New York based on travel time and proximity to family. Wayne put us in a fabulous hotel with many extras. He contacted me at several points to check on travel arrangements and other plans. He arranged a special "treat" in our room for our anniversary and it seemed like everyone at the hotel knew it was our anniversary. I don't know if that was Wayne or the gracious surroundings- I suspect both. Wayne called after the weekend and was interested in what glitches occurred presumably to keep on top of the hotel's performance. He is a gem!
Recommended
Always great to work with
By: meri123
Reviewed on: 14 May 2015
Wayne makes planning a trip a pleasure. He is a great communicator and listener. Answers any questions, reviews itineraries, makes you feel very comfortable about overseas travel.
Recommended
wonderful caring service
By: alial
Reviewed on: 19 Jun 2015
Wayne was a wonderful travel adviser who helped make our trip a great experience
Recommended
Best support ever!
By: Annette13
Reviewed on: 28 Oct 2015
My experience with Wayne was out of this world! It was my first trip ever overseas and I was very nervous and excited, all at once. Wayne was very patient, informative, and caring. He guided me step by step through all the nuances of planning the trip and worked with me to find an experience within my budget and desired goals. Wayne was always available to answer my questions. He was easy to reach and very responsive. Unfortunately, we had to postpone the trip due to a family member's illness. Wayne worked with me side by side to address the changes, insurance claim, and rescheduling. He stayed in touch to check on the health status and continued to provide support until we completed the trip. I'm thankful to have him by my side for this first adventure and recommend him whole heartedly for a fantastic travel experience. Thank you Wayne!
Recommended
Absolutely Wonderful
By: JJR
Reviewed on: 28 Sep 2018
Always enjoy working with Wayne. He does an amazing job and always suggests something unique.
Recommended
Great Travel Agent
By: dndtravels
Reviewed on: 04 Nov 2018
Wayne was great to work with! He really listens to what you want and put together a fantastic trip for us. He took care of every detail and always responded quickly when we had questions. I would definitely recommend using Wayne for your next trip!
Recommended
Cruise Destination
By: RA
Reviewed on: 14 Mar 2019
Wayne is great to work with! He puts a lot of effort into making sure you are getting the best vacation for a good value.
Recommended
"Class Act" Service
By: Italian Tourists
Reviewed on: 03 Sep 2015
Wayne Muhlstein is a "Class Act!" Fulfilled my promise to take Mom to Rome-trip of a lifetime! Wayne hit a "home run!" He personally visited our home to discuss the trip. Wayne took notes and had an itinerary within weeks. We were very pleased-3 days in Venice, 3 days in Florence, and 4 days in Rome! Choices for airlines, high-speed train, personal taxis were super. We had 2 or 3 options for outstanding boutique hotels in each city. We could not go wrong with any hotel! For excursions, he made opportunities for us each day to ensure ALL could enjoy--private Vatican tour, attending Gladiator School, and personal gondola training sessions. He provided recommendations for gratuities, insurance needs, and places to shop. What an AWESOME trip! When you're met at the airport, guided to a personal water taxi, dropped off at your Venetian Hotel's waterside entrance, AND met with a bottle of Prosecco in your room-that IS "Class Act" service. Definitely using Wayne for future adventures.
Recommended
Amazing Experience
By: JJR
Reviewed on: 26 Jul 2015
Our trip to California was a birthday surprise for my husband. Everything was perfect. Wayne arranged for the hotel to add Angels baseball touches to the decor. He arranged for a wonderful room with breathtaking views of the Pacific Ocean. The service and amenities were equally wonderful. He also arranged for great tickets to an Angels game. This was the best vacation my husband and I have taken. My husband is already talking to Wayne about a spectacular trip for my birthday.
Recommended
Excellent! (Ausgezeichnet)
By: Prosit!
Reviewed on: 28 Aug 2015
As a typical dual income working couple that wanted to spend some time in Europe prior to attending an extended family reunion in Germany, coupled with my previous experience of living in Germany, my spouse and I thought it was an easy task to simply plan a week of travel throughout countries in Europe in the close proximity to our final destination of the family reunion. We also had one four daughter and one six year old daughter in tow. After considering multiple destinations from Bordeaux to Paris, BENELUX, etc., we realized turning to a professional such as Wayne was worth it, as our wheels were spinning. Wayne took the upfront time to understand our situation and work with his contacts to plan an itinerary that balanced what we wanted to see, what interested our children, allowed enough flexible time for us as a family to explore on our own and aligned with our budget. Our thanks go out to his team and we look forward to working with him in the future. Well done!
Recommended
Wonderful Hotel
By: Sherry
Reviewed on: 09 Oct 2015
The Doubletree Inn exceeded my expectations. The rooms were comfortable and had everything we needed. The breakfasts were delicious and everyone who worked there was friendly and helpful.
Recommended
Trusted Advisor
By: Tim
Reviewed on: 16 Oct 2015
Our recent Globus Tour of Italy and Sicily was excellent. With Wayne's assistance we booked the tour and made all of the arrangements. He was helpful and knowledgeable. We appreciate his kindness, courtesy, and competence.
Recommended
Short trip to Miami
By: JANK
Reviewed on: 19 Oct 2015
Wayne was extremely helpful in helping us plan for a short trip to Miami Beach. He considered and helped plan every facet of the trip -- including finding a very nice luxury hotel, top-notch restaurants, and entertainment options. His thorough and thoughtful approach allowed us to line up all the details well in advance so we could relax during our our quick get-away. I would highly recommend Wayne to family/friends for any travel needs.
Recommended
Highly recommended!
By: Pbatts11
Reviewed on: 26 Oct 2015
If you are looking to plan a Hawaii trip, I highly recommend using Wayne Traveler for your planning needs. Wayne is very knowledgeable in all things Hawaii...from food, the beaches, and the activities to check out on each island. We just returned from our honeymoon to Maui and Kauai, and without Wayne, the experience would not have been graded as high as it was. Upon our arrival to the Sheraton Kauai, we quickly realized this wasn't the place we wanted to be staying for our honeymoon. It just didn't have that "resort" feel, and we didn't feel as pampered as we were in Maui. A quick call to Wayne, and he immediately realized the Sheraton did not place us in the best of the best rooms as he had originally worked out with them. At that point we told him we'd rather switch hotels entirely, and he was on top of it. He got us our money back and was able to help us book a room at a beautiful resort for the same price, all on such short notice. It was a huge, happy relief!
Recommended
Europe trip
By: Swid
Reviewed on: 22 May 2016
This trip was perfect. Wayne's suggestions and arrangements were fabulous. I would recommend Wayne as well as use him for my future travels. My tours of Florence and the Amalfi Coast were flawless. We had wonderful guides and the arrangements went off on time. Thanks to Wayne for helping me plan a trip that me entire family enjoyed and will always remember.
Recommended
Very professional service
By: judyandhowardRus
Reviewed on: 18 Sep 2016
Wayne Muhlstein organized our Viking Cruise from Nuremburg to Budapest. He also added three additional days for us in Prague before the cruise started, then one additional day after the cruise in Budapest. Both additions included tours of the Jewish quarters with individual tour guides. Our guide in Prague was outstanding. Liat knew everything about the Jewish area of Prague, having been born there and currently lives there with her family. Her children attend religious Chabad schools. In comparison, our visit to Budapest brought us with a tour guide who was very rote in his explanations and we got more from the guides in the Old Jewish Synagogue and Jewish Museum than our own tour guide. In going to the Jewish cemetery, our guide led us to the Holocaust area but couldn't really explain anything to us. We walked around the cemetery and learned ourselves. Wayne's attention to the small details made our trip very memorable. Any questions we had were answered promptly.
Recommended
Great trip!
By: Susan
Reviewed on: 14 Nov 2016
We really enjoyed our cruise in Canada! Thanks for your help Wayne!
Recommended
Knowledgeable and Enthusiastic
By: LouLou
Reviewed on: 27 Oct 2016
Wayne was a pleasure to work with in planning our trip. He had excellent recommendations and listened closely to our goals and interests. We highly recommend him as a travel planner.
Recommended
Excellent & trustworthy guidance!
By: Bethany
Reviewed on: 08 Nov 2016
We loved working with Wayne - he had been to our destination (Paris) many times and we were grateful for his advice. He listened to us talk about the things we wanted to see most, and was able to help us strike the right balance between organized activities (like tours) and free time to see the city. We had a last minute mishap with our trip (caused by us) and had to delay our departure by a day or two, and he quickly helped us reschedule as much of our itinerary as possible. We were very happy with the vendors he connected us to - our tour of Normandy was wonderful and our drivers were very professional. He made our trip much richer and easier than if we had done everything ourselves; we highly recommend him!
Recommended
Trip of a Lifetime
By: JJR
Reviewed on: 28 Nov 2016
What an amazing trip! Wayne and my husband planned a fantastic adventure. What a thrill to be met at the plane and get VIP treatment to a waiting car. First stop was Normandy on Remembrance Day (our Veterans Day). Then on to Paris and London. Accommodations were exquisite and the private tours made everything special. Every detail was meticulously planned and this trip is two weeks we will never forget.
Recommended
Amazing Trip in Spain
By: Javier G
Reviewed on: 12 Dec 2016
Our trip was off to a perfect start when Wayne called us on the way to the airport to confirm an upgrade to a suite for our stay at the Hotel Ritz Madrid and to expect a chauffeur service upon arrival at the airport for a ride to the hotel. After an 8 hour overnight and time-zone change flight, this benefit was truly appreciated. We had a personalized and unforgettable experience staying in a beautiful suite at the top of the hotel with marvelous views of the Prado Museum (which was the primary reason we went on the trip!) Our trip continued into Barcelona where we enjoyed our stay on one of the the Club floors of the Arts Hotel Barcelona with wonderful views from the 30th floor! Can't wait to have Wayne plan our next vacation!
Recommended
Outstanding once-in-a-lifetime trip!
By: GeoStone1
Reviewed on: 20 Dec 2016
All of the planning we coordinated with Wayne for our trip really paid off! We were met at every airport, hotel and train station with dedicated drivers and their cars to get us where we needed to go or take us around. We went to South Africa, Tanzania and Zimbabwe over 3.5 weeks! Wayne was able to save us over $5k in "business class" airfare to/from the US. The accommodations were top-of-the line throughout. Everyone was expecting us upon arrival and we didn't have to lug around tons of paperwork. In short, Wayne did a great job in pulling together a complex, once-in-a-lifetime trip for just the two of us! I highly recommend Wayne!
Recommended
The learned listener
By: Not My Real Name
Reviewed on: 29 Jan 2017
Trip after trip, itinerary after itinerary, Wayne gets it right. He has combined his passion for travel with an ear for our focus. However, he is far from just an order-taker. One of his strengths is gaining an understanding of what we want to do, then pushing our comfort zones a bit. We have always had at least one "not sure we should try that" reservation on each of the trips he's planned that has left us delighted that we took a leap of faith. So glad that we hooked up with him and can't wait for the next adventure he'll plan.
Recommended
A fantastic travel advisor
By: alial
Reviewed on: 20 Dec 2016
Wayne has great expertise in arranging the perfect trip for his clients. The trips he has planned and arranged for us have been nothing short of spectacular. What sets Wayne apart from most travel advisors is his desire to understand his client's likes and dislikes and then turn their preferences into unforgettable experiences. We are so fortunate to have found him to help make our trips so memorable.
Recommended
Aria Vegas
By: bak5e
Reviewed on: 01 Jan 2017
Wayne did a great job planning the hotels (which was all we asked). He double checked the day before the trip and again after arrival to ensure all was good. Would highly recommend his services.
Recommended
One for the books with a Seasoned Pro!
By: Jamie and Josh
Reviewed on: 13 Feb 2017
Wayne created a truly unforgettable experience for our honeymoon in Thailand, Laos and Cambodia. Not only did he plan every detail with such care and compassion but ensured that each destination and adventure was truly better than the next. We ALWAYS knew we were in such great hands with Wayne on every step of the journey. Wayne not only provided a sense of calm and security prior to our trip but genuinely cared about our experience from start to finish!
Recommended
Always a Fabulous Travel Advisor
By: JJR
Reviewed on: 22 Jan 2017
Once again, Wayne goes above and beyond. Wayne arranged for early check in, several resort amenities and late check out. Wayne's attention to details and extensive contacts made for a wonderful getaway.
Recommended
Annual Family Trip
By: Bob
Reviewed on: 02 Feb 2017
Wayne was truly a joy to work with! He is a true travel professional and made sure that all of the details pertaining to our family trip were addressed promptly and accurately. He communicates well and responds very rapidly to both e-mail and phone inquiries. His suggestions related to a travel destination and accommodations were right on target. I would be happy to have him plan another trip for our family and would highly recommend him to anyone looking for an outstanding travel adviser!
Recommended
Review of Wayne
By: Lou
Reviewed on: 18 Feb 2017
Knowledgeable and easy to work with. Took time to understand what we wanted to do and then made excellent suggestions on how we could best accomplish it.
Recommended
Wayne is amazing
By: Lisa
Reviewed on: 10 Mar 2017
Wayne ... no words can express how impressed our family was with his work for us. Lets start with the fact that we gave him 3 weeks to plan a 3.5 week trip to Australia. (in our defense, a prior trip fell through and our daughter was going to study abroad in Melbourne.) He picked brilliant choices for us - all matched to our stated goal of having a trip that was wildlife and adventure oriented yet also allowed us to see urban areas - and discreet and classy places.. The trip was perfect, no glitches - seamless travel. I have already recommended him to a friend - just a few weeks home. The special thing Wayne brings to the table is a calm sense that he can handle the wrinkles, and indeed he did. We literally don't understand how he pulled off this amazing trip to 7 sites in such a seamless manner. I am speechless when I think about Wayne's help. I am already thinking about the next trip I want him to plan for us.
Recommended
Wayne does it again
By: Rachel
Reviewed on: 13 Apr 2017
My husband and I spent two weeks in South Africa and during our time in Cape Town asked Wayne to arrange a relaxing hotel for us in the wine lands. Rather than venture to the more popular and therefore more crowded (yet strikingly beautiful) Stellenbosch, Wayne suggested we check out and stay in Franschhoek and we are so glad we did. Wayne arranged our stay at the Leeu House. It was a small yet stunning property with the most incredible art collection. There's even a museum next store! The staff could not do enough for us and arranged for transport to all of the various wineries for free. In true Wayne style breakfast was included, which made my husband jump for joy. Thanks to you, Wayne, for a great reservation!
Recommended
Always Exceeds Expectations
By: Julie R
Reviewed on: 22 Apr 2017
Wayne always goes above and beyond. My husband and I have worked with Wayne on several trips and every trip has been fantastic.
Recommended
Cruising
By: Cyndi
Reviewed on: 23 Apr 2017
Wayne was great! He dealt with my crazy family from request to making payments. He was always available by email and/or phone whenever we needed him. We even added him to our Facebook page so he could see our post during vacation.
Recommended
Weekend getaway!
By: Bob
Reviewed on: 28 Apr 2017
I contacted Wayne to make travel arrangements on very short notice. He responded promptly and, with his extensive contact network, he was able to make our trip an extremely memorable experience that exceeded our expectations!!
Recommended
Great help planning our trip to Italy!
By: Eric
Reviewed on: 03 Jun 2017
I can't say enough good things about Wayne in regard to helping plan our vacation to Italy. Having never been to the country, we were unsure of where to stay at three different cities beyond looking at hotel websites. Wayne provided us options that we reviewed, over the phone and via email/online. When we asked questions about the hotels, such as are they centrally located to restaurants and famous sites/attractions and even how we would get to airports/train stations, he provided detailed information. The same was true for tours we were interested in doing - everything was clear and informative. Plus, we didn't feel pressure to book anything. It was great to work with him.
Recommended
The trip of a lifetime!
By: Michael
Reviewed on: 29 Jun 2017
We just got back from a vacation of a lifetime. France, Italy & Greece. Wayne made this trip unforgettable with his recommendations for all the accommodations and side trips. Wayne's attention to detail and his easy going manner made planning this trip a pleasure. Wayne was in touch with us during our trip which was very comforting knowing we had a friend and agent looking out for our every need. We are looking forward to planning our next trip with Wayne. We give Wayne a five-star rating!
Recommended
Wonderful Travel Agent!
By: Gina
Reviewed on: 21 Jul 2017
Wayne was great!!! He ensured all of our accommodation needs were met (a group of 13), and also made special arrangements for us to have a truly, enjoyable cruise!
Recommended
Our hero Wayne
By: Lucky
Reviewed on: 22 Jul 2017
Wayne was a fabulous travel advisor. His attention to detail was very much appreciated. He thought of things that we hadn't considered and took care of everything. Arranged wonderful private tours for us with very experienced guides. Made visiting foreign cities a much better experience. We were traveling as a group and we so much appreciated his patience with all of us. Would recommend Wayne to everyone.
Recommended
Great Cruise!
By: R.A.
Reviewed on: 21 Jul 2017
Wayne was great to work with. He did a wonderful job helping us with planning our trip including everything from airfare, hotel, cruise and tours - both private and those offered by Viking. Everything went smoothly from start to finish. I would highly recommend Wayne to anyone wishing to experience a stress free vacation.
Recommended
Professional, knowledgeable - particularly great with groups
By: maria
Reviewed on: 02 Aug 2017
I have now worked with Wayne on three amazing trips of 14+ to Paris and to Greece, and a trip to Mexico for four people. All were amazing and Wayne made our trips easy every step of the way. Wayne was able to provide insight on the best ways to manage our budgets, high and low. Even when we travelled with another family with a more cost-sensitive budget, Wayne was able to adjust the travel recommendations, sensitive to cost, while still ensuring very high quality. I never feared the types of accommodations or arrangements for my groups because Wayne always put together an amazing itinerary, transportation and excursions, to ensure that our groups had the best time. Wayne encouraged us to do separate research, if we so desired, to ensure that his information was accurate -- it always was! I will always use Wayne for our large groups because, as a group leader, it is too hard to do all these finite details on my own. I also loved his Virtuoso recommendations for our smaller MX trip.
Recommended
HA Cruise Boston to Quebec
By: Trish
Reviewed on: 06 Aug 2017
We have a lot going on and Wayne was there to keep us on track with our cruise. He offered priceless advice about our transportation back home. We nearly missed out on a beautiful trek through the Adirondacks had he not warned us that the train offers few views of a beautiful part of NY. We will be calling on him again for all our future trips.
Recommended
Great Travel Agent
By: Teecha
Reviewed on: 19 Aug 2017
Wayne was incredible helpful, generous, and willing to listen to complaints when the cruise was over. I will work with him on future trips!
Recommended
Always the best experience
By: Julie R
Reviewed on: 27 Aug 2017
My husband and I wanted to see the eclipse and once again Wayne delivered.
Recommended
Excellent experience
By: Parvez
Reviewed on: 10 Sep 2017
I called Wayne to set up a last-minute Labor Day weekend getaway for me, my wife, and our young daughter. He came through with an excellent, contemporary hotel in the heart of Old Town Alexandria, Virginia, right next to the water and the shops. We had a relaxing couple of days away and got some shopping in, too. Thanks, Wayne!
Recommended
Everything Taken Care Of
By: Kip
Reviewed on: 19 Oct 2017
Wayne was able to personalize our trip better than we could. From air fare, hotels, cruise and tours. This made it one of the most enjoyable trips we have had. Thanks
Recommended
London
By: Swid
Reviewed on: 06 Nov 2017
It was a pleasure. Everything was perfect.
Recommended
Our Honeymoon
By: GN
Reviewed on: 07 Nov 2017
Wayne was exceptional! He helped to understand what we were looking for and then used his experiences to craft a wonderful honeymoon for us. His authenticity allowed us to better understand a new place, and ultimately, led us to want to both work with him again and plan more excursions. We HIGHLY recommend Wayne to everyone who asks!
Recommended
Always Above and Beyond
By: JulieR
Reviewed on: 22 Nov 2017
My husband and I always enjoy working with Wayne. He provides the absolute best ideas and service. I can't recommend him enough.
Recommended
Our Only Travel Advisor Now
By: Adam
Reviewed on: 14 Jan 2018
After travelling with Wayne, we could not imagine traveling any other way. We knew that we wanted to go somewhere completely different that we had never been before. Wayne helped us to pick the location that would give us the best value for our dollar, as well as to plan the whole trip.
Recommended
Seabourn Quest Holiday Cruise
By: Napa Valley
Reviewed on: 30 Jan 2018
Wayne, as usual, was very organized and I left all the details to him. Everything went well and I enjoyed myself with no worries about the transfers, hotel arrangements or the cruise.
Recommended
Best travel advisor ever!!!
By: Lucky
Reviewed on: 22 Feb 2018
Wayne makes everything so easy. Takes great care of all of us ( 7 demanding people). Give Wayne a problem to solve and poof its gone. He really is a very caring person and wants you to have a good time on whatever vacation he has helped you plan.
Recommended
Great Advisor
By: RA
Reviewed on: 16 Feb 2018
Wayne is great to work with - detail oriented and extremely responsive. We would not hesitate to refer him to anyone.
Recommended
Great Experience
By: Julie R
Reviewed on: 16 Feb 2018
We always have a great time when we leave the planning to Wayne.
Recommended
Wayne the wizzard
By: poppy
Reviewed on: 25 Feb 2018
Initially, I had to make changes to our plans for reasons unrelated to Wayne. He hung in there with me and planned a great trip. He brought his experience to our needs and resourses. Our first time working with Wayne but not the last.
Recommended
Great Travel Advisor
By: JJR
Reviewed on: 21 Mar 2018
Wayne always helps us plan an outstanding trip. He has great suggestions and we have a wonderful time. We have worked with Wayne for several years and we highly recommend him.
Recommended
Look forward to next trip
By: Art zimmerman
Reviewed on: 21 Mar 2018
Easy, timely, and plenty of detailed information provided re places, dates and cost
Recommended
Advisor review
By: MaryM
Reviewed on: 08 May 2018
Excellent. We visited Malaga, Grenada and Seville, Spain. Wayne had great suggestions of places to visit and was very open to our ideas as well. He was also very helpful in directing us away from places or trips that would not be rewarding for us. Our final itinerary was exactly right for us because of Wayne's insight and expertise. And it was seamless — no problems anywhere along the way. A really rewarding trip and a fantastic time.
Recommended
Great travel advisor!
By: Laurie & Chuck
Reviewed on: 08 May 2018
Wayne was wonderful to work with. He was available and he listened to who we are, the kind of travelers we are and what we wanted to see and do.
Recommended
A Celebration to Remember
By: BBJ&S
Reviewed on: 26 May 2018
This was the first time we ever used a travel advisor and Wayne was phenomenal. We started with some general ideas on how we wanted to celebrate a milestone birthday but couldn't seem to narrow it down. After meeting with Wayne and talking about our past experiences and what was important and interesting to us today, he was able to make several amazing recommendations that we never would have thought about and didn't even know existed. He was extremely helpful at all phases of our trip, from planning to dealing with problems encountered to a post vacation phone call to see if we were happy with our trip. His contacts and expansive knowledge of areas, activities and hotels guaranteed we had the best time ever. We're definitely looking forward to working with Wayne again for our next great adventure.
Recommended
Alaska
By: Cyndi
Reviewed on: 07 Jun 2018
Wonderful, as always! Wayne calls you before and after your trip and really lives vicariously through ever trip he plans. Wayne gets just as excited as we do when we are planning our next adventure! Not only is he my agent, he is my friend.
Recommended
Wonderful Trip
By: JJR
Reviewed on: 11 Jun 2018
Wayne always provides great travel recommendations. Our recent trip to Alaska and Vancouver was wonderful and the hotel he recommended was lovely. He goes above and beyond to deliver memorable travel experiences. And, just as important, he always follows up after our trip to make sure everything was satisfactory.
Recommended
Normandy plus
By: DD
Reviewed on: 18 Jun 2018
Wayne did a great job listening to what we wanted to do on the trip and then made recommendations that met with our desires. He also made sure that any last minute issues ( French rail strike, car rental) where addressed which minimized our anxiety.
Recommended
Wayne
By: Suki
Reviewed on: 22 Jun 2018
Wayne is always a pleasure to work with. Professional and listens to hat we want. Makes good recommendations.
Recommended
Awesome advisor!!
By: Lucky
Reviewed on: 27 Jul 2018
Wayne is the easiest person to work with. Always available and very, very knowledgeable. Working with Wayne is stress free. Does the best job ever!!!
Recommended
Cruise Destination
By: RAH
Reviewed on: 04 Aug 2018
Wayne is great to work with. He does everything he can in his power to accommodate your wants/needs and makes sure that your trip met your expectations.
Recommended
Love the personal service and follow up.
By: Pat
Reviewed on: 22 Aug 2018
We had a great vacation in the Canadian Rockies. What I like best is his calls prior to departure and upon return to make sure all our needs are met. Traveling with a partner with disabilities, it's important that someone "has my back." Thanks, Wayne.
Recommended
Excellent!
By: Row H
Reviewed on: 29 Sep 2018
Wayne is an amazing professional. He put together a great package for us and knew what we needed to really enjoy our Alaska trip. He kept every member of our party in mind as he made suggestions. I really liked that he gave me a starting point and then we made tweaks together. He answered every question and made sure we knew he was available if we needed anything during our vacation.
Recommended
Exceptional Service
By: Cyndi
Reviewed on: 02 Nov 2018
Wayne Muhlstein is the best! He is always on top of things no matter where he is in the world. Being formally in the travel business, I love talking to Wayne to see how things are changing in the world of travel. He has so many great suggestions and does not try to push you into something you do not want to do. He is such a great people person!
Recommended
Great Travel Awaits
By: JAR
Reviewed on: 02 Nov 2018
My husband and I have worked with Wayne for several years. Our travel is always exciting and tailored to us. He takes the time to understand what we want to experience and then makes it happen. Won't travel without him.
Recommended
Mayacopa
By: sbpage
Reviewed on: 22 Nov 2018
Second time working with Wayne. Responsiveness could have been a little more immediate after travel was booked, but did not cause me any concerns. Overall, Wayne's experience/knowledge/guidance on planning our trip underlies the need for enlisting a travel agent's services. We look forward to working with him on future travel. Thanks for all your help Wayne!
Recommended
South America Triip
By: Mike
Reviewed on: 21 Nov 2018
Wayne was professional, hard-working, and knowledgeable. He was able to organize my trip perfectly, allowing me to see everything I wanted easily and handily.
Recommended
River
By: Cyndi
Reviewed on: 31 Dec 2018
Very easy. He met my expectations based on previous experiences.
Recommended
Outstanding Insights!
By: Tassie Fan
Reviewed on: 20 Feb 2019
Wayne's been our personal travel advisor for the past 6 years. He always makes outstanding recommendations and we've been fortunate to take advantage of his suggestions. By working in concert with Wayne and his network, we've tailor-made our vacations to some of the most wonderful destinations and accomodations. On our recent adventure to Australia and Tasmania, we were amazed at the accomodations and personalized treatment we received at all our destinations. It's Wayne's insight that pushed our experience to a higher level. The recommendation to stay at the Emirates One&Only in the Wolgan Valley was just tremendous! Where else will you experience kangaroos "boxing" in the front yard of your exclusive villa?! While in Hobart, Tasmania we received a personal escort to Mt Fields National Park and behind the scenes access to the Bonorong Animal Sanctuary. We were petting koala and kangaroos, locating platypus in streams, and seeing Tasmanian Devils up close & personal. Awesome!
Recommended
Wayne was invaluable
By: Bill
Reviewed on: 19 Mar 2019
Extremely knowledgeable of options and ideas that would work for us; did a great job assembling a custom trip that was one of my family's best ever. Only down side was that the air travel service used (McCabe) was a bit more difficult that I would have liked; but in the end, Wayne was able to get all that working seamlessly.
Recommended
Another Great Waynetraveler Vacation
By: JJR
Reviewed on: 20 Feb 2019
Our vacations with Wayne are always memorable. He continually raises the bar and we are the happy travelers because of it. Can't wait for our next adventure!
Recommended
Travel Agent
By: Jam
Reviewed on: 13 Mar 2019
Wayne was excellent and responsive! We look forward to using him again in the future. Thank you Wayne
Recommended
Great Travel Advisor
By: JJR
Reviewed on: 27 Mar 2019
Wayne always provides great advice and a wonderful travel experience. We would not go anywhere without consulting Wayne!
Recommended
Ireland
By: Bobby
Reviewed on: 05 Apr 2019
We will definitely use Wayne as our travel advisor again. He planned our complete itinerary for our trip to Ireland with another couple using a private vehicle with a driver who also became our tour guide. We were so pleased he arranged a private vehicle instead of the tour bus. Our guide was able to take us to many places that were not assessable by the big buses as the roads are quite narrow. All of our hotel accommodations were first class with many upgrades and surprises including afternoon teas, whiskey tasting events, and special tours. He was very helpful in designing our trip to fit our time schedule with every detail including meals, transfers, and connections. Each day was made magical by the unexpected events. We enjoy being "Wayne Travelers" and are looking forward to our next trip.
Recommended
Another Great Vacation
By: JJR0830
Reviewed on: 17 May 2019
Always enjoy working with Wayne. His suggestions are always on point. He suggested a marvelous place to stay in Miami before our cruise and arranged for a private tour in San Juan. Can't wait to plan our next getaway.
Recommended
Portugal 2019
By: Bob
Reviewed on: 03 Jun 2019
It is always very helpful to work with Wayne when making travel plans. His experience, professionalism, resource network and attention to detail have added value to our trips and made them more rewarding and enjoyable!
Recommended
Talk to Wayne
By: John Y.
Reviewed on: 31 May 2019
Wayne is the ultimate professional. Knowledgeable, responsive and most of all personal. My family and I had a spectacular vacation to Spain. As first time international travelers as a family, Wayne took the time to find out what we were interested in doing, seeing, eating and then put together a first class trip that we will always remember. You don't know what you don't know. Don't take the chance on missing out on an even better vacation experience- Talk to Wayne!
Recommended
Wayne
By: Napa traveler
Reviewed on: 18 Jun 2019
Wayne is always professional and provides the best service I have ever experienced. He has a wealth of knowledge because HE has been everyone and has personal recommendations that mean so much.
Recommended
Paris, Lyon, St-Jean-de-Luis, St Sebastián
By: Ali
Reviewed on: 20 Jun 2019
A pleasure! He is enthusiastic about our ideas and makes good recommendations. He is available when things go wrong during the trip and quickly addresses the problems and then treats us to amazing surprises to make up for the problems that have occurred!
Recommended
Fabulous trip!
By: Leprechaun
Reviewed on: 29 Jun 2019
Wonderful....engaged, responsive and full of great ideas.
Recommended
Wayne was GREAT to work with!
By: D&J
Reviewed on: 06 Jul 2019
Wayne was amazing to work with. Nothing was a problem. He was always happy to make changes as our ideas changed or as our trip plans changed while we were traveling. There was nothing he couldn't figure out or advise us about. The plans he suggested were amazing and the trip was exactly what we wanted it to be.
Recommended
Another Phenomenal Trip
By: JJR
Reviewed on: 06 Aug 2019
Wayne continually exceeds expectations. This was another great trip thanks to Wayne.
Recommended
Thanks Wayne!
By: Trevor K
Reviewed on: 07 Oct 2019
Wayne went above and beyond to ensure that our honeymoon was unique, luxurious, and one of the best trips we'll ever take. From our initial phone calls to our agenda finalization, Wayne ensured our trip was exactly what we wanted. He even threw in some personal touches along the way in our rooms. Thanks, Wayne! We can't wait to plan our next trip with you!
Recommended
Ahead of the Curve
By: Baby Rupert
Reviewed on: 08 Oct 2019
Here's what working with Wayne comes down to for us: he gets us into places before they become the "IN PLACES". Wayne has consistently matched our travel style with off-the-radar properties and tours. He's taken our (not so substantial) budgets and stretched them into luxury travel adventures, often at places he's discovered which end up becoming much more popular (and less affordable) in the following months. He's a pleasure to work with, knows the ins and outs of the business, and has the ability to see trends, before they become trends. Can't wait until the next adventure!
Recommended
Another great trip
By: JJR
Reviewed on: 26 Oct 2019
Wayne arranged another great trip. He recommended a private tour in Québec City that was the highlight of our cruise.
Recommended
Greece on the Fly
By: Greg
Reviewed on: 25 Oct 2019
We had a little delay establishing initial contact, but once communication was in place everything went very smoothly. Mr Muhlstein was attentive, knowledgeable, enthusiastic and highly professional. Indeed, his personal enthusiasm made me even more excited about the adventure ahead of me. His recommendations on hotels, visit priorities, and guides were "spot on" and contributed greatly to the success of my trip. I also appreciated that while Mr. Muhlstein was traveling himself, he was available to me on a moments notice when I had questions or needed a clarification. I fully intend to engage Mr. Muhlstein in planning and implementing my future overseas travel adventures.
Recommended
Fantastic Travel Advisor
By: JJR
Reviewed on: 04 Dec 2019
We always enjoy working with Wayne and get the best trips.
Recommended
London Holiday
By: Chris
Reviewed on: 06 Jan 2020
Great experience secured by Wayne. Excellent communication as always.
Recommended
Exceptional
By: Cyndi
Reviewed on: 18 Jan 2020
Wayne is such a pleasure to speak to about travel. He is very knowledgeable and has great suggestions for traveling. He always ends his conversation by saying, "Let me know what I can do for you!" Such a joy working with him.
Recommended
WayyneTraveler Rocks
By: JJR
Reviewed on: 13 Jan 2020
Always enjoy planning a new adventure with Wayne. He has great suggestions and advice for our trips.
Recommended
hawaii
By: Lisa
Reviewed on: 14 Jan 2020
awesome … that says it all!!!!!!!!!!!!!!!!!!!!!
Recommended
Great time
By: Phil S
Reviewed on: 06 Feb 2020
Wayne was responsive, knowledgeable and understood our needs for sure
Recommended
Wayne
By: Napa traveller
Reviewed on: 19 Feb 2020
Always a pleasure to work with someone who is friendly, professional, and gives you the correct advice- whether it is positive or negative about the location or arrangements. He is honest and trustworthy.
Recommended
Exceptional Travel Recommendations
By: JJR
Reviewed on: 16 Mar 2020
My husband and I love working with Wayne. We always have a great travel experience when he is doing the planning. Only the finest experiences. He always follows up to ensure the trip went as expected. And if there are any questions during the trip, he is available to get it resolved.
Recommended
Competent and Compassionate Advisor
By: Tim and Denny
Reviewed on: 23 May 2018
Wayne is a trusted and very competent travel advisor. He provides good service, and makes all of his clients feel valued.
Recommended
Tuscany
By: Anonymous
Reviewed on: 24 May 2018
Wayne is flat out terrific. He took the time to get to know us and our unique likes and dislikes before planning anything. Wayne took great care to make sure every aspect of our Tuscan trip exceeded expectations. We're booking our next trip with him now!
Recommended
Always helpful
By: Tiffani
Reviewed on: 22 Nov 2017
We've used Wayne for several trips and always find him helpful and spot on!
Recommended
Fantastic Valentines Day getaway
By: DD88
Reviewed on: 29 Feb 2016
Just an amazing time!! Me and my wife had an amazing time in Georgetown. By far, the most memorable Valentines Days we've had since we've been married (10 years). The Ritz Carlton is Georgetown is an absolute treasure, and must be experienced to fully understand. Wayne is AMAZING at his planning, and his detailed acumen in giving his clients an experience that they will talk about for ages. I received a lot of "brownie points" from the wife for this trip. Thanks Wayne!!
Working with Wayne Muhlstein, you will have access to:
- An experienced travel guide whom you can rely on before, during, and after the trip
- Exclusive luxury resorts and properties
- Once in a lifetime experiences
Explore with the Best
Virtuoso Advisors are constantly pushing the boundaries in unique travel experiences.
Alliance programs are unique tailored experiences exclusive to travelers working with Virtuoso Travel Advisors.
learn more
China
Australia
Costa Rica
New Zealand
France
India
Italy
Morocco
Myanmar
Israel
Portugal
Zambia
South Africa
Spain
Greece