Travel Specialties
Interests
Independent Tours
Adventure
Honeymoons
Ocean Cruising
River Cruising
Destinations
Italy
United Kingdom
French Polynesia
Vietnam
Kenya
Selling Travel Since
1984
My Background
After living in Colombia, Curacao, Germany and the US and traveling extensively around the world, I opened Vanguard Travel in 1991 to share my passion for travel with others. I create memories for my clients by first getting to know them, listening to them, and then working together to make a unique travel experience that will forever change and enrich their lives.
Celebrating a 25th anniversary at the Taj Mahal followed by a surprise renewal of vows. Having a surprise guitar serenade on top of a hill in Bariloche to celebrate a life together. Creating a multi-generational trip in Vietnam and Cambodia filled with special moments that entice the senses for all ages. Enjoying the beauty of Tuscany, wine tastings and joining a cooking class. Having a shopping extravaganza in Shanghai after a wonderful Jangze River cruise. These are just a few examples of dreams we have made a reality...
I would love the opportunity to make your next travel wish a dream come true!
Places I Have Traveled
Reviews and Recommendations for Rosie Goldberger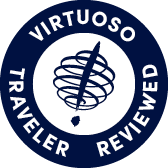 Virtuoso Verified Traveler
All reviews are from confirmed guests sharing exclusive insights
Sort reviews by
Recommended
Highly Recommended
By: Marlene & Bob
Reviewed on: 05 Oct 2013
Rosie has planned a number of trips for us over the years including visits to U.S. cities and cruises leaving from the U.S. and points in Europe. She pays high attention to detail and really cares about every aspect of each trip she plans. She has also helped our adult children plan their trips. In addition to recommending Rosie, I also recommend her staff, Kim and Claudia. In Rosie's absence, they immediately take over any travel and problem-solving needs.
Recommended
By: eunie
Reviewed on: 05 Oct 2013
Rosie Goldberger this was a trip of a lifetime. I have highly recommended this trip to everybody I know and tell everybody to call Rosie for booking. She is the best travel agency that I know of, everyting very professional. Her assistant Claudia was the greatest to work with also.
Recommended
Highly Recommended
By: EK67
Reviewed on: 07 Oct 2013
The entire trip was magnificent, from the time we landed to boarding for our return flight home. The hotel accommodations(first class), the food(delicious), the excursions(breathing taking), the river cruise(awesome), and to top it off, our tour guide was perfect. She was as if she was part of the family. You did an awesome job in planning our trip to Magical China & the Yangtze River.
Recommended
By: MIA
Reviewed on: 07 Oct 2013
Highly Recommended. I was in awe. Rosie out did herself on this one. I would recommend anyone seeking a travel adventure to contact her! She is knowledgeable, dependable, and extremely professional.
Recommended
By: Elmira
Reviewed on: 06 Oct 2013
This was the most WONDERFUL TRIP, I have taken in my life time. I have been all over EUROPE.However EUROPE was not as great as the trip to CHINA. THANKS for planning a FANTASTIC TRIP.
Recommended
By: Not provided
Reviewed on: 12 Oct 2013
I am pleased to say the trip planned by Rosie turned out perfectly. She is very efficient and very personable. This was the second trip she planned for me. I would certainly seek her help should I decide to take another trip. Thanks for the opportunity to express my appreciation to her. Margie
Recommended
Highly Recommended
By: Too busy to play
Reviewed on: 11 Oct 2013
Rosie is fantastic! My husband and I dropped into the office hoping for a miracle -- a relaxing Caribbean vacation, leaving in less than a week. Rosie pulled it off. We left her office with 3 very good options to think about. We made our decision the next day and Rosie got it all booked for us. Just what we needed! We have gone back for more personal and business travel and we turned to Rosie to help us organize a family reunion. I can't recommend her highly enough.
Recommended
Great fun recommended by professional travel expert
By: Gamma Prissy
Reviewed on: 04 Jan 2014
Super travel on the very large ship Royal Caribbean's Allure of the Seas. Perfect for for all ages and multigenerational families whether you travel during special holidays or individual life occasions. Great food, varied on board activities, absolutely outstanding entertainment, beautiful accommodations, friendly staff and really just a all around good time to be had by all.
Recommended
Highly Recommended
By: CyPete
Reviewed on: 14 Feb 2014
Recommended
Perfect Get-away!
By: Mady
Reviewed on: 24 Jan 2014
Our Princess 7 day cruise out of Houston to the Caribbean was a perfect get away for some R & R in the warm weather. Rosie and Kym secured a great cabin for us and took care of all the details. It was a pleasure working with them as always.
Recommended
Highyly recommended!
By: Nancy
Reviewed on: 10 Mar 2014
Rosie was FABULOUS in planning our Disneyland vacation!She was thorough, efficient, and delightful to work with!We wouldn't hesitate to use your agency again!
Recommended
Every other year
By: Eunie
Reviewed on: 28 Oct 2017
Nothing but the best, I will recommend her to everybody. She plans the whole trip airfare, hotels, tours, everything. I love it.Every
Recommended
Highly recommended
By: Sandy
Reviewed on: 01 Apr 2014
Rosie patiently planned our airline itinerary (after numerous changes on our part), hotel in Honolulu and tour of Pearl Harbor.  We are very pleased with the way she handled this and other trips that she has planned for us.  She planned a wonderful trip for us last year to Budapest, Vienna and Salzburg.  Everything was great, including hotel upgrades in Budapest and Vienna.  She is a real gem and a credit to Virtuoso.
Recommended
jamaca to sandels whitehouse
By: thebez
Reviewed on: 03 May 2014
wonderful relaxing tripthe resort gave us a complementary couples massagefab foodon the top level of the building only steps to the beachswam saw star fishsnorkeled /slept read relaxed ////fun entertainment sailed quiet resort rosie handled everything and it ws perfect
Recommended
Can't say enough good things about this lady
By: Not provided
Reviewed on: 28 Apr 2014
Rosie is simply the best.  She is the consummate professional, always working to insure her clients the best experiences.  Her attention to detail is as thorough as if she were taking the trip herself.  I have enjoyed each trip she has helped me plan and look forward to working with her in the future.
Recommended
By: Not provided
Reviewed on: 04 May 2014
she was an amazing help
Recommended
Excellent service. Will use again & have already recommended.
By: JayShell
Reviewed on: 06 May 2014
Recommended
We highly recommend Rosie and gave us excellent service.
By: Yvonne60
Reviewed on: 17 Jun 2014
Rosie gave us excellent service.  She was always available to answer any questions.  She gave us excellent recommendations for the cruise, hotels, travel insurance, tours,  etc. She was always very friendly.  It was a pleasure to work with her.  She is very responsible.
Recommended
The best ever
By: Oyvey
Reviewed on: 16 Jun 2014
We are travelling with Rosita for at least 28 years.. This year alone we did 2 cruises and one of them we took 14 people she was with us in every detail of the cruise. We just came from Italy On a tour of 16 days. She was amazing planning it for us. She knows who we are and what we like to do on trips and she is recommending us exactly what we need. For example we wanted to do this trip by our self with trains and hotels and privet tours and she realized that wit will be too hard on us so she put us on a tour and i could not thank her enough.She is a truly gifted travel agent I recommended her to all my firends and my family.
Recommended
Highly recommended
By: Texas Flower
Reviewed on: 16 Jun 2014
Rosie and Seavents once again delivered a fabulous vacation for us. We mostly stayed with family so Seavents organized accommodations when we weren't with family, and took care of all of our transportation. With a multi-leg journey, including planes, trains, and automobiles, Rosie took care of us for the whole journey. Our tours and connection in Paris were fabulous!Whether it is for business or pleasure, I highly recommend Rosie Goldberger and Seavents World Travel.
Recommended
Excellent Travel Experience
By: Davidson2008
Reviewed on: 24 Jun 2014
Everything from the planning process to the actual execution of our travel plans went seamlessly. Rosie provided us with relevant recommendations and insights into honeymoon destination options, as well as packages, airfares, etc. After deciding on a resort, she quickly took care of all the travel details for us, so we could focus on the wedding planning. The honeymoon itself was perfect - no issues with air travel / hotel transfer, the hotel was excellent and all the amenities promised as part of the package Rosie arranged were delivered. We would highly recommend working with Rosie for any of your vacation plans and we intend to work with her in the future. 
Recommended
She was wonderful. Took care do everything without a worry in the world
By: Terry
Reviewed on: 30 Jun 2014
Recommended
Highly recommended
By: Dave
Reviewed on: 04 Jul 2014
Recommended
Great agent!
By: Larry
Reviewed on: 04 Jul 2014
We met Rosie in January and told her what our needs for our first vacation in two years were. Rosie listened and had the perfect option for us - an Alaskan cruise on NCL. She guided us on what kind of cabin we should select and how to research excursions. Rose was bang on! Our cruise was great and the highlight for us was having wine, grapes, cheese & crackers while viewing the fjords, ice flow and glaciers from our balcony.I highly recommend Rosie and Seavents Travel.
Recommended
Very highly recommend
By: Loves to travel
Reviewed on: 18 Jul 2014
Rosie has helped me with multiple trips over 15 years. When we discussed visiting the countries around the Baltic Sea, she told me about Crystal and said I would enjoy it. She could not have been more correct. I trust her opinion and input how how to make vacations exceed expectation...which certainly happened with my recent vacation to the Baltic Sea countries with Crystal Cruise.
Recommended
always delivers a good trip
By: mike
Reviewed on: 14 Jul 2014
Rosie has helped us with a few trips, always steers us in the right direction and works very hard to meet unique requests.  We do not have the time or expertise she has to put together the trips she helps us with.  I would highly recommend her to those wanting concierge service with consideration for budgets.
Recommended
Personal, warm service, attention to my needs
By: Debbie
Reviewed on: 24 Jul 2014
Rosie knew my needs and made sure I was accommodated. My endless questions were answered thoroughly by her or her competent staff. I highly recommend Rosie and Seavents world travel!
Recommended
Highly Recommended
By: Bill
Reviewed on: 27 Jul 2014
The fact that there required only two flights to reach the capital of Mongolia, and one of them was non-stop out of Houston to the only connection, was indeed a benefit and very time efficient. 
Recommended
Frienly service
By: Robi
Reviewed on: 14 Aug 2014
We had a very good time in our trip, it was planned very well, good hotels, great guides. &Beyond was exceptional
Recommended
Nice trip... but not perfect
By: Minnie cat
Reviewed on: 19 Sep 2014
We had a nice trip but there were several things I did not love! Mostly it had to do with Crystal Cruise Line but also I had a unneeded private guide I paid lots of money for while I was in London.
Recommended
Great Service
By: joni
Reviewed on: 26 Sep 2014
Unfortunately and with a broken heart we had to cancel our trip due to serious illness. However, Rosie Goldberger gave us top notch service in planning our trip and being so very helpful when we had to cancel. Will rebook in the near future.
Recommended
Amazing trip to Italy! Was in great hands with Rosie!
By: MCF411421
Reviewed on: 06 Dec 2014
We recently returned home from a 10 day magnificent trip to Italy. Rosie has planned many fabulous vacations for us and never steers us wrong. She continued to impress and take the stress out of planning our vacations. We had wonderful advice and guidance on hotels, -and had private transfers arranged arriving and departing from Rome, Venice and Florence. We had upgrades at nearly all hotels. This was the first time we decided to get assistance with private tours and once again were very impressed and pleased! Thank you Rosie for continuing to provide invaluable assistance for our travels!
Not Recommended
Good
By: Flor68
Reviewed on: 19 Feb 2015
The trip was fantastic. The itinerary was very good. Intersting experience. Professional service. Local travel agent from Houston was not as we expected. Phone calls and emails were not answered in a timely manner. She is too buzy and her co workers are not efficient. We requested the information for this trip in advance, and it took them 3 weeks to get back to us.
Recommended
Expert friendly service
By: Marlene
Reviewed on: 27 Mar 2015
Kym at Seavents Travel perfectly planned and executed and family cruise!
Recommended
Great experience
By: Doris
Reviewed on: 31 Mar 2015
Our december vacation was excelent! The logistics and the reservations were perfectly organized. We had a wonderfull time, and we would certenly do it again! Thank you for all the help, and kind service.
Recommended
Great Trip
By: Millie
Reviewed on: 27 Mar 2015
Miss Goldberger put an amazing trip for us. Not only hotels, but tourist guide were outstanding . I will use her services again in a heart bit!!!
Recommended
Anniversary Trip
By: Andy
Reviewed on: 15 May 2015
Always enjoy RCCL. Surprised we did not get anything saying Happy Anniversary.
Recommended
Tours and Rides in Israel
By: Marlene
Reviewed on: 31 May 2015
After a long day of traveling, we were warmly greeted at the Tel Aviv airport and guided to baggage claim and our driver. We had two perfect day tours in Israel and an on-time ride to the airport. We took a tour the Western Pearls of Israel and drove through Haifa and saw Mt. Carmel, the Bahai Gardens, the Grotto at the Lebanese border, architectural ruins at Akko, and more. There were only six people. We also took a tour of Jerusalem where we visited the old city. We visited the Western Wall, architectural sights, the shops. We visited Ammunition Hill, the site of a devastating battle for the Israelis with deep trenches dug all over the hill hiding 800 soldiers. We saw Yad Vashem briefly - probably could have spent a whole day there! So much history, but brutal and harrowing account of the Holocaust. At the airport another guide met us and showed us the way to check-in, VAT services, and security - didn't worry about a thing - what a pleasure! Thanks, Rosie and Gary!
Recommended
Expert friendly service!
By: Yvonjohn
Reviewed on: 15 Jun 2015
Rosie Goldberger is an excellent travel agent. Very friendly and hardworking. Takes care of all your travel needs including cruise and tour recommendations, hotels and travel insurance. A pleasure to work with.
Recommended
exceptional service
By: Rita
Reviewed on: 03 Jul 2015
The professionalism and excellent service surpassed our expectations. Rosie went above and beyond in order to insure that ALL details were taken care of. PERFECTION!
Recommended
Spain, France & italy-San Miguel
By: Sal
Reviewed on: 08 Jul 2015
The trip was well planned and organized. Great transportation on land and air. Great hotels. Very satisfied with entire trip Would recommend your assistance to all that are planning a trip like this again. Also great value. Thank you.
Recommended
wonderful service
By: oyvey
Reviewed on: 09 Jul 2015
Rosie is the best travel agent. We are working with her for over 25 years. She is always able to fit us with the best tour. This was an exceptional tour by Globus. We could not ask for a better tour director. We will continue to trust Rosie with her service. November we are going on a cruise via Rosie too.
Recommended
On top of everything
By: still kicking
Reviewed on: 01 Sep 2015
Very good trip. Out of the three cruises that I've taken, China was the very, very best cruise!
Recommended
friendly service
By: kdwdavis24
Reviewed on: 28 Aug 2015
as always my trip was wonderful. had no problems was well informed of everything in advance.can'the wait for next trip wish I had some of yourcards on trip
Recommended
Planned the prefect trip
By: Carole
Reviewed on: 10 Sep 2015
Rosie provided several options for us to choose from. Answered all our questions. Made all the changes we requested. As a result we had a trip of complete luxury, one we never expected to ever have. Thank you, Rosie, for the wonderful memories.
Recommended
Friendly, accurate service
By: mcgit
Reviewed on: 20 Sep 2015
Rosie did an excellent job helping plan a 50th anniversary cruise for 14 family and friends, In spite of the group being similar to a herd of cats the cruise went off well.
Recommended
Rosie & her excellent work
By: LovesToTravel
Reviewed on: 16 Oct 2018
Rosie --listens and puts her best into making the vacation the best.
Recommended
Friendly personal service
By: Katie
Reviewed on: 27 Sep 2015
Rosie helped at every step of the way to making our family trip special. We were celebrating a special anniversary with a variety of friends and family. She helped implement my ideas and came up with other good ones that we implemented. She kept us organized and served as a great intermediary with the cruise line. We didn't have to do a thing. The ground transportation went off without a hitch. Her personal special touches brought smiles to all our faces. We will definitely use Rosie's services again in the future.
Recommended
"Golden" cruise
By: Brenda
Reviewed on: 22 Sep 2015
Our family celebration was very well coordinated, rooms were centrally located, ship was clean with lots of activities. The bottle of wine in our rooms was a nice touch, Rosie, and the cake/anniversary decorations were so festive. Thanks for enhancing the celebration.
Recommended
Fabulous Service
By: Michele2708
Reviewed on: 09 Oct 2015
We thoroughly enjoyed our trip. It was everything we had hoped for and more. Rosie did an excellent job in planning this vacation for us. The resort was absolutely beautiful and the staff was extremely attentive to us. We even had our own butler! I would highly recommend this resort to anyone needing to recharge their batteries. It is peaceful and very quiet. There are several fabulous restaurants in the area that had incredible entrees and believe me, I am a foodie! I can't wait to see where Rosie is going to send me next! I am ready to start planning my next vacation!
Recommended
Dream Italian Trip
By: ZJ
Reviewed on: 19 Oct 2015
We had the most wonderful dream trip. Everything was planned to perfection. All hotels picked were magnificent, all were beautiful, had great service, great location and beautiful rooms. All transfers were there on time and the tour guides were great. I wanted to surprise my wife and Rosie made a dream come true. I will not hesitate to recommend Rosie at Vanguard travel. Great service, great choice.
Recommended
Best ever
By: Oyvey
Reviewed on: 04 Dec 2015
We are dealing with Rosi for the last 30 years. We are booking at least 2 big trips a year. Never disappointed. always it is what we want. She knows our style of travelling and always find the best fit for us.
Recommended
Family cruise
By: Debbie
Reviewed on: 01 Jan 2016
Vanguard travel did everything right to make our trip fun and memorable. Rosie, Kym and vanguard were patient with our numerous questions and requests and answered ever email quickly and thoroughly. I wouldn't sail without them!
Recommended
Extremely Professional
By: Ree
Reviewed on: 01 Jun 2016
Rosie Goldberger arranged the land package and tours for our trip to Lima, Cusco and Machu Picchu, Peru. The arrangements made were superb. All our needs were met and questions, if any, were immediately taken care of. Our drivers, guides and agents were prompt. They were professional, courteous, knowledgeable and went the extra mile to insure that our comforts and requests were met and complied with. They were friendly and all had a wonderful sense of humor. We had a terrific guides in Lima, Cusco and Machu Picchu who not only informed us of the area, but made sure that our comfort and safety was uppermost in our daily touring. We were also privileged to visit a beautiful piece of heaven on earth in Lima. The Hacienda is called Los Ficus where we were treated to the most elaborate show of horse and trainer, a wonderful meal and the delight of riding a Peruvian Paso Horse!! Talk about frosting on the cake!! We wouldn't travel without Vanguard Travel's help
Recommended
great one speaks
By: great one
Reviewed on: 11 Nov 2018
great also with Kym who was also great
Recommended
Mediterranean Cruise
By: Debbie and Jerry
Reviewed on: 02 Dec 2018
Fabulous! We'd never take a trip like this without Rosie and Kym's guidance! They took close care if us theoughout the trip.
Recommended
Perfect in Peru
By: MJ
Reviewed on: 12 Jun 2016
I had ideas of what I wanted to see and do in Peru, but Rosie Goldberger at Vanguard Travel turned those thoughts into not just an unforgettable trip but one close to perfection. Everything went like clockwork. She lined up tour guides who were professional and knowledgeable but also friendly and fun. We had tours scheduled, but it wasn't rushed and hectic. It was all planned with thought given not only to what we would see and take in on our trip, but our comfort as well. There were a few wonderful experiences that were not on my list, that Rosie arranged to make the trip extra special. It was an amazing trip to Lima, Cuzco and Machu Picchu - one I wasn't sure I could manage financially, but with Rosie's help it couldn't been much better and stayed within my budget. Thank you Rosie and Vanguard travel for the perfect trip to Peru!
Recommended
Insight Spain
By: Kathy
Reviewed on: 15 Jul 2016
Rosie I sent an email report. Hope you received it. Arrangements were A+.
Recommended
Detailed-Proactive-Travel Savy-Fast Respose
By: Denise Fabulous
Reviewed on: 08 Aug 2016
Vanguard Travel, is a premier Travel Service Provider and Travel Experience Provider. I found Rosie and her staff to go beyond the normal services requested. Their knowledge of the world allows for a bond of trust to be developed! They know their stuff. They gave recommendations and set up tours during our trip on the other side of the globe with companies they have been doing business with for years. Those companies respected Vanguard Travel and gave us exceptional service and guidance and they were always early. I will use them from now on.
Recommended
Personalized friendly service
By: JR2016
Reviewed on: 17 Sep 2016
This trip was our first time to work with Rosie, and she was amazing! There were difficulties with the overseas travel agency's pricing of the lodge we wanted to stay in (the quote was 4 times higher than rate on website); Rosie worked two weeks to get the agency to honor their online pricing -- and she got it! We had a wonderful experience, and have already recommended Rosie to many friends.
Recommended
Awesome Portugal vacation
By: The driver
Reviewed on: 05 Oct 2016
Rosie customized this vacation for my two friends and me-it was so enjoyable and a fun adventure, too. The hard work Rosie did really made it so enjoyable.
Recommended
Great services
By: MEF
Reviewed on: 21 Oct 2016
Trip was great. We had days where we were on our own and times where we did tours. Both fit our needs. The only thing I would change is to stay closer to the Duoro region. It took us about 1 hr 30 mins. to get to one of the wine tours. It would've been easier if we had been closer to the center of town walking distance to restaurants & shops. We were so far removed that our only option was to eat dinner at the hotel. All in all, it was a great trip even when we got lost driving from one location to another. Glad we had the GPS; although, it led us astray a couple of times. Thank you!
Recommended
An Exceptional Time
By: Wordly Travellers
Reviewed on: 13 Oct 2016
My wife and I have been eagerly looking forward to a European vacation for some time. Rosie provided exceptional service and proved to be the perfect coordinator. The tours and the restaurants that Rosie recommended were exceptional choices. Our trip was the perfect blend of relaxation, awe inspiring moments and new experiences.
Recommended
great trip
By: crn
Reviewed on: 16 Nov 2016
Really a wonderful trip. Service and food were excellent. The only thing I found less than excellent were the ship's tours, which were so-so, and expensive.
Recommended
Oaxaca, Mexico
By: Adan
Reviewed on: 22 Nov 2016
Rosie and I have worked together on travel plans a few times. She always listens to my ideas and expectations and works to make things work smoothly. She cares for her clients and understands travel. I always feel that it is never a question of whether my travel expectations will be met but by how far she will exceed them.
Recommended
awesome Tour
By: cba
Reviewed on: 21 Dec 2016
Our trip was wonderful.. Our tour Guide was Tsvika Mizrahi (e-mail ntmizrahi@gmail.com) and he was fantastic. Our hotels were very clean and the staff friendly. It was an exciting tour that I would recommend to any one. Thank you for planning and organizing such a wonderful tour.
Recommended
Fabulous trip to Cabo!
By: Nan
Reviewed on: 20 Dec 2016
Rosita planned the MOST amazing anniversary trip for us to Cabo! We adored it! THE ONE & ONLY RESORT is truly the ONE & ONLY OF ITS KIND!! Thank u, Rosita Goldberger!
Recommended
experience always pays off.
By: Irish Traveler
Reviewed on: 28 Mar 2017
Ms. Rosie is the absolute best!!! My family and I have relied on her for more years than I can remember. Her experience in the industry is remarkable. This becomes evident in the choices and recommendations that she makes and the execution of the final decisions that are made. With Ms. Rosie on our team, we can travel without concern. This has always been important, since we began traveling when our children were very young. Over the years, we have traveled the world. Now, our oldest is about to go off to college. Admittedly, Ms. Rosie has spoiled us and we could not have done it without her.
Recommended
Hotel reservation
By: Fortuna
Reviewed on: 30 Mar 2017
Perfect planned trip
Recommended
Costa Rica vacation
By: Costa Rica fan.
Reviewed on: 15 Apr 2017
Rosie is a sweetheart. Extremely knowledgeable and experienced. We were never disappointed yet from a trip we booked with Rosie. The locations she recommends are always first class, the service impeccable and the satisfaction very high.
Recommended
Do you want great service?
By: Mark
Reviewed on: 05 May 2017
For many years Rosie had guided myself and my wife with domestic and international travel. She gives many options in various price ranges - cruises, hotels, resorts, airlines, etc. And works her tush to find best values. Suggested private tours - and wow! - the very best way to see a country or region. Now that I'm by myself, I continue to call Rosie for travel arrangements. You cannot go astray taking Rosie's advice
Recommended
Bora Bora & La Taha Resorts
By: Dan
Reviewed on: 05 Jun 2017
Awesome, Rosie assisted us on our trip to Bora Bora & La Taha, all flights, boat transfers was taken care of ! We definitely enjoyed our time there! You really need to see this place! I would definitely book another trip thru Rosie, with her experience and staff!
Recommended
Greece
By: Dita
Reviewed on: 01 Jun 2017
I am working with Rosita for the last 30 years. My adult kids are using her as well. She is the best The main thing about her that she knows our needs and she always find the right fit for us. I could not ask for more. The trip was great We are having a family reunion in August which she managed to please 15 of us
Recommended
Helpful advocate
By: Katie
Reviewed on: 28 Jun 2017
Rosie got our booking completed timely. When, much later and closer to the date of travel, we had an identification issue, she worked really hard to help me work it out quickly with the airlines. We had zero problems during our trip!
Recommended
Beautiful trip to Spain and Lisbon
By: Anita
Reviewed on: 18 Jul 2017
It was very nice. She understands what we want and what we need and make recommendations and suggestions. We had a beautiful trip and cruise and now great memories!
Recommended
Our trip to Vancouver and Whistler
By: Judy
Reviewed on: 26 Jul 2017
Great! She did a wonderful job on every aspect of our trip.
Recommended
Alaska cruise
By: DID
Reviewed on: 27 Jul 2017
Perfect! Easy! Quick response to all questions, available 24-7 to assist!
Recommended
2017 Cruise
By: Houston Traveler
Reviewed on: 04 Aug 2017
Very easy. Our trip and travel was wonderful. Rosie was very easy to work with and provided great guidance.
Recommended
The was a wonderful trip.
By: Jrb
Reviewed on: 12 Sep 2017
Rosie knows how to plan cruises.
Recommended
Bucket list destination
By: Denise
Reviewed on: 08 Nov 2017
Working with Rosie was amazing, she was available all the time, reviewed everything prior purchasing and oversaw that everything went well during our trip. Rosie called us during our trio to make sure that we were ok and that everything was going fine. Our trip went flawless thanks to Rosie.
Recommended
France-Awesome Experience of a Lifetime
By: Midge Wische
Reviewed on: 06 Jun 2018
Rosie completely understood my personal goals and medical limitations for 2 week trip. AmaWaterways was picked, not penalizing me for traveling solo. Personal driver was arranged to show me Marseilles, Aix en Provence, Arles for the day. Personal pick up at cruise dock in Lyon was arranged to take me to train station for Paris. Driver appeared in my train car to take me and my luggage to Paris hotel. Seine Cruise was arranged with delicious menu affording me window seat to view Paris by night. Full day trip to Loire Valley was arranged, pick up at my hotel. All tours, arrangements, time schedules, coupons,, my responsibilities were presented to me in easy to read pamphlet form before departure. Several months we're expended with tour operators in France and U. S. to produce this trip for me. Perfection, patience, professionalism much appreciated.
Recommended
She is the best
By: Dita Dafny
Reviewed on: 21 Jun 2018
We booked the trip with Rosita. She is always trying her best to find us the best trip for our needs. Unfortunately we needed to cancel due to an illness. She took care on us all the way. She is our travel agent for 30 years and I recommend her to many of my friends.
Recommended
Would you recommend Rosie Goldberger to other travelers
By: Fortuna
Reviewed on: 07 Jul 2018
It was very easy to work with, and quite helpfull
Recommended
Italy
By: Goodman/Dwyer
Reviewed on: 19 Jul 2018
Very good but difficulty to reach at times. Planning time was very long. The use of Absolute Italy was a great resource for planning documentation and in country problems. One mix-up on their part on transportation pick-up time. Resolved successfully. One of the summary sheets on hotels said breakfast was included which was incorrect. Selected hotels were very good except for the hotel in Florence. It was more of a 3 star than a 4 star hotel. Air transportation recommendation and reservations on Delta were excellent.
Recommended
As usual--GREAT!
By: Rosa
Reviewed on: 27 Jul 2018
My "go to" travel agent. Love her attention to detail. She thinks of good options that would never cross my mind.
Recommended
Dream Vacation
By: Babs
Reviewed on: 02 Aug 2018
Rosita planned for us a dream vacation. She went far and beyond our expectations.The Canadian Rookies hotels were beautiful, the rooms had prime locations and in every room and the cruise we were welcomed by either wine, cake, goodies. Totally unexpected. This vacation was a celebration of my husband's birthday and it was a total dream!!!! Rosita was awesome to work with and everything was planned to perfection.
Recommended
New York trip
By: Sandy
Reviewed on: 13 Aug 2018
Wonderful. We told Rosie what we had in mind and she arranged it immediately. We highly recommend Rosie.
Recommended
Score 10 of 10
By: Mickey
Reviewed on: 17 Aug 2018
Rosie is the best travel agent we have ever!!!! worked with. We worked well together. We laughed together, and quite frankly became friends over the phone. My wife and I are looking forward to our next trip! We recommend Rosie to all interested in taking a trip from continent to continent! From land to land, land to sea, sea to land. Rosie is the bomb!
Recommended
San Diego
By: Char
Reviewed on: 18 Aug 2018
Always a pleasure. All aspects of travel and stay taken care of and enjoyable.
Recommended
Rosie review
By: Robyn
Reviewed on: 23 Aug 2018
She was great. Lined up a great itinerary for our trip.
Recommended
12 night cruise
By: G
Reviewed on: 01 Sep 2018
Plans were perfect. Great customer service and all communication quick and easy.
Recommended
Roses to Rosie
By: Stewart
Reviewed on: 13 Dec 2018
Rosie was knowledgeable, cheerful, and attentive to our needs. She set up our Christmas River Cruise and air travel for us. We had a very good time.
Recommended
Tahiti trip
By: Porscheturboman
Reviewed on: 22 Jan 2019
Rosie is the most knowledgeable travel agent I ever dealt with, in addition to being a good friend and advisor. I have been planning and executing my travels with Rosie for many years and she never disappointed me. I plan to keep our wonderful relationship going for many years to come.
Recommended
New Zealand Cruise
By: DID
Reviewed on: 06 Feb 2019
Fabulous! I don't like to deal with details and Rosie and Kym took care of everything. I asked many questions and posed many requests. Every request was responded to quickly and graciously. I wouldn't consider a trip like this without Rosie and Kym's help!
Recommended
South America and Cape Horn
By: Anita
Reviewed on: 20 Feb 2019
It was very good. When the cruise line was not responsive and was not providing good customer service, she stepped in and advocated for us. When that failed, she found private shore excursions we could do and arranged for that.
Recommended
Vanguard review
By: Andree
Reviewed on: 20 May 2019
Outstanding service and advice
Working with Rosie Goldberger, you will have access to:
- An experienced travel guide whom you can rely on before, during, and after the trip
- Exclusive luxury resorts and properties
- Once in a lifetime experiences
Explore with the Best
Virtuoso Advisors are constantly pushing the boundaries in unique travel experiences.
Alliance programs are unique tailored experiences exclusive to travelers working with Virtuoso Travel Advisors.
learn more
Italy
United Kingdom
French Polynesia
Vietnam
Kenya
Thailand
Laos
Spain
South Africa
Botswana
Zimbabwe
Argentina
Peru
Costa Rica
Iceland