Travel Specialties
Interests
Adventure
Beach & Sun
Family Travel
Honeymoons
Safari
Destinations
Chile
Barbados
Bermuda
British Virgin Islands
Cayman Islands
Selling Travel Since
1984
My Background
I am a passionate travel guru who uses my experiences, connections and expertise to deliver trips beyond your expectations. During my 25+ years as a travel consultant, I have encountered firsthand the four corners of the world and I am always looking for new and creative ways to redefine the extraordinary.

Places I Have Traveled
Reviews and Recommendations for Martha Gaughen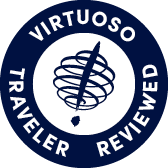 Virtuoso Verified Traveler
All reviews are from confirmed guests sharing exclusive insights
Sort reviews by
Recommended
By: Missy "Helen"
Reviewed on: 20 Sep 2013
Martha, is on top of every detail, and knows everything about every place in the world.. She is the ultimate walking, living guide book.
Recommended
Outstanding trip
By: Bbob
Reviewed on: 01 Oct 2013
Our trip to Ireland was wonderful from the early planning stage to the very end. Martha and her associate Lauren were a pleasure to work with. They listened to what we wanted to do and see, understood our level of travel, then built our itinerary. The hotels were wonderful, the car worked well, and the weather was Ireland. End result is we are very pleased with Martha, will use her again, and will highly recommend her to our friends.
Recommended
The best!
By: Buddy
Reviewed on: 15 Oct 2013
Wouldn't let anyone else plan a trip or itinerary for me. Left no detail untouched in any of my overseas vacations Martha handled. Wouldn't be afraid to try any of her recommendations from hotels, restaurants, guides or drivers. Complete trust in her. First class all the way.
Recommended
Highly Recommend
By: John S.
Reviewed on: 11 Oct 2013
Martha was referred to me by my wife's parents and I am very grateful for all of her help and travel expertise over the years. Thanks to Martha, my family and I have new favorite places all over the world. Our favorite Martha organized trips include: Four Seasons Seychelles Hotel St Germain Paris Capella Ixtapa Mexico
Recommended
Highly recommended
By: Gail
Reviewed on: 14 Oct 2013
Martha Gaughen is the finest travel planner ever!!
Recommended
The trip of a lifetime
By: Not provided
Reviewed on: 17 Oct 2013
Martha knows how to plan the perfect trip! This one was a surprise and by far it was the best !
Recommended
Martha rocks!
By: Z2013
Reviewed on: 02 Dec 2013
From start to finish, the honeymoon that Martha arranged for us was epic. Simply put, everything was perfect.
Recommended
Simply the Best!
By: CORE
Reviewed on: 03 Jan 2014
Martha, Alyson and the rest of the team at Virtuoso are such a pleasure to work with. They always go above and beyond to suit your needs and plan every trip with the utmost professionalism, dedication and attention to detail. I look forward to planning future adventures with Martha and I know that they will be nothing but the best!
Recommended
Highly recommended!!
By: alewis
Reviewed on: 30 Dec 2013
We have been traveling on trips planned by Martha Gaughen for several years now and would never consider having anyone else plan a trip for us!! She leaves no detail uncovered and has enabled us to make so many beautiful memories for ourselves and our family.
Recommended
Martha is the best!
By: Wawa
Reviewed on: 06 Feb 2014
Martha is the BEST.We would not use anyone else!!!
Recommended
Highly Recommended
By: gail
Reviewed on: 23 Feb 2014
Martha Gaughen is an experienced travel agent who does an amazing job of finding just the right destinations and taking care of every detail.  I cannot recommend her highly enough.
Recommended
Loved our trip to Hong Kong and Macau!
By: Margot
Reviewed on: 03 Mar 2014
My husband and I just returned from a delightful trip to China, specifically Hong Kong and Macau.  It was the second trip that Martha and her staff prepared for us and I can't recommend her highly enough, honestly.  She crafted a wonderful experience for us.  The only danger might be that we get used to such pampering!  And that I collect too many Mandarin bathrobes.  I also give high marks to A & K, whose guide, Ben Lin, was invaluable to us.  He was personable, knowledgeable, and we were always in very capable hands.  I liked the fact that he was able restructured a day of our trip when the weather wouldn't cooperate with our plans. Many, many thanks to Martha, Ben, and everyone whose handiwork went it to making our vacation amazing!
Recommended
Highly recommended
By: Ed 1968
Reviewed on: 20 Mar 2014
Martha planned an outstanding trip for us. Her suggestions are always flawless.
Recommended
When you want the Best
By: Lizzycakes13
Reviewed on: 22 Mar 2014
When we are interested in taking a memorable trip, we always call Martha! Her expertise is unrivaled. When you want a trip that will have numerous lifetime memories and every detail in perfection - Martha is it. We would never travel outside the US without Martha's help (and most of the time inside the US) - and we trust her with our precious time to make it worth every moment. Our family has voted that each trip Martha has planned for us has been our favorite trips! The communication and detail planning make each trip perfection!
Recommended
Highly recommended
By: Amy
Reviewed on: 03 Apr 2014
Our experience with Martha at Brownell Travel surpassed excellence. I had an issue with a minor traveling with us and Martha was superior in assisting with my issues. Our trip consisted of my son who just turned 18, his girlfriend (17) and my 14 year old daughter. And we were traveling out of the country with just me and the "kids". Thankfully I felt safe as a result of the transfer arrangements Martha made for us. Everything was just perfect. And, my son said it was the best birthday and vacation "EVER"! His smile when we entered the Royal Towers of Atlantis will be etched on my heart for the rest of my life. Thank you Martha!!!
Recommended
Highly Recommend
By: Gerry
Reviewed on: 14 Apr 2014
The cruise on the Allure of the Seas was wonderful!  I would go again tomorrow.  The only thing I would like is perhaps from the cruise lines a better description of excursions and what each one entails.  Great room very convenient to everything.  Floating palace.  Thank you.
Recommended
Madrid Tour
By: Kathi and Tom
Reviewed on: 01 May 2014
Our train tickets and day of touring Madrid was wonderful. It all went very smoothly and guide was very knowledgeable.
Recommended
Highly Recommend
By: DKOCMO
Reviewed on: 06 Jun 2014
Very knowledgeable and professional in planning,, great attention to detail.
Recommended
The Best
By: Dean
Reviewed on: 23 Jun 2014
Very thorough! Has years of experience! . Martha is the BEST TRAVEL CONSULTANT!  I wouldn't use anyone else!
Recommended
Highly Recommend
By: Atlantaguest
Reviewed on: 14 Jul 2014
Martha has planned several trips for our family.  Each trip has been wonderful.  It always amazes me how everything goes as promised.  We are always meet on time by our tour guides and transportation.  Every place she has recommended has been exceptional.
Recommended
By: JK
Reviewed on: 26 Jul 2014
Wonderful trip that the entire family truly enjoyed. A real vacation with no hitches!
Recommended
Excellent!!
By: Fleming89
Reviewed on: 15 Aug 2014
Always a pleasure to work with Martha
Recommended
Italy Trip
By: Peter & Ann
Reviewed on: 04 Oct 2014
Trip was excellent. We had a blast. One thing that we almost missed was connection from Bologna to Florence. Our train was 6 minutes late. If it wasn't for a man that helped us and we weren't in such good shape we never could have made it. There was only 13 minutes between trains if they were on time and compared to the usual changes, the distance between was pretty far and steps up and down. We survived. Disappointed that 2 of Cinque Terre trails were closed and had been for sometime with some lawsuits on going from years past accidents. Thanks for all your help!
Recommended
Fairy Tale Honeymoon
By: WLGlenn
Reviewed on: 18 Sep 2014
It was perfect. The hotels and service were top of the line. The destinations were well planned out and we had the best time ever. I cannot wait to go back and visit both Villa d' est.
Recommended
Ritz-Carlton Cancun
By: Laura
Reviewed on: 19 Jun 2015
Excellent property, great service, and location. Had a great time.
Recommended
Martha
By: HM
Reviewed on: 26 Jun 2018
Martha was Fantastic to work with! She had great suggestions and always responded quickly to any questions we had. We had a Fabulous trip!
Recommended
Munich/Austria
By: Bella
Reviewed on: 22 Jun 2018
Martha is very efficient and easy to work with.
Recommended
Great trip to Italy
By: Cookie and Harrison
Reviewed on: 19 Sep 2014
Totally wonderful--- every detail tended to. Would only change one dinner reservation. We found Rossellini's a HUGE disappointment--most expensive and worst meal of the trip. Kay B. joined us and ate only one bite of her entree. I ate only half of mine. All drivers so friendly and knowledgeable. Upgrades Caruso and Sirenuse--fab. Jr suites with incredible views. Still in Portofino with one last stop in Rome. Thanks for a very special and relaxing 50th anniversary celebration.
Recommended
a month abroad
By: gail47
Reviewed on: 30 Sep 2014
Martha planned the most amazing trip abroad I could ever imagine. I was concerned about leaving for so long, but after a month, I was still not ready to return. The hotels, the service, the drivers, the tour guides, everything was perfect. The AmaWaterways cruise was delightful with a wonderful staff and fabulous food, as well as educational and interesting tours. Thank you Martha, you've done it again.
Recommended
Indispensable Advice and Service
By: LoveToTravel
Reviewed on: 20 Oct 2014
Martha provided unique advice and service that made our trip to Israel, with family ranging from ages 3 to 72, a marvelous experience. The VIP service at the airport saved us valuable time and frustration. Our lodging in Tel Aviv was fantastic and the hotel in Jerusalem fit our needs and budget perfectly. She managed our complicated travel arrangements with great patience. We are truly grateful for her expertise.
Recommended
Excellent holiday
By: Bob
Reviewed on: 25 Oct 2014
Trip was well organized. The guide good and the tours interesting and informative. A couple of the days were a little short (ended around 4pm) and felt perhaps the guide wanted to get home. However, she was well informed, pleasant with good English and took us to the sites we wanted to see. The hotel was nice with good rooms and the breakfast and food overall was good. The one exception was the #7th floor Grill which was the Conrad's premier restaurant and very expensive which we went to one night as a special occasion. It was overpriced, the food not good (my lamb was cold and I sent it back to be redone and they still charged me for it), and altogether disappointing. I would not recommend using this restaurant at the price it is a waste. Seoul was lovely lots of interesting things. The weather in October is great and I would recommend a trip to Korea.
Recommended
Outstanding trip!
By: Atlanta Ed
Reviewed on: 20 Mar 2015
Martha planned a wonderful trip for us at the Ritz Carlton, Key Biscayne. We enjoyed the fine service offered by the Ritz and the little bit of extra attention that Martha's clients receive.
Recommended
Seabourn Cruise: Singapore to Dubai
By: D.B.M.
Reviewed on: 13 Apr 2015
Wonderful trip, especially the excursion to the Taj Mahal. All off shore tour guides were excellent except for Oman. Fullerton Bay Hotel was excellent; went to Raffles for drinks and lunch. Their buffet was a poor choice. Perhaps their more formal restaurant would have been better. The positives outweighed any negative, rate the trip an A.
Recommended
All the bases were covered!!!
By: GiGi0828
Reviewed on: 28 Apr 2015
We only got theater tickets this time -- but to two popular shows in NYC. They were wonderful and made our trip extra special. They gave me lots of choices of plays and provided web sites to get reviews. Made it very easy on me and enabled me to make the choices right for us. And the seats were great!
Recommended
The best planning and execution
By: Greg
Reviewed on: 08 May 2015
Advice and recommendations were spot on and custom to our particular likes. Planning was detailed thorough, leaving nothing to chance. Execution was brilliant. Her London team was simply the best. The local agency was attentive and responsive. Yes, we had a great time, exceeding our expectations. It is what we have graciously learned to expect from Martha and her staff.
Recommended
Wonderful trip!
By: Ginger
Reviewed on: 30 Jun 2015
It was altogether a fantastic trip. We wore off out jet lag in splendor at Hotel Il Pellicano.....beautiful setting, lovely room, excellent food & service. Oceania's "Riviera" was fabulous. Our 1st time on a ship of this size & we liked the variety of restaurants - all of which were excellent! A marvelous staff & crew - very friendly & attentive. The ship was beautifully outfitted with many nice amenities. We did not partake of many evening shows or "extra curricular" activities offered on board, but those we did were enjoyable. Our one complaint would be that some of the itinerary was revised (some of it at last minute!) & many of the excursions were very booked with too many people. However, we went to some interesting places & had excellent tour guides. We would definitely recommend this cruise line and the Hotel Pellicano. We appreciate all of Martha's help in making these arrangements..
Recommended
D.C.Delight
By: Dar
Reviewed on: 18 Jun 2015
Martha organized a fabulous trip for my granddaughter and I to Washington D.C. The Hays Adams Hotel was the perfect location. The staff was attentive and knew my granddaughter's name. The concierges took a personal interest in our excursions and our drivers/guides were excellent. A five star time!!
Recommended
great trip!
By: Abbygail
Reviewed on: 21 Jul 2015
Martha and Alyson did a great job of planning our trip, start to finish. Great hotels, expertly-planned transportation.
Recommended
Great job and very helpful!
By: Chandler
Reviewed on: 31 Jul 2015
Martha did a great job guiding us on our trip this summer. She gave us solid recommendations and arranged for some incredible tours. We have been using Martha for quite awhile now and she has rarely steered us in the wrong direction.
Recommended
Perfection!
By: NJ-Ned
Reviewed on: 20 Aug 2015
This was our first vacation that we booked with Brownell. We worked with Martha and Alyson Jarvis. Aly was patient with our numerous questions and frequent changes of possible destinations. After exploring numerous islands and resorts we finally settled on Little Dix Bay in Virgin Gorda. Their knowledge of the various properties that they represent was invaluable ensuring that we had a fantastic trip that went off as planned.. Aly's communication and correspondence assured that there were no surprises. We look forward to working with them on our next trip!
Recommended
Honeymoon in Bora Bora
By: SGK
Reviewed on: 30 Aug 2015
Alyson (and Martha) planned THE most amazing honeymoon in paradise that we could have ever dreamed possible. Every detail was absolutely perfect. We will undoubtedly use their services for all of our travel from now on.
Recommended
Excellent Adventure
By: Bob
Reviewed on: 26 Sep 2015
Wonderful trip with so many adventures. All sorts of fun activities like hiking, rafting, etc. Lots of great photograph opportunities. Fun to see wildlife up close.
Recommended
She always gets it right!
By: Cackle
Reviewed on: 05 Oct 2015
Martha not only knows which hotels to book, she knows which rooms are the best. She is one of the most well informed advisors in our area and the only one with whom we choose to work. She has never steered us wrong.
Recommended
Tripp
By: Tripp
Reviewed on: 29 Jun 2018
Always does a great job!
Recommended
amazing vacation
By: shebetraveling
Reviewed on: 24 Jul 2018
We had an amazing vacation at The Four Seasons Anguilla, every detail was perfection from arrival to departure.
Recommended
Italy
By: Sal
Reviewed on: 20 Jul 2018
Michael Gaughen
Recommended
Awesome!!
By: Nancy Blank
Reviewed on: 29 Jul 2018
Martha was extremely knowledgeable and very helpful. She answers questions in lightening speed and was incredible. Would use her again for sure.
Recommended
Bday celebration
By: Adlew
Reviewed on: 14 Aug 2018
Awesome! Her attention to details and expert advice are always superb. Martha is the BEST!
Recommended
Greece
By: Adlew
Reviewed on: 01 Oct 2018
Wonderful- as per her usual.
Recommended
Seamless Luxury Travel with Brownell
By: Heather P
Reviewed on: 13 Oct 2015
Martha Gaughen planned a fantastic stay for our honeymoon at the Caesar Augustus in Capri, Italy. With Brownell's relationship with Virtuoso member hotels, Martha was able to include free transfers, a credit to the restaurant, as well as an upgrade to a Cliffside suite with terrace - the perfect view to be greeted by every morning. Her team at Brownell were top notch professionals who ensured we had a very warm welcome by the owners of the hotel as well as provided a very organized itinerary for our trip. During a couple snafu's during our trip with weather, Brownell quickly pivoted and came to our help with alternative travel logistics. Their response time was impressive and their recommendations fantastic. We look forward to working with Martha's team again in the future.
Recommended
Amazingly helpful!
By: Laura
Reviewed on: 23 Dec 2015
It was such a pleasure having our honeymoon planned by Martha Gaughen. When I was swamped with wedding details she took care of the rest and our stay at The Ritz in Grand Cayman could not have been more perfect!!! We were welcomed into our beautiful room with chocolate covered strawberries and the whole time we were there we felt like royalty. Thanks so much!!! We can't wait to have her help us with our trip to Iceland this summer!!!
Recommended
Martha is AWESOME
By: ZMarr
Reviewed on: 31 Dec 2015
Martha is totally accommodating and knowledgable! I would definitely recommend her! Great service and she searched to find us a great deal. :)
Recommended
Fabulous Jamaica Trip!
By: broadland
Reviewed on: 25 Jan 2016
Martha helped us plan an unforgettable family trip to Jamaica. Before the trip was over we were already discussing and planning our next trip back. We stayed at a villa in Tryall and had a wonderful experience and never had to leave the property. Our staff was outstanding and we hope to return as soon as we can. Everyone was teary eyed as we took one last picture and heading to the airport.
Recommended
sunset key
By: ken
Reviewed on: 06 Mar 2016
Sunset Key is an excellent little resort. Easyto get to on a short boat ride from Key West. Latitudes Restaurant very good. When weather permits, can eat outside right on the water. All staff were accommodating and cordial. Size of property permits easy access by foot to beach, pool, restaurant, spa, fitness center. Gun to take boat over to Key West for a change of pace. No need for a car for this trip since no cars at Sunset Key. Even got to play tennis. Great spot for a relaxing stay.
Recommended
outstanding
By: SGK
Reviewed on: 15 Apr 2016
Martha and her team are absolutely outstanding. We travel nearly every month, and will never use anyone else.
Recommended
Knowledgable guide
By: Kaki
Reviewed on: 04 May 2016
Martha planned a wonderful tour. Went like clock work. Thanks,
Recommended
Reflections on recent trip to England/France
By: Leon
Reviewed on: 12 Jun 2016
My son and I just got back from a combined work/fun trip to Europe. Our outbound flight to London was very late, forcing us to miss a train connection from London. It was very gratifying, however, to be able to email Martha and get real time suggestions on how to reschedule. No doubt we could have done it ourselves, but it was great that she was available for problems. We did a lot of train travel, seeing Normandy and northern France. Given the situation with respect to recent rail strikes in France, two of our trains were cancelled. Checking train schedules was not something I was going to be able to do easily. Fortunately, Martha's on-site person, Edwige, emailed me prior to each segment, notifying me of the cancellations and giving me options to make other arrangements. In addition, after making the changes, she contacted our hotels and made sure that we had printed tickets available. This is an example of the outstanding service we have always received from Martha.
Recommended
FABULOUS!!
By: JSB
Reviewed on: 12 Jun 2016
We had such a wonderful time in Harbour Island! Perfect hotel, service and picturesque beach. Heaven!! Thank you so much for helping us have such a perfect trip!
Recommended
Consistently expert advice
By: Bob
Reviewed on: 30 Jun 2016
We were interested in taking a land and cruise tour of Alaska, but did not know the best way to arrange this. Working mostly with Martha's son Michael they steered us to Silversea, which proved to be a wonderful choice. Michael helped us pick our preferred cabin, made our dinner reservations, and spent a good amount of time explaining our choices of excursions. All booking was done by him on the first morning that it was possible to do so, thereby assuring us that our choices would be accepted. Any questions we had were immediately and gracefully answered. Martha has helped book trips to Venice, Milan, Lake Como, Paris, Normandy and Bulgaria. We feel that we are in very good hands with her and look forward to many more exciting trips.
Recommended
Tremendous Work!
By: Matt
Reviewed on: 01 Jul 2016
Martha did an excellent job planning our honeymoon in Bora Bora. My wife and I had a fantastic time enjoying the sun and the Le Meridien resort. Everything far surpassed our expectations, and logistics were very easy to navigate, thanks to the comprehensive itinerary that Martha provided. We will continue to work with Martha for our next adventure to Italy!!
Recommended
Dream trip to Europe
By: Vee
Reviewed on: 03 Jul 2016
Overall trip was excellent. Great balance of R&R and exploration. Finally achieved that goal. Thank you for helping us with that. Ship (Silver cloud) is aging but still very nice. I would recommend that passengers take a power strip for more outlets. All food served and staff aboard were very good and Roland our butler was outstanding. Disappointments: a) Anthony Bay was nice but over priced at about $3500 for 2 days. We felt $1000 tops including tips per day would have been more fair. We loved the destinations he chose for us. b) the ship has a problem with odors - diesel fuel smell entering common areas up to 2 decks above and sewer smell on passenger side, at least on the 6th floor. c) the names on our plane tickets were written differently than the names on our passports. Airlines don't like that and we could have been denied boarding had we not been members of the DPJ program.
Recommended
Amazing! Everything First Class!
By: Crainj35
Reviewed on: 08 Jul 2016
Thanks to Bwornell Travel our honeymoon in Italy was amazing! All the hotels were first class and they took care of every detail of the trip so our time was stress free! Great food recommendations, could not have had a more perfect honeymoon!
Recommended
Perfect trip to Southeast Asia
By: bridgesfrisbeedog
Reviewed on: 15 Aug 2016
Martha and her team at Brownell Travel did an excellent job putting our trip together. The flight combinations were complicated given our desired itinerary, but everything went flawlessly. We researched hotels together, and the result was absolutely perfect for our needs. I never had to worry about logistical glitches on this vacation -- a great thing when you are travelling and cannot speak the language. Thank you for everything!
Recommended
Great Family Getaway!
By: laketrip
Reviewed on: 15 Aug 2016
We were looking for a last minute family getaway before school started. The Ritz at Lake Oconee was the perfect trip. There was so much to do and the kids had a blast. The Virtuoso amenities were an added bonus. Will definitely go back soon.
Recommended
Knowledgeable and efficient. Listened to what we wanted to do and made it happen!
By: Mary
Reviewed on: 15 Aug 2016
Martha and Michael were fabulous! Were on top of every detail to ensure a not to be forgotten vacation for our family. Many thanks!
Recommended
Trip to Africa
By: elizabeth
Reviewed on: 04 Oct 2018
Thorough. Very responsive to questions. Worked with us to keep trip within our budget. Friendly.
Recommended
Always gets it right!
By: Cackle
Reviewed on: 08 Sep 2016
Martha takes the time to understand her clients preferences and tailor the trip accordingly. She knows us well, and the trips she plans for us bears that out. We aways look forward to working with Martha.
Recommended
Wonderful service
By: Spain2016
Reviewed on: 15 Oct 2016
Wonderful experience, every detail was expertly planned and executed! Hotels, transportation and giuded tours were exceptional, a very memorable trip!
Recommended
Exceptional service
By: KT
Reviewed on: 17 Oct 2016
I cannot say enough wonderful things about Martha! We had more than an amazing time on our honeymoon! It was absolutely stress-free and everywhere we went just got more breathtaking! I can't wait to plan our next trip!
Recommended
Brilliance helped pick THE RIGHT TRIP
By: Jay
Reviewed on: 08 Nov 2016
What service! Exceptional!!!! Thanks for all.
Recommended
Awesome 7 Easy
By: RLS
Reviewed on: 13 Nov 2016
MG and Brownel make travel easy, fun and organized
Recommended
Knows the travel business!
By: DBMCB
Reviewed on: 24 Nov 2016
Martha has taken us around the world, traveling to fabulous destinations, with excellent service, superior travel guides and all done seamlessly. Highly recommend! We have travelled on Seabourn around Australia and New Zealand. Played golf at Kauri Cliffs. Took Seabourn to Antarctica and made five landings. Departed from Argentina and ended up in Santiago, Chile. Next Seabourn trip was Singapore to Dubai. Enjoyed elephant and camel rides. Adored the colonial cities of India. Took Tauck trip up the Danube from Budapest to Prague.
Recommended
Knocked it out of the Park!!!
By: MM15
Reviewed on: 19 Dec 2016
Could not have planned a better vacation. I was fairly specific regarding Trip details and budget concerns, and Martha and her team totally delivered. Will absolutely use their services again for future trips. Thanks!!
Recommended
Best family vacation yet...
By: ATL traveller
Reviewed on: 07 Jan 2017
Martha and Lily planned a Great vacation for my family in Rome. We received the rock star treatment at our hotel, enjoyed wonderful meals and world-class tours. It was a great trip, thanks to Brownell Travel.
Recommended
Excellent travel advisor team
By: Bob
Reviewed on: 04 Mar 2017
We have had an excellent experience working with both Martha and her son Michael for a number of trips. Their advice has always improved our vacations. Our more complex vacations, such as trips to Italy, Normandy and Bulgaria, would not have been nearly as enjoyable without their input and expertise.
Recommended
Outstanding
By: Ed
Reviewed on: 15 May 2017
Have traveled the world guided with Martha- never a glitch- always a first class experience!
Recommended
loved this trip!
By: susie
Reviewed on: 18 Jun 2017
Martha is friendly, full of knowledge and connected with the right resources to help me navigate the best trip ever! I have already recommended her and will use her again!
Recommended
Another great trip
By: BB
Reviewed on: 23 Jun 2017
Martha is warm and knowledgeable and leaves no stone unturned. She has planned several trips for our family of 6 adults and 2 children and everything has been perfect!! Can't wait for the next one!! 5 stars!!
Recommended
Usual excellence from Martha and her team
By: Ramona
Reviewed on: 17 Jul 2017
Martha and her team are the consummate professionals with extensive knowledge of pretty much everywhere. We've been a client for years and have not had a less than exemplary experience.
Recommended
Great trip
By: holly.leffpressman@nielsen.com
Reviewed on: 02 Aug 2017
Always a great experience - she is a trusted advisor
Recommended
Italy
By: Auburn3035
Reviewed on: 05 Aug 2017
Martha was great! Everything she planned for us went beautifully. We had previously purchased a trip to a villa in Italy through a charity organization. Martha filled in the gaps for the other portion of our trip by making great suggestions, securing wonderful accommodations, and fabulous guides for the remainder of the trip. We definitely plan to use her services for our next adventure!
Recommended
Top of the World!
By: Annieo
Reviewed on: 08 Sep 2017
Martha is the ideal travel agent! Thorough, efficient, personal and attentive.
Recommended
Croatia on Windstar
By: Croatia
Reviewed on: 20 Sep 2017
Very easy to work with Martha. Very knowledgeable about places we went.
Recommended
Roman/Tuscan Holiday
By: Teachick
Reviewed on: 27 Sep 2017
Terrific! I had complete confidence in her suggestions. This was a trip I didn't want to leave to TripAdvisor searches and Martha's guidance helped to fashion a trip of a life-time for us.
Recommended
Newport, RI
By: Garpstox
Reviewed on: 06 Oct 2017
Martha used Vurtuoso to pick the right B&B to give us the best accommodations and the best location
Recommended
Martha Gaughen
By: Morocco Traveler
Reviewed on: 23 Oct 2017
We have had Martha plans number of trips for us, some private and others with groups. She is very knowledgeable about most locations. We have some problems with flights when our flights were late and they are able to quickly get things rearranged for us. The agency is very responsive to any thing that comes up.
Recommended
New Zealand and Australian Globus Trip
By: Bob
Reviewed on: 02 Nov 2017
Unfortunately Martha was not available due to her busy scheduled. But I enjoyed working with her son Michael.
Recommended
Perfect honeymoon
By: Shay
Reviewed on: 10 Nov 2017
Martha and her team were awesome with helping my wife and I out with our honeymoon. Their recommendations could not have been better and they made the process very easy. We're so glad that we decided to work with Martha and will definitely be coming back for any big trips in the future!
Recommended
Iran
By: Carol
Reviewed on: 17 Nov 2017
Martha was great. It was a very stressful time for me, just having gone through a hurricane, my passport barely got back in time with my visa, Delta' schedule changed after the storm so I had to leave a day early at the last minute. Martha was calm and reassuring, everything worked out in the end and I had a fabulous trip to Iran!
Recommended
Mexico
By: lee
Reviewed on: 05 Dec 2017
Every thing was set up well. We had very good communication, and all the events during our trip were planned well.
Recommended
Worked with Mike
By: Vee
Reviewed on: 27 Nov 2017
Great attention to detail. All went well. I believe if he could have controlled the weather for us he would have.
Recommended
Exceptional Trip to Berlin, Prague, and Vienna
By: Travel Woman
Reviewed on: 04 Jan 2018
Excellent and Easy. Martha has a vast amount of knowledge about travel and the world. She listens to her client and customizes each trip, with special perks and experiences, just for the client. I have worked with her on numerous trips over the years and each has been magical and exceeded my expectations. I highly recommend her, without any reservations.
Recommended
Good trip
By: Fred
Reviewed on: 10 Jan 2018
It was fine. The trip was well organized so I could enjoy the trip without having to worry about details. Very efficient.
Recommended
Panama Passage
By: Dabs
Reviewed on: 01 Feb 2018
Comfortable, it is always a pleasure working with Martha and her team at Brownell Travel. She has the expertise and contacts to make our travel seamless and enjoyable.
Recommended
Cabo
By: Richard
Reviewed on: 14 Feb 2018
Always a pleasure. Very knowledgeable
Recommended
Rome/Florence/Venice
By: Julie B
Reviewed on: 19 Mar 2018
Martha helped us to arrange four different half day tours in the three cities we visited for our week in Italy. She was able to identify which items we could do easily on our own and which we would benefit most from a tour guides. The guides and the tours themselves were each top notch and made all the difference in our family's experience on our trip. We will definitely seek out Martha's help for our future overseas trips.
Recommended
Beaver Creek
By: Rob Shults
Reviewed on: 22 Mar 2018
Martha has handled at least 10 trips for us over the years..she brings new ideas and local contacts that result in lifetime experiences that most people don't get to be a part of. The service delivery from the home office makes the trips friction free and easy -- our job is to show up and have a good time.
Recommended
Tanzania
By: Carol
Reviewed on: 05 Apr 2018
Great! A pleasure to work with.
Recommended
Washington
By: Nana
Reviewed on: 24 Mar 2018
Great. She is the best. Takes care of every detail
Recommended
wrong agent
By: Holiday Maker
Reviewed on: 25 Mar 2018
We were actually working with Katherine Norton at the Brownell office in Birmingham. But she & her asst, Cara Boggus did an excellent job.
Recommended
You can rely on Martha's advice.
By: ATL Ed
Reviewed on: 24 Mar 2018
Martha is a great travel advisor: knowledgeable and candid.
Recommended
Hawaii
By: ASH
Reviewed on: 28 Apr 2018
Easy as always!
Recommended
there and back again
By: Thor
Reviewed on: 04 May 2018
just fine. Martha had good ideas and I liked the hotels she booked for me. Two were excellent, the third was great location but I felt a little tired. her assistant Lilly also did an excellent job following up with paperwork and itinerary.
Recommended
Outstanding resort
By: Bob
Reviewed on: 06 May 2018
Martha and Michael are an outstanding duo. They have provided us with excellent advice and service. I have recommended them to many people, and hope to continue to utilize their service for years into the future.
Recommended
Vietnam Fetaway
By: Jessica P
Reviewed on: 02 Jun 2018
Chris and I enjoyed working with both Martha and Michael. They designed an incredible vacation for us to Vietnam. Everything that we did was spectacular from the amenities, hotels, tours to the recommended restaurants. I will always recommend Martha and Michael to anyone that is an adventurous traveler that desires an exceptional experience.
Recommended
Perfect Honeymoon
By: Ryan
Reviewed on: 11 Jun 2018
Martha and her team were wonderful! Martha helped us book our incredible honeymoon. We were working with another agency prior to Brownell, when we started working with Martha time was of the essence and they started working on our trip right away. It was everything we wanted and more!
Recommended
Seamless Luxury Travel, She Knew Everything!
By: Happy Camper
Reviewed on: 12 Jun 2018
While Martha didn't originally give the warmest first impression, she quickly earned the title of one of our favorite people. It's because she's "no nonsense" and just gets things done: quickly, correctly, beautifully & seamlessly. She found us deals that saved us money, easily covering her fees. She knew when to take car services vs. trains vs. rental cars & timed them all beautifully. She knew when to do our own tour/walk vs. needing to book a special tour ahead of time (or we would've wasted several hours standing in line & basically ruined a day). She knew how to pack so it'd be easiest for train transfers, and how to dress to fit in. Documents were all easy to find and use. The Axus app made everything a piece of cake. I don't think I'd ever do international travel again without using Brownell.
Recommended
France
By: roncheeley@aol.com
Reviewed on: 17 Jun 2018
As usual Martha is always helpful in filling in the gaps in our trips and getting us out of trouble as needed.
Recommended
Outstanding travel agent
By: bob
Reviewed on: 14 Oct 2018
Martha and Michael Gaughen have been a great find for us. They are knowledgeable and very easy to work with. Their advice can always be relied on, and they are more than cost effective.
Recommended
Martha is outstanding.
By: Brad
Reviewed on: 27 Dec 2018
My wife and I are so thankful Martha/Brownell Travel was our travel advisor for our honeymoon. Martha is amazing. Among many things, her kindness and attention to detail really stood out to us. Our trip to the Amalfi Coast was literally flawless - there wasn't a single hiccup or error in the planning. I would highly recommend Martha to ANYONE looking for a travel advisor!
Recommended
Germany Excursion
By: Ibby
Reviewed on: 14 Oct 2018
Fun, and helpful. Even while on trip with lost luggage Kristie helped.
Recommended
Cruising
By: Jo
Reviewed on: 25 Oct 2018
Martha's service was excellent from beginning to end. She literally took care of all details, leaving no questions. She is a very knowledgeable travel agent. I highly recommend her. She set up special dinner reservations for us without asking. Both dining experiences were lovely.
Recommended
Magical holidays
By: Carol
Reviewed on: 28 Oct 2018
Martha is the BEST. Her knowledge and counsel are golden. Her standards are the highest and her contacts are extensive. We trust her advice and recommendations completely.
Recommended
Japan
By: Al
Reviewed on: 26 Oct 2018
She and her son Michael planned an excellent trip to Japan
Recommended
Professional and accommodating
By: Robert
Reviewed on: 04 Dec 2018
Martha and Michael are a pleasure to work with. They always put together itineraries that work beautifully with our needs. What is important is that when our professed desires are somewhat ambiguous they usually figure out what we really want and find a way to make it work perfectly. I would highly recommend them.
Recommended
vienna
By: mary
Reviewed on: 07 Dec 2018
Martha did a wonderful job....everything went exactly as planned
Working with Martha Gaughen, you will have access to:
- An experienced travel guide whom you can rely on before, during, and after the trip
- Exclusive luxury resorts and properties
- Once in a lifetime experiences
Explore with the Best
Virtuoso Advisors are constantly pushing the boundaries in unique travel experiences.
Alliance programs are unique tailored experiences exclusive to travelers working with Virtuoso Travel Advisors.
learn more
Chile
Barbados
Bermuda
British Virgin Islands
Cayman Islands
Croatia
France
Italy
Kenya
Saint Barthélemy
Turks And Caicos Islands
Turkey
U.S. Virgin Islands
Anguilla
Saint Kitts And Nevis