Tara Hyland
ASA, MCC
League City, TX United States
Tara Hyland Travel, LLC, an independent affiliate of Travel Edge
Travel Specialties
Interests
Independent Tours
Adventure
River Cruising
Family Travel
Ocean Cruising
Destinations
Italy
France
Germany
Turkey
Botswana
Selling Travel Since
1980
My Background
My 39-year career in the travel agency industry is diverse with a background in marketing, management, supplier relations and luxury leisure sales. I have had many unique opportunities travelling the world far and wide to expand my destination and product knowledge. I have made valuable connections with hotel managers, tour companies, private guides and cruise line executives which enhance my ability to extend VIP treatment to my clients worldwide.
I take great pride in crafting unique and exciting itineraries and creating memorable trips for couples and multi-generational families. I delight in designing vacation experiences which exceed my client's expectations.
The key to my success is the way I approach each client's vacation based on my personal knowledge of their objectives and an understanding of their interests, past travel experiences and how they prefer to travel. It is a process of developing a professional relationship based on mutual trust and collaboration.
Amazing trips I have previously planned for my clients include African safaris, romantic vacations in Tuscany, yachting on the Great Barrier Reef , private dinners on the Great Wall of China, cooking classes in Paris, expedition cruises in the Galapagos and out of this world experiences on Virgin Galactic's sub-orbital space flights!
It would be my pleasure to design your next vacation.
Places I Have Traveled
Reviews and Recommendations for Tara Hyland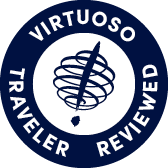 Virtuoso Verified Traveler
All reviews are from confirmed guests sharing exclusive insights
Sort reviews by
Recommended
Highly recommended
By: Natreg
Reviewed on: 06 Feb 2014
Excellent to work with and provided all the planning so we could have an enjoyable trip. Any issues were quickly and satisfactorily addressed. Look forward to Tara's assistance planning our next trip.
Recommended
Indeed, highly recommended
By: Geoff
Reviewed on: 10 Mar 2014
A unique travel specialist who comes up with wonderful ideas.  I recommend highly her travel advisory services
Recommended
trip to Egypt
By: dcn3
Reviewed on: 24 Mar 2014
My wife and I were extraordinarily pleased with our recent trip to Egypt.  This was the second trip that Tara Hyland set up for us, and we remain highly pleased with her professionalism, knowledge, and individual attention.  Tara is first-class and we will return to her in the near future.
Recommended
Highly recommend
By: Geoff
Reviewed on: 26 Jun 2014
most important she is attentive to details and follow up
Recommended
Normandy Guide recommendation was excellent!
By: Houston Traveler
Reviewed on: 30 Jun 2015
Tara arranged for us to tour the Normandy, France area with a guide whom Universal Travel has used on numerous occasions. John was fabulous. His knowledge of the events of D-Day and of the Normandy area were excellent. Tara was very prompt in following through on all details of the trip.
Recommended
GREAT Service!
By: Jeannie
Reviewed on: 08 Sep 2015
Tara planned my Bucket List trip superbly! I asked for a SPA Resort, and she suggested The Miraval and it was by far, better than expected. Everything about the Resort was done well from entering the grounds, checking in, my casita, classes, exercises, tasty and well balanced menu, smoothie bar, gift shop, SPA & treatment center, artwork throughout the property including the person who met me at the Airport upon arrival! Everything about the trip was well planned & executed along with keeping me and the other guest engaged. The communing with nature and the meandering stream that flows through the property was lovely to watch and listen to as you sat and read whatever materials you had with you. OR you could do nothing and just sit and listen to the water lull you into a relaxed state! Many of the guest were repeat patrons and I'd like to share that experience and become a repeat customer. Wonderful 65th BDay gift to myself. Thanks TARA for making it happen! All my BEST!
Recommended
Wonderful!
By: Richard
Reviewed on: 18 Dec 2015
Great detail in the planning. Quality vendors (drivers, guides, etc). Excellent restaurant choices. Hotel was even better than expected. Very happy!
Recommended
Very professional superb job
By: Dick
Reviewed on: 13 Feb 2016
She reacted exceptionally well to a bit of a crisis that was not caused by her, but a change of plans by one of my children. She is a great communicator.
Recommended
Expert friendly service
By: Richard 46
Reviewed on: 30 May 2016
This was the second time Tara had assisted us with planning a vacation and on both occasions she has done an excellent job for us. She planned well and gave good advise which enabled us to thoroughly enjoy our vacation.We would always seek her assistance when it is time for us to go somewhere.
Recommended
Experineced guidance and perfect arrangements!
By: MAHx2
Reviewed on: 19 Jul 2016
Tara was very helpful. Her advise to us was based on knowledge and personal experience. She understood what we hoped for in our trip, and suggested the perfect balance of excursions and exploration. The arrangements she made for our airfair, ferries and hotels worked very well. We are most appreciative.
Recommended
Outstanding travel service by a real pro!
By: Lil's Disney experience
Reviewed on: 17 Feb 2017
Outstanding....professional and caring! She guided the entire process with knowledge and researched all the elements of our trip so we made the best decisions! I highly recommend her for any travel advice and needs. Will absolutely use her services for my next trip! Loved the entire experience! Lil Vaughn
Recommended
Another Wonderful Trip
By: TexasMom
Reviewed on: 28 May 2017
Tara is a knowledgeable, professional and extremely capable travel advisor. She has planned multiple trips for my family and I have recommended her to co-workers and friends. She is well-connected and has many resources available to ensure an exceptional travel experience. She is very easy to work with and responsive to her client's needs and wishes. I highly recommend Tara and will continue to use her as my travel advisor for future vacations.
Recommended
Wisconsin Trip
By: Ellington
Reviewed on: 29 Jul 2017
Outstanding. Sharp, responsive, focused on my satisfaction.
Recommended
Amazing Trip
By: Lola
Reviewed on: 08 Nov 2017
Tara works your trip as though she were going to be with you and wants the same quality for you that she would expect for herself. She was always available to discuss, answer questions and give advise on anything we were not sure of. I will always use Tara for those blessed times I get to go abroad and see the world. She is the consummate of travel agent and friend.
Recommended
Tara
By: Fishman
Reviewed on: 30 Nov 2017
Tara has planned several trips for us and has one for us in March, 2018. She is excellent in planning, followup and communication. She has also worked for others in our family. Recommend her highly.
Recommended
Amazing trip to the Galapagos
By: Shelley416
Reviewed on: 12 Jan 2018
Tara Hyland is the consummate travel professional. She makes sure that all of the details are taking care of and that your trip runs smoothly from beginning to end. Her standards are very high....and so are mine! For excellent luxury travel, I would highly recommend Tara.
Recommended
What a trip!
By: Love to travel
Reviewed on: 23 Feb 2018
Working with Tara is always great. Not only is she well traveled and well versed on several areas in the world, her sense of humor is tops! Love her.
Recommended
Exceptional Service
By: Jane
Reviewed on: 04 Mar 2018
Tara is so pleasant to work with! She knows her product(s) and always takes the time to explain all the options to best fit my preferences!
Recommended
Best, mist efficient excellent tour advisor in the business
By: Tom
Reviewed on: 19 Mar 2018
As always excellent. Attention to all details. Whatever is committed to happens.
Recommended
Italy
By: Sherry
Reviewed on: 16 May 2018
It's always a pleasure working with Tara. She did a terrific job with our trip. Everything went like clockwork Thanks to her follow through. She was so thoughtful in setting up a surprise luncheon for my birthday. It was a big hit. We look forward to working with Tara on our next trip.
Recommended
Fantastic in all respects
By: greg
Reviewed on: 08 Jul 2018
There is no one else I would have plan my trips. She is excellent in every way. From suggestions/options for trips to last minute changes. She listens to you and picks up on subtle cues and makes your trip the best ever. I have had her plan multiple trips for me and have never been disappointed. On my last trip, she was able to arrange a special outing in less than 1 day after I texted her during my trip. During the trips she keeps up with your trip and she genuinely cares that you have a good experience. After the trip, she contacts you and likes to get updates how the trip went and suggestions for what you liked and for restaurant suggestions for others. She follows up on individual guides also. Due to her contacts she got as an upgrade at a hotel in Vienna that was unbelievable. She makes traveling easy.
Recommended
Great Trip
By: Bob
Reviewed on: 07 Jul 2018
All was well. We had a great trip. Tara went out of her way to make everything run smoothly. We were well informed and prepared for the journey.
Recommended
Awesome!
By: auntbee
Reviewed on: 10 Jul 2018
Tara was a dream to work with. She is knowledgeable, professional, and kind. She gave us great advice on booking our cruise, and we had a wonderfully stress free experience. Thank you Tara!
Recommended
Top Notch Service
By: Buckeye Jim
Reviewed on: 16 Jul 2018
Everything about this booking was terrific. Tara handled all aspects of this for us and communicated where things stood and what actions we needed to take every step of the way. The entire process went smoothly. She handled any questions we had in a timely matter and got us our cruise documents, after reviewing them to ensure they were proper. All in all, a pleasurable experience. I would certainly ask her to handle our next trip for us.
Recommended
Exceptional Service
By: Jane C
Reviewed on: 23 Jul 2018
We had a wonderful experience working with Tara as our travel advisor. From the very beginning she was on top of everything and made certain we were totally taken care of! She discussed the airfare schedules with us, kept all the details organized, and offered up ideas and changes when appropriate! My husband and I will definitely plan our next vacation with Tara!
Recommended
Thank you
By: Cindy
Reviewed on: 20 Jul 2018
Tara was excellent in taking a bad situation that we had gotten into with direct booking with the cruise line and turning it into a pleasurable experience
Recommended
The best!!
By: GiGi
Reviewed on: 28 Jul 2018
So easy to work with her. Knowledgeable, listens, and tailors our trips to our wishes. Goes out of her way to make it happen!!
Recommended
Happy trip
By: Fr jum
Reviewed on: 31 Aug 2018
Wonderful! Couldn't be better!
Recommended
Review Your Advisor
By: Kath
Reviewed on: 29 Sep 2018
Tara did an extraordinary job for us. She listened to all our wants and needs and was able to find the best cruise for us! Tara was very knowledgeable about the ship and the destinations, which made it so much easier for us to decide what would work for us. Tara truly went the extra mile for us and I would recommend her to anyone! She went out of her was to help make this a trip we will always remember!
Recommended
Tour of Italy ...
By: Italy tour
Reviewed on: 21 Oct 2018
Tara Hyland was a superb travel planner... she put together wonderful options and helped us shape an exceptional itinerary! She listened, she offered guidance and she found outstanding resources to insure the most amazing trip! I can highly recommend using Tara for all your travel plans...she knows travel, making this a first class experience! Never leave home without her help!
Recommended
Magical Trip
By: Lola
Reviewed on: 23 Oct 2018
Tara has a keen sense of exactly what her clients want. She listens, offers suggestions, gives you choices and then takes care of it all. She is in constant contact with you down to the last minute and even while you are on your trip. Her desire is for her clients to be completely satisfied and feel they have had that magical trip they dreamed of.
Recommended
Perfect Agent
By: Joe
Reviewed on: 09 Jan 2019
Easy, quick. Very responsive. Thorough. Fulls up. Couldn't be better.
Recommended
Exceptional resource
By: Gigi
Reviewed on: 28 Mar 2019
Very easy. She is knowledgeable and so accommodating. Willing to research all my questions and ideas.
Recommended
Tara
By: Tom
Reviewed on: 26 May 2019
Tara is a thoroughly competent travel agent who I will always use for future trips. Plans well, communicates well and always has things on time.
Recommended
Great
By: Joe
Reviewed on: 25 Jun 2019
Great. Very responsive. Great on details.
Recommended
Tara
By: maryjhof@comcast.net
Reviewed on: 04 Jul 2019
Tara was very easy to use. She followed up on all of my requests. She has always been very pleasant and helpful.
Recommended
Outstanding Service
By: Ti
Reviewed on: 06 Jul 2019
Working with Tara was very easy and enjoyable. She was very knowledgeable and had many wonderful suggestions. She stayed in contact with us throughout the entire planning process and answered our many questions in a very timely manner. Our documents arrived two weeks before our departure and she wanted to ensure we understood all bookings, times, and arrangements. The trip Tara planned for us was all we wanted it to be and more. Outstanding cruise, excellent hotels, and all excursions were fabulous. We would highly recommend Tara Hyland.
Recommended
Made everything perfect!
By: Brian C
Reviewed on: 13 Jul 2019
My wife and had planned this 20 year anniversary and honeymoon cruise (we never took one) for over a year. Tara walked with us every step of the way. From booking, to travel insurance, to offering ideas for excursions, to advocating on our behalf with the cruise line, Tara is an expert, a joy, and the only person we will book our vacations with moving forward. She is an excellent communicator, and made herself available for even the most basic questions. Thank you Tara! We look forward to our next adventure with your guidance!
Recommended
Amazing!!
By: Vark
Reviewed on: 09 Jul 2019
She is great and planned the perfect honeymoon! She went above and beyond! We are so happy we used Tara!!
Recommended
Over the top service
By: Jane C
Reviewed on: 02 Aug 2019
Tara is such a pleasure to plan a trip with! She takes the time to look for the best deals and matches up travel ideas with our likes and dislikes. Tara always makes certain that every little detail is covered so that our trip goes smoothly!
Recommended
Tara's Review
By: Becky
Reviewed on: 02 Aug 2019
Tara was excellent at helping us with our cruise options and presented in a way that was easy to understand.
Recommended
Gigi
By: Gigi
Reviewed on: 08 Aug 2019
Always accommodating
Recommended
Athens and Marathon Greece
By: GiGi
Reviewed on: 07 Nov 2019
I refer to and recommend Tara every time I have the chance. She knows us and never disappoints our expectations. Wonderful job always!!
Recommended
Good Job
By: Fred
Reviewed on: 04 Nov 2019
excellent service
Recommended
Pleasure
By: Penny
Reviewed on: 25 Nov 2019
Tara has helped us plan 2 wonderful trips so far, both of which had the potential for being difficult. She made the process easy, and the end result was a wonderful vacation, with all worries addressed.
Recommended
Portugal Trip
By: Deb
Reviewed on: 04 Dec 2019
She was friendly, through, professional and prompt. She anticipated issues and advised us regarding them.
Recommended
Christmas Markets River Cruise
By: JAS
Reviewed on: 07 Jan 2020
Tara was an absolute delight to work with on arranging our AMA Waterways, Danube River/Christmas Markets tour. Personable, knowledgeable, caring, prompt, enthusiastic, competent, reliable...just a few words to describe our experience with Ms. Hyland. Willing and able to go above and beyond, we highly recommend her for all one's travel needs, and we will definitely use her services for all our future adventures.
Recommended
Best trip ever!
By: Allison M.
Reviewed on: 12 Jan 2020
Working with Tara was wonderful, and so easy. I told her what I wanted out of a vacation. After she asked some additional questions, she presented me with what turned out to be an incredible experience. I cannot say enough good things about how great it was to work with Tara.
Recommended
Tara is the best
By: Sherry
Reviewed on: 04 Mar 2020
Working with Tara is a breeze. She takes all the stress out of the logistics. My only job is to have a wonderful trip. With Tara laying the foundation my trips have all been successful. Thank you.
Working with Tara Hyland, you will have access to:
- An experienced travel guide whom you can rely on before, during, and after the trip
- Exclusive luxury resorts and properties
- Once in a lifetime experiences
Explore with the Best
Virtuoso Advisors are constantly pushing the boundaries in unique travel experiences.
Alliance programs are unique tailored experiences exclusive to travelers working with Virtuoso Travel Advisors.
learn more
Italy
France
Germany
Turkey
Botswana
South Africa
New Zealand
Thailand
Vietnam
China
Australia
Chile
Argentina
Israel
Spain