Travel Specialties
Interests
Adventure
Family Travel
Independent Tours
Honeymoons
Safari
Destinations
United States - All
Australia
New Zealand
United Kingdom
Botswana
Selling Travel Since
1978
My Background
A constant explorer and wanderer, my heart has always been in Italy and Africa-particularly with the majestic African wildlife. Other favorite destinations include the Galapagos Islands, Antarctica, and Artic (polar bears). Wherever the animals are is where you'll find me. A travel advisor for over 35 years, focused on creating "bucket list" dream trips that include experiences like heli-hiking in New Zealand's Franz Joseph Glacier area, a stay on Australia's Kangaroo Island, African safari's, a family reunion in a Tuscan villa, and so much more.
10 years working for a large corporate travel company, managing a 100-person team, had put me out of touch with travelers. I missed designing and then hearing about their adventures! So, in 1988, I left my corporate position and opened Posh Travel 10 short weeks later. Being a boutique agency allows more personalized attention to travelers like you, and I would love the opportunity to start crossing items off your bucket list.
Places I Have Traveled
Reviews and Recommendations for Kathy Burns Lamphier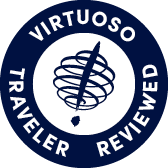 Virtuoso Verified Traveler
All reviews are from confirmed guests sharing exclusive insights
Sort reviews by
Recommended
Many thanks!
By: DavidC
Reviewed on: 31 Aug 2015
Kathy helped us with a relatively last minute request for assistance organizing a vacation. The only problem was that, as is our practice, we weren't sure where we wanted to go! She walked us through a number of options, and came up with great alternatives for each. We finally settled on Aruba, and we had a fabulous time. She was terrific! Thank you, Kathy!
Recommended
Seville trip
By: Daina
Reviewed on: 23 Nov 2015
We had a wonderful trip to Seville. This is our second stay at Hotel Alfonso. Normally we would have tried another hotel, but Hotel Alfonso was such a great place to stay last visit that we went again. It was a great choice. The hotel itself is beautiful. The staff members are very helpful. We asked a LOT of questions and got lots of help for tours, side trips, etc. Every question we had was answered with a smile and a great answer!. The breakfast, which was included, was fantastic and a great benefit to have included. We rented a car with English speaking GPS. Both worked well. We sent to Cordoba by car and visited the Mezquita. We rented headsets, which were good and sufficient. A private guide would have likely been better, but the headsets were fairly good. The town was really nice. We were VERY glad we went there for the day. We also did a day trip to Granada to see the Alhambra and an adjacent town. We didn't enjoy this as much as Seville and Cordoba. Out of space.
Recommended
Terrific!
By: G/S
Reviewed on: 28 Jan 2016
Great trip perfectly planned - we had the best flights possible to destination; on cruise staff; food & accommodations exceeded expectations. The stateroom size was well beyond what we anticipated. Cruise itinerary & entertainment aboard was exceptional.
Recommended
Top notch service & perfect itineary
By: TW12
Reviewed on: 18 Feb 2016
This is the 3rd time my husband & I have worked with Kathy Burns Lamphier of Posh Travel and once again had an amazing experience. She originally planned our honeymoon to New Zealand, last year did Virgin Gorda in BVI & more recently Costa Rica. We came to Kathy last minute & she stepped up to the plate and took care of researching & booking our travel plans, thereby eliminating any stress on our part. Everything was coordinated perfectly from the time we departed the airport to the time we returned. Kathy's taken the time to really get to know our specific taste & preferences and thus was able to make a wonderful lodging recommendation for our stay in Costa Rica. It's not just the overall aspects of planning that Kathy assumes, but also all the little details that add that special touch and have made each one of our trips so memorable.
Recommended
Fantastic trip planner!
By: Robin
Reviewed on: 21 Jul 2016
We had an absolutely marvelous trip thanks to the careful planning and attention to detail provided by Kathy! She had everything organized and coordinated - all we had to do was show up and enjoy ourselves! I highly recommend Kathy to assist with travel planning!
Recommended
A HAPPY CUSTOMER
By: Anne
Reviewed on: 29 Sep 2016
My husband and I traveled to Santa Monica, CA for six days to visit our daughter who flew in from Australia! Kathy's recommendations as to what we should visit and see while in Santa Monica was helpful and conducive to the three of us having a wonderful time. Kathy is a seasoned travel agent who has taken trips all over the world, resulting in her being a great resource wherever you may want to travel!
Recommended
Alaskan Dream Cruise
By: Sherry326
Reviewed on: 15 Oct 2016
Kathy Lamphier of Posh Travel organized a fabulous Alaskan adventure on Alaskan Dream Cruises for eight of us this past July. We were originally drawn to this small expedition cruise experience after listening to Kathy's enthusiasm and excitement after she, herself, cruised with ADC on a similar itinerary. Her endorsement of this wonderful travel opportunity in America's last frontier exceeded all of our expectations. The personalized attention given by Posh Travel was refreshing and greatly appreciated. We all look forward to our next vacation destination arranged by Kathy and her Posh Travel team.
Recommended
great attention to detail smoooooth trip thank you Kathy
By: Glenn
Reviewed on: 17 Nov 2016
Nice job Kathy will be back again soon
Recommended
Review
By: Andrea
Reviewed on: 13 Feb 2017
Kathy and her staff are always ready to help at a moment's notice!
Recommended
Highly reccomend Kathy!
By: Carrie
Reviewed on: 14 Apr 2017
Excellent, as always!!!
Recommended
Fabulous Aruba Vacation
By: Deb
Reviewed on: 13 May 2017
There are not enough superlatives to talk about Kathy's work and how she is always there for her clients. She takes care of all of our vacation needs.
Recommended
She's great!
By: AZ chick
Reviewed on: 13 Jun 2017
She was superb to work with!
Recommended
Working relationship with Kathy Burns Lamphier.
By: Karin
Reviewed on: 27 Jun 2017
Excellent . She was a wonderful source of information & always responded to my questions quickly. I will use her in the future.
Recommended
Thank you, Kathy
By: Chaffins
Reviewed on: 02 Aug 2017
Terrific, as usual. Kathy was great -- precisely tuned to our wishes and needs. We are appreciative.
Recommended
France 2017
By: Craig L
Reviewed on: 23 Aug 2017
Kathy did a great job (as usual) helping us with this trip. We started in Nice and ended in Paris. Perfect time with some old favorites and new discoveries. Thanks Kathy!
Recommended
She knows exactly what we expect.
By: Carlotta
Reviewed on: 21 Sep 2017
Superb, excellent, outstanding.
Recommended
Travel by Kathy
By: Travelgirl
Reviewed on: 24 Sep 2017
Kathy is wonderful and extremely knowledgeable when it comes to travel anywhere! I have used Kathy for many trips and they all were amazing experiences due to her expertise in the travel business... I would highly recommend her for putting together a trip of a life time !
Recommended
Kathy a Posh Travel takes Posh to another level!!
By: Floridians
Reviewed on: 23 Oct 2017
Kathy is a complete Pro and even though we were anxious about traveling to Italy and Istanbul, she walked us through all the details and offered tons of useful advise from clothing to safety issues, tips about the culture, etc. We were completely prepared and very comfortable. She is so easy to communicate with and always has time for her clients. Her expert advice allowed us to experience a level of travel that we never would have know on our own. I am spoiled forever and would never attempt to go anywhere without her expertise guiding us each step of the way. She made our 25 Anniversary a trip of a lifetime and can't wait to explore the possibilities with her again. Thank you, Kathy! You're the BEST!!!
Recommended
Kathy is excellent.
By: Dennett
Reviewed on: 05 Jan 2018
Kathy genuinely loves her work. It comes through in more ways than one. As she familiarizes herself with clients, her steel trap mind incorporates those details into an itinerary. I loved the way she helped me think outside of the box. And since she has traveled to a multitude of locations around the world, she knows specifically the ins and outs, pros and cons of traveling almost anywhere. In our case, we not only benefited from her experience in Provence but from those of a contact and friend who made wonderful recommendations as well. As a result, we had a fabulous trip and now I can't wait to plan another one with her. Thank you Kathy.
Recommended
First Class!!
By: John&NinaBotts
Reviewed on: 31 Jan 2018
We always have received excellent attention from Kathy in a travel world that has become more complicated in the last 15 years. We are close or in our 70s and so we remember and grew up in a travel world that was smaller, more simple and more gracious. Kathy works hard to assure all clients get a "bang for their buck" but also keeps them educated on how to Best enjoy their travel experiences.
Recommended
Extremely well organized and professional pract...
By: Joey
Reviewed on: 02 Feb 2018
Always a pleasure to work with Kathy on both straight forward short trips as well as more complex longer world wide journeys. She provides current, first hand, in depth knowledge of the destination and makes sure we avoid many of the unknown pitfalls that can befall a traveler in a remote location.
Recommended
A&K jordan/egypt trip
By: splendido folks
Reviewed on: 25 Mar 2018
fabulous, as always
Recommended
Kathy is the BEST!!!!
By: Pat Bossuyt
Reviewed on: 09 May 2018
So great, I cannot imagine planning a vacation or even a weekend without her input. Her assistant was terrific also. My latest trip was to New York and the hotel she recommended was awesome...a perfect weekend. Thanks Kathy!
Recommended
Trip to Massachusetts
By: Chocolate lover
Reviewed on: 28 May 2018
As always, our travel arrangements made by Kathy Burns Lamphier were splendid.
Recommended
Greek retreat
By: Graham
Reviewed on: 30 Jul 2018
She has always been amazing but this trip was particularly amazing start to finish from airport transfers to hotels to greeting upgrades and everything in between.
Recommended
NAADAM FESTIVAL IN MONGOLIA
By: CARLOTTA
Reviewed on: 07 Aug 2018
SUPBERB, AS ALWAYS
Recommended
Italy by Kathy
By: Chaffin
Reviewed on: 21 Aug 2018
Fabulous, and her colleague was terrific as well.
Recommended
Great trip!
By: WVjo
Reviewed on: 16 Sep 2018
Fun and easy! She's delightful to work with and thorough. Our arrangements worked well- Los Angeles is not easy to get to from Pittsburgh! Kathy is terrific!
Recommended
Munich hotel
By: happytraveler
Reviewed on: 20 Sep 2018
Kathy did a great job of booking a number of rooms at the Kempinski for a great Virtuoso rate. We were all quite pleased.
Recommended
Kathy's the best!
By: A traveler
Reviewed on: 21 Sep 2018
Kathy handled all arrangements well
Recommended
She is great
By: Marie Lessard
Reviewed on: 03 Oct 2018
Kathy, made four trip wonderful. Would never use anyone else.
Recommended
Kathy really takes time to learn about her clients and their likes and needs
By: Jenjen
Reviewed on: 24 Nov 2018
Kathy had good advice and really cares about her clients. She has at least one assistant , who can help take care of details. When I decided to switch hotels because of my husband's knee problems and realized that Canaves Oia has an elevator , she was able to get us in as she works with the owner a lot. Also she recommended Turkish Air Business Class, which we enjoyed and probably would not have chosen.
Recommended
Trip to Italy
By: Cindy F.
Reviewed on: 10 Oct 2018
Kathy was extremely knowledgeable and informative about our various destinations. She handled every detail of our two-week trip to Italy including great hotels, private tours, transfers, car rental, car service, etc. Every connection was perfect and she provided a lot of insight, which made our trip wonderful. Although she couldn't plan for weather, even the weather was perfect!!
Recommended
Kathy Burns Lamphier
By: Karin and Tim
Reviewed on: 13 Oct 2018
Kathy was a delight to work with as we planned our trip to Italy. Kathy gave us the perfect blend of offering her invaluable insights from years of experience and listening carefully to those things that were important to us. As a result, we had a dream vacation!
Recommended
Great travel agent
By: WVjo
Reviewed on: 20 Oct 2018
She's terrific to work with! She finds the best routes for the best prices. She's fun to work with because she's very professional and has good experience.
Recommended
Crystal Rhine
By: Saso
Reviewed on: 20 Oct 2018
Very professional & knowledgeable of which I really like. Quick to return my questions with answers as needed.
Recommended
Cruising the Adriatic and Mediterranean
By: Sherry
Reviewed on: 14 Nov 2018
Kathy was great to work with. She didn't flinch when we changed our return date and added on another week which required changing Flights and Cruise details. When our flight from Barcelona was delayed and it was obvious we would miss our connection, she took our phone call immediately, and began looking at all possible options. She has a wealth of knowledge about all destinations and was most helpful in our planning. I highly recommend Kathy and have already booked another trip with her help.
Recommended
Africa
By: Nicky
Reviewed on: 04 Dec 2018
We have used Kathy for several trips. They have all been great experiences. This is really the way to go! Have your trip planned out with all the experiences that make for a great trip.
Recommended
Stands above the crowd
By: Wally
Reviewed on: 15 Dec 2018
I have been using Kathy for years and her service has been nothing less than outstanding and above the call of duty
Recommended
Iceland 2018
By: Sherry
Reviewed on: 22 Dec 2018
Kathy arranged this trip on very short notice and provided us with a magical, four day adventure in the land of fire and ice! Her dedication to her profession and her clientele is exemplary. She is a joy to work with.
Recommended
POSH offers Terrific friendly and effective travel services
By: Exeter Travelers
Reviewed on: 01 Jan 2019
Kathy is a warm, friendly, knowledgeable advisor. She takes the time to understand what we want in a travel experience, what our budget will be and works diligently to match us up with the best experiences possible.
Recommended
Costa Rica
By: Bert
Reviewed on: 15 Jan 2019
We have trusted Kathy to pick our ships, destinations and hotels. Yet to be disappointed. Our recent trip to Costa Rica was over the top...Kathy choose the resort. Thanks Kathy, Bert
Recommended
St Petes
By: Joe
Reviewed on: 02 Feb 2019
Great suggestion to stay at Don Cesare hotel at st Pete's Beach All worked out perfectly
Recommended
Great
By: Great
Reviewed on: 03 Feb 2019
Great. Very responsive and timely.
Recommended
LaPlaya Resort and Spa
By: Deb
Reviewed on: 21 Mar 2019
Kathy is terrific. So knowledgeable about all aspects of travel both home in the US and abroad.
Recommended
Kathy at Posh Travel
By: David
Reviewed on: 13 Apr 2019
We have worked with Kathy for decades. She is extremely knowledgeable, personable and responsive. We would never take a significant business or pleasure trip without her.
Recommended
Synopsis of Ireland Trip
By: Monica
Reviewed on: 07 May 2019
Kathy was accommodating in presenting various options for us to consider and with a few iterations, and our determination not to be merely tourists, but to try and find where our Irish mothers had been born permitted Kathy to finally present us with an itinerary that we found suitable. There were a few unnecessary and unfortunate happenings that occurred that she should be aware of to make sure they are corrected for the next travelers. A call from Kathy before our departure, asking if we had questions, would have been a nice touch.
Recommended
Northern ireland
By: Beth Shoemaker
Reviewed on: 08 May 2019
It was good. Unfortunately she did not advise us of the correct currency for the area which was a big problem the first day. We arrived at hotel at 11 am exhausted, cannot check in until 3, decided to take a cab to the public office of records. Cabs only take pounds therefore we had to pay the drivers double in euros to transport us. Other than that all was good. Our first driver was a little to opinionated for me, but what can you do. The hotels she booked us in were first rate! Our second driver William was fantastic! I would work with Kathy again and recommend her.
Recommended
GreatTime
By: Teddy
Reviewed on: 15 May 2019
Working with Kathy on short, long, domestic and international travel is always a pleasure and always very enjoyable.
Recommended
Kathy at POSH Travel
By: Kathy
Reviewed on: 22 May 2019
Kathy did a great job. She is very knowledgeable about traveling to all parts of the world.
Recommended
France
By: Sunpunch
Reviewed on: 31 May 2019
Excellent. She is over and above helpful
Recommended
Korean wedding trip
By: WV Jo
Reviewed on: 22 May 2019
Kathy is a thorough, experienced travel agent who has been everywhere! We flew to Seoul to attend our son's wedding. Our flights worked out perfectly and she found us the best times and combinations. The brides mother made all the other arrangements for hotels and tours. Highly recommend Kathy!
Recommended
Hermitage Hotel Recommendation
By: DebA
Reviewed on: 17 Jun 2019
Working with Kathy is wonderful. She takes the time to get to know her clients and gives us fabulous options for all of our travel needs.
Recommended
Shanghai to Vancouver
By: Carlotta
Reviewed on: 14 Jun 2019
Outstanding trip. Kathy is thorough, helpful, precise, and extremely knowledgeable.
Recommended
NYC
By: Risa
Reviewed on: 01 Jul 2019
Always a pleasure
Recommended
UK Trip August 2019
By: Deb
Reviewed on: 02 Sep 2019
Working with Kathy was great as always. She gives us options we would not ordinarily think of in planning a trip. Her knowledge and expertise has been invaluable.
Recommended
Great travel advisor!!
By: carlotta
Reviewed on: 08 Oct 2019
As always, Kathy did a great job planning our Central European trip. She knows exactly what we like in hotels, including great locations, and is very detail-oriented.
Recommended
Always on the money
By: kifi
Reviewed on: 29 Oct 2019
Kathy and her staff always comes through. This time I wanted a stateroom in a specific area on the ship although I had an open booking. Although she was out of the office, her staff managed to get me a stateroom in the area I like best. Good going again.
Recommended
New York sightseeing
By: Gwem
Reviewed on: 01 Nov 2019
She is always positive and makes herself available. For our trip to New York City she was accurate with restaurant suggestions and locations. She made sure we had all the information we needed for sightseeing and entertainment. We appreciate her travel experience and, when needed, her contact's information. She put together a lovely New York City vacation for us. We are very pleased to have been introduced to Kathy Lamphier.
Recommended
North Van 11/19
By: Valley girl
Reviewed on: 27 Nov 2019
Superb! Kathy consistently makes great arrangements for us, be they for international or domestic travel. We highly recommend her!
Recommended
Trip of a Lifetime!
By: Sherry
Reviewed on: 06 Dec 2019
Kathy is an extremely knowledgeable adviser who has traveled extensively. She was a wealth of knowledge about the destinations we had in mind. Not only that, she had a great connection with the Trails of Indochina tour operators who handled our personalized tours in Thailand and Laos. All of the hotels we stayed in were perfect for us, boutique hotels in sections of the "Old Towns." When we had questions about our flights ( getting AA miles on our China Southern airline) and Emerald cruise registration, she diligently pursued the answers. Everything went very smoothly, from meeting us at the airport and taking us through customs when we landed, to walking us to security when we left! I highly recommend Kathy to help plan your wonderful adventures!
Recommended
Best of the Best
By: Wally
Reviewed on: 12 Dec 2019
I have been working with Kathy for many many years and would NEVER use anyone else. I work at Sotheby's Realty and know what it's like to be in commissions and appreciate her attention to detail and always listening to my wants and needs 1st
Recommended
Newbies to New Orleans
By: Deb
Reviewed on: 08 Feb 2020
As always, Kathy has provided us with the best advise for all of our vacation needs. From hotel accommodations to dinner recommendations she does her research and comes up with an excellent plan perfect for us.
Recommended
Chile and beyond
By: Nico
Reviewed on: 07 Mar 2020
She is easy to work with and is quite knowledgeable! Glad I found her!
Recommended
Best travel agent ever!
By: happyinnh
Reviewed on: 25 Mar 2020
Kathy is a gem: very knowledgeable, friendly and efficient. I've worked with her for many years on many different trips and I've never been anything but happy with the results.
Working with Kathy Burns Lamphier, you will have access to:
- An experienced travel guide whom you can rely on before, during, and after the trip
- Exclusive luxury resorts and properties
- Once in a lifetime experiences
Explore with the Best
Virtuoso Advisors are constantly pushing the boundaries in unique travel experiences.
Alliance programs are unique tailored experiences exclusive to travelers working with Virtuoso Travel Advisors.
learn more
United States - All
Australia
New Zealand
United Kingdom
Botswana
Italy
Kenya
South Africa
Tanzania
Ecuador
Peru
Bermuda
Thailand
Chile
Argentina