Travel Specialties
Interests
Food & Wine
Safari
Ocean Cruising
River Cruising
Destinations
Australia
United Kingdom
Botswana
France
Germany
Selling Travel Since
1994
My Background
A lawyer by trade, Michael met his wife Ramona two weeks after she opened her own travel agency in 1994. After nine years of assisting Ramona behind the scenes, in 2003 he decided to give up the practice of law and work in the agency full time. Over the past 20 years Michael and Ramona have travelled to 6 of the 7 continents, nearly 100 different countries, experienced all luxury cruise lines, most major river cruise lines, and personally visited and inspected over 200 luxury hotels and resorts all over the world. Michael feels he and his wife are extremely fortunate to work in the travel industry. However, it is assisting his clients in creating special travel experiences that gives Michael his greatest satisfaction. Michael also serves on the Board of Directors of The Rotary Club of Columbus, Georgia, The Salvation Army of Columbus, Georgia, BRIDGE of Columbus, Inc. (a program to assist 18-24 year old high school dropouts attain their GED and receive "life skills" training.)
Places I Have Traveled
Reviews and Recommendations for Michael Holbrook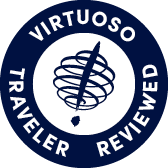 Virtuoso Verified Traveler
All reviews are from confirmed guests sharing exclusive insights
Sort reviews by
Recommended
By: JK
Reviewed on: 16 Feb 2014
Michael knows travel and more importantly he knows what his clients want.He has always been mindful of mine and my wife's expectations of our vacation needs and wants.  Sometimes I enjoy booking my own plan, but when I don't have time or need advice as where to travel next Michael is always there with a smile and friendly advice.
Recommended
Exceptional guidance for cruises & hotels
By: Ralph S
Reviewed on: 16 May 2014
When I retired in 2009, my wife & I started using Michael for planning cruises.  We have since gone on 6 Seabourn ocean cruises & one Tauck river cruise.  Our experiences have been outstanding, well matched to our preferences for luxury travel.  Michael's guidance has been consistently exceptional - he understands us well & is patient in helping us make decisions.  He has also added a great deal of value for hotel selections before & after the cruises, both for Virtuoso properties & others.  His personal experiences - & those his wife, Ramona - have added a lot to helping us make good choices.  He has also been a great deal of help with travel insurance & private tour guides.
Recommended
Great Experience!
By: Donna S
Reviewed on: 16 May 2014
I have worked with Michael and his staff for almost 10 years and have booked several cruises with them. This was my first "land only" experience and I was very pleased with the accommodations and the service. Michael took all our requests into account and customized a great Italian vacation. He was helpful with our many questions and requesting feedback on the resort to make sure it was all that had been expected. I will definitely continue to use Michael!
Recommended
The Best!!
By: Rich
Reviewed on: 18 May 2014
Michael is just the best agent you could have.  Friendly, pro-active he gets us perfect arrangements for our group.   We are generally more casual travelers that still like a good hock-up and Michael gets it done, wether it be on cruises or European trips.  He often has to coordinate across several families and he does it with a smile.  A+++
Recommended
Highly recommended
By: Ross
Reviewed on: 27 May 2014
This was our second cruise organized by Michael.My wife and i have found him highly knowledgeable, personable, and easy to talk to.  His tips about cruise ships, itineraries, time of year and pricing have been 'spot on' each time.Michael came to us through a recommendation from a friend, and certainly i would recommend Michael to others the same way.
Recommended
Great trip for family and kids. Very clean, and very organized
By: Lucky
Reviewed on: 04 Jun 2014
Michael has alway been very responsive and accurate with all our travel needs. He is dedicated to hie clients and the detail needed to perfect a vacation from start to finish. A joy to work with.
Recommended
excellent!!!!!!!!!!!!!!!!!!
By: JoJo
Reviewed on: 06 Jul 2014
Michael Holbrook has always been extremely helpful in every way.  He is an excellent planner and extremely kind and considerate.  He has never steered us wrong.  Very happy to work with him.  Thank you. 
Recommended
Highly recommend
By: Kitsy13
Reviewed on: 09 Jul 2014
Michael was very helpful with making my arrangements for my trip both the accommodations and activities.  He contacted me before my trip to review   everything and to see if I had any questions or concerns.  My trip was terrific and everything went smoothly due to his professionalism and attention to detail. I will definitely use his services for my future  vacations.
Recommended
Wonderful Travel Agent
By: Carole
Reviewed on: 13 Aug 2014
Michael and his team provide excellent service.
Recommended
Vacation
By: Jerry59
Reviewed on: 09 Aug 2014
Mike is a excellent orgainizer and researcher which makes for a great vacation.
Recommended
Another fabulous Mediterranean cruise with excellent hotels before & after
By: RalphGS
Reviewed on: 03 Sep 2014
My wife I travelled with good friends who also booked their cruise thru Michael. We all has a fabulous time, including Michael's recommendations for hotels before & after the cruise: Arion on the "Greek Riviera" & Chateau de la Chevre d'Or in Eze, France. Eze was particularly outstanding - both the town & the highly unusual hotel (to which my wife is anxious to return!). We could not have been happier.
Recommended
expert
By: robert
Reviewed on: 17 Oct 2014
I thought we had a great trip-well planned and the weather was great. I believe that if we had to choose, Budapest would be our favorite city. I loved Vienna and I wish we had an extra day there ...... What can I say-the trip was fascinating, historical and varried.
Recommended
Superb assistance for our unusual cruise to Antarctica.
By: RalphGS
Reviewed on: 17 Jan 2015
My wife & I cruised to Antarctica with friends for 24 days from Valparaiso, Chile, to Buenos Aires, Argentina, on Seabourn. What an unusual experience! Michael was superb - as always - in putting together all the arrangements for both couples (us in Georgia & our friends in California). For example, his hotel selection in Santiago, Chile, was excellent (Grand Hyatt with an outstanding amenity package), and he arranged transfers (airport, hotel, cruise port) in advance that coordinated our different arrival schedules & TONS of luggage. He resolved all issues in a timely way, even though we decided on the cruise less than 3 months in advance.
Recommended
Amazing
By: Jenny
Reviewed on: 07 May 2015
The hotel was top-tier and was in the trendy westernized part of the city. The private tour guide and driver were polite, well-trained, and enthusiastic. Time and money well-spent. Thanks Michael!
Recommended
Expert Planning from Beginning to End
By: Tom1080
Reviewed on: 07 Jun 2015
We are very grateful to you for all the help and advice you provided in planning our trip to Poland and Germany. It was a wonderful experience from beginning to end. Your attention to detail was phenomenal and made the trip easy and a true pleasure. All the arrangements you made were wonderful. We really appreciate your selection of hotels. Their locations were perfectly located to the sights we wanted to see. We loved all five of our tour guides. They were knowledgeable and professional. Every driver was punctual and professional. Thanks you for all the time and energy you invested in making sure we had such a wonderful trip.
Recommended
Great Hotels
By: Frank
Reviewed on: 16 Sep 2015
Michael booked these hotels for us and we could not be more happy with the rooms and service.
Recommended
wonderful service always
By: jojo
Reviewed on: 31 Jul 2015
Michael has always done a remarkable job for us. We have been working with him since 1995. Never fails to provide excellent service and guidance. Always a pleasure!!!!!!!!!!!!! Highly recommended. JoanneSchell
Recommended
excellent planning and a wonderful trip
By: unijr@comcast.net
Reviewed on: 04 Nov 2015
Michael planned a wonderful trip and made sure that all our questions were answered in a timely fashion. I will continue to recommend Michael as an advisor to anyone.
Recommended
tauck does it right!
By: lcprovost
Reviewed on: 04 May 2016
this was my 10th tauck trip and my second river cruise with tauck. first class all the way - traveled down the rhine & the moselle. the attention to detail is impressive. beautiful new ship, the ms grace. every day was full of adventure but at a manageable pace.
Recommended
Great hotel recommendation
By: MG
Reviewed on: 07 Jan 2018
I have worked on and off with Michael for about 15 years. The hotel he recommended was wonderful.
Recommended
Caribbean cruise
By: Happy Travelers
Reviewed on: 17 Mar 2018
Michael answered all questions and booked hotel and ship.
Recommended
Top-notch recommendations and tips!!
By: J&M
Reviewed on: 06 Jul 2016
Michael is a top-notch travel advisor. He listened to vague ideas of what we wanted to do, and then, offered suggestions. In the end, we achieved a trip that suited our travel dreams exactly. The hotel was superbly located, offered delicious dining experiences, and made our stay perfect. Even when we had a couple of glitches along the way, he was proactive and acted quickly on our behalf. Michael will definitely be our "go-to" partner with future travel plans.
Recommended
South Africa-Tauck
By: CRW
Reviewed on: 05 Oct 2016
This was truly the trip of a lifetime. While we were kept busy from morning 'till night, the activities were so memorable and positive that I was always full of energy. The combination of two cities, two safaris and two countries allowed us to feel a real connection to the people of South Africa and Zimbabwe. We were very moved by the trips to Robben Island in Capetown and the Apartheid Museum in Johannesburg and the safaris brought us up close and personal to the most beautiful wildlife. Shopping was also great! Our tour, arranged by Michael Holbrook, was conducted by Tauck and I will likely always go on vacation with Tauck in the future. Their attention to detail, amazing itineraries and unrivaled service while on tour made this the perfect trip. Thanks Michael, we loved it!
Recommended
Review of A&K tour
By: frank
Reviewed on: 09 Nov 2016
Booked tour easily through Michael with frequent followups from booking until end of trip
Recommended
travel advisor
By: lcprovost
Reviewed on: 16 Apr 2017
i enjoy working with michael. he is knowledgeable and quick to respond. i appreciate his attention to detail.
Recommended
Michael was great!
By: Tim B.
Reviewed on: 24 May 2017
Working with Michael was great. He is clearly excellent at his job, as my wife and I were blown away by the places we stayed for our honeymoon!
Recommended
European Vacation
By: David
Reviewed on: 18 Jul 2017
Excellent. He put everything together in a nice package and checked in with us on progress. The private tours he scheduled and recommendations were all excellent. We had the best time.
Recommended
Awesome Mexico getaway
By: Ashley
Reviewed on: 26 Jul 2017
Michael was great to work with! He listened to what we wanted and our resort was exactly what we were looking for. He followed up between booking and departure time to make sure all of our questions and concerns were addressed.
Recommended
Great!
By: Jamie
Reviewed on: 29 Jul 2017
Michael is very friendly, helpful, and responsive. Working with him was a great experience!
Recommended
Great destination trip, fantastic.
By: Jake
Reviewed on: 13 Aug 2017
Always pleasant, courteous and professional yet personal. He really gives a clear view and prospective of my travel plans and destination. I enjoy working with Michael Holbrook.
Recommended
Ireland, Scotland, England
By: Festus
Reviewed on: 18 Oct 2017
Michael listened to what we wanted and delivered a great trip
Recommended
12 Nights in Spain
By: Tom T
Reviewed on: 28 Oct 2017
Michael is very knowledgeable about the ins and outs of travel. He was extremely helpful in sorting through where to stay, what to be sure and see and how to get there. The personal attention to detail was reassuring and very helpful in getting the most out of our travel experience. The personal guides he arranged were excellent and enhanced the trip immensely. We just told him what we wanted to do and the places we wanted to see and he made all the arrangements and gave us good advice all along the way. We had a bit of trouble at one hotel and Michael returned our calls for help immediately. It is good to know that if there are issues during the trip there is a competent advisor ready to jump in and help sort them out.
Recommended
Mayan ruins
By: Lalanii
Reviewed on: 01 Jan 2018
He offered valuable help and delightful personality.
Recommended
Family trip to Africa
By: Harold
Reviewed on: 22 Apr 2018
Michael Holbrook very successfully planned a complicated family trip to Africa within a short timeframe and a tight travel window. His recommendations were excellent with respect to the places where we stayed as well as the activities that we participated in. The vacation went flawlessly and my family had nothing to worry about in Africa! My family has used Michael Holbrook for years and I would recommend him for any vacation plans that I have with my family. Thank you Michael!!
Recommended
Personal attention and likable guy
By: first time cruiser
Reviewed on: 06 Jun 2018
He's great. Even though I've never met him, I feel like we are old friends. This is the second trip he's put together for us. He has gotten to know us and works hard to find the right balance between luxury and cost. Always very accessible.
Recommended
Professional and knowledgeable
By: Jan
Reviewed on: 22 Jun 2018
Michael knows the travel business inside and out. He listens, and then, goes to work finding the best values for our money.
Recommended
Chicago grad
By: Rmbstl
Reviewed on: 04 Jul 2018
It was efficient and appropriate for our desires on the travel
Recommended
Seabourn 2018
By: Ross
Reviewed on: 17 Sep 2018
Excellent, very thorough
Recommended
Thanks, Michael!
By: Maggie
Reviewed on: 08 Oct 2018
Michael has been most helpful in planning our travels. He has always responded quickly to our questions. We will be calling again!
Recommended
Moselle River Cruise
By: Moselle Cruiser
Reviewed on: 23 Oct 2018
Michael and his staff were great! He took care of all of the details for our cruise efficiently and answered all of your questions!
Recommended
Outstanding Trip
By: Gayle
Reviewed on: 09 Mar 2019
Michael Holbrook is outstanding at advising us and setting up fantastic trips. He has a great ability to understand our tastes and expectations and always exceeds in both of these categories. Michael is very knowledgable about cruise lines and destinations and has made outstanding recommendations and booking on resorts. Michael has given us solid advice on safaris and land tours in many destinations. We consider Michael a family friend and truly enjoy conversations with him about travel and non-travel related topics. He is an excellent Virtuoso Travel Advisor, and we highly recommend him.
Recommended
Paul Gauguin cruise
By: Kathy
Reviewed on: 06 Apr 2019
Michael has always taken superb care of us up to and including rescheduling flights at a moments notice
Recommended
Rhine River Cruise
By: Carole
Reviewed on: 02 May 2019
Wonderful as always. Michael always has great recommendations for trips to take, places to stay and things to see
Recommended
The BEST!
By: Tom
Reviewed on: 07 May 2019
Michael is a true professional with lots of personal travel experience which is a very valuable asset. And he is a real pleasure to work with. Michael truly cares about his clients and has exceeded our expectations at every turn. We travel a lot and have worked with many travel agents, but Michael is far and away the best. He has taken the time to understand our unique preferences, has stayed tuned into us, and has deliverer every time! Michael has gone above an beyond and made a difference on every trip we have booked with him. We feel so lucky to have found Michael and will never work with anyone else.
Recommended
Travel Advisor
By: Don
Reviewed on: 20 May 2019
Michael was very good to work with.
Recommended
Galapagos
By: LSS
Reviewed on: 26 May 2019
Michael leaves no detail to chance. He is careful to make certain all issues are covered thoroughly.
Recommended
Superior service!!
By: Janice & Mike
Reviewed on: 27 Jun 2019
I can't imagine traveling without Michael "by my side." He anticipates our wants and needs before, during, and after the trip. Michael wants to know the personality of his clients so he can ensure a perfect match for the best travel experience.
Recommended
Every Detail Planned
By: Tom
Reviewed on: 22 Jun 2019
Michael is a real pro and attends to every detail of trip planning. I highly recommend Columbus Travel and Michael to plan a relaxing and enjoyable trip.
Recommended
Excellent planning for our trip!
By: Edie
Reviewed on: 29 Jun 2019
We have used Michael Holbrook several times for our trips abroad and each has been stellar... we have used him for South Africa, Cruising from Lisbon to Portugal, a land tour of Ireland and also a cruise and land tour of Alaska. Because he is an exceptional travel advisor, we keep coming back to him and he was wonderful to work with for this trip as well! He will be our travel advisor for our next trip as well and we have recommended him to numerous people.
Recommended
Great trip!
By: Cindy
Reviewed on: 02 Jul 2019
Very good. He recommended the perfect cruise line for our group.
Recommended
New England Cruise
By: jojo
Reviewed on: 25 Jul 2019
Always great. Always does a wonderful job. Frequently recommend him to friends.
Recommended
Good advisor
By: Lone traveler
Reviewed on: 27 Jul 2019
Michael is easy to work with and with discussion, will plan the trip you have been looking for
Recommended
Seattle Travel
By: Robert
Reviewed on: 11 Aug 2019
He was prompt and had knowledge I did not regarding the area as well as nearby locations. Made me feel comfortable we knew the surroundings prior to our arrival. This lets us plan the efficient use of our time on the ground. Big help.
Recommended
Alaska cruise
By: MB
Reviewed on: 01 Sep 2019
Michael was amazing - patient, comprehensive with terrific listening skills and exceptional advice
Recommended
Great Trip to England, Scotland and Wales
By: Tom T
Reviewed on: 28 Aug 2019
Michael is a highly professional travel consultant and makes planning a vacation or trip easy. He handles all the details expertly and the results are trips that are unforgettable. We seek his help on all of our major travel planning.
Recommended
Great Trip
By: GeoTraveler
Reviewed on: 14 Sep 2019
Knowledgeable, flexible and put together a great experience.
Recommended
Fabulous trip
By: Sloan
Reviewed on: 19 Sep 2019
Michael did an excellent job! He left no stones unturned.
Recommended
Great job
By: Georgia
Reviewed on: 14 Sep 2019
Outstanding service
Working with Michael Holbrook, you will have access to:
- An experienced travel guide whom you can rely on before, during, and after the trip
- Exclusive luxury resorts and properties
- Once in a lifetime experiences
Explore with the Best
Virtuoso Advisors are constantly pushing the boundaries in unique travel experiences.
Alliance programs are unique tailored experiences exclusive to travelers working with Virtuoso Travel Advisors.
learn more
Australia
United Kingdom
Botswana
France
Germany
Greece
Italy
Kenya
Portugal
South Africa
Spain
Tanzania
Turkey
Zimbabwe
Peru