Travel Specialties
Interests
Safari
Escorted Tours
Hotels
Independent Tours
River Cruising
Destinations
Australia
Argentina
Botswana
China
Czech Republic
Selling Travel Since
1994
My Background
I've been in the business over 20 years, and while I can work on experiences all over the world, I tend to focus on South Africa, Europe, river cruising, family travel, and custom safari packages.
It can sound a little cliche, but I live for the wow moments -- when people come back and they describe things they didn't even know were possible, or they talk about the positive impact that the trip had on their family. That's why I often tell people this is the only job I never want to retire from.
I've had many stellar memories of my own while traveling (a monkey unzipped my tent in Kenya, came in, and politely sat down) and I want to pay those experiences forward to you.
I'm also the owner of my agency, so if you contact me and someone on my team is better-equipped to handle your specific travel dream, I can make sure you get placed in the right hands.
Places I Have Traveled
Reviews and Recommendations for Ramona Holbrook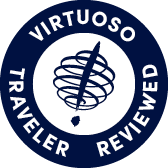 Virtuoso Verified Traveler
All reviews are from confirmed guests sharing exclusive insights
Sort reviews by
Recommended
By: Not provided
Reviewed on: 18 Feb 2014
Ramona is incredible-our river cruise in Eastern Europe was great. John Minor
Recommended
Highly Recommended
By: Rich99
Reviewed on: 13 Mar 2014
Ramona is extremely knowledgeable and supportive for my travel preferences. She is so committed to providing me with comfort in my travels; always available for advice and support.  I always get excited talking with her about my next travel destination.
Recommended
Great Advisor
By: MosbysMom
Reviewed on: 18 Mar 2014
Ramona has taken great care of us on 2 Regent cruises. She has wonderful knowledge of the industry and I trust her opinions, thoughts & suggestions. I won't travel anywhere again without seeking her advice and thoughts.
Recommended
Excellent Recommendations by Ramona
By: HappyInCancun
Reviewed on: 30 Mar 2014
Recommended
travel arrangement went off like clockwork...very pleased
By: Not provided
Reviewed on: 08 May 2014
Recommended
The Best Trip Yet!
By: Evie and Abbas
Reviewed on: 25 May 2014
Ramona continues to give us extraordinarily service.  Everything about our trip was perfect.  She ensured that everything worked like clockwork.  Our room at The Fairmont in San Francisco was just beautiful and had a view seen only in brochures.  This was our best trip yet and she has booked many trips for us over the years.  She never fails to disappoint.
Recommended
Excellent Service as Always!
By: Phil
Reviewed on: 28 Jun 2014
Recommended
Great Hotel Value!
By: Phil
Reviewed on: 03 Sep 2014
As usual, Ramona selected a great hotel for us in Berlin. The Ritz was beautiful and perfectly located. Could not have been happier. And the price was very reasonable for all the amenitites received. Thanks again Ramona!
Recommended
enjoyed every minute
By: Frankie
Reviewed on: 17 Oct 2014
I cannot find anything that was not perfect about this vacation. Ramona even arranged flawless weather. She took care of last minute problems with great finesse. She made sure to have frequent personal contact. We could not have had a more competent and attentive travel agent.
Not Recommended
Avalon Cruise
By: DJC
Reviewed on: 19 Oct 2014
The cruise on Avalon was spectacular. All visits from Prague to Budapest were arranged by the cruise director with detailed precision. We were never in doubt of what was expected or where we needed to be. The situation of rooms were a problem. First, the room in Prague at Boscolo was nice except the view looked at a 30 foot wall, next we traveled to the cruise ship and found out our room was not a room without a balcony, it was a room without a view, below the water. The room was small and dark. When I looked at the room at the Intercontinental in Budapest, I saw the room was a standard with twin beds and not facing the water. This was not at all what I expected with having my 40th anniversary and paying $ 11,000. If it was not for the cruise director assisting me in upgrading my room in Budapest, I would have been really disappointed in my rooms. I felt I had no assistance except for the cruise director. Please let guests know some rooms on the ship are underwater.
Recommended
Professional expert service!
By: Barry
Reviewed on: 22 Dec 2014
We have been doing cruises with Ramona ~20 years and appreciate the followup and attention to details and professionalism she, Michael and the Columbus Travel associates have demonstrated on all our cruises, especially the recent Avalon Christmas in Germany river cruise. Barry & Diana Hall
Recommended
In General
By: His Eminence
Reviewed on: 06 Jan 2015
Perfect..........
Recommended
Another great Royal Plantation trip.
By: John
Reviewed on: 04 Feb 2015
This is our third year to Royal Plantation booked by Ramona. Each year has been great. We appreciate all the contacts she makes with Royal Plantation prior to, during, and after the trip. She is well know to the people there and that certainly enhances our experience. Have already booked Royal Plantation with Ramona for 2016. Would recommend both Royal Plantation and would recommend Ramona for all travel needs.
Recommended
Great service as usual
By: Phil
Reviewed on: 26 Feb 2015
As always, Ramona was very responsive and helpful in making reservations and getting us the best value accomodations for our trip. She is always a pleasure to work with.
Recommended
Perfect plan
By: Dr R
Reviewed on: 22 Sep 2015
My wife and I just got back from a trip from Atlanta to South Africa arranged by Ramona. We traveled independently for two weeks with an itinerary that included two Safari camps, five days in Capetown plus two golf excursions. The entire trip went off without a hitch thanks Ramonas attention to detail and understanding of our interests. She kept us up todate throughout the entire planning process. We would reccommend her to our friends for travel anywhere in the world. Jim and Betty Rogers
Recommended
Exceptional, Friendly Service!
By: LC80
Reviewed on: 06 Jan 2016
We have experienced totally exceptional service from Ramona in planning and booking this family cruise in honor of our 50th wedding anniversary. Ramona has been cheerful, enthusiastic and efficient in all our contacts regarding the choosing and booking of this cruise. We have booked previous cruises through Ramona and have always been happy with her service and always look forward to working with her.
Recommended
Experienced caring attention to detail
By: Milly727
Reviewed on: 06 Oct 2016
Ramona takes care of our travel like we are a member of her family. She attends to every detail. She has great experience to ensure a great trip.
Recommended
Expert friendly & attentive service
By: Lloyd81
Reviewed on: 08 Jan 2017
We were very happy with the service provided by Ramona. We have used her several times now to book family cruises for us and are always pleased with her service. She is super friendly, a pleasure to work with and she pays attention to the details which results in a better and more enjoyable cruise for us. We highly recommend her!
Recommended
Tahiti Cruise
By: Phil
Reviewed on: 29 Jan 2017
Outstanding! Ramona is always very helpful.
Recommended
Trip to France
By: Schatzie
Reviewed on: 24 May 2017
Fantastic. Has most of our questions immediately sometimes has to call back We have told at least 10 people about her thoroughness and accuracy.
Recommended
GREAT
By: John
Reviewed on: 09 Jul 2017
IT IS ALWAYS A PLEASURE!!
Recommended
Hotels on trip out West
By: Phil
Reviewed on: 12 Aug 2017
Ramona did a great job of selecting and booking hotels for us.
Recommended
viking cruise on the Elba river
By: nat
Reviewed on: 11 Oct 2017
great working with Ramona.
Recommended
Regent Seven Seas
By: Bob
Reviewed on: 06 Nov 2017
Great, Ramona knows how to plan and schedule a vacation
Recommended
Jamaica Inn resort
By: Allen
Reviewed on: 01 Dec 2017
It is always a pleasure working with Ramona. She knows our preferences and follows thru to make sure everything is right.
Recommended
Mom's 90th birthday cruise
By: Richard
Reviewed on: 19 Jan 2018
It is always a joy to discuss and plan a trip with Ramona. Her passion for traveling in style is infectious. Ramona knows our extended family and our needs. She planned comfortable transportation to and from ship, dining on the ship for our party of 12 at the same table each night, and staterooms all in a row (6 of them). After the cruise she spoke with each family group to find out what went well and what could have been better. The family had such a good time together that we are talking about another family cruise.
Recommended
Jamaica trip
By: Phil
Reviewed on: 28 Jan 2018
Ramona does an awesome job. Very informative and excellent at handling all the details!
Recommended
review
By: Bob
Reviewed on: 25 Apr 2018
Great and fun! She always has wonderful suggestions
Recommended
Ramona Holbrook
By: Phil
Reviewed on: 07 May 2018
Excellent - she takes care of all the details!
Recommended
China & Japan
By: Carlisle & Janet
Reviewed on: 25 May 2018
It was great. She was very attentive to our needs & wants & we got that & more in working with Ramona. She went the extra distance to see that we were taken care of.
Recommended
Ramona is Awesome
By: Tina J
Reviewed on: 28 Jun 2018
Ramona does a fabulous job. She is always professional, and if she can't answer my question, she finds the answer. She has excellent suggestions for travel and always knows exactly what I am looking for.
Recommended
Italy trip
By: Sid
Reviewed on: 26 Jul 2018
Great! As always!
Recommended
Britain & Ireland Explored
By: Brit Isles Traveler
Reviewed on: 23 Aug 2018
It is always a pleasure to work with Ramona. She recommended this tour as the best fit for our travel needs. She always researches other options that may fit our schedule, budget and plans better. She kept continually in touch with us from beginning to our return. All of our travel documents were in order and there were no surprises. I especially liked that she reached out to us after our trip for a brief review.
Recommended
West Coast
By: Carlisle
Reviewed on: 09 Sep 2018
Great-she was very through & responed quickly t any questions
Recommended
Hawaii trip 2018
By: Sophia
Reviewed on: 29 Oct 2018
Megan of Columbus Travel advised me on our trip to Hawaii. She suggested important sites for first-time visitors, selected great hotels for us, the Moana Surfrider in Honolulu and Ritz Carleton Kapalua in Maui. Both were beautiful, but the Ritz in Kapalua was extra special in friendly service by all staff members and the beauty of the property. Megan directed me to a tour service which provided an excellent array of tours. The ones we took proved to be excellent: a Jeep tour of southern coast of Oahu, a waterfall hike in Oahu, and a heliocopter tour of Maui, as well as a snorkeling trip. She suggested a luau, which we agreed to, and she found us an excellent one. Megan answered all my questions thoroughly and patiently throughout the planning of the trip, and she responded to my panicked emails with support and concern when it was apparent that tropical storm Olivia was heading straight for the coast of Oahu where we were staying at the time. We would work with Megan again!
Recommended
Ramona's the best!!
By: Vicki H
Reviewed on: 28 Oct 2018
Working with Ramona to plan a trip is always a pleasure!! She works hard to meet our individual travel needs, with great attention to every detail. I've never felt rushed when planning a vacation. Ramona makes you feel that you are her most important customer and spends as long as it takes to make you happy with the travel plans. I've worked with Ramona on at least five or more major European trips, and each one went off without a hitch. Not only does she make sure we understand every detail of our trip, but she faithfully follows up after we get home to hear our feedback on how it went. It is nothing to be on the phone with her for an hour while I bend her ear with lots of highlights on our vacation. I've recommended her to many others and they all have been thrilled with her care in planning their vacations. She's the best!!
Recommended
My trip to South Africa
By: Richard
Reviewed on: 29 Oct 2018
Planning trips with Ramona is always fun, but planning our trip to South Africa was exciting as South Africa is her favorite travel destination.
Recommended
Viking Mystery Cruise
By: Lakegirl
Reviewed on: 15 Nov 2018
Great. She was a great help: took care of everything
Recommended
Australia / New Zealand
By: clearwax@aol.com
Reviewed on: 27 Feb 2019
Great! Very Detailed & Accessible for questions. Will use her again. Jim Waid
Recommended
Celebruty Equinox
By: Stuart
Reviewed on: 01 Mar 2019
Ramona did a great job as always. From an initial cruise recommendation, to finding a great deal to following up after the cruise,
Recommended
RCL Caribbean Cruise
By: Richard
Reviewed on: 09 Mar 2019
Ramona is great. She checks before and after each trip to make that everything is well planned and all ends well. Then we talk about our next trip(s).
Recommended
Summer Solstice Adventure
By: Murphy
Reviewed on: 11 Jul 2019
It was wonderful, as always. Ramona asks the right questions and makes travel recommendations based on our inputs. She makes sure that the little details are covered and accommodates our special requests.
Recommended
Ramona Holbrook
By: Bob
Reviewed on: 07 Aug 2019
She Is very knowledgeable and always has superb recommendations.
Recommended
European Cruise
By: Rich
Reviewed on: 27 Sep 2019
Ramona makes sure that all details of the trip are covered to ensure the best travel experience. She strives to give us excellent and luxurious hotel accommodations and service—which results in our "wow" experiences. Ramona always calls after our travel to find out the pluses and minuses of our trip (rarely a minus to relate).
Recommended
Rocky Mountaineer
By: Frankie
Reviewed on: 01 Oct 2019
Mostly good. Enjoyed the train. Did not prefer all the packing and unpacking. Only complaint was a whole day of down time in Banff. Loved the vistas, the gondola ride, the helicopter ride, walking on a glacier.
Recommended
Jamaica Inn vacation
By: Allen B
Reviewed on: 31 Oct 2019
Ramona always follows thru so there are no surprises. Communicating is one of her strengths.
Recommended
Norwegian Getaway Cruise - December 2020
By: CathyS
Reviewed on: 07 Jan 2020
Ramona was great and very helpful as usual. She is very prompt in returning emails, calls, etc . Her wealth of experience has contributed to the success of all our trips. This cruise was somewhat last minute for us and she did all the leg work and we received a great deal which included airfare. Looking forward to our upcoming cruise on The Edge in a few weeks
Working with Ramona Holbrook, you will have access to:
- An experienced travel guide whom you can rely on before, during, and after the trip
- Exclusive luxury resorts and properties
- Once in a lifetime experiences
Explore with the Best
Virtuoso Advisors are constantly pushing the boundaries in unique travel experiences.
Alliance programs are unique tailored experiences exclusive to travelers working with Virtuoso Travel Advisors.
learn more
Australia
Argentina
Botswana
China
Czech Republic
Egypt
France
Greece
Italy
Peru
Poland
Portugal
South Africa
Saint Barthélemy
Zimbabwe