Travel Specialties
Interests
Adventure
Food & Wine
Culture, History & Arts
Honeymoons
Destination Weddings
Destinations
Belize
Botswana
Costa Rica
France
French Polynesia
Selling Travel Since
2005
My Background
I have been a Virtuoso Travel Advisor since 2005, but have been traveling since I was a child. My father worked for an airline and I was exposed to the wonders of our world at a very early age, and the wanderlust has been with me ever since.
I love every aspect of travel, from the planning to the packing and of course, the actual traveling. I devour travel guides and am always looking for inspiration for my or my clients' next trip.
As a Virtuoso Travel Advisor, I work with my clients to turn their curiosity about a destination into an inspirational itinerary filled with experiences and activities they won't find with an internet search. Some surprises I have arranged for my clients included: observing a Meerkat colony from a few steps away while learning about their habits from a naturalist, having lunch with a winemaker and his wife under the olive tree in their back yard, and attending a baseball game in Tokyo with a local fan. I want to turn all my clients' travel dreams into reality.
I am honored to be one of a few select Virtuoso Travel Advisors designated as a Wanderlist® Specialist. I believe that leisure time is our most precious, non-renewable asset, and the one we spend the least amount of time cultivating. We create a Career Plan, a Financial Plan and a Health and Wellness Plan, but rarely take time to create a Travel Plan. Our "Bucket List" of places we would like to visit continues to grow and we dream about the perfect vacation, but our busy lives and chaotic schedules get in the way and before we know it another year has passed us by.
Using Virtuoso Wanderlist® I can help you turn your bucket list into a thoughtfully curated calendar of trips along with the best time to travel and projected costs, so you will never miss a vacation opportunity again. I will collaborate with you and your travel companions, diving deeper into the destinations you each want to visit, and suggesting experiences based on your interests to create your unique Travel Portfolio. Much the way a Wealth Advisor helps you create and maintain a financial plan for all the stages of your life, as your Virtuoso Wanderlist® Advisor I will help you create and maintain a plan for ensuring your most valuable asset – your leisure time, is protected and you have years of travel memories to share with the people you love.
Places I Have Traveled
Reviews and Recommendations for Laura Hartman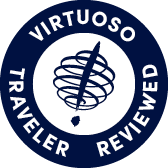 Virtuoso Verified Traveler
All reviews are from confirmed guests sharing exclusive insights
Sort reviews by
Recommended
Responsive Professional Advisor
By: Suzanne46
Reviewed on: 30 Aug 2015
Laura's coordination of my Tauck tour was not only professional but responsive. Laura first received and reviewed the tour information to make sure everything was in order before passing it on to me. She handled my concern regarding flight layovers immediately and satisfactorily. She even followed up on the credit that resulted from the change. Laura was a delightful professional to work with!
Recommended
Another Awesome Trip
By: Suzanne46
Reviewed on: 01 Nov 2015
This was my second trip with Laura and again she was professional and a delight to work with. She did everything from getting a great deal on airline tickets to sitting down with me and helping me through the Chinese visa application. Another awesome trip!
Recommended
She did a great job for us!
By: Dan
Reviewed on: 21 Nov 2015
Laura booked the entire land package for us on this trip and did an excellent job. What most pleased us was the small hotel that Laura found for us in the medina of Rabat, a lovely place to stay. She also did an excellent job keeping us informed of all the developments with our packaged tour and making sure that the arrangements were all in place.
Recommended
Great Service!
By: Suzanne46
Reviewed on: 12 Mar 2016
My trip with Nat Geo/Lindblad to Antarctica, South Georgia and the Falklands was the trip of a lifetime! And thanks to Laura, it went without a hitch.
Recommended
Excellent!
By: Bob
Reviewed on: 11 May 2017
Laura was extremely helpful in all ways, from booking to followup. Her choices were excellent, and she followed up well in terms of airline schedule changes, etc.
Recommended
Laura Hartman
By: Sue K
Reviewed on: 11 May 2017
Excellent. I enjoyed working with Laura and appreciate Laura's help and advice.
Recommended
Our Go-To Travel Expert
By: Beth S.
Reviewed on: 18 Jul 2017
When I met with Laura for the first time, I was completely overwhelmed by trying to plan my European vacation online. Laura's calm, friendly demeanor put me at ease and infused me with confidence that this would be a trip of a lifetime. And, it was! Laura provided us with an outstanding itinerary for a 10-day adventure in Monaco and Italy. She accommodated our interests in history, local food, coffee and wine. All it all, it was a tremendous experience!
Recommended
Namibia
By: Mark Siegmund
Reviewed on: 10 Aug 2017
Laura was great. The trip was intense. The locations were very remote but fabulous. The trip is not for the faint of heart.
Recommended
Excellent Backroads trip planned by Laura Hartman
By: Bob
Reviewed on: 16 Sep 2017
She is thorough, conscientious, and follows up for unexpected problems, such as a forest fire in Yosemite changing our itinerary.
Recommended
Laura, great travel agent
By: Ro Monroe
Reviewed on: 24 Sep 2017
It was great. Laura helped us plan, made suggestions and gave us her full attention. We have worked with Laura for 2 overseas trips and we are planning more trips in the future and definitely will have Laura work us. Our trips were fantastic and we were very pleased with our experiences.
Recommended
Taste of Italy
By: Sibi
Reviewed on: 14 Oct 2017
Laura understood what we wanted to see and put it together beautifully, a combination of tour and private driver. Her suggestions fitted our needs perfectly. She was thorough and coordinated transfers,. timing, and it all worked! I couldn't have put this together on my own for sure. Her communication with me was clear and she always answered questions promptly. Payments were managed well and her insurance suggestion saved us money. Her experience was just what we needed.
Recommended
Dolomites
By: Dolomites
Reviewed on: 27 Jul 2018
Laura is a total pro. Responsive, knowledgeable and well connected. I don't leave the house without consulting with Laura first.
Recommended
Madagscar 2019
By: Di Binns
Reviewed on: 30 May 2019
No problem, except I'm still waiting for my t-shirt to arrive
Recommended
Trip of a lifetime in the South of France
By: Rhonda
Reviewed on: 22 Oct 2017
Laura was the reason we were able to experience the best of the best on our first trip to the South of France. It was flawless and magical! It was honestly a perfect trip because of her. Laura was responsive, flexible and always knew exactly how to pull together options based on your preferences, which made solidifying the itinerary extremely easy. Laura takes the time to get to know her clients and it is obvious that she genuinely cares about making sure there is no detail not considered and cared for. I feel beyond lucky to have been introduced to Laura and will most definitely be working with her again!! Looking forward to the next post trip with Laura's help!
Recommended
We had a wonderful trip to Italy !
By: Mike & Janice
Reviewed on: 22 Oct 2017
Laura is very easy to work with. She always communicated to us - what she is working on for us. Her tickets for plane and train travel were fairly priced and convenient.
Recommended
Laura Hartman
By: D
Reviewed on: 29 Jan 2018
Laura took the time to show us all kinds of trips we could go on and took the time to explain all the fares, excursions, etc.
Recommended
Trip to Africa
By: Tobi
Reviewed on: 13 Jan 2018
This was not the first time we have used Laura and won't be the last either:) Laura is fabulous from start to finish. We looked and evaluated multiple destinations before making our decision and Laura is patient and provides all the information necessary to make the best decision. Laura does a great job with matching the right level of culture, and adventure that fits our family. While on the trip she is also available during our trip to help with challenges and has been supportive of submitting claims on our behalf. I recommend her regularly to my friends and co workers!
Recommended
Kauai
By: Kitty
Reviewed on: 20 Jan 2018
She is the best! Have worked with her for years and every trip is perfect.
Recommended
Yet Another Great Trip
By: Suzanne
Reviewed on: 21 Mar 2018
As stated in my previous reviews, Laura did an excellent job of coordinating my package tour with flights and some additional arrangements. Her recommendation for a hotel in Melbourne was outstanding.
Recommended
Good agent
By: Hj
Reviewed on: 25 Mar 2018
Very helpful, very timely with responses.
Recommended
Didn't work with Laura
By: Pam
Reviewed on: 01 Apr 2018
Trip planning was with Lisa. She was friendly and efficient. Would contact her again. I'm sure Laura is very competent, also.
Recommended
Amsterdam and an Avalon river cruise in the Netherlands
By: Bob
Reviewed on: 07 May 2018
Working with Laura was a delight. She was easy to contact by phone and responsive to our needs. Initially, she arranged the Avalon trip for the best available price. On her own initiative she changed our airplane seats to obtain the most comfortable arrangement. She helped us with day trips in Amsterdam--walking trip and the Van Gogh museum, in particular. I plan to work with Laura again for our next vacation trip.
Recommended
Professional and knowledgeable travel advisor
By: Mandy
Reviewed on: 05 Jul 2018
We have worked with Laura on the planning of two trips. Alaska Cruise combined with a self drive along the Oregon California coast and a Scotland tour of the Highlands and the Scottish islands. Laura has always been very professional and provided travel options that we feel we would otherwise not have been aware of. She helped us design the self drive tour of Oregon/ California and proposed the Scotland tour company we used that was great ! Laura always followed thru in answering our many questions ! We highly recommend Laura as a travel advisor.
Recommended
Great
By: Ben
Reviewed on: 23 Jul 2018
Working with Laura was so easy. She was always on top of everything and was always there to answer our questions.
Recommended
Trip to Ireland
By: KLT
Reviewed on: 07 Sep 2018
Laura was amazing. She worked with us from the get go. Very efficient, flexible and professional. When we asked her for a few changes toward the end of planning our trip, she was able to make the changes that we requested. We would definitely reach out to her when we want to plan another trip. Thanks a million Laura!!!
Recommended
Spa Extravaganza
By: Spa Extravaganza
Reviewed on: 16 Sep 2018
easy - she's amazing
Recommended
Recent trip to Ireland/Scotland
By: Ro
Reviewed on: 27 Sep 2018
It was wonderful. She is very pleasant, knowledgeable and does a fantastic job planning a trip.
Recommended
Trip to Italy
By: Pepe
Reviewed on: 20 Oct 2018
Laura booked our first trip to Italy and we were beyond pleased with her attention to detail in regards to our hotels, transportation and tours. We look forward to working with Laura again for our next trip.
Recommended
Laura was Wonderful!
By: Sara H.
Reviewed on: 15 Oct 2018
I can't say enough wonderful things about Laura. She didn't flinch and jumped in to help with my last minute solo trip to Ireland. Laura took the time to learn about me and my interests. She then provided several options for hotels and my overall itinerary. We talked through the options together, and ended up with the trip of a lifetime. Laura was always available for questions, and also checked in upon my return. I couldn't be happier with the help and insight Laura provided! I look forward to working with her again in the future!
Recommended
Had a great flight to Italy via Lufthansa!
By: Mike and Donna ...
Reviewed on: 24 Oct 2018
It was a pleasure to work with Laura. She is very good at choosing just the right flight times to make traveling a bit easier.
Recommended
Very helpful
By: Hj
Reviewed on: 30 Oct 2018
Laura was very helpful on my Maui trip during the hotel workers strike. She was able to obtain a room upgrade, a waiver of resort fees and an account credit for me. She kept in touch and followed up post trip.
Recommended
Excellent travel agent!
By: Bob A.
Reviewed on: 16 Nov 2018
Laura was knowledgable, quick, and pleasant. Her advice was sound and helpful.
Recommended
Fine travel agent
By: Uselysses
Reviewed on: 28 Nov 2018
Laura Hartman is efficient, knowledgeable, competent, helpful, and trustworthy. Highest recommendation.
Recommended
Trip Planning
By: Biff
Reviewed on: 29 Dec 2018
Laura has always been very helpful and accessible with any trip that we needed info on or planned out for us. Every vacation booked wth her has been memorable, enjoyable and stress free!
Recommended
Posh Travel, Greenland, NH
By: Jake
Reviewed on: 04 Jan 2019
Laura did a very good job helping plan this trip. She is pleasant and fun to work with. I'm looking forward to meeting with Laura again to put together my next adventure.
Recommended
Trip to Berlin
By: CAP
Reviewed on: 04 Feb 2019
Laura has always been exceptional when ever we book travel. This last trip was a sad requirement as our son passed away in Berlin Germany. Laura found us great airline rates on such short notice. She did all the leg work to ensure we had all the documentation in place as well as two seats together. She was able to book us in the Adlon Kempinsk Hotel, where we have stayed on another trip she booked, and was able to get us a wonderful upgrade through the Virtuoso system. We would certainly recommend Laura to anyone requiring travel assistance and expertise.
Recommended
Punta Cana
By: Tracy
Reviewed on: 15 Apr 2019
Laura was attentive and kept all updates current
Recommended
I always recommend Laura!
By: Tobi
Reviewed on: 17 May 2019
This trip was a bit different because as a group we had did some of the planning ourselves and therefore booked the first half on our own. Where Laura was super helpful was heading up to Parque Tayrona. She helped us weigh our options and ultimately book THE best accommodations in the eco habs. Transfers were seamless as always.
Recommended
Wilderness Travel Madagascar trip
By: YaYa Traveler
Reviewed on: 06 Jun 2019
Laura was great to work with. She is very responsive and personable. Laura provided me with several airfare options. When issues came up with my airfare to Madagascar after we booked (airline cancelled my flight), Laura was extremely proactive and took care of everything and again provided me with several options. Would definitely use Laura again!
Recommended
NYC
By: Kitty
Reviewed on: 26 May 2019
She is the best!
Recommended
Vienna
By: Mr. Danger to you
Reviewed on: 25 Jul 2019
Over several years now, and with some lack of advance planning on our part, Laura has created excellent memories and experiences for me and my daughters. She found excursions suited to our tastes, we stayed at simply wonderful hotels, and even when we had airlines delays overseas, she was there to make it work! Loved it all...thanks so much!
Recommended
Royal Caribbean Cruise to New Brunswick and Nova Scotia.
By: Joe
Reviewed on: 07 Jul 2019
Working with Laura was a pleasure. She took care of all the necessary paperwork and was able to utilize several discounts for us.
Recommended
Very helpful
By: Hbj
Reviewed on: 25 Jul 2019
Laura was very proactive and very helpful.
Recommended
All of our trips
By: Mike
Reviewed on: 03 Aug 2019
Laura has done an outstanding job on all our trips. The coordination she orchestrated for our Italy trip was incredible . She took all the stress out of the trips. England was a charm because she had all our train and plane travel taken care of. I highly recommend Laura plan your trip !
Recommended
Barbados
By: CMM
Reviewed on: 25 Sep 2019
She is amazing! Everything is always perfect regarding flights, reservations, transfers, accomodations, etc.
Recommended
Bucket List Trip to British Columbia
By: Josh
Reviewed on: 13 Oct 2019
Laura was great to work with and recommended destinations and resorts we would not have found on our own. She focuses on the things that were truly important to us (views, outdoors, and great food) and she took extra time to design a vacation that checked each of these boxes. Laura has become a part of our long-term vacation planning and we are so thankful for her help and guidance.
Recommended
Excellent planning in a trip with many moving parts.
By: Bob A.
Reviewed on: 09 Oct 2019
Laura was great!! We had a complex trip with many moving parts, flights, multiple bus shuttles, a private single car transfer to make a flight, multiple hotels, and multiple tours. Laura put it all together flawlessly!
Recommended
Laura
By: Julie
Reviewed on: 22 Nov 2019
Laura, takes care of everything for us. Traveling is very easy. Thanks to Laura.
Recommended
POSH Travel - Laura Hartman
By: Kim
Reviewed on: 18 Nov 2019
Laura exceeded my expectations in every way. She is professional, personable and knowledgeable. Laura patiently answered my many questions and proactively took care of all the details needed for a wonderful trip. I highly recommend Laura to anyone looking for a travel agent.
Recommended
Always a pleasure
By: MMM
Reviewed on: 20 Nov 2019
Laura , does an outstanding job getting the best air line ticket prices and the best in putting vacations together.
Recommended
Trip
By: Sunshine
Reviewed on: 20 Nov 2019
Very successful
Recommended
EXCELLENT TRAVEL ADVISOR AND AGENT
By: Bob A.
Reviewed on: 08 Mar 2020
Laura is responsible, thorough, and knowledgeable. We've been working with her for years!
Working with Laura Hartman, you will have access to:
- An experienced travel guide whom you can rely on before, during, and after the trip
- Exclusive luxury resorts and properties
- Once in a lifetime experiences
Explore with the Best
Virtuoso Advisors are constantly pushing the boundaries in unique travel experiences.
Alliance programs are unique tailored experiences exclusive to travelers working with Virtuoso Travel Advisors.
learn more
Belize
Botswana
Costa Rica
France
French Polynesia
Greece
Italy
South Africa
Spain