Travel Specialties
Interests
Culture, History & Arts
Adventure
Escorted Tours
Ocean Cruising
River Cruising
Destinations
China
France
Italy
Japan
South Africa
Selling Travel Since
1968
My Background
I started traveling at an early age as a Navy "junior". These tours of duty gave me a great curiosity about the world and opened up experiences that I love to share with my clients. I am always looking for the extraordinary from holding a baby panda in China to petting a cheetah cub in South Africa to taking pictures of sunrise in Antarctica or driving through Tuscany with Pavarotti on the radio.
I love talking travel and helping find experiences that will become your forever moments.
Places I Have Traveled
Reviews and Recommendations for Jan Halderman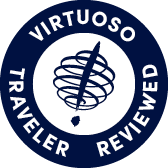 Virtuoso Verified Traveler
All reviews are from confirmed guests sharing exclusive insights
Sort reviews by
Recommended
Top Shelf!
By: Judy
Reviewed on: 07 Dec 2015
Accommodations: Palace Hotel in Tokyo...ultra modern, with view of nighttime Tokyo utterly magical with twinkling neon lites. Palace, from unfailing polite service, to ultra modern room, push button modern from "toilette" to blinds, glorious interior decor, truly 5 star. Westin Miyako, Kyoto, magmficent view of mountains and mist, whole of city below, comfortable and gracious. Transportation: Airlines, no major hitches, appreciated ecomony stretch for Jim, United in all its legs for us, was on time. Connections and times of flights were accommodating. Do wish there might be other than red eye from Tokyo to Honolulu, but Honolulu beaches a great place to crash until be could check into Westin Surfrider...oldest Waikiki hotel....met all requirements of any demanding AND laid back Aloha guests. GoWay interior Japan travel and tour arrangements great. Of course, Japanese trains arrive and depart on the minute they announce. Recommend it all...Top Shelf tour! TU, Jan! You're the best.
Recommended
Expert Travel Guidance
By: Karen76
Reviewed on: 22 Mar 2016
Our trip to India which our Virtuoso travel agent, Jan Halderman, planned was fantastic and a dream come true. With her expert guidance, we selected the right tour company which had the itinerary best suited to our interests. We were extremely pleased with our choice of Tauck for a tour of Rajastan. Jan also found the perfect flights for us on Emirates Air, with easy connections through Dubai to New Delhi. It was a once in a lifetime trip we will always remember, thanks to Jan's suggestions and help! We are looking forward to taking another vacation to an exotic destinations with Jan's invaluable assistance and expert knowledge
Recommended
organized and can handle a penny pinching traveler
By: bean
Reviewed on: 29 Mar 2016
we are shoppers in all aspects of life, including travel. we compare prices and perks with several agencies and in most cases go with the one where we get the most for our buck. we have referred other travels to jan along with a couple other agencies that are willing to compete for our business. jan, in almost all cases wins. we have two more months already booked with her for this year.
Recommended
Couldn't have been better
By: Winkracer
Reviewed on: 17 Apr 2016
Jan has always been a wonderful travel agent. She has already arranged my next Silversea cruise to the Arctic. Looking forward to working with her on the next one.
Recommended
seasong group was outstanding
By: stan
Reviewed on: 26 May 2016
there were two excursions on this cruise..... first to ephesus which was hosted by a couple that i certainly didn't feel represented virtuoso very well. they were late to the cocktail party ..... didn't have answers to several question about the upcoming tour and hardly anything about the company. we had a wonderful local guide though. during the middle of the complex it started raining....i mean really raining with lighting and thunder storms. she rushed us to the enclosed housing excuvation for the tour and when we were finished with that the rain was down to sprinkles. the second was to bodrum this couple was well versed on the tour, they mingled with the guests, talked about the advantage of using an agency that is a member of virtuoso. they were a great credit to your company. also a good local guide. very knowledgeable, answered all our questions and gave great highlights of the local. both resturants that were chosen, were 5 star for the area. seasong was outstandi
Recommended
In the Know
By: Grace1947
Reviewed on: 30 May 2016
When we approached Jan about planning a trip we had one definite destination on our list, Cinque Terre. Our traveling buddies had one destination in mind, Santorini. Trying to accommodate both of our destinations was a challenge but Jan managed to coordinate these two locations for us with a minimum of disruption to our limited time. She arranged drivers to take us from hotels to airports which was a great time saver, and found the most wonderful place for us to stay in Santorini. It was a holiday we will long remember. Her expertise helped organize our travel plans and eliminated much worry about how to combine two different countries into one wonderful adventure.
Recommended
Excellent Work by Jan Halderman
By: Richard
Reviewed on: 20 Jul 2016
Jan Haldeman and her contractor performed high-level, quality, and detailed service to render our trip to France a complete success. Richard B. Kaufman
Recommended
Jan is the BEST!
By: cam
Reviewed on: 16 Jun 2016
I have been working with Jan for about 20 years and she is just the best travel agent ever. She has great ideas, spends lots of time explaining options and always manages to find a great price. Had some trouble with a rental car company this trip and she got us a refund! She knows the travel industry inside and out and that is why I have been counting on her for all these years. Thanks Jan!
Recommended
Jan was incredibly helpful and extremely responsive
By: Amy
Reviewed on: 24 Jun 2016
I'm so glad we decided to work with a travel agent when booking our cruise. And I'm especially glad it was Jan who helped us. We had only been on one cruise before and that was 12 years ago. Jan made the reservation and preparation for the cruise so easy. She offered very helpful tips and guidance on shore excursions. Thank you for all you did, Jan!
Recommended
Wonderful service
By: winkracer
Reviewed on: 17 Aug 2016
Jan has been simply wonderful. She has been on top of all the details of my flights to Copenhagen and Greenland. She is great with the Silversea cruise details and very helpful answering my questions regarding luggage. Jan is a joy to work with and look forward to many more travel adventures with her.
Recommended
strong client advocate
By: Karen 21
Reviewed on: 28 Sep 2016
Jan did an exceptional job of being our advocate in dealing with Viking River Cruises before & after our late August 2016 Elbe River cruise that became a bus tour,. A week before our trip, it was clear there were low water problems I called Viking Customer Service to cancel and re-book our cruise to no avail, Jan contacted Viking and our insurance company to see what our options were. Unfortunately, Viking would not relent. When we returned Jan contacted Viking management to tell them we were dissatisfied with the trip. A month prior to traveling, Viking Air was unwilling to release our plane tickets so we could upgrade our seats. Jan contacted Viking Air, got the tickets released, and dissuaded them from charging additional $300 fee for releasing the tickets . Jan is a strong advocate for her clients, and we really appreciate all her efforts in dealing with Viking on our behalf. I can certainly recommend Jan as a superior travel agent who represents her clients' interests very well.
Recommended
Efficient Service
By: Mikey
Reviewed on: 19 Sep 2016
Jan did an excellent job with the planes, trains, buses, and automobile trip that I took to Seattle and Portland.
Recommended
reiew of service povided by Jan Halderman
By: Jon
Reviewed on: 10 Oct 2016
My wife and I wanted to book a trip to Washington state beginning in Late August. I looked up flights and airports on the Net, but got frustrated by the myriad of info I found. I turned to Jan, explained what we wanted, and she got right to work. Jan provided several possibilities and we ended up with a flight on United that left Dulles at a reasonable hour and got us to Seattle a little early! Jan negotiated the mysteries of using my air miles and my west bound trip cost me five bucks. Airlines make it nearly impossible to use air miles. Jan using her years of experience got me a virtually free ticket. She also booked our return flight on a different air line--Alaskan Air-- combining flights from two different airports. I might have figured this out, but it so much easier to leave all the planning to Jan. My wife and I have used Jan's services for years, especially on overseas flights. he booked not only the flights, but also hotels and drivers. We would recommend her to any
Recommended
Easy to work with. Promptly takes care of concerns.
By: LAL
Reviewed on: 17 Oct 2016
I have been working with Jan for several years. She is conscientious, friendly and caring. She looks after my needs efficiently and promptly. She is eager to explore trips and to make suggestions for the itinerary.
Recommended
Marvelous Mediterranean Cruise
By: Bill and Janet
Reviewed on: 28 Oct 2016
We just got off a wonderful cruise in the Eastern Mediterranean on Pacific Princess. Every aspect of this trip went well. The cruise and pre-cruise were arranged by our long time travel agent Jan Halderman, who handled everything from arranging the flight, pre-cruise transfers and getting us the lowest possible price for a mid-ship balcony. She also made some excellent recommendations regarding excursions. The cruise made port calls to Salerno, Catania, Khios, Corfu, Kotor, Dubrovnik, Koper and Venice. Pacific Princess is Princess' smallest ship with a capacity of just over 600 passengers. The entertainment on the ship, and the food were first class. We took 5 shore excursions with Princess and they were all excellent. The Dalmatian Coast, and the Amalfi Coast are just beautiful. In Koper we took an excursion to beautiful Lake Bled. All the tour guides were knowledgeable and informative. We look forward to our next cruise.
Recommended
Only the best
By: Blake
Reviewed on: 08 Nov 2016
Jan has always been and continues to be our go-to travel adviser/arranger of choice. Our latest Viking Cruises reservation and travel arrangements were exactly as planned and the outcome could not have been better. Cheers, Jan!!
Recommended
Jan Halderman: A seasoned veteran
By: BillJanet
Reviewed on: 04 Feb 2017
Jan has been our travel agent for over 15 years. We have booked over 20 cruises with her. In that time she has learned everything there is to know about our travel requirements. She knows the kind of cruises we want; the kind of ships we want; and the kind of itineraries we want. She understands that we always want to get to the departure port a day or two early, and she is terrific at finding something interesting for us to do before we sail. Jan ensures that we always get the best prices and the best packages for us. When the price of a cruise goes down, she ensures that we get the lower price. This doesn't happen if you simply use the computer to book a cruise. We look forward to working with Jan for the next 15 years.
Recommended
Another Solid Performance
By: Equity6
Reviewed on: 13 Feb 2017
With her attention to detail, follow up and broad experience, Jan ensured that our most recent cruise was almost flawless
Recommended
Travel Review
By: Care
Reviewed on: 25 May 2017
I've know Jan for years and she planned several trips for us. She has wonderful suggestions and pays close attention to details. We always use her for our travel needs.
Recommended
Danube River Crusie with Viking
By: Danube Crusier
Reviewed on: 06 Jun 2017
If you ever wanted to work with a professional, look no further than Jan Halderman. Not only does she know her business, she works with you to learn your needs, desires, likes and dislikes. She completely follows through until she is satisfied that you are satisfied. My wife and I have planned many trips with Jan's help and service - we wouldn't think of doing any trip planning without her! And believe me, before we met Jan, I thought I was the best trip planner in the world. I'm not even a close second!!
Recommended
Great
By: star
Reviewed on: 10 Aug 2017
Wonderful. Very professional, but so friendly too. I had great confidence in her and she came through for me.
Recommended
Jan Halderman
By: Renato
Reviewed on: 21 Aug 2017
For years Jan has given us excellent, detailed, service. She has a remarkable memory for keeping up with the details of travel (e.g. when one carrier does not acknowledge another carrier's baggage) and the particulars of our personal needs. She knows travel inside out including hotels, economy, rentals, most direct flights, best carriers, worst carriers; she is a master.
Recommended
Rhine River cruise
By: Karen
Reviewed on: 14 Sep 2017
Jan did a wonderful job of planning our Rhine River cruise. She paid close attention to every detail of the trip, and very quickly followed through if adjustments/changes needed to be made. Jan closely monitored problems with lock maintenance on the Rhine, and called Viking customer relations to get updates on possible itinerary disruptions. She quickly resolved a problem with a "double booking" Viking had made on our airline reservations, As a result of Jan's efforts, our trip went very smoothly and we had a wonderful experience with Viking. We highly recommend Jan. This is the third trip Jan has arranged for us, and we are working with her on our next trip.
Recommended
Timeliness
By: Mikey
Reviewed on: 05 Oct 2017
Jan is thorough and timely.
Recommended
easy plane reservations
By: phil
Reviewed on: 29 Sep 2017
Working with Jan was a pleasure. We told her what itinerary we wanted and she found flights on two different airlines from two different airports for the times and prices that were acceptable to us.
Recommended
Jan the Wonder Woman of Travel Agents
By: Batman
Reviewed on: 09 Oct 2017
Working with Jan is always a pleasure, first of all and she is absolutely responsive to my impossible last minute business trips-both domestic and international, for not only myself, but for members of my team. She responds at times when she should be on her own time whenever she sees the importance (against my wishes). Jan has accommodated me at every request and is the ONLY travel agent I use...unless she is out on vacation or work trips.
Recommended
Jan is Fabulous!
By: Dezyner
Reviewed on: 28 Sep 2017
I've been doing business with Jan for many years. She listens, plans everything to a tee and is the ultimate professional. You are fortunate to have her.
Recommended
title
By: no name
Reviewed on: 06 Oct 2017
We have used Jan maybe 5 times--all worked well--will probably user her again this summer.
Recommended
Vail in January 2018
By: Dr. Stan
Reviewed on: 24 Jan 2018
Jan Halderman is a true travel professional with years of experience. She attends to every detail jointly planned. Jan is pleasant to work with and she asked enough questions to assure the trip plan is perfect. Further, Jan follows up is something changes.
Recommended
Cruise of the Carribbean
By: Glitz
Reviewed on: 30 Jan 2018
She is very organize and offers suggestions and ideas to make my trip special. Since I travel solo I have confidence in her ability to make the most of out of my vacation.
Recommended
Marvelous agent
By: Billjanet
Reviewed on: 10 Feb 2018
Jan has been our travel agent for 20 years. She plans 3-4 trips each year for us. She helps us plan wonderful vacations every time. She takes the time to listen to our travel requirements. For example, she always gets us into the middle of the ship for each cruise. She is also very understanding when our circumstances change. She understands our budget. Jan is very knowledgeable about all aspects of the changing travel industry. She understands the airlines, the cruise companies, and the lodging industry. She knows the differences in quality for each company. She understands that the cheapest price is not always the best value. We will be working with her for another 20 years.
Recommended
Jan Halderman, Reston, VA
By: Gogo
Reviewed on: 02 Mar 2018
Jan is wonderful and has been a great help to my family for a couple of trips. I really appreciate Jan's thoroughness and kindness in helping us with whatever we have needed. Our trips have been so much easier because a professional knew just what to do to make our vacations successful. She is easy to reach and responds with enthusiasm. My daughter and I took a fabulous cruise on Regent to Alaska and everything was arranged and organized to make our time excellent. My son and his family had a memorable trip to Disney World because of Jan's great ideas and plans for them. We all will call on her for our next trip!
Recommended
Jan Halderman review
By: Renato
Reviewed on: 19 Mar 2018
Jan is an exceptionally good travel agent who we have used for many years because she is so thoughtful and thorough. Her attention to detail and consideration has always made our trips smooth and economical.
Recommended
Europe Trip Review
By: None
Reviewed on: 12 Apr 2018
I have coordinated several trips with Jan and she's always a pleasure to work with and highly knowledgeable.
Recommended
Rocky Mountaineer and the Canadian Rockies
By: Retired Fed
Reviewed on: 10 May 2018
Jan did a very competent in handling the logistics for this trip.
Recommended
Cruise and precruise stay
By: Richard B. Kaufman
Reviewed on: 25 Jun 2018
Excellent. Responsive, creative, and sensitive. She recommended the good Intercontinental in Taihiti and provided support for our following cruise.
Recommended
europe 2018
By: ackley
Reviewed on: 05 Jul 2018
she was terrific ; never let us down ; on the ball all the time
Recommended
Excellent
By: Tami
Reviewed on: 04 Jul 2018
Great attention to detail. Sent me a map before I left. Called to see how it went. Incredible service. Will use her every time.
Recommended
Switzerland
By: Liz
Reviewed on: 05 Jul 2018
Jan was very easy to work with. She promptly returned emails or calls. She rearrange our times and plans without a problem. The itinerary was thorough and made our travel very easy and enjoyable. All the suggested activities were very useful in planning our days. I would definitely use her again for our next trip.
Recommended
Specialized and Intelligent
By: Tracey and Ben
Reviewed on: 19 Jul 2018
Jan's experiencevand knowledge helped her craft a wonderful adventure for us. We had some particular challenges for her and she not only over came them but created a wonderful experience for us. It has to be her level of intelligence and experience. She just knows how to build experience.
Recommended
Jan Haldesn
By: GAB
Reviewed on: 09 Aug 2018
Great. Always a pleasure working with her. Sjlhevtakes pains to meet our requests with transportation, accommodations and travel experiences. She also comes up with enticing "add ons" that appeal to us.
Recommended
She's Too Good
By: Mark B
Reviewed on: 30 Aug 2018
I have had the pleasure of having Jan as my travel agent for quite some time now and I am always amazed as to how well she takes care of my needs. I have given Jan many travel challenges over the years from my clients demands and needs, as well as my personal request- and she has magically made them possible. I would be lost in my global travels without her and find that she comes to my rescue at all times of days and late nights for my travel issues and changes. Whether it's airfare, hotels, rental cars, even helicopter, yacht service and more, Jan does has proven to be amazing.
Recommended
2018
By: x
Reviewed on: 05 Sep 2018
Jan was terrific. She planned a wonderful trip for us - including airplane, local drivers, and great hotels. No problems at all - we were well taken care of.
Recommended
Trip to England with tour guide
By: Traveller
Reviewed on: 16 Sep 2018
Great always helpful and responsive to our needs. Fabulous trip with hotels, tour guide, etc.
Recommended
Working with Jan Halderman
By: MikeO
Reviewed on: 24 Oct 2018
Always a pleasure. She's very helpful and responsive to issues as they arise.
Not Recommended
A short review
By: sunny
Reviewed on: 14 Oct 2018
At times confusing, and her recommendations for trip insurance were lacking. She could've suggested some less expensive ways to obtain insurance.
Recommended
Halderman
By: Mikey
Reviewed on: 24 Nov 2018
Working with Jan is always a pleasure.
Recommended
Italy trip
By: Italiano ragazzo
Reviewed on: 27 Dec 2018
A total pleasure. So very helpful
Recommended
Christmas in Roma
By: Ron
Reviewed on: 13 Jan 2019
Excellent, the trip arrangements were flawless.I have used Jan before many times and will use her again.
Recommended
Long time professional agent
By: Bill and Janet
Reviewed on: 01 Feb 2019
We have been planning our cruises with Jan for 20 years. She is an excellent travel agent. She helped plan this recent one week cruise on the Royal Princess to the Western Caribbean. She coordinated our air transportation, cruise and hotels. She also coordinated our travel to dove tail with another couple. All the planning made this an excellent cruise.
Recommended
vacations
By: K
Reviewed on: 05 Feb 2019
Jan has planned several trips for us. Aways able to help us with any change requests all questions . From plane reservations,cruise booking, sending boarding passes,and itinerary's. She works with you from start to finish .Always a pleasure to talk to.
Recommended
Competent, resourceful and client-focused
By: Equity6
Reviewed on: 03 Mar 2019
Jan has been our travel agent for at least eight years and as arranged a number of foreign trips for us--mostly cruises on Regents Seven Seas. She is a true professional. She not only gets the big things right (e.g., arranging pre- and post-cruise trips) but makes sure that the small things are done right (e.g., airport transfers). When necessary, she's been an excellent advocate in dealing with third-party providers. Importantly, she is available and responsive. Clearly, a top performer.
Working with Jan Halderman, you will have access to:
- An experienced travel guide whom you can rely on before, during, and after the trip
- Exclusive luxury resorts and properties
- Once in a lifetime experiences
Explore with the Best
Virtuoso Advisors are constantly pushing the boundaries in unique travel experiences.
Alliance programs are unique tailored experiences exclusive to travelers working with Virtuoso Travel Advisors.
learn more
China
France
Italy
Japan
South Africa
Kenya
Vietnam
Turkey
United Kingdom
Ireland