Travel Specialties
Interests
Adventure
Food & Wine
Culture, History & Arts
Sports & Outdoors
Safari
Destinations
Australia
New Zealand
United Kingdom
France
Italy
Selling Travel Since
1990
My Background
Nancy has seen the 4 corners of the world. More often than not the question most asked is "Where have you not been"? That's now becoming a very short list. She delights in expanding her client's horizons, urging them to see places and try things that they might not have thought possible. With a respect for the fundamentals of travel, she is a master of travel organization and her clients reap the benefit of this expertise and her years of practical knowledge. She knows how to make things happen for her clients.
She holds the coveted Certified Travel Counselor "CTC" designation, obtained after years of intensive study from ICTA in Wellesley, Massachusetts and is also certified in Western Europe as a destination specialist. In addition, she has numerous other Specialist Certifications and is considered an expert on Italy, Portugal, New Zealand, and small ship cruising to name a few. Most recently she obtained the coveted "Aussie Specialist" and is now endorsed by the Australian Department of Tourism
Of German/Italian descent, she draws on her close family ties in Europe for inspiration and travels abroad approximately 12-16 weeks a year to broaden her travel horizons with a fresh perspective. Married for over 36+ years to her best traveling companion, Bryant.
She loves skiing- absolutely anywhere there is snow! Her favorites are Aspen, Vail, Beaver Creek, Big Sky, Montana and Jackson Hole (Ask her about skiing The Remarkables in New Zealand) During the warmer months you'll find her Inline skating, hiking, cycling, gardening, sailing and hunting for antiques. She adores archaeology, ancient history and is a blossoming travel writer.
Personal Moto"You will never be as young as you are today – so-why wait-just do it!"
Places I Have Traveled
Reviews and Recommendations for Nancy Cutter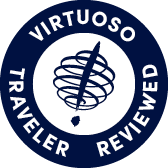 Virtuoso Verified Traveler
All reviews are from confirmed guests sharing exclusive insights
Sort reviews by
Recommended
Highly Recommend
By: Reba
Reviewed on: 25 Sep 2013
This was the second trip planned by Nancy and her team for me. Nancy always put together an excellent portfolio. Her knowledge and expertise creates such a carefree trip. You pack your bags and enjoy. I have referred her to a friend who utilized her services and they were just as pleased. I am already planning a head for my next trip and Nancy will be my travel agent.
Recommended
Highly Recommend
By: rick85
Reviewed on: 07 Nov 2013
Nancy planned three different trips for me to Europe. She did an excellent job and the planning details left nothing in doubt. Would highly recommend.
Recommended
Absolutely the best!
By: Jay
Reviewed on: 07 Nov 2013
I would not consider doing a trip on my own or with any other agent. She is reliable, creative, imaginative, cost conscious and friendly. Further, she has made it her business to know my wife's and my likes, needs and limitations.She has become a friend and she has passed on to her staff her wonderful characteristics. Don't go anywhere else; this is your one-stop shopping!
Recommended
Norway/St. Petersburg
By: J & J
Reviewed on: 07 Nov 2013
Hi Nancy: We enjoyed our trip very much. We did feel that the stay in St. Petersburg could have been shorter by a day, but maybe that is just our opinion since shore excursions are hard for us. We are planning another trip and sent you an email, but maybe you were out of town. Anyways, John would like to check on the Wind Spirit trip for 19days, Puerto Caldera to Tahiti. What do you think?? This trip is for April 13, 2014.
Recommended
Excellent!
By: rmh75
Reviewed on: 07 Nov 2013
Nancy planned a 10-year anniversary trip to Hawaii for us. She did an incredible job every stage of the way - from helping us pick a time and destination to getting us back home at the end of the vacation. Every step was seamless and artfully executed. We enjoyed an amazing trip that we will remember for a lifetime, and there is no way it would have happened without Nancy!
Recommended
Highly recommended
By: pearson4
Reviewed on: 16 Dec 2013
The trip to Italy that Nancy Cutter planned for us was the trip of a lifetime. Everything was so well organized and every detail was perfect for us. Each accommodation was lovely and the tours she booked were spot-on. The booklet she sent had all the information we could have ever needed. She was always available to answer any of our pre-trip questions. I would definitely use Nancy Cutter for any other trips we might take.
Recommended
the trip we took was great.greatly recomended
By: LENNY
Reviewed on: 08 Nov 2013
THIS was great trip on Viking.Will do another Viking in th future
Recommended
The best there is!
By: Ben&De
Reviewed on: 20 Nov 2013
Nancy is always incredibly helpful and full of insight, knowledge, and ideas for our trips! I don't think we could have made our last trip to South Africa work without her. She saved us time, money, and headaches and everything went smooth as can be. She has been our family's travel agent for many years and countless trips and we wouldn't recommend anyone else. Thank you, Nancy!
Recommended
Highly recommended
By: easymoney
Reviewed on: 27 Nov 2013
Nancy leaves no stones un-turned. Her trip planning takes into consideration all your needs and hey ae done with great professionalism.
Recommended
Fantastic trip to Greece
By: Susan
Reviewed on: 06 Jan 2014
The trip to Greece was absolutely fantastic. Great hotels, great side trips. One of the best vacations I ever took.
Recommended
Awesome Trip
By: Gene35
Reviewed on: 07 Jan 2014
We were extremely pleased with Nancy Cutter.We could not have asked for a better travel agent and will use Court Travel for our next trip.
Recommended
The very best!
By: WW
Reviewed on: 21 Feb 2014
Recommended
Highly Recommended
By: aslchar
Reviewed on: 24 Feb 2014
Recommended
Everything was perfect!
By: Windstar 21
Reviewed on: 14 Dec 2015
As always, everything was perfect! Fantastic service and staff!!!
Recommended
Highly Recommended
By: J&B Charlotte
Reviewed on: 06 Apr 2014
Nancy put a lot of effort into listening to what we enjoyed doing and putting together a vacation in Spain that was tailored specifically to suit us.  She even called her friends in Spain for personal recommendations.  Her thorough planning took a lot of the stress out of international travel and we are looking forward to using her again!
Recommended
Highly recommended
By: Elaine
Reviewed on: 19 Apr 2014
Excellent attention in a timely manner;Extremely knowledgeable
Recommended
Great Trip to Italy
By: BMT&MAT
Reviewed on: 05 May 2014
Nancy planned for us a wonderful trip to Italy.  We stayed 10 nights and visted Florence, Tuscany and Rome.  Her recomendations were very helpful.
Recommended
Highly recommended
By: Sue2
Reviewed on: 30 May 2014
Nancy Cutter was most helpful in the planning of our Viking River Cruise scheduled for May.  We planned to arrive early, spend time in Nice, rent a car and travel on our own for a week before meeting up with the Viking ship on sailing day.  Nancy was arranging all this for us efficiently.  Sadly we needed to cancel our trip due to a surgery on my husband.  Nancy stepped in with everything that needed to be handled.  She has guided us through the steps.  She has always been available for any questions.  We were so pleased with her service, that even though we live in Arizona and her office is in North Carolina,  we have booked a Tauck Tour to Ireland in August using her guidance.
Recommended
Highly Recommended - Trip to Japan
By: Brenda7601
Reviewed on: 24 Jun 2014
We just returned from our trip to Japan which we booked through Court Travel, Charlotte NC, with Nancy Cutter and Marion Herrmann.  It truly was a Japan experience!  From the Kyoto cooking class and Tea Ceremony, to the private tours in Kyoto, Nara, Tokyo, and Mt. Fuji, it was an incredible trip from start to finish. I'm already planning a return trip. This is my second big trip booked with Court Travel and I give them my highest recommendation. 
Recommended
Our third WindStar cruise -- the best yet. Nancy was great !
By: Bob
Reviewed on: 16 Jul 2014
This was our best Wind Star cruise ever.  Nancy Cutter did a great job with travel, hotels, everything..  To visit Portugal, Spain, France, England and Ireland in just 10 days was fantastic.  We took a group of nine family members (including ourselves) to help celebrate our 60th wedding anniversary.  The kids can't wiait til our 70 th.    
Recommended
Unforgettable and Unique Experience
By: Ile
Reviewed on: 12 Aug 2014
Dear Nancy, I can't tell you how happy I am with my recent trip to Czech and Dubai. It was my first time in the Middle East and had an unforgettable time. The flights you picked for me were excellent. Everything down to the seat assignment was great. I know this was an "out-of-the-box itinerary" as you said. I couldn't have done it without you. Thank you again for your invaluable help and great travel advice. I look forward to booking many future trips with you and your agency. Cheers!
Recommended
Italy Adventure
By: Hutch
Reviewed on: 06 Nov 2014
We approached our trip to Italy with only general idas of where to go/what to do. Nancy carefully coordinated with us and set up a wonderful and comprehensive trip from Rome, through Tuscany, to Florence and on to Venice. Each step of the way, she did detailed planning that put us in the best/best located hotels, with a schedule that allowed us to tour but without overloading our schedule. Her suggestions for lodging/food/travel were spot on, and went off flawlessly. Every leg of the trip was laid out well, and the preplanned tours were top quality, with individual tours where appropriate, and small group tours when that format was most effective. Overall, thanks to Nancy's work, we could not have had a better Italian experience.
Recommended
Espert friendly service
By: bonbern
Reviewed on: 30 Sep 2014
Wonderful trip. Avalon cruise line was outstanding. Food and service the very best.
Recommended
Stellar -- got me and my broken leg home from rural Spain
By: Stu
Reviewed on: 24 Sep 2014
I was walking the Camino to Santiago de Campostella in Spain. In the middle of the countryside, on a path in Navarre, I fell and broke my fibula. I managed to walk to a pilgrim's refuge, hoping it was just a sprain of my ankle. The next day an x-ray showed the fibula was broken and my camino was over. So there I was with a cast and crutches in a tiny town in Navarre. Nancy quickly put together a sequence of services -- first-rate drivers who delivered excellent service, flight from Biarritz to Paris-Orly, transfer to hotel at Paris-DeGaulle, then home. Nancy's expertise -- access to services that could extract me from a remote village when I could hardly walk -- was fantastic. But just as important was her immediate responsiveness and determination to get it done.
Recommended
Great location near Rome and airport
By: Clay
Reviewed on: 19 Jun 2015
The La Posta Vecchia Hotel was great. It was very warm and welcoming. The staff was very attentive to our every need, the food was outstanding, and the rooms were large, comfortable, and well appointed. The small number of guests made everyone feel special. The ocean view from our room and the dining areas was spectacular.
Recommended
Prompt, friendly, knowledgeable
By: Chris
Reviewed on: 08 Jul 2015
Very experienced and knowledgeable, listened to exactly what we said we wanted in a trip and she made it happen; when start our of trip didn't go as planned, she was immediately available, responded promptly and made all the arrangements to adjust our trip accordingly; will definitely use her again!
Recommended
Northern Italy
By: Davecole35
Reviewed on: 23 Jul 2015
My wife and I had a wonderful time. Nancy really looked at all the details and the logistics of our trip. I will definitely be using her again.
Recommended
Fantastic Trip
By: DERO
Reviewed on: 03 Aug 2015
The trip was wonderful. All of the arrangements were flawless. The hotels were beautiful
Recommended
Great Itinerary and location
By: Bill and Jean
Reviewed on: 20 Sep 2015
Fairmont Hotel was amazing. American Cruise Ship was disappointing.
Recommended
Wonderful attention to detail and professional service
By: Anne
Reviewed on: 21 Sep 2015
We worked with Jessica Sawyer to plan an 11 day dream trip to France. She was very professional, attentive and friendly. Jessica responded to all our questions with knowledgeable suggestions and options. We visited three areas. The routes she suggested and the hotel accommodations were all right on track with what we were looking for. It was a wonderful trip and I would not change anything except to stay longer, when possible.
Recommended
A Superstar Travel Agent!
By: BrendaG1111
Reviewed on: 27 Oct 2015
I've just returned from my third trip with Court Travel. They are international travel superstars! From Europe, to Japan, and lastly Copenhagen and Iceland, every trip has been exceptional. For Copenhagen and Iceland, I worked with travel advisor Marion Hermann. She made excellent recommendations for Copenhagen including our stay at Copenhagen Admiral Hotel and a Walking Food Tour of the city. For Iceland, there was a last minute issue at the Borg Hotel, so we were quickly moved to Apotek (a beautiful hotel right next door) with an upgrade. Working with a professional travel advisor takes all the stress out of last minute changes or problems as they handled all the details. I especially loved our Iceland sightseeing tours which included a Blue Lagoon Luxury Package and an Essential Iceland Super Jeep Tour with an outstanding local guide. For international travel, I highly recommend Nancy Cutter and Marion Hermann, of Court Travel. This company is truly a "Superstar Travel Agent"!
Recommended
Alaska Cruise
By: Jim
Reviewed on: 29 Sep 2015
Nancy went out of her way to make sure all aspects of our cruise were taken excellent care of
Recommended
Expanded our thinking
By: JohnM
Reviewed on: 11 Mar 2016
Had a great off-season trip to Italy. Venice and Sorrento were as fun as promised.The surprise is how much we enjoyed Berlin. Nancy expanded our thinking to consider it and put together a great experience. The meal at the hotel was one of the top three ever. We'll seek her advice every time from now on.
Recommended
Great advice
By: Julie
Reviewed on: 29 Apr 2016
Nancy planned a great vacation for 6 of us. Everything went smoothly and all properties and activities were amazing.
Recommended
Dreams Come True
By: pccc
Reviewed on: 28 Apr 2016
This was truly a trip of a lifetime. It was an extremely ambitious schedule and every step was handled in minute detail. Nancy coordinated all of our hotels, lodges, guides, transfers and flights perfectly. We didn't have to worry about a thing. All of the drivers and guides were prompt, knowledgeable, professional and friendly. The hotels had character with personable and efficient staff. The lodges were beyond our expectations in every way. The rooms were absolutely stunning. The employees were flexible and responsive to your every request. The rangers and trackers were passionate about their role in making your dreams come true. You immediately had the sense that every single person involved with your stay was committed to creating memories far beyond our imaginations.
Recommended
tulip time river cruise
By: lori
Reviewed on: 06 May 2016
this was a fantastic cruise! we started 2 days in amsterdam, and then boarded the ship on thursday. the pulitzer hotel was wonderful... beautiful room, excellent staff and great restaurant, jantze. wednesday was a national holiday, kings day (4/27) celebrating their kings birthday! while it was fun joining in some of the canal festivities, should be noted that the city is closed to traffic9am-8pm, most shops closed, and canal boats not running. hard to enjoy holland pass on that day, since my husband has knee issue. but, that made for light exploring around the hotel, located on kreinstaght (?) canal! the amaviola ship was lovely! the staff, friendly and professional, and the food was gourmet! we were invited to the chef's table on the first night, and thoroughly enjoyed it.... returned on last night, w friends! the excursions were run smoothly, and the small # of people made everything so easy... from massage appt. to stunning keukenhof gardens & brugge!! perfect planning
Recommended
Outstanding service advisor
By: R2
Reviewed on: 25 May 2016
Advice regarding travel was excellent. This included itinerary recommendations and hotel selection. Changes were accommodated without complaint. Questions were answered completely and in a timely manner. Best agent I have worked with.
Recommended
Special trip for a special occasion
By: Annick
Reviewed on: 29 Sep 2016
This trip was a 30th birthday present for my niece and her partner and I wanted everything to be special for them both. The Court Travel team was amazing and their attention to detail second to none, making sure only the best was booked and delivered on the day. I could not have done this without their expert help and when the two travellers returned home, they had tears in their eyes relating their experience. A big thank you to Nancy and her team.
Recommended
awesome 2 month trip
By: JohnInCharlotte
Reviewed on: 12 Oct 2016
Nancy spent lots of time over multiple visits to help me plan combo trip to Australia and New Zealand. We had several in person visits followed by multiple phone calls and emails. She had lots of great ideas of things to do and places to explore. She also was very good at customizing trip to my desire for certain activities. The planning prior to trip was extensive. The execution during trip was flawless. I will definitely be working with Nancy again to plan my next adventure.
Recommended
Excellent Service!
By: Renee
Reviewed on: 02 Dec 2016
Excellent service, as always! All went well and as planned!!! I always recommend Nancy and her group!
Recommended
Greenlees Panama Cruise
By: Jim
Reviewed on: 09 Dec 2016
All preparations for this cruise were handled expertly by Jessica. She made sure that we were kept up to date on the progress of all the aspects of the booking. The cruise itself was excellent in all aspects. All the ship personnel went out of their way to insure that we were satisfied each and we very day. We would strongly recommend this cruise.
Recommended
Simply the best consultant ever
By: SeniorTrippers
Reviewed on: 08 Dec 2016
This was our 12th excursion planned in collaboration with Nancy Cutter of Court Travel Ltd. going back to 2010! My husband & I met Nancy on our first trans-Atlantic crossing from Lisbon to St. Martin. After 14 days at sea, her on board clients convinced us that she was the travel consultant for us. Over the years Nancy has become familiar with our interests and tastes. We have not been disappointed in her advice. We usually plan our trips 6 months to a year out. Nancy books our excursions, trip insurance, airline travel, hotels, basically the works! (with some fine tuning from us). Our next great adventure will begin in July 2017 on the Star Pride from Edinburgh to Reykjavik (12 days) and Reykjavik (7 days).
Recommended
Excellent top notch service
By: Learjet
Reviewed on: 05 Jan 2017
Attention to detail was superb!! Tour guides were extremely knowledgeable and approachable and always on time.. connections between trains and ground transportation were spot on and all accommodations were as presented with excellent locations. We would highly recommend Court Travel. We will definitely use her services in the future..
Recommended
Our reunion in Hawaii was very great!
By: Don
Reviewed on: 14 Jan 2017
Attention to detail was obvious at every aspect of the tip. Particularly impressive was the follow-up
Recommended
Italy and Jamaica
By: Michigan
Reviewed on: 12 Sep 2017
Nancy is the ultimate professional to work with! Steered me in the right direction on every decision on our trips to Italy and Jamaica. Both trips ran like clock work! Thank you so much for your advice.
Recommended
Princess repositioning, Ft. Lauderdale- Hamberg, Ger.
By: fuzzy
Reviewed on: 27 Apr 2017
Nancy is an excellent TA. She is well informed and goes out of her way to cover all needs.
Recommended
Nancy - great!
By: Julie
Reviewed on: 09 May 2017
Always great - very thorough and lots of good info
Recommended
Turks and Caicos
By: Kim
Reviewed on: 05 May 2017
Fantastic. She is an experienced and thorough Professional. Has great suggestions and valuable insights.
Recommended
Excellent!
By: Renee
Reviewed on: 07 May 2017
Have been working with her for years! It is always a pleasure!!!
Recommended
France getaway
By: Ryan
Reviewed on: 01 Jun 2017
Nancy was wonderful to work with and really knew good info on the locations we were going.
Recommended
Nancy
By: Mike
Reviewed on: 24 Jun 2017
She's the best! This was the 30th trip she has planned for us.....Always attention to details, she fixes any problems that arise, knows the locations well, I don't know how anyone could possibly do a better job. We love working with her--she knows us so well she reads our mind as to our likes and dislikes. Virtuoso should be proud to have her as a member.
Recommended
South African Safari w/17 yr old Grandson
By: Trecia
Reviewed on: 18 Aug 2017
Superb is all I can ever say about the trips Nancy plans for me, my friends and family.
Recommended
Land of the Midnight Sun - Edinburg to Reykjavik
By: LadyBea
Reviewed on: 01 Aug 2017
Nancy is a true professional with tremendous attention to detail. This was our 22nd cruise with Windstar and we have already booked number 23 for August 2018! After all this time together she knows our likes and dislikes and we think nobody else could plan a better vacation for us. From hotels, flights and excursions Nancy is just the best.
Recommended
Summer Vacation
By: Dena Diorio
Reviewed on: 02 Sep 2017
She was Excellent
Recommended
Outstanding Support
By: Terry
Reviewed on: 10 Sep 2017
It was a great experience. Nancy knows her stuff. She is able figure out what we're are looking for in a trip from our vague outline and make recommendations that exceed our expectations. She knows the answers to our questions and/or gets those answers for us. She is also able to make all the accommodations and travel connections so you have a seamless trip.
Recommended
Peru
By: Peru
Reviewed on: 19 Sep 2017
Nancy is always very helpful and responsive.
Recommended
Great trip
By: Jennifer
Reviewed on: 17 Sep 2017
Nancy helped us plan our trip to China, from plane tickets to hotels to guides and sights to see. We had a wonderful time, with the best centrally located hotels and friendly, informative guides. When we ran into a problem early on, Nancy quickly responded and fixed everything. From then on, it was smooth sailing. We couldn't have done it without her!
Recommended
Africa Safri
By: chief
Reviewed on: 05 Oct 2017
We have worked with Nancy for many years on our travel. She is truly a professional with a wealth of knowledge about most if not all parts of the world. She is very careful to listen to what you are interested in and makes sure that she plans a trip that you will enjoy. At the same time she makes every effort to steer you away from things that she feels does not warrant the time or cost. In the past we have recommended her to other with complete confidence that they will be pleased with her.
Recommended
Best advisor
By: RKR
Reviewed on: 08 Oct 2017
The best and most knowlegeable agent I have worked with planning trips to Europe. An expert on international travel.
Recommended
South Pacific
By: Don
Reviewed on: 16 Oct 2017
Absolutely fantastic! She was on target with every recommendation and action. She anticipated our every need. We will use her again!
Recommended
Europe & Crossing
By: Rick Cassels
Reviewed on: 26 Nov 2017
Nancy always does an excellent job with all aspects of our travel. We would never use anyone else.
Recommended
Simply put: a great travel adviser !
By: Fellow Travelers
Reviewed on: 21 Nov 2017
Nancy Cutter is the best travel adviser we have ever had the pleasure to meet and work with! Every trip she has helped us plan has been a pleasure: accommodations well chosen for our needs, thoughtful timing for transportation, and restaurant choices plentiful and diverse. As two older travelers, to are so fortunate for her preparedness and attentiveness to meeting our expectations. I very much appreciate the professionalism of her office staff, as well, they are well trained and function as a team when she is not available. We are already planning to work together again in the future !
Recommended
New Zealand family trip
By: Sheryl Mayberry
Reviewed on: 27 Dec 2017
Nancy is an exceptional travel advisor! My college age son was studying in Australia and we decided to meet and travel through the south island of New Zealand together. Her previous experiences in New Zealand were so valuable in our planning. Nancy asked all the right questions and then thoroughly planned our trip in ways we didn't know we needed. We both enjoyed enjoyed every single activity and tour that Nancy recommended but never felt over scheduled. She also very thoughtfully put us in a two bedroom condo in Queenstown so that we would each have our own space and laundry. The ability to wash clothes every night turned out to be an important need in such an active place. All of the tour and activity operators that Nancy set up for us were excellent! Nancy also provided us with detailed materials to guide us daily. We continued on to Wanaka, Franz Joseph and Christchurch at Nancy's recommendation and could not have asked for a better trip. Highly recommend Nancy Cutter!
Recommended
Tahiit
By: Calif. Kids
Reviewed on: 23 Dec 2017
Great! No disappointments, only wish was for Business Air.
Recommended
Excellent advisor
By: Jshepard
Reviewed on: 22 Feb 2018
Nancy prepared a wonderful vacation for us, from making arrangements to making suggestions. The arrangements all went smoothly, and the hotels were marvelous. We had a truly relaxing and fun vacation.
Recommended
Advisor
By: Renee
Reviewed on: 15 Apr 2018
As always, working with Nancy is a delight! She and Court Travel do an exceptional job! Always!!!
Recommended
Paris & London Trip
By: Hank
Reviewed on: 07 May 2018
Nancy has tremendous knowledge of both Paris and London and was very helpful in planning the trip since my wife and I had never been. Her recommendations regarding hotels and what to see and do in both locations were spot on. She is very great to work with and we will definitely be using her again in the future.
Recommended
England Trip
By: England
Reviewed on: 15 Sep 2018
Nancy is great. Very knowledgeable and accommodating. She arranges first class hotels, accommodations, tours, and extras for us on each and every trip we plan with her. This trip to England was no different as she booked 12 days of great sightseeing across all of England.
Recommended
Nancy Cutter is the best travel agent in the world!
By: Windstar
Reviewed on: 14 Sep 2018
Working with Nancy Cutter was absolutely fantastic!!!! I love this booklet she puts together with information about each place you will be visiting on your trip! It is extremely helpful!!!!!!
Recommended
Nothing left to chance!
By: CTlady
Reviewed on: 16 Sep 2018
We give Nancy a broad idea about our expectations for a particular vacation. She has known us for many, many years and suggests suitable options to fill in the blanks! We have no hesitation about recommending her services to fellow travellers.
Recommended
Botswana, Zambia and Victoria Falls
By: Mark
Reviewed on: 24 Sep 2018
A real pleasure. Always returned my calls, gave me great advice. Took care of all the details. She explained everything that would happen on our trip, and she was very accurate in her predictions. A very positive experience. She made the trip better.
Recommended
Italy celebration trip
By: Mindi
Reviewed on: 04 Oct 2018
We are new to this kind of travel - and Nancy was extremely thoughtful in learning about our preferences and planning a trip that was a perfect match for us! We were celebrating birthdays and an anniversary - and the whole experience was superb! I much appreciated her quick replies to all my questions, the time she spent talking with us on the phone, and her careful consideration of our desires/needs. I already have booked a second trip - and will work with her again in the future!
Recommended
Provence,France
By: Carol
Reviewed on: 22 Oct 2018
Nancy was great to work with. Returned calls/emails in a timely manner. Very professional. Already having Nancy plan our next holiday.
Recommended
THE Best
By: GR
Reviewed on: 03 Nov 2018
Nancy is the best travel agent we have ever used. She is extremely knowledgable about many foreign destinations, and as a result can give great guidance on hotels, restaurants and activities for your travels. She takes great efforts to learn your personal preferences so she can tailor your trip to your expectations. We routinely recommend her to our friends.
Recommended
Another great trip !
By: M & D--Oxford
Reviewed on: 01 Dec 2018
She is such a pleasure ! Totally aware of our likes and needs and always on top of changes. Her staff is well trained, and managed, and I never feel uncomfortable calling on them when she is away from the office. She is the person I suggest to all our friends who want to work with a master of travel ! Thank you again, Nancy!
Recommended
Review Your Advisor
By: Renee
Reviewed on: 12 Dec 2018
It is always a pleasure. I am always confident that all details are taken care of, in the best way possible. I have total confidence with all that she does.
Recommended
THE BEST
By: Captain
Reviewed on: 12 Dec 2018
Very professional & would use Nancy for any & all future trips. Have personally traveled with Nancy on trips before & the last 0ne from Lisbon to Barbados was wonderful.
Working with Nancy Cutter, you will have access to:
- An experienced travel guide whom you can rely on before, during, and after the trip
- Exclusive luxury resorts and properties
- Once in a lifetime experiences
Explore with the Best
Virtuoso Advisors are constantly pushing the boundaries in unique travel experiences.
Alliance programs are unique tailored experiences exclusive to travelers working with Virtuoso Travel Advisors.
learn more
Australia
New Zealand
United Kingdom
France
Italy
Portugal
Spain
Vietnam