Travel Specialties
Interests
Adventure
Family Travel
Sports & Outdoors
Safari
Destinations
Chile
Antarctica
Argentina
Belize
Botswana
Selling Travel Since
1998
My Background
Travel + Leisure A-List & Conde Nast Traveler Specialist in Family Travel
Virtuoso's Most Innovative Advisor 2014
As an oil-brat, I grew up living and traveling around the world; most of my youth spent in Europe and the Far East. After attending The Hotchkiss School, the College of Communications at Boston University, and a career in advertising and marketing, I settled in Austin with my husband to raise our family, on the condition that I could travel often and share the world with our children.
From this commitment to our children to embrace their world citizenship, Small World Travel was born. Madison and Ian journeyed to all 7 continents by the age of 12 and we continue to discover new destinations.
My clients share my passion for education through travel and allow me to orchestrate similar journeys for them. I specialize in custom family adventures including 6-12 month odysseys around the globe, using the world as a classroom, orchestrating the entire journey and offering "road school" curriculum design.
Featured in NY Times Travel, Travel + Leisure, Conde Nast Traveler and Town & Country Travel.
Places I Have Traveled
Reviews and Recommendations for Sam McClure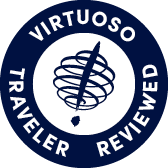 Virtuoso Verified Traveler
All reviews are from confirmed guests sharing exclusive insights
Sort reviews by
Recommended
Highly recommended
By: Lou
Reviewed on: 11 Oct 2013
Sam has planned many trips for my family and me through the years and has always made a tremendous effort to please us and make the trip more enjoyable. Sam makes traveling a pleasure!
Recommended
Exceptional
By: Drew3boys
Reviewed on: 11 Oct 2013
Sam just gets it right, every time, every trip, every hotel, every meal, every activity. She should be the go to travel professional whether it's a romantic get-away for 2 or a multi-generational family adventure. She has planned our trips for the past 9 years approximately. I can't imagine planning any trip without her. Her knowledge is extensive on any idea, even crazy ones of mine, to make our vacation experience even better than I could imagine. Two thumbs way way up for Sam McClure!
Recommended
Highly Recommended
By: andrew
Reviewed on: 14 Oct 2013
Sam was just great to work with. She sent us to places we wouldn't have gone, and was great in helping us select hotels and tour guides. We couldn't have asked for a better trip!
Recommended
Highly Recommend
By: AustinFamily5
Reviewed on: 24 Nov 2013
I was having a heck of a time trying to find hotels in our budget on my own. Sam stepped in and provided several options at each destination, that I couldn't find through online searches. I am confident her suggestions are vetted to meet our needs and tastes. She has handled the booking and all the hastle.
Recommended
Highly Recommended
By: Becky
Reviewed on: 23 Dec 2013
Sam on fairly short notice managed to juggle schedules and book us a trip to Bora Bora and into the Four Seasons Resort there for Christmas. We're currently ensconced in paradise courtesy of Sam and her magic
Recommended
Highly Recommended
By: Ellie
Reviewed on: 21 Jan 2014
Sam understood exactly what we wanted and helped us make decisions quickly and without a fuss! And she is dedicated-she took time during her own family holiday vacation to make sure we could get the reservations we needed.
Recommended
Great Trip
By: sherrid
Reviewed on: 04 Feb 2014
The trip overall was incredible. The locations were top of the line, service incredible in every location. The biggest reason to use a travel agent is for the ease of travel in-between locations. Being met in each airport and skipping lines to move through quickly was wonderful. We loved this comfort of just letting someone else worry about those details.We encountered two issues: landing in Seychelles the schedule was messed up and our guides thought we were arriving 7pm vs 7am, so there was no one to meet us. I eventually found the right people, but it took forever after 30+ traveling hours. Hotel also was not expecting us, but they worked it out quickly.Our luggage was scheduled to be picked up at an airport we didn't go to. I caught the error and fixed it before it was a problem. Had I not....? I also did not feel like I had all the travel details. Flight numbers only, no confirmation numbers, not clear who to contact when for needs, etc. More details would have been nice.
Recommended
Highly recommended
By: MolD
Reviewed on: 13 Feb 2014
We had the best time on our honeymoon! We can't say enough wonderful things because our expectations were exceeded. Travel and transportation were great and easy. The resort was absolutely beautiful, and we will definitely go back. Thank you for planning the best honeymoon ever!
Recommended
Highly Recommended
By: judy
Reviewed on: 15 Mar 2014
Sam provided our family of eleven to an amazing four night five day stay in Las Vegas at the Villas!  We all were so impressed and pleased with the accommodations, dinners, show, helicopter tour, and spectacular service and limo's!  Definitely using Sam again!  Someday Belize Sam!!!
Recommended
Highly recommended, great trip as always!
By: Andrew
Reviewed on: 19 Mar 2014
We had reviewed our travel options in detail this trip before contacting Sam.  However, she was still able to find us options and amenities during our travel that we wouldn't have even thought of.  She is always so easy to work with, knowledgeable and helpful.
Recommended
Sam McClure is the best travel advisor on the planet!!
By: TEL
Reviewed on: 24 Mar 2014
Please write at least 15 characters
Recommended
Highly recommend
By: Walt41
Reviewed on: 20 Apr 2014
100 out of 100?
Recommended
The perfect intro to wildlife viewing in Africa
By: dgksdc
Reviewed on: 06 Jun 2014
I posed Sam a daunting challenge: structure a 13-day trip to Africa to view wildlife for my family's first trip there. Sam is a seasoned Africa traveler and I know she has been at least a dozen times, often with her family in tow, so she knows the opportunities and challenges. Overall, she put together an amazing trip for us - varied in terrain and type of accommodation so we could sample the variety offered. We adored each and every aspect of the trip and, most importantly, felt very taken care of by her representatives in Africa - meeting us at airport gates, ushering us through customs and making sure all our needs were impeccably served!!! Now, we want to go back again soon!
Recommended
Highly Recommended
By: Wat
Reviewed on: 12 Jun 2014
Sam has been planning our family vacations for the past 12 years.  She is brilliant and does an amazing job of planning a schedule that is interesting for both kids of all ages and the parents.  The guides, accommodations and activities have exceeded all expectations.   She began planning our international travel when our youngest of four boys was two years old.  He was fourteen when we took our last trip.   She is incredible!
Recommended
Best Trip Ever!
By: KTMXLA
Reviewed on: 02 Jul 2014
Sam McClure of Small World Travel booked our family trip to Rome, Istanbul, and Athens.  I was skeptical of using personal guides everywhere we went as we sometimes like to just wing it when we're traveling; however, I don't think that we'll ever do a trip without a personal guide again.  We have never learned so much from such incredibly well-informed and professional guides.  Well worth the expense!!!  In addition, we rebooked a portion of our trip, and Sam was great in facilitating that and always responded quickly to any requests while we were out of the US.  All of the recommendations that she gave us were spot on, too.  Thank you, Sam!!
Recommended
PERFECT
By: Jay and Morgan
Reviewed on: 12 Jun 2014
To be blunt... It was PERFECTLY planned.  Travel, accommodations, tour guides, it all went just exactly as planned.    I highly recommend Sam and her team!!!
Recommended
Sam McClure gets a perfect score.
By: LisaBB
Reviewed on: 22 Jun 2014
Unbelievably perfect .  Sam McClure gets a perfect score!  In the past I have  handled my own accommodations.  NO LONGER.  WHY?  Our trip to SA went off without a hitch.  From the best Olaff Road accommodations within waking distance of hot yoga, to the tented lodge accommodations @Shamwari Reserve.  A+A+A+.  Our Driver who could see we needed a snack, to our Ranger who educated us on animal extinction, to the lovely hostess at the GS who located my elephant hair jewelry everyone was so kind and so professional. Sam was traveling, educating herself on Ireland, I believe when I emailed her.  She responded within five minutes from across the globe and handled my whole trip from her iPhone .   I could not have done it more to my tastes if I had done it myself.    I feel she really has the immersion piece of travel ACED.  I will use her for all my travels going forwards.
Recommended
Cabo
By: bill
Reviewed on: 03 Apr 2017
Fantastic...Always has been!
Recommended
Highly Recommend
By: tma66
Reviewed on: 13 Jul 2014
Sam and her staff with Brownell created a lifelong memory with our first trip to Europe as a family. When the entire family says they would do the whole trip over just the same way, it is clearly a success. It is clear to me Sam has such knowledge that she can listen to your ideas and turn them into reality, recommending and providing services you may not have thought of already. Every guide and driver we had in Italy was fantastic. We had one occassion where we needed assistance with our rental car while on the trip. Sam's staff was available by phone outside of office hours and handled our needs immediately, providing peace of mind. As the head of the household (theoretically anyway) my family gave me credit for such a seemless and memorable vacation. In reality, Sam deserves all the credit. Thanks!
Recommended
Excellent service
By: Dick
Reviewed on: 21 Jul 2014
Reservation process for top-notch San Fran hotel was handled, as always, very professionally and efficiently. Great hotel, amazing views of two bridges!
Recommended
Fabulous Month in Costa Rica
By: WilliamsonFamofFive
Reviewed on: 05 Aug 2014
We recently returned from a month in Costa Rica with all accommodations, transportation and most excursions planned by Sam McClure and our trip surpassed every expectation we imagined. We worked with Sam for 6 months leading up to this trip and our initial introduction through her extensive questionnaire of our preferences in travel were spot-on in the delivery when she planned our trip. She was always very respondent to all types of communication both before and during the trip, and she offered a well-thought out itinerary for our family of 5, including 3 kids ages 11, 9 & 6. Honestly, we didn't have any problems occur on our vacation so trouble-shooting on her part wasn't an issue; however, I felt confident that if that was the case then she was ready to meet those needs. I would gladly work with Sam again for a future vacation. Her experience in traveling is obviously wide-spread and we look forward to another vacation under her directions.
Recommended
Great to Work With!
By: RVE888
Reviewed on: 13 Aug 2014
Sam McClure was great to work with. I gave her a budget and she came back and presented options that were within that budget. The itinerary was fun and ensured we covered all of the important must-see spots within a short period of time. We definitely enjoyed our trip and look forward to planning the next one!
Recommended
Great Advice, Attentive Service
By: Susan
Reviewed on: 21 Aug 2014
Sam McClure listened to my wish for a quiet, peaceful beach trip with high-end service and plenty of time to read and relax, Her recommendation on a specific Carribean resort that she had previously visited was spot on. Further, I greatly appreciated the additional thoughtful attention that the resort provided me because I was Sam's client. After the reservations were made, her team helped in an attentive manner with some additional logistics to ensure it would be an enjoyable trip, and it was. I highly recommend Sam and her team.
Recommended
Perfect trip in every way
By: Ellie
Reviewed on: 31 Aug 2014
Our trip to the South of France was perfect. Sam chose the most lovely hotels for us: small, elegant and run by the nicest people in France. The concierges at Hotel Le St. Paul and Cap Estel were so helpful in every way. Sam arranged luxurious and stres free transfers for us and recommended excellent restaurants in every location. An amazing trip that we will definitely repeat!
Recommended
Excellent advice!
By: Joe from Austin
Reviewed on: 09 Sep 2014
This was my first trip to London. I had some last minute changes. Sam was very helpful in accommodating. The trip turned out beautifully. We had an expert tour guide to local museums. Her advice was spot-on. Looking forward to future trips booked through her.
Recommended
Only the best
By: Walt
Reviewed on: 10 Oct 2014
Sam McClure always finds the best accommodations and her reputation with hotels and guides assure a comfortable, smooth travel experience. Highly recommend her for her expertise and follow through.
Recommended
Personal service tailored to our family's needs
By: Palmer
Reviewed on: 08 Jan 2015
A truly memorable trip to London for our family. It was the right mix of art, history, shopping, theater, great dining, family time and touring. Sam was able to tailor our trip to find the experts in the areas we were interested in. We learned to understand and appreciate contemporary art with our contemporary art guide through the Tate. We got a personal tour with the director of the Churchill War Rooms that was incredible. Our guide who was an art history expert made our time at the National Portrait Gallery and National Gallery so much more meaningful. Sam listened to what we were interested in and tailored a trip to meet our family's needs. We really got to know and appreciate London. Thank you, Sam, for your expertise and insight.
Recommended
top notch!
By: Brooke
Reviewed on: 08 Jan 2015
Sam is professional, thorough and able to juggle many balls at one time. She gets to know her client's needs well and then tailors trips to suit them to a tea. She has incredible knowledge of the properties and great relationships with the guides and in-country support teams. She has never failed us! Her trips are A plus!!!!!
Recommended
Expert travel assistance!
By: JLPA
Reviewed on: 24 Mar 2015
We are always well taken care of with Sam and her team!! It's a pleasure!
Recommended
Expert arrangements!
By: SierraAlphaHotel
Reviewed on: 06 Apr 2015
Our trip to Peru couldn't have been planned any better. Small World Travel is the best!
Recommended
Incredible family trip!
By: BJW5
Reviewed on: 06 Jul 2015
Thanks for putting together what is now called "the best family trip ever"! You covered all the details and we never missed a beat whether in Barcelona, Athens or aboard our Greek island tour. Thank you for the special treatment and we look forward to working with you again soon!
Recommended
Sam McClure is AWESOME!!!
By: High Potentate
Reviewed on: 24 Jul 2015
Sam's attention to detail makes a trip planned by her extraordinary. She is focused on the reason for our trip (in this case, our 14 year old grand daughter) and selected very special outings for her. The Hotel de Russie in Rome is excellent. Great location, great amenities, and great service. The Savoy in Florence is in a great location, but it's amenities and service level is not on a par with the de Russie. IC Bellagio was excellent. The drivers and guides they arranged were very capable.
Recommended
Great Job
By: Laura
Reviewed on: 04 Aug 2015
Sam McClure does a great job every time I ask her help with trips! She always has really good ideas for interesting and different things to do in the foreign cities we visit! And the hotels and restaurants she suggests are always great. Thank you Sam!
Recommended
Great to work with!
By: Aligator
Reviewed on: 12 Aug 2015
Sam was awesome to work with! She quickly answered all the questions we had, and also gave us helpful information we hadn't even thought about. She helped us decide between two properties based on our family's needs/wants, and we had a wonderful, relaxing summer vacation. As promised, the property was beautiful, the food was delicious, and the amenities were A+! We will definitely work with Sam again (and again!) for our family trips.
Recommended
insightful and best listener ever
By: Texas Mom
Reviewed on: 23 Aug 2015
Sam set up a trip and activities for us at Paws Up in Montana. Perfect suggestion for a mom and daughter get away before college. Memorable trip and stress free travel.
Recommended
Excellent service
By: Joe D
Reviewed on: 04 Sep 2015
Sam is exceptionally thorough and has always made excellent recommendations for me. I trust her and look forward to getting her advice again on my next trip.
Recommended
Successful trip
By: Fastlane
Reviewed on: 26 Sep 2015
Very memorable 50th anniversary trip. Everything about the Amazon adventure on the Aria was great. The 'hand-off' back in Lima to A&K personnel for trip to Machu Picchu was smooth. Juan Carlos was a 'highlight' guide for us; could not have been better. Accommodations at the various destination stops long the way were very nice and food was good. One change might be not to stay at the airport hotel in Lima; service there was lacking. We took over a thousand digital images, so this special event and the memories created have been captured. On the return leg, and because we'd had to re-constitute our bags several times, we had a lost bag event. We're getting older, and a bit less road-worthy, two factors which contributed to our 'error'. Despite all this, Sam's group and A&K folks got our bag returned to us, so we must award extra credit for problem-solving!
Recommended
Personal service with a flair
By: PQ
Reviewed on: 26 Oct 2015
As usual, another memorable trip. Great hotel and perfect restaurant recommendations. Sam helped us with our unpredictable late arrival by making dinner reservations and alerting the restaurant we may be running late. She even let them know it was my son's birthday. He was surprised with a cake and many birthday wishes. It was unexpected and so thoughtful.
Recommended
Beautifully planned, perfectly executed!
By: Jan
Reviewed on: 24 Nov 2015
A lovely trip, one which could not have been done without the very professional planning by Sam.
Recommended
Excellent suggestions for an Asian trip!
By: Karen
Reviewed on: 16 Dec 2015
We came to Small World Travel to enhance our cruise through Asia. They provided excellent suggestions and arranged first class guides and transportation through Abercrombie. The hotel suggestions in Beijing and Singapore were perfect as well.
Recommended
Something for Everyone
By: PQ
Reviewed on: 08 Jan 2016
Sam has helped us to create some lasting family memories. Our time with our college-age kids is limited. So we cherish our adventures. Our trip had something for everyone. From bike riding through the streets of Lima, eating delicious ceviche, hiking Waynapicchu, to chatting in Spanish with our guide about Peruvian life, our time was filled with magical moments. The accommodations were first-class while also being unique and intimate. We spent our last night discussing where in the world we should go next and we will trust Sam to plan our next adventure.
Recommended
Excellent Trip
By: Dick/Kathie74
Reviewed on: 16 Feb 2016
What an amazing country to see, especially with all the things Sam McClure had planned for us! Our drivers were excellent, and the places we stayed were top notch (and convenient}. Honestly can't imagine how things could have been better other than we wish we'd had more time to explore more of this incredibly beautiful country. In other words, we have to come back! Food and accommodations were very high quality. Our Helo experience, jet boat thrill ride and Bungy jumps will never be forgotten.
Recommended
Picture perfect trip to South Africa!
By: CAGAustin
Reviewed on: 06 Mar 2016
Samantha McClure organized a flawless 17 day trip to South Africa for a photo safari. We stayed at three safari camps for three days each. The accommodations were lush, the food great, the service better, and the animal viewing was unsurpassed! We were sad when it was over. We also visited Cape Town and Victoria Falls, Zimbabwe. The guides in Cape Town and Victoria Falls were knowledgeable, fun, and attuned to our likes. We highly recommend Sam for your next trip to South Africa. You will not be disappointed!
Recommended
Insightful, responsive, and detailed. Perfect.
By: Greg and Pam
Reviewed on: 13 Apr 2016
Sam and her team at Brownell Travel have planned our extensive 3+ week trip through Thailand, Vietnam and Indonesia. It could not have been easier to do as they have all the expertise on these areas and cultures and customized the trip to fit our family interests and personality. The itinerary looks amazing and we can't wait to take the trip in June. I'm sure it will be amazing.
Recommended
Amazing and organized planning
By: NKL
Reviewed on: 05 Jul 2016
Sam was thorough, timely and knew her stuff when it came to planning our family trip. She was amazing.
Recommended
The Best Of The Best!
By: Drew
Reviewed on: 10 Jul 2016
This was a perfect family trip. It was very important to me as it was a graduation trip for my son who recently graduated from college. Sam is truly the best of the best. The trip planning is fun and interactive, the execution is flawless, and most importantly, we always come away from our trips with priceless memories. And Sam is the premier architect for these memories. We wouldn't want to travel anywhere without her as her joy and knowledge for all things travel is infectious and the best of the best!
Recommended
Expert service
By: Lyle
Reviewed on: 22 Jul 2016
See my letter to you.
Recommended
2 week Florence trip
By: Donna
Reviewed on: 24 Jul 2016
My renting a Florence apartment for two weeks was really lovely. The planning was perfect and every driver, guide and service person showed up on time and was great. Loved all the restaurant suggestions as well. I have to give the trip a very high rating. Lovely, from Small World Travel, with Sam and her team, to the Bellagio crew in Italy.
Recommended
Hawaiian Bliss
By: DrewT
Reviewed on: 01 Sep 2016
We wanted an easy and relaxing trip to Hawaii and per usual Sam made it happen. I love Four Season's properties and was delighted to try out the new Four Seasons Ko Olina. She effortlessly handled the booking even before the hotel was officially open and taking bookings. Everything was perfect and seamless and we loved our trip as we love everything Sam and Small World Travel.
Recommended
very helpful
By: AB
Reviewed on: 03 Sep 2016
Sam was very helpful in recommending the perfect get away trip for me and my husband. We really enjoyed San Diego and La Valencia Hotel. We got an upgrade to our room and champagne and chocolate covered strawberries with our Virtuoso booking. Sam recommended two perfect restaurants we had dinner at. One of them served the best dinner and dessert I have ever had! We made unforgettable memories!
Recommended
Awesome!
By: Karen
Reviewed on: 05 Sep 2016
Sam did an outstanding job on our trip to Iceland! She is awesome and our family highly recommends her for any travel needs. We had a diverse group and Sam made it special and fun for all of us. We are so excited to continue working with her.
Recommended
Incredible India and Bhutan
By: Treybig Family
Reviewed on: 07 Nov 2016
Can a trip be perfect? Yes, but only if Sam McClure and team from Small World Travel are planning it, executing it and managing it! And that's just the norm for them. I wouldn't put a trip together without their stewardship.
Recommended
Out of this world experience!
By: Walt78
Reviewed on: 30 Dec 2016
When you travel on a Small World Travel itinerary you are treated like a VIP. Arrangements are like clockwork from meet and greet, to hotel upgrades to restaurant choices, to guides. All travel should be this good.
Recommended
Always amazing!
By: Karin67
Reviewed on: 07 Jan 2017
Sam is such a professional! She is always able to deliver the most amazing experience without flaws. Her team has my family's back and is one step ahead if anything changes. She is so well traveled and I truly value her advice and experience on any trip. Her service is top notch and she is easy to get a hold of for any questions of changes. She knows the world inside and out. So grateful to have found her, she has changed our lives by making travel easy and enjoyable!
Recommended
Sam is great!
By: Laura
Reviewed on: 11 Apr 2017
She's terrific, always working to help achieve what we want out of our vacations, willing to look further when prices too high, always comes up with interesting things to do, beyond the main sights.
Recommended
All the details were perfect!
By: Stef
Reviewed on: 19 Apr 2017
Every detail of the trip was perfect! The hotel upgraded our room because we're Small World Travel clients and they couldn't have been nicer.
Recommended
London trip
By: Conrad
Reviewed on: 05 Jun 2017
She was wonderful!
Recommended
Thank you sam
By: Meredith
Reviewed on: 22 Jun 2017
Easy and informative
Recommended
Iceland - Backroads Mulitsport
By: KJS
Reviewed on: 28 Jun 2017
Aaaaaamazing trip! Thank you Sam and Backroads! Couldn't have asked for a better trip!
Recommended
Chicago
By: NKL
Reviewed on: 03 Jul 2017
Amazing! Sam always knows the best spots and arranges everything so that it is all smooth sailing.
Recommended
Tuscany holiday
By: Eric
Reviewed on: 02 Jul 2017
Sam and her team were a pleasure - - Knowledgeable, detail-oriented, responsive and patient.
Recommended
Could not have been better!
By: WOW!
Reviewed on: 12 Aug 2017
Working with Sam McClure was amazing! Our trip was phenominal. My only disappointment is that I have not used Sam before this trip. I can just imagine how much more enjoyable the past 20 family trips would have been with her sage guidance.
Recommended
My Ideal Trip
By: SML
Reviewed on: 13 Sep 2017
My adult children and I just had a perfect trip! I don't often use that word, "perfect", but in this case it is the accurate adjective. It could not have gone better! Sam and her staff were through and thoughtful in their planning of our trip. We were delighted with the itinerary, the lodging and our driver/guide. It was so nice for me as the mother to feel that I could be surprised and pleased each day of our time away. Thank you Sam and Small World Travel!
Recommended
Small World Travel
By: ATX traveler
Reviewed on: 17 Sep 2017
Sam and her entire staff are beyond organized and helpful. Always quickly get back to me on any trip large or small. She certainly deserves a perfect 10 on her travel agency. Not sure what I would do without her. All the trips she has planned in the last two years have really been outstanding. Can't wait to plan the next one
Recommended
Advisor
By: Visitor
Reviewed on: 03 Jan 2018
Sam is always terrific
Recommended
Beautiful Chile
By: pq
Reviewed on: 15 Jan 2018
A dream. Sam created a trip that was perfect for our family. She is a good listener. She understands how to plan a trip that appeals to my whole family. We were taken care of at all times. Activities were perfect for all of us. The accommodations were amazing. The opportunity to be together as a family and see the world is a gift.
Recommended
Sam McClure
By: Laura
Reviewed on: 30 Mar 2018
Great! As usual.
Recommended
Costa Rica through Small World Travel
By: Stacie
Reviewed on: 17 Apr 2018
Our family trip to Costa Rica was our second trip through Small World Travel, Sam Mclure's agency, and it was another stellar vacation. Working with Sam and her team is a dream. They're informed, creative, understand families and have certainly taken the time to get to know ours and how we like to travel. Their planning is perfection and execution flawless! One of our favorite things about Sam and her team is their understanding of how to balance comfort and luxury with culture and connection. They are tried and true travelers themselves with a deep love for getting to know the countries they visit. They clearly invest in helping their clients make the same meaningful connections. No cookie cutter vacations here! We can't wait to plan our next trip with Sam.
Recommended
Paris trip
By: Paris
Reviewed on: 10 Apr 2018
I didn't really work with Sam. Worked with Madison and she was terrific!!!!
Recommended
Great planners
By: Alan
Reviewed on: 06 May 2018
Working with Sam and her crew was a pleasure. Good communicators. Smooth reservations and transfers. It all was precisely as expected and hoped for.
Recommended
St. Barts
By: Sherri
Reviewed on: 22 May 2018
Sam has been very helpful and recommended a super nice resort.
Recommended
How Does She Do That?
By: Any Scoop
Reviewed on: 16 May 2018
This is my second experience of working with Sam...and, once again, it was awesome. What makes it so? I think it's because she is so available. Even though she is often traveling worldwide, she never fails to reply to any query, email, text, or phone call almost immediately (just how does she do that when she's often in many different time zones?). Not only is she available, she nearly immediately solves all minor and even major problems that can often occur on a major world-wide adventure. Plus, she's kind, thoughtful, bright and just a real delight to work with. I highly recommend her and would use here again in a heartbeat! You should do so too!
Recommended
Trip
By: Stanley
Reviewed on: 23 May 2018
Great very helpful
Recommended
Amazing Experience!
By: M
Reviewed on: 29 May 2018
Absolutely wonderful. Great recommendations, guides, restaurants, accommodations, all. Would book again, 5/5 stars!
Recommended
Sam
By: Bill
Reviewed on: 20 Jun 2018
I have referred several friends to Sam. Her team is outstanding!!!
Recommended
Sam McClure is the best!
By: KJS
Reviewed on: 29 Jun 2018
Aaaaaamazing! Always love working with Sam!
Recommended
Perfectly planned and executed
By: R&R Young
Reviewed on: 26 Jun 2018
We couldn't be happier with the trip Sam put together for us. Every detail was taken care of and the app helped keep us on schedule. We had a great time at each location. We can't wait to plan the next trip with her!
Recommended
Nordic Adventure
By: Jinny
Reviewed on: 12 Jul 2018
Sam McClure is the perfect travel advisor. She knows so much, but is also quick to research new possibilities.
Recommended
?
By: Joe
Reviewed on: 12 Jul 2018
A pleasure. She's a pro
Recommended
Advisor of the year in my book
By: Dsh
Reviewed on: 28 Jul 2018
Completely organized office and knows her properties! Always available for an unexpected problem on a trip.
Recommended
Awesome
By: Eric
Reviewed on: 15 Jul 2018
Nailed the planning, no worry trip and had local relationships to make things extra special. Very responsive to questions during trip. 2nd trip booked with Sam.
Recommended
Great
By: Judy
Reviewed on: 13 Aug 2018
Great trip was amazing!
Recommended
Best Family Trip Ever!
By: Margaret
Reviewed on: 06 Aug 2018
Fantastic! There is absolutely no way anyone could have created a better trip for my family of 39! The diversity of activities and the amazing accommodations could not be beat.
Recommended
Awesome Trip!
By: MC
Reviewed on: 23 Aug 2018
So easy. And Sam has the best guides and best itineraries.
Recommended
Iceland trip
By: Alden
Reviewed on: 30 Aug 2018
I wasn't the primary planner, but all my contact was great.
Recommended
A fabulous vacation!
By: Claudia
Reviewed on: 07 Oct 2018
Everything was perfect with a variety of activities, different types a locations and excellent hotels and tour guides!
Recommended
Thanksgiving Getaway
By: SS
Reviewed on: 02 Dec 2018
I told her what I wanted and needed and she really delivered on location, atmosphere, food, activities and lodging.
Recommended
Perfect Italian Trip
By: Karey
Reviewed on: 11 Apr 2019
The trip was beautifully scheduled with events everyone in the family was excited about. Sam's team basically planned the entire vacation with just a few edits from us. The hotels arrangements were spot-on. The tours were fantastic with very knowledgeable guides and drivers. Would not have changed a day of the trip.
Recommended
Family adventure to Machu Picchu and beyond!
By: Stacie
Reviewed on: 21 Apr 2019
Sam and her team are the absolute best in the business. This is the 4th trip that they have planned for me and my family, and not a misstep yet! They strike the perfect balance of adventure and luxury, and unexpected local experiences as well as can't-miss highlights. They also know how to set a cadence that works for families: We never feel like we're missing out because we're traveling with our kids (9- and 12-years-old) - on the contrary, the experiences that Sam and her team dream up for us, with the kids in mind, enhance how my husband and I take in a country as well. At the same time, our kids are never stretched too thin. We can't wait to take our next trip with them!
Recommended
Why It Works
By: SM
Reviewed on: 20 Jun 2019
Sam always listens and recommends based on what I've requested. I like being able to tweak until things are just right. I've also met some of her travel partners such as Noteworthy in London and I enjoy feeling they along with her care how my trip is going.
Recommended
Grandkid trips
By: Armchair traveler
Reviewed on: 02 Jul 2019
Working with Sam/Small World Travel has always been a pleasure. They have planned 5 trips for us - 4 of them being trips abroad with one of our grandchildren. Everything ran like clockwork, the guides were all great, and the activities were interesting and engaging for our teenaged travelers.
Recommended
Exceptional!
By: Harriss
Reviewed on: 16 Jul 2019
Sam was amazing. The time she took to understand what our expectations were for this trip. Her attention to detail and her passion for travel clearly shows! An amazing experience from the time we arrived. Hotel, guides and excursions all exceeded our expectations! I can highly recommend Sam!!
Recommended
Family trip to Brazil
By: Stacie
Reviewed on: 11 Aug 2019
Working with Sam and her team is always an absolute pleasure. Small World Travel is our go-to — our only! — travel agent. Their trips never fail to be perfectly curated and seamless. For our family trip to Brazil, a huge country with more to see than we could fit into our two weeks away, they managed to give us a taste of everything, with experiences that worked well for me, my husband, and my two kids (9- and 12-years old). Sam and her team are also always able to manage to strike an exact balance between experiences that connect us with local experiences (great food! discovering places where there aren't necessarily tons of other tourists!) and luxurious places to rest our tired bones after we're done adventuring!
Recommended
Full Service Perfection
By: Family
Reviewed on: 31 Jul 2019
Sam and her team planned a flawless trip of a lifetime for our family. Every detail was taken care of, including details that we didn't know existed.
Recommended
Beautiful Bhutan
By: PQ
Reviewed on: 21 Oct 2019
Always a great experience. Beautiful country. Incredible guides. Amazing hotels.
Recommended
Bhutan
By: Small World fan
Reviewed on: 19 Oct 2019
My trip was a series of unfortunate events which culminated in Sam getting me home on short notice. I asked on Sunday night if cutting my trip short was an option and by Monday morning there was a plan in place to do just that. Pretty impressive!
Recommended
Paris 2019
By: Paris 2019
Reviewed on: 27 Oct 2019
She and her team are amazing. Very attentive and responsive.
Recommended
Bhutan Bound
By: Suzanne
Reviewed on: 21 Oct 2019
The organization was very good and Sam was reachable for the unexpected, non-travel/tour related issues which arose. This is good when in a more remote corner of the world.
Recommended
Trip of a Lifetime
By: Marla
Reviewed on: 04 Dec 2019
Everything was perfect. There was a lot of travel involved getting to the bottom of the world and Small World travel nailed it. Having the intinery in the AXUS app was so convenient.
Recommended
Michael Gaughn
By: Niki
Reviewed on: 03 Jan 2020
First and foremost, we actually worked with Michael Gaughn! He was absolutely fabulous, start to finish, and I feel incredibly grateful that our paths crossed. The trip he planned was a very important family reunion -- the kind of trip meant to bring a family with rifts in its fabric back together. We looked forward to the trip, but felt apprehensions as well. Would we all get along? Or would tensions rise to the surface? At every step, Michael was enormously considerate, thoughtful and practical about how to plan a trip that would bring us all together, with new memories to last a lifetime. He did just that. We are literally grateful beyond words! Thank you Michael.
Recommended
Unbeatable New Zealand
By: Familywanderers
Reviewed on: 19 Jan 2020
Sam and her counterpart Madison are extraordinary accomplices in creating special, unforgettable adventures! We requested their assistance late for a Christmas holiday in popular New Zealand, but they were still able to integrate many of our "must do's"- Tongariro Crossing and a helicopter tour of Milford Sound- with numerous quintessential hidden surprises that we never would have discovered without their assistance. The accommodations were unforgettable- you know you have it right when you stop in with your native friends in Auckland and they rave about the places you are going! We also ate in special spots, not the overrun tourist meccas- but lovely restaurants where service and great food were both the focus! We always felt like Sam and Madison were keen to provide us with memorable experiences and they never let up on catering to our changes and accommodating each additional request. A team that will definitely be getting our repeat business!
Recommended
Portugal 2020
By: Laura A
Reviewed on: 03 May 2020
Excellent, she's very thorough and responsive to our desires, cost expectations, needs and various travel plans of our small group.
Recommended
New Zealand in 2 weeks
By: 6 New Zealand Travelers
Reviewed on: 29 Feb 2020
Sam and her team were very professional and attentive to our travel requests. All the accommodations were wonderful and well situated for our touring needs. The local tour operator was very welcoming and also very professional.
Recommended
New Zealand trip
By: Iceland trip
Reviewed on: 22 Feb 2020
Everything on this trip was very well organized . We stayed in superb B&B's , chalets, and homes. We had local representatives who were always available to help clear up any trip or event changes due to weather or other type calamities.
Recommended
Best Trip Ever!
By: Cathy G.
Reviewed on: 02 Mar 2020
We worked with Samantha McClure on a three week trip to SE Asia, including Thailand, Cambodia and Vietnam. She put together a trip filled with exciting places to see and things to do. Everything went smoothly and we couldn't be happier with her expertise and advice. We highly recommend using Sam and her team for your next trip.
Working with Sam McClure, you will have access to:
- An experienced travel guide whom you can rely on before, during, and after the trip
- Exclusive luxury resorts and properties
- Once in a lifetime experiences
Explore with the Best
Virtuoso Advisors are constantly pushing the boundaries in unique travel experiences.
Alliance programs are unique tailored experiences exclusive to travelers working with Virtuoso Travel Advisors.
learn more
Chile
Antarctica
Argentina
Belize
Botswana
Costa Rica
Ecuador
Kenya
Madagascar
Morocco
Peru
Rwanda
South Africa
Tanzania
Uganda