Travel Specialties
Interests
Adventure
Beach & Sun
Family Travel
Culture, History & Arts
Shopping
Destinations
British Virgin Islands
Peru
Jamaica
United States - All
Turks And Caicos Islands
Selling Travel Since
1992
My Background
After graduating from UNC-Chapel Hill in 1989, I began working for my mother's travel agency in Greensboro and Charlotte, NC - and I haven't looked back. With her company I experienced every side of the business and quickly found "my calling" when arranging leisure travel. My work incorporates all the things I love: Researching new destinations, learning about new cultures, meeting new people and working with old friends, and putting together the details that make all the difference in creating special, memorable travel.
My personal travel experiences have ranged from honeymooning in New Zealand, heli-hiking in the Canadian Rockies, safari in Botswana and happily, many trips to both France and Italy.
Now that my husband and I have started traveling with our two sons, my focus has widened and I spend much of my time creating holiday breaks and summer vacations for other families – as well as "get-aways" for the parents of those families who need time to refresh and renew!
I also enjoy working on honeymoons, and with small groups of friends who want to travel with a particular interest in mind.
Places I Have Traveled
Reviews and Recommendations for Ginny Mabry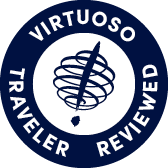 Virtuoso Verified Traveler
All reviews are from confirmed guests sharing exclusive insights
Sort reviews by
Recommended
By: idavidson
Reviewed on: 10 Oct 2013
I cannot overstate how impressed we are every time we book travel and tours with Ginny. The tours are always professional, stimulating and geared toward our interests. I would recommend Ginny to anyone!
Recommended
Highly Recommended
By: Julie
Reviewed on: 09 Oct 2013
We have used Ginny Mabry for multiple trips. She is wonderful and always provides great guidance. I love the chance to meet with her and go over the trip prior to our departure. She gets you so excited about going and it does end up being as fabulous as you expected.
Recommended
highly recommend
By: jennifer 123
Reviewed on: 08 Oct 2013
We have used Ginny for many years. Have never met her - found her name in a T and L magazine article. Have been VERY, VERY happy with her. She has planned great trips for us. She is organized and always addresses any issues that arise. We are a family of 5 with two college kids now and on HS student.
Recommended
Will always use to do my trips
By: lane
Reviewed on: 23 Dec 2013
Such a great travel agent, always goes the extra mile, has documents ready, delivered and always available to answer any questions- very knowledgeable about trips
Recommended
Highly recommend
By: Robin
Reviewed on: 11 Jan 2014
Ginny put together a very beautiful and relaxing trip to The Turks in a very short time
Recommended
She did a very good job for us!!
By: Bill
Reviewed on: 02 Feb 2014
We wanted a warm place well south and had heard of Antigua. Ginny recommended Carlisle Bay as a place for couples and that was a good choice. The place is on a beautiful bay, has a British accent, nice accommodations, and good service. However, very little night life if that is what one wants.
Recommended
Awesome! Highly Recommend
By: Mitch J
Reviewed on: 13 Mar 2014
Ginny helped us plan the anniversary trip of a lifetime to the US and British Virgin Islands.  She took the time to truly understand our interests and custom-designed our trip to fit our specific requests.  From the travel (and transfers) to the accommodations to the activities, Ginny nailed it.  Perfection!!!  Once we were locked-in, we didn't have to think about a thing.  What better way to totally relax?  We'd highly recommend that you turn your next vacation over to Ginny Mabry.  
Recommended
highly recommended
By: Lizzie
Reviewed on: 16 Mar 2014
Excellent experience with Ginny Mabry of Brownell Travel.  We had unexpected and last minute flight cancelations impacting our hotel and activity reservations.  Ginny expertly handled the crises by rescheduling our reservations, thereby ensuring that our family vacation was not disrupted. 
Recommended
Will recommend Ginny to all our friends
By: Smitty
Reviewed on: 28 Mar 2014
We have worked with Ginny for several years on all our family vacations and trips and have never been disappointed with her assistance in planning out all aspects of our travel.  We will continue to work with Ginny in the future and will always recommend her to any family looking to plan out a seamless trip or vacation.  Ginny has always taken the time to listen to what we are looking to do and the things that each member of our family is interested in seeing and doing and then making sure she incorporates those desires in all the options and suggestions she presents to us as we plan out our vacations.  We have never had any issues while traveling but always know we can track Ginny down at any moment to help us work through any issue that might present itself while on the road.
Recommended
Highly, Highly Recommended!!!
By: Sanders911
Reviewed on: 01 Apr 2014
Ginny is the first travel agent I have used that really "gets it!"  She is kind, helpful, efficient, thorough, and super organized.  She answers any questions before I even know to ask.  Our recent trip was perfect - enjoyed without a single problem.   Ginny not only handled our family, but also handled a complicated group of families - all traveling to the same place but with different arrivals and departures.  Couldn't have done it without her!
Recommended
highly recommended
By: jims
Reviewed on: 29 Apr 2014
Ginny arranged a wonderful trip for my family to London. perfect mix of activities and leisure. wonderful experience for my wole family.
Recommended
The Best!
By: Not provided
Reviewed on: 12 May 2014
Recommended
Highly recommend
By: Dscooper
Reviewed on: 10 Jun 2014
Great planning on Ginny's part.   Trip was wonderful
Recommended
Great Service
By: Family of 4
Reviewed on: 02 Jun 2014
Ginny did a fantastic job of working with us as we considered 2 different options for our family vacation.  She had a wonderful trip planned for us to Morocco and then our plans changed just before we purchased airline tickets.  She then suggested the Viceroy on Anguilla and it was a perfect location for us and our college aged children.  The entire trip was seamless - all transportation, transfers went like clockwork.  A wonderful experience all the way around!
Recommended
Highly recommend
By: Lucy
Reviewed on: 23 Jun 2014
Ginny Mabry did an excellent job planning our trip to France.  She chose amazing hotels, and helped coordinate our travel through France. Ginny was very professional, helpful, and patient!!!  thank you!!
Recommended
Superior Service and Attention
By: Kw50
Reviewed on: 27 Jun 2014
As always, Ginny makes sure everything is fabulous...:).
Recommended
Wonderful Mother Daughter Vacation!
By: Susan
Reviewed on: 25 Jun 2014
Ginny planned the perfect Mother Daughter getaway!  Everything went perfectly.  We were THRILLED to find that we had been  upgraded to a gorgeous beachfront room - thanks to Ginny's connection with the resort.
Recommended
highly recommended
By: 4fun
Reviewed on: 15 Jul 2014
We have had great experiences on 4 trips that Ginny has planned for us; all very different places and experiences, but all wonderful!  Can hardly wait for another one!  We are impressed with Ginny's contacts and their ability to help arrange an itinerary that has plenty of new adventures but runs so smoothly.
Recommended
Delivered the Near Impossible!
By: VH
Reviewed on: 25 Jul 2014
Our first experience working with Ginny was a difficult assignment to begin with.  17 members of our family from all over the US would be convening in Normandy for a family celebration and Ginny took the reins.  She coordinated the flights to and from Paris from many US airports, arranged multiple shuttles for getting everyone around, set up an incredible hotel and two day guided tour of Paris for six of the family, including a 7 and 3 year old, that was amazing, and accommodated an 80 and 76 year old on their flights.  To make things more interesting, I personally had to have Ginny cancel part of our already paid-for trip, due to a family issue, and required significant fast work for rebooking 3 airline tickets and moving around hotel dates.  Not a problem, she said, and it was done.  Everyone in our family was very impressed with how she handled this and all will be calling on Ginny again!
Recommended
Simply Perfect
By: Tige54
Reviewed on: 29 Jul 2014
Thanks to Ginny Mabry our family had an absolutely incredible experience in France.  We presented her with a unique scenario of a large group combined with a couple of young kids and Ginny went the extra mile to ensure our plans were tailored to meet our every need.  The flight, transportation, hotel, itinerary and guides were simply perfect.  Thank you, Ginny!
Recommended
Alaska Trip
By: Fran2014
Reviewed on: 09 Aug 2014
We had a great trip. Great weather, sunny most of the time. Loved the land part- Denali National Park. The ship-the Oosterdam was a wonderful experience. Enjoyed the land excursions. Especially liked the train trip to White Pass and the boat excursion to Tracy Arm Fjords and the glaciers. Saw the Sawyer Glacier calving 6 times. Ginny was very professional with arranging our trip. She took care of details, plane flights as well as confirming both flights and the cruise. We were able to handle most of arrangements via e-Mails which I found to be very helpful. I will certainly use her in the future for other travels.
Recommended
Planned great itinerary!
By: Robin86
Reviewed on: 01 Nov 2014
A friend recommended Ginny to us for our trip to Italy. We gave Ginny ideas on where we wanted to visit, a time frame and budget and she came back with a wonderful anniversary trip for us! She booked our hotels, trains, and tickets to destinations, as well as a day tour in the Tuscan wine country. The recommendations of places to visit in our "down" time was awesome - everything we did was within walking distance of our hotels. Recommendations and discounts are given to shops & restaurants too. Lots of great travel tips are included in your final package. We would highly recommend Brownell Travel to friends or anyone planning a trip to Italy in the future! She did such a thorough job with the plans & recommendations. Just wish we had more time to spend in Italy......maybe next time!
Recommended
Personalized and friendly service
By: Fran
Reviewed on: 17 Nov 2014
Ginny Mabry found a alternate location and resort for us after a trip cancelled due to a hurricane. She recommended The Viceroy resort in Anguilla which she had visited and handled every detail. I would highly recommend her for all of your luxury travel needs!
Recommended
perfectly planned trip !
By: Nette
Reviewed on: 22 Nov 2014
I was amazed at the extent of details included in this fabulous trip that Ginny Mabry planned for us to Italy. We had outstanding and very knowledgeable guides in each location. Also our contact in Italy, Julie was always there when we needed her. Our hotels were just what we liked , small "boutique" hotels with ambience and were in excellent locations. Ginny is just "the best" and I look forward to going on another trip that she plans.
Recommended
great service
By: lane
Reviewed on: 22 Dec 2014
as always, excellent customer service- very precise and received documents right after booking- even got an upgrade at the hotel! wonderful experience
Recommended
Understands the problems of travel with large family groups.
By: Bill
Reviewed on: 02 Jan 2015
Made good plans for 21 family members, coming from four locations, to travel internationally during the Christmas holidays.
Recommended
Terrific helper
By: cccc
Reviewed on: 26 Mar 2015
Excellent service and wonderful attention to detail! Had great suggestions for a family trip to the Turks & Caicos. Ginny has helped our family of 5 on a number of times and we will use her again.
Recommended
Helpful non-pushy service
By: Margaret72
Reviewed on: 24 Sep 2015
Ginny was very helpful in coordinating the cruise between my sister and me. We live in different states and she coordinated the air flights perfectly. The wine package was a nice touch. I would certainly recommend her.
Recommended
Spectacular trip!
By: M&J2015
Reviewed on: 06 Oct 2015
Ginny helped us organize our trip through Italy; carefully listening to our desires and offering expert guidance. The hotels, guided tours and restaurants she recommended and selected were fabulous and met or exceeded our expectations. She obtained answers to our questions and addressed our concerns in the days and weeks leading up to our travel. Her enthusiasm for her job is obvious and helpful. We loved our trip and would not change a thing!
Recommended
Great attention to detail!
By: CCDS
Reviewed on: 26 Mar 2015
Ginny was very efficient, helpful and took care of our large group very easily. Everything went very smoothly. One exception for my son and me and our two other travel partners... Specifically, our travel days were very long, with very very early departure times both ways and long layovers both ways. We discovered too late that we might have had a little more breathing room if we had looked at the schedules more closely ourselves. (That was our fault... We assumed this had been checked out without studying it ourselves...turned it over completely.) As a result,we were exhausted both coming and going...We take responsibility for this but could have used a little more direction and highlighting of the option that was proposed and we accepted. Ginny did a great job....and, we had a wonderful time in Costa Rica thanks to all of her great work and on site info. Would definitely like to work with Ginny again in the future.
Recommended
Jumby Bay
By: jim
Reviewed on: 14 Apr 2015
Ginny set us up on a great trip. she had all the bases covered. spectacular place. will visit again. couldn't have happened without Ginny. 3rd wonderful trip she has done for our family.
Recommended
Perfect Week with my Girls
By: 4Girls
Reviewed on: 20 Apr 2015
We had a fabulous Spring Break trip to Turks and Caicos. Ginny clearly understood what we were looking for and found a great small hotel for us. It was quiet, beautiful, and exactly what we wanted for the week. Great week with my girls and I can't wait to work with Ginny again on another family trip.
Recommended
Unforgettable trip (for all the RIGHT reasons) to Jackson Hole!
By: KnoxKnits
Reviewed on: 23 Jul 2015
Our family of five enjoyed a week in early June visiting Jackson Hole, WY with excursions to Grand Teton National Park and Yellowstone National Park. The trip was planned under a tight timeline and every activity and our accommodations were perfectly suited to our needs. We had such a good time on several hikes, a 2 hour trail ride, a full day on the Snake River learning to fly fish, a white water raft trip, and exploring the two nearby national parks. There was plenty of unplanned time for us to discover area attractions on our own which was also very enjoyable. There were no surprises -- our week in Jackson Hole was such a happy time for our family thanks to the expert and professional trip planning of Ginny Mabry and Tamara Horine of National Parks Revealed.
Recommended
Great ideas for family trips!
By: Sally15
Reviewed on: 25 Jun 2015
Ginny planned a wonderful trip for me and my family to London. We have three kids aged 10-15, and she arranged things that the whole family would enjoy. All of her planning made our trip so easy - including booking ahead for us where necessary and arranging for wonderful tour guides to make the most of our relatively short stay. I would recommend her highly!
Recommended
Excellent
By: kellylaine1
Reviewed on: 15 Sep 2015
Our family trip to Italy was simply wonderful. We were treated with five star service. Ginny was able to tweak our itinerary to give us exactly what we wanted. It was the trip of a lifetime! We will definitely use Ginny again.
Recommended
Jackson Hole
By: LPM
Reviewed on: 13 Aug 2015
As always, Ginny planned a perfect trip for us to Jackson Hole. Whatever she arranges can always be counted on to go perfectly. The Yellowstone guide she arranged was amazing, our whitewater rafting trip was so much fun for our family and the rodeo tickets she got for us were the best seats in the house. Her recommendations are always spot on. I always know the trip will exceed our expectations when Ginny is involved. It allows me to sit back and enjoy the trip. Thank you Ginny!!
Recommended
Very helpful service
By: Fran
Reviewed on: 17 Sep 2015
Ginny was very helpful in planning our recent Canadian cruise on Holland America. Reminded me when to order excursions as well as when to check in for the cruise.
Recommended
Awesome First Trip to Italy
By: JacquiM
Reviewed on: 10 Nov 2015
This was our first major trip to Italy - and it was flawless. Every step of the way we were taken care of, by drivers, guides, hotel staff. From our first walking tour in Rome, to our guide who helped us navigate our departure from the Venice airport, we were taken care of. Ginny handled everything, from recommending tour routes, choosing hotels, and working with us to choose restaurants and sites to see. Amazing how much more you get from a trip when you have expert advice. Can't wait to plan our next trip together!!
Recommended
Great trip!!
By: Peter
Reviewed on: 23 Nov 2015
The trip was awesome and very well planned out. No complaints whatsoever. Accommodations: All hotels were perfect. The Ritz in Madrid is a little tired, probably because the other locations were so new/fresh but the location and "old" feel made it worth while. Staff at Majestic, Riscal and Ritz were terrific...Maria Cristina a little disinterested/stuffy. Transportation: Worked flawlessly throughout the trip and all the drivers were helpful and courteous. Valesa: Very much on top of everything and checked on us a number of times. Adapted our schedule when requested. Guides: All guides were great, and not all the same. Each had interesting qualities and did a great job with their assignment. Information: Well put together package and guide with good info about where we were going etc...very helpful. All in all it was a fantastic trip. Will use Ginny again soon! Peter Bristow
Recommended
Never disappoints!
By: Jan
Reviewed on: 28 Jan 2016
Our family had a wonderful time in Jamaica at Half Moon! Ginny arranged the perfect holiday vacation! We have used Ginny for 15+ years and are never disappointed! Thank you Ginny!
Recommended
Awesome agent planned perfect vacation
By: fpjl
Reviewed on: 10 Jan 2016
Ginny did a great job assessing our family desires and finding the perfect spot for an awesome family vacation.
Recommended
travel planning
By: Amy H
Reviewed on: 15 Mar 2016
We have used Ginny Mabry for years. She's efficient and always ready to help with advice or quick changes in our itineraries. She is knowledgeable and will reach out to others if there is a person with expertise on a place we want to travel. We have always been happy with our trips and results and will continue to plan our trips with her! Thanks so much!
Recommended
The most perfectly planned trip that I've been on
By: StephenS
Reviewed on: 31 Mar 2016
My family's trip to Belize exceeded every expectation. Travel through a third world country could not have been more seamless and flawless, which is a testament to Brownell's planning proficiency as well as to the quality of the Belizian resources that they arranged "on the ground." We will most definitely be using Brownell for future vacations, particularly those involving travel to an unfamiliar country. Time is scarce so having a vacation that is free of stress, mishaps and missed opportunities is priceless. Worth every penny.
Recommended
great trip
By: jim
Reviewed on: 07 Apr 2016
loved it. great service and great location. remarkable island. can always count on Ginny to put me in the best places.
Recommended
FABULOUS!!!
By: Mandy
Reviewed on: 21 Jun 2016
Such a fabulous trip! Everything about it was great! Will definitely be using Ginny for my next trip!
Recommended
Always on top of it
By: Pam
Reviewed on: 01 Jan 2017
We have used Ginny for family vacations for years, and as always she did a great job planning this trip. Ginny's personal knowledge of the resort is a real asset. She knows what to ask and what to recommend. We departed for vacation with all confirmations and important details in hand, which made us feel confident and relaxed. All the plans went smoothly and we had a great time. We will definitely be calling Ginny again!
Recommended
Customer Service at its best
By: Family
Reviewed on: 24 Jan 2017
Ginny is detail oriented and does a fabulous job know what our family is looking for in a family vacation. She finds the place, activities, etc that exceed all of our expections! She does not disappoint!!
Recommended
Perfect Vacation
By: Jacqui
Reviewed on: 13 Jan 2017
The trip was perfect, from the time we were picked up at the airport. Driver was waiting for us - as per details. Concierge greeted us when we arrived at the resort - and took us to rooms, with welcome baskets in the room. Everything was arranged as requested. The resort was better than advertised - and we are already talking about a return trip! Ginny made everything so easy - everything was fully documented in the travel documents, and all our requests were accommodated.
Recommended
Wonderful Trip
By: Mary Catherine
Reviewed on: 24 Jan 2017
Working with Ginny was easy and enjoyable!
Recommended
Another great trip
By: Vaca
Reviewed on: 20 Mar 2017
Ginny is always great to work with! She listens to your wishes and delivers!
Recommended
Great Trip
By: TGN
Reviewed on: 24 Apr 2017
She was great! Very helpful and planned our trip exactly as I requested.
Recommended
perfect
By: Heels
Reviewed on: 08 May 2017
Ginney is the best. she tailors the trip and experience to our family with an understanding of the likes and desires of our family. this is the 5 trip we have done with Ginny's guidance and they are all outstanding.
Recommended
Ginny Mabry is AWESOME
By: Lou
Reviewed on: 17 May 2017
It was wonderful to work with Ginny. She was very knowledgeable and always answered our questions in detail. She was always available and very responsive as well. She provided us with guidance on the many options for our trip and offered an individual approach tailored to our needs and desires. We greatly appreciated that she took the extra step to get us a few perks at our resort, and had our best interests in mind. Most importantly, Ginny was extremely pleasant, kind, and fun to work with. I will definitely recommend her to others.
Recommended
Morocco
By: Ingrid
Reviewed on: 12 Jul 2017
She is absolutely wonderful to work with! Ginny is responsive, flexible and has a good sense of humor - which is often necessary when planning a big trip. We have used her for many years now, for family trips and couple trips, and have never been disappointed.
Recommended
Review
By: AB
Reviewed on: 08 Jul 2017
She did a great job..very thorough..very professional
Recommended
Uniworld Rhine
By: Stella
Reviewed on: 12 Jul 2017
Very good. I very much enjoyed the cruise. My only issue is that the scheduled flight back did not have enough time to safely make the connection.
Recommended
Peru
By: Kinnie
Reviewed on: 12 Aug 2017
Excellent. She set up a perfect trip for my family. (If only she could have staved off the food poisoning.)
Recommended
Fantastic family adventure
By: Jan
Reviewed on: 19 Sep 2017
Ginny listened to our varied interest and put together the perfect trip for our family. Her attention to detail made every transition seemless and easy. Her knowledge of the area exposed us to the local traditions and lovely people of Peru! Thank you Ginny!
Recommended
SYDNEY AND GREAT BARRIER REEF
By: Susan
Reviewed on: 01 Oct 2017
Ginny always makes everything simple, organized, thorough, and exciting. We had a "Bucket List" trip to Australia and The Great Barrier Reef. Accommodations were perfect - both in Sydney and GBR. Transfers were flawless. Tours were informative - but not too much. Contacts while in Sydney were helpful and attentive. We had a WONDERFUL TIME!
Recommended
Great job
By: fpjl
Reviewed on: 16 Oct 2017
She did a great job and it was a pleasure working with her
Recommended
Hawaiian Honeymoon
By: Allie
Reviewed on: 29 Oct 2017
We worked with Ginny to plan a Hawaiian honeymoon, and she planned an excellent trip. We were lucky to have her handle flights, hotel recommendations, excursion recommendations, etc. We highly recommend her.
Recommended
So glad to have found Ginny!
By: JWH
Reviewed on: 18 Nov 2017
Ginny is wonderful! She is efficient and has great ideas. She knows what we want, and she plans a perfect balance of seeing the important sights and free time. The hotels she has selected have always been special and in a wonderful location.
Recommended
Every detail taken care of
By: Jacqui
Reviewed on: 06 Mar 2018
This is the fourth major trip we have planned with Ginny. Each time we work with Ginny it is amazing - she takes care of each and every detail, so we just need to show up. The on site experts she uses are phenomenal. She just arranged a trip for us to Madrid and Morocco (including an overnight in the Sahara). From the time we landed in Madrid every detail was taken care of- and she arranged for a magical trip we could never have imagined! I cannot wait to plan our next trip with Ginny!
Recommended
Turks
By: Kogentry
Reviewed on: 20 Mar 2018
Very professional and organized. Great list of suggestions for restaurants and activities
Recommended
Ginny Mabry
By: Fran
Reviewed on: 28 Mar 2018
Ginny is very attentive to details and she caters a vacations to your needs and preferences.
Recommended
She thinks of everything
By: PBJ
Reviewed on: 04 Apr 2018
We love going on trips planned by Ginny because she doesn't miss a trick. She gets the rooms right and the amenities right; she reminds us to make reservations for activities and meals that fill up in advance; she works with the concierge to make everything seamless and also connects us with the concierge in case we have further questions. Ginny has been to so many destinations that she always has great recommendations for us. I even texted Ginny from my Virtuoso-complimentary breakfast, as I looked out at the mountains and my family went off to skiing lessons, to thank her for thinking of all the details!
Recommended
Peru
By: jennifer
Reviewed on: 09 Apr 2018
Great - always a pleasure!
Recommended
Punta Cana trip
By: lansie
Reviewed on: 11 Apr 2018
Awesome! She was very professional and helped me with all of my questions and requests.
Recommended
Italy
By: A
Reviewed on: 24 Apr 2018
Last minute flight cancellation was handled expertly and efficiently!
Recommended
Ginny Mabry is great.
By: Reido
Reviewed on: 12 May 2018
Ginny did a fantastic job. She made the whole process so easy and did a great job of following up with us along the way to make sure everything was going smoothly. I recommend her highly.
Recommended
Ginny was AWESOME!!
By: Exhausted Traveler
Reviewed on: 22 Jun 2018
Ginny took time to really understand the goals for our European trip and delivered a perfect itinerary. She was great to work with and very responsive. We would use Ginny again in a heartbeat and would gladly recommend her.
Recommended
Great family trip!
By: MBD71
Reviewed on: 23 Jun 2018
Ginny did an amazing job setting up our trip to London and Paris. We had the perfect mix of planned activities and down time. All of the activities were fun and kept our 2 teenaged girls engaged - the guides were fabulous! Loved everything about this trip and we are so sad it's over.
Recommended
Trip to Greece
By: Angela
Reviewed on: 15 Jul 2018
Working with Ginny was fantastic!! She booked us amazing accommodations and recommended great excursions. She handled all the reservations and presented us with an organized, easy to read folder with all our important information and itinerary. We will definitely be using her services again!
Recommended
Amazing vacation
By: Kim
Reviewed on: 26 Jul 2018
Ginny planned an amazing vacation for us to Portugal. She handled every detail which allowed us to spend more time enjoying our vacation instead of worrying about details. She's so great and fun to work with. Absolutely love her!!!
Recommended
Peru
By: AJ
Reviewed on: 28 Jul 2018
Ginny was fabulous , she thought of every detail and introduced us to activities we had not previously considered! She is professional and well versed in every aspect of our experience . We would highly recommend her services to anyone looking for a top notch experience .
Recommended
Jackson Hole
By: Jackson Hole
Reviewed on: 14 Sep 2018
Ginny never disappoints! We loved our boutique hotel that was just off the main square in Jackson Hole. One of the highlights was the 'backstage' passes to the rodeo! Amazing time. Attention to details is such a strength of Ginny's! Thank you Ginny!
Recommended
fall 2018
By: pam
Reviewed on: 17 Sep 2018
she was unusually busy so not as attentive as she should have been
Recommended
amalfi trip
By: Burgess
Reviewed on: 04 Nov 2018
Ginny's firsthand knowledge of the Amalfi Coast and her attention to detail led to a wonderful trip with no detail overlooked. We have worked with Ginny on several trips and always so pleased especially with hotel recommendations.
Recommended
GinnyMabry
By: Vic
Reviewed on: 01 Dec 2018
Ginny has helped us with several international trips over the past few years. Each has been flawless in the details. One in particular had multiple arrival and departure requirements in Europe with family members from all over the US.
Recommended
Trip of a lifetime
By: Pam
Reviewed on: 13 Jan 2019
We love working with Ginny. We have worked with her on a variety of trips over the past 20 years, from family to couple to overseas to Disney. She asks great questions and recommends places that work well for us. For this trip to Chile and Argentina, Ginny worked closely with our son, who had very specific sites to visit. Since Ginny had visited herself, she was able to make recommendations that suited our family perfectly. We loved the personal attention, the ease of transfer from one location to another, and the natural beauty that we experienced around every corner.
Recommended
Turks & Caicos
By: L.Mallard
Reviewed on: 16 Mar 2019
Ginny makes traveling plans fun, easy and stress free. Everything will exceed your expectations. All you have to do is take Ginny's recommendations and you know it will all be fabulous! Everything she plans is perfect!
Recommended
Spain
By: Jennifer
Reviewed on: 05 Apr 2019
Ginny was great and helped with all of our many, many questions. She also smoothed out a few issues we had. We have used her for many trips and have recommended her to others. Will continue to use...
Recommended
Highly recommend Ginny Mabry!!
By: TLee
Reviewed on: 05 May 2019
She planned everything to the last detail! Found us a great deal on a beautiful villa - arranged all our transportation, insurance, meals and staff. Top notch service with no surprises. A PERFECT trip!
Recommended
Attention to detail
By: Fran
Reviewed on: 20 May 2019
Ginny is an amazing travel agent and pays special attention to detail. It is a pleasure working with her!
Recommended
Ultimate Graduation Gift - ITALY!
By: Susan
Reviewed on: 04 Jun 2019
Ginny started planning our trip with me in December of 2018. We continued to zig and zag with changes and worked together to come up with the perfect Family Graduation Trip to Italy May of 2019. Flights, Transportation, Tours, Dinners, and Hotels were absolutely FABULOUS!!! Trip of a lifetime... Ginny is thorough and really works hard to know her clients!
Recommended
Italy
By: Sha
Reviewed on: 29 Jun 2019
Ginny was extremely easy and fun to work with. She was very patient as our family had a lot going on during the planning and she never made me feel crazy for forgetting things! She knew very well where we were going and what we should do!
Recommended
Incredible
By: Eever
Reviewed on: 03 Jul 2019
Ginny is wonderful and so easy to work with! We have never met in person and she has planned two spectacular European trips for us! Everything was perfect!
Recommended
First time in France
By: First time in France
Reviewed on: 19 Jul 2019
Ginny was recommended by someone who previously traveled to France. Her personal insight with the hotels, areas of interest, and available options for the day helped us put together an agenda that fit our needs perfectly. Great trip. I will use Ginny next time I return to France.
Recommended
Italy Trip
By: Angela
Reviewed on: 12 Aug 2019
Working with Ginny was great! She listened to all our ideas and expectations and executed and followed through on everything. Extremely organized. She did a great job communicating to us. Very personable and friendly!
Recommended
Belmond Cap Juluca
By: Clay
Reviewed on: 03 Aug 2019
It was great - she was very helpful and knowledgeable. Helped us plan a great trip.
Recommended
Lake Como
By: Kristin
Reviewed on: 10 Aug 2019
We are just getting back from an amazing trip and the best part was Lake Como-thanks to Ginny! We loved the private boat tour with Gabriella and lunch on the Island was by far our favorite meal. All of the meals Ginny arranged were an experience we will never forget, but hope to repeat. The trip would not have been the same without Ginny's help. We love to travel and will definitely reach out to Ginny again in the future.
Recommended
Best of the Southwest
By: Alice
Reviewed on: 10 Aug 2019
We had the best time on our 2 week trip. It was planned so well with such detail. We wouldn't have changed a single thing. Ginny Mabry was a pleasure to work with. We look forward to having her help us with many more family trips.
Recommended
Spain
By: Harlee
Reviewed on: 24 Aug 2019
Very thoughtful and thorough
Recommended
Ginny Mabry
By: Mary Sue
Reviewed on: 02 Oct 2019
Ginny has helped us several times before and is very good. She is organized and efficient. She keeps on top of all the details and makes certain we don't overlook something important. I certainly recommend her for helping plan a vacation.
Recommended
Normandy trip
By: Celeste
Reviewed on: 05 Oct 2019
Edwige,who was Fabulous as we had to rearrange due to a delayed flight! I cannot imagine this trip without the expertise of Ginny and Edwige! I'll never travel without them again!!
Recommended
Always great working with Ginny
By: Pam
Reviewed on: 07 Dec 2019
I would never take a major trip without working with Ginny. Ginny has traveled a lot herself so she has often seen first-hand where we are going. She also does a great job working directly with all members of our family, from teenagers to senior citizens. Ginny anticipates what our needs are going to be, and because we work with her so often, she is spot-on in her recommendations. I can call Ginny and just give her a rough idea of what we are looking for, and she will have several suggestions of places that will fit our needs/wants/budget. Highly recommmend!!!
Recommended
Spain
By: MDW
Reviewed on: 16 Dec 2019
Easy, Efficient, well done
Recommended
Iceland
By: d
Reviewed on: 03 Feb 2020
Ginny was perfect! She understood exactly what we wanted and we were able to "tweak" our itinerary without any issues.
Recommended
Awesome, again!
By: Jacqui
Reviewed on: 08 Apr 2020
Ginny makes planning a complex trip easy. She has learned what we like, and provides us with so many options that the only downside is we don't have more time to travel!
Recommended
Anguilla
By: Chad B
Reviewed on: 18 Mar 2020
Ginny is fantastic! She made sure everything was taken care of (including multiple airport and boat transfers) and also provided useful supporting information regarding the country, the resort and the restaurants. Love working with Ginny and will use her again!
Working with Ginny Mabry, you will have access to:
- An experienced travel guide whom you can rely on before, during, and after the trip
- Exclusive luxury resorts and properties
- Once in a lifetime experiences
Explore with the Best
Virtuoso Advisors are constantly pushing the boundaries in unique travel experiences.
Alliance programs are unique tailored experiences exclusive to travelers working with Virtuoso Travel Advisors.
learn more
British Virgin Islands
Peru
Jamaica
United States - All
Turks And Caicos Islands
Anguilla
Saint Kitts And Nevis