Travel Specialties
Interests
Family Travel
Food & Wine
Escorted Tours
Ocean Cruising
River Cruising
Destinations
Ireland
United Kingdom
Bahamas
Costa Rica
Croatia
Selling Travel Since
1991
My Background
Growing up in Ireland, Sarah Fitzpatrick traveled Europe from a young age. Visiting France, Germany, England, and Tunisia, and learning about their different cultures, gave birth to her personal passion for traveling.After college, she began her career in travel and moved to the USA in1992.
One of Sarah's main interests is river cruising, which offers a beautiful view of day-to-day life. She specializes in escorted and custom trips to Ireland for all budgets, her homeland and the site of her favorite hotel in the world, Ballyfin. Sarah is also a destination specialist for Costa Rica and Germany,and is certaina a "cruise master" she has sailed on Seabourn, Silversea, Crystal, Regent Seven Seas, Celebrity, Royal Caribbean, Holland America, Disney, Cunard, A-ROSA and many more.
On land and sea, Sarah has experienced many magical moments while traveling with her own family, and hopes to create this same magic for her clients & multigenerational travel. Chipping away at their bucket list.
Places I Have Traveled
Reviews and Recommendations for Sarah Fitzpatrick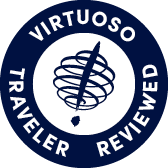 Virtuoso Verified Traveler
All reviews are from confirmed guests sharing exclusive insights
Sort reviews by
Recommended
Highly recommended
By: Jgirl1
Reviewed on: 31 Jan 2013
Sarah Fitzpatrick is a fine travel agent who delivers excellent professional advice & service. She always puts her clients first & has a wonderful personality. Sarah is very knowledgeable about the details & ins & outs of traveling. She is hard working & will make the best effort for your needs. I highly recommend her!
Recommended
Great recommendation
By: LoisLaine
Reviewed on: 27 Apr 2013
I needed help planning a vacation w/family who were coming in from N.C. Sarah was recommended to me by a good friend who had very good experiences with her. Sarah was terrific; she planned every step beginning with airline tickets, and securing the verandah rooms we wanted on the Disney Wonder. Sarah was always available via email or phone, and I stopped in a few times to speak with her and she was always courteous and helpful. We had a couple of three-way conversations which saved a lot of time and everything I wanted was accomplished in a very reasonable amount of time. I am in the process of planning another trip for next year and I've already been in touch with Sarah about it.
Recommended
Highly Recommended
By: Paul R
Reviewed on: 17 Oct 2013
Sarah did a fantastic job fighting for the best possible flights, in light of the airlines' ever-changing schedules, and was extremely helpful in arranging for ground transportation, where appropriate, and in frankly telling us when a taxi would be the cheapest and easiest way to go. She is energetic and organized, and I would gladly book through her again.
Recommended
First time w Sarah
By: Fantasia
Reviewed on: 19 Nov 2013
I booked a Disney cruise for five people with three rooms and Sarah handled everything to perfection She arranged everything from airfare to dinner seatings and everything in between
Recommended
Outstanding and efficient travel agent!
By: Janice
Reviewed on: 22 Nov 2013
Sarah has been wonderful to work with. She always answered our concerns promptly and found out everything we needed to know about our trip. We would cetainly recommend her and we intend to book through her again.
Recommended
Excellent
By: Jimmy1
Reviewed on: 19 Nov 2013
Sarah has booked a minimum of 5 cruises for us and each trip was flawless. She is extremely knowledgeable and very, very thorough, leaving nothing to chance. I have referred others to her who have been equally satisfied. Her help in dealing with the insurance company when our cruise was interrupted was invaluable. Sarah is our "go to" agent for all of our travel needs.
Recommended
Highly recommended
By: gentrip
Reviewed on: 20 Dec 2013
Sarah managed to allow us to change our cruise choice and didn't even act disgusted. She planned the flights and hotels and every thing was as she told us. We were very pleased with all the recommendations she made. We are already working on our next trip.
Recommended
Highly Recommend!!
By: Chrissy&Bill
Reviewed on: 21 Nov 2013
Sarah did an amazing job helping us plan our honey money this past April. We were a little behind schedule when we called her. Sarah was always a quick email or phone call away and she responded very quickly to our needs. There was even an instance where we needed her assistance on our honeymoon. She took matters into her own hands so we could enjoy our honeymoon and not worry. Sarah was a life saver and we highly recommend her to help you plan your next vacation!
Recommended
Highly recommended
By: Jules1
Reviewed on: 31 Dec 2013
Sarah Fitzpatrick is a courteous & highly experienced professional who gave us great ideas & suggestions for our trip. She is very knowledgeable about all aspects of travel and helped us with all of our concerns & questions. Highly recommended!
Recommended
Too big, too busy, too many. We came, we saw, that was enough.
By: Paul
Reviewed on: 18 Jan 2014
Quality suffered from having the crew serve so many passengers. Smaller cabins, so so food, but entertainment was some of the best. This was a notch below other Royal Caribbean ships, It's back to Celebrity for us.
Recommended
excellent service
By: pam77
Reviewed on: 30 Jan 2014
Every section of our 9 week trip was perfectly executed by Sarah Fitzpatrick. We would recommend her services to any prospective client......Sarah goes to extreme lengths to make sure your trip is perfect.
Recommended
Exactly what we wanted
By: Roo
Reviewed on: 30 Mar 2014
We asked Sarah to organize our last minute trip to England. She kept in constant contact with me to ensure that everything was as I requested. The end result was better than I could have imagined. Sarah thought about the minor details such as planning to pick up our rental car at a location that was close to our hotel, planning the locations of the hotels so we could see the most of London, and prepaying admissions to attractions. We were very pleased with Sarah's planning and had a wonderful trip.
Recommended
HIGHLY RECOMMEND PLANING YOUR TRIP WITH SARAH
By: JOE MUSCO
Reviewed on: 18 Apr 2014
Recommended
Outstanding
By: Maxine
Reviewed on: 05 Jun 2014
The winery experience was superb.
Recommended
Uniquely Insightfull
By: VF Crowd
Reviewed on: 15 Jul 2014
Sarah is not just smart and efficient, she really cares and it shows. 
Recommended
Professional & expert friendly service
By: Jules55
Reviewed on: 23 Oct 2014
Sarah Fitzpatrick is a seasoned professional with years of experience in the travel industry. She is attentive and helpful in handling the many details of travel in these hectic times. She guided us to make the best choices for transportation, tours, and had the insight to help us make the best arrangements for our needs. We had a fabulous trip thanks to Sarah's help. I highly recommend her!
Recommended
BEST SERVICE
By: LEA DOVE 7
Reviewed on: 06 Sep 2014
SARAH FITZPATRICK ,ALWAY GIVES ME THE BEST SERVICE I WILL ALWAYS USE HER FOR ALL MY TRAVELS AND I WILL ALWAYS REFER HER TO OTHER PEOPLE
Recommended
Wow! What a trip
By: Dot
Reviewed on: 18 Sep 2014
This was my first river cruise and we had a great time. My traveling buddy had never been to Europe before, and therefore, had many,many questions which Sarah was great at answering. She did a superb job in planning our Viking Cruise as well as our pre and post trip itinerary. Everything ran so smoothly! Thank you Sarah.
Recommended
Fantastic First European Trip
By: European Virgin
Reviewed on: 22 Sep 2014
Sarah Fitzpatrick did a fantastic job in setting up this trip. As a first time trip to Europe, she put all my fears to rest. From the Cruise, to the Airline and our seats on it, to the suggestions for a pre and post stay, to the hotels, all were just wonderful. Thank you for being there for my many questions and concerns, they were all taken care of in a timely manner. I'm looking forward to more adventures in Europe with Sarah's help.
Recommended
Excellent Service provided by Sarah Fitzpatrick.
By: Joe
Reviewed on: 03 Nov 2014
The Queen Mary 2 Ocean Liner is the most beautiful ship we have been on. The service we received was excellent through out the ship. The food in the Britannia dining room was good. Overall we had a super time cruising the New England / Canad on the Cunard.Thank you.
Recommended
Expert friendly service
By: Irma
Reviewed on: 07 Nov 2014
Sarah did an outstanding job planning our trip. Unfortunately, we had to cancel because our traveling companion got sick. ,
Recommended
Great staff
By: Johno
Reviewed on: 19 Nov 2014
Very good cruise on Silver whisper Excellent cabin great staff and a beautiful ship Slightly let down by the pretty mediocre food and very poor complimentary wine selection
Recommended
Great agent, wonderful cruise
By: Paul
Reviewed on: 18 Dec 2014
Celebrity Cruises really knows how to take good care of you. Elite level had many benefits ie. 90 minutes wi-fi, cocktail party every night, lots of coupons.
Recommended
Making Disney civilized
By: Ex pat Phil
Reviewed on: 01 Mar 2015
We have just had a few days at Disney's Wildnerness Lodge , club level . The party was the two of us my partner's grandson aged eight , my partner being in a wheelchair . My personal feeling is that the choice of Wilderness was a good one for us ; one of the main things we appreciated was just being able to go and get something to eat from the concierge lounge ( aka the old faithful club ) for breakfast and in the evening for a snack . Being in line every time you need food is a bore so going through that for one restaurant meal a day was enough . The room wasn't large but the grandson loved his bunk bed and there was a general feeling of peace and quiet on the club level of this attractive property . Being able to get a late check out was a big help in terms of time management in respect of going to the airport . We had one exceedingly unpleasant bus driver in terms of not being disabled friendly , but overall it was a good experience and I'd lodge there again .
Recommended
very professional and knowledgeable
By: jdee1010
Reviewed on: 03 Mar 2015
We had a wonderful time.Our only issue was with WiFi.We read or was told it was free and thought we would be able to use our phones.But when we got on the ship we found out we had to pay $30a day!!!We chose not to get it.Thought being concerige level we had it for free.We were not given the best airfare through travel agent.I could have gotten it cheaper.next trip I will get my own airfare.Other than that,everything was great.
Recommended
our trip
By: biker1
Reviewed on: 15 May 2015
Sarah - everything you did for me and my wife was done in a professional manner with not one complaint. All your recommendations were 100% on the money. You made us very happy and we will be using you and your company for many many trips. Great job !!!
Recommended
Expert friendly serviceh
By: Dick
Reviewed on: 06 Sep 2015
Sarah is a very dedicated professional. She worked hard to get us quality hotels and flights at the best prices. What more can I say!
Recommended
Terrific trip!
By: Dorothy
Reviewed on: 09 Sep 2015
The trip was wonderful Viking did an excellent job. AND Sarah, as usual, took care of all of our pre-trip concerns, problems and plans in an expeditious and supurb manner.
Recommended
WONDERFUL EXPERIENCE!!!
By: Suzanne the European newby
Reviewed on: 20 Nov 2015
Loved it all! Sarah, you made it all so easy to enjoy. The guide in Barcelona was fantastic. Can't wait to try another adventure, with your help. Loved all the countries we visited. Loved the Allure of the Seas. Thank you for the special meals in the specialty restaurants. The plane ride and the seats you helped us get, the stateroom, the tour you helped arrange, everything was perfect. I'm still going to try for England one day, maybe next summer. In the meantime, I'm still on cloud nine thinking about this wonderful European adventure. I'll try to stop by one day to show you some of the pictures I took. Again, Thank You for everything. Have a wonderful holiday. Suzanne
Recommended
Perfect!
By: Dot
Reviewed on: 12 Nov 2015
We all had a terrific time. Altho there were long lines for everything ( we were on the 5000 passenger Allure) - we did get to"navigate" around them. Our experiences with the specialty restaurant , Chops, was terrific - the food and service superb. Sarah did a terrific job on making all the arrangements for us including our shipboard credits, having staterooms very near our friends, our air arrangements, etc.
Recommended
Excellent professional
By: GNGM
Reviewed on: 18 Nov 2015
I had the kind of trip service and the class I was looking for. Sara F. made my Unforgetable break in my life .!!!! I highly appreciate how professional she handeled all the details. I highly recommend her !
Recommended
Sarah is AWESOME!
By: Gregorec Family
Reviewed on: 08 Jan 2016
Sarah did a fabulous job of helping us to plan a last minute trip to Mexico so celebrate the holidays with some good friends. She was thorough, responsive and definitely creative in finding options that best suited our family and allowed for us to coordinate our travels with a much larger group. We will definitely be calling upon Sarah to assist with our travels again in the future. Thanks for being such a huge help to us! The Gregorec's
Recommended
Cancun
By: Fox
Reviewed on: 25 Mar 2016
Sara was great to work with . Very conscientious. We really appreciate her hard work and effort to find us a nice place for our vacation . She took care of everything . Very organized . Will definitely have her help planning future trips .
Recommended
Top Shelf
By: Irish lass
Reviewed on: 01 Apr 2016
From start to finish the best I can give is 100% Absolute dream , flights were spot on with transfers and times, not too long or too rushed, this booking I made with Ms Fitzpatrick was an International flight for my elderly parents, she organised wheel chairs, seating assignments even in another country, I can't thank you enough for making this trip the best one ever, already planning my trip with Sarah to go and visit them overseas, will never use anyone else.
Recommended
Sarah did a great job once again.
By: John and Kathy
Reviewed on: 10 Jun 2016
Sarah, Great Job! We just got back and everything was absolutely awesome. Thanks for your efforts you did a perfect job. Thanks. Can't wait for you to help us plan our next big trip.
Recommended
Fantastic Travel Agent
By: Wini
Reviewed on: 04 Jul 2016
Sarah is an unbelievable travel agent. Nothing is too difficult or annoying for her to cover. She has a wonderful attitude and is very helpful. You are definitely in good hands with her.
Recommended
Great trip planning
By: Ken
Reviewed on: 09 Jul 2016
Planning a European Trip for a family of 12 was no easy task, So many things to consider,so many personalities to please. Using Sarah was one of my best decisions. She helped me with every detail,and gave me good advice. She even help me save some money that i would have spent.
Recommended
Truly Cares!
By: DrLisa
Reviewed on: 10 Jul 2016
Sarah really cares about our family from the best pricing to the ease and comfort of travel. She checks in on us to make sure we are doing OK during our vacation and handles unforeseen travel changes while away. She is always available to us! Thank you Sarah for always making our travels easy!
Recommended
Excellent service and good advice from Sarah
By: ellen
Reviewed on: 16 Sep 2016
Our recent trip on ncl Getaway was very good we found that entertainment could have been a lot better, Ship was excellent as was staff. We had a really nice cabin and super balcony.
Recommended
A Perfect Vacation
By: Dot
Reviewed on: 05 Oct 2016
Our trip went smoothly throughout. Our plane and train reservations, choice of hotels near the parade; tickets for museums, Viking Cruise arrangements...then special arrangements due to an accident I previously had, necessitated handicapped reservations on planes, etc. ALL were handled expertly by Sarah. She is awesome! And in Sarah's temporary absence, her assistant, Mary Kate, also did a superior job. By the way, our hotel near Zundert, was the Best Western Goderie - a great hotel! Our rate included 4 meals, transportation to Zundert twice, a picnic lunch for the all-day parade, Grand Stand seats, drinks and hors'deuvres before returning to hotel AND later a gourmet5-course dinner. Our hosts and other guests who attended the parade, feasted along with us. When we left the hotel the next morning we felt we were leaving close friends. What a wonderful European experience!
Recommended
Fantastic helpful service
By: wini
Reviewed on: 07 Oct 2016
Sarah is extremely helpful. She knows her business and is willing to offer help even if it isn't part of her job. You can rely on her. I have the utmost confidence in her and would recommend her to the world.
Recommended
find service
By: eh
Reviewed on: 06 Oct 2016
I would certainly recommend Sarah to friends and use her again for future travel.
Recommended
Oceania cruise to the beautiful Baltic
By: Nikki
Reviewed on: 07 Oct 2016
Great trip, beautiful ship. Countries were terrific . The tours were exhausting . Next time, feet up with a drink in my hand tour.
Recommended
Family Vacation That Exceeded Expectations
By: HeleneWF
Reviewed on: 08 Jan 2017
My husband and I set out to create lasting memories for our family. Our daughters and their families are on two coasts and our grandchildren rarely get to spend time together. Sarah Fitzpatrick helped us create the vacation of all of our dreams. She was persistent in finding us the best accommodations aboard the Disney Dream cruise ship and spectacular accommodations at Disney World. One of our daughters had thought she had made a reservation for our granddaughter to go on a "swim with the dolphins adventure" only to find that her reservation hadn't gone through. Sarah was able to make a contact and got Margo that special experience. Sarah also lined up all of our private transportation so that we had no worries. We are not an easy group to please, and we all agree that Sarah came through for us. Sarah is a kind, considerate and knowledgeable travel advisor who has planned many travel adventures for my 90+ year old mother (which is how I came to ask Sarah for help with our trip).
Recommended
Great advice and service
By: Jules48
Reviewed on: 09 Jan 2017
Sarah is our most excellent travel agent who has helped us plan our recent cruise to the Caribbean. She is highly experienced and works very hard to take care of us & look out for us always with any issues that may occur. We love her friendly manner & hard work in getting things done. She takes the worry out of the details and we we cannot recommend her enough for her expert advice and service!
Recommended
Vacation
By: TPlayer
Reviewed on: 03 Feb 2017
It was easy and efficient.
Recommended
regent navigator.
By: lory
Reviewed on: 30 May 2017
always great. she makes sure that she is on top of our trip from the beginning to the very end.
Recommended
Awesome trip
By: Dot
Reviewed on: 06 Jul 2017
I have used Sarah for many years and have been very pleased with the care she has given us. Our past trips, as well as this one, to Nova Scotia have been well planned and very much enjoyed by us Sarah is very professional and I can usually relax and know that our concerns will be handled.
Recommended
Sailing Alaska With Crystal Cruises
By: Happy Crystal Cruiser
Reviewed on: 03 Aug 2017
Absolutely the best! Attentive, knowledgeable, and informative. Kept us informed and provided information quickly when asked. She took care of everything and then some by going the extra mile for a first-time cruiser. I would definitely utilize Sarah and her expert travel services the next time I am ready to make detailed travel or cruise arrangements. She and her attentive travel services will not be forgotten.
Recommended
Outstanding Travel Consultant
By: Bonbon
Reviewed on: 19 Aug 2017
Sarah is very knowledgeable about travel and adds an extra touch of personalizing each itinerary with excursions and/or points of interest that the individual client would enjoy. She is a delight to work with and is very thorough. I have used her services for almost 20 years and she has never disappointed me. Sarah is the best!
Recommended
Scenic Rhine
By: Sy
Reviewed on: 01 Sep 2017
Thoroughly enjoyed working with Sarah.She has agrest personality. Her attention to detail made our trip from beginning to end a seamless delight.
Recommended
Short trip to Ireland
By: Shamrockgal
Reviewed on: 03 Sep 2017
I wanted to visit North
Recommended
Superlative Travel Consultant
By: alisabcohen@yahoo.com
Reviewed on: 19 Sep 2017
Sarah is thorough and professional. She looks beyond the usual things travelers generally do and recommends a variety of excursions, museums, historical interests and culinary places that match the clients needs. We have been working with Sarah for over 20 years and there is a reason for that! She's simply the best!
Recommended
Exceptional travel professional
By: Travelqueen1
Reviewed on: 26 Sep 2017
Sarah Fitzpatrick is an outstanding travel professional who goes above and beyond what is expected of her. She is devoted to her clients and always looks out for their needs and situations. Sarah always "dots the I's snd crosses the T's" so you don't have to worry about the details of planning. She has so much experience and can recommend the best options and travel opportunities for her clients. Her kind and friendly manner always make you feel taken care of and we are so glad that we have worked with Sarah for all of our travel plans. There is NO ONE better!
Recommended
Collette Tour
By: Pat
Reviewed on: 02 Oct 2017
She was very efficient. I was impressed.
Recommended
Advisor review
By: Senior
Reviewed on: 18 Oct 2017
Worked with Sarah before for our first cruise had no problem in requesting her to organise our second cruise this month.
Recommended
Advisor review
By: ccjac2@aol.com
Reviewed on: 12 Nov 2017
She was wonderful! She took care of EVERYTHING in a very professional way and answered ALL our questions immediately! She was so good that we have already booked another cruise with her and our friends have joined us in booking the same cruise with her.
Recommended
excellent service
By: cc
Reviewed on: 18 Nov 2017
Great..no problem
Recommended
My trip
By: Biker
Reviewed on: 26 Nov 2017
She really knows her stuff and is a pleasure working with
Recommended
cruise on regent explorer
By: sheilah
Reviewed on: 02 Feb 2018
a great experience and very helpful
Recommended
The Best in the Industry with a smile
By: Traveling Jane
Reviewed on: 21 Jan 2018
We cannot think of a finer more hard working travel agent than Sarah. Her vast amount of experience, knowledge about the latest trends in the travel industry, and her caring and helpful attitude make planning and booking a trip so much better than going at it alone. There is no one who has looked out for us more than Sarah. She has a "can do" attitude and is so pleasant to work with. Highly recommended.
Recommended
Same time and money on your next cruise
By: Cruiser
Reviewed on: 23 Mar 2018
Sarah gave us the best price and the most cabin credit. Hundreds less than dealing directly with the cruise company.
Recommended
Advisor review
By: Carolin and Carmine
Reviewed on: 26 Mar 2018
Sarah was a pleasure to work with and we will be working again with her very soon!
Recommended
Travel expert
By: Fantasia
Reviewed on: 17 Apr 2018
I've been working with Sarah for the past six years. She is extremely knowledgeable and always helpful. The trips she planned for me and my family have been wonderful.
Working with Sarah Fitzpatrick, you will have access to:
- An experienced travel guide whom you can rely on before, during, and after the trip
- Exclusive luxury resorts and properties
- Once in a lifetime experiences
Explore with the Best
Virtuoso Advisors are constantly pushing the boundaries in unique travel experiences.
Alliance programs are unique tailored experiences exclusive to travelers working with Virtuoso Travel Advisors.
learn more
Ireland
United Kingdom
Bahamas
Costa Rica
Croatia
Denmark
Germany
Greece
Italy
Jamaica
Monaco
Morocco
Russia
Spain
Tunisia