Hellen Hoffman
CTC, DS, MCC
Delray Beach, FL United States
Travel Specialties
Interests
Adventure
Safari
Independent Tours
Ocean Cruising
River Cruising
Destinations
Australia
Ireland
United Kingdom
China
France
Selling Travel Since
1980
My Background
Hellen Hodges Hoffman is a Certified Travel Consultant with more than thirty years experience in exotic out-of-the-box adventures and worldwide cruises. She is also a Master Cruise Counselor and an Aussie Specialist.
My passion is to introduce you to new places, such as taking the plunge to Africa.. a life changing experience, I promise...Australia with its iconic structures, great food & wine, a place to stay in luxury and hike to see Aboriginal cave art, or the overwhelming feeling of actually snorkeling on the Great Barrier Reef.
OR perhaps you would like to re-visit Paris and fall in love again....take the family on a US history tour to Boston, New York, Philadelphia and Washington...
Yogi Berra is famous for his one liner yogisms...my favorite? "When you come to a fork in the road, take it". Let me help you decide which fork.
Places I Have Traveled
Reviews and Recommendations for Hellen Hoffman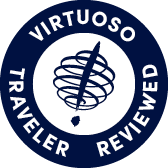 Virtuoso Verified Traveler
All reviews are from confirmed guests sharing exclusive insights
Sort reviews by
Recommended
Highly recommended
By: sbw
Reviewed on: 12 Sep 2013
Hellen has done multiple trips for us. We are independent travelers, so we need someone who is knowledgable about travel locales, who can navigate and negotiate combining group travel and independent travel, who is sensitive to our needs and desires, and who is honest and gives objective advice. Hellen is all these things. I freely recommend Hellen to my family and friends and will continue to work with her for all of my travel needs.
Recommended
Highly recommend.
By: Jimmie
Reviewed on: 03 Oct 2013
The trip she helped make happen went off without a hitch. She reviewed ALL trip options with us, flights, hotels, tour operators, ground transportation to airport, packing help, trip insurance options, currency, etc. the only thing she couldn't help us with was that Japan had a dispute with MasterCard and would take everything else. She gave us all the info we needed to have a WONDERFUL TRIP. We really love what she did for us, and will recommend her to our friends.
Recommended
Wonderful person!! Will ALWAYS use her!!
By: Deb
Reviewed on: 22 Oct 2013
Hellen does a wonderful job. She listens and plans and organizes our trips to the best we could ever imagine. If we want to do something that she thinks we shouldn't or gives us other options she thinks are better, we ALWAYS go with her suggestions. She has NEVER steered us wrong. I cannot imagine planning a trip without her input, she knows so much and once you do something with her and talkl to her, she gets to know your preferences and books your next trip with that in mind.
Recommended
highly recommend
By: marilyn
Reviewed on: 19 Nov 2013
she could not have been any better she went out of her way to make this trip memorable now she is planning my next trip for 2014 we appreciate everything Hellen has done for us
Recommended
Great travel agent
By: Rosie
Reviewed on: 24 Nov 2013
Hellen of Unique Travel always does an excellent job getting us the best price for the cruise we want
Recommended
highly recommended
By: MILT & MIMI
Reviewed on: 28 Nov 2013
Has always taken care of our requests and been very helpful
Recommended
Highly recommended.
By: Suse
Reviewed on: 22 Nov 2013
Hellen listens to what I want and then does the research to find just the right trip for me. She is aware of any special needs and factors those in to her search. I recommend her without reservation.
Recommended
Highly recommend!
By: Bev
Reviewed on: 12 Jan 2014
Hellen is a great travel agent. She is alert to all a traveler's needs and if she doesn't know the answer to something, she finds it. We have used her in the past and we will use her again in the future.
Recommended
Highly Reommended
By: Susie
Reviewed on: 31 Mar 2014
Another fabulous trip executed by Hellen.  Her advice on "add ons" is invaluable and makes sure we don't miss anything great along the way!!  We are loyal clients!
Recommended
Highly recommend Hellen
By: Princess
Reviewed on: 03 Apr 2014
Hellen has booked many vacations for me & my husband (deceased). Primarily cruises, but a few land excursions as well. She goes out of her way to find the best deals but not just in a monetary consideration. She listens to her clients & tries to match them up with an itinerary that she thinks will allow the vacationer to get the best experience possible, even if it is just to relax. Hellen is very knowledgeable about the industry but if she does not know something she has made some great contacts that she can rely on to get her answers. She does the leg work and passes that on to her clients.
Recommended
Highly Recommended
By: Bobbyy Gee
Reviewed on: 15 Jul 2014
Just took a cruise with dear friends.  They have a massive relationship with AmEx as they run all of their business travel for their whole company with AmEx.  Helen's work got us the same price on the cruise but we had $200 more shipboard credit than they did.  Also, at the hotels both before and after, we got upgraded rooms and although our friends were upgraded as well, we always had the better room.
Recommended
All things Virtuoso
By: VillageGirl
Reviewed on: 19 Aug 2014
Our trip was planned flawlessly or rather "Hitchless". We had multiple stops, 5 hotels, many transfers and pickups, several planned excursions and all went smoothly. The only problems encountered were of the airline variety which were completely out of Hellen's control, even though she did try to remedy and stayed in contact. Excellent job. Hotels picked were top notch and provided great service.
Recommended
Scotland / Ireland Adventure
By: Baby sis
Reviewed on: 20 Aug 2014
Hellen has been my travel expert for many years & this trip was certainly up to her regular awesome standards. Other than a couple of transportation glitches (which were out of her control) everything went very smoothly. Hellen listened to what we wanted & then made her recommendations based on our wishes & her vast experience. She did not push things on us based on a commission but on what we wanted. However, if there was something we suggested & she thought was priced out of line she would advise us accordingly. But if we felt strongly about something, she would work with all of her vendors to get us the best value that would also give us the best possible experience she could. I would never trust my travel plans to anyone else & I do not know what I will do when she finally decides to retire (if ever). She is the best there is.
Recommended
Exceptional service!
By: Ravi
Reviewed on: 23 Aug 2014
Our group of 11 friends really enjoyed the Crystal Serenity cruise of the Iberian peninsula. Hellen had made perfect arrangements; thanks to her, the price for the cruise was substantially lower than what we would expect from the No. 1 cruise line in the world. We are already thinking of our next cruise in 2016 or 2017.
Recommended
Expert friendly help
By: Diana
Reviewed on: 05 Nov 2014
We can't thank you enough for helping to make our trip to France absolutely wonderful. All the hotels were in great locations, and all the passes worked out well. Our side trip was great with a very nice, friendly, knowledgeable guide. I will definitely turn to you the next time we travel.
Recommended
Couldn't have asked for better service!!
By: 55McDonald
Reviewed on: 09 Mar 2015
Planned to a tee! Most stress free vacation thus far! Already setting up my next trip!
Recommended
Innovative and resourceful
By: Chuck and Sue
Reviewed on: 16 Oct 2015
American Empress Steamboat was a great boat, and wonderful tour for older people with mobility problems. We were assisted at the airports and never had a problem. The hotel recommended by Hellen in Portland was great, just the right location for everything. Vancouver, Wa. was just a cab ride away with no problem, and the next day we took an all-day tour to Mt. St. Helens and tour of Portland which was very informative. We learned a lot about the Northwest. We also took the wine tour which was also great, good wines. They offered a hop on hop off bus almost every day with a narrated tour of the whole area visited. This service was great if you didn't feel like going on a premium tour. Hellen knows our preference for cabins, and our wishes were taken care of. The boat was very clean, the service people were wonderful, the food was very good, great fish, and we loved the entertainment, even though it was at 6:30 pm, it lasted 45 minutes - just right. Great tour!
Recommended
The best of the best
By: debbieann
Reviewed on: 07 Jan 2016
Hellen has been my travel agent for many years. Due to that scenario she has come to know my likes & dislikes. She anticipates what I want before I do. I like that she has traveled a great deal herself, therefore can provide first hand information about my itineraries. During my travels I have been fortunate enough to have only experienced a couple of hiccups along the way, but Hellen was right on the spot to take care of the situation be it before, after or during an event. I highly recommend her to anyone that is seeking their one big adventure of a lifetime or if you are seeking someone for an long term relationship. If you give her a budget she tries very hard to stay within it but will advise if there is something that you really need to spring for but she will also search for bargains on your behalf.
Recommended
Wonderful
By: Babe
Reviewed on: 30 Dec 2015
It was a wonderful experience working with Hellen Hoffman who made my cruise beyond my expectations. Her professional expertise made every detail easy and when I had questions they were answered immediately. I hope to do some more cruises and she will be my travel agent.
Recommended
Best of the Best
By: LQuin
Reviewed on: 01 Jun 2016
My recent trip was unbelievably easy to navigate with Hellen's expert advice and handling. I would do it again in a heartbeat! Thank you Hellen!
Recommended
Excellent service !!
By: Annette
Reviewed on: 02 Jul 2016
Had a great family vacation, Hellen took care of us!!
Recommended
Outstanding customer service
By: Sally
Reviewed on: 01 Jul 2016
We have used Hellen over the years and have been thoroughly pleased with her service, knowledge and friendly customer service. She is our go-to person for all our travel needs!
Recommended
Best Trip EVER
By: Sunny
Reviewed on: 23 Oct 2016
I cannot begin to express the fabulous trip we had that was booked through Hellen all 5 stars cant wait to plan our next trip soooooo wonderful WOW......
Recommended
Always the best
By: DebbieAnn
Reviewed on: 21 Nov 2016
This was a short trip so I could "meet" the new Holland ship Koningsdam. But despite this, Hellen gave me the same service and consideration she always has, be it a 4 day trip or a 30 day trip. She is always a professional and gives me the good & bad about any suggestions I make. I highly recommend her.
Recommended
Princess review
By: Sue
Reviewed on: 25 Jan 2017
Working with Hellen is not work for me. She has always been very helpful and professional. She knows everything about travel and has been everywhere. She always offers many suggestions to facilitate our trips. We couldn't do it without her
Recommended
Agent review
By: Poppi
Reviewed on: 27 Feb 2017
Hellen is a professional, helpful and thorough.
Recommended
Travel agent review
By: SHM
Reviewed on: 27 Feb 2017
Hellen was the consummate professional. Her years of experience helped us at every turn. I would use her as my travel agent without hesitation!!!
Recommended
Cruise
By: Corky
Reviewed on: 28 Feb 2017
Hellen arranged for all our cruise, golf,and snorkeling need. She saved us a great deal of money by arranging for our excursions rather than thru the cruise ship
Recommended
Travel Agent
By: bellaf
Reviewed on: 03 Mar 2017
Very, very helpful. Answered all my questions when asked. Friendly, informative and just pleasant at all times.
Recommended
Wonderful Cruise
By: Zaida
Reviewed on: 16 Mar 2017
Great as always. She always finds what I am looking for and within the price I set. She remains one of the most knowledgeable travel advisors I know.
Recommended
Wonderful trip
By: Becky
Reviewed on: 05 May 2017
Hellen is a wonderful person, she listens and helps and suggests and puts together a great trip!!
Recommended
Superior Service
By: Daisy Hodges
Reviewed on: 13 Jun 2017
Hellen is professional, knowledgeable, timely and able to answer all questions. She provides research on the places you are going over and above brochures. Her knowledge of cruising is second to none.
Recommended
Family Alaskan Adventure
By: barbara
Reviewed on: 24 Jun 2017
Working with Hellen was wonderful! She always responded and gave me info that I needed and a little bit more than I even knew that I needed. Everything went smoothly and all arrival and departure times were coordinated beautifully for our entire party.
Recommended
Geat Trip
By: Toto
Reviewed on: 28 Jul 2017
Hellen is always friendly and professional and knows cruising inside and out. Her hotel recommendations are always spot on.
Recommended
new england cruise
By: mums
Reviewed on: 03 Sep 2017
we have worked with Hellen for many years, always a pleasant experience. She always offers great ideas, extremely efficient and tries to give us the best deals. Hellen is well traveled and knows which trip to recommend to us with our specific tastes. My husband and I are very fond of Hellen and hope we can use her services for many years. My husband recently has had some health issues, and Hellen is very knowledgeable about finding just the right venue which will accommodate us.
Recommended
2017 Fall trip
By: dw
Reviewed on: 09 Oct 2017
She is easy to work with and very knowledgeable. If she doesn't know about someplace you are interested in, she does her own research to better serve you.
Recommended
Canada trip
By: Izzy
Reviewed on: 17 Oct 2017
Helen was awesome. She took care of everything. She kept me up to date on everything.
Recommended
She is the best
By: Linda
Reviewed on: 25 Oct 2017
Hellen is the real reason we use Virtuoso. We get the same benefits through Amex Platinum but Hellen is so knowledgeable and personable that we choose to use Virtuoso. She is amazing. Seems to have the answer for any question I have and if she doesn't, she is going to find out. She is an expert on different countries, cruise lines, hotels, resorts, etc. We just love her.
Recommended
ANNIVERSARY CRUISE 63RD ANIVERSARY
By: LARRY MIMI
Reviewed on: 25 Dec 2017
Could not have been better. She understood our needs and planned a perfect anniversary cruise. Princess was outstanding and treated in a very special way. The best anniversary celebration we have had. We are now starting year 64 in a positive happy way. could not be better.....Thank You Hellen
Recommended
Hellen Hoffman
By: mari
Reviewed on: 26 Dec 2017
what can I say She is unbelievable Her knowledge of ports is unbeatable and more important over the years I can call her a friend She is there when I need her and has never steered us wrong She got to know what we can and cannot do physically and advises us accordingly I have been a client of Unique for a very long time You can tell that they have a special bond with the cruise lines and this has been immensely helpful over the years and together with Hellen planning vacations has been great Hellen is a very special person and I look forward to a continuing long relationship with her as well as the people I have recommended to her who are also elated to work with her Thanks Hellen your the best We appreciate all your efforts on our behalf and for making our vacations special
Recommended
first river boat cruise
By: bsm
Reviewed on: 27 Apr 2018
Hellen was on top of her game, as always. She gave us all the information that we needed and made sure that we had all of our trip details way in advance.
Recommended
PANAMA CRUISE
By: LARRY
Reviewed on: 11 May 2018
HELLEN IS OUTSTANDING...SHE KNOWS OUR LIKES AND EXTENDS ENORMOUS EFFORT TO PLEASE AND MAKE OUR VACATIONS A WONDERFUL AND MEMORABLE EXPERIENCE.. THANKS HELLEN FOR ALL YOU DO TO CONTRIBUTE TO OUR HAPPINESS.
Recommended
Italy
By: Debra
Reviewed on: 07 Dec 2018
Wonderful and fun and interesting.
Working with Hellen Hoffman, you will have access to:
- An experienced travel guide whom you can rely on before, during, and after the trip
- Exclusive luxury resorts and properties
- Once in a lifetime experiences
Explore with the Best
Virtuoso Advisors are constantly pushing the boundaries in unique travel experiences.
Alliance programs are unique tailored experiences exclusive to travelers working with Virtuoso Travel Advisors.
learn more
Australia
Ireland
United Kingdom
China
France
Gibraltar
Italy
Japan
Kenya
Portugal
Singapore
Spain
Tanzania
Vietnam
United States - All