Travel Specialties
Interests
Adventure
Escorted Tours
Yacht Charter
Ocean Cruising
River Cruising
Selling Travel Since
1989
My Background
Let me help turn your travel dreams into reality!! I will make travel stress-free for you. Whether I am helping you plan your individual, family or small group itinerary or you are joining one of my groups, you just need to pack your bag and let the adventure unfold for you!
I have been in the Travel Industry for over 25 years. I am a Professional Travel Advisor, Group Coordinator and Cruise & Luxury Leisure Specialist. I am a CLIA certified 'Accredited Cruise Counsellor'. I have cruised on more than 100 cruises and have had the opportunity to experience a variety of cruise lines. I have traveled the world to many amazing and exotic places and I continue to seek out new and exciting destinations to visit. My business continues to grow, thanks to the continued support of my loyal clients as well as the many referrals that I continue to receive.
I have incredible suppliers who are instrumental in helping me create travel programs for my clients. My relationship with my top suppliers has developed over the years into a wonderful partnership.
Planning for my group departures generally starts up to two years in advance. There is often a cruise component for each departure, as I have specialized in cruising for the past 16 years. I am convinced that this is one of the best ways to see the world. Unpack once and let your floating luxury hotel take you to exciting ports of call!!
My land adventures are equally enticing and full of opportunities to really become immersed in the culture of the countries we visit. Some of my favourite land tours so far have been to South America for a 24 day Rainforest/Andean Highlands/Galapagos/Machu Picchu Adventure and an amazing 14 day South Africa Land and Safari Adventure.
In addition to my land adventures, I offer exclusive LY Cruising & Adventure Travel shore excursions on all my cruise itineraries. These are very often unique and tailored specifically to the group. It is very nice to be able to do our touring in each port of call in our private motor coaches. It allows for a lot of flexibility for the group, if need be, and we generally have ample space for the group in each bus.
Many of my clients travel with me year after year. We are becoming a little family of sorts and it is fun for my clients to find out who is traveling in the next group that they are booked on. Our initial get together can be quite interesting and amusing as many of the group recognizes each other from previous trips when they come in the door. Lots of storytelling and reconnections and inevitably lots of hugs around the room! There is something to be said about group travel – the camaraderie, the sharing of experiences and undoubtedly the safety of travel in numbers. In addition I take full responsibility for all aspects of the trip and make sure everything runs smoothly so my clients don't have to worry about a thing. Everything is pre planned for you and it is this preplanning and attention to detail that makes for a successful trip for all. When you travel with me you just need to pack your bag and join the group and let the adventure unfold for you!
I look forward to planning your next dream vacation or being your host on one of my upcoming travel adventures!
Places I Have Traveled
Reviews and Recommendations for Lorraine Young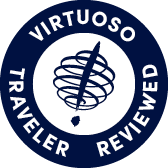 Virtuoso Verified Traveler
All reviews are from confirmed guests sharing exclusive insights
Sort reviews by
Recommended
extremely helpful and knowledgable
By: Touche
Reviewed on: 30 Oct 2013
While I had picked the cruise already Lorraine was very helpful in getting a good price, on board credits and planning flights and cancellation insurance. She is always exceptional in keeping you appraised of what is going on and following up with you on any questions/concerns/status, etc.
Recommended
Fantastic!
By: CB52
Reviewed on: 13 Nov 2013
We just returned from a 12 day Turkey/Greece cruise that Lorraine planned for us and it was FANTASTIC!. She was able to book us on a terrific flight there and back as well as a few added bonus's on the ship itself. We have used Lorraine in the past and will continue to book with her for all out travel needs!
Recommended
Very thorough and professional
By: Larsh
Reviewed on: 09 Dec 2013
We have used Lorraine many times before and have always been satisfied. We are looking forward to more of the same, maybe even better with Virtuoso.
Recommended
Exceptional Service
By: Len66
Reviewed on: 23 Nov 2013
We have used Lorraines service for the past eleven years and have had nothing but good experiences from the hotels she has booked to the cruise itineraries she has recommended. Would highly recommend her to anyone.
Recommended
Perfect
By: RnH
Reviewed on: 28 Nov 2013
We trusted Lorraine to plan our perfect cruise in French Polynesia and we weren't disappointed. All the arrangements from air travel, transfers,pre-cruise hotel and the ship cabin she chose for us were perfectly handled. She reminded us of deadlines, filled out our documents for us, and checked up on us regularly. We would highly recommend her superior service.
Recommended
Highly recommended
By: Not provided
Reviewed on: 23 Nov 2013
Lorainne helped us book our flights and our Blue Danube river cruise which we took mid May, 2013. Everything was great.
Recommended
Superior travel organizer
By: Tammy
Reviewed on: 25 Nov 2013
Any trip that Lorraine has arranged for us is well planned with attention to detail and a variety of experiences.
Recommended
Fabulous Trip!
By: Kathy
Reviewed on: 21 Dec 2013
Just got back from India/Nepal. Trip of a lifetime. Itinerary was like sampling from a fabulous buffet. Very well organized and executed.Highly recommended.
Recommended
An amazing journey in India and Nepal
By: Cousine
Reviewed on: 12 Dec 2013
We had a great time to visit the wonders of India and Nepal. There were so many highlights, best hotels, good food, nice people and tigers on top of all that! Everything was very well organized. Thank you very much Lorraine to recommend us to join your group for this amazing journey.
Recommended
By: Not provided
Reviewed on: 19 Feb 2014
Lorraine did a fantastic job of looking after us.  I would  highly recommend this tour group and leader to anyone wishing to travel abroad. .
Recommended
Highly recommend
By: dolphin buddy
Reviewed on: 20 Feb 2014
Travelling with Lorraine Young is first class all the way.  Such a lovely lady who is also knowledgeable, caring, professional and just plain fun to be with.  Always making sure that our needs are met and we are all happy.  I have to congratulate Lorraine on our trip on Seaborne.  In our group of 5, which included Lorraine, there was a very negative and very rude individual who tried to bring the whole group down.  Even though Lorraine was treated very badly by this person, she remained professional and continued to try to make this person feel special and important.  I feel that this person came with the idea that she was not going to have a good time, and guess what, she didn't.  Unfortunately, she tried to blame her unhappiness on Lorraine, not the case. Hats off to Lorraine, she never faltered - kept her composure.  I was ready to push this individual overboard.
Recommended
Very Highly Recomended
By: Ian
Reviewed on: 10 Jun 2014
Lorraine  has been a godsend.  We have booked at least eight vacation/cruises with her and have never been disappointed. She is a delight to work with and her knowledge of travel, especially cruising shines through.
Recommended
Highly Recommended
By: The L.B. Butterfly
Reviewed on: 05 Jun 2014
Thank you Lorraine for the lovely trip.  It was so well-organized and hassle free for us; and the guide you picked was great.  I would highly recommend your agency to other travelers.
Recommended
Service at it's finest.
By: Bonnie the Horse Lover
Reviewed on: 04 Jun 2014
I have travelled with Ms. Young for the past 3 years.  What a talented and well knowledged  lady she is about the countries that you travel to with her.  She is very dedicated, there to make sure that your every wish is taken care of and problem solving when necessary.  Not only is Ms. Young an experienced travel consultant and guide, but she is so much fun to be with.  Always a bright, beautiful smile for everyone.  She made me feel that it was as much a pleasure to travel with me as it was a pleasure to travel with her.  
Recommended
Avalon Panorama
By: Jim
Reviewed on: 11 Aug 2014
This was a wonderful trip! The boat was very nice the staff were great and the food was very good. The room was good with all the glass on the side that opens. We enjoyed the company and being able to sit anywhere you wanted. The included site seeing and the optional tours we're also very good. I have a problem walking long distances so they always had an easy walking group. It is interesting going threw all the locks, 68 in total, some were as high as 80 ft. We saw a lot of churches and castles. The scenery along the canals was wonderful, lots campers nice homes and vineyards. It is interesting seeing the slopes they are on and trying to visualize how the walk up the hills to pick the grapes. It was our 50th anniversary and they put an arrangement on the bed and a cake at supper. We would recommend the Avalon tours. Everything went like clock work. We didn't have to carry luggage like other tours we saw. Ours was transferred from the hotel to our rooms and back to the hotel when done.
Recommended
Excellent Personal Travel Tailoring
By: Tammy
Reviewed on: 17 Aug 2014
Lorraine has arranged several travels for us and we have been on three of her trips with her. All details are looked after without any fuss. She has often personalized our trips knowing our preferences, which is important for us. It's so reassuring to deplane after a long flight and find someone holding a sign with our names. We have come to rely on her extensive experience for guidance in our travel planning.
Recommended
Expert in her field!
By: P and C
Reviewed on: 23 Feb 2015
Lorraine is a fantastic, dedicated travel agent. She always goes above and beyond the standard!
Recommended
Expert service and advice.
By: DLE
Reviewed on: 26 Jan 2015
Had a great trip to South Africa, tour company selected was super. Also reducing the numbers in the group was worth the money. A respite in a London airport hotel day stop meant we arrived home much less jet lagged.
Recommended
GRT XPERIENCE
By: BETSY
Reviewed on: 24 Jan 2015
FOUND LORRAINE 2 B OF GRT HELP AS I HD XPERIENCED COMPUTER/PRINTING PPROBLEMS.... FROM FIRST CHAT TIL LVG SHE PROMPTLY WAS AVAILABLE..WOULD HIGHLY RECOMMEND HER.........JUST NOT SURE I WOULD EVER GO ON HOLLAND AMERICAN CRUISE AGAIN....THEIR SHIPS R OUTDATED N LOOK NOT AS CLEAN AS THEY SHOULD....THEIR STAFF FOR THE MOST PART, TRY HARD THO....
Recommended
Amazing experience with Lorraine!
By: BK
Reviewed on: 13 Feb 2015
A HUGE thank you to Lorraine, for all of the tireless work she put into my destination wedding group travel. We could not have done this without her expertise, client care, and willingness to accommodate major changes after the hurricane hit. We would definitely recommend Lorraine, and plan on using her again for future travel!
Recommended
resort beautiful, great service
By: john2
Reviewed on: 13 Feb 2015
Enjoy a week of fun entertainment and relaxation
Recommended
Problem Solver
By: Don1
Reviewed on: 19 Jun 2015
Lorraine is extremely helpful, both before the trip and during, if issues should arise. Knows the travel business and how to deal with travel companies to resolve problems.
Recommended
Wonderfull and friendly service
By: Ian
Reviewed on: 31 Jul 2015
As usual Lorraine did a fabulous job of booking this trip for us. She had to put up with us making multiple changes to our original booking and did so without a hitch. We are so glad that we met her years ago and have never been disappointed with her service. Thanks again Lorraine!
Recommended
Very Professional!
By: Charlie6
Reviewed on: 29 Aug 2015
Lorraine was very helpful in planning our family's recent cruise. She was always available to answer any questions and to follow up with the cruise line for any additional information we required. She is a true professional! We look forward to working with Lorraine in the future.
Recommended
Expert service for many years
By: Len68
Reviewed on: 27 Aug 2015
Lorraine has done a wonderful job for my wife and I for a number of trips and we have yet to incur a problem of any sort. All of the details are looked after before hand so that there are no issues during the trip. We will continue to use Lorraine's services.
Recommended
Over the Top Service
By: Tammy I.
Reviewed on: 15 Sep 2015
When we have either traveled with Lorraine or she has arranged travel for us, we have felt secure in knowing she has covered all the details. She is conscientious in her relationship with her clients and most recently made last-minute arrangements while we were in transit which saved us from a difficult situation. We do not hesitate to recommended Lorraine's services, as we have already done so to friends.
Recommended
River cruises are the way to cruise
By: Allan&Diane
Reviewed on: 29 Sep 2015
River cruises are the way to cruise. It's relaxing with fewer passengers, constant view of shoreline and always smooth sailing. We appreciated the casual dress code. Always had excellent meals and service. The dining room staff was very accommodating and created a fun atmosphere. We felt the security could be improved when boarding the ship after shore excursions. After walking through other ships for boarding, no one checks you to make sure you are a registered passenger. All in all it was a fantastic trip. A big thank you to our travel agent, Lorraine Young, for recommending Avalon, hotels and transfers.
Recommended
Great Trip
By: Ann
Reviewed on: 01 Oct 2015
The trip took us to some wonderful towns, cities that were full of memorable places. Barcelona was exceptional especially La Sagranda Familia Basilica.
Recommended
Wonderful Mediterrean small,ship cruise
By: From Canada
Reviewed on: 04 Oct 2015
Thoroughly enjoyed the seven day cruise from Lisbon to Barcelona with stops at charming ports. Staff on board were great as were the meals.
Recommended
Expert Professional Service
By: Fiorino2015
Reviewed on: 19 Oct 2015
The most complete and professional service offered. Especially to those that have a extremely busy work schedule, every travel need is taken care of by this agent before your date of travel. Bravo Lorraine!
Recommended
Great Air Travel
By: Larsh
Reviewed on: 26 Oct 2015
We have used Lorraine to book our air travel arrangements for many years now. This was no exception. She gets us the best prices and and suggests ways in which to save money by doing things a little different.
Recommended
Once again excellent service
By: Len68
Reviewed on: 08 Sep 2016
We have been dealing with Lorraine since 2003, during which time she has arranged a number of trips for us, without a hiccup anywhere along the way. I cannot state strongly enough how pleased we are to be working with Lorraine. Just to show that, we already have two future trips booked with Lorraine. A pleasure to work with!!!
Recommended
Personable helpful service
By: Ozzy
Reviewed on: 09 Oct 2016
Wonderful experience due to well organized and interesting itinerary.
Recommended
Efficient and Helpful Service
By: Tammy
Reviewed on: 12 Oct 2016
Our trip down the Rhine and Moselle Rivers with Avalon Waterways, with an extra day on arrival in Zurich, was arranged with the usual timely efficiency, by Lorraine Young. We have depended on Lorraine for several years now and do not hesitate to recommend her to friends.
Recommended
Expert and caring service
By: Mighty Mite
Reviewed on: 08 Dec 2016
Having just returned from our trip to south America we would like to thank LY Cruising for a most amazing trip of a life time! We loved all of our locations and the service provided for us. Everyone was very friendly and caring. Thank you Lorraine for making our dreams come true.
Recommended
Celebrity Equnoix
By: KK
Reviewed on: 25 Jan 2017
Lorraine is a true professional. Always thinking about her clients needs and wants. I would highly recommend her and will continue to book my vacations with her.
Recommended
South East Asia 2017
By: GB
Reviewed on: 13 Feb 2017
Excellent, we have previously worked with Lorraine on a South American tour and found her attention to details to be great. This trip was no different.
Recommended
Excellent Service
By: Sticky Rice
Reviewed on: 14 Feb 2017
Lorraine has done all our travel arrangements for many years now. She is very efficient and looks after all the details. She is always willing to help with the little extra details.
Recommended
Superb travel advise
By: Ian
Reviewed on: 26 Jun 2017
We have used Lorraine as our travel advisor for many trips over the last ?15 years. We usually take a cruise at least once each year and our most recent trip was the best ever. We were all set up and the entire vacation went off without a hitch except for an Air Canada screwup.
Recommended
Very Happy
By: Larsh
Reviewed on: 02 Aug 2017
Lorraine is great to work with. We have used her for our travel needs for several years now and everything is looked after without any problems. We seek her advice on what hotels to stay in and what tour companies to use. We would highly recommend her.
Recommended
Excellent job
By: David Roberts
Reviewed on: 02 Aug 2017
We booked an 18 day trip with Lorraine to Ecuador, Galapagos, and Peru. Lorraine is very knowledgeable about the areas. The accommodations and guides were 10/10. Very quick and thorough responding to my questions.
Recommended
Très bien servis
By: Québec
Reviewed on: 08 Oct 2017
Lorraine nous a très bien accompagnés dans le choix et la préparation de notre voyage. Elle était toujours disponible pour répondre à nos questions et donner suite à nos demandes.
Recommended
A wonderful Experience
By: Lenjan68
Reviewed on: 03 Oct 2017
We have worked with Lorraine since 2003. Each and every trip that she plans for us exceeds the previous. Every detail from start to finish is dealt with before you leave home. We would recommend Lorraine to anyone for any type of trip.
Recommended
Another wonderful adventure
By: Kathy
Reviewed on: 14 Oct 2017
I have been planning trips through Lorraine Young for over 10 years. They are always top notch and go off without a hitch! My latest trip to Japan was no exception. Everything - hotels, in-country transit, transfers, private tour guides all worked out exactly as planned, which took all the stress off me and allowed me to just enjoy this fabulous country! Thanks Lorraine.
Recommended
Quick Fall getaway
By: Anon
Reviewed on: 26 Nov 2017
Lorraine always provides great suggestions and advice to make best use of your valuable vacation time. She considers what we enjoy and tailors a getaway perfectly.
Recommended
Tahiti
By: Sandra
Reviewed on: 25 Nov 2017
Very good planning
Recommended
Par Excellance
By: Larsh International
Reviewed on: 31 Jan 2018
Lorraine is always very helpful when we plan our next vacation. Whether it's an all inclusive or just the air tickets, everything is looked after. Even if there is a problem during the vacation (whicj has never happened), she always reminds us that she is there to help us out, Fantastic service!!
Recommended
Another well organized and fun vacation
By: Kathy
Reviewed on: 17 Mar 2018
Lorraine is always well-organized, well-informed and provides solid advice and assistance. She takes the stress and worry out of planning a vacation and pays attention to the details.
Recommended
Avalon Rhine River cruise
By: Sophie
Reviewed on: 08 Aug 2018
Lorraine is very pleasant and very professional to work with. We appreciated her advice and suggestions on various aspects of our trip.
Recommended
Great Travel Advisor
By: judes
Reviewed on: 31 Jul 2018
Lorraine is great to deal with. I would recommend her to anyone
Recommended
Lorraine Young
By: Grundy
Reviewed on: 01 Aug 2018
Always a pleasure dealing with Lorraine. Very professional, helpful, generous. Have recommended many people to Lorraine.
Recommended
Trip to Southeast Asia
By: Kathy
Reviewed on: 23 Dec 2018
Lorraine is very knowledgeable, professional, responsive and flexible in identifying my travel requirements and making sure I obtain what I need. She is always the first travel advisor I turn to when I'm planning a foreign trip and has provided invaluable advice and assistance to me for over 12 years.
Working with Lorraine Young, you will have access to:
- An experienced travel guide whom you can rely on before, during, and after the trip
- Exclusive luxury resorts and properties
- Once in a lifetime experiences
Explore with the Best
Virtuoso Advisors are constantly pushing the boundaries in unique travel experiences.
Alliance programs are unique tailored experiences exclusive to travelers working with Virtuoso Travel Advisors.
learn more