Travel Specialties
Interests
Culture, History & Arts
Independent Tours
River Cruising
Food & Wine
Adventure
Destinations
Italy
Switzerland
France
Ireland
Germany
Selling Travel Since
2002
My Background
I am passionate about new experiences involving people, culture, history, art, and, of course, food! My goal is to make your travel dreams come true better than you expected and create an unforgettable experience that enhances your life.
I have over 20 years of experience planning and providing solutions for my clients by researching and selecting the best products for them. My prior career was as a Certified Financial Advisor with a prestigious national firm where I designed and managed personal investment portfolios. After living and traveling extensively in Europe, I returned and chose a career to share my lifelong passion for travel.
I specialize in designing customized unique experiences to fit my client's personality and interests. My attention to detail and genuine enthusiasm is evident in every trip I plan. My desire for new experiences motivates me to constantly seek training and accreditation on destinations and products worldwide.
Places I Have Traveled
Reviews and Recommendations for Sabrina Teyla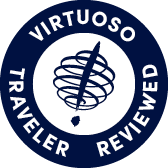 Virtuoso Verified Traveler
All reviews are from confirmed guests sharing exclusive insights
Sort reviews by
Recommended
exceptional service and knowledge
By: Not provided
Reviewed on: 11 Sep 2013
Sabrina Teyla devoted so much time to making my trip special. She is very knowledgeable and professional. I highly recommend her to everyone.
Recommended
Highly Recommended
By: Vern
Reviewed on: 21 Nov 2013
She was very organized, answered all questions promptly, found lovely accomodations in Europe.
Recommended
Highly recommend
By: Karen
Reviewed on: 02 Jan 2014
Sabrina helped us plan a Viking River Cruise on the Elbe River with an 3 day extension to Prague last April. She was very attentive to all details and found us a fantastic hotel in Prague that really made our trip! I would highly recommend her and I plan to use her services again in the future.
Recommended
By: JAN AND ED
Reviewed on: 08 Dec 2013
VERY THOROGH EAEY TO WORK WITH WOULD USE HER AGAIN
Recommended
Highly Recommend
By: Karen
Reviewed on: 28 Apr 2014
Sabrina Teyla planned a cruise for me that was absolutely wonderful! She does her research and pays attention to the fine details so that the vacation was very well suited to my needs.  I was very pleased with her services and I will definitely use her again!
Recommended
Extremely Knowledgeable & Professional Guidance
By: Mia
Reviewed on: 08 May 2014
Sabrina planned a comprehensive 3+ week vacation for us: A transatlantic cruise, several days in Paris & London, and a tour of the Normandy beaches. She spent countless hours scheduling car services, train travel, lodging, tours & excursions. Sabrina arranged numerous activities for us ranging from the short & simple - English Afternoon Tea, to the modest - a small group excursion to the Champagne region, to the more elaborate - a private tour of the Normandy beaches. She was always accommodating, responsive & thorough. Sabrina is very pleasant, easy to work with & always willing to work within our budget. We've recommended Sabrina to our friends & neighbors and won't hesitate to work with her again for our next trip.
Recommended
Very Professional
By: Kathy51
Reviewed on: 29 May 2014
Sabrina did a thorough and very professional job booking our flights to Paris and on to Italy.  She was pleasant to work with too.  We would recommend her for your travel needs.
Recommended
By: Not provided
Reviewed on: 19 Jul 2014
I am happy to report our agent Sabrina did an excellent job. Everthing was handled professionally. I would highly recommend  her to other people.
Recommended
Exceptional Service
By: Mia123
Reviewed on: 24 Sep 2014
Once again, Sabrina scored a home run! Sabrina arranged a fabulous cruise to the Baltic on Regent/w 3 days in St Petersburg. The highlight was a private tour of the new Faberge Museum, arranged by Sabrina. Earlier his year, Sabrina arranged a transatlantic cruise + 2 weeks in Europe for us on Celebrity, then provided exceptional assistance when we had to cancel the European portion of our trip due to illness. Bottom line, Sabrina is resourceful, always upbeat, and committed to arranging great travel/w affordable pricing
Recommended
Wonderful friendly service
By: Marilyn
Reviewed on: 29 Oct 2014
Sabrina gave us excellent service. Always very helpful & answered all of my questions.
Recommended
ROYAL CARIBBEAN CRUISE
By: TUNA
Reviewed on: 03 Apr 2015
HI SABRINA WE HAD A WONDERFUL TIME. OUR WAITER WAS FANTASTIC & THE ROOM ATTENDANT ALSO. SHE DECORATED OUR ROOM FOR OUR ANNIVERSARY WE HAVE A LOT OF PICTURES THEY NEED TO BE DEVELOPED YETBUT WHEN THEY ARE I WILL SHOWTHEM TO YOU. WE EVEN MET UP WITH OUR ROOM ATTENDANT FROM 2012 HIS NAME IS DUVALL. VERY NICE GUY WAS SO SURPRISED TO SEE US. THE BUFFET WAS ALWAYS GOOD. WE ATE THERE ONE NIGHT. MOST BREAKFAST & SOME LUNCHES. OUR SPECIAL NIGHT WAS PRETTY GOOD WE BOTH HAD FILET MIGNON & BAKED POTATO. THEY SANG HAPPY ANNIVERSARY TO USWE HAD TO HOLD HANDS & HAD A CANDLE ON A PIECE OF CAKE. IT WAS REALLY NICE. WE DID HAVE A WONDERFUL TIME. WE WILL DO IT AGAIN. WE MET A NICE COUPLE FROM PORT ST.LUCIE. GOING TO KEEP IN TOUCH & MEET U SOMETIME EITHER THERE OR HERE. THANK YOU VERY MUCH MARIAN & CHARLIE
Recommended
Great service
By: Almyra
Reviewed on: 28 Aug 2015
Sabrina was wonderful. Always returned calls with requested information. Arranged for car seat for toddler upon arrival in Mexico. Final info package for our trips was always clear and detailed. Made our trip less stressful. Great agent.
Recommended
Oops
By: Carole
Reviewed on: 09 Oct 2015
oops! sorry, I didn't see the thumbs first time around
Recommended
Expert Friendly Service
By: Kathy
Reviewed on: 16 Mar 2016
I had a health issue arise and had to be in the hospital for several hours. Ms. Teyla helped me get my paperwork started in fast order.
Recommended
Superb Guide!
By: Buck
Reviewed on: 24 Jun 2016
Sabrina was AWESOME!! Knowledgable and courteous. Supremely gifted in customer service!
Recommended
Great to work with!
By: Debbie
Reviewed on: 17 Jul 2016
Sabrina did a great job in planning our trip. She is very detailed oriented and we like working w/ her.
Recommended
Wonderful friendly service
By: Collector
Reviewed on: 24 Jul 2016
This was a trip of a life time. I have been all over the world and this was by far the best trip ever. The people that handled the trip to the wait people to the housekeeper were one In a thousand. Every place we went and everyone that we came into contact with were wonderful. The tour people and drivers were wonder and very knowledeable and really knew their jobs. We were very safe at all times and never at any time felt afraid. I would highly recommend this trip to anyone that is even thinking about making the journey. Our travel agent was wonderful and got us everything we needed and was extremely helpful and always answered all our needs and questions.
Recommended
Truly professional. Fabulous service.
By: Michael01
Reviewed on: 24 Jul 2016
This was the trip of a lifetime and he service and help provided by Dabrina was exceptional. She answered any and all questions, never hesitating to get us extra information without even us asking us for it. She is truly the best and when we plan future trips she gets our first call. She was just fantastic in every way and is a definite positive to any place that she works at. You are lucky to have her and we were lucky to have been included in her list of extremely happy clients. Michae and Roberta Marcusu
Recommended
Incredibly Helpful!
By: Dan T
Reviewed on: 09 Sep 2016
Sabrina really took the extra step to make sure my experience was A+!
Recommended
Great ship, great time for all
By: Doc
Reviewed on: 13 Jan 2017
Everything was professionally planned out and executed by Sabrina. The ship was amazing in every regard. Great food, lots of fun activities for all ages, easy embarkation and disembarkation, and the shows were excellent. The casino had a non-smoking section that wasn't perfect but certainly acceptable. Everyone on the ship was helpful, friendly, and courteous. The ship stateroom with balcony on the ocean was good size, well-equipped, and serviced very well by the attendant. The Allure is a magnificent ship and exceeded our expectations. Very smooth even on rough water. The dining room waiters and staff were very accommodating and the specialty restaurants, especially Chops, were fantastic and worth the extra money. I will certainly go on the Allure again and book my trip through Sabrina at Unique Travel.
Recommended
Sabrina is great!
By: Brittany
Reviewed on: 19 Mar 2017
Sabrina is very patient, sweet, knowledgeable, and helpful. She helped tailor our trip to our desires and we are grateful for her help in planning such a memorable trip!
Recommended
works hard
By: paul
Reviewed on: 25 Apr 2017
she was very accomadating
Recommended
Sabrina took good care of us...
By: Candi
Reviewed on: 25 Jun 2017
When I contacted Sabrina on the second day of our cruise, after finding out we would be docking in Genoa, instead of tendering into Portofino, she understood our disappointment ....Oceania did NOT provide transportation to Portofino, which we could not believe!! We hired a taxi with another couple to take us there, and bring us back after about three hours. When we got back to our cabin, Sabrina had organized an additional $200. to go into our onboard cruise account.
Recommended
Amazing
By: Marla
Reviewed on: 28 Jul 2017
She was absolutely perfect. She assisted us in every way and made the planning effortless. She booked our flights, made sure we had the best plan seats, planned our excursions, made reservations at the premium dining rooms , booked our hotel rooms, got us maximum on board ship credits it goes on and on ! For example , when our ship cancelled our Rome excursion we contacted Sabrina from the ship via email (there was a 6 hour time difference) and we had a personal tour guide waiting for us at shore. We had Champagne at every stop as a gift from her and upgrades on our hotel before&after the cruise bc we booked though her. I can't wait to use her again. She was first class and absolutely amazing.
Recommended
Israel trip with Isrim
By: syd
Reviewed on: 22 Sep 2017
Very cooperative and helpful
Recommended
One Month in Scotland 2017
By: The Scots
Reviewed on: 19 Oct 2017
Easy and enjoyable.
Recommended
Last Minute Trip to Europe
By: 7423Westview
Reviewed on: 04 Oct 2017
We decided to take a last minute trip to Europe last month. Sabrina quickly assisted us with air, hotel and tour reservations. We've worked with Sabrina for several years and are always impressed and delighted with the quality of her service and recommendations. We've referred several friends to Sabrina and they are equally pleased.
Recommended
VERY KNOWLEDGEABLE
By: 12
Reviewed on: 05 Oct 2017
GREAT!!! EVERYTHING WAS PERFECT!
Recommended
St Lucia
By: Annie Blake
Reviewed on: 16 Oct 2017
Sabrina, as always, was lovely, professional and had wonderful suggestions. I would recommend her without hesitation to anyone looking to plan a vacation.
Recommended
Italy trip
By: Carole
Reviewed on: 23 Oct 2017
We appreciated the work Sabrina did to help make this trip a success. Her suggestion to spend the extra days in Rome prior to the tour rather than after worked out well for us. We also appreciated her help after delta changed our flight. Getting there early was a priorty for us. We made use of every spare moment.
Recommended
Great
By: Matt
Reviewed on: 22 Apr 2018
Great! She was available and helpful even while we were away.
Not Recommended
okay
By: a
Reviewed on: 04 May 2018
Working was Sabrina was just okay. She didn't get back to as quickly as I wanted.
Recommended
AWESOME!!
By: John Buck
Reviewed on: 29 Apr 2018
Sabrina is knowledgeable, friendly and a life saver!
Recommended
My new travel agent
By: Ann
Reviewed on: 22 Jul 2018
She is delightful, knowledgeable and generous with her time. I have recommended her to many of my friends and will continue.
Recommended
alaska
By: jim
Reviewed on: 08 Sep 2018
great - everything was perfect
Recommended
Paradise changing course
By: RMR
Reviewed on: 29 Aug 2018
She was professional in her demeanor and extremely helpful, Last year she worked hard to get us a last minute trip which we were excited about it. Unfortunately they changed itinerary , which was quite upsetting but at least she found us a gorgeous place. Villa Kennedy was great, two thumbs up Sabrina!
Recommended
national parks
By: whomever
Reviewed on: 26 Sep 2018
excellent to work with
Recommended
Rhine Cruise with Uniworld
By: Kathy
Reviewed on: 06 Oct 2018
Excellent! Sabrina was always responsive, informed, knowledgeable, friendly, and helpful.
Recommended
Trip follow-up
By: Vicki
Reviewed on: 18 Oct 2018
We have worked with Sabrina several times. She is easy to work with, has good suggestions and is very knowlegeable about each trip we have planned.
Recommended
Greek cruise and Transatlantic
By: Neil Besen
Reviewed on: 20 Nov 2018
Very responsive and helpful.
Recommended
Excellent 5
By: Stan
Reviewed on: 13 Nov 2018
5 star ⭐️ ⭐️⭐️⭐️⭐️
Recommended
Cuba on majesty of the seas
By: lynnlederkramer@gmail.com
Reviewed on: 08 Dec 2018
Sabrina was patient, knowledgeable, professional and thorough. We had a wonderful time. Everything was perfect
Recommended
Sabrina
By: Mary ann
Reviewed on: 12 Jan 2019
Sabrina was extremely helpful and arranged all Aspects of the trip. It went very smoothly.
Recommended
cruise
By: jim
Reviewed on: 09 Feb 2019
EXCELLENT! Highly recommend.
Recommended
palm springs
By: jim
Reviewed on: 21 Mar 2019
excellent, as always
Recommended
Havana
By: Fred
Reviewed on: 22 May 2019
she was excellent
Recommended
Sabrina 's great service
By: Ben
Reviewed on: 12 Jul 2019
Great to deal with Proactive and caring
Recommended
Trip to Sicily
By: Rick
Reviewed on: 29 Jul 2019
Sabrina was the best for recommendations for A+. There was cooking class that I did not want to do she convinced me it was a good thing my wife and I did it and the best part of her trip Sabrina did the best job as she always does for me and she will keep doing in the future. I have one complaint about the company. They charge me $150 to Research. When I asked them if I take the trip does the $150 to put towards the trip I was told no . I can understand people take atvantage and ask you to waste your time to find out something and then you just say no I can understand charging $150 for your time but when you're spending $12,000 for a little vacation then $150 should have been put back in towards the vacation because this was an overcharge. I was told by Sabrina that this was not her decision that this was company I think there are plenty of travel companies out there that will not charge me a fee .
Recommended
Highly Recommend!
By: Soozie
Reviewed on: 15 Aug 2019
Sabrina was wonderful at booking our cruise to the western Caribbean! Everything went smoothly even though we were located in Connecticut and she was in Florida. Papers were printed, luggage tags were made, and even a booklet was put together for our itinerary. We highly recommend!
Recommended
River Cruise
By: Rima
Reviewed on: 22 Sep 2019
Sabrina was professional and extremely accommodating, it was pure pleasure planning with her our trip. I was specially impressed by her meticulous attention to detail. For all my future trips I will definitely rely on her expertise. Her recommendations were invaluable. Thank you Sabrina!
Recommended
Great Trip
By: Ed
Reviewed on: 22 Sep 2019
It took a while but everything was well organized and received with adequate time.
Recommended
Very helpful trip advisor
By: Kasrgs
Reviewed on: 04 Oct 2019
I explained to Sabrina what our criteria was for our trip and she came through with an itinerary that exactly met it. She was pleasant to work with too.
Recommended
Italy
By: rusty
Reviewed on: 07 Oct 2019
Lots of great advice. Sabrina is a pleasure to work with!
Recommended
Riverboat
By: Carole
Reviewed on: 07 Nov 2019
Sabrina was very helpful and knowledgeable in assisting us with vacation plans.
Recommended
Croatia
By: Liz
Reviewed on: 08 Nov 2019
Sabrina is wonderful to work with. She understands that you want and makes it happen.
Recommended
Working with Sabrina
By: Jan
Reviewed on: 02 Dec 2019
Sabrina planned our entire trip because we had never been to Italy before. She did an extremely great job. She made herself available for our entire trip and tended to our every travel needs. I would recommend her highly.
Recommended
Met all our expectations and then some
By: Kit
Reviewed on: 15 Jan 2020
Sabrina is knowledgeable and easy to work with. Attentive and detailed. Answered all our questions quickly and in full. A pleasure to work with.
Working with Sabrina Teyla, you will have access to:
- An experienced travel guide whom you can rely on before, during, and after the trip
- Exclusive luxury resorts and properties
- Once in a lifetime experiences
Explore with the Best
Virtuoso Advisors are constantly pushing the boundaries in unique travel experiences.
Alliance programs are unique tailored experiences exclusive to travelers working with Virtuoso Travel Advisors.
learn more
Italy
Switzerland
France
Ireland
Germany
Greece
Austria
Netherlands
United Kingdom
Japan
Thailand
Morocco
Croatia
Cambodia
Australia