Travel Specialties
Interests
Beach & Sun
Food & Wine
Culture, History & Arts
Honeymoons
Safari
Destinations
Australia
Canada
China
Denmark
France
Selling Travel Since
1973
My Background
I have been a travel professional for over 43 years with experience in leisure, corporate and group travel. Through my many travels and extensive research over the years, I am familiar with destinations far and wide around the globe.
I have enjoyed all of my travels and choosing one, as with many of us in this business, is a hard decision. Some of my favorites are Fiji and Tahiti for their incredible beauty and warm, friendly people and Italy for its historic sites and scrumptious cuisine. I have done many cruises over the years, and especially enjoy any cruise in a warm and tropical destination.
I strive to provide flawless and memorable experiences for every client I work with and have a loyal following that appreciates my attention to detail.
Places I Have Traveled
Reviews and Recommendations for Theresa Quintarelli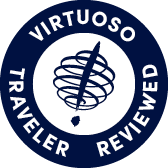 Virtuoso Verified Traveler
All reviews are from confirmed guests sharing exclusive insights
Sort reviews by
Recommended
EXCEPTIONAL SERVICE
By: ITC3
Reviewed on: 20 Nov 2013
Terry is excellence personified. Whatever your needs are she is willing to work w/you to make your "experience" an exceptional one. I am so looking forward to the trip she planned for me and my wife. Give that girl a raise!
Recommended
Very highly recommended
By: DAB
Reviewed on: 19 Nov 2013
I have been using Terri for business and personal travel for almost 20 years. She's the best. She knows our preferences and always takes care of us. In this last instance, she put together a complex trip for our family where almost every family member had a different itinerary and she did it easily and perfectly.
Recommended
Highly recommend their services -- expert and professional
By: Alice and Doug
Reviewed on: 14 Jan 2014
Terri helped us plan a two-week trip to Germany and France, and her suggestions were excellent. We had a wonderful, smooth trip, and I would recommend them highly. Hotel accommodations were very comfortable and convenient, and day trips exceeded expectations.
Recommended
So Helpful!
By: XTerra
Reviewed on: 23 Dec 2013
We had a wonderful 2 week trip to Costa Rica in July 2013 and Theresa @ Artistico Travel was our travel agent. It was great working with Theresa. She was quick to respond to our questions & she gave us a couple of options to choose from based off time/cost/features for each city we wanted to visit. She coordinated our trip which included different segments from multiple local companies in Costa Rica & everything worked out just great. We highly recommend Theresa for your next trip! -Derek
Recommended
Recommend Highly
By: Not provided
Reviewed on: 19 Nov 2013
Recommended
Great
By: Dave
Reviewed on: 30 Dec 2013
This was simply airline reservations. The reservations met our needs completely and the cost was extremely good.
Recommended
Highly Recommended
By: ITC3
Reviewed on: 05 Jan 2014
TQ is the best. She took great care of my wife and I for her birthday celebration in Vegas. Looking forward to TQ helping us out again. Thx
Recommended
Great to work with - she listens!
By: World traveler
Reviewed on: 13 Apr 2014
great experience.  Terry will not let you forget important dates or items on your "to do" list and also juggles an itinerary until it's perfect.
Recommended
Highly recommended
By: Jay 7
Reviewed on: 13 May 2014
The trip went quite well.  We enjoyed it all.  The length was good.  We didn't get too tired with all the activities. 
Recommended
Absolute Perfection
By: MacWino
Reviewed on: 26 Jun 2014
Everything that could be expected and more.   Best travel agent I have ever worked with.
Recommended
By: Onespud
Reviewed on: 06 Jul 2014
Theresa put us into hotels that were perfectly located, and delivered a package trip that included airfare, hotels, ground transportation and tours.  She is patient and stays on top of details and deadlines.  We will use her again.
Recommended
Always goes above and beyond!!
By: Dave
Reviewed on: 10 Jul 2014
Terri has been our travel agent for several years.  She is always responsive to any and all requests we make and is quick to respond if we encounter a problem either before or during our trips.  Terri also does "extras" (unbeknownst to us) such as notifying hotels when we are celebrating birthdays or an anniversary.  Terri is in contact with us right up to our time of departure to ensure everything is in order and follows up with us when we return home.  I cannot imagine a finer travel agent.
Recommended
Highly Recommend
By: Marie1234
Reviewed on: 12 Jul 2014
A usual, Terri did an outstanding job handling our travel plans.  This time she handled all the arrangements for our family of 10 on a cruise to Alaska.   Everything was taken care of efficiently and in a timely manner.  Consequently we were able to enjoy our vacation with absolutely no worries.  She has never disappointed us.
Recommended
Perfect trip!
By: Stacy14
Reviewed on: 26 Nov 2014
Terri helped my husband and I plan the ultimate honeymoon vacation to Europe that encompassed 6 weeks and 7 countries, planes, trains and cars! Absolutely everything went smoothly and without a single hitch, and considering the complexity of the trip, it was absolutely amazing! Every detail was worked out and we had contact during the trip to assure everything went well. All of the reservations for hotels, tickets and passes were taken care of and were fantastic. We can honestly say that we had zero complaint about anything and could not imagine going through another agency or travel adviser in the future and can confidently recommend them to anyone looking for an amazing trip!
Recommended
Excellent service
By: Chris
Reviewed on: 28 Sep 2014
Terri. Did a wonderful job booking my cruise for me, my mom, and grandmother. Made sure we were in a good room for three of us (one being 95 years old) which fit us comfortably, and we weren't very far from the elevator. she made sure we had all the appropriate paperwork for the trip without any difficulties. Terri was very flexible with my odd working hours, which is much appreciative. She is already helping my sister with her vacation plans, I will go to her again for myself in the future.
Recommended
She's an expert ! And she's fun to work with!
By: Leilani
Reviewed on: 14 Nov 2014
I had the best trip ever! The hotels she recommended where all in excellent locations !!!! We had the most perfect room in Venice - quiet yet on the water and we were serranaded by passing gondolas !!! It was wonderful. I just loved my hotel in Rome - I would go back there in a heartbeat! Cudos Terri! And THANK YOU from PAULA & I
Recommended
Cancun - Club Med
By: Sun shine
Reviewed on: 24 Nov 2014
Best ever; There is nothing better then an all exclusive location to have fun in the sun. All you can eat with food represented to all cultures and types. Two fabulous, plus for eating locations within Club Med. No need to go outside and spend money to eat, unless you have deep pockets. Dining has an area for adults only, should you be there without your loving children. Free snorkel area, boating, walk on the beach, spa, fitness, tennis. What more can you ask for; all in a beautiful area of Cancun and 10 minutes from the airport. This is a keeper and we will love to go back. As for the those who have family and want to take their kids, it appears they have many activities for them on all age levels, plus they have baby sitters. Did I mention; all the booze you can drink at any time of day? If you are a diver, you don't want to miss out on the dives you can select. There is a fresh water dive that will knock your fins off...
Recommended
Outstanding Service
By: Mac Wino
Reviewed on: 06 Mar 2015
Terri handled everything with great ability. She even helped us when we were in the middle of our trip by finding us a private driver for a tour. Cannot ask for a better travel agent.
Recommended
professional
By: CC
Reviewed on: 07 May 2015
Excellent service by Terri. Followed up when United had flight delay.
Recommended
Outstanding Travel Consultant
By: Joyce
Reviewed on: 19 Jun 2015
Terri has planned wonderful vacations for us. She is the best Travel Consultant we have every had plan our trips. We just completed a vacation that was a dream come true thanks to all Terri's hard work!
Recommended
AMA Waterways on the Danube
By: Mac Wino
Reviewed on: 13 Sep 2015
Everything went absolutely according to plan. I know with Terri taking care of me, there will be no problems.
Recommended
Another flawless vacation
By: DKL
Reviewed on: 22 Oct 2015
Once again Teri put together a flawless trip for us. Reservations were perfect as always. No reason to file an insurance claim but the one time in the past we did have to file a claim, she was right there with us, helping us all the way. Thank you, Teri.
Recommended
Was a trip that could not be better
By: skybear
Reviewed on: 16 Dec 2015
Have not been on a trip in 6 years. I had Theresa at Artistico travel set up a trip to Maui for me. The trip could not have been better. She answered all my questions, was very professional and pleasant to work with. Not 1 hitch did I encounter while over there. Her attention to detail is unsurpassed. Will book each and every time with Theresa, because I know I will never have any trip problems.
Recommended
Hawaiian Bucket List
By: MacWino
Reviewed on: 31 Jan 2016
Booked a Maui trip through Terri and like every other trip booked through Terri, everything under her control went flawlessly. My wife's bucket list had one top travel plan and that was a trip to Molokai to see as much of Father Damien's former leper colony as possible. The excursion booked through Terri was absolutely fabulous. She also booked a trip to Lanai which was equally interesting. I will continue to use Terri and Artistico for every trip I want to take. Excellent job by Terri, as always.
Recommended
Short, informative trip to Hong Kong
By: Alice
Reviewed on: 06 Apr 2016
A friend and I spent five days in Hong Kong recently. Because we had so little time, Terri arranged daily private tours for us through Swain Tours. Each day, we had a local guide for the different areas -- Hong Kong Island, Kowloon and New Territories, Lantau Island, and Macau. The guides were uniformly knowledgeable about their own geographic areas, as well as being thoughtful, intelligent and well-organized. We had a much more interesting and in-depth experience than we could possibly have put together on our own. I came home with so many impressions and thoughts about everything we saw during the five short days.
Recommended
Competitive Rates
By: Annie
Reviewed on: 17 May 2016
Compared costs with travel companion who had spent her time arranging own travel and was pleased to learn that my cost through Terri at Artistico Travel was no more than what she paid for the exact same thing ... plus I didn't spend my time researching times and costs. Yea! Thanks Terri!!
Recommended
Trip of a lifetime
By: JLC
Reviewed on: 31 May 2016
I am very thankful for all that Terri did to put together this trip of 4 ladies travelling to Europe. She arranged wonderful hotels for us in Paris and in Barcelona. She arranged all the transfers and booked our flights and our cruise. She made it all very easy for us and at a very decent price. I will use Terri for all my future travel needs.
Recommended
Fantastic
By: Happy
Reviewed on: 01 Jun 2016
Terri did an exceptional job in planning the perfect vacation. She was always there with any help she could provide!! Would recommend her to anyone traveling. Thanks Terri :-)
Recommended
She IS the expert
By: Onespud
Reviewed on: 14 Jul 2016
We had the best time and every connection was seamless and flawless. Terry had our plans airtight and nothing went wrong. She is the best in my book and I will never use anyone else.
Recommended
Rhine River Cruise
By: MacWino
Reviewed on: 06 Oct 2016
Everything that Theresa handles is done perfectly. Would never book any vacation without using her. She finds the best hotels and the best flights. She does care about how our trips work out. Great lady at a great travel agency.
Recommended
Great flight schedules
By: Annie
Reviewed on: 07 Oct 2016
The flight schedules booked worked great with minimum layovers and convenient connections. Thanks Terri! Delta needs to do something about the comfort level of it's overseas flights...'terrible' is being kind. Will definitely check the type of aircraft for next overseas trip.
Recommended
Good Trip
By: Schroes
Reviewed on: 22 Oct 2016
Recently took a trip to Edinburgh and London. Theresa provided excellent service and advice planning the trip. All flights, connections and train service went off with out a hitch. Will definitely use her expertise on my next trip!
Recommended
Excellent Service !!!
By: Geezer
Reviewed on: 17 Oct 2016
I want to thank you for the excellent service you provided. The trip was great and problem free. Was able to see a lot of England and part of Scotland. Will be back to see you when the next trip comes up. Thanks again!
Recommended
Friendly expert sevice
By: Lani's mama
Reviewed on: 26 Nov 2016
I had a great time, thanks for asking. My travel arrangements made the trip a breeze. Thank you Terri
Recommended
Outstanding Travel Advisor
By: Painter
Reviewed on: 09 Feb 2017
She is great! She has planned many wonderful vacations for us.
Recommended
Above and beyond!
By: NurseL
Reviewed on: 12 Apr 2017
Terri was instrumental in making our Australian vacation a success! We had some difficulties with the travel visa portion and Terri assisted by making phone calls and emails to not only the AU Visa/border department but she also made sure our hotels, airlines, etc were updated when we had to change travelers. I would use her services again in the future and I hope others choose to do the same.
Recommended
Best Travel Agent Ever
By: Aadi
Reviewed on: 07 May 2017
I have worked with Theresa for the past 4 years and every time she has more than come through with all my wishes for a complete and successful vacation. She is also willing to work with me to stay in my budget and has offered options, which other travel agency's do not do for a client.
Recommended
my review of Ms. Quintarelli
By: petsitter
Reviewed on: 31 May 2017
Very easy to work with Terri. She gets me the cheapest fare with the times I want. She's always curtious and efficent. And I guess I can't spell anymore! But I highly recommend Terri !!!
Recommended
Excellent Honeymoon
By: Michelle Canete
Reviewed on: 05 Sep 2017
Theresa is great! She really cares about her clients and is always on top of finding the best and most recent deals! She knows a lot of information about various cities and countries, and was very helpful in helping us decide where to go, what to do, where to stay, etc. Theresa is passionate about her job and made sure we got the most out of our vacation. Booking with Artistico, we received a complimentary dinner on the cruise ship, which was a great way to celebrate our honeymoon. Theresa also contact Royal Caribbean and had them bring us champagne and chocolate covered strawberries! It was a very sweet personal touch, and went a long way for us! We already booked our next cruise with Theresa!
Recommended
Trip
By: Sylvia
Reviewed on: 07 Sep 2017
Knowledgeable, friendly and efficient Very Good!!!
Recommended
Cruise
By: Ali
Reviewed on: 16 Sep 2017
It was great! She stayed in contact with us before, during and after our trip.
Recommended
ANOTHER EXCELLENT CRUISE
By: MAC WINO
Reviewed on: 09 Sep 2017
TERRI IS SO EASY TO WORK WITH. SHE IS ON TOP OF EVERYTHING EVERY STEP OF THE WAY. CHECKING IN WITH US DURING THE CRUISE. WHEN KLM CANCELLED OUR FLIGHT, SHE WAS WORKING ON THE WEEKEND TO MAKE SURE WE GOT HOME IN THE BEST POSSIBLE MANNER. CAN'T IMAGINE A BETTER TRAVEL AGENT THAN TERRI.
Recommended
Viking Douro River Cruise
By: Gary & Joyce
Reviewed on: 02 Oct 2017
Excellent and a pleasure!
Recommended
Hawaii Trip
By: GLENNY
Reviewed on: 18 Nov 2017
My trip was great . My daughters and I enjoyed the location of the Waikiki Reef. We were disappointed that they did not have room service. As I was very tired the day we arrived. The only breakfast they offered was a 28 dollar buffet . We decided to eat else where. All in all we had a wonderful time. Thank you Theresa, Glenda Hartman
Recommended
Fantastic working with Terri!
By: Danielle
Reviewed on: 31 Dec 2017
Fantastic! She is always available, friendly and professional. Terri is knowledgeable and when there is something she doesn't know, she researches and talks to contacts and gets reliable information in a timely manner. When I ran into questions while on my trip, she was right there, answering my questions right away. That kept my stress level low while in a foreign country so we could focus on enjoying ourselves and not worry about if we had a place to stay for the night. I look forward to working with Terri again on my next trip!
Recommended
The perfect trip advisor
By: Duckbucks
Reviewed on: 11 Feb 2018
What ever our question or need Theresa was there with the answer. She found us a much better deal on our airfare and hotel than we could online. We will not plan any of our longer vacations without Theresa and Virtuoso.
Recommended
Tri City trip to Australia organized quickly
By: Andrew
Reviewed on: 15 Feb 2018
I had found myself with one month of vacation coming up, but I had a very limited time to use it. I approached Theresa and said I wanted to go to Australia in two weeks, and immediately she had suggestions. She let me know that it would be difficult to be able to do everything I wanted since there was very limited time to book events and that usually they are given closer to 6 months lead time for an Australia trip. Within 2 days she had a tentative itinerary ready for me meeting all of my requests, and including some suggestions that I didn't even think of asking about. She kept me informed all along the steps, reminded me shortly before my trip, and asked how the trip was shortly after my return. The entire experience was a pleasure and extremely helpful
Recommended
Overall trip to New Zealand and Australia
By: Mary
Reviewed on: 28 May 2018
She's great. Had a lot of good recommendations
Recommended
Recommendation
By: Nette
Reviewed on: 24 May 2018
Terri has managed many trips for us and all have been fabulous!
Recommended
England
By: Billie
Reviewed on: 31 May 2018
Terri was great! She saved me about $600 in airfare and made every effort to secure the seat location I wanted. I feel she went out of her way to make sure I was satisfied. Thank you Terri!
Recommended
Great Advisor
By: ZebraMom
Reviewed on: 08 Jun 2018
Working with Theresa was a great experience. Anytime I had a question, I could either call or email her and she would respond back quickly. When I got home, she called to see how my trip was. While we were on the cruise, I had to call her and she was very helpful with her answer. I would use her again for any vacation planning.
Recommended
Horan Trip
By: Tommy
Reviewed on: 11 Jun 2018
Terri did a lot of work finding lots of alternatives for our trip. We had several conversations before we came up with just the right fit. If she was not available when I called she always got back to me in a timely manner.
Recommended
Terri
By: Pete
Reviewed on: 01 Jul 2018
Terri was informative and very responsive to our questions. She arranged tours, car rental, and train reservations for us, all of which were problem free.
Recommended
Christmas in July
By: Biscottimama
Reviewed on: 15 Jul 2018
Easy, very easy, no stress. I am confident in her choices for the trip
Recommended
Two thumbs up!
By: Jill Moz
Reviewed on: 30 Aug 2018
Terri was wonderful to work with. She kept us updated & in the loop. She took care of additional services we required and kept in touch with us in an ongoing fashion. Very thoughtful, detail oriented and thorough. A pleasure all around.
Recommended
Greece & Italy Cruise
By: Michelle
Reviewed on: 05 Oct 2018
This is our second time working with Theresa. We worked with her last year for our honeymoon, and we had such a good trip, that we booked our next cruise on our honeymoon!! We were so excited and knew we would work with Theresa again. She is very attentive and helpful, always making sure she is one step ahead of the game. She checks in from time to time asking if we need help booking any excursions on the ship, helping find us the best hotel and flight deals, and making sure we are completely satisfied before we leave. A few weeks prior to our trip, she sent us all the paperwork needed and had us checked in, so we had nothing to do on our end! Everything was printed (even the luggage tags!) and it was such a breeze to check in to our ship. In our room, we were surprised with a bottle of champagne and chocolate covered strawberries from Artistico. We were celebrating our 1 year wedding anniversary, so we also received a complimentary specialty dinner one night! Great customer service
Recommended
Transportation and Lodging
By: Judy
Reviewed on: 03 Oct 2018
Great! Terri is very helpful!
Recommended
Artistico is the best
By: Jen
Reviewed on: 23 Oct 2018
Working with Terri on my travel plans has been wonderful. I like to plan but knowing I have Terri helping me has made things so much easier. She is very knowledgeable, responsive and reliable. It's wonderful knowing she has the details in hand for a smooth trip and the extra little touches that Artistico travel provides always make us feel special.
Recommended
Greatest Advisor
By: Aadi
Reviewed on: 12 Jan 2019
I've worked with Theresa for years and I have never been disappointed. She works with you and not against you to make sure your trip will be the best.
Recommended
Great Job!
By: Judy
Reviewed on: 20 Mar 2019
Theresa was great to work with! She is so helpful.
Working with Theresa Quintarelli, you will have access to:
- An experienced travel guide whom you can rely on before, during, and after the trip
- Exclusive luxury resorts and properties
- Once in a lifetime experiences
Explore with the Best
Virtuoso Advisors are constantly pushing the boundaries in unique travel experiences.
Alliance programs are unique tailored experiences exclusive to travelers working with Virtuoso Travel Advisors.
learn more
Australia
Canada
China
Denmark
France
French Polynesia
Italy
Switzerland