Adriana Breidenstein
CTC
Houston, TX United States
Travel Specialties
Interests
Adventure
Food & Wine
Culture, History & Arts
Sports & Outdoors
Safari
Destinations
New Zealand
Australia
Antarctica
Argentina
Chile
Selling Travel Since
1990
My Background
At least 25 years in the Travel Industry but travelling all of my life. I was born, raised and educated in Europe and therefore plan a lot of European trips each day ! I love Adventure Tours like Safaris and outdoor trips like New Zealand. However also love checking into a 5 star hotel on certain other trips that help me unwind and relax with yummie local organic food and wine. For that matter it is a pleasure cruising on Seabourn, SIlversea, Regent and Crystal. Travelling and waking up in a different country each morning is priceless magic to me !
Places I Have Traveled
Reviews and Recommendations for Adriana Breidenstein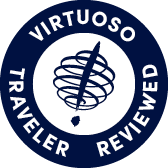 Virtuoso Verified Traveler
All reviews are from confirmed guests sharing exclusive insights
Sort reviews by
Recommended
By: Not provided
Reviewed on: 06 Jan 2014
Adriana is highly recomened by me for setting up the Tauck Grand New England tour we took this year, including transportation and various related expenditures. The trip was long and with many interesting and educational opportunities.
Recommended
Exemplary Service
By: Carolynn K
Reviewed on: 22 Sep 2014
Adriana has planned two trips for me in the last year. The first was a small group tour I had no hope of getting into as I was so late making a decision. Low and behold she secured a place for me at such a late date (although all the internet sites showed sold out). Further as a single traveler, she secured me a special rate that delighted me. Everything about that trip was first class and even better than I had hoped. The second trip was a Seabourn cruise to a destination on my "bucket list." Again, Adriana secured the exact right suite and assisted me greatly in arranging not only the perfect suite, but also the appropriate air and land transportation and the perfect pre-cruise stay. Everything Adriana does is for the client's specific needs and desires. She is simply the best travel advisor with whom I have ever worked, and there have been many over the years. I will never go anywhere again without her assistance.
Recommended
highly recommend
By: rose
Reviewed on: 04 Jul 2014
I have used Adriana many times and she has never let me down.  Everything she has done has been first class.  Would continue to use her.for all my travel plans and would recommend her to anyone who wanted a travel agent.  THE BEST.  Thanks Adriana.
Recommended
Fabulous Trip
By: RxTexan
Reviewed on: 02 Oct 2014
We had a fabulous trip. Adriana is very organized and always sees to every detail so we have a lovely and relaxing vacation. We have used her services for years and will continue to do so.
Recommended
GREAT SERVICE
By: GOLFERDON
Reviewed on: 08 Aug 2014
EVERYTHING WENT VERY SMOOTHLY AND AS PLANNED. THE EXCURSIONS AND GUIDES WERE FIRST CLASS EXCEPT FOR TALLIN WHERE THE TOUR VEHICLE WAS SMALLER AND NOT AS LUXURIOUS BUT THE GUIDE WAS VERY GOOD.
Recommended
Outstanding trip!!
By: Andy3/4
Reviewed on: 10 Aug 2014
Adriana did a great job. The trip went off without a hitch. All the excursions on A&K were first class. Adriana was excellent to work with...very thorough and much attention to all details.
Recommended
Fantastic Trip
By: Frankod
Reviewed on: 18 Sep 2014
Our recent trip to London and a Baltic cruise was perfect. Every aspect from the transportation to the ship and the excursions were beyond our expectations. Adriana had us in a perfect mid-ship balcony stateroom on Celebrity. She told us Celebrity was a fabulous cruise line and it was. Adriana also planned all our private shore excursions and they were outstanding. The guides were very professional and knowledgeable, They were always on time, friendly and flexible. I would recommend that you have Adriana Breidenstein plan your next vacation. You can not go wrong as she is very detail oriented and knows the travel business.
Recommended
Smooth Transaction
By: Katzzam
Reviewed on: 25 Sep 2014
Very well planned trip, the tour company was excellent, very organized and very smooth. Our flight arrangements were easy, our travel agent was most delightful to work with.
Recommended
Expert friendly service
By: Jped
Reviewed on: 30 Sep 2014
We have used Adriana to make travel arrangements for us on several trips. Each requiring different types of services. She has taken care of every detail. We have been very happy with Adriana's suggestions for destinations, cruise lines and hotels. We have also had a good experience with her bookings for days trips and guides. We would and have recommended her and Travel Experts to friends and colleagues.
Recommended
Trip review Oceania Miami Barcelona
By: Appie
Reviewed on: 27 Sep 2014
We are working with Adriana for at least 15 years. We mostly know what we like to do and in all cases Adriana makes a positive contribution. Our last trip was a cruise Miami to Barcelona with a continuation to Athens. Every thing worked out fine. So as rating A+
Recommended
Took Care of Everything!
By: GratefulJenn
Reviewed on: 09 Jan 2015
We are so grateful to Adriana for putting together a lovely holiday for us. Based only on a couple of requests she was able to create the perfect itinerary, with lovely flights that matched our schedule and a wonderful hotel stay. We will forever remember this trip and appreciate how easy Adriana made it for us. Thank you!
Recommended
Meticulous and professional service
By: Carolynn
Reviewed on: 04 Feb 2015
Adriana, as always, planned everything perfectly. Her service and advice makes every trip a joy.
Recommended
the best
By: ralph
Reviewed on: 14 May 2015
She is a wonderful agent. Always diligent. She finds the best trips for me when I suggest destinations. I don't have to do anything! Gets the best rooms, restaurants and travel arrangements. I would recommend her to anyone who wants to travel first class!
Recommended
Adriana is Great!
By: ghs
Reviewed on: 13 May 2015
She planned a great trip for us. Pre cruise visit to Amsterdam was fantastic. The tulips were over the top. The guided tour of the city was great--Ann Frank, museums, etc. The Viking Cruise Line was very good---great staff. Enjoyed the Rhine Getaway with the many towns, castles and churches along the way. Post trip to Lucerne was very nice. Bottom line is we had a great time.
Recommended
Delighted Travelers!
By: Laura & Bryan
Reviewed on: 26 Jul 2015
Adriana organised a wonderful trip for us as usual. From our arrival in New York, transportation to the elegant hotel, and then on to Cunard's Queen Mary 2, all went flawlessly. She took care of all the details for us so there was no stress, enabling us to enjoy our Atlantic crossing from New York to Southampton England. We are accustomed to this kind of service from Adriana, which makes all of our travelling experiences a pleasure. We are looking forward to having her organize our future adventures!
Recommended
Excellent! Perfect Arrangements!
By: Bryan and Cindy
Reviewed on: 24 Aug 2015
Adriana arranged a perfect trip for us. Accommodations were excellent and well placed for our planned activities. The guides/drivers were always timely, professional and very knowledgeable. Adriana listens well and works very hard to achieve your trip goals and she is extremely knowledgeable regarding multiple destinations. For us, she planned a trip of a lifetime and everything was flawless! We highly recommend Adriana! Bryan and Cindy, Mississippi
Recommended
Fabulous Expedition Cruise
By: Ron44
Reviewed on: 17 Sep 2015
The A&K Northwest Passage expedition cruise was fabulous. We've used A&K on several earlier trips, so our expectation were high. A&K did not disappoint! The Le Boreal is a superb ship, ideally suited for expedition cruising. The ship, food and service were of the highest caliber. The A&K expedition team is top notch--in our opinion, the best in the business. Adriana, our travel agent, managed the booking flawlessly from start to finish. She is a joy to work with: knowledgeable, efficient, helpful and with you every step of the way. We would highly recommend this trip for anyone with a sense of adventure and a desire to see some of the more remote places on the planet.
Recommended
Always great
By: Carolynn
Reviewed on: 24 Sep 2015
Adriana always arranges a great trip. She stays on top of everything and keeps me updated about any changes, in this case regarding my airline flights,
Recommended
very knowledgeable on Euro details
By: kjd
Reviewed on: 07 Oct 2015
we have worked w/Adriana for Euro travel in years past but we just completed a recent trip to Normandy & Paris & i am always impressed by her local knowledge. She placed us in Hotel La Cheneviere in Normandy...what an excellent choice & paired us w/great english speaking guides to tour the beach sites. She also placed us in Hotel Peninsula in Paris.....I believe the nicest hotel anywhere. Adriana assists w/recommended restaurants as well....she is full service!
Recommended
Best trip I didn't plan!
By: jeannec
Reviewed on: 05 Oct 2015
Adriana was instrumental in planning the very best vacation I have ever taken...all I gave her were the dates & where I wanted to go, she took the reigns and made it magical. My sister & I had nothing to do but enjoy ourselves. I'm so glad that my co-worker introduced us. A+++ to the best customer service & knowledgeable travel expert ever. I'm already planning next year's vacation with her. I know she will make this one just as wonderful. Thanks Adriana for all your help!
Recommended
Flawless service!
By: Phyllis 67
Reviewed on: 27 Oct 2015
Adriana provided expert advice on which shore excursions we should take on our cruise. They were fantastic. She arranged our transportation that we needed. The complimentary Virtuoso tour & cocktail party were an added bonus. Adriana has been our agent for many years & have always enjoyed her arrangements.
Recommended
Trip of a Lifetime - Flawless Service
By: Giza24
Reviewed on: 04 Jan 2016
Adriana just planned the trip of a lifetime for our family and we look forward to working with her on our next trip! Everything was perfectly planned from the drivers to the guides to the hotels and restaurants. She is knowledgeable and tenacious with getting the best rates, the best service, and the best accommodations. We explained all of our likes and wishes and she was able to develop an agenda that was perfect. There is NO way that we could have done this on our own and her experience was invaluable in helping us not to make any mistakes. We have no regrets and wouldn't do anything differently - except stay longer! I highly recommend her services and expertise - you will not be disappointed and it will be the best vacation you've ever taken!
Recommended
Most Professional Advisor & Indispensable Service
By: Adana
Reviewed on: 02 Feb 2016
I have just returned from a long trip to Brunei and New Zealand. This unique combination of destinations (one for family visit and one for vacation) made for a most complicated planning process. Truth be told, I really tried to plan this trip on my own, but found quickly that I was in way over my head. Dealing with airlines, hotels, and foreign travel to this part of the world, left me extremely frustrated. Fortunately Adriana was recommended to me by other grateful clients and she worked her magic. I truly appreciate Adriana's thorough research of my goals for this trip. She was always informed and professional as we discussed dates, options, and preferences. Taking my wish list, she created the best flight itinerary and the most efficient, enjoyable trip possible. I also want to commend Melissa Bates of Seasonz Travel. My family loved our NZ experience, the organized itinerary, and the incredible service and follow-up throughout our trip. We hope to visit again soon - Thank You!
Recommended
Well taken care of!
By: Wendywink
Reviewed on: 18 Aug 2016
We've had two trips planned with Adriana and both have been so memorable and enjoyable. Every hotel, restaurant and tour she suggests and assigns to our itinerary not only matched my family's wants but exceeded our expectations! Both trips have gone so smoothly and we can't suggest a better travel agent than Adriana.
Recommended
The Best!
By: Ron44
Reviewed on: 14 Sep 2016
We rely on Adriana for all our important trips. She is very helpful, knowledgeable and takes care of all the details. We trust her implicitly . She did a great job with our Regent cruise to Japan and China. We love Regent and they didn't disappoint on this cruise. Truly outstanding. We always use Travelex for our big trips. The peace of mind knowing that you have such excellent insurance is invaluable to us. Thank heavens we didn't have to use it!
Recommended
A wonderful person to work with.
By: Bryan H
Reviewed on: 09 Sep 2016
Every time we take a vacation that Adriana has planned for us we receive excellent service from her and from the hotels. We will always recommend Adriana for any travel needs.
Recommended
Italy/Greece
By: Justin84
Reviewed on: 23 Sep 2016
Adriana customized a great trip for my wife and I. She was able to take our input on what was important to us when traveling and prepared the best trip I've ever gone on. I can't thank her enough for helping to create such beautiful memories.
Recommended
A wonderful vacation thanks to Adriana.
By: B & L
Reviewed on: 11 Nov 2016
We decided to have a vacation at the end of October. However after looking at various locations and hotels on line we were not happy with the accommodations offered. One of us is disabled so we needed a "special" hotel that would be able to meet our needs and of course with friendly service. In stepped Adriana with the suggestion of The Resort at Pelican Hill, Newport Beach, California. Our stay there was wonderful. The Resort is in a beautiful location. The grounds and buildings are landscaped in an Italian style and the Bungalow guest rooms are luxury styled. The resort is spread out but there is always transport available at a moments notice to enable guests, even with disabilities, to enjoy every part of it. The service of all the staff is courteous and friendly with nothing being too much trouble to ensure the guests comfort and enjoyment. Thank you Adriana you came up with just what we wanted again!
Recommended
Best decision to use Adriana to plan our trip!
By: Monique
Reviewed on: 30 Nov 2016
This was the second time Adriana planned our vacation for us at this resort. We were taken care of from beginning to end with all of the extras she thought to plan for us including the express option through customs, transfers to/from the hotel and travel insurance which we ended up needing. Also by using Adriana we were able to take advantage of Virtuoso benefits not available to us had we booked on our own. She is the best agent we have ever have and will use her again for all of our future travel needs.
Recommended
The celebrity Eclipse
By: Judy
Reviewed on: 31 Jan 2017
It is always a pleasure to work with Adriana. She always goes the extra mile. On our last cruise she treated us to two dinners in the specialty restaurants on the Eclipse. This increased the enjoyment of the cruise. Judy and Paul Auerbach
Recommended
Adriana. A travel expert!
By: Bryan & Laura
Reviewed on: 27 Feb 2017
We have known Adriana for fifteen years. She knows all of our requirements which include some disabilities. We receive wonderful recommendations and service from her. We know when we arrive at our resort booked by Adriana, she will have worked hard to organized our vacation and make our experience first class and very enjoyable.
Recommended
The Best
By: Ron
Reviewed on: 11 Sep 2017
Adriana is a wonderful travel advisor! She is knowledgeable, easy to work with and attends to all the details. We have worked with her for years on all our "big" trips, and have never been disappointed. You can trust her recommendations and advice, and be confident that she will follow through on making sure every part and piece of your trip is correct and properly booked.
Recommended
Playa
By: Bea
Reviewed on: 20 Nov 2017
Adriana was very helpful. She made sure we had all documents, accommodations, instructions , etc way in advance. Having all this information beforehand made our trip so much more enjoyable.
Recommended
Peru Trip
By: Patrick & Linda Corrigan
Reviewed on: 02 May 2018
Adriana was outstanding! Her personal attention in making our Peru trip enjoyable and interesting made for an excellent travel experience. We had the good fortune of working with Adriana in the past...she is the consummate professional in every respect. We look forward to working with Adriana on future trips!
Recommended
Maine
By: Carl
Reviewed on: 01 Jul 2018
Working with Adriana is always a pleasure. She knows our likes and dislikes and maintains the relationship so that she is always up to date. I like that she is thorough and follows up to assure vacations go smoothly with no loose ends.
Recommended
Amsterdam-Paris Trip
By: Matt L
Reviewed on: 01 Oct 2018
As always it was great to work with Adriana on our recent 10 day trip to Amsterdam and Paris. Her extensive experience and counsel are always extremely helpful. Thank you Adriana for helping us create more wonderful memories.
Recommended
Top Notch Service
By: RonB
Reviewed on: 12 Nov 2018
Adriana has been our "go to" travel advisor for many years. She is experienced, knowledgeable and service oriented. As a travel professional she has the contacts and experience to put together great travel experiences with the top tour companies and cruise lines. She knows what we like and don't like and makes certain that our trips are tailored just for us.
Recommended
A great travel advisor
By: RonB
Reviewed on: 14 Mar 2019
Adriana has been our agent for a number of years. She is knowledgeable, capable and easy to work with. We wouldn't make a big ticket trip or cruise without her help and expertise.
Recommended
Our "Go To" Travel Advisor
By: Ron B.
Reviewed on: 13 Jul 2019
We have worked with Adriana for almost all or our big trips for a number of years. We rely on her to make sure we're well taken care of and that all the details are handled. She nails it every time. We're partial to Abercrombie and Kent for adventure and expedition travel, and Regent Seven Seas for cruises that are strong on itineraries. Adriana knows both companies extremely well and knows the ins and outs of working with them. She is very friendly, prompt with replies and easy to work with.
Recommended
Another Outstanding Trip
By: Matt L
Reviewed on: 29 Sep 2019
Adriana once again organized an awesome trip for us. Northern Italy was beautiful, but what made the trip was the meticulous arrangements by Adriana. Everything went as planned and without any issues. Thank you Adriana for your assistance and for making another memorable trip.
Recommended
African Safari
By: Vivard
Reviewed on: 22 Nov 2019
My husband and I had been thinking about going to Africa and on a Safari for quite a while. The thought of putting together all the elements seemed a bit overwhelming. Luckily Adriana came to our rescue. She made the process extremely easy and took away all of our concerns. The trip went off without a hitch. We were always met by our drivers/guides in a timely manner. Our flights were all convenient and everything was AWESOME! The lodges and hotels that she selected for us were perfect! I would highly recommend Adriana. She makes the process easy and fun and takes away all the headaches from you. Our trip was beyond amazing. Hope to go back again sometime soon.
Recommended
The best!
By: Ralph
Reviewed on: 20 Feb 2020
Wonderful! She's the best!
Working with Adriana Breidenstein, you will have access to:
- An experienced travel guide whom you can rely on before, during, and after the trip
- Exclusive luxury resorts and properties
- Once in a lifetime experiences
Explore with the Best
Virtuoso Advisors are constantly pushing the boundaries in unique travel experiences.
Alliance programs are unique tailored experiences exclusive to travelers working with Virtuoso Travel Advisors.
learn more
New Zealand
Australia
Antarctica
Argentina
Chile
Peru
South Africa
Uganda
Japan
Morocco
Italy
France
United Kingdom
China
Israel