Travel Specialties
Interests
Beach & Sun
Family Travel
Honeymoons
Independent Tours
Ocean Cruising
Destinations
United States - Hawaii
United States - Alaska
Italy
France
United Kingdom
Selling Travel Since
1991
My Background
My mission is to create memorable travel experiences that become apart of your life story that you can share with family & friends.
Originally from the Philippines, I am an island girl at heart that came to the United States in 1991. I started my career in the travel industry with a passionate desire to learn about our amazing world. Due to my Pacific background, I specialize in the South Pacific: Hawaii, Tahiti, Bora Bora, Fiji, Australia and New Zealand. I am Master Cruise Counselor for Alaska. I have sailed multiple Alaska Cruise & Tour itineraries. It is one of America's last frontiers. I love to share the excitement of Denali, the Yukon & Inside Passage with my clients.
The best part of my job is when a client returns and tells me that I exceeded their expectations. I believe it is the little surprises that make the difference!
Let me help you create a journey of a lifetime with a travel partner that is passionate about bringing you the best experience every step of the way.
Places I Have Traveled
Reviews and Recommendations for Noemie Cornelius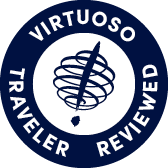 Virtuoso Verified Traveler
All reviews are from confirmed guests sharing exclusive insights
Sort reviews by
Recommended
First class travel service advisor
By: Kiahuna
Reviewed on: 14 May 2015
Could not recommend Noemie any higher! She is fantastic, friendly and very knowledgeable. Have used her twice for major trips. She has saved us a lot of time and money. I trust her completely..
Recommended
Quick and friendly service! Very Professional!
By: Jay&Mary
Reviewed on: 02 Aug 2015
Flight and cruise went off as planned. Weather did not cooperate, but that was not her fault. Kissed the Blarney Stone!
Recommended
The Ultimate Alaskan Experience
By: K. Bailey
Reviewed on: 21 Aug 2015
We had a wonderful experience on our first trip to Alaska. Noemie talked us into doing the extra 5 day land tour to Denali and we are so glad we did. Princess's VIP tour was just that, VIP! The tour guides all knew everything we needed to know about Alaska and more. They were all easy to understand and so accommodating. We never had to touch a suitcase for 12 days and the resorts were beautiful! We had a great mix of free time and very informative excursions included with the land portion. The vouchers for meals on the land portion were fantastic. We had a choice of a couple restaurants at each resort and we were able to order off the menu. It was everything Noemie promised and more!
Recommended
friendly and knowledgable
By: julie63
Reviewed on: 25 Aug 2015
Noemie was wonderful to work with. She was excited about the destination and was able to provide great detail, which helped us make our decisions.
Not Recommended
Less than desired service
By: Gary
Reviewed on: 27 Aug 2015
Had a great deal of problems getting responses to emailed questions. Failed to respond to some questions because she was "at a convention". We told Noemie we were celebrating a 74th birthday (June 3) and our anniversary June 2nd) on the cruise... not one indication of acknowledgement or "good wishes" was received from her. We did not even get a simple Bon Voyage email prior to our departure. Seems there is some forgetting of customer care! While on board we booked another cruise for next year (Eastern Mediterranean) and we had Celebrity change our travel agency. We simply cannot give Worldview a positive recommendation,
Recommended
Very helpful with great follow-through
By: Clint Allison
Reviewed on: 27 Aug 2015
The weather was a little disappointing...we were expecting some cool Alaska weather, but were surprised with unseasonable warm weather. The cruise was very nice and Alaska was beautiful!
Not Recommended
Terrible
By: suki
Reviewed on: 30 Aug 2015
worthless ! ! ! will never use your company again. did nothing but book our cruise. offered us convoluted return air flights. we booked our own.
Recommended
Excellent!
By: LPSC
Reviewed on: 20 Sep 2015
Time and time again, our friend has delivered the best vacations for us! Noemi recommended for us to stay at the Fairmont Orchid and it was a hit! I have already recommended it someone who plans to go to Kona.
Recommended
Very Professional
By: DCTraveler
Reviewed on: 21 Sep 2015
Ms. Cornelius is very professional, very responsive, and she always goes out of her way to make our vacations memorable. We have been working with her for almost 3 years now and we're looking forward to many more years!
Recommended
Excellent service!
By: Abe
Reviewed on: 20 Sep 2015
Our trip was well planned. Its the first trip I've ever taken and I wasn't disappointed. Transportation and accommodation are setup for us and we didn't have to worry about a thing. I would plan a trip again with Noemie and I will recommend her to anyone. Our trip was stress free and fun!
Recommended
Terrific
By: Trish
Reviewed on: 24 Sep 2015
Noemie was terrific. So helpful setting it up initially. Very easy to work with. The real test is when things go wrong due to world conditions and Noemie was there for us through out. I highly recommend her!! I would rate her as one of the best in her field.
Recommended
Expert help!
By: MrsCappuccino
Reviewed on: 25 Sep 2015
Noemie helped us to fly to France on IcelandAir so we could do a stopover in Iceland on our way back from France to the US. We were also traveling with a 23 month old. She did a wonderful job booking our tickets taking the headache away from me having to plan these details during my busy day to day schedule as a working mom!
Recommended
Fantastic and friendly
By: Fuzz
Reviewed on: 25 Sep 2015
Have used Noemie before and have always had a great time and no problems. Have complete trust in her as she knows my likes and dislikes!
Recommended
Expert Professional Service
By: DC
Reviewed on: 26 Oct 2015
Our cruise to Hawaii for 15 nights on Ruby Princess was great. The ship is very nice ,The whole trip went very well. We have done many vacations over the years with Noemie and all went great; She takes care of her clients and just like our trip, people like that.
Not Recommended
some problems
By: unhappy
Reviewed on: 10 Nov 2015
Our airline tickets were not confirmed and two of us could not sit together. So sad. We did not like the location of our cruise room. Noemi was an alarmist about getting our passports renewed. We had suficiant time. I did not appreciate being scolded for not realizing sooner that they needed to be renewed. She could not answer our question about visas before we booked, in fact she said she didn't think we needed them, but after booking we did need them. This proved very costly since rushing was required. I felt she just wasn't very informed about the cruise in general and we booked from her company because of a newspaper ad they put out for this specific cruise. It was a good value, and she tried to help, but I would not use her again.
Recommended
Execlent Service!
By: Kiahuna
Reviewed on: 27 Nov 2015
Noemie has been our only travel advisor for several years. She knows what we prefer and need in accommodations. All we do is sit back, relax, and she takes care of everything! We have another cruise already scheduled. Highly recommend.
Recommended
Stress and hassle free service!
By: Mila
Reviewed on: 19 May 2016
Very well planned, awesome trip for my first time experience to go on a cruise. Noemie help us make our travel hassle free and stress free. She is a wonderful agent and easy to deal with.
Recommended
Very competent and thorough
By: Walt
Reviewed on: 09 Jul 2016
We have booked 2 cruises through Noemie and she has carefully guided us through to the best deals and excursions.
Recommended
Fast, helpful, responsive service
By: NYCRR
Reviewed on: 20 Jul 2016
Noemie was extremely professional, responsive, and friendly -- she went above and beyond to schedule our trip and to answer follow up questions quickly. I would recommend her without hesitation and will ask for her help again in a second!
Recommended
Mostly great
By: Judy
Reviewed on: 05 Aug 2016
Not good experiences at Amsterdam airport for handicapped. Most of the trip was fine. England seemed the best to handle handicapped. Ship was fine and service was super.
Recommended
Very Responsive
By: ST
Reviewed on: 06 Oct 2016
Noemie works hard to find us the best deal possible on the cruises we have booked with her. She responds quickly to our questions and is always there to help!
Recommended
Great Cruise Line
By: Ken
Reviewed on: 25 Oct 2016
Noemie worked extremely hard to help plan our first Crystal Line cruise and we could not have been happier with the cruise line or Noemie's assistance and advise. The private Virtuoso tour of Barcelona was wonderful.
Recommended
Expert Friendly Help full Service
By: Hal & Kathy
Reviewed on: 19 Dec 2016
Noemie, We had an extremely good time! Stateroom was very nice. Everyone on the ship were most helpful and accommodating. The ship had everything that we needed or wanted. The shows were extremely good, we enjoyed all of them. The food also well done. Did not go to specialty restaurants , no need to. The three other couples they put us with were a perfect match and we all got along very well and ate with them every night, WOW! Loved the Martini Bar, especially the nights they had the "Silent Disco", what fun! The shore excursions were OK, a lot of walking for my husband, he has a bad ankle, but did OK! We definitely want to go on another cruise, but we need to discuss where we want to go next. Will certainly contact if or when we decide. Thanks so much for all of your help! Will talk soon, Kathy & Harold Kerber
Recommended
Around the World by airplane and ship
By: Wonderful
Reviewed on: 01 Mar 2017
A great experience with a details oriented person.
Recommended
cuba
By: guapo
Reviewed on: 07 Apr 2017
excellent perfect could not have asked for more thank you glg
Recommended
Majestic Cruise and Italy Tour
By: Mella
Reviewed on: 15 Apr 2017
Noemie made our Tour in Italy the best memorable one. She is very organize and hands on . We love having her as our travel agent.
Recommended
A+ For Noemie Cornelius
By: Lee
Reviewed on: 18 Apr 2017
Dependable. Always on top of everything making sure we are comfortable and happy with our trip. Reliable. Made every effort to make our trip enjoyable and making sure we are well taken care of. The best travel agent we ever had. I will recommend Noemi to my family and friends.
Recommended
Highly Recommended!!!!!
By: Jay
Reviewed on: 21 Apr 2017
Noemi Cornelius is very kind and accomodating with a good heart. She's very knowledgeable on what she does. She has the best people's skill . No doubt that she is very highly recommended to all our friends, relatives and colleagues. Kudos to Noemi. Bravo Sulu !!!! Our 12 days tour to Europe is unforgettable and our experience says it all and it's because of Noemi Cornelius. Good Job !!! She's awesome and confidently beautiful with a heart . Until our next sail under her command . She's 200 percent recommendable.
Recommended
Celebrity Advisor review
By: green hornet
Reviewed on: 10 Jun 2017
Her contacts were timely and most of her suggestions were very hepful. Her suggestions on airport shuttles were certainly good ideas and really appreciated when it came time to use them. We differed on which OBC to pick but she went with my choices anyway. Overall it was a good experience and I would use her again.
Recommended
Hawaii Trip
By: Hawaii Trip
Reviewed on: 17 Aug 2017
Noemie always looks out for the best deals for us. On this trip we had two excellent hotels with great accommodations.
Recommended
cruise
By: Larry
Reviewed on: 19 Aug 2017
Very responsive and willing to assist.
Recommended
Noemie
By: Mac
Reviewed on: 18 Aug 2017
She was very helpful.
Not Recommended
First Cruise Experience
By: first time cruiser
Reviewed on: 25 Aug 2017
Noemie started off to be very helpful and attentive. As time went on, we had to send several emails to get a response. No help on details such as hotels, land transportation, etc. She confused me with another traveler on several occasions sending me the wrong emails.
Recommended
Get the insurace
By: maggie
Reviewed on: 30 Aug 2017
Noemie has arranged several cruises for us. Two years ago she booked us into a wonderful hotel in Singapore for after the cruise sightseeing also found a great airfare for our return to the states. We were scheduled to go on a Danube River cruise in August but my husband had medical issues in early July with his doctors recommending we cancel. Fortunately Noemie had suggest that we purchase trip cancellation insurance. She was very helpful in helping me submit the necessary trip payment documentation. While we regret not being able to go on the cruise having the cost of the trip reimbursed eased the pain. We look forward to planning another adventure with her help
Recommended
2017 TI Celebrity Infinity Cruise
By: TAG
Reviewed on: 19 Sep 2017
Noemie was lovely, responsive and easy to work with. I had thought I was entitled to either the drinks package or gratuities and had thought I selected the gratuities however the Celebrity Infinity had no record of this hence I was charged a daily US gratuity - this was the only disappointing aspect of the trip - the cruise and all other aspects were fabulous and I am keen to prepare for another cruise.
Recommended
Friendly, warm and helpfu
By: Sandy
Reviewed on: 16 Sep 2017
She was really helpful as this was our first cruise. She did a good job of locating our stateroom and helping us maximize our ship credits.
Recommended
Alaska Cruise
By: Al
Reviewed on: 16 Sep 2017
Very good and enjoyable; she was thorough and followed up multiple times.
Recommended
A for Attitude.
By: Lena
Reviewed on: 11 Sep 2017
Noemie offered great service with a smile. Even if we couldn't see her we knew she was smiling. From the first hello we could tell she wanted to make sure we got on the cruise. This was our first cruise and she encouraged us to have aqua class - the service was exceptional. Thank you Noemie for giving us great service from beginning to end.
Recommended
Performance review
By: Hunter
Reviewed on: 10 Sep 2017
Very efficient,delightful and accommodating.
Recommended
Personal trip
By: John
Reviewed on: 06 Oct 2017
Terrific. She was extremely helpful and made quite a few suggestions
Recommended
Awesome Girl
By: The M
Reviewed on: 03 Oct 2017
She gives us more information about travelling wherein you want to travel all the time. Very helpful, friendly and knows her expertise very well. She's very enthusiastic and we are happy that she's our travel agent.
Recommended
New England Cruise
By: Virt_Satisfied_Customer
Reviewed on: 07 Oct 2017
Noemie works diligently to handle all details to provide for a good experience.
Recommended
Noemie Cornelius
By: Sandy
Reviewed on: 07 Oct 2017
Noemie was very helpful, professional and friendly when ever I called and asked for information and assistance. I would highly recommend her to other travelers be they experienced or novice
Recommended
Hotel del Coronado
By: Kathleen LeClair
Reviewed on: 16 Oct 2017
Noemie was able to obtain a room exactly to our request and needs. She alerted the hotel to our arrival and we were treated very well by the management. I think this is because Noemie called ahead to arrange our trip
Recommended
reservations
By: Shirl
Reviewed on: 24 Oct 2017
Noemie was so very helpful to get our reservations made & so easy for us to just get on the ship. I would call her again for help in choosing another cruise.
Recommended
Making Happy Memories
By: Cozy
Reviewed on: 16 Oct 2017
Noemie was helpful, efficient and provided information in a timely manner. She gave me ample time to complete the required information I needed to board the ship and gave good recommendations and suggestions for the shipboard packages I chose.
Recommended
California coast cruise
By: Travel Guy
Reviewed on: 19 Oct 2017
Excellent. Noemie was helpful and friendly. She was great.
Recommended
Trip of a Lifetime
By: Kris
Reviewed on: 19 Nov 2017
Noemie was amazing. She was there every step of the way for us. This was our first trip to Europe and for our 25th wedding anniversary so we had no clue what to do and Noemie handled everything. She made sure we knew all our deadlines, made reservations for everything and our car drivers were there at every place we needed them. It was like having our own business manager paving our way! She managed to get us some extra perks while on the ship including a paella cooking class. The hotels chosen for our extra days before and after embarking were perfect, especially the Hotel Dei Mellini in Rome. I have already shared our experience with our friends and everyone wanted her contact info. Thank you Noemie for a dream vacation we will never forget and we will never forget you for making it all possible.
Not Recommended
advisor
By: susieq
Reviewed on: 05 Nov 2017
At the beginning when we signed for a cruise...things were ok..later...not much communication.When asked about ports off ship...she didn't seem to have much advice or none....also did not say she would try to find out from others @ the office.We went out of Oceania package...it was like pulling teeth to continue some plans...or to get airplane seating...after we had already paid thousands of dollars for upgrade....she ,also did not advise us that we would need to get our own transportation from ship to airport....found this out the day before we docked....not happy to have to find options the last minute in a foreign country
Recommended
There when you need her!
By: Aussie Grandpa
Reviewed on: 28 Feb 2018
Can't say enough positive things about Noemie. Personable, professional, and very responsive on email and phone.
Recommended
What A Pleasure Working with Noemie
By: None
Reviewed on: 01 Apr 2018
Noemie provides outstanding customer service!! We have already recommended her to other travelers we have met.
Recommended
Oceania Cruises
By: V&M Arizona
Reviewed on: 14 Apr 2018
Our long relationship with Noemie contains many success stories. We ask for results and they are delivered promptly. Great ideas are often mentioned before requests are made.
Recommended
Travel arrangements
By: Josie
Reviewed on: 14 May 2018
Noemie is the best travel agent I've ever had. Very efficient, knowledgeable, professional, friendly and she knows how to make the client happy and to be satisfied. She has all the answers to all your questions. I'm very happy with all her recommendations. I'm very happy that I let her plan everything for me. I want her to be my travel agent again for my next trip. It was amazing experience I'll never forget. Well done. I will recommend her for my family and friends.
Recommended
Travel Edge
By: lmgatus@hotmailcom
Reviewed on: 22 May 2018
Marvelous. Always on top of it. Always follows up to her clients and most importantly updating us most of the time. Nice, pleasant and kind
Working with Noemie Cornelius, you will have access to:
- An experienced travel guide whom you can rely on before, during, and after the trip
- Exclusive luxury resorts and properties
- Once in a lifetime experiences
Explore with the Best
Virtuoso Advisors are constantly pushing the boundaries in unique travel experiences.
Alliance programs are unique tailored experiences exclusive to travelers working with Virtuoso Travel Advisors.
learn more
United States - Hawaii
United States - Alaska
Italy
France
United Kingdom
French Polynesia
Mexico
Philippines