Travel Specialties
Interests
Adventure
Food & Wine
Spa Vacations
River Cruising
Selling Travel Since
1978
My Background
I am a veteran travel industry executive with over 3 decades of experience in luxury travel. I began my career with Rainbow Travel Service in May 1979 in their Group Department. Within only three months, I moved into the sales department and began my studies and training to become a Certified Travel Counselor (CTC) in 1986 with the Institute of Certified Travel Agents. My extensive luxury travel experience includes escorting upscale groups on luxury travel throughout the Mediterranean. In addition, my experience includes extensively traveling South Africa, Kenya, Europe, South America, Malaysia, Burma as well as India, Jordan and Israel. This experience is key in knowing the best travel options available for my clients in any given market. My experience includes escorting several luxury excursions on Regents Seven Seas Cruise Line throughout the Mediterranean and Alaska. Finally, I have a history of creating the most memorable upscale luxury travel experiences and a deep knowledge and understanding for both international and domestic travel requirements. I am a leading expert in providing upscale travel expertise and market intelligence advice for luxury excursions. My broad base of upscale worldwide travel contacts and operational expertise in the luxury travel; make me an invaluable asset in the luxury travel industry. The depth and breadth of my luxury travel experience as well as my background have attracted over 35 years of a consistent clientele base with a solid interest in luxury travel.
Places I Have Traveled
Reviews and Recommendations for Joan Gerson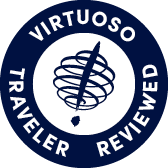 Virtuoso Verified Traveler
All reviews are from confirmed guests sharing exclusive insights
Sort reviews by
Recommended
By: Not provided
Reviewed on: 17 Sep 2013
We had a wonderful time she is excellent to work with. Lauren Owen
Recommended
Joan Gerson is a miracle worker for travel
By: Chris
Reviewed on: 01 Oct 2013
Great fun thanks to Joan Gerson's arrangements. Perfect pre and post-cruise hotel stays that put us in walking distance of just about everything we wanted to see. The cruise was a Holland America success - great food, interesting activities and shows, a choice of tours from comprehensive to casual. Joan sent chocolate-dipped strawberries to us and our gift wine was traded for the fancy restaurant. Air travel put us together coming and going. Thanks Joan!
Recommended
By: Mac
Reviewed on: 02 Oct 2013
Very Highly Recommended Joan had all our paperwork done ahead of time. We breezed through the boarding process. She helped us sign up for our shore excursions. Our gift excursion in Quebec was outstanding ! We have worked with Joan before and we know how dependable she is when something unexpected comes up (which it did not on this trip). We certainly hope to make travel plans with her again.
Recommended
Great trip!
By: DG
Reviewed on: 18 Oct 2013
We really had a wonderful time, everything was great, everyone really nice. Beautiful country, highly recommend. The train trip a great way to travel in western Canada. Thinking we would like to see eastern Canada sometime in the future. DG
Recommended
Recent Trip to Rwanda and South Africa
By: Lyle
Reviewed on: 13 Oct 2013
Joan was a life saver. I attempted to book my reservations for a complicated trip to Rwanda and South Africa for myself leaving OKC visiting my daughter in Rwanda, then she and I leaving Rwanda to fly to Cape Town South Africa, she back to Rwanda and me back to OKC....None the less, I was unsuccessful in beginning such a complicated air/hotel schedule, when my boss suggested I contact Joan at Rainbow. She was professional, efficient, and got the job done with a minimum of effort on my part.
Recommended
Will use and recommed her again.
By: Mary K Pearson-McCoy
Reviewed on: 05 Nov 2013
Recommended
Experience you can depend on
By: Party of six
Reviewed on: 09 Nov 2013
Joan has been our travel planning professional for several years. Her experience and knowledge means that we can depend on her to plan just the right outing for our group of six.
Recommended
Joan is a Four-Star Recommendation
By: Scott
Reviewed on: 07 Nov 2013
We have been so pleased with Joan and her professionalism and friendliness, we have used her to book multiple trips/cruises over the years. We recommend her highly. You won't be disappointed.
Recommended
Highly recommended
By: Phil
Reviewed on: 23 Nov 2013
I have been using Joan for many, many years. I have forgotten how many cruises she has booked for us. She has booked plain tickets for other activities. She has help us coordinate with the cruise lines and always prepares and mails us our documents. Bottom line, she takes care of us.
Recommended
We do recommend her to others
By: SJS25
Reviewed on: 09 Nov 2013
We have used Joan for years. She works hard to help us with our travel plans.
Recommended
By: mrslaps
Reviewed on: 10 Nov 2013
We enjoyed working with Joan. She did an exceptional job. geting us ready for our cruise. She is a wonderful agent. Thank you, Mrslaps
Recommended
great at customizing the travel experience
By: MPinOKC
Reviewed on: 07 Nov 2013
Joan always takes good care of us and has good specialized partners agencies they work with. She knows what we are looking for and what will work well for us.
Recommended
Should be on your bucket list
By: Doug
Reviewed on: 11 Nov 2013
Without being too trite, I would recommend this trip as a bucket list item. What a great trip with the classiest accommodations, thanks to Joan, ever. We will be booking our next trip through Joan Gerson with confidence we will have the best of everything.
Recommended
Highly recommended
By: okc895
Reviewed on: 07 Nov 2013
Joan was very helpful in planning our Las Vegas vacation. Made it easy for not-so-frequent travelers.
Recommended
Highly Recommended
By: Jocky71
Reviewed on: 22 Nov 2013
It has been a great pleasure to say that my husband and I Virtuoso experience was complete with professional follow-ups with a phone call, emails and correspondences. Thank you Joan, you made our Virtuoso experience a SUCCESS!:-).
Recommended
Highly Recommended
By: wstough@bonton.com
Reviewed on: 19 Nov 2013
Joan is fantastic...the best. Even though we live in Pennsylvania we have been using Joan exclusivly for our travel plans for 15 years. Over the years she knows our likes and dislikes which makes our planning sessions a breeze. Her experience with international travel is a huge asset. She runs with minimal direction and the results have always been memorable. I hope she never retires because we have lots of travelling ahead of us as we will begin retirement shortly.
Recommended
Disney Done Right
By: bubs
Reviewed on: 19 Nov 2013
FABULOUS, every detail was perfect from the hotel to the meals to the parks, it was all done in great style. We have used Joan before and she is the BEST!!!
Recommended
highly reommened
By: dolly
Reviewed on: 19 Nov 2013
We had tot cancel the last minute, but Joan Gerson gave us excellent service and she is a pleasure to work with. We will use her again and tell all our friends what a good experience we had with her
Recommended
Hghly Recommend
By: Koni
Reviewed on: 24 Nov 2013
Use Joan for all out travel trips. Always helpful with planning and any questions.
Recommended
Highly recommend.
By: jtg42
Reviewed on: 30 Nov 2013
Joan is knowledgeable and has good follow-up. We enjoy working with her, and have for years!
Recommended
Highly Recommended
By: Mike and Kaye
Reviewed on: 09 Dec 2013
Joan has been our travel agent for 22 years and has never let us down. We just tell her what we would like planned and she always comes up with something. This year she planned three trips for us and they ranged in numbers from the two of us to 15 and included a cruise with final days in NYC, international travel to France, and a land trip in the southern US. Joan is very personable and works diligently to meet our needs.
Recommended
By: Not provided
Reviewed on: 12 Dec 2013
Our trip was just perfect snd we had a great trip to New York city
Recommended
strongly recommend
By: Novem
Reviewed on: 15 Dec 2013
Mrs. Gerson provided me with excellent trip planning including help in signing up for side tours. She was most helpful in making desired flight itinerary changes. Her tips for making my travel easier and better were invaluable. It was a rewarding experience working with her.
Recommended
Five Stars!
By: Scott
Reviewed on: 24 Dec 2013
Joan has helped us plan trips for many years and we have always been extremely satisfied!
Recommended
By: Lady
Reviewed on: 05 Jan 2014
This survey was addressed to my husband, not me, Rutha, who went on the trip. I must say it was an excellent trip!
Recommended
Highly recommend
By: Mr. C
Reviewed on: 28 Dec 2013
Joan did her usual excellent job. She fixed our errrors (spelling issues on our end), sent the documents in a timely manor and in general, did what she always does, which is take care of us.
Recommended
excellent and highly reccomend
By: no public nick name.
Reviewed on: 03 Jan 2014
I kept her busy with changes as I got train sick and she had to change the return trip to air. Very much appreciated the service. M Hart
Recommended
Highly recommended
By: Mike and Kaye
Reviewed on: 05 Feb 2014
Our last trip went like clockwork.  In fact, all of our trips planned by Joan over the past 20 plus years have gone well.  
Recommended
Travel with Joan
By: Y
Reviewed on: 28 May 2017
I enjoy working wit Joanie. We have a good relationship. She is very professional and accomplishes what needs to be done.
Recommended
London trip
By: Janie
Reviewed on: 23 Jun 2017
Johnny-on-the spot. Quick to respond, always gets what we need.
Recommended
Highly recommended
By: fanda
Reviewed on: 15 Jan 2014
Joan was extremely helpful from the beginning. She did everything we wanted and even managed to put two couples together in hotels and on ship next door at our request. That's for 16 nights from Fairbanks to Vancouver. Our tour and cruise was the best experience ever because Joan set us up "first class" at every excursion and stop even though we paid for "economy" class. We will us Joan for any major trip in the future.
Recommended
Exactly What We Wanted!
By: Lisa 73118
Reviewed on: 17 Jan 2014
We contacted Joan just 2 weeks before we wanted to leave so I wasn't feeling very optimistic about our arrangements, but she got us flights with great connections and booked us into the Now Jade Riviera Maya Resort. The hotel was perfect for us -- very luxurious, but casual. It was so spacious and relaxing, even at 100% occupancy! We really enjoyed it.
Recommended
By: Not provided
Reviewed on: 19 Feb 2014
Joan Gerson    Lined up a trip to Hawaii for my wife and I, She planed the plane trip, Lodging at a resort and Car rental,  she takes care of small details so there is never a problem,  We have juse Joan several times in the past and we plan to use her for all of our travel, If you need a PRO in the travel business, Call Joan.Maui King and his Queen for Oklahoma City OK
Recommended
Good job
By: mjs
Reviewed on: 12 Apr 2014
Everything went smoothly.
Recommended
Way to go Joan
By: ads
Reviewed on: 03 Jun 2014
Joan is an experienced travel professional and provided some excellent information to help us plan our "bucket list trip".
Recommended
Great job
By: Joyce
Reviewed on: 21 Jul 2014
The hotel and location in Boston was wonderful.   The only problem I had was the wheel chair service in Dallas on my way to Boston which she had no control of.  I shall discuss this with her when she gets back.  
Recommended
Great Travel Agency
By: H and P
Reviewed on: 12 Sep 2014
Joan did a pretty good job with all of our travel arrangements. Everything went as planned. The only problem we had was the Rail Pass which was good for five countries but Luxembourg is it own country so it was not included on the train pass that we had. We talked to a train ticket agent and they were able to help us. Riding the train was one of the best choices we made on taking this trip. Glad that Joan told us about the Rail Pass. What a great way to travel and see the country side.
Recommended
Excellent Service on our Cruise!
By: Brian&Myrna21
Reviewed on: 18 Aug 2014
Joan did such a wonderful professional job in covering all the details of our 30th Anniversary Cruise on Royal Caribbean Navigator of the Seas. We had a fantastic time and felt prepared for all the requirements especially relating to boarding. We felt totally cared for and even received wine and chocolate strawberries from Joan on various days of the cruise. Joan, Rainbow Travel, and Royal Caribbean are awesome!
Recommended
Short trip
By: Marvroo
Reviewed on: 01 Nov 2014
Everything went smooth as always. It was a family affair and will be remembered.
Recommended
always takes care of the details
By: Yossi's petparent
Reviewed on: 27 Dec 2014
Joan always makes sure all the important details are taken care of, so we always fell well taken care of. We've been on over a dozen trips she's helped us with. She's the best! Highly recommend without reservations. (she'll help you with those).
Recommended
Rosemary Beach
By: Donna C
Reviewed on: 02 Jul 2017
Great! Phenomenal accommodations, easy check in and out. Joan is very professional and knows her business. Wouldn't use anyone else!!
Recommended
Scotland Adventure
By: Angie
Reviewed on: 15 Jul 2017
It was done with ease.
Recommended
harmony of the sea
By: everettenwaren@bellsouth.net
Reviewed on: 31 Jul 2017
excellent professional assistance
Recommended
Patagonia fishing trip
By: Janie
Reviewed on: 16 Feb 2015
Alvear Hotel in Buenos Aires was fab and so enjoyed a private tour of the city; the Hotel LLao LLao in Bariloche had great architecture but was getting a little thread-bare in places, itsey-bitsy bathroom but modern, mediocre golf course, beautiful land around it; Hyatt in Mendosa was fine; Cavas Wine Lodge was unique; Patagonia River Ranch was lovely and we were lucky to have the "Honeymoon Cottage" (we dubbed it that--was the first season for a separate casita at the lodge). Not sure any of us would go back there. Most days we had quite a drive to the river we were to fish--then back home again. One day we weren't back till 8:45 PM. and most of the roads around the area are unpaved. The Lodge itself was beautiful, food was great, fantastic staff, incredible rose and vegetable/fruit gardens. Some in our party said they caught more and bigger fish in Chile. Our fishing was rather technical, but Jon and I were thrilled we got to go. Great breakfasts everywhere.
Recommended
Perfectly planned
By: Mike
Reviewed on: 16 Feb 2015
Our Tauck small ship cruise through the Panama Canal which was booked through Joan Gerson with Rainbow Travel Service was a great trip and was perfectly planned.
Recommended
Trip to Panama
By: Herman the German
Reviewed on: 23 Feb 2015
We had a great time in Panama, did not really like the food or people speaking only spainish, other than that it was a good trip. Robert Hawks
Recommended
Superb Service
By: Old Stan
Reviewed on: 12 Mar 2015
Joan Gerson, did a superb job in supporting out Oceania Cruise. Plans, supporting documents, itineraries, etc. were well prepared and timely delivered yo us. I would wholeheartedly recommend Mrs. Gerson and Rainbow Travel Agency.
Recommended
Friendly service
By: Tia
Reviewed on: 31 Mar 2015
Joan was very professional, friendly, and efficient. She gave great ideas and she planned our trip to Disney World perfectly. We had a great time. Thank you Joan.
Recommended
One of our best trips ever!
By: selby
Reviewed on: 25 Jul 2015
Our cruise to Belize, Cozumel, and Honduras was one of our very best vacations. To start with our parking close to the ship was fantastic. Easy on, no long lines. Loved our room. Mid ship, 9th fl. handy to all the action. We enjoyed several activities onboard. We enjoyed the zipline and tube floating in the cave on Belize. (Highly recommend) We especially enjoyed Honduras. We catamaran snorkel with lunch. We were very surprised with Honduras. It reminded us of Hawaii. Very clean, town by the cruise ship was new with brick pavers. Lots of entertainment and shopping. We also rode on the ski lift. We might even consider going back and spending a few days someday. Check out time was a breeze. We just got up, eat breakfast, got our luggage and walked off the ship. No long lines, no waiting, walked 2 blocks to our car. Last but not least, (the food was fantastic and the people and service on the ship was No.1) Thank you for taking care of all our travel needs, and we will be in touch!
Recommended
Wonderfully planned trip
By: Randy
Reviewed on: 03 Aug 2015
Joan did an outstanding job of planning a trip that went perfectly. We fully enjoyed our trip.
Recommended
Great Service!
By: Travelin' Fool
Reviewed on: 09 Aug 2015
Got great support and all of my questions answered as trip approached and as it progressed.
Recommended
Outstanding
By: Yt
Reviewed on: 26 Aug 2015
We enjoyed our trip and Joan took great care of us!! We were pleasantly surprised to receive the $50 discount provided by Virtuoso!!! It was a wonderful treat and I got to add a massage because if it!! Thanks!!!!
Recommended
Expert and friendly service
By: Bkack Cloud
Reviewed on: 08 Oct 2015
Superb in every aspect! Thanks for a job well done.
Recommended
Getting to and from Guayaquil, Ecuador
By: Helene
Reviewed on: 22 Nov 2015
I was joining an Olivia tour in Guayaquil to the Galapagos. JoAN MADE SURE THAT i GOT THERE ON TIME AND IN COMFORT AND RETURNED THE SAME WAY. GOING THROUGH PANANMA WAS A BIT SCARY AT FIRST FOR ME BUT IN TRUTH THEIR AIRLINES AND PLANES WERE FAR SUPERIOR TO UNITED'S. I WOULD NEVER HAVE BOOKED IT THIS WEAY EXCEPT FOR JOAN AND HER EXPERTISE. THE PEOPLE WHO CHOSE AMERICAN AND WENT THROUGH MIAMI HAD NIGHTMARE STORIES...ONE WAS STUCK THERE FOR TWO DAYS! (fortunately they were planning a 2 day pretrip to Guayaquil so they didn't miss the trip's departure.) TRUST JOAN!
Recommended
Prompt, efficient, caring communication
By: Ral
Reviewed on: 19 Jan 2016
Joan was very thorough in finding best airplane routes for 2 people connecting from different cities for big trip. The hotel arrangements in Paris were great and loved location of suggested hotel Esprit St. Germain. Also checked out other recommended hotel on Left Bank in Paris, Bel Ami which, looks like a great option for next visit. The Virtuoso Program at hotel was perfect. Joan can be relied upon to provide thoughtful and fast and responsive service for any type of trip.
Recommended
service was good
By: mike
Reviewed on: 08 Jan 2016
The trip was good all had a good time.
Recommended
Bon Voyage! Excellent travel planning!
By: MMP
Reviewed on: 08 Apr 2016
Joan was always available to help guide and advise us on our travel plans, and then very helpful calming our concerns about security and safety in Europe. The only part she couldn't control was the weather during the week we scheduled. The price of the trip was less because it was early in the season, but that meant that we really couldn't enjoy the use of the top deck of the boat the entire time and that the landscape still looked more like winter than spring. Other than our decision to schedule so early in the season, everything else was wonderful... from the food, the ship staff, the excursions and the transportation arrangements. I would prefer to stay in a more French boutique style hotel in a different area than the one that came with the land package, but it was more efficient to be with our group for the planned excursions. We appreciated the excellent travel service through Rainbow. Thank you.
Recommended
great service
By: Don T
Reviewed on: 20 Jun 2016
every thing went well , the travel plans were excellent.
Recommended
Marlene
By: Great trip.
Reviewed on: 26 Sep 2016
It was a great trip without any hitches. Due to inclement weather we were unable to stop at one of the ports.. The crew on the ship were wonderful and my only complaint was that I ate too much....I would certainly take another trip on Regent Seven Seas Mariner. The ship was just the right size. I cannot think of anything to complain about.
Recommended
good service
By: Joyce
Reviewed on: 03 Dec 2016
It was a great trip and being able to spend the time with family on the east coast.
Recommended
Anniversary trip
By: LC
Reviewed on: 20 Jan 2017
Joan took the stress out of planning our 10 yr anniversary trip. She handled all question/concerns promptly.
Recommended
Such a great planner
By: Fieryredhead
Reviewed on: 18 Jan 2017
Joan was great to plan our trip and she sent all Of the instructions for embarking etc. we will Definitely use her again!
Recommended
Cabo
By: Dennis
Reviewed on: 23 Jan 2017
Excellent! Excellent!
Recommended
Buenos Aires to Rio
By: mjs
Reviewed on: 16 Mar 2017
Everything went well
Recommended
Always helpful and excellent
By: Timothy
Reviewed on: 26 Mar 2017
Always a pleasure
Recommended
She's the BEST!
By: Kelly&Anita
Reviewed on: 25 May 2017
Joan really listened to us and planned everything - our flights, hotels, car rental, and sightseeing tours. Everything was perfect...couldn't have asked for any thing more! She was absolutely amazing, very professional and was always available when we had questions. Will definitely use her again and will recommend her to everyone.
Recommended
Our 20th Anniversary Cabo Trip
By: Lonnie
Reviewed on: 12 Aug 2017
Joan was amazing to work with! The easiest trip planning I've ever been a part of. She asked what I was looking for, what my budget was, and the rest was a breeze. I look forward to booking many more trips with Joan.
Recommended
Oceania Cruise
By: Black Cloud
Reviewed on: 14 Aug 2017
Excellent knowledgeable and anxious to please
Recommended
She knows what she is doing...
By: Anonymous
Reviewed on: 22 Aug 2017
Joan was helpful and knowledgeable but left enough of the planning to us so we felt like we planned the trip. If we had a question, she was very quick to respond to email and phone calls, including evenings and weekends.
Recommended
Hawaii 2017
By: Laura
Reviewed on: 31 Aug 2017
Joan was very accommodating and good to work with. The vacation package she put together was wonderful.
Recommended
Aruba 2017
By: Yvonne
Reviewed on: 02 Oct 2017
My husband and I couldn't be more than appreciative of how Joan planned our trip to Aruba. She did a fantastic job and everything ran smoothly. We would use her again for our next trip.
Recommended
Joan
By: Travel Diva
Reviewed on: 20 Oct 2017
Joan is great to work with. She understands that sometimes I want first class and sometimes just a quick getaway.
Recommended
Trip to Kansas City
By: Fritz
Reviewed on: 02 Dec 2017
Fine. Got there when I suppose to on all of my flights.
Not Recommended
Not friendly
By: Elizabeth
Reviewed on: 05 Jan 2018
Joan just wasn't very friendly, not really rude but could be nicer.
Recommended
Florida Christmas
By: Doug
Reviewed on: 15 Jan 2018
As usual, Joan was outstanding in finding the perfect accommodations for our family and setting things up so that we had a smooth and enjoyable trip and stay at the destination.
Recommended
World's best travel advisor.
By: Blue booby
Reviewed on: 26 Jan 2018
Joan Gerson is customer service personified. She bends over backwards to accommodate my technology shortcomings. Her travel arrangements exceeded expectations and her advice when my flight connections were weather delayed saved my trip. My family won't travel without her. She's the best!
Recommended
Emergency Trip to OZ
By: The girls from downunder
Reviewed on: 29 Jan 2018
Joan was very helpful and the trip was a very important one, as a family member was ill and not expected to live. Joan worked with us on short notice and tried to get us on the least stressful flight possible! We dread LAX but this trip was smooth and without incident. With worry and grief looming, Joan's planning was impeccable and our emergency trip was without incident. Thank you very much.
Recommended
Florida trip
By: Pattycakes
Reviewed on: 06 Mar 2018
She was great.
Recommended
Trip
By: Gloverboy
Reviewed on: 06 Apr 2018
She was good to work with.
Recommended
Disney
By: W Bishop
Reviewed on: 04 May 2018
Joan planned the perfect trip and got the best deal that was available. Even though sickness happened and we had to cancel a new trip is being planned and she is also planning that one for us. I will continue using Joan in the future.
Working with Joan Gerson, you will have access to:
- An experienced travel guide whom you can rely on before, during, and after the trip
- Exclusive luxury resorts and properties
- Once in a lifetime experiences
Explore with the Best
Virtuoso Advisors are constantly pushing the boundaries in unique travel experiences.
Alliance programs are unique tailored experiences exclusive to travelers working with Virtuoso Travel Advisors.
learn more