Travel Specialties
Interests
Beach & Sun
Family Travel
Honeymoons
Escorted Tours
Ocean Cruising
Selling Travel Since
1997
My Background
I began my professional travel career in 1997. Prior to that, I found myself arranging travel for family and friends on a regular basis. I enjoy helping clients to realize their dream vacations. Being a member of Virtuoso gives me the resources to enhance travel to all destinations.
Places I Have Traveled
Reviews and Recommendations for Julie Raines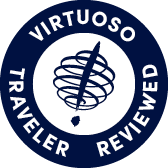 Virtuoso Verified Traveler
All reviews are from confirmed guests sharing exclusive insights
Sort reviews by
Recommended
Excellent to Work With
By: Kim and Dave
Reviewed on: 07 Feb 2014
Julie has always done a great job coordinating our flights to meet our needs.  Dave has some physical limitations, and Julie always works to make this as easy as possible of us to get around in the airports.  Although we have our own resort accommodations, Julie has been invaluable in the past and we will continue to use her.
Recommended
Great service
By: downhill
Reviewed on: 12 Feb 2014
We were very pleased with Julie.  She was able to answer all of our questions.  We had a great trip. 
Recommended
Highly recommended!
By: JonB
Reviewed on: 14 Feb 2014
Julie Raines is simply the best. I would hate to plan a trip without her and when needed she can pull a rabbit out of the hat when attemping to change a schedule at the last minute. 
Recommended
highly recommended!
By: Calhoun5
Reviewed on: 25 Feb 2014
She did a great job in helping me make my first cruise a great experience! It was the best vacation ever!!!
Recommended
Excellent & highly recommend
By: Karen
Reviewed on: 10 Mar 2014
Julie as always was very helpful.  She has made arrangements for me on several trips and I never have to worry about anything.  Excellent help, courteous, and always make sure we are happy with everything.  We took my entire family to Alaska this summer which included small children and everything was perfect.  Thanks again, and I highly recommend her to take care on you and your loved ones.
Recommended
Highly Recommended
By: Hispania
Reviewed on: 07 Apr 2014
Julie is great! Very knowledgeable and finds the best deals!! For "stress free" trip planning call Julie!! 
Recommended
highly recommend
By: Not provided
Reviewed on: 05 Apr 2014
Recommended
Wonderful time
By: Tracie
Reviewed on: 09 Apr 2014
Julie was once again helpful in planning our trip. We took a cruise which was awesome! The trip was interrupted only due to the oil spill but we were able to board the ship and enjoy everything, just a delay in sailing. This was not due to the fault of anyone. My husband communicated with Julie while we were stuck in port who was helpful to us. I plan on booking another trip with Julie, wouldn't book with anyone else. She is always helpful to not only my family, but our friends as well.
Recommended
highly recomended
By: mrister
Reviewed on: 22 Apr 2014
Recommended
Highly recommended
By: Janet
Reviewed on: 15 May 2014
Julie is great to work with.  I have utilized her services for several years.  My trips are always coordinated very well.   The hotels for this trip were great and right in the heart of where we wanted to stay.  The breakfast, which was included, was fantastic in Florence and Rome.   All the meeting times to pick up vouchers or meet drivers worked like clockwork.   The high speed rail between Florence and Rome and down to Pompeii was smooth, on-time and easy to navigate.   Overall another great trip!!!
Recommended
highly recommend
By: maam1@bellsouth.net
Reviewed on: 21 May 2014
Julie is a very experienced travel agent and has planned many trips very successfully for me. She was always available for the many questions I had on my recent trip to China and calmed the many concerns I had on traveling to China. She is more than capable on planning any itinerary with very creative suggestions.
Recommended
Very happy with Julie!
By: TR
Reviewed on: 01 Jun 2014
My family just returned from a 7 day cruise. Julie was so helpful with our bookings/arrangements. My husband and I took our college aged twin boys for a last minute cruise to the Yucatan Penninsula. Julie even helped us add another person at the very last minute for a really great rate. She took care of everything!We all had a fantastic trip. Thanks Julie!!!!
Recommended
highly recommended
By: Pipeliner
Reviewed on: 09 Jun 2014
Great trip. .some delays because of airline. .other than that no problems...
Recommended
Satisfactoy
By: Dyanne
Reviewed on: 17 Jun 2014
Enjoyed my recent vacation to Jamaica Grand Palladium Lady Hamilton.  Had requested of Julie to book us in a convenient building that was close to the main lobby and we were booked in building 28 which was very convenient.  Only issue Had no issues with flight plans and at the resort.  Had an excellent house keeper by the name of Norma who was always very friendly and kept room clean and stocked with supplies.
Recommended
Very experienced and highly recommend
By: Jn
Reviewed on: 24 Jul 2014
Julie is very knowledgeable and helped plan a wonderful vacation to the majestic elegance in punta cana
Recommended
Great Travel agent
By: Susan8927
Reviewed on: 25 Aug 2014
Julie has always been very helpful. She always recommends the right places for us to stay and knows what we like to do. She has never let me or any of my family or friends down when it comes to travel arrangments.
Recommended
Well prepared!
By: Jamaica Mon
Reviewed on: 03 Aug 2014
Extremely well prepared. Ensured all aspects of trip were covered. Responded to questions promptly.
Recommended
Wonderful trip! Great airline connections.
By: Jules
Reviewed on: 17 Aug 2014
The trip to Amelia Island was fabulous! My family really loved the beach and uncrowded area. The town of Fernandina was very picturesque with a lot of interesting history.. We would like to make this our summer spot for gathering together for many years to come. Our flight connections were a little tricky but Julie Rains sorted through all of our travel quirks and came up with a very good solution that was pleasing to all of us.
Recommended
Julie is fantastic!
By: mam
Reviewed on: 05 Sep 2014
Julie arranged the perfect trip for us. Everything was great! No problems at all. All reservations were accurate.
Recommended
Very accomplished travel agent
By: Cpgshv
Reviewed on: 12 Sep 2014
Great attention given to every detail of my Travel in a professional manner
Recommended
Planned a wonderful trip for us!
By: Kim849
Reviewed on: 12 Oct 2014
Julie planned a fabulous trip for myself and my daughter to Australia and New Zealand. Everything went extremely smoothly and we had a fabulous vacation!
Recommended
highly recommended
By: jumping jack
Reviewed on: 18 Oct 2014
very friendly & courteous. We've been using her for years & it's wonderful to have someone that we know & have become friends.
Recommended
Superb Service
By: David60
Reviewed on: 07 Nov 2014
Julie does a fantastic job. Pays attention to detail and really cares for the customer. Highly recommend her.
Recommended
The best at everything!
By: DJG58
Reviewed on: 15 Dec 2014
Julie can answer any question you can ever think of in planning a trip, and many you don't think of. She plans ahead for your airport timing, meals at arrival, documents you'll need, and all of the relaxing things you might want. A vacation is not complete unless Julie plans it! She is the thorough professional and cares for every client as if they were family.
Recommended
Personal touch
By: two boatbums
Reviewed on: 02 Mar 2015
We have known Julie for a long time and she has always taken excellent care of us, understanding the requirements that we have set for our travel needs. She is a pleasure to do business with, thorough, knowledgeable and fun to work with. Keeps us posted on specials and one of our favorite things is a last minute cruise. Thank you Julie!
Recommended
A Class Act!
By: billy0802
Reviewed on: 10 Apr 2015
Julie Raines planned a spectacular trip for us to Jamaica, Cozumel and Grand Cayman aboard the Navigator of the Seas (Royal Caribbean)!! We had a WONDERFUL time! It was truly amazing! She even (secretly) scheduled a complimentary dinner at Chops Grille (a world-class steak house) for us, which was phenomenal! She is A CLASS ACT! It was such a refreshing/re-energizing time. The ship was gorgeous, the staff was an ELITE group - best of the best! We completely enjoyed ourselves and met some really great people. We hope to schedule our next trip with her soon!
Recommended
Very Smooth Trip to Aspen
By: Brad
Reviewed on: 16 Apr 2015
From departure to the return trip home everything went super smooth. I would recommend Julie to plan anyone's next vacation or business trip. Thanks!
Recommended
Good, successful trip
By: Reece
Reviewed on: 08 May 2015
Our recent flight to Kansas City and return was very good except for change of departure gates and the discourtesy of one of the airline employees in Dallas. Otherwise we were on time and special needs were very well attended to.
Recommended
friendly, courteous
By: Sweetums
Reviewed on: 22 May 2015
We have dealt with Julie for many years. We have always been satisfied with how our trips were planned, paper work sent to us on time, she is pleasant and always takes excellent care of us. We have one trip she has booked for us in Nov. and we are relying on her to find another Princess cruise. We would and have recommended Julie to any one who needs a travel agent. We are grateful for all she has done in the past and look forward to any others in the future.
Recommended
Amazingly helpful
By: Slick
Reviewed on: 19 Jun 2015
So helpful and willing to research outside the normal cookie cutter trips and tours. We didn't have to work about transportation or staying in good hotels. All was found with our budget in mind. Julie has become our only travel agent from 5 1/2 hours away.
Recommended
~ Yes, expert friendly service for many years.
By: RoyJr
Reviewed on: 29 Jun 2015
My wife talks with Julie and tells her what we want. Julie comes through line the champion that she is every time, whether its a Caribbean cruise, an all-inclusive resort, or simply, a visit out-of-state for a family wedding. Without reservation, I recommend Julie to all for the best of service.
Recommended
Excellent service
By: Robert st barts
Reviewed on: 03 Jul 2015
Expert service as usual
Recommended
wonderful service
By: trip1
Reviewed on: 06 Jul 2015
So much nice and helpful optionable care
Recommended
Trip was great, julie came through again
By: AdamPT
Reviewed on: 19 Jul 2015
We had yet another wonderful trip to secrets aura. I would go there 5 times a year if I could afford it. Julie always makes things so easy for me. I give her and the trip 5 stars
Recommended
great trip
By: johnboy
Reviewed on: 09 Aug 2015
had a great trip thanks for everything you did. will call on you again for our next cruise
Recommended
Expert knowledgable service
By: Susan8927
Reviewed on: 21 Aug 2015
Always makes great recommendations and knows exactly what we like.
Recommended
Julie is the expert
By: Hot Lips
Reviewed on: 14 Aug 2015
Highly recommended Julie is wonderful, very thorough. She's the "BEST" in Shreveport, La.!!!
Recommended
Friendly, informative and very helpful
By: TNT07
Reviewed on: 09 Sep 2015
Julie was very friendly and helpful with the planning of our vacation. She answered all of our questions and we had a lot because this was our first cruise. Thank you Julie!
Recommended
Well planned... Friendly service!!
By: Mary24
Reviewed on: 07 Oct 2015
Our trip was well planned...enjoyed!!
Recommended
Friendly, great service
By: Shreveport lady
Reviewed on: 19 Oct 2015
Trip was perfect!
Recommended
Expert help
By: Robert
Reviewed on: 06 Nov 2015
Excellent service
Recommended
Superior customer service
By: Dana31364
Reviewed on: 05 Nov 2015
Julie booked our hotel stay for our New York trip. She contacted the hotel concierge and requested a special taping we wanted to attend. She went the extra mile making sure our trip was great. I would recommend Julie for all your travel arrangements!
Recommended
punta cana wedding
By: Aloha
Reviewed on: 07 Dec 2015
Everything was awesome, thank you so very much.
Recommended
Carribean cruise
By: > J. A. P.
Reviewed on: 22 Jun 2016
Everything went exactly as planned and we had a wonderful time. Would recommend Julie to everyone!!!
Recommended
Julie
By: Ash
Reviewed on: 22 Feb 2018
Our trip was great. Julie, as always, was great to work with.
Not Recommended
Would not use again
By: Tiffany
Reviewed on: 11 Dec 2015
It was nice to get started planning the trip but I was given false information about my cruise causing me to purchase the more expensive things when the cheaper packages was all I utilized. I was also not able to get in contact after I have paid in full. I had a lot of unanswered questions and virtually went in blind.
Recommended
Simply Divine
By: Dr. K
Reviewed on: 13 Jan 2016
Julie Raines is an absolute delight and pleasure to work with when it comes to planning trips. She is highly knowledgeable and has a great wealth of experience as it pertains to travelling within and outside of the United States. She is friendly, patient, and very kind. She works very diligently to ensure that your travel experience is memorable. I appreciate all of her hard work and mostly her passion to assist others with having an enriched and meaningful travel experience to their desired destinations. I will always consult with Julie as it pertains to creating a travel experience that will last for a lifetime that is filled with wonderful and precious memories. Julie is a jewel.
Recommended
Excellent service
By: Rword
Reviewed on: 15 Feb 2016
Julie went beyond expectations; had difficulties due to bad weather and she saved us;great job
Recommended
professional, knowledgable, on duty 24/7
By: 2boatbums
Reviewed on: 22 Mar 2016
Julie has been our agent for over 20 years. She listens and always delivers. We have had two emergencies at sea where we had to get off the ship. Julie followed up to make sure the insurance took care of us and we were ok. Julie keeps us aware of all the specials, helps us with tour information and makes booking through Creative Travel easy, enjoyable, and we would recommend Julie to anyone regardless what their travel plans are. Julie has always delivered. We were in her office today for a future booking and have already received the information by email and now the ball is in our court and we have to make a decision. Julie truly cares about her clients and has earned our loyalty. As far as we are concerned, she is travel agent of the year, and every year. Thanks, Julie.
Recommended
So friendly and personal!
By: SandraS
Reviewed on: 05 Apr 2016
Julie recently booked a cruise through Carnival for a friend and me. After I told her the cruise we wanted to take, and the dates we could go, she found the same cruise leaving from another port (both ports are the same distance from me) in the same time frame. Not only was the price better, but we were able to get a room with 2 twin beds on the floor (rather than the bunk style beds common on a cruise ship). Julie was very thorough and researched any questions we had that she didn't readily know. Over the past 9 years, I've been on 2 other trips that Julie orchestrated (yes, "orchestrated" applies as there were over 20 of us on both trips!), and she has always been very helpful and accommodating to our needs. She definitely goes above and beyond to give you want you want, and then some! I'm happy to recommend Julie to others for their travel needs!
Recommended
👍🏼. Great!!!
By: Calvindog1
Reviewed on: 20 May 2016
Mrs Julie was really nice and helpful. Had a great trip. Everything was perfect.
Recommended
Great agent!
By: Ashrob
Reviewed on: 26 May 2016
Julie stays on top of things and let's us know when our rates drop...that's a plus! She is wonderful as an agent and I would recommend her to anyone planing a trip.
Recommended
Very knowledgeable and extremely easy to work with
By: Tllm160
Reviewed on: 29 May 2016
Julie was an expert in guiding me when I was unsure of exactly what I wanted. Her knowledge and friendliness made booking my trip a pleasant experience.
Recommended
Terrific Travel Agent
By: KimberlyW
Reviewed on: 10 Jun 2016
Julie made everything on out Disney Cruise so easy. Let us know exactly what we needed do which made our planning and cruise very enjoyable.
Recommended
Excellent service!!!!
By: Mayweather girls
Reviewed on: 25 Jun 2016
I absolutely recommend Mrs Julie!!!! She was very patient with us and she worked with our budget!!!!!! Everything was accurate hotel and flight was all on time!!!! Room was ready with no wait!!! Flight going and coming was on time!!!! I will definelty be working with her again for my next trip. And I also recommended friends to let Mrs Julie get their next vacation package going!!!!! 😊
Recommended
Good service
By: Bee
Reviewed on: 30 Jun 2016
Good planning, good advice, worked hard to find the accommodations we wanted.
Recommended
The Best
By: Ma'am
Reviewed on: 16 Jul 2016
Julie keeps me informed with the most interesting places to travel and always has suggestions on things not to be missed while there.
Recommended
Exceptional Service
By: MSE
Reviewed on: 03 Aug 2016
Mrs. Julie was truly amazing!! She went over and beyond to make sure I had all my wants and needs for our first Disney trip. To my surprise she had informed the hotel that this was also a birthday trip, therefore; once we checked into our room the hotel had balloons and birthday gift bags already inside waiting on us. On the second day of our day, my daughter woke up with the pink eye, Mrs. Julie was only a phone call away. She quickly gave me all the steps to contact out trip insurance agent. If you want a travel agent that will make your trip stress free and more fun than you can imagine....choose Mrs. Julie Raines she will help make your dreams come true.
Recommended
Expert friendly service
By: Scott
Reviewed on: 06 Aug 2016
Very helpful in planning our vacation. The planning and execution were smooth.
Recommended
Excellent Travel Specialist
By: LaBrittanee
Reviewed on: 10 Aug 2016
Julie is an expert at her job. I am always beyond pleased with her work. Her work ethics is great, she exudes terrific customer service, and her communication skills are great. Julie thoroughly plan our trips from beginning to end. She puts the comfort in going outside of America especially with the trip booklet that's provided with very thorough instructions. I love Jukienshes the best.
Recommended
Everything went without a hitch
By: Mel
Reviewed on: 19 Aug 2016
Julie was so helpful! Everything worked out just the way it was planned: the flights, the rental car, the rooms. Her advice to this first time flyer was invaluable. We made it thru security without a hitch (American Airlines' TSA agents were friendly and helpful in both airports!) The rental car was upgraded by Budget for the same price as the economy car. They gave us a Hyundai Santa Fe SUV that was comfortable and dependable (my hubby said he wants to buy one!) The Holiday Inn Express in Dallas was great: big room, comfy bed, all the amenities! The Super-8 motel in Canoga Park (my choice for the price) was an older motel but everything worked properly, the beds were comfy, and the neighborhood was decent. It had a nice pool and served a small continental breakfast. There was a CVS close-by and a reasonably priced authentic Mexican restaurant right next door. Saw lots of sights and thoroughly enjoyed California! I will definitely recommend Julie & Creative Travel in the future!
Recommended
Awesome trip planner!
By: Mel
Reviewed on: 18 Sep 2016
Julie helped us plan and book an awesome trip to Ireland. Everything was great. We did not have any problems with our reservations. Julie has booked our vacations for the last few years and we will continue to book with her in the future. Thank you, Julie, for planning our best vacation yet!
Recommended
Liberty of Seas
By: Dean
Reviewed on: 11 Mar 2018
She was excellent. We have used her for years. I would highly recommend her as a travel agent.
Recommended
Awesome
By: Moss Duvall
Reviewed on: 26 Mar 2018
Amazing. She was perfect.
Recommended
Frequent traveler
By: Go traveler
Reviewed on: 06 Apr 2018
She is friendly and well informed and helpful!
Recommended
Ready for another vacation
By: Kee12
Reviewed on: 28 Sep 2016
She goes above and beyond. I call and email with questions when booking a cruise. I like to know exact times, who is offering better promotions at the time of booking, and what makes each ship so spectacular. She is always able to answer those questions within a few hours. Her personality is so bubbly it's like talking to your best friend. She is truly a genuine and lovable person. I booked one time and fell in love with her as a person. My husband and I took our first cruise out of a different port Julie was able to assist with parking suggestions and who offered better rates and promotions. Love, love, love, she definitely didn't have to do that but she did. I'm seriously ready to book another vacation.
Recommended
All details handled expertly..
By: Ken1
Reviewed on: 18 Oct 2016
When I need to plan a vacation I go straight to Julie. I tell her where I want to go and how I want to get there. Then she spends my money. Seriously though, she looks at all the options that meet my requests and we decide on the best bang for the buck. She handles all the details and has never failed me yet. During the trip she is only a phone call away to assist if there is any questions or concerns.. The last trip, a western Caribbean cruise, was wonderful..
Recommended
Excellent service
By: Robertmc
Reviewed on: 10 Oct 2016
Always excellent service
Recommended
Very Knowledgable
By: Caleb
Reviewed on: 04 Nov 2016
I booked my honeymoon through Mrs. Raines and very much would recommend it to anyone out there who is looking for a planner. She made out trip to Cancun very easy with very few snags along the way. She was able to plan it to where we had no issue getting from the airport to our resort and back again. The whole trip was very pleasant and I don't think it would have been near as nice with just me booking it myself.
Recommended
Was very pleased with Julie's services
By: Rhonda51
Reviewed on: 22 Oct 2016
Me and my husband just got back from a wonderful trip to Maine and Boston!! Julie made everything so easy for us, from the booking the flight to getting us a rent car and booking us in some really really nice hotels. Me and husband was wanting to see all the pretty foliage in Maine. Julie helped us plan our route through Maine which took us right through all the breathtaking foliage!!!! Then we drove to Boston where we had a gorgeous hotel there. There went toured Fenway park and New England aqurium which was awesome. Just took in some much history there. Oh and I forget to mention we did the Boston tea party and threw the tea in the Boston harbor sweet! I would definitely use Julie again for any trips we take and would recommend her to everyone I know going on a trip😊...
Recommended
It was a dream come true
By: BAPX
Reviewed on: 28 Dec 2016
This was my first time to Jamaica and boy ohh boy did I pick the right Travel Agency and agent. I loved every minute of my time there even before I checked in I had lunch by the pool😍. JULIE gave me everything I needed for my flight and ride to the resort it was super easy. Thanks again JULIE your the best. Signed a very happy customer B. Player BAPX
Recommended
Best Trip Ever
By: Hicks
Reviewed on: 21 Dec 2016
The resort was amazing!!! My wife and I are looking forward to going back. The staff were friendly and there was so much to do.
Recommended
Honeymoon
By: Kayla
Reviewed on: 27 Jan 2017
Amazing! Julie was was to contact, easy to get in touch with, patient with my crazy schedule, and completely flexible and open to options! I would absolutely recommend using her to others as well as plan on using her to book trips in the future! I cannot wait to book my next adventure with her!
Recommended
Aspen
By: Mac
Reviewed on: 11 Feb 2017
Excellent as always
Recommended
Top Travel Advisor
By: Darlene
Reviewed on: 13 Feb 2017
Julie is the very best travel advisor I have ever worked with. She is thorough, and always puts the customer first.
Recommended
Best travel agent!
By: LAgirl
Reviewed on: 03 Mar 2017
Julie has planned and booked many trips for us. Our vacations booked through Julie are always great. Our reservations are always correct and we have not encountered any problems. Julie always has insight, ideas and great travel tips for us. She makes our vacations wonderful!
Recommended
New York trip
By: Connie mcgrouper
Reviewed on: 17 Apr 2017
Extremely helpful. Very friendly.
Recommended
Julie Raines - Great Trip Advisor
By: dalovell1
Reviewed on: 26 Apr 2017
Enjoyed working with Julie regarding the planning of our trip. She was very knowledgeable in her recommendations to meet our needs for our trip. Everything she planned for our trip was excellent, no problems. We will definitely have Julie plan our next trip. Don & Barbara Lovell
Recommended
Raines
By: Mud
Reviewed on: 17 May 2017
Very easy and knowledgeable. Always a pleasure to work with.
Recommended
Mt Rushmore
By: Nans
Reviewed on: 29 May 2017
Great. Very helpful and knowledgeable about booking trip and loved the lodge she recommended.
Recommended
Cayman
By: Mac
Reviewed on: 02 Jul 2017
Excellent as always
Recommended
Julie Rained
By: Charlie
Reviewed on: 06 Jul 2017
Wonderful. She has so much experience that she can find good deals. She fights for her clients.
Recommended
Chicago
By: Darlene
Reviewed on: 23 Jul 2017
As always, working with Julie is a pleasure and seamless in planning. She attends to every detail and is always ready to help in any way. She ensures that all of our preferences are met and ha excellent suggestions for new places to see. She is the BEST in my book!
Recommended
Kenny b
By: Kenny
Reviewed on: 18 Aug 2017
Perfect could not have been better
Recommended
AWESOME!!!
By: Jas
Reviewed on: 29 Aug 2017
Mrs. Julie was the absolute best. She was very understanding, helpful, and the sweetest person ever. I would definitely recommend her to anyone is thinking about traveling anywhere.
Recommended
Two thumbs up!
By: Hawaii Ginger
Reviewed on: 14 Sep 2017
Julie has been our agent for years and she is always amazing. She is professional and she does her work exceptionally even when she has a thousand things to attend to. She helps us find good deals on air fares and trips and makes follow ups. Our family highly recommends her.
Recommended
Montana trip
By: Wayne
Reviewed on: 18 Sep 2017
Always a pleasure. Very professional! Makes things work.
Recommended
West coast ireland hike
By: Pam Elder
Reviewed on: 28 Sep 2017
Pleasant, she listened and planned our trip to meet our every desire. The details were planned and we basically did not have to do anything but enjoy. My second trip planned by Julie, a third soon!
Recommended
Bachelorette Trip
By: Allie
Reviewed on: 04 Oct 2017
Julie arranged my bachelorette trip and all of us had an incredible time! Thank you for making my trip so special
Recommended
Aspen
By: Ivan
Reviewed on: 22 Oct 2017
Excellent as usual
Recommended
Santa Fe Weekend
By: Santa Fe
Reviewed on: 15 Oct 2017
Superb, as always.
Recommended
GREAT TRIP!
By: MKATZ
Reviewed on: 17 Nov 2017
Julie is a wonderful travel planner. We have booked several vacations with Julie and have always been very happy with the adventures that she plans and books for us. She always has helpful hints and travel ideas to share with us during the planning stages of our trips. She is patient, knowledgeable and friendly.
Recommended
The DR Honeymoon
By: Mills
Reviewed on: 21 Jan 2018
Julie planned a great trip. We had a wonderful time. Would use again.
Recommended
Fun fun fun
By: Jay
Reviewed on: 08 Jan 2018
It was nothing more than short of being perfect. Julie has always been very attentive to all of my traveling needs. She has always went above and beyond to make sure I had what I needed and even some of what I didn't need (lol). She's my go to person when I want to take any type of vacation. She knows the best spots and location when I tell her the destination I'm looking at.
Recommended
Aspen
By: Mcm
Reviewed on: 25 Feb 2018
Excellent as usual
Recommended
Another GREAT trip.
By: JR
Reviewed on: 13 Apr 2018
Working with Julie is always a great and enjoyable time. She is very knowledgeable and always gets you good deals and any extra perks that may be available. She is always only a phone call away should you have trouble or questions during your trip.
Recommended
Review of Advisor
By: batgirl
Reviewed on: 21 Apr 2018
very informative, patient,and easy to work with
Working with Julie Raines, you will have access to:
- An experienced travel guide whom you can rely on before, during, and after the trip
- Exclusive luxury resorts and properties
- Once in a lifetime experiences
Explore with the Best
Virtuoso Advisors are constantly pushing the boundaries in unique travel experiences.
Alliance programs are unique tailored experiences exclusive to travelers working with Virtuoso Travel Advisors.
learn more